Table of Content: 
Grey is rapidly becoming a popular choice for home decor. People prefer grey colour for bedroom because it makes their room look lavish and cozy at the same time. 
But do you know what is the best thing about the colour grey? You can always find a shade of grey that will suit your style. Thanks to its versatility! It works well with all homes, contemporary or period.
However, if you imagine the grey bedroom walls of a room, all you can see is a very neutral-looking room. But why worry when you can jazz it up with accents and details that add character to your space? 
So, if you are scouting grey bedroom ideas, you have landed on the right page. These ten ideas are just the ones you need!
Ready to explore new ideas? Scroll to check all of them out!
1. Pick The Right Shade Of Grey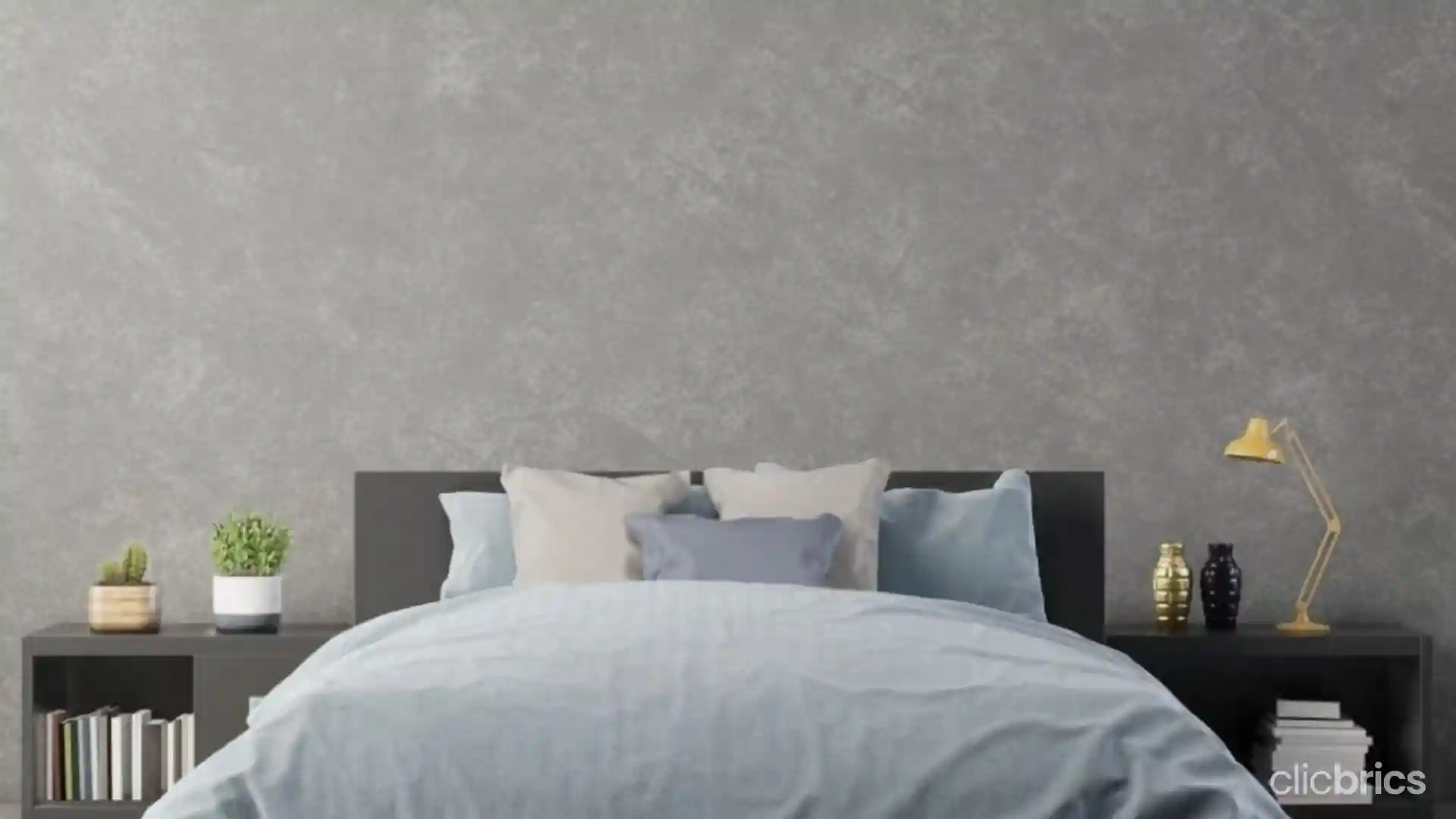 A grey bedroom looks neutral and chic at the same time. But not every shade of grey will go well with your room. Picking the right shade of grey for your room is crucial. Try out various samples on your walls before deciding on the colour of your wall. Consider the direction of your room and its natural lighting to gauge the shade of grey that will work for your space. For a north-facing window, go for warmer overtones like pink or yellow. If you have a south-facing window, pick any shade of grey, and it will be good to go! 
2. Add Pops of Bright Colours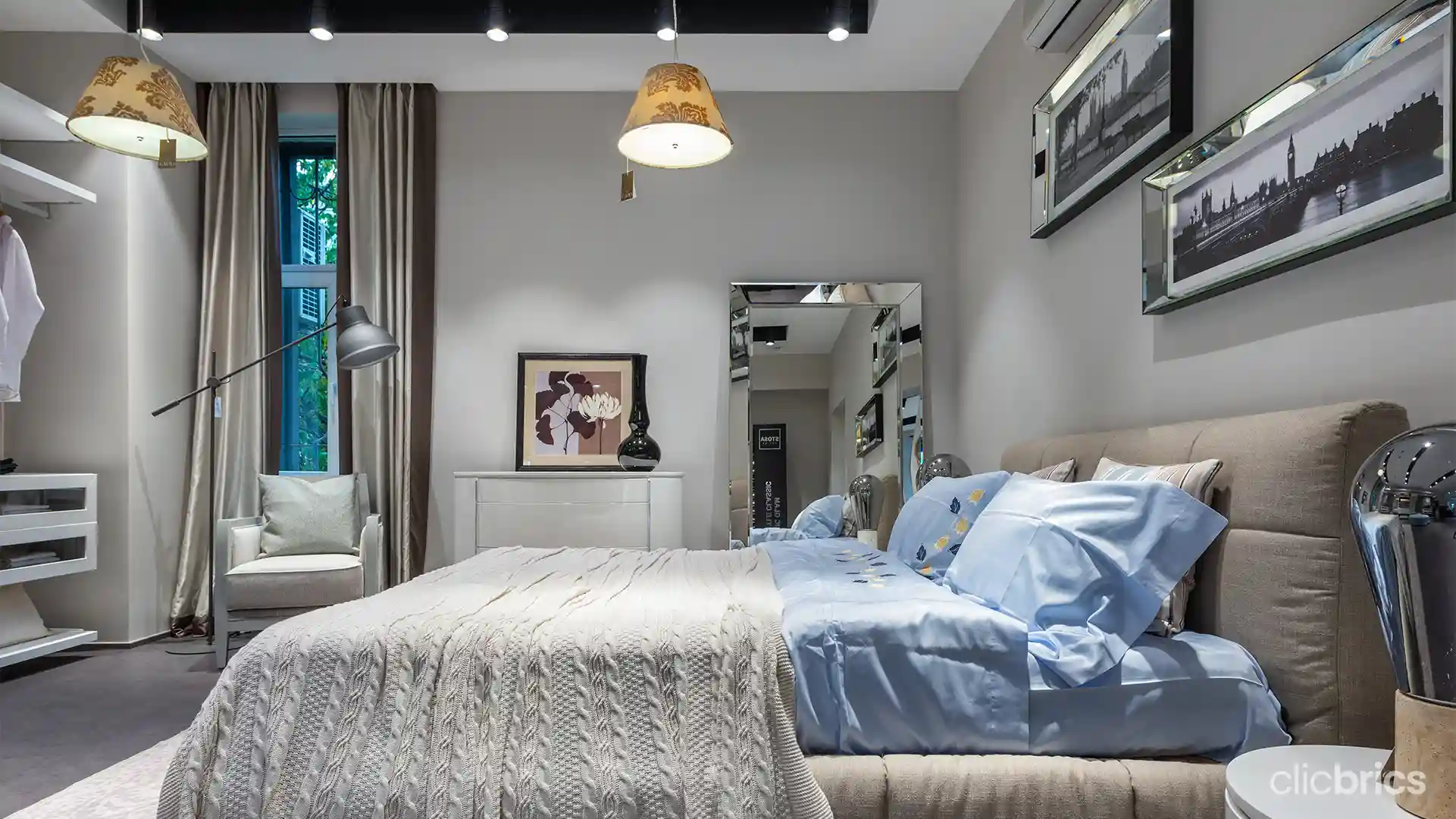 Your grey bedroom may look neutral, but do not tie yourself to one color. Choose bright colors for your grey room, and try playing with other colors. Here are three ways you can play around with other colors:
Try a grey two-colour combination for bedroom walls 

Give your room a vibrant and trendy appeal by adding throw pillows, bright bed linen, or bright curtain colors. 

Add houseplants and see your space turn into a lively-looking space within seconds.
Also Read: 12 colour combinations for your room that'll make your morning completely blissful
3. Choose the Perfect Backdrop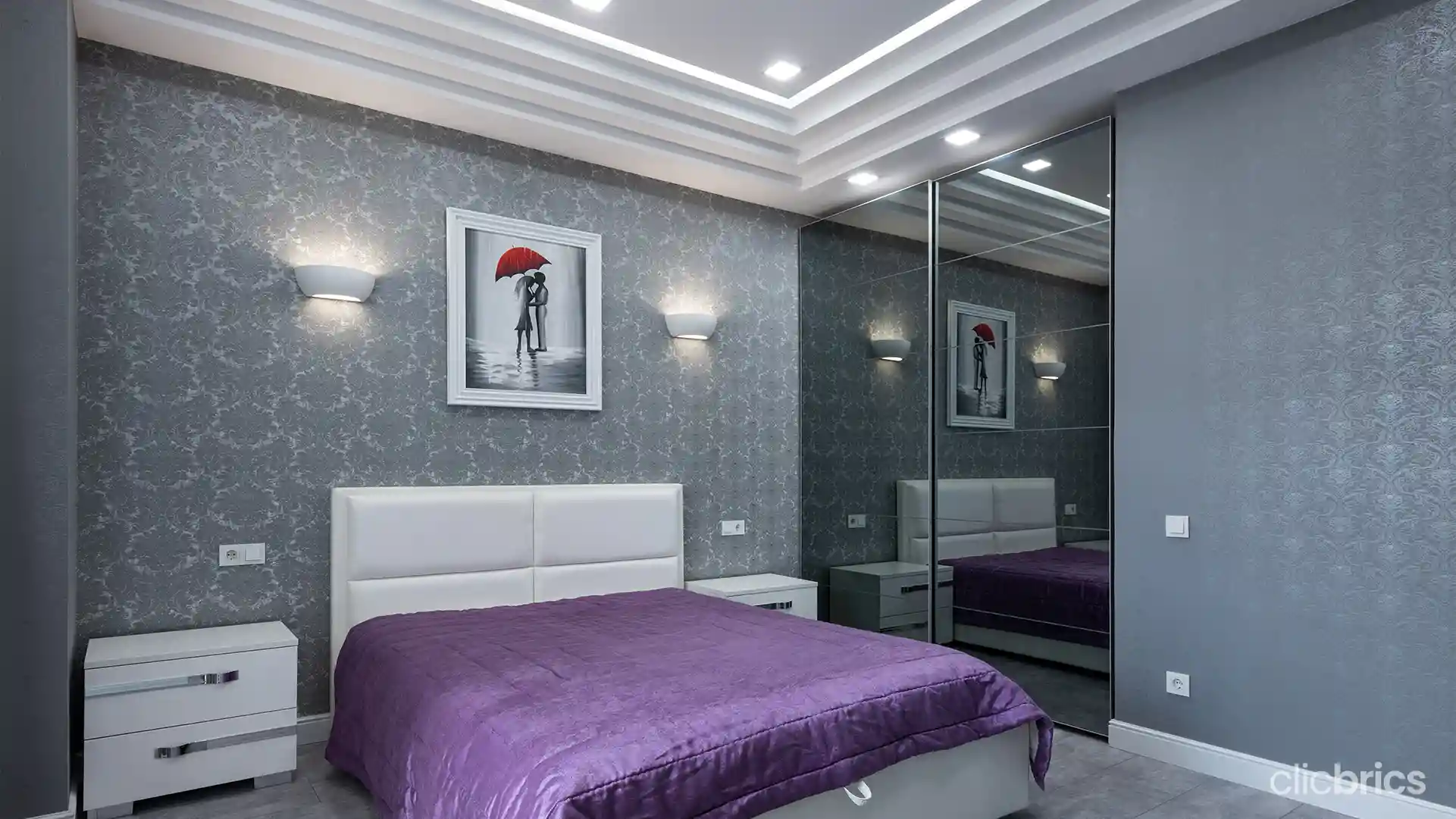 One of the preferred grey bedroom ideas is to add a backdrop to your room. You can accessorize your grey bedroom walls with original arts and crafts, a polished vase, or a soft velvet cushion that can break the monotonicity of grey colour. You can also create a laid-back look for your room by adding contemporary lighting to your backdrop.
4. Cozy Up Your Space With Dark Grey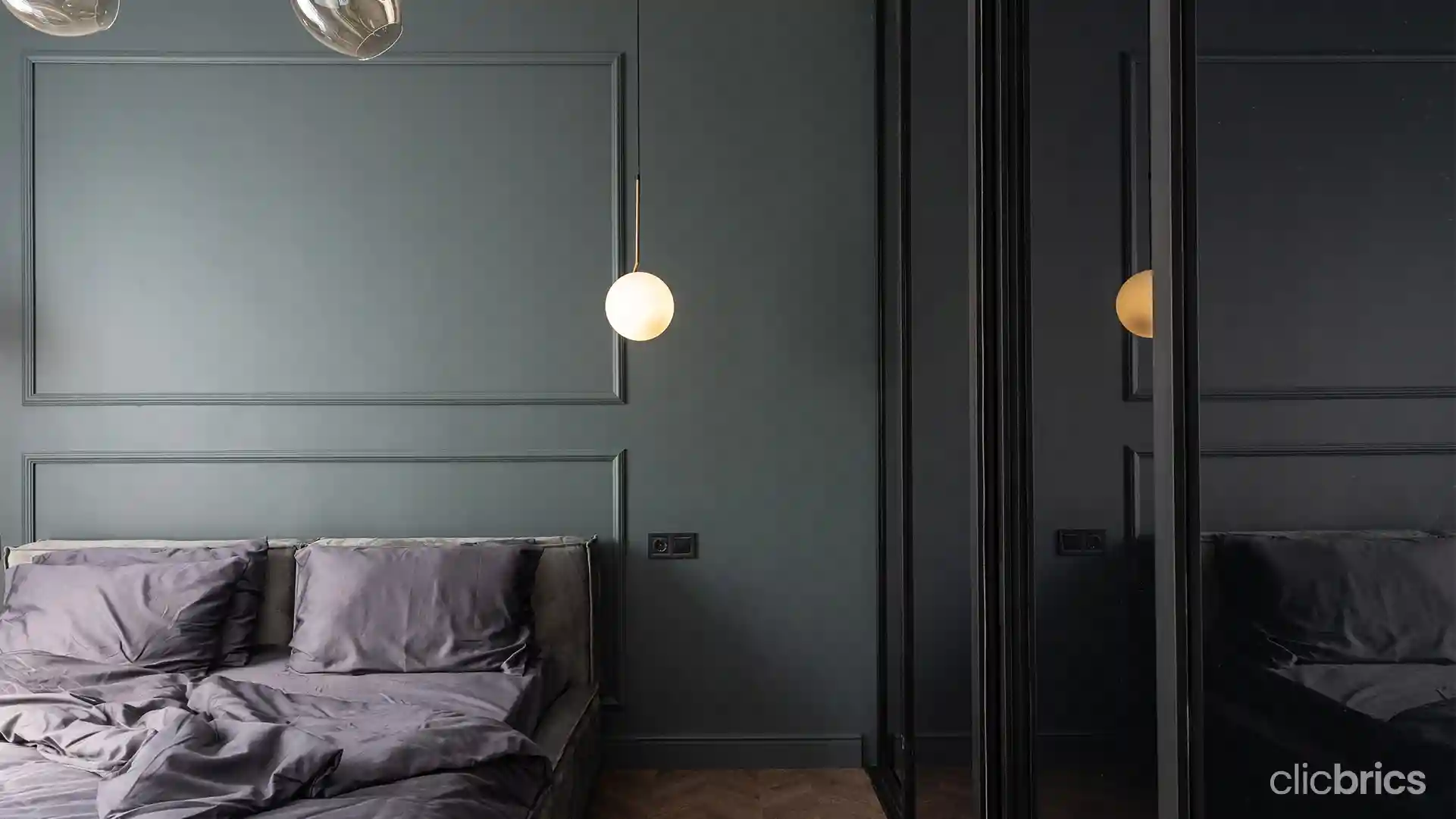 Darker greys are an elegant-looking choice for those willing to give dark grey bedroom ideas a spin. They look beautiful when paired with a white coloured ceiling. If your dark grey coloured bedroom appears too warm, you can uplift the look of your room with natural woods or colours like ochre. Avoiding dark greys in a north-facing room can be a safer bet. The dark grey has a calming effect. Thus, you can use it in a south-facing room that's too bright.
5. Layer It Up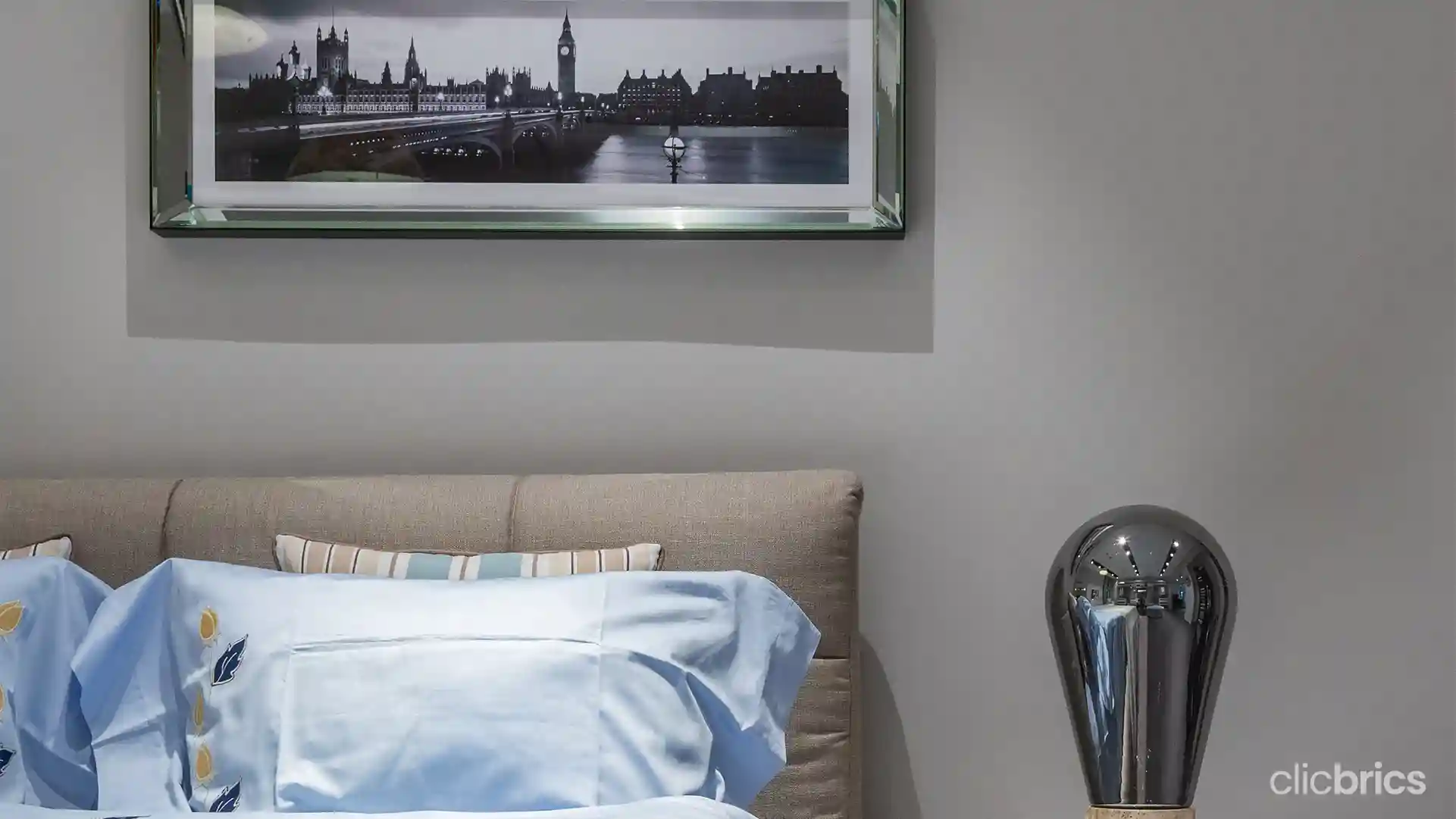 Among all the grey bedroom ideas you read, layering is the easiest one. Layering your room well can make a difference in its appearance. You can add shades of grey and hues to add depth and coziness to your neutral-looking space. Even a monochrome grey colored bedroom looks beautiful when paired with an upholstered headboard. You can try layering by adding various shades of pillows and finish the appearance with elegant and classic brass lighting and knobs.
6. Go Chic With Darker Walls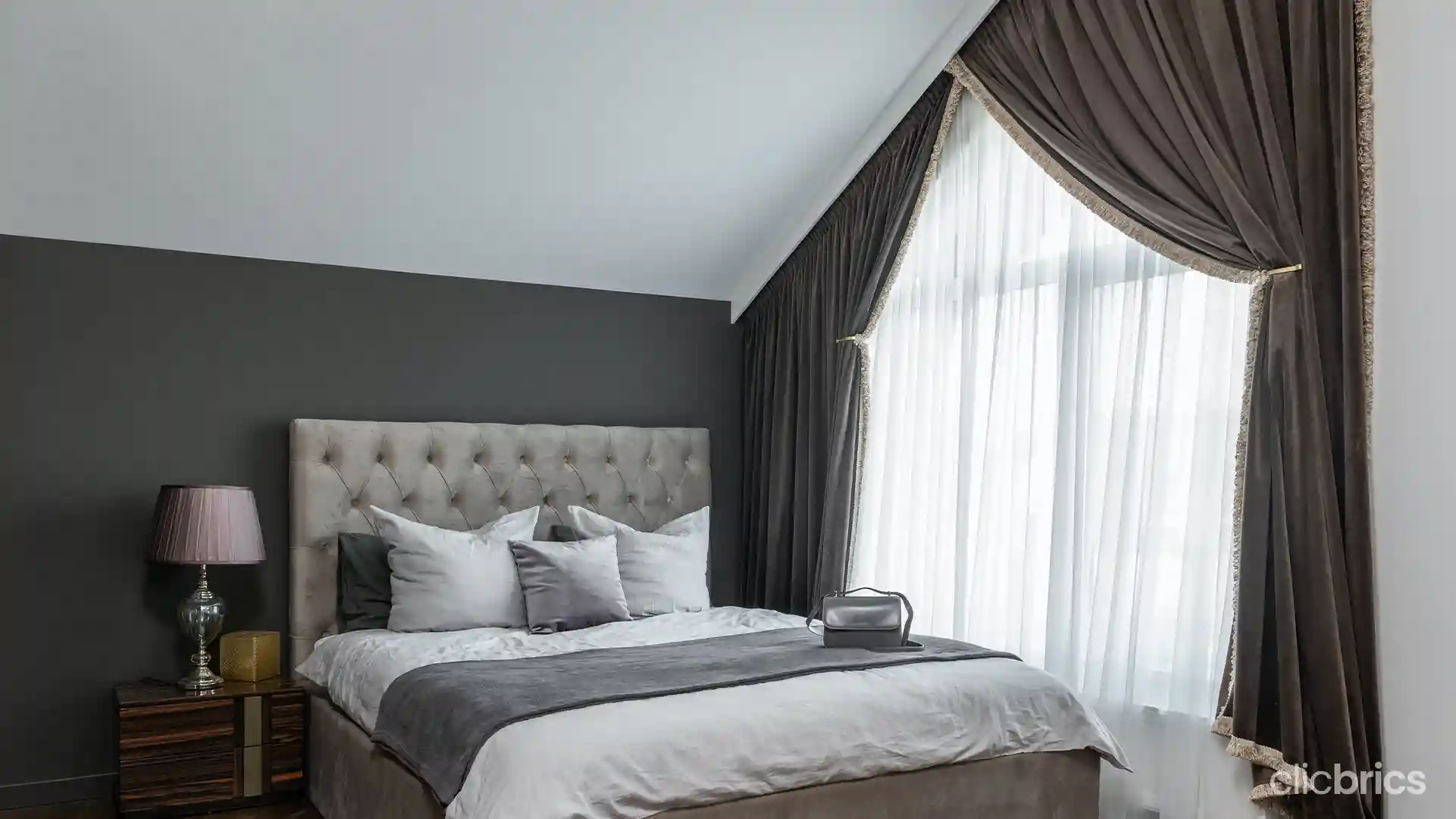 A grey colour room almost goes with every other hue, which makes it popular. You need not have a singular colour wall in your room. You can turn the entire neutral-looking space chic with a grey two-colour combination for bedroom walls. It'll add a lot more personality to your space. You can also try a darker wall colour with grey coloured furniture. Wall colours that usually go well with grey colored furniture are:
White

Yellow

Light blue

Turquoise blue

Pastels
All in all, you get a beautiful grey bedroom design just by playing around with contrasting colours. It can make your space cozy and inviting with just a few changes.
7. Glam Up Your Space With Silver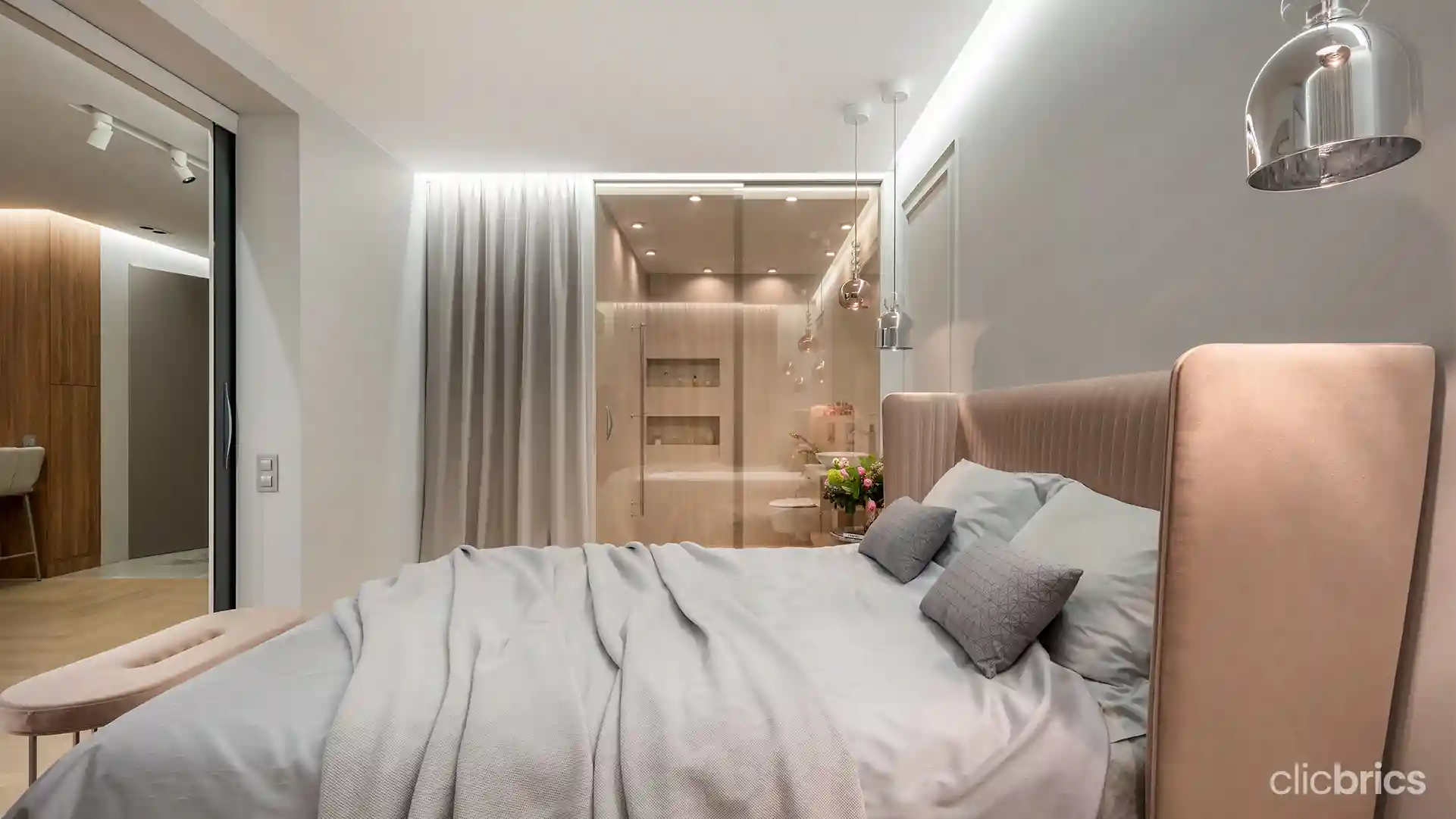 You can quickly glam up your grey bedroom with this idea. Add a little glitz to your grey bedroom with details like large mirrors or chandeliers. Not only this, you can even add lamps, pillows, or wall hangings that go with the space. There are two ways to glam up your room:
Go for a silver velvet bed

Keep the room minimalistic and glam it up with the details like mirrors
8. Paint Doors To Go Seamless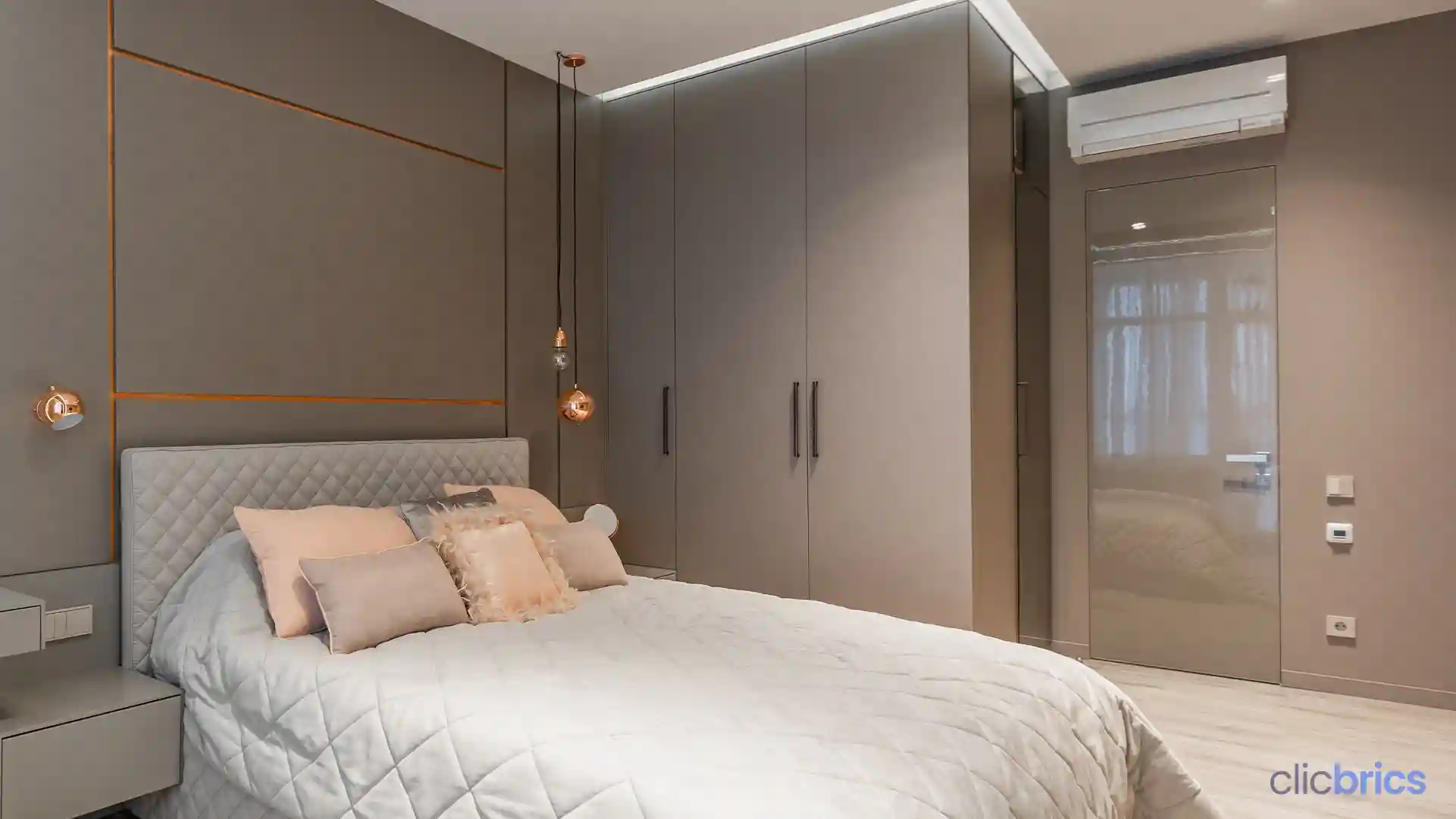 Get the back of your doors painted the same shade of grey as the walls in your room. Ensure the paint you choose can work on wood too. Getting your room's doors incorporated in your painting scheme is a great way to make your room aesthetically pleasing. This idea works perfectly well with that of an entrance door as well, giving your entire room a pretty seamless look.
9. Keep It Neutral And Light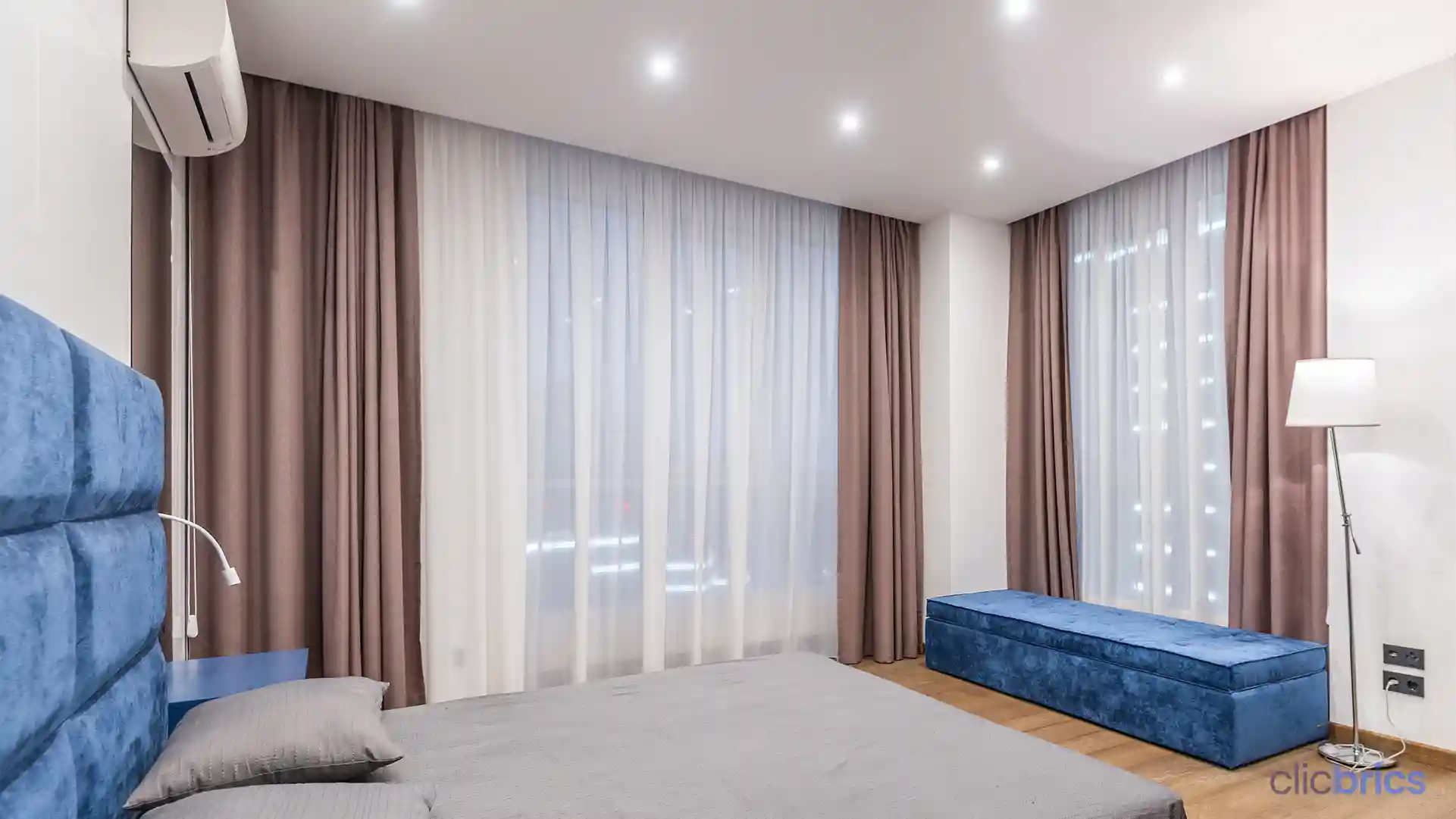 If you are finding grey bedroom ideas that can make your space look sophisticated, opting for a softer shade of grey for your room's walls is a no-brainer. This shade of grey is very similar to white. To pair with this, you can add a bed that has a darker shade of grey in the headboard. It'll add depth and instant sophistication to the look of your entire room. Great, right?
10. Bring A Hotel's Vibe To Your Space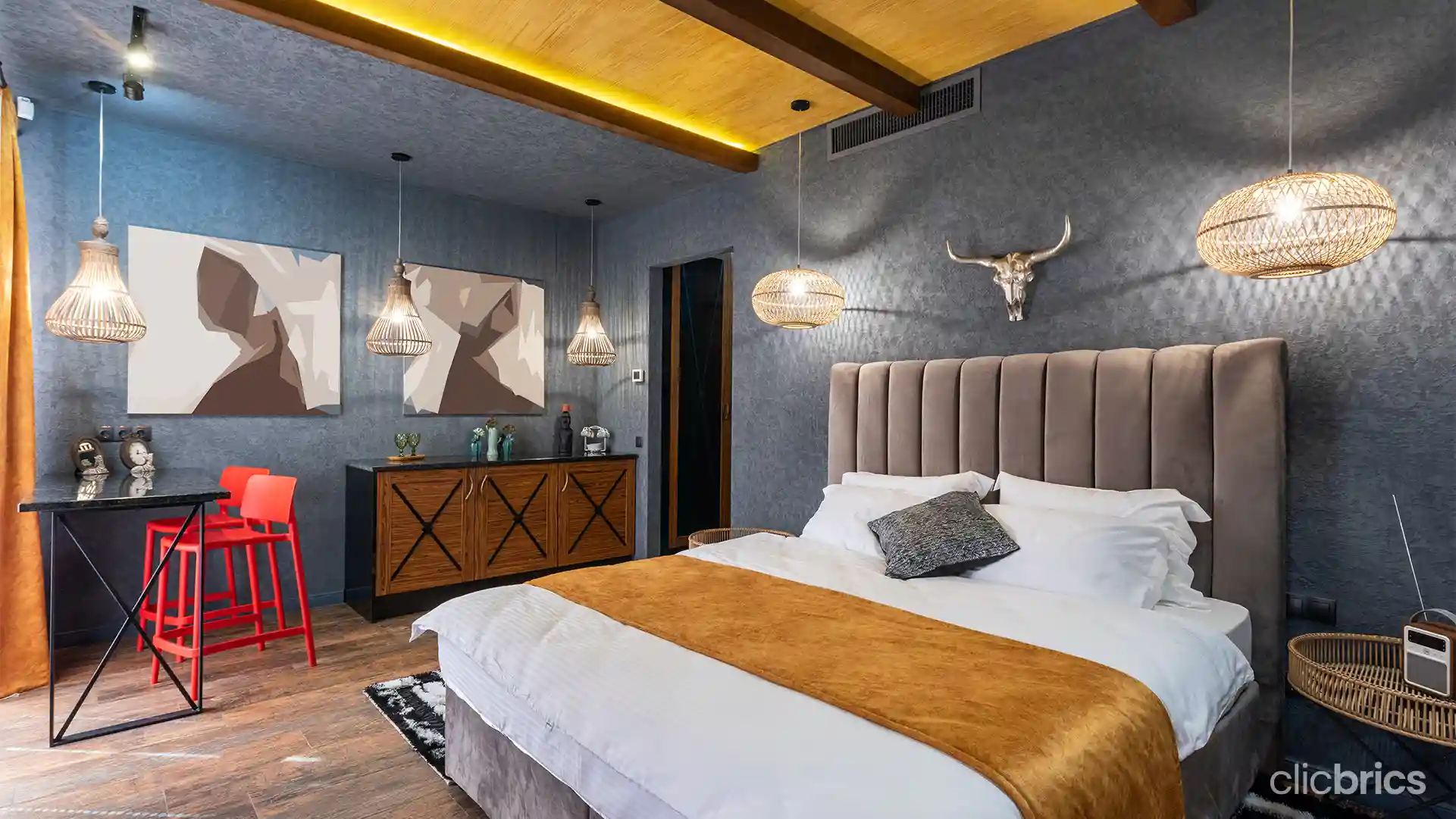 Everyone loves a lavish-looking hotel room, but wouldn't it be great to get a similar ambiance at your home? Go for a mid-toned grey colour for the wall and pair it with a rich-looking bed. Try an upholstered headboard, textural wallpaper, or a mixture of subtle-looking patterns, keeping the classic look of your room intact.
Also Read: 10 Bedroom Decor Ideas That'll Upscale The Look of Your Sleeping Space
Conclusion
Adding a touch of your personality to your space can make you feel like you own it. We hope this curated list of suggestions on grey bedroom ideas will help you find your style. 
Have a great time working on a grey bedroom design you can call your own!