Table of Content:
A kid's bedroom is a safe place that helps them discover the joys of having their own private bedroom. It gives them a place to create unforgettable memories they will cherish forever. So if you are designing your son's bedroom for the first time as a parent, you need to monitor his likes and dislikes and design a room he'll love. Today, we have come to your rescue and gathered some boys' bedroom ideas to help you find a striking balance. 
7 Interesting Boys Bedroom Ideas
As a parent, you should make a modern teenage guy room appealing as well as comfortable and personalize it as much as possible. You must remember that your son's room will already have a lot of stuff, like books, toys, etc. and banishing those toys will not work. 
Following these boys' bedroom ideas mentioned in the blog will give you a more innovative and wiser approach while designing their bedroom. 
1. Opt for a Blue & White Combination For A Timeless Look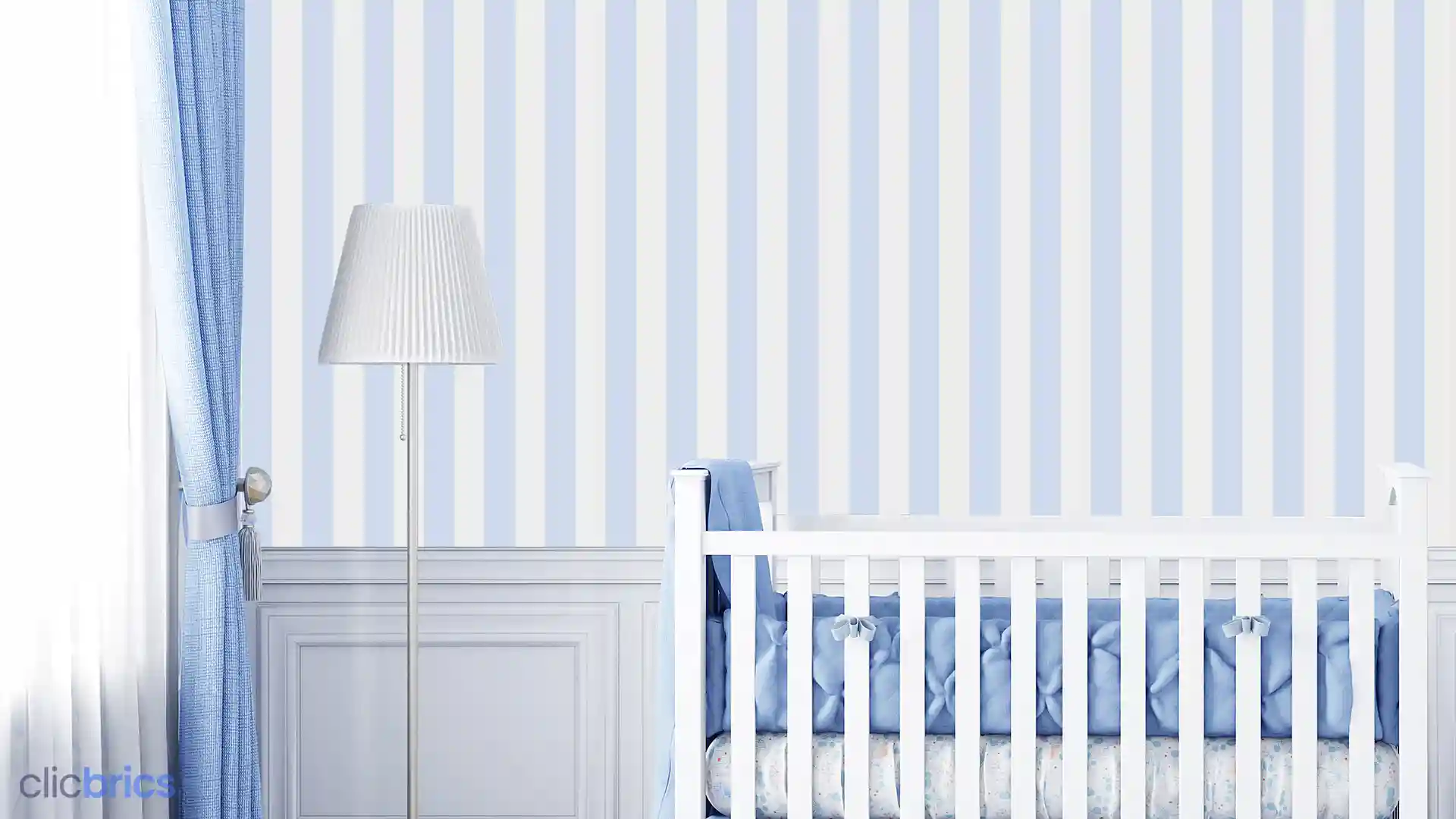 If you are looking for teenage room colors for guys, then definitely opt for a blue and white combo. It will be the best investment, as this combo wallpaper in the horizontal pattern will help create balance for the extra-tall ceilings. 
To decorate it further, consider installing a bright blue acrylic pendant light to help ground the space. 
2. Boys Bedroom Ideas For Book Lovers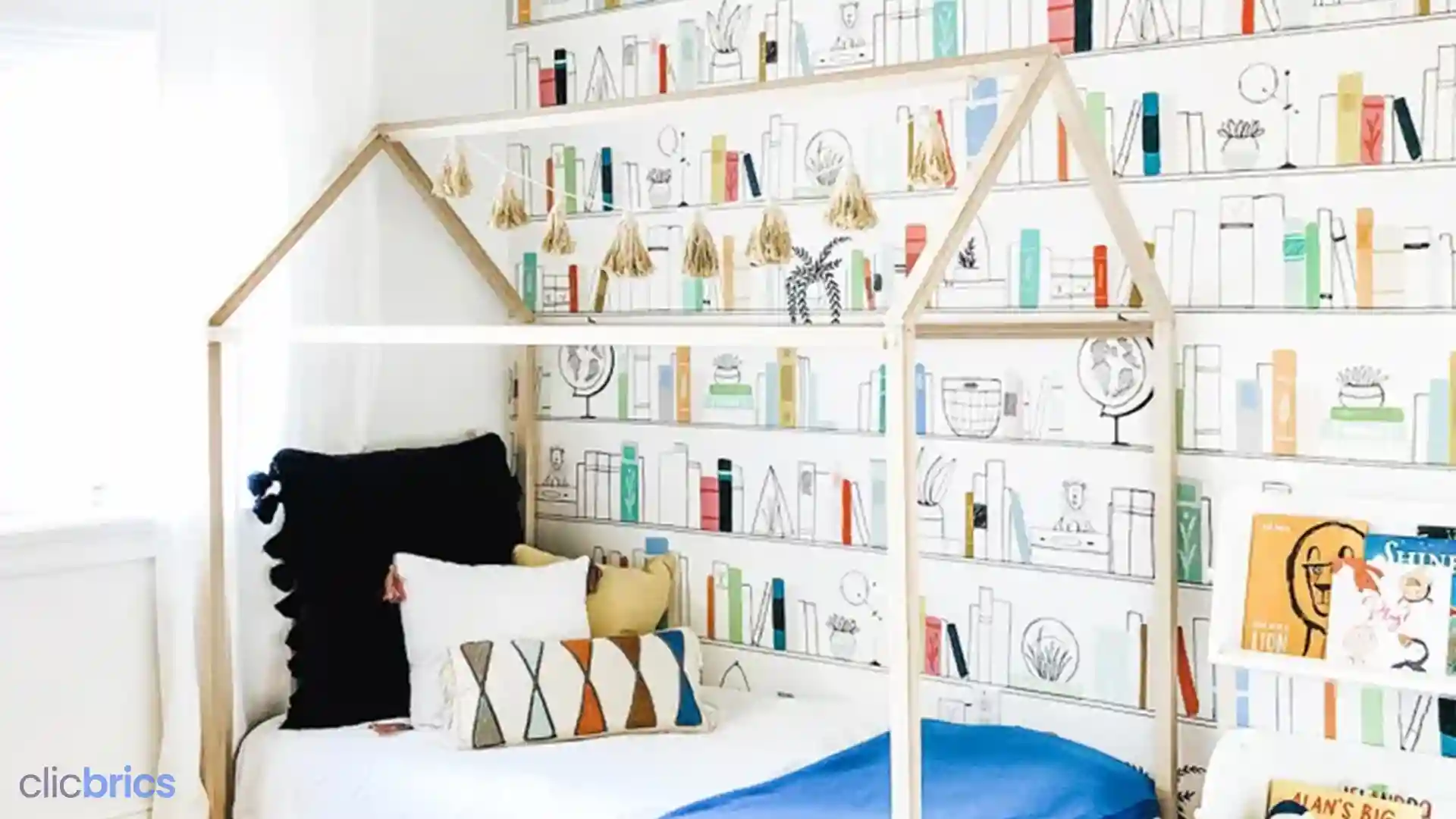 source: cubby

You can create a charming room for your boy to enjoy reading. All you have to do is create an illustrated bookshelf wallpaper that lines the wall. And besides that, place a shelf where you can put his books. Here also, you can choose a blue and white palette wallpaper to bring in the graceful effect. 

Also Read: Functional Children's Room Ideas To Set Up Your Child's Dream Room
3. Built-In Boys' Bedroom Idea For Small Rooms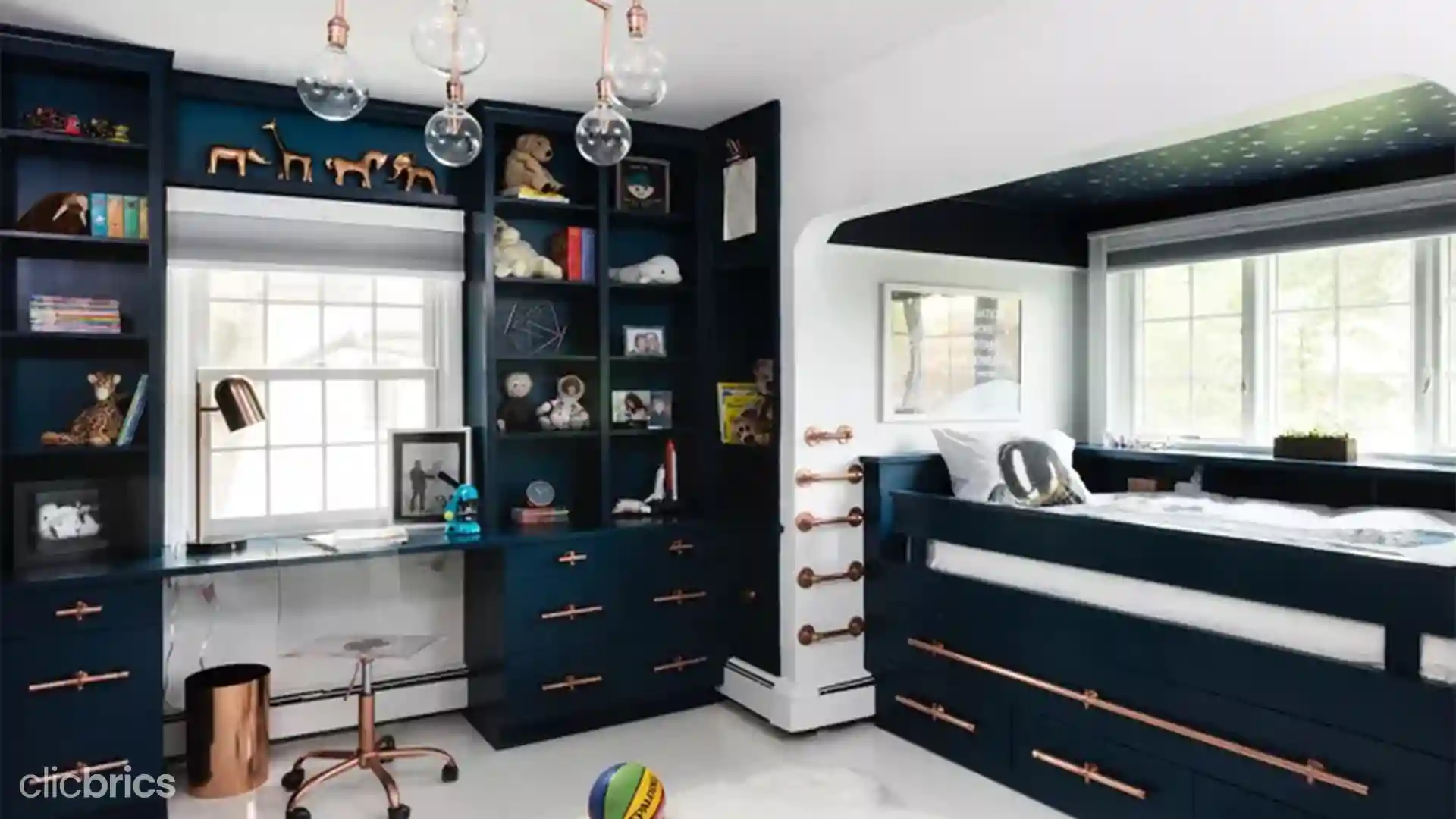 source: the spruce
To incorporate the best boys' bedroom ideas, start by installing a wall of built-in shelving and a desk under the window. It will create space for placing everything in a small bedroom. You can place a built-in bed featuring a dropped ceiling painted with stars. 
Besides choosing navy blue and white with gleaming copper accents, hang lights from the ceilings, and the room for your son is ready. 
4. Boys' Bedroom Ideas With
Colorful Patterns
​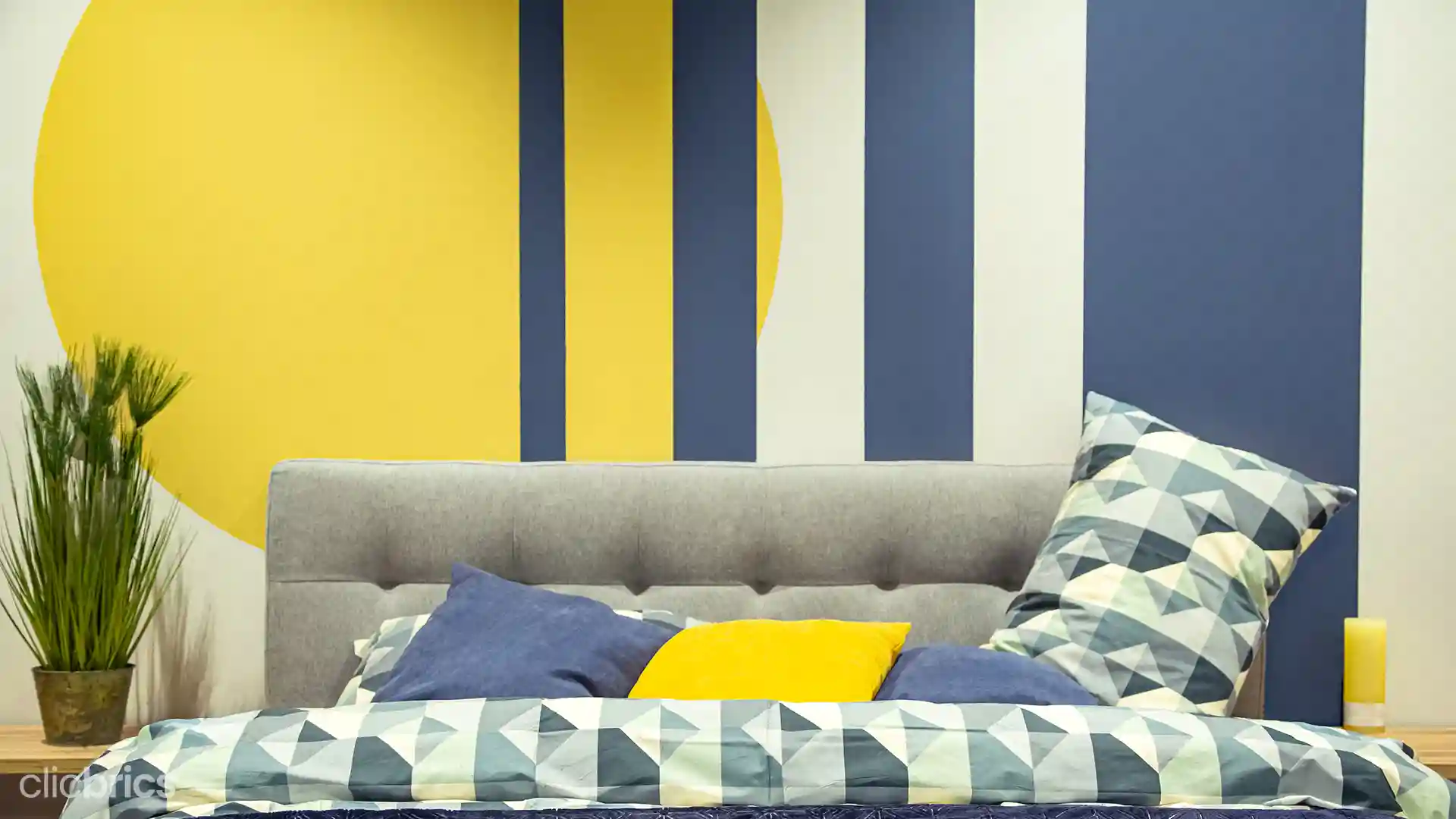 If your son loves color, you can mix and match a bit by choosing blue, gray, and yellow. Combine these patterns and incorporate them into a design on the walls. The beauty of these colors is that they will create a calming, dynamic atmosphere that will help him sleep better.
You can also use fish wallpaper, place a comfy overstuffed armchair in a navy blue and white color where he can sit and read. 

Place an oversized gray felt pendant light to create a dramatic effect in your child's room. 

Also, soft textiles like rugs and bed frames will surely add comfort. 
5. Reserve One Wall To Add A Fun Feature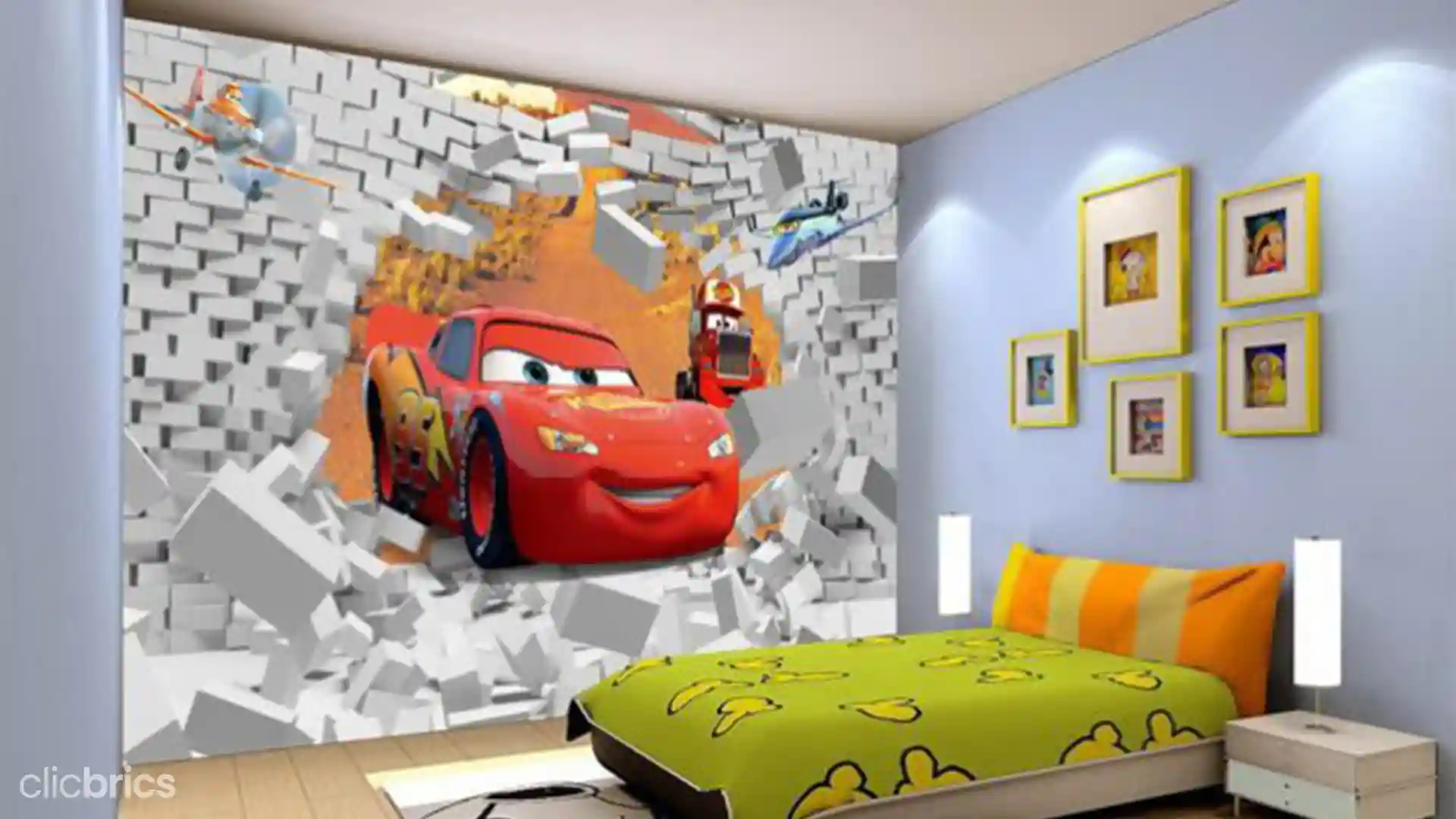 source: architecture art designs


You will find many boys' bedroom ideas, but none compared to this one. 

Choose the color you think your son will love the most, and let your imagination run wild with how you can use them. You want to paint that one wall a mini forest or his favorite cartoon character, whatever that aligns with your kid's choice. Your son will absolutely love this incorporated creative boys' bedroom idea. 
Also Read: 5 Tips for Moving in a New House with Children
6. Monochromatic
Boys' Bedroom Ideas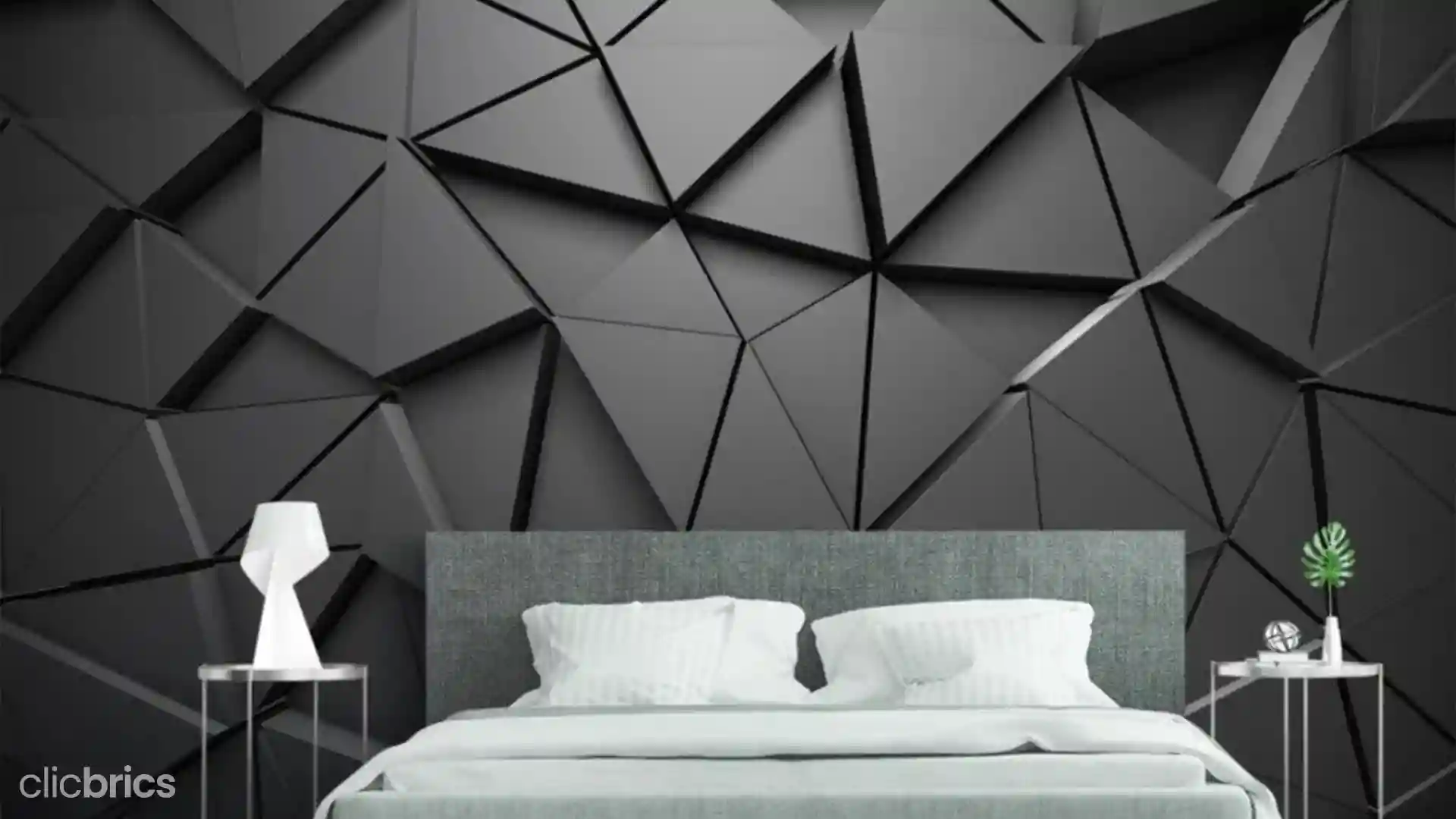 source: etsy
Do you believe that black-colored boys' bedroom ideas are challenging to incorporate? Well, yes they are but it is also a fact that the monochromatic scheme will blend perfectly with your son's room . This bedroom idea - be it for a 15-year old boy or 25-year old  - ages well along with your child. 
You can incorporate geometric shapes on the walls. By doing this, you can create a designer look. 

Even paint splatters work wonders in a boy's bedroom. 

When it comes to monochromatic schemes, try to keep them simple. Add a vibrant hue to the interior space for impact. 
Just think of this monochromatic boys' bedroom idea as a chameleon who evolves with time, just like your boy. 
7. Wildlife-Inspired B
oys' Bedroom Ideas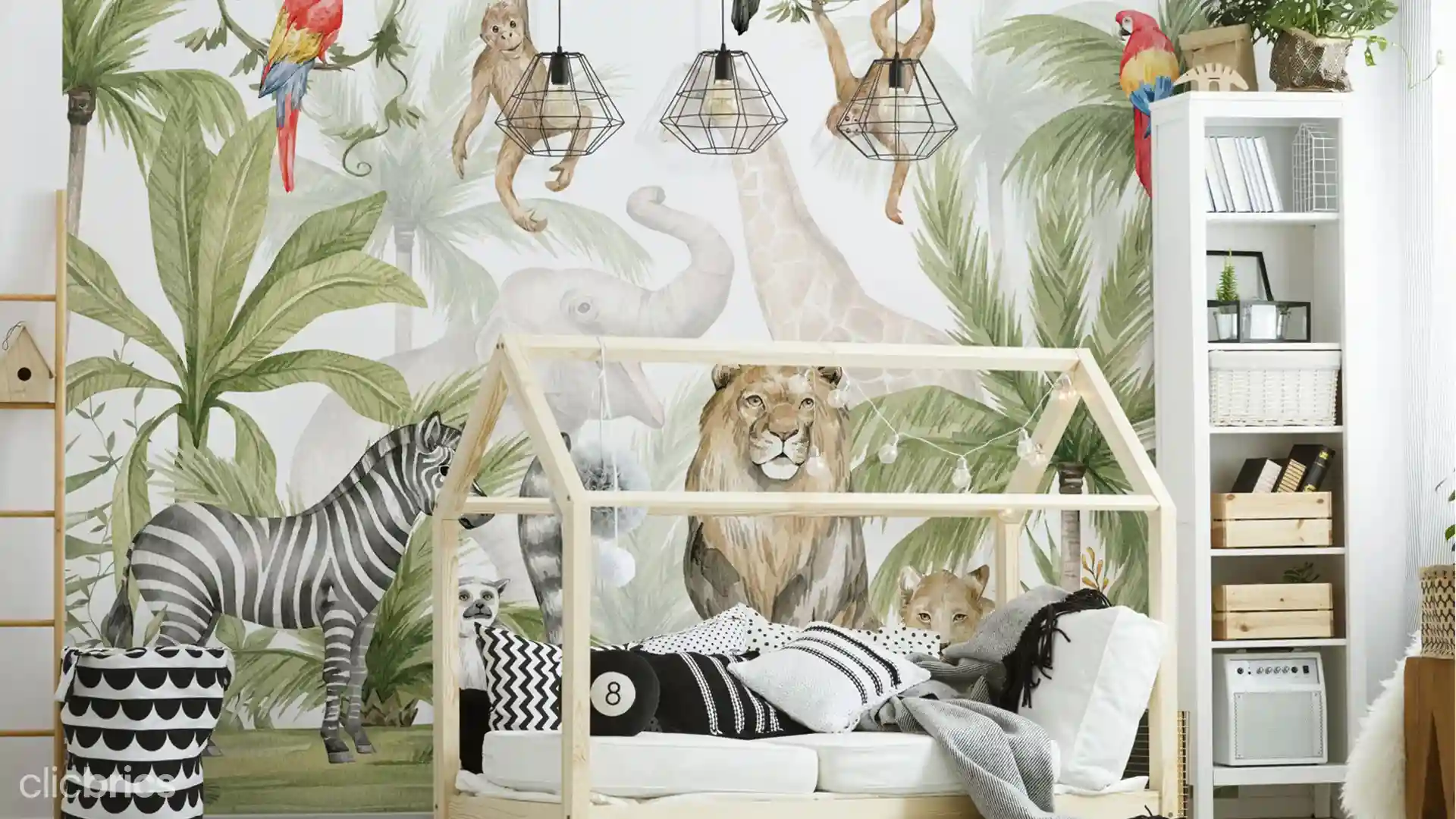 source: wayfair.co.uk
If your newborn is a roaring mad for animals, consider that the time has come to incorporate a jungle safari into your boy's bedroom. While there are plenty of wildlife-inspired boys' bedroom ideas, the best way is to use printed wallpaper. 
The benefit of using wallpaper is that you can peel it off once your boy grows up. 
To work on it further, you can create the same pattern on a bed frame, giving it more style. 
These attractive boys' bedroom ideas will only work if you and your son are on the same page. So, consider his likes and dislikes when you start working on his room. Follow one trick to keep the corner of the room empty. If your boy is young, the place can become a reading corner and later a TV/computer area as your boy grows up.