Table of Content:
The kitchen is where you prepare meals that provide nourishment for you and your family. Your productivity, mood, and feelings are all impacted by the colours you surround yourself with. Therefore, you ought to decorate your kitchen with colours that put you in a better mood, help you work more efficiently, and stimulate your creative juices. Whether you are a home decorator with a traditional style or someone in love with the latest trends, these 16 kitchen colour combinations are sure to provide you with some much-needed inspiration.
Cool Kitchen Colour Combination Ideas To Explore In 2023
1. Kitchen Colour Combination In Three Colours: Red, Green, And Grey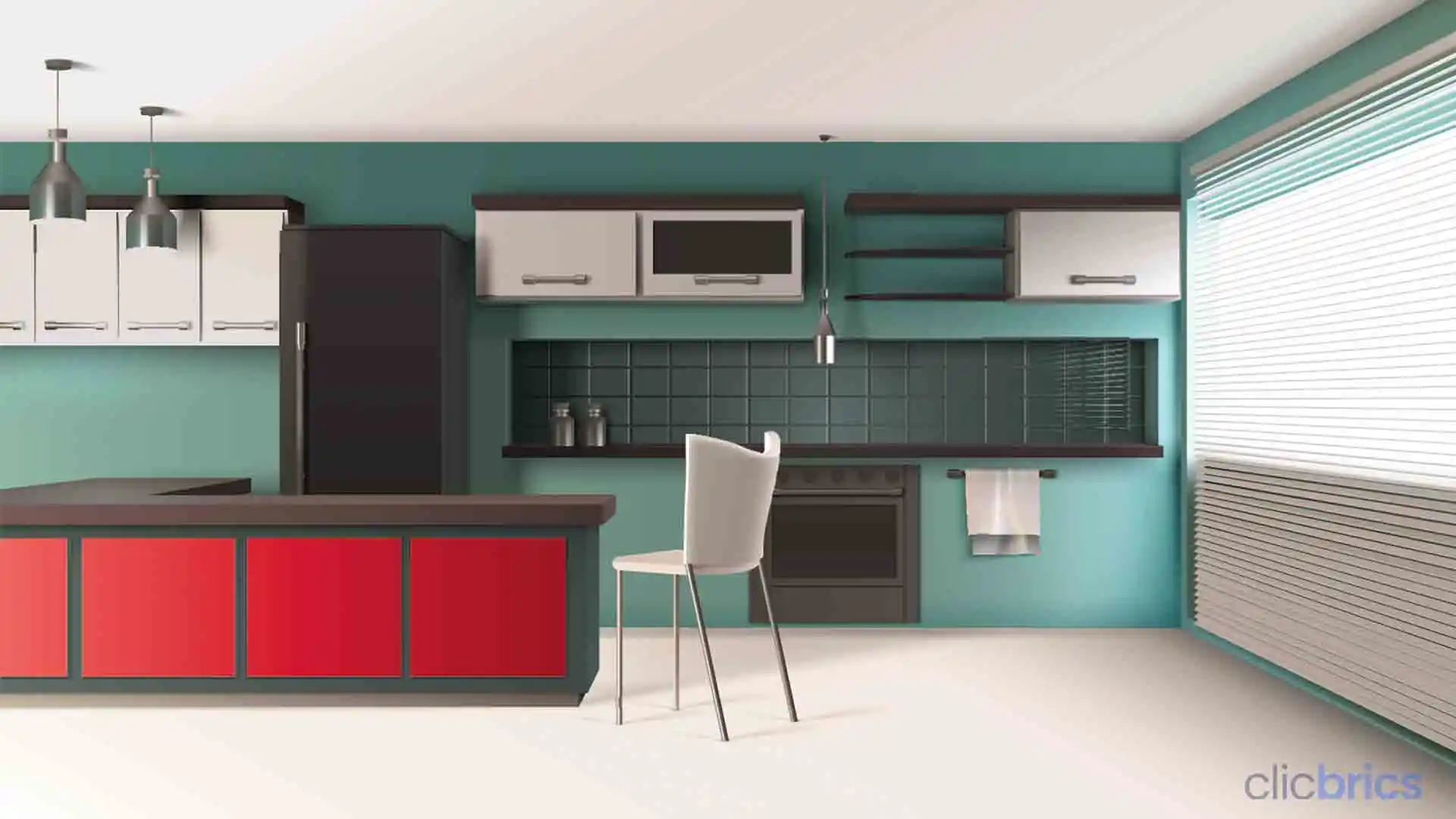 Utilise a wall-mounted emerald green backsplash or wall paint to soften the look of a bright red island modular kitchen. Complement the look with grey or black cabinetry. Reduce the number of accents you use in this area so that you don't overwhelm the space with an excessive number of kitchen colour combinations and components.
2. Modern, Crisp, And White Kitchen Colour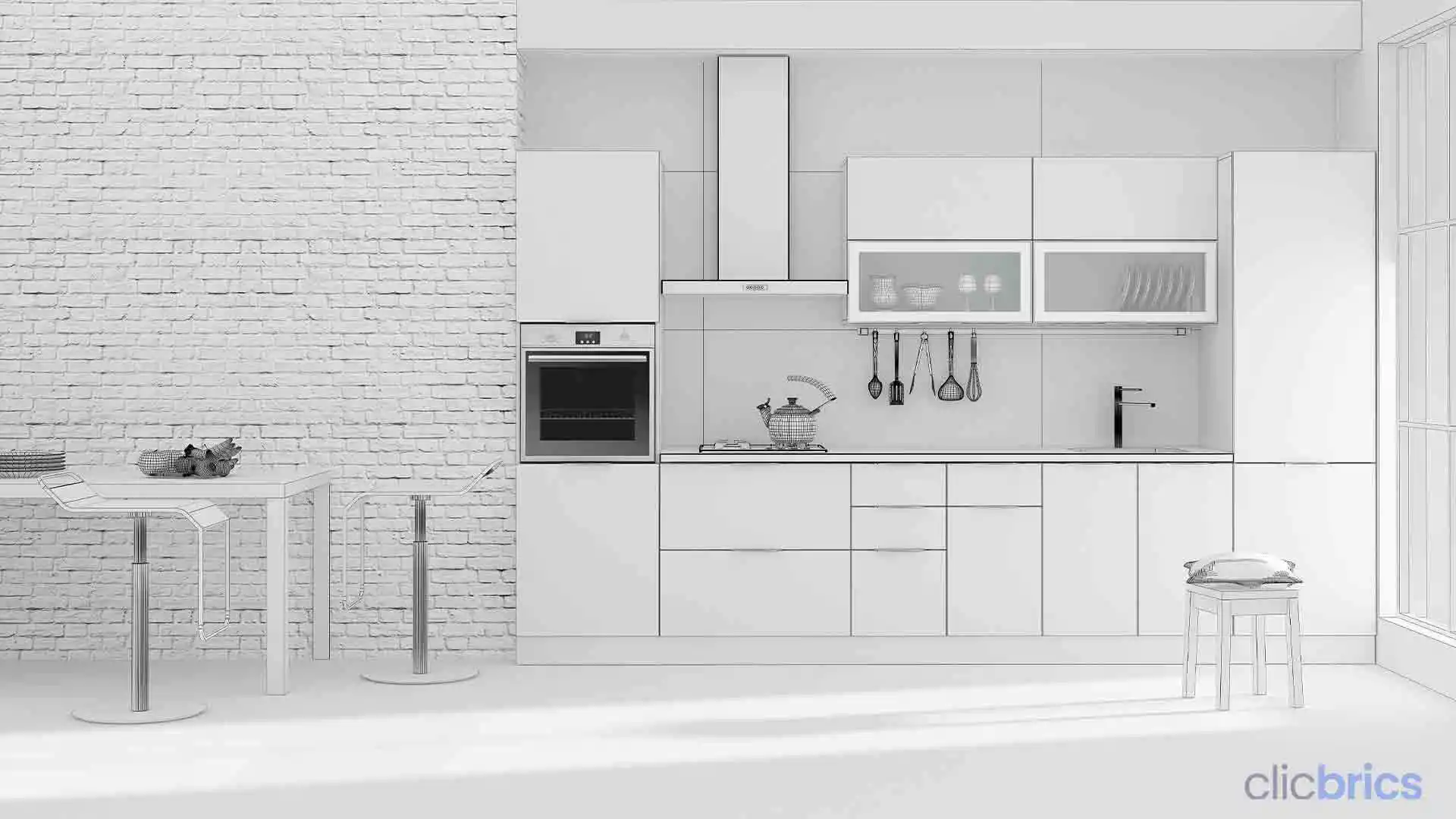 The use of bright whites will give you an appearance that is uncluttered, modern, and fuss-free. If you take cleanliness very seriously, you should consider installing an all-white kitchen. It is imperative that you make use of materials that are simple to clean and do not readily absorb stains.
3. Two Colour Combination For Kitchen Laminates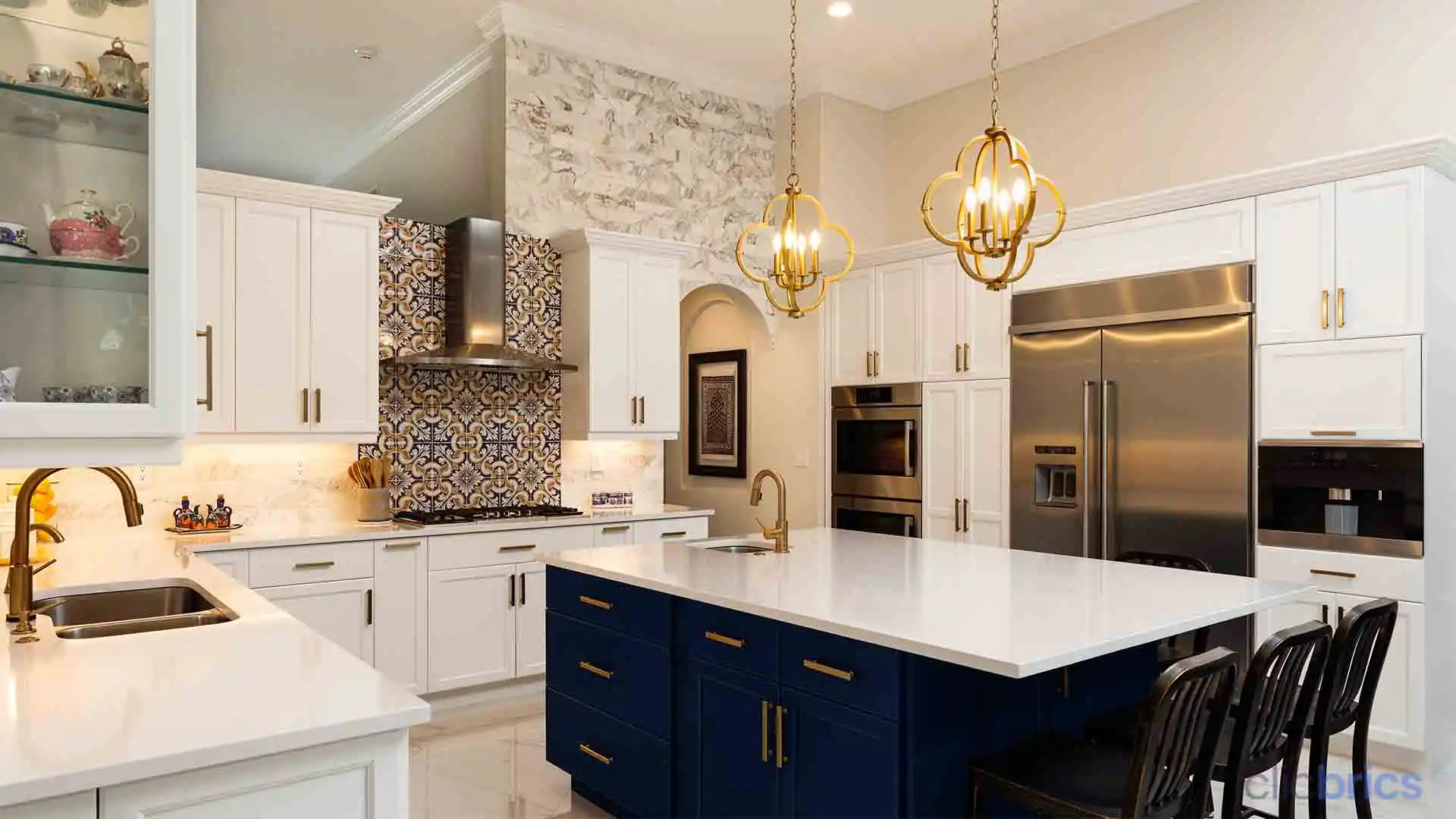 The timeless kitchen colour paint scheme of blue and white is sure to put you in the mood for a day at the beach. Choose cutlery and utensils in shades of cream or peach to complement this colour scheme for the kitchen, and add some potted plants to bring in some elements of the natural world.
Also Read: Top 3 Kitchen Vastu Tips To Infuse Positivity 
4. Kitchen Wall Colour Combination of Pink, Green And Grey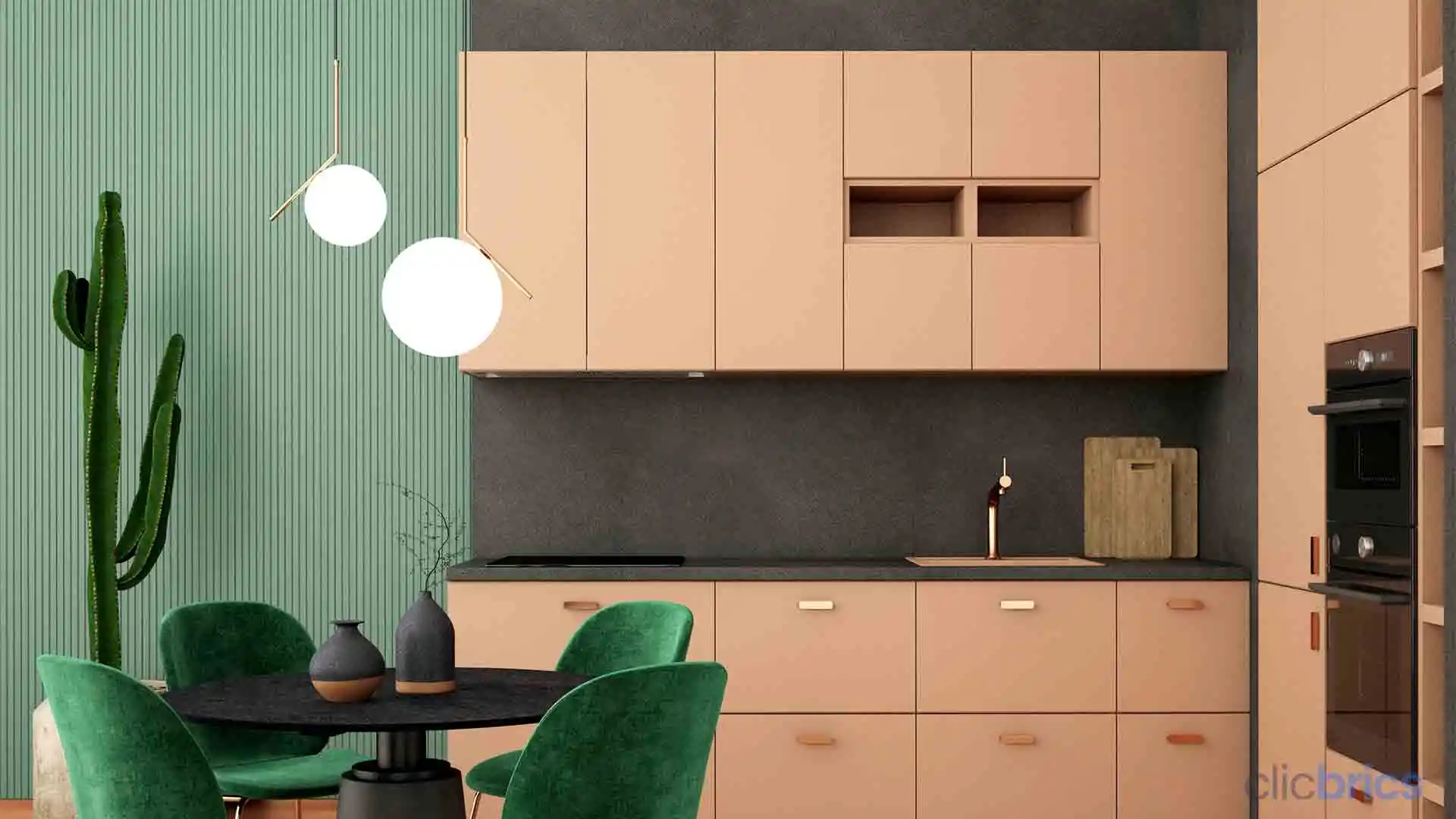 Presenting, in perfect harmony, the colours pink, green, and grey: a show-stopping kitchen colour combination. It adds a chic and classy touch.  For a multifaceted look in the kitchen, try layering in some metallic touches with things like gold or silver drawer knobs and lampshades. You can also choose to have furniture with high-contrast colours, such as the plant green furniture in the image below of an L-shaped modular kitchen, which creates a pop-coloured effect. This is one option available to you.
5. Kitchen Colour Combination of White, Red And Silver Grey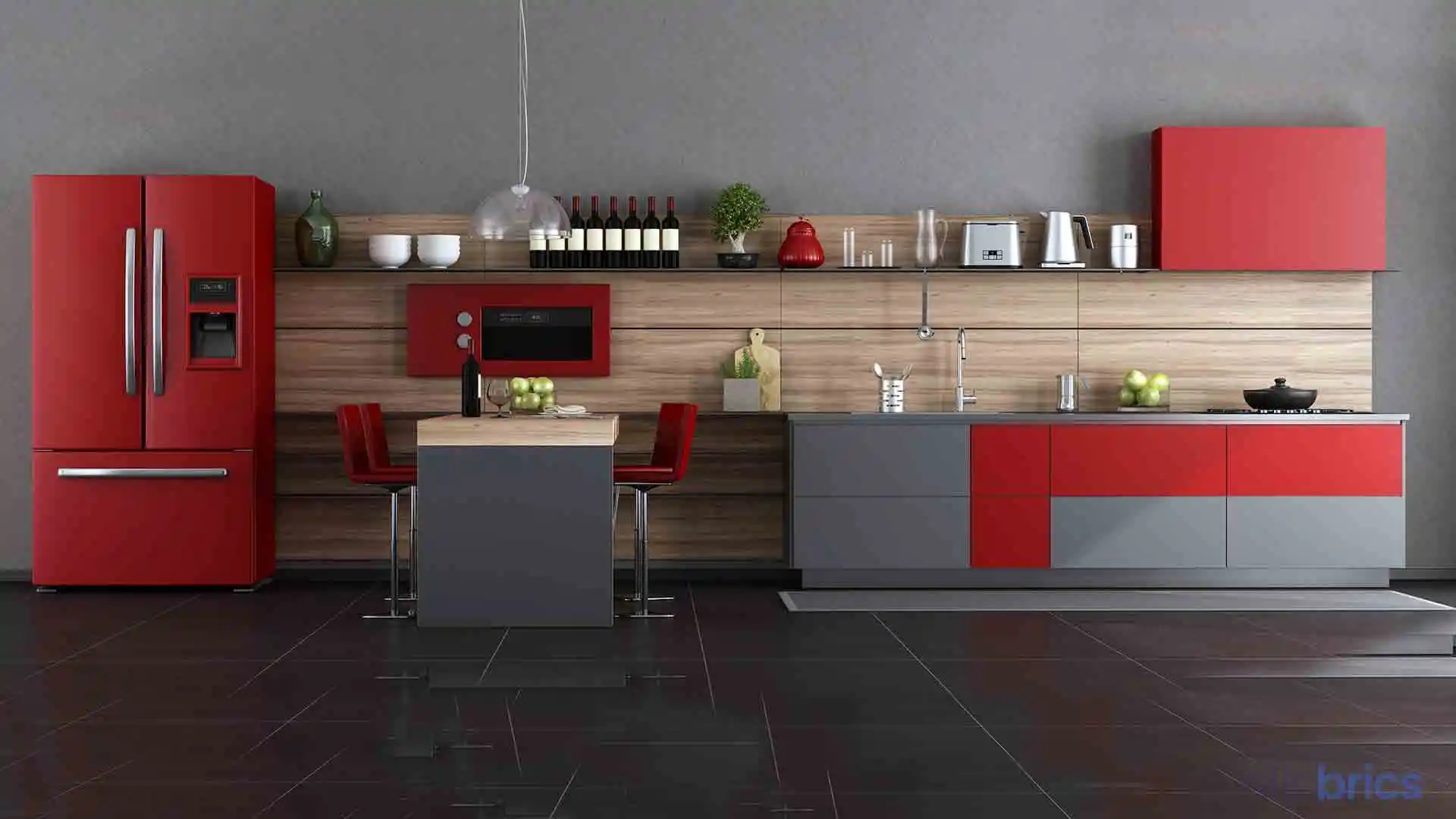 Create a dramatic atmosphere with your modular kitchen colour combination by adding white cabinetry and accents in silver grey. Even in its most mundane forms, cooking can be quite dramatic. For a lively kitchen paint colour combination, you can choose to go with any shade of red, such as cherry red, rustic crimson, paprika, or even more.
6. Kitchen Colour Combination In Neutral Browns And Whites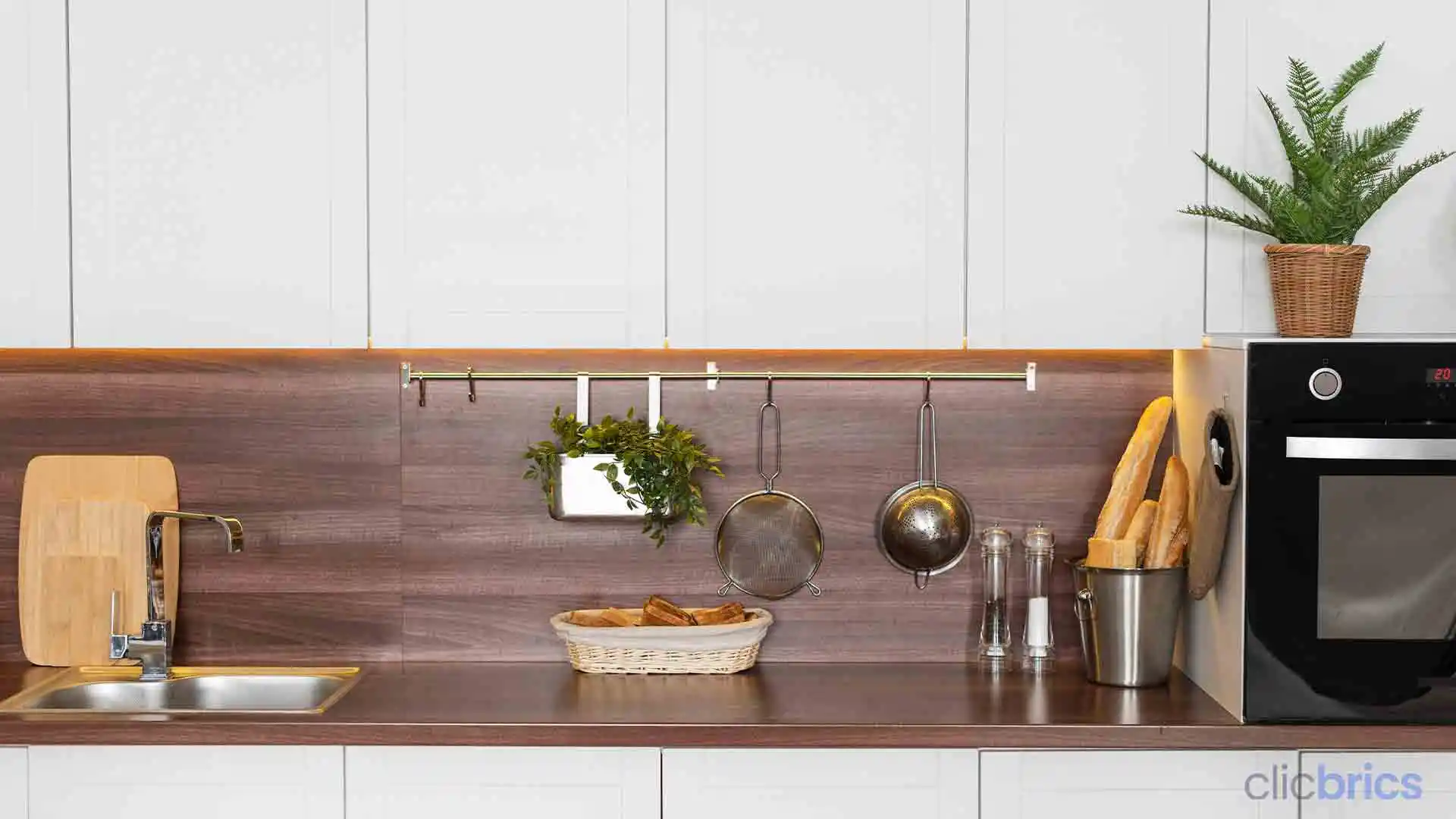 This timeless neutral kitchen colour combination of brown and white in the kitchen keeps it looking uncomplicated and put-together. When going for a more earthy look, natural and raw finishes are the way to go. In order to achieve a layered appearance, you may also choose to install ornamental frames that contain bright yellow LED lights, in a modular kitchen.
7. Add Wood To Your Kitchen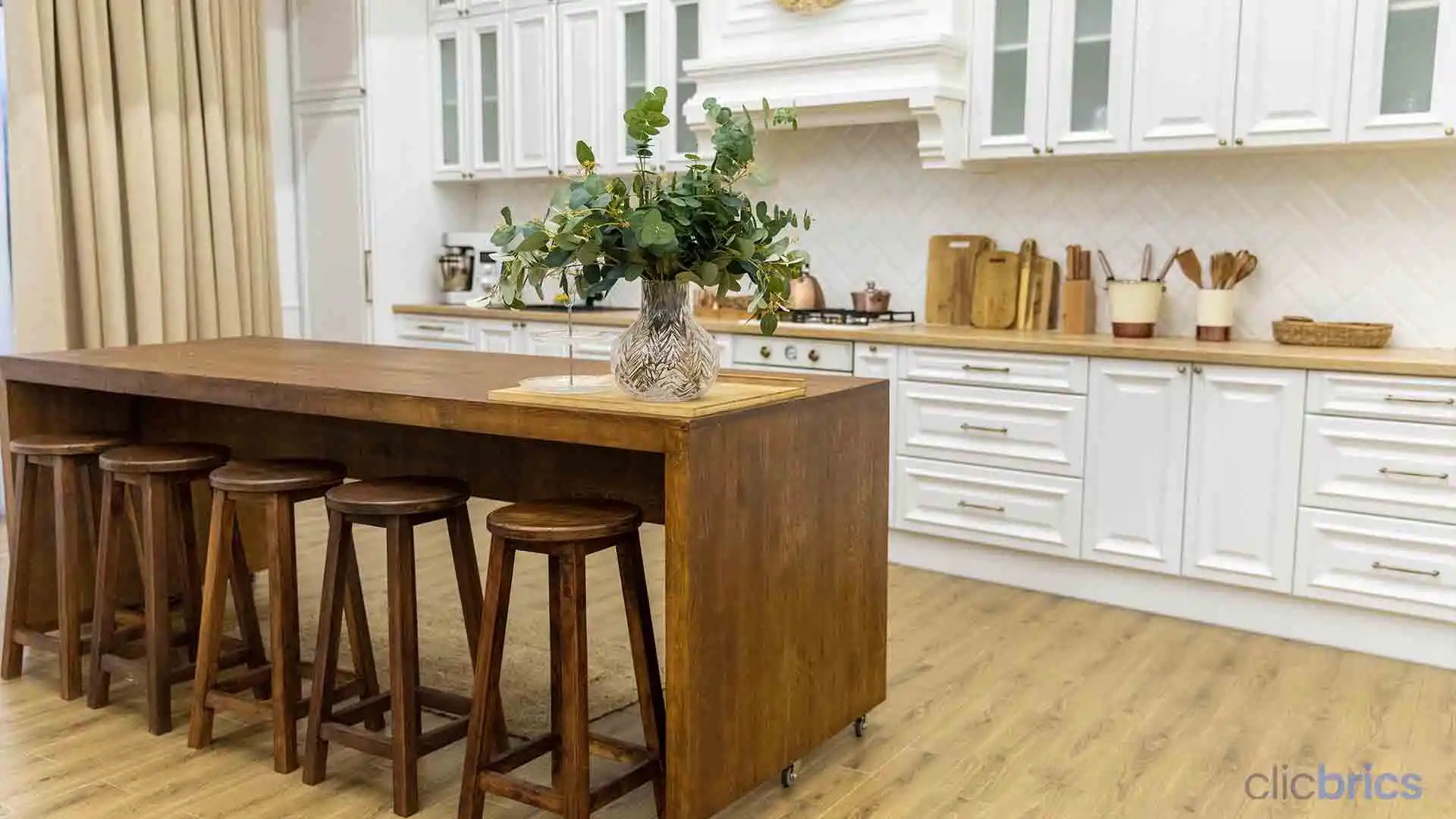 If you want your kitchen to look either sophisticated or industrial, styling it with accents of natural wood colour, like in the image to the right, is a good way to achieve either look with black walls and cabinets. With such an effortlessly chic colour, your best bet is to stick to understated accents and backsplashes.
With this kitchen design colour, you could also choose kitchen colour combinations that include a black platform. Colours or walls made of wood would complement the use of black, so this could be an option for you. 
Also Read: 10 Small Simple Kitchen Design Ideas To Get You Inspired
8. Pastels Kitchen Colour Combination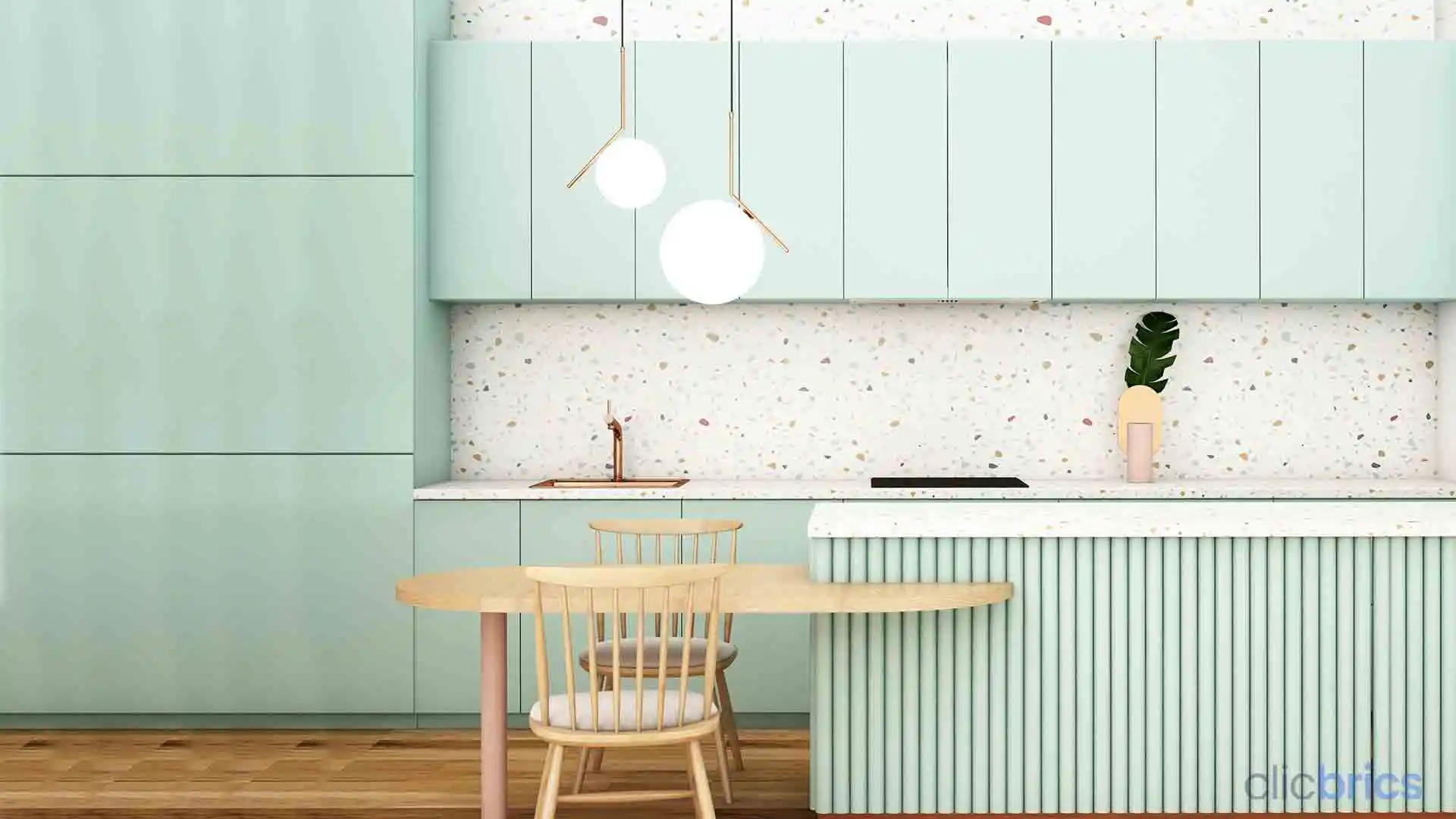 Why not let the lovely play of pastel colours brighten up your time spent in the kitchen and make it more enjoyable? The use of soft, muted pastel colour combinations in the kitchen, such as blush pink and light teal, can create an air of refined gentility because these colours work well together to form a colour scheme that is well suited to the space. 
The use of these colour combinations also lends a retro, 1950s vibe to the overall design.
9. Shades of Grey Paint in the Kitchen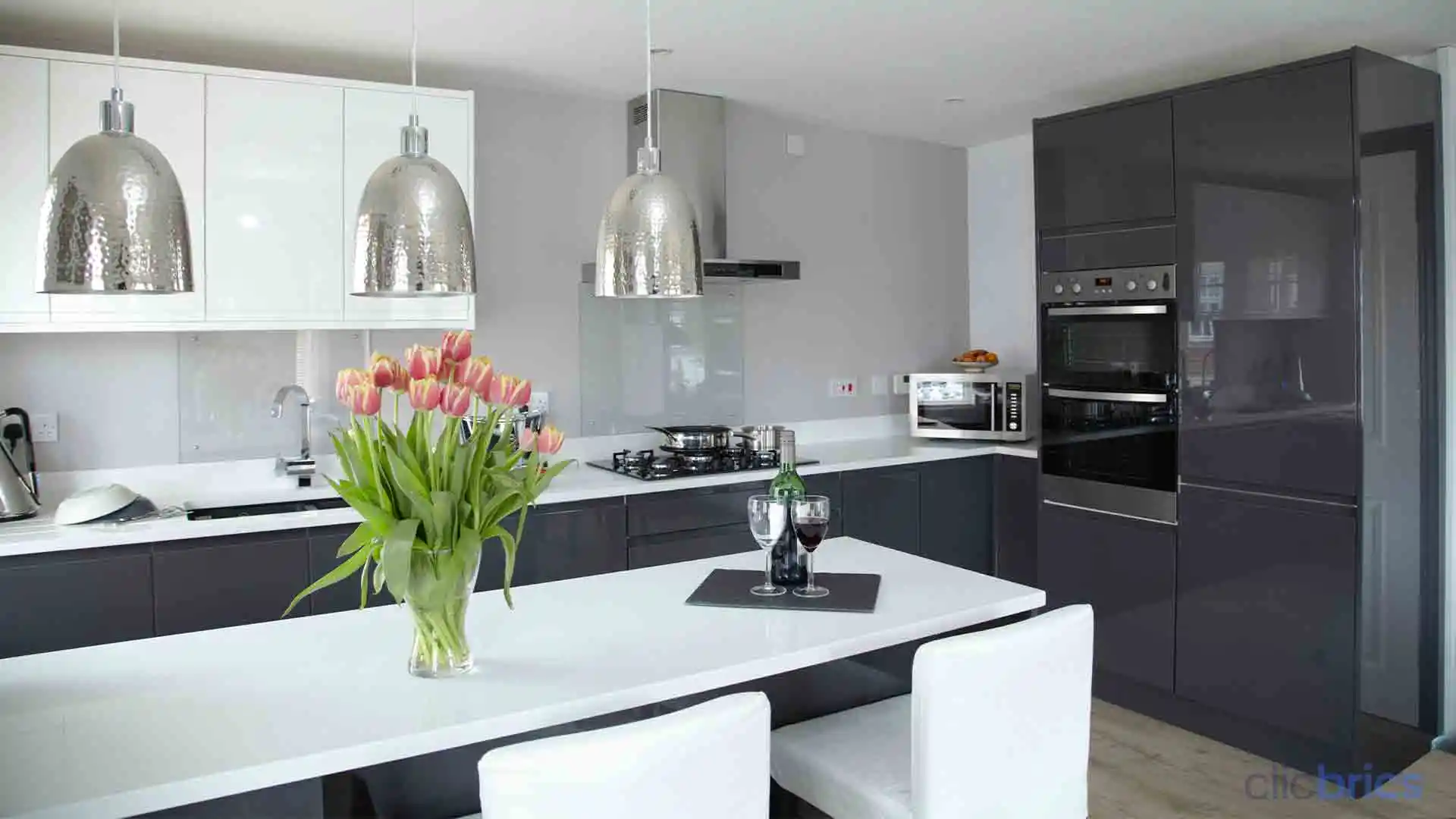 Your kitchen's potential for glitz and glamour may be enhanced by the use of greys. You could accentuate it with simple shelving and lighting, or you could even experiment with a daring and patterned backsplash in grey.
10. Mix Green With Grey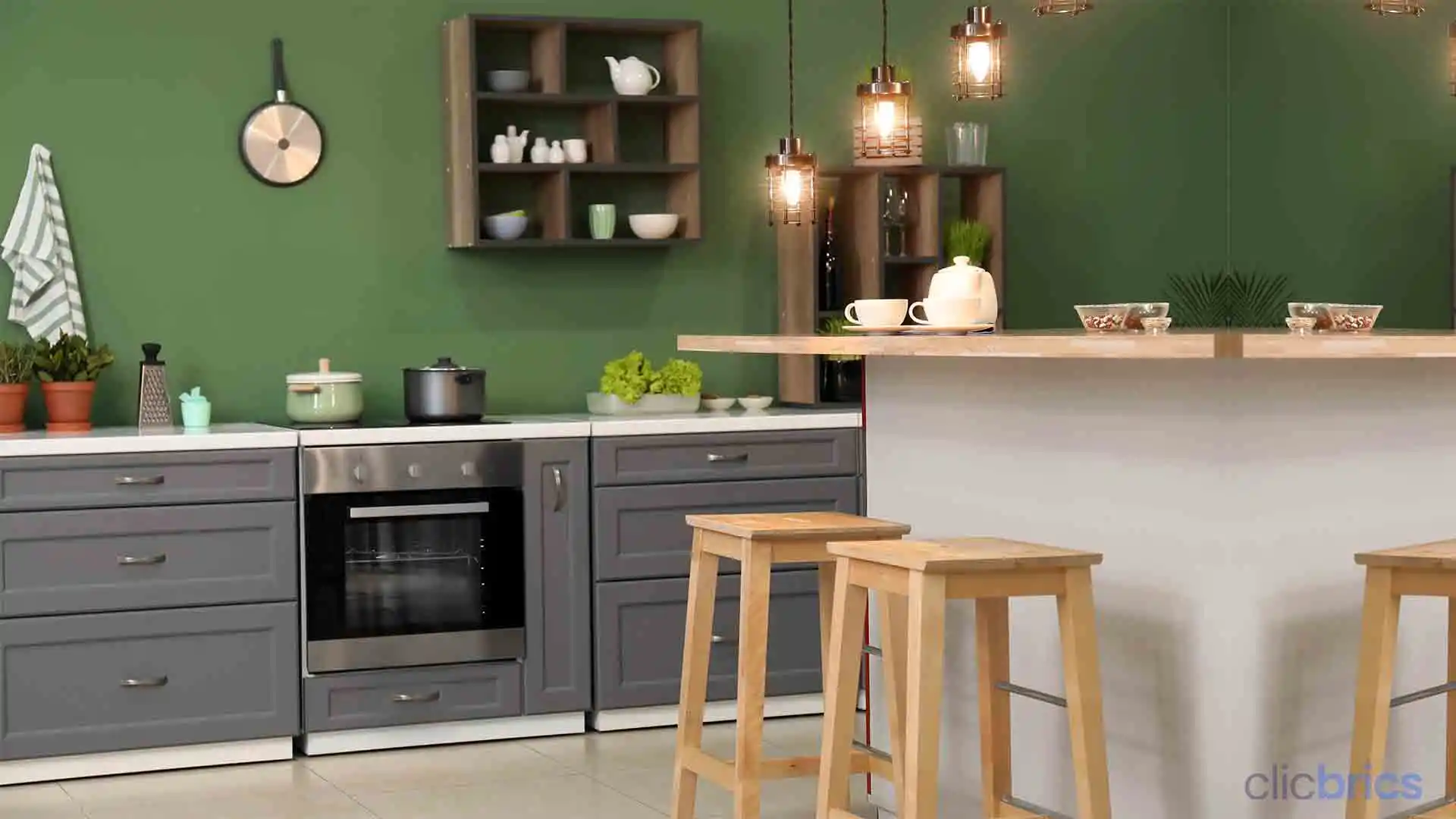 If you want to bring an air of refined sophistication into your kitchen, give the green-grey-white kitchen design colour a shot. For a more natural look, emphasise the earthiness of your modular kitchen by accessorising it with plants, light fixtures, and ledges.
11. Yellow Colour In The Kitchen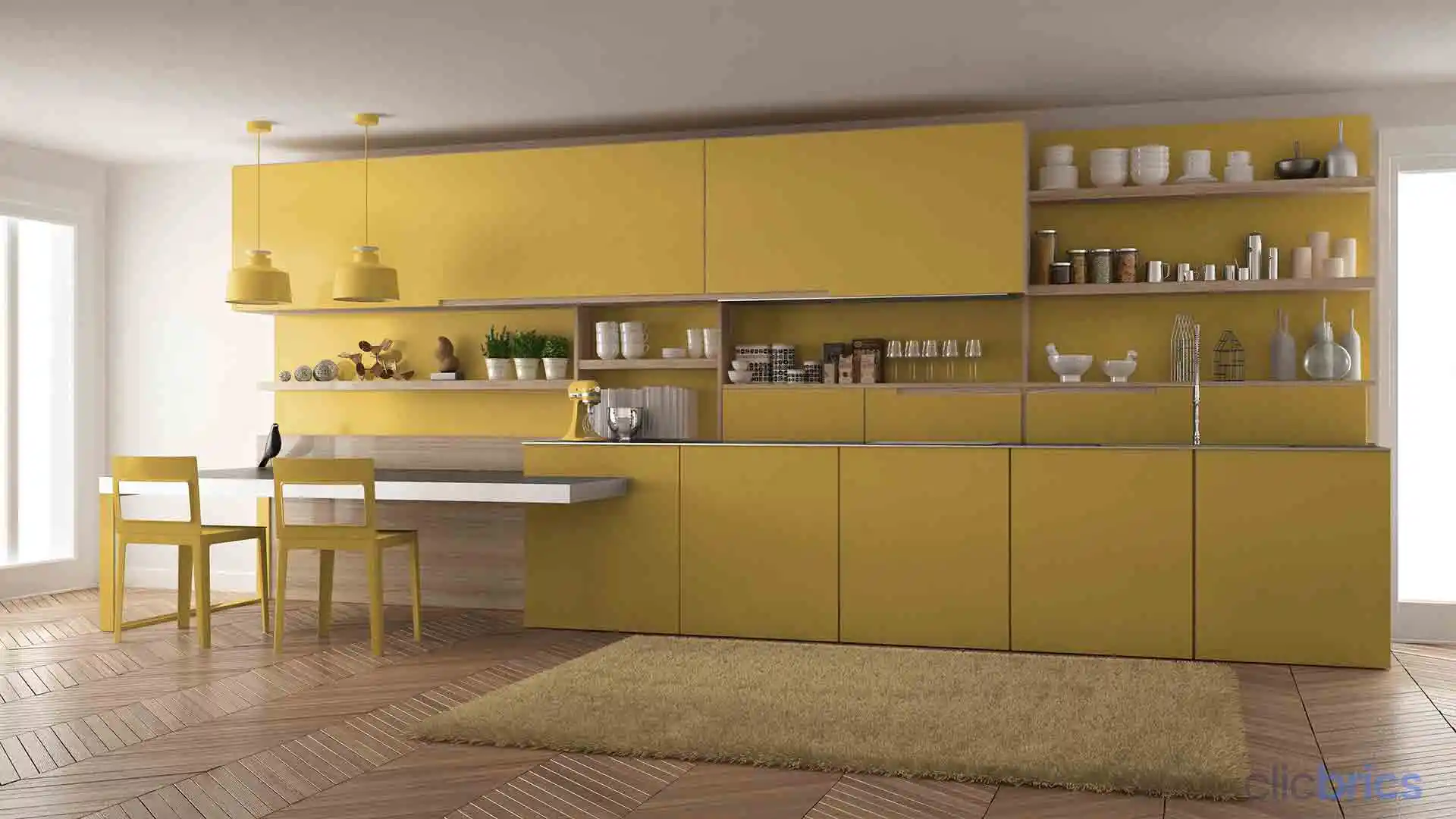 Yellow is a cheery colour that instantly lifts the mood of any space and brings to mind the warmth of the sun. No matter how constrained the space is, a modular kitchen like this one ensures that there is never a dull moment. If you want to, you can reduce the intensity of the light produced by this colour for the kitchen by adding whites, greys, or other neutral accents.
Also Read: 8 Simple Kitchen Trolley Designs With Images
12. Splash of Blue and Orange Kitchen Colour Combination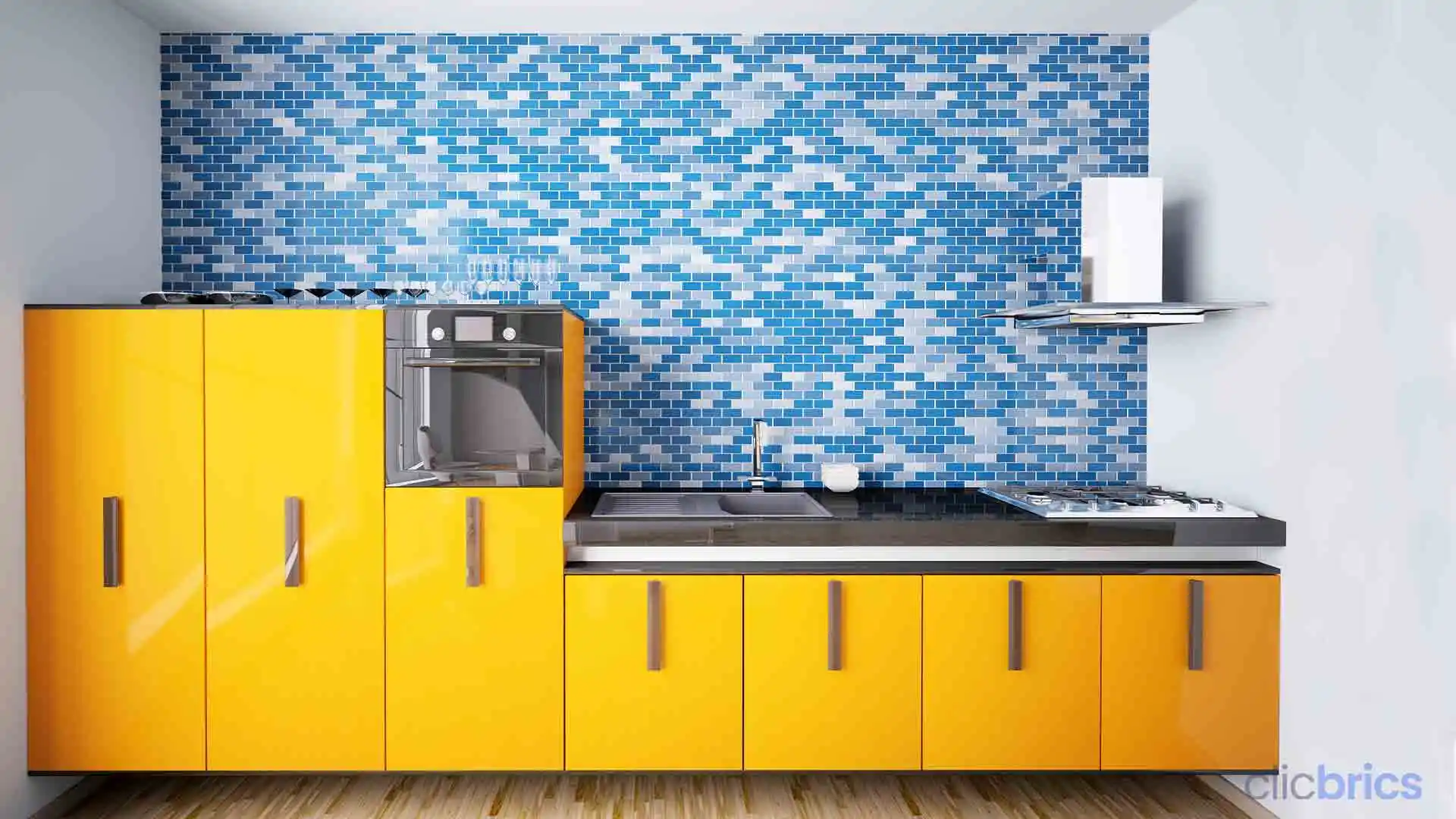 Choose this energetic colour scheme for your low-cost modular kitchen to simultaneously energise and calm you. An ideal colour scheme for a kitchen that is inspired by fire and water is bold orange with a grounding blue accent. 
13. Add Green With Wood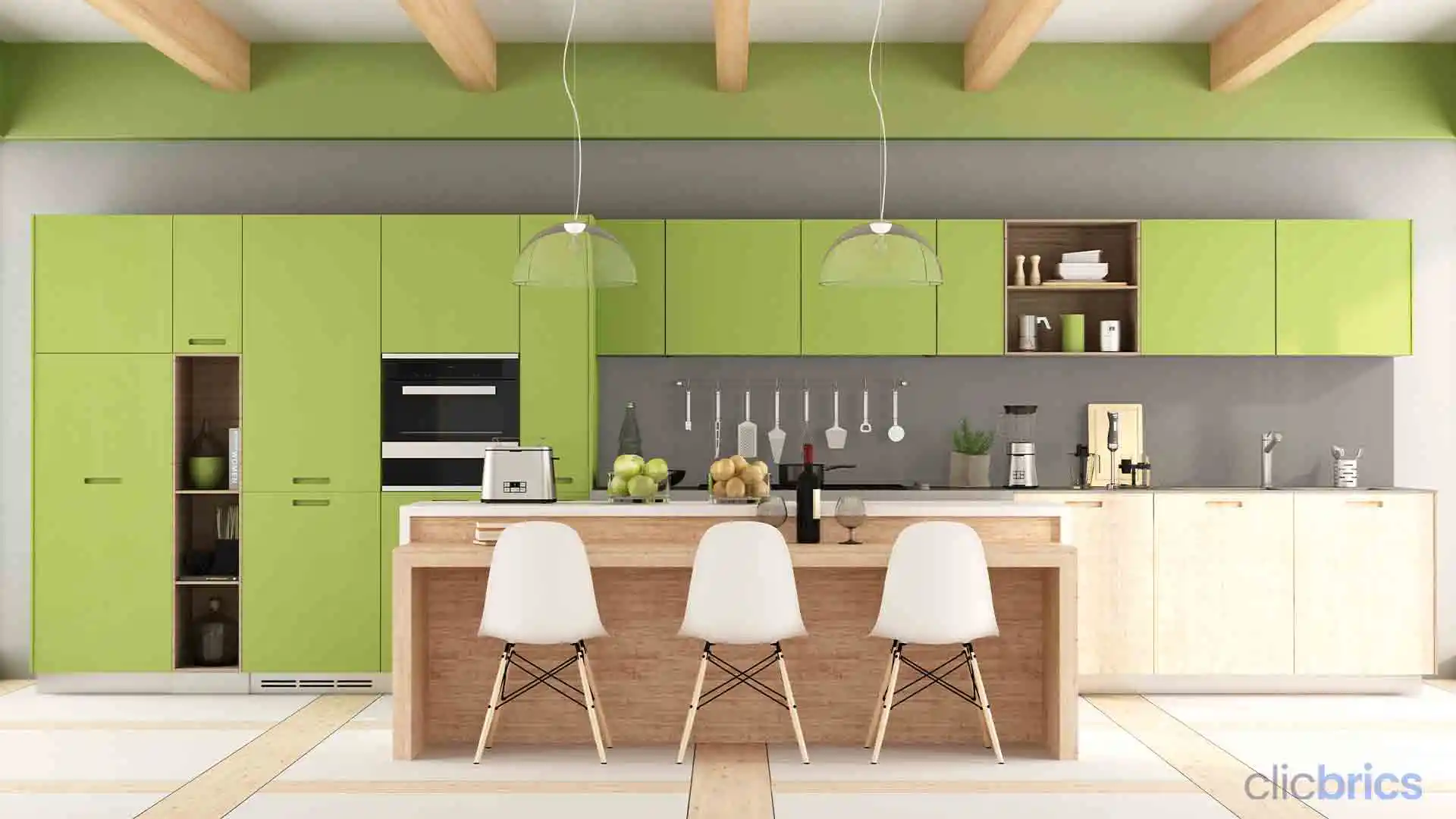 With a green kitchen colour combination for the wall, you can create a natural and airy atmosphere in your kitchen. You can use any tone of green you like, such as vivid leafy hues, olive green, lime green, a pale celery shade, or emerald green. A country look can be achieved with some straightforward woodwork in natural wood tones and a few rustic accessories.
14. Replace Grey With Purple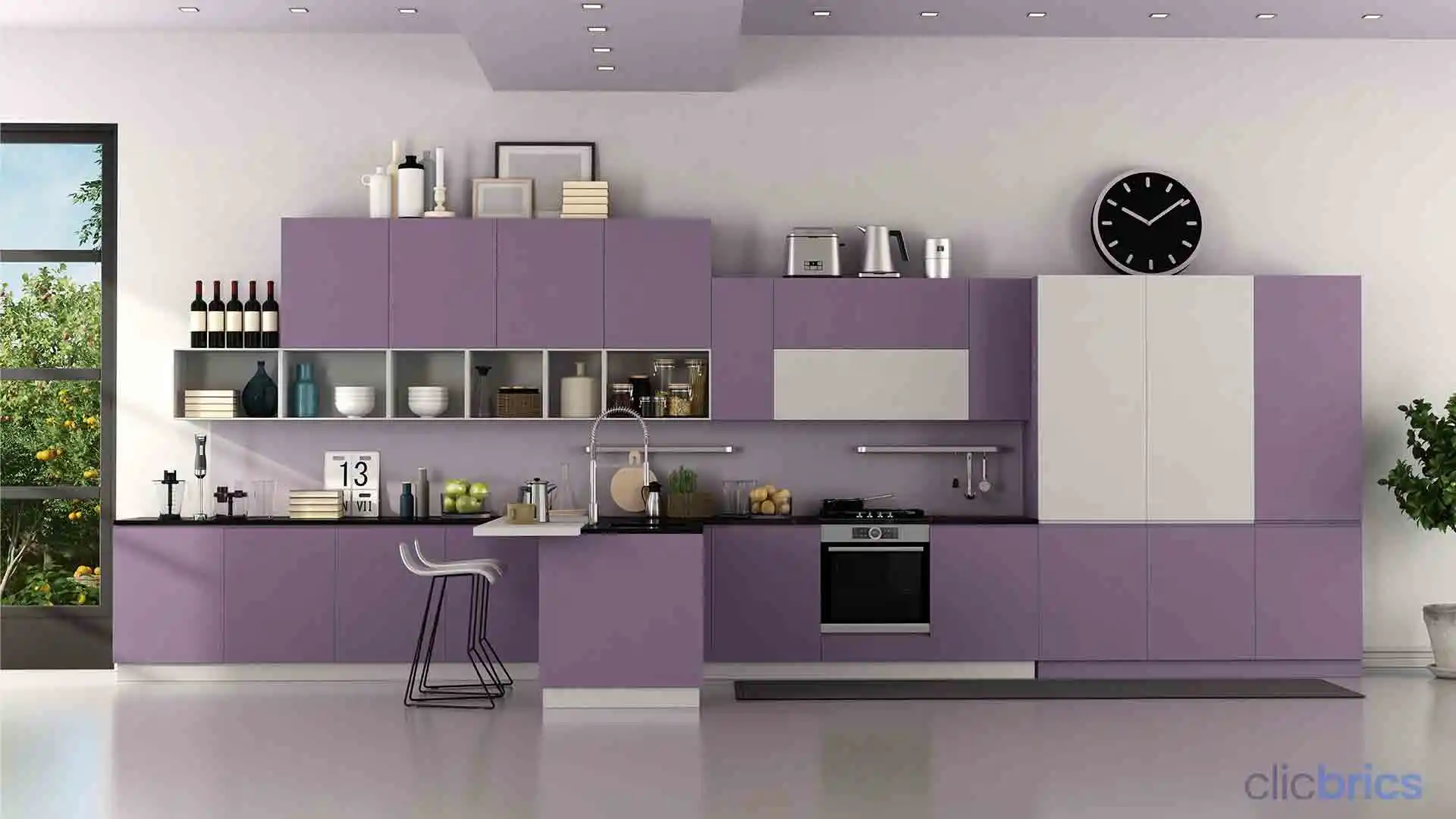 Wanna go retro? Beautiful gradations of purple can help you achieve the desired atmosphere. In order to achieve the look of a kitchen from yesteryear with a pleasing kitchen colour combination, use white as an accent colour rather than grey.
15. A Calm Kitchen Colour Combination With Earthy Colours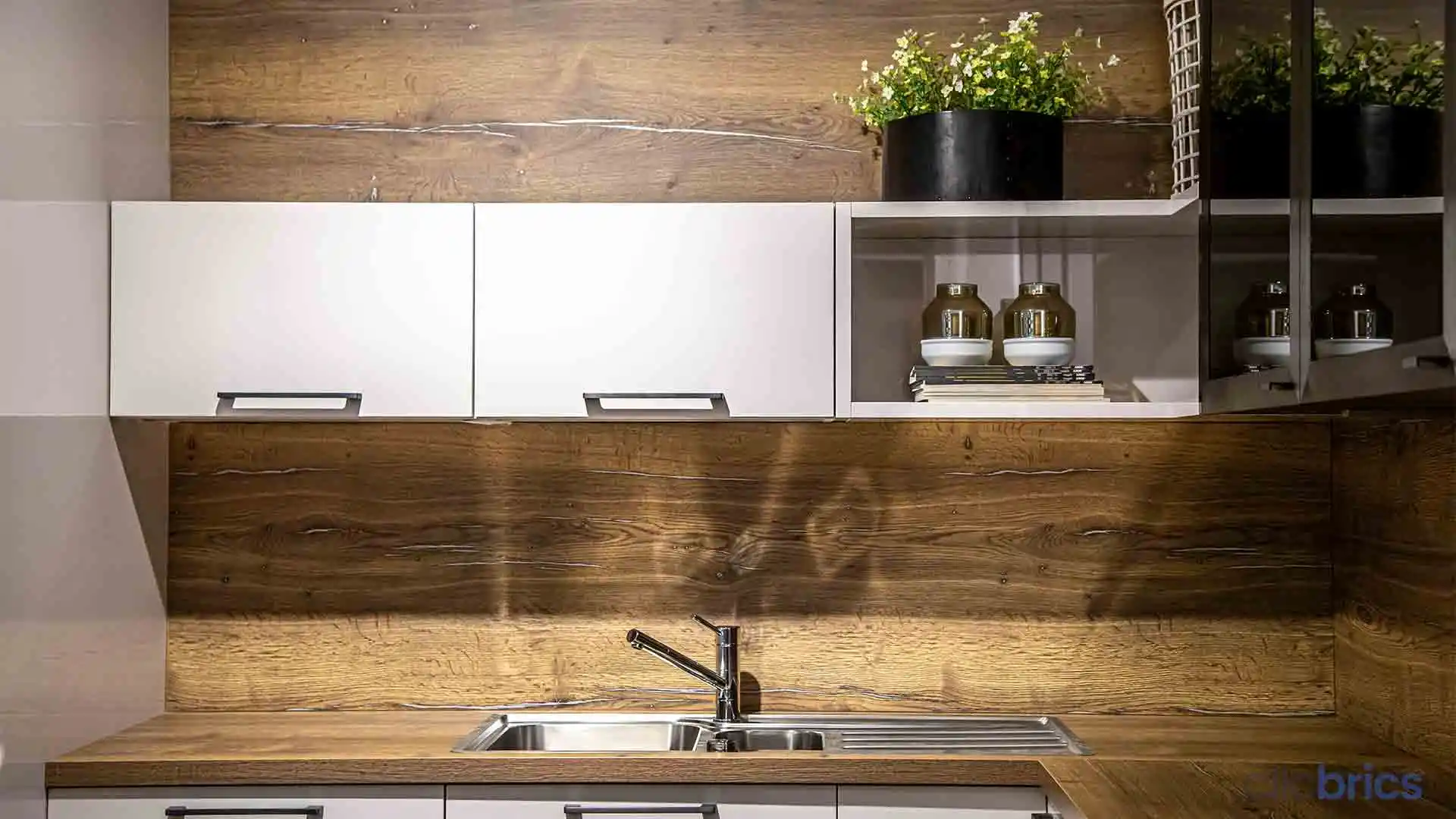 Make your kitchen feel more "grounded" by decorating with varying shades of sand and earth. Consider taking some design cues from homes that feature brown cabinetry, woodwork, and wall paint, among other elements. Even this subtle change in colour can have a dramatic effect on the aesthetics of your kitchen.
16. Kitchen Colour Combination Inspired By Ocean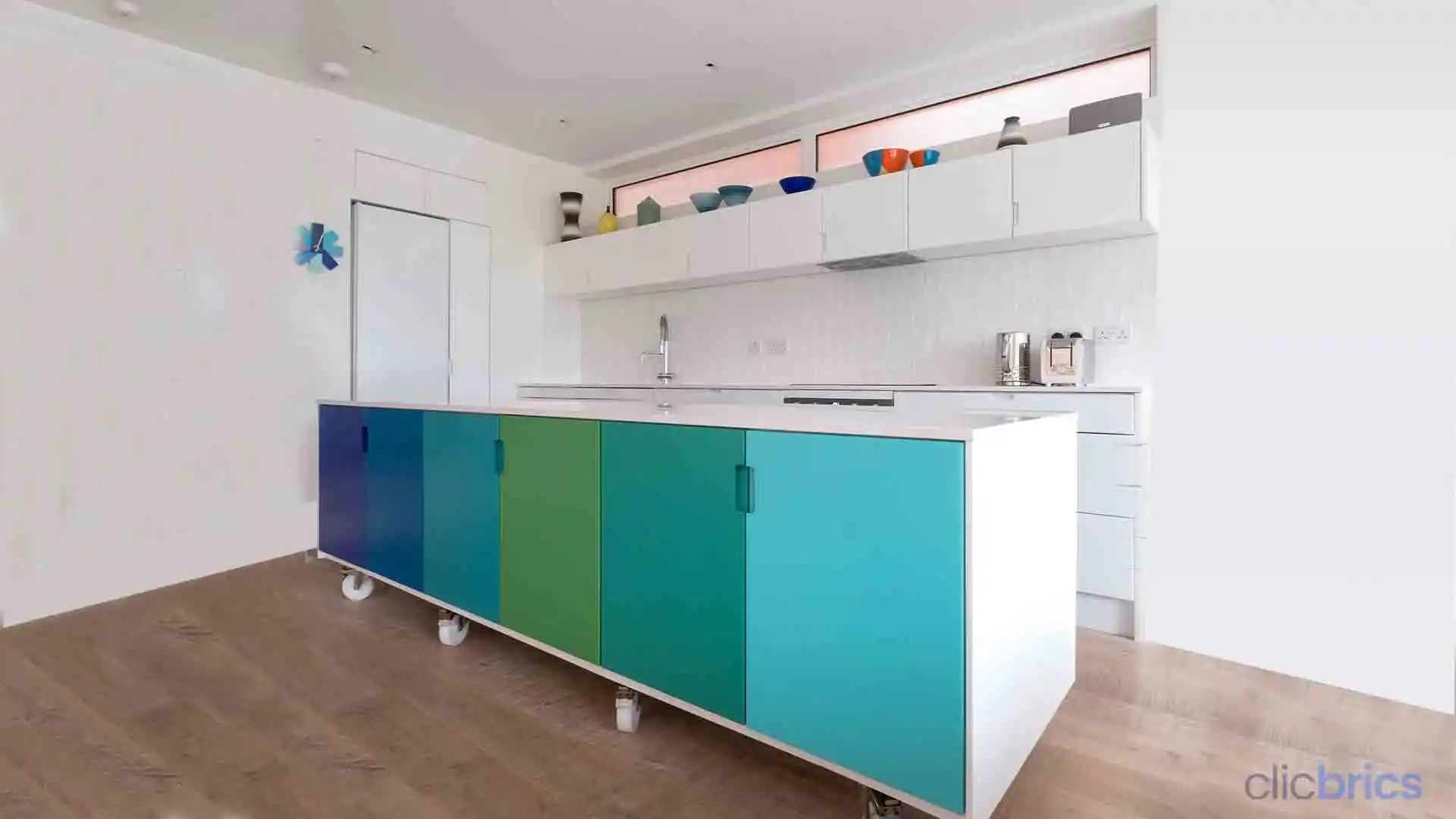 This is the perfect way to bring the beach back home with you if you're a fan of coastal getaways. Use the many hues found in the sea as inspiration for your kitchen's cabinets and decorative elements. Another striking kitchen colour combination option is to pair a deep blue with metallic highlights. Make use of gold and copper in small touches all through your home, such as cabinet pulls, bedside tables, shelving, lamp shades, and the sink itself.
Conclusion
Indeed, colours have a magical way of adding emotions to inanimate objects. Infuse your kitchen with a sense of comforting life by allowing your imagination to fully immerse itself in these colours. It goes without saying that you should select a colour scheme that is congruent with your character and sense of fashion. 
Allow your chosen kitchen colour combinations to set the mood and provide the ideal setting for beautifully prepared meals, love, and laughter to surround them in this space.