Table of Contents
The dream of owning a custom walk-in closet dwells in many hearts, but very few know how to utilize all available space to create something magnificent. But is it that difficult, you may wonder? It is just a closet to keep all your clothes and accessories in, isn't it? Well, we beg to differ.
A walk-in closet is a door to a large space, not just for your clothes and accessories but for your grandiose ideas. It is a perfect hideout on a bad hair day, a comforting refuge when you are feeling low, and an urgent booking for some excellent in-house skin care sessions. 
The probable next question in your mind would be how to curate a luxurious walk-in wardrobe design. We have taken it upon ourselves to bring you the best design ideas out there. Let us jump straight into it!
1. Go Doorless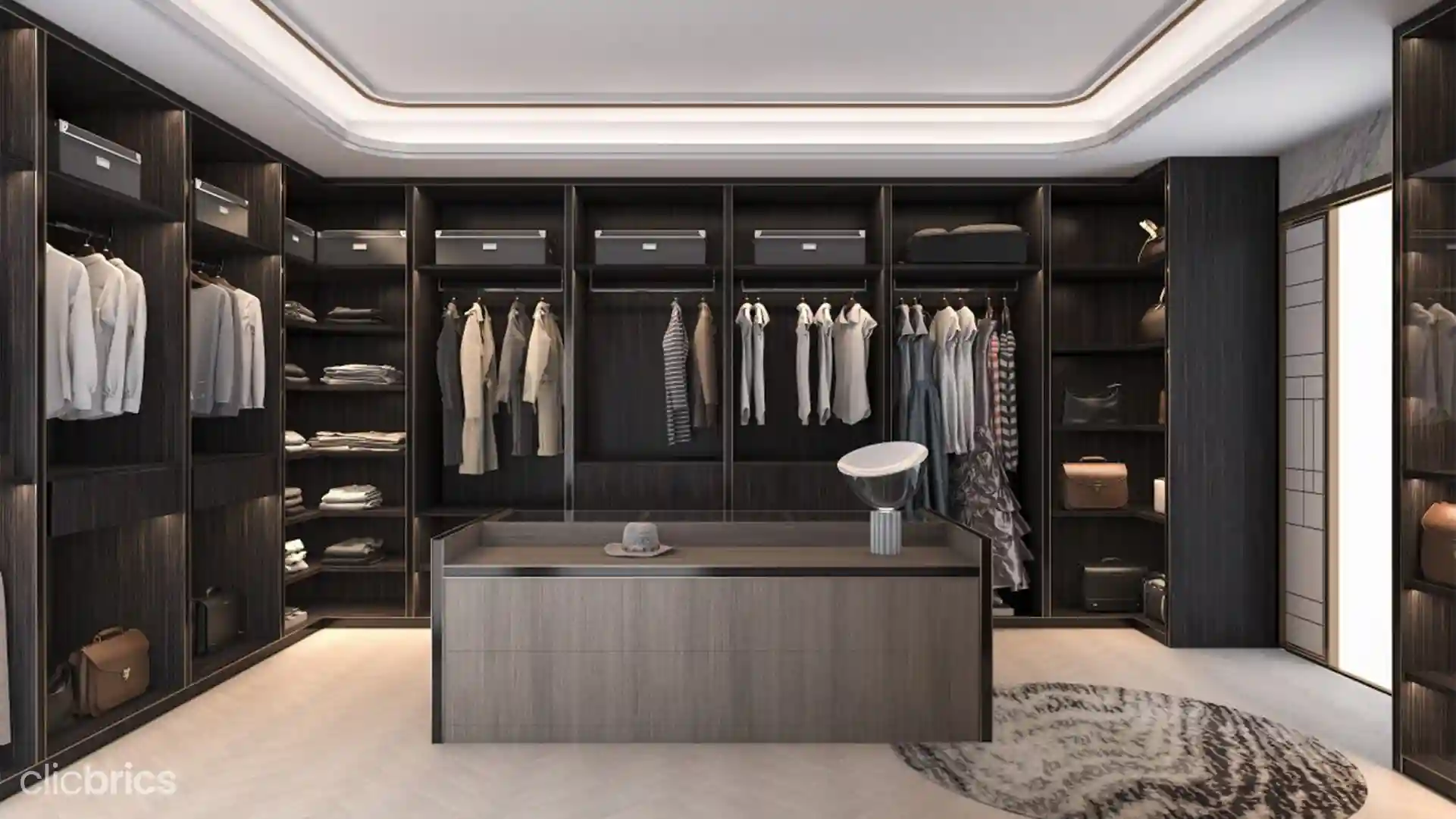 Those fortunate enough to have a spare room that they can dedicate to a walk-in closet may want to think about creating one without doors or curtains. If you want to be able to see everything you own at a glance, this will work very well for you. The open walk-in closet features shelves and storage units that have been customized specifically for the purpose of displaying clothing and accessories.
2. Designed in the 'Ensuite' fashion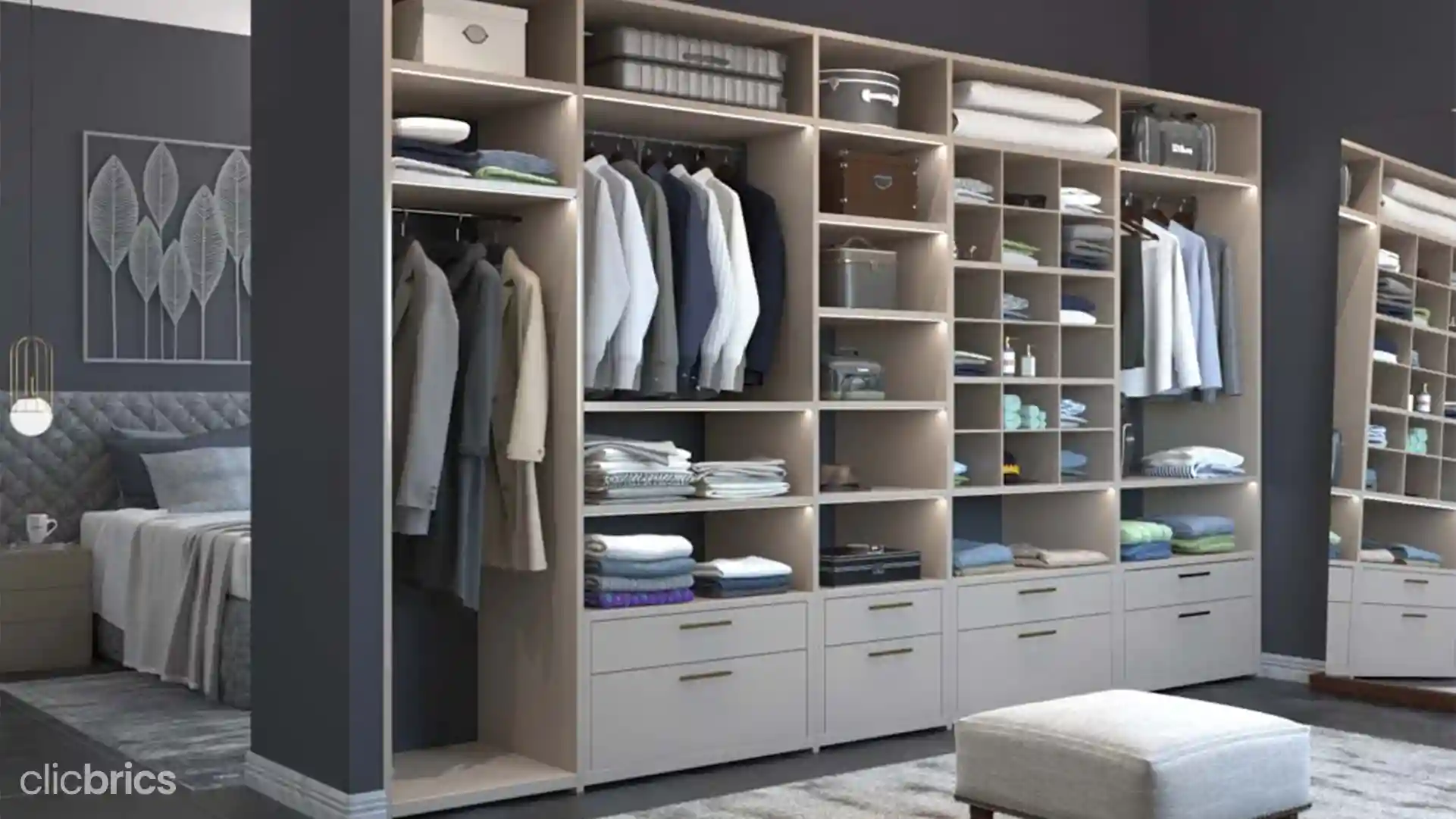 A walk-in closet is frequently placed between the bathroom and the bedroom. The location is ideal; you can change into your clothes right after getting out of the shower. However, if you're thinking about going with this setup, you should make sure the bathroom is separated by a door so that you don't have to deal with the issue of dampness getting into your closet. An exhaust fan in the bathroom or a dehumidifier can help to lower the humidity and air pollution that can damage clothing stored there.
Also Read: Latest Cupboard Design Ideas That You Can Explore For Your Home
3. Use All Spaces Available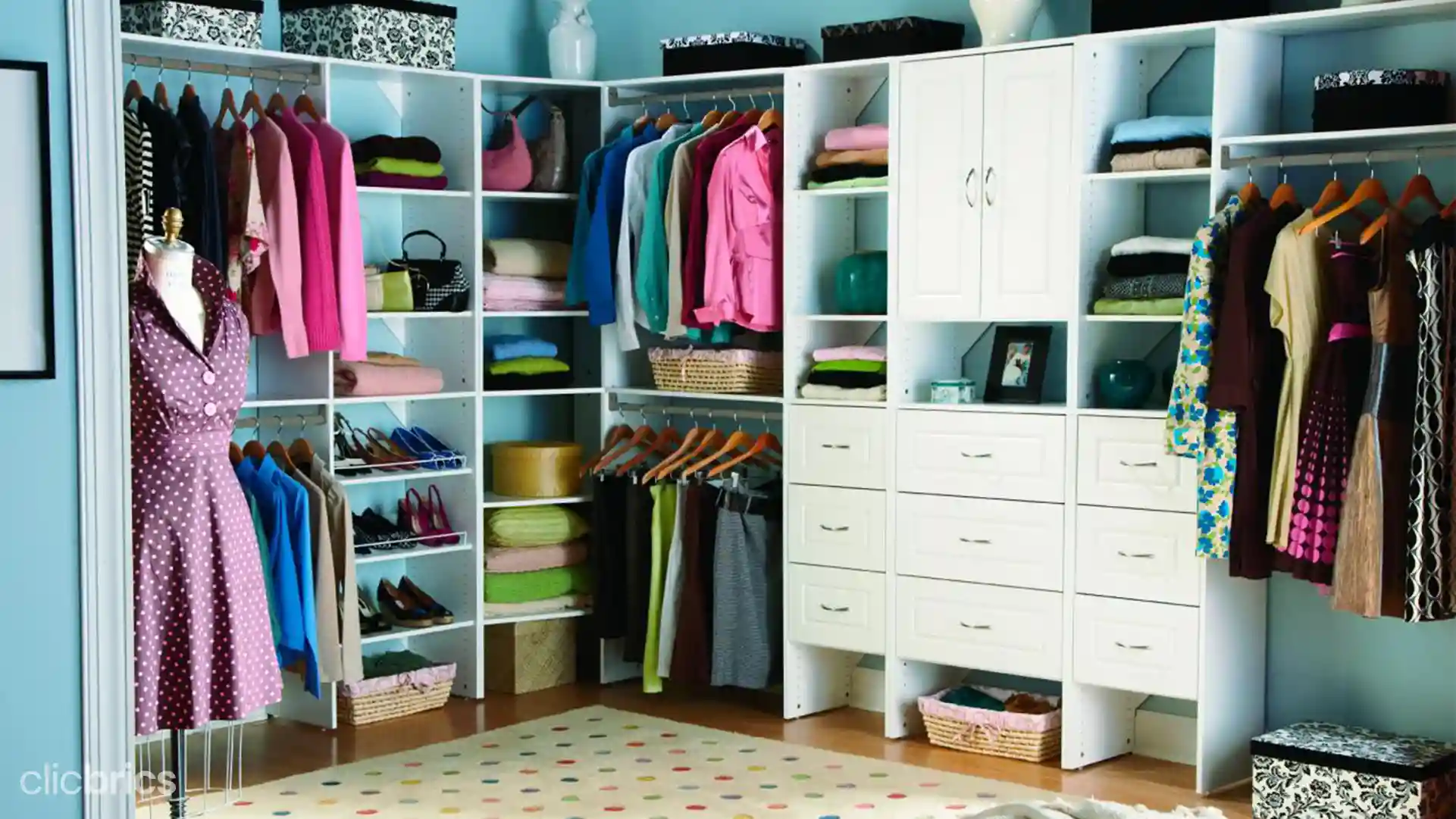 Walk-in closets are a great example of how even the smallest, most inconvenient spaces can be put to good use. It was possible to build a spacious walk-in closet with shelves because of the thoughtful design of the space. The use of a mirror at the far end emphasises the sleek design and creates the illusion of space, all while serving its natural purpose.
4. Wardrobe as an Extension of the Bedroom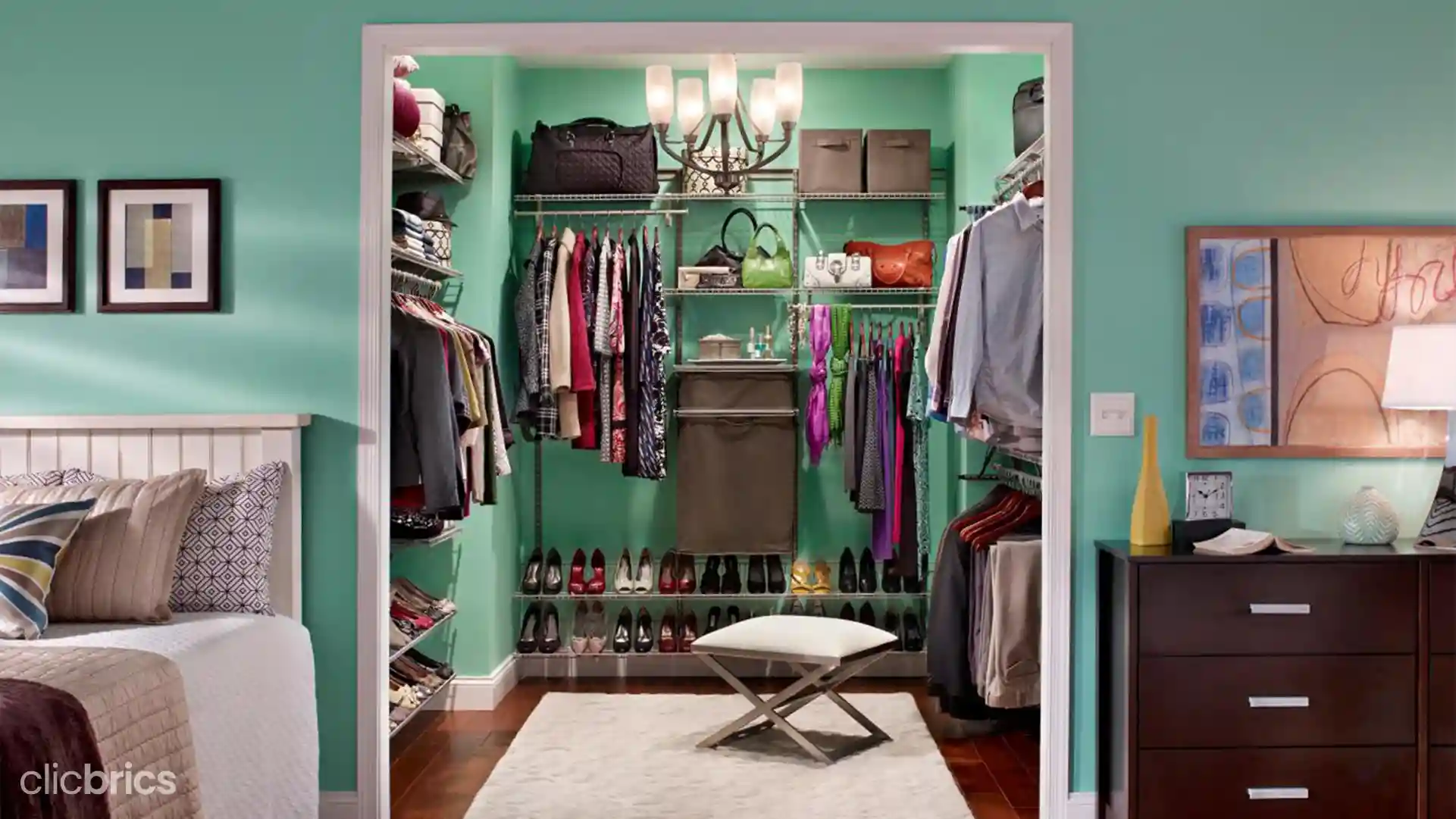 A stud wall (an interior wall made of a frame of upright timbers to which laths and plasterboard are attached) is an excellent choice for dividing a large or even moderately sized bedroom. The entrance can be concealed behind a sliding door, or you can leave it open for a more fluid transition between the bedroom and the closet.
Sliding doors could be used to divide the walk-in closet and prevent dust buildup. If your bedroom is spacious enough, dividing it up like this is a fantastic idea. Mirrored doors are better because they serve two purposes. Besides their obvious practicality, mirrors' ability to reflect light into the room gives the impression of even more open space.
5. Keep it Simple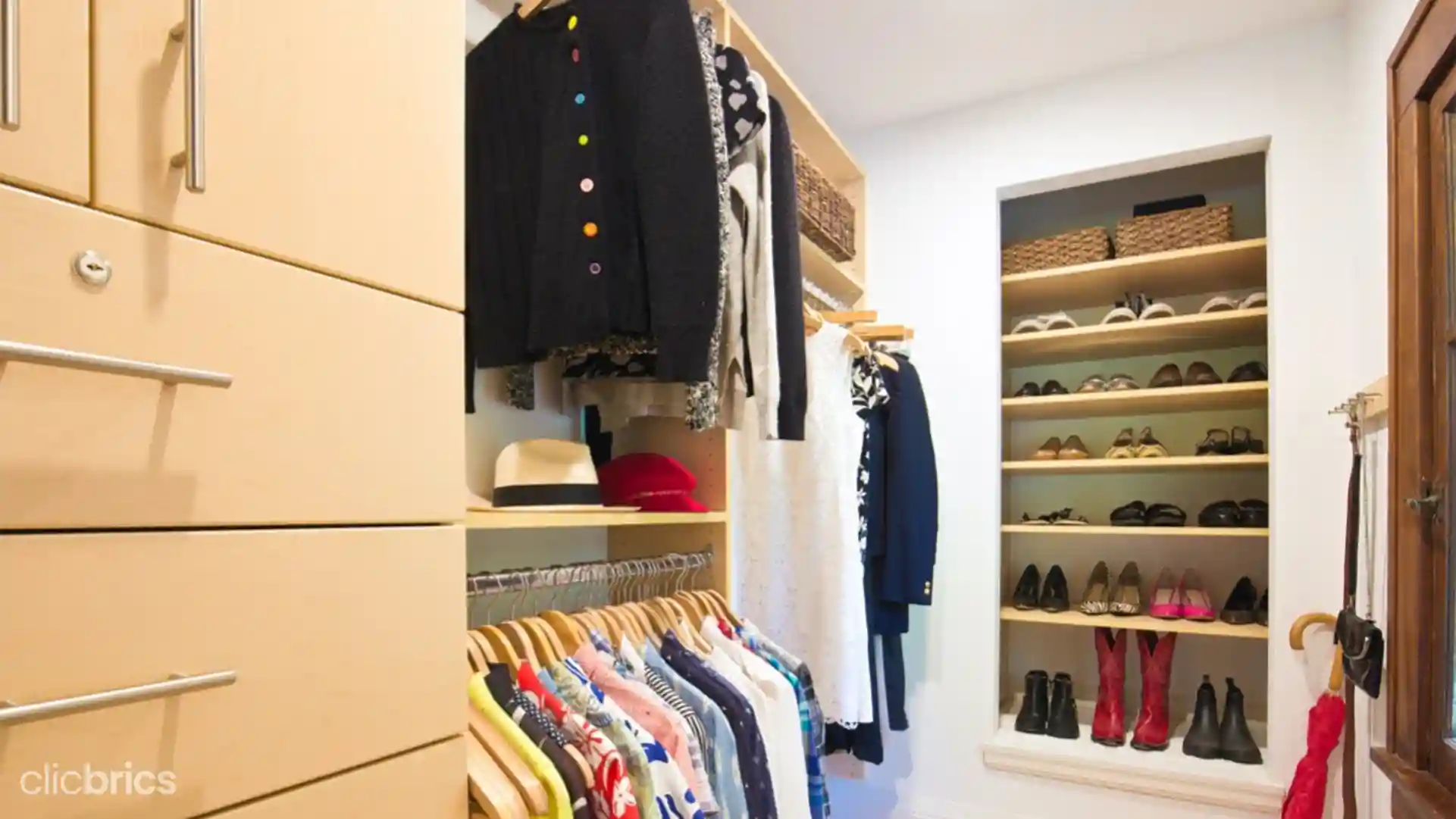 Because of the doors that keep clothing hidden away, this closet has an understated simplicity—ideal for a messy person as well as a cleanliness freak. While the shoe display at one end of the walk-in closet can be made into a design feature, the rest of the closet's contents can be hidden behind sliding doors to maintain a minimal aesthetic.
Don't Miss Reading: 15 Modern wardrobe designs that will transform the look of your room
6. Eve - Friendly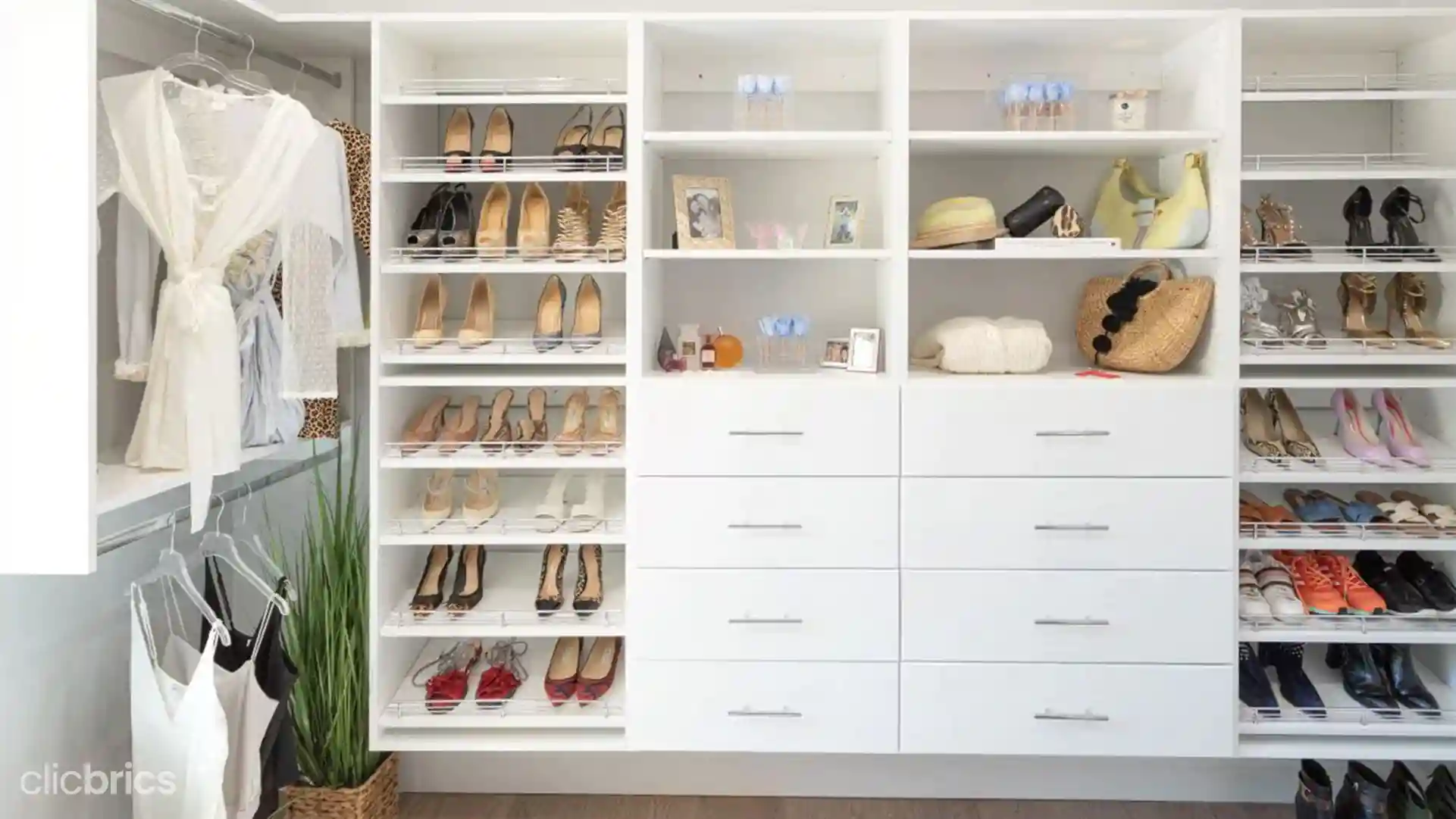 A beautiful sanctuary, this closet is the perfect place for ladies to unwind and indulge. Pay attention, single ladies: this is how to use that spare bedroom you've been sitting on.
Depending on the available area, you may want to install shoe shelves, shallow drawers for jewellery and other fashion accessories, and a hanging rod for longer garments. The opulence is completed by a chandelier and a vanity table fit for a star.
7. A Small Closet that Doubles as Storage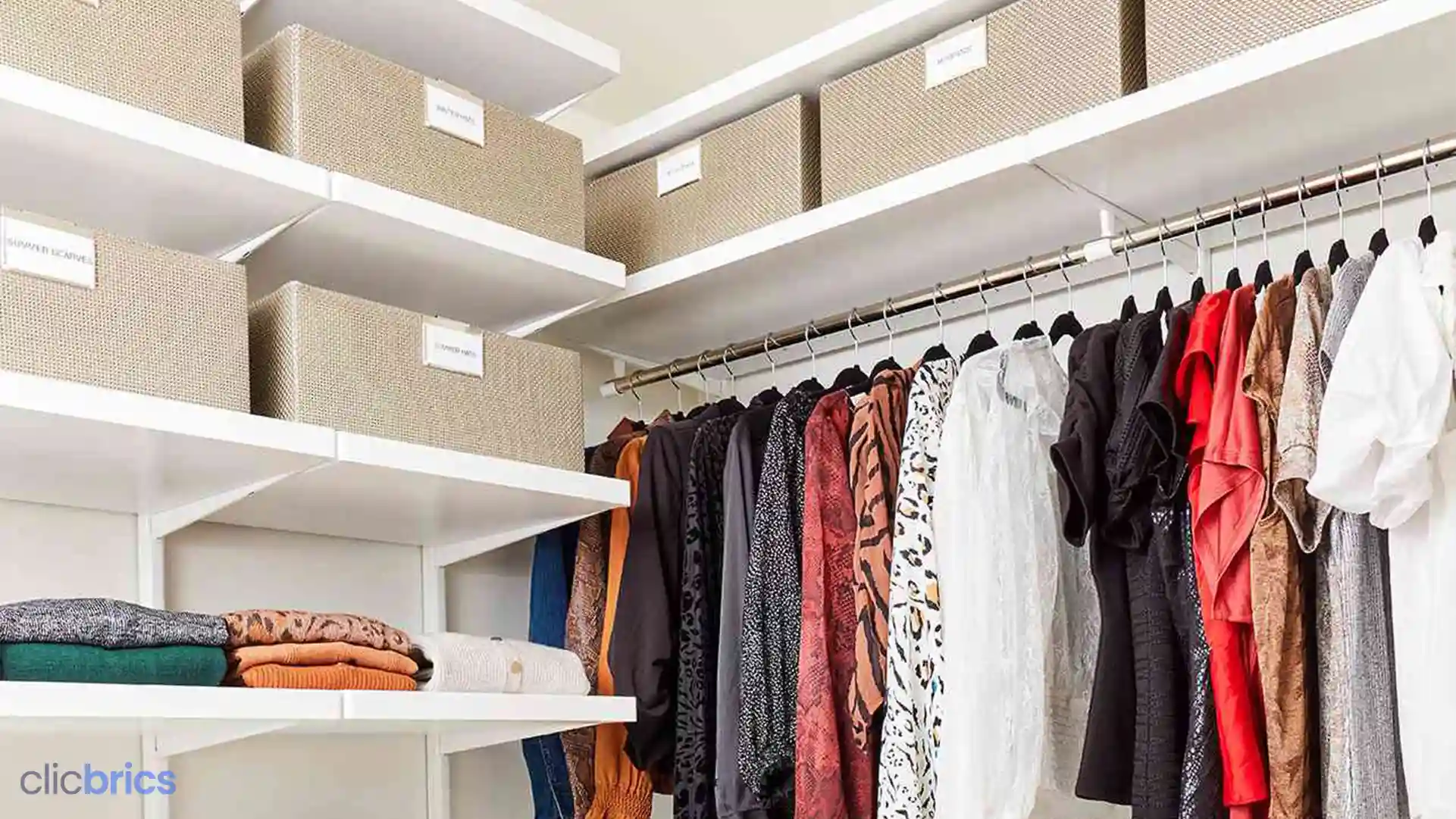 An open shelving scheme in a walk-in wardrobe design provides a welcome visual break from the closet's dark surface, speeding up the process of selecting an outfit. Having a lightweight ladder to reach the upper shelves of the closet is a brilliant idea. Elements such as a modern layout, ample storage, multiple mirrors, bright lights, a dresser, and a soft sofa to collapse on after a long day of work are nothing short of heaven.
You can try out few more suggestions to make sure your walk-in closet design stands out from the regular designs:
Cabinets with sliding doors, small push -in handles and large glass display

Shelves and small compartments for accessories and footwear

Vanity Corner for days you want to pamper yourself

Large Mirrors surrounding the vanity at the end of the closet

Small mirror lights and LEDs for Shelves and Cabinets

Add a central Light like a small chandelier can be added

Artwork complementing the theme of your wardrobe

Use Hangers for a easy access and open display

Have a Colour Scheme for different sections to make cloth selection easier

A small central wooden island for watches, jewellery, neck-tie and handkerchiefs
Building a walk-in closet is a smart investment. The right walk-in closet design can add life to your room. Infact, a small walk-in closet adds the same glamour to your home as a large one does. The designs of contemporary wardrobes are available in a range of sizes, and prices, to cater to a diverse array of living arrangements and financial constraints. 
Do you want help with some more home improvement inspiration? Learn everything you should know about upping your space's aesthetic value in line with current trends in home design.