Table of Content:
Many homes consist of multiple floors that require stairs. You will find plenty of shapes and staircase designs that you can install to make your home look its best. However, before finalizing everything, you should ensure the blueprint that conforms to staircase vastu principles. 
It is true that most Indian homeowners tend to go by vastu direction and orientation for every part of the home including the stairs, too. Staircase vastu repels negative energies and can bring wealth, health, and good luck. 
If you're planning to start with your home's construction, build a staircase as per Vastu to promote an easy flow of positivity in the house. 
The preface above might have created doubts regarding staircase vastu, position, direction, and steps. Well, not to worry anymore! Today's blog is specifically created taking into consideration all doubts and offering the best tips for staircase as per vastu, direction color, benefits and everything else you need to know.
Also Read: Vastu Shastra Tips to Create a More Harmonious Home
Helpful Staircase Vastu Tips
1. Ensure the Clockwise Orientation of Staircase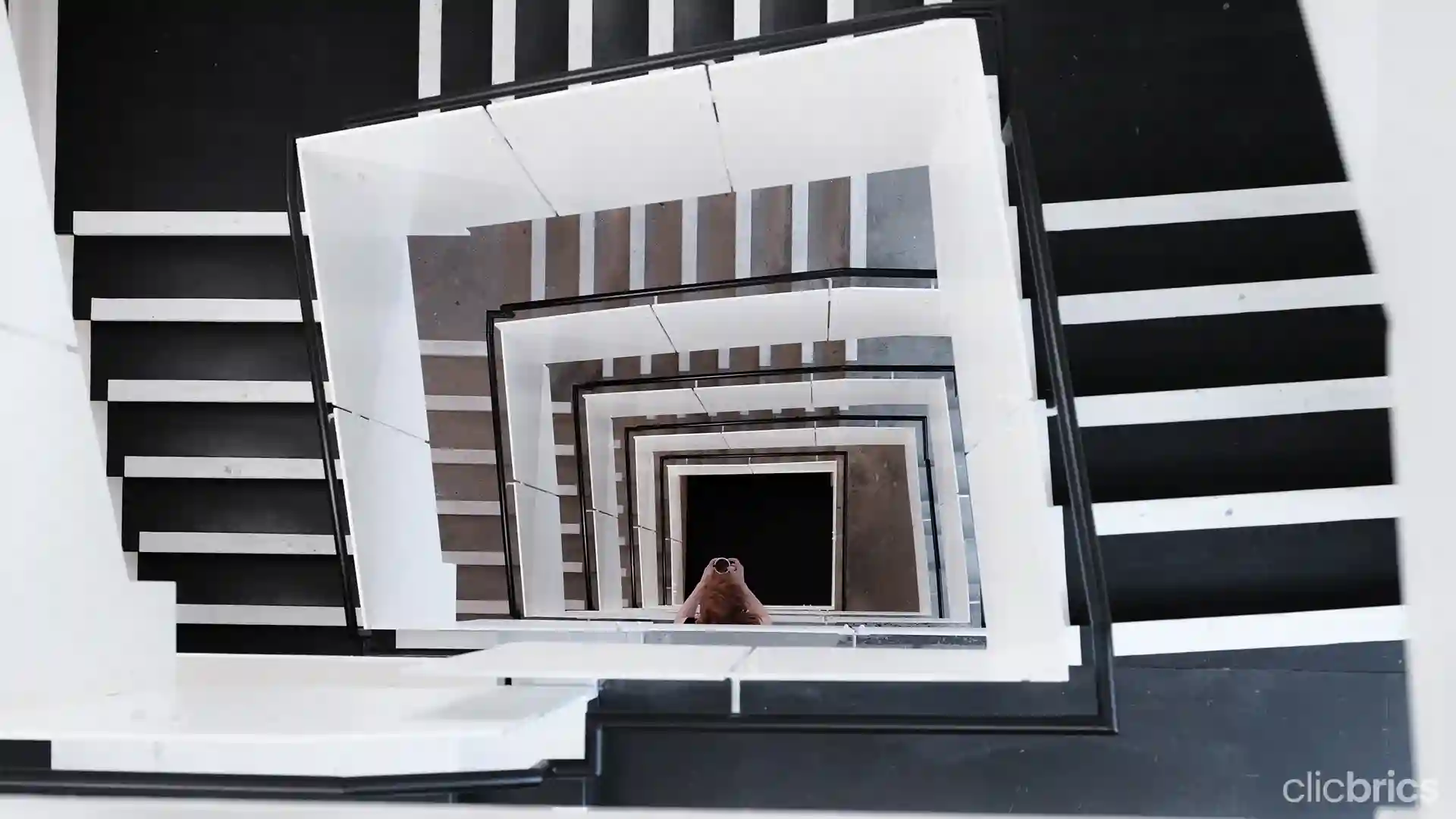 Staircase, as per vastu, should always be planned clockwise, i.e., from north to south or east to west.
According to the readings of Vastu Shastra, a staircase built anti-clockwise can become the root cause of sudden career degrowth in one's life. To secure the career of yourself and your family members, build a staircase in a clockwise manner only. 
2. Right Staircase Direction as per Vastu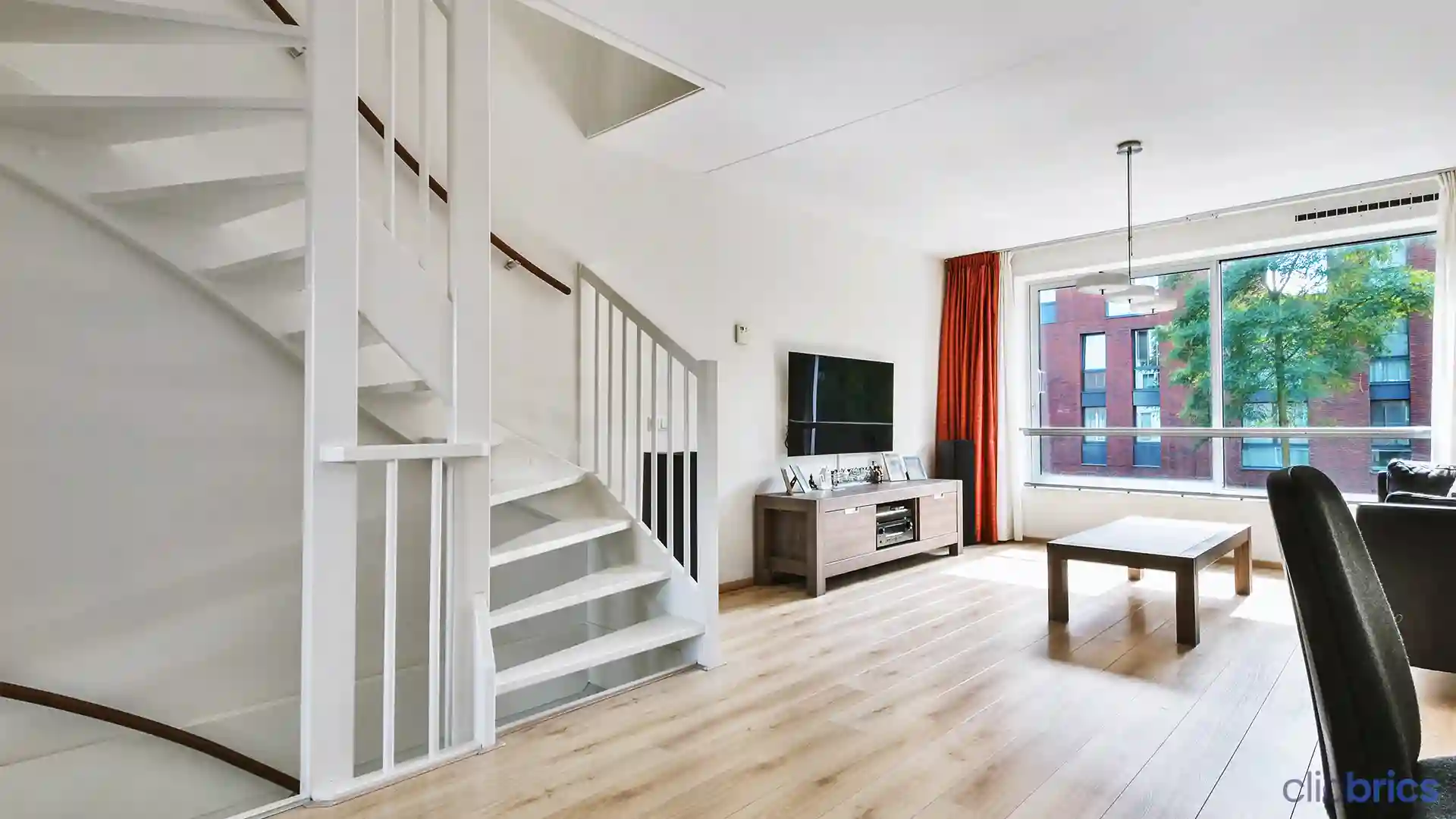 You should build your staircase in the home's southwest, west, or southern part. You should avoid approaching from any other direction, especially the northeast side. It is because the northeast staircase direction, as per Vastu, is believed to be the cause of financial loss that the owner of the home faces. 
Furthermore, you should ensure that the staircases are designed so that you climb them from north to south or from east to west. Apart from these, all other directions are considered negative. 
3. Colors As Per Staircase Vastu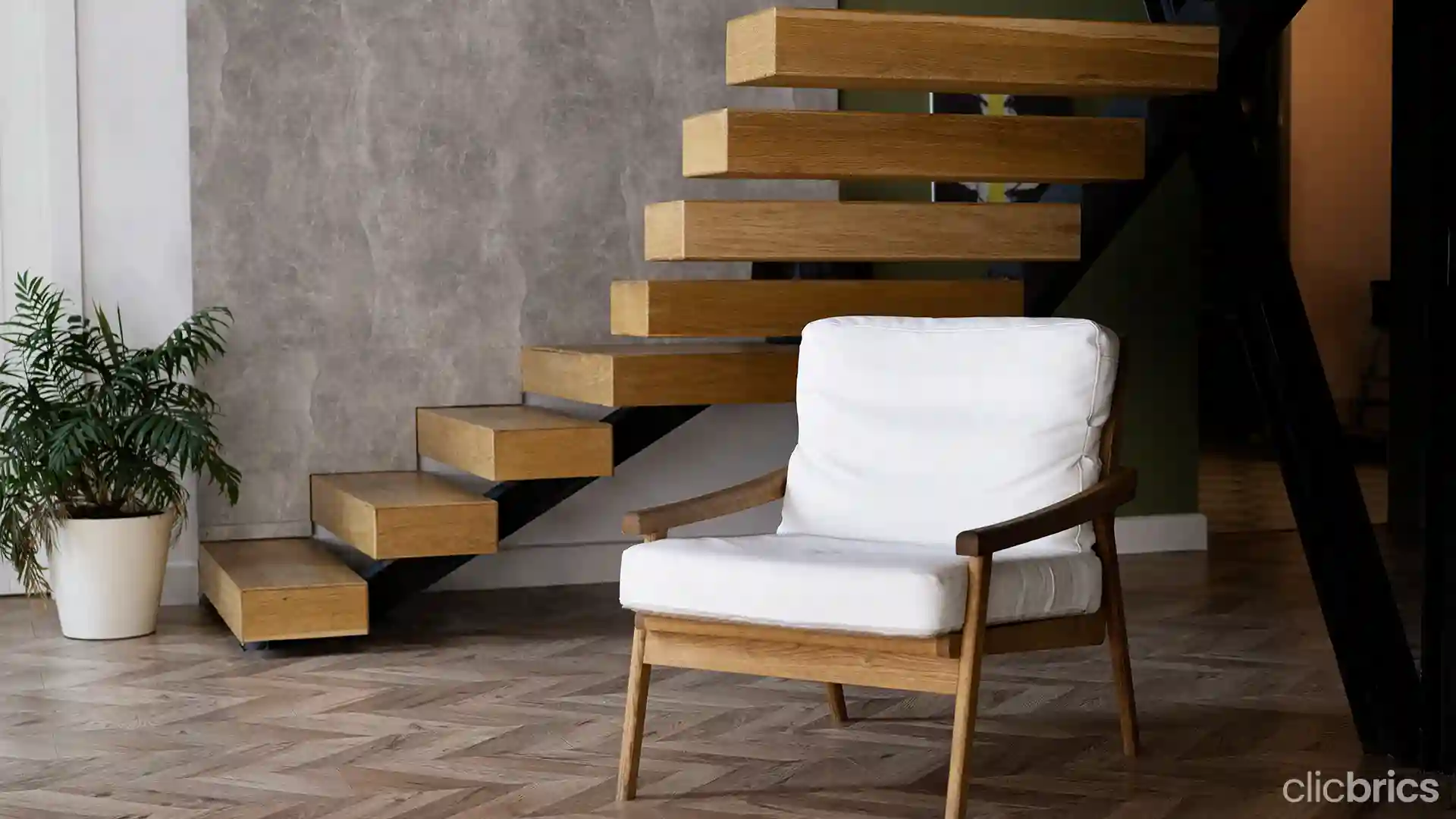 Ideally, the color choice for staircases should be more neutral or pastel, like yellow, pink, off-white, and a tint of blue. Vastu shastra states that these color tones are right for staircases as they induce positive energy into space. Choosing colors like red or black tends to repel positive energy and channel negative energy instead. So, you should avoid incorporating such colors for a staircase, as per Vastu. 
4. Vastu Tips for Staircase Type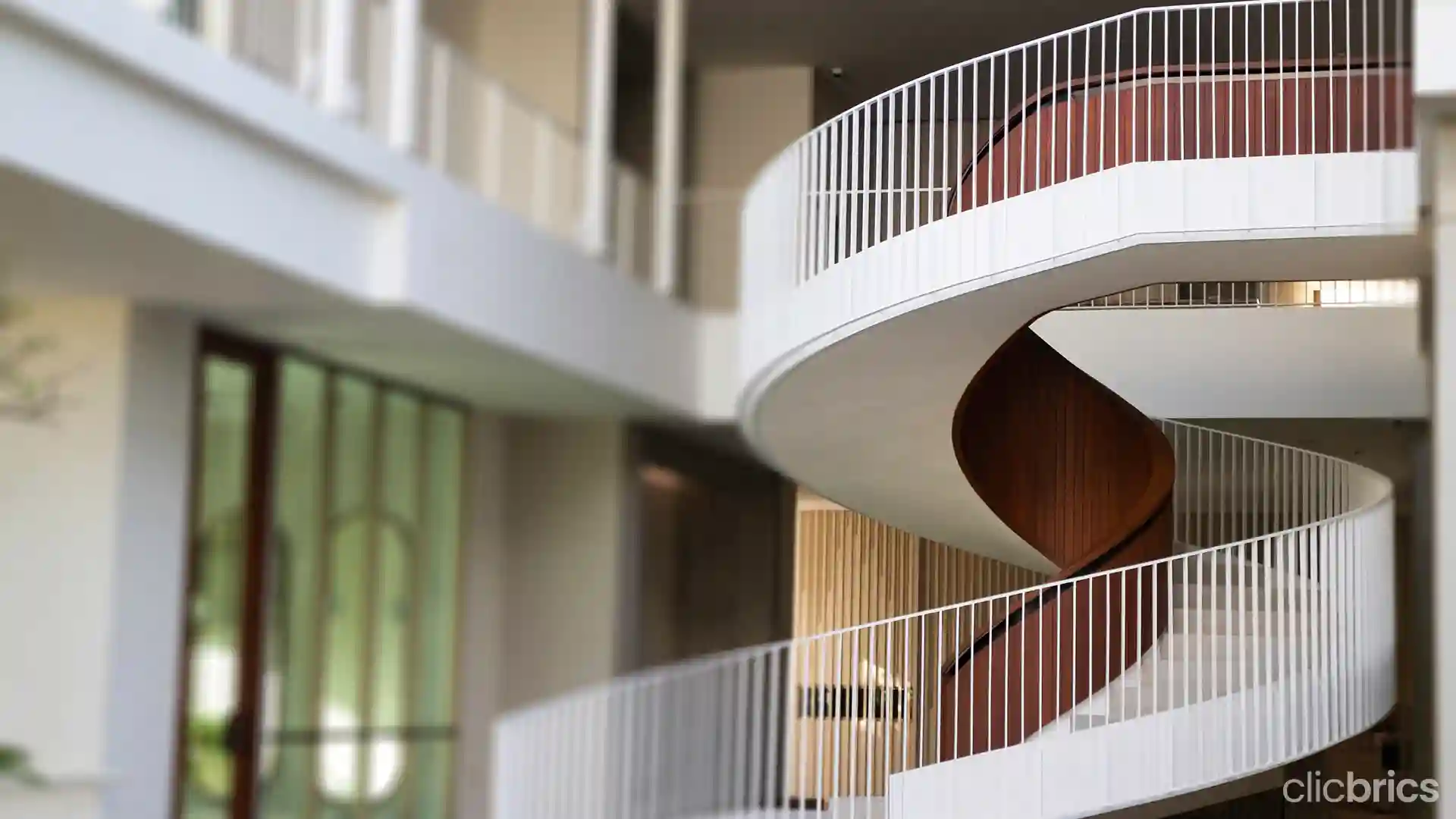 Even though we adore having spectacular spiral staircase designs, Vastu for a home doesn't agree with it! 
The Vastu for the staircase inside the house states that the spiral staircases are most like a corkscrew- boring via the house's energy. These types of staircases are also considered to be a source of imbalance that house members experience. 
Thus, per the Vastu for staircases inside the house, you should avoid building spiral staircases. 
5. Vastu Tip For Space Build-In Beneath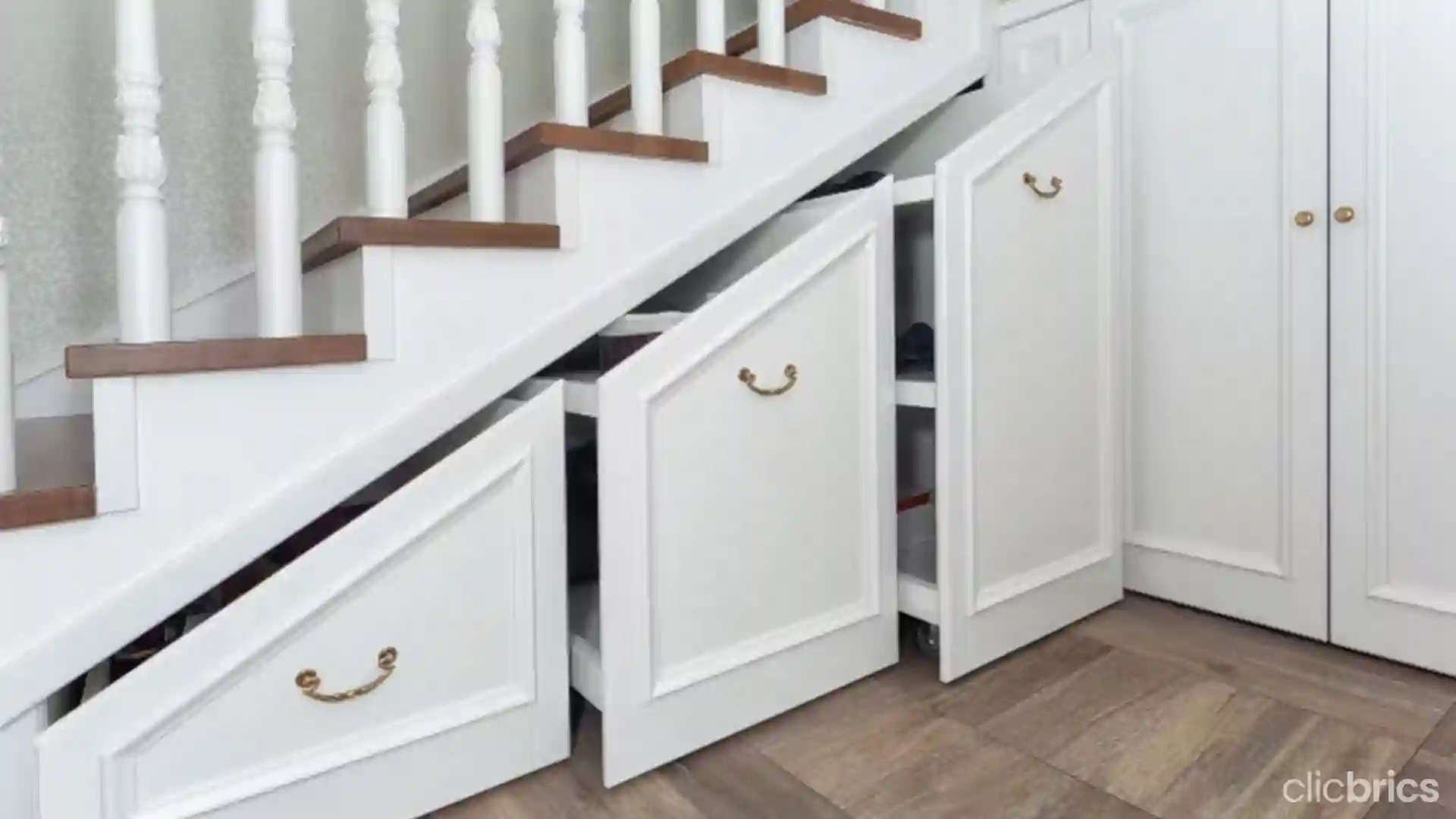 Source: livspace

People living in small homes tend to utilize the space under the staircase by building a pantry or a pooja room. As per the staircase vastu, this habit should be strictly avoided. You should utilize the space under the stairs to create a storage unit; even in that, you should not keep cash or jewelry. 
6. Number of Steps As Per Staircase Vastu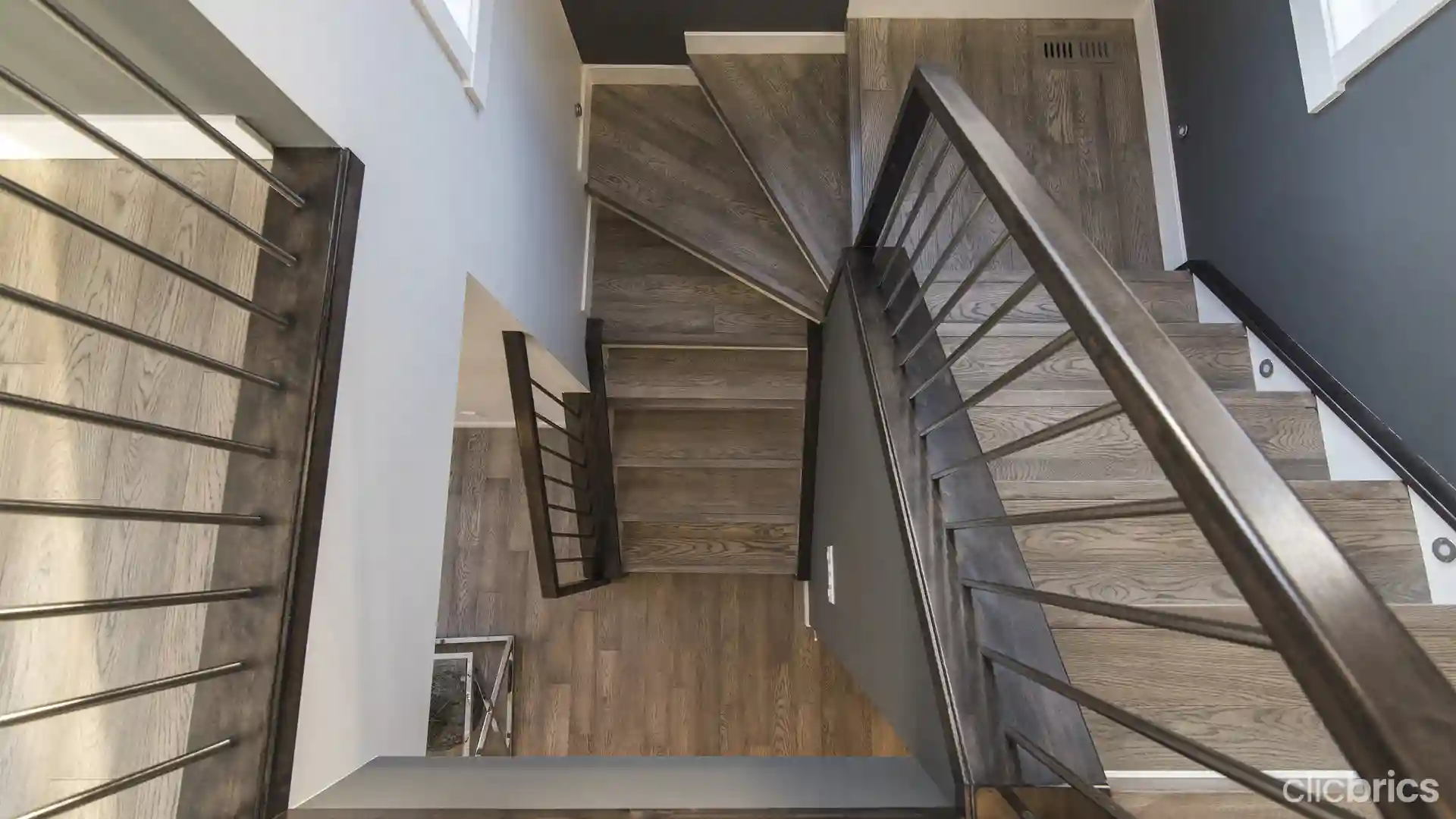 As per the readings of Vastu Shastra, the staircase in the west, north, east, or south-facing homes should be in odd numbers like 9, 11, 15, or 21. These numbers are considered auspicious for the home members and can bring positive vibes and big fortune. 
Moreover, there is one point that all households should remember while designing staircase according to vastu: the number of steps should never end with a zero. 
7. Staircase Position as per Vastu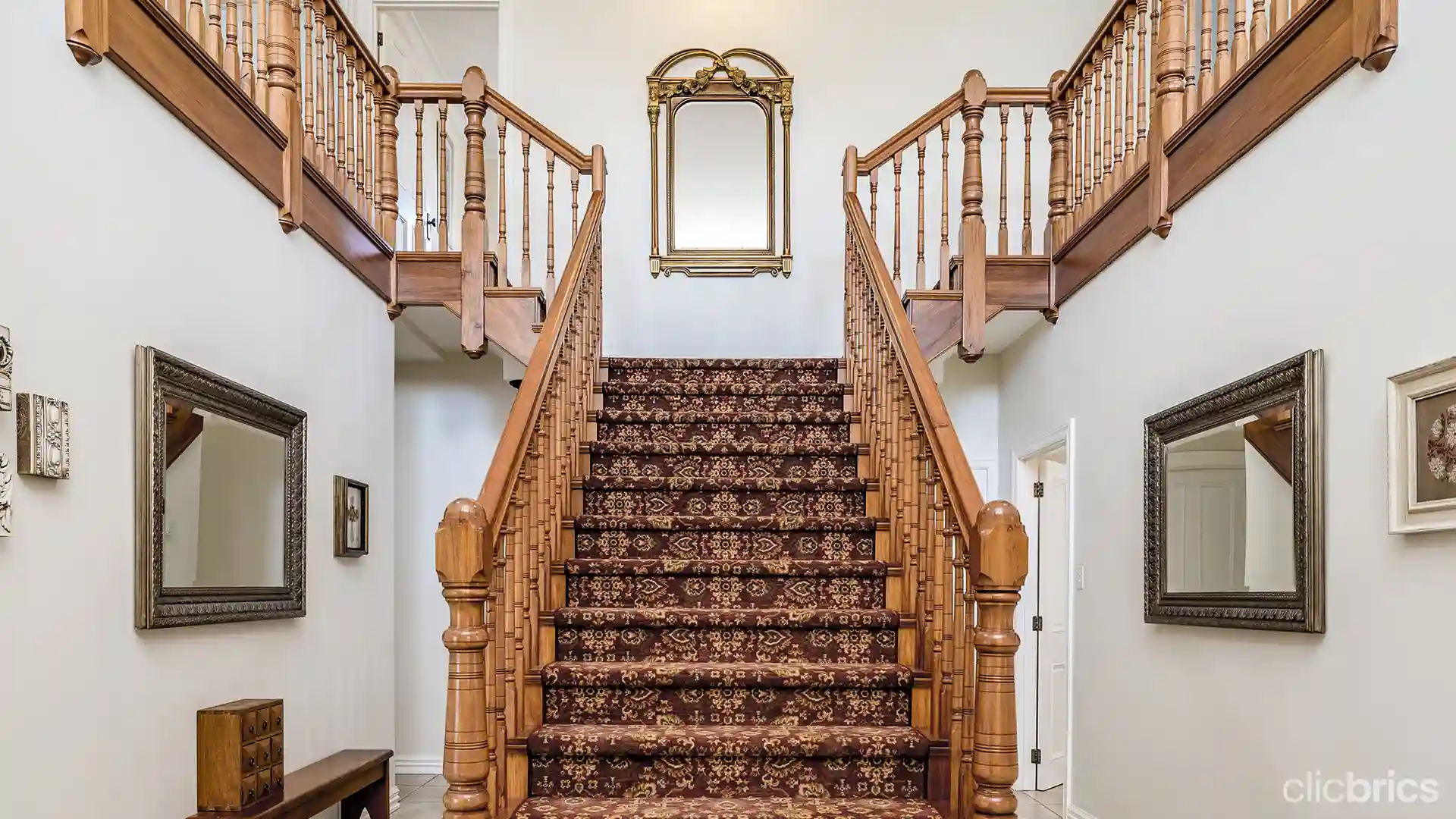 The staircase positioned right before the entrance is considered the source of imbalanced energies in the house. But it can be offset if you place indoor plants in front of the staircase. Staircase position as per Vastu advises designing a roof that slopes towards the north or east at the top of the staircase. 
8. Staircase Location as per Vastu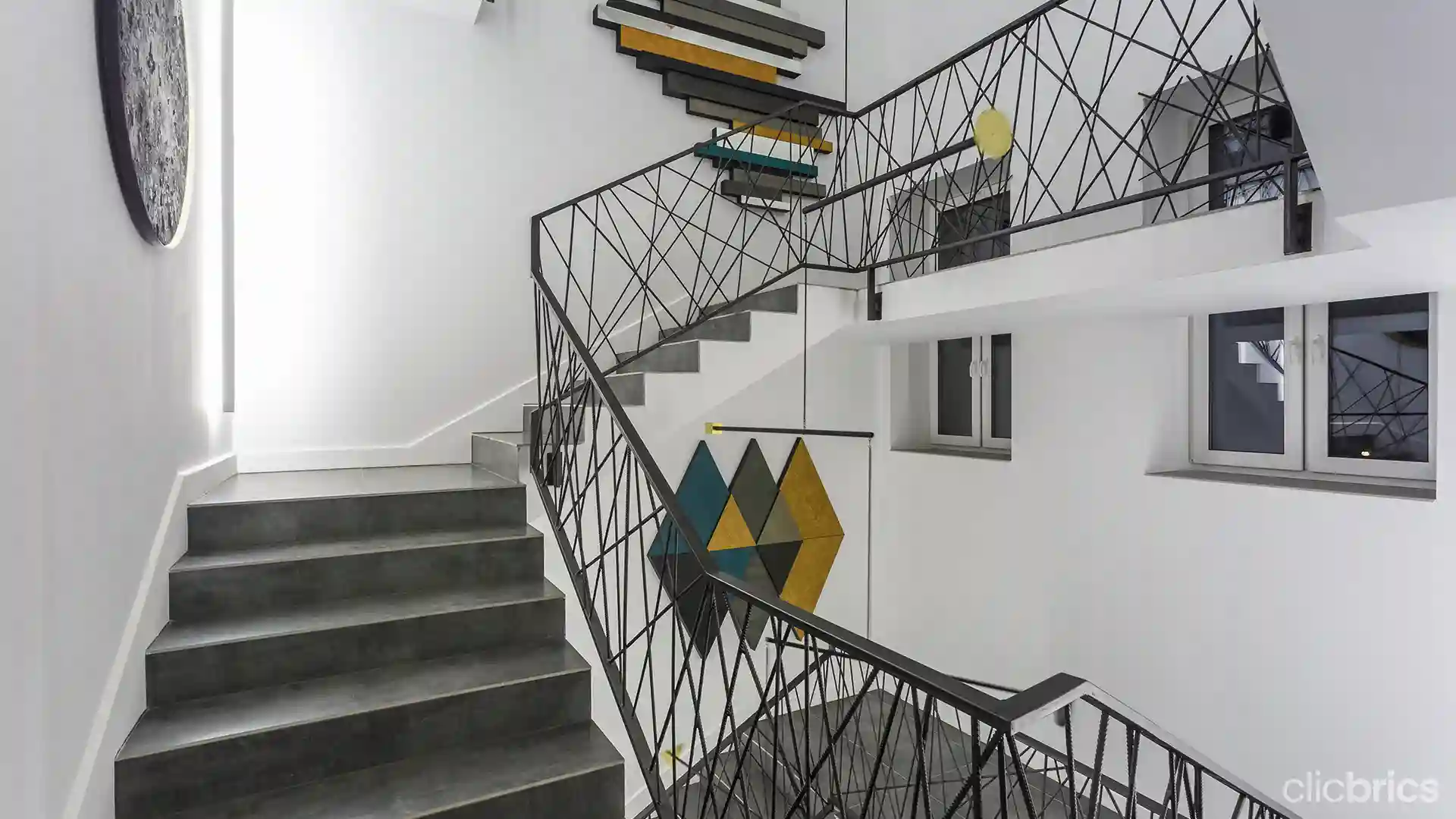 The internal staircase, according to Vastu, should be built in the right location. In order to find the right location for the staircase according to Vastu, you will have to check which direction your home faces. 
Below you will find a good explanation of creating staircases based on their directions.  
Staircase Vastu for East-facing House
If your home faces east, your staircase can be built toward the southwest, west, or south. But staircase vastu for an east-facing house should always be avoided in the northeast direction because that direction is reserved for sunlight to enter your house. 
Staircase Vastu For West-Facing House 
The best direction for a west-facing house is southwest to create an internal staircase. If you're the homeowner of a west-facing house, building stairs near the entrance is best, as it is considered auspicious. 
Also Read: 3 Surprising Vastu Hacks for West Facing House 
Staircase Vastu for North Facing House
If you are the owner of a north-facing house, you should avoid building inside stairs in the northeast direction. But you can build stairs from north to south or east to west. 
Staircase Vastu For South-Facing House 
You can build a staircase as per vastu in your house's south, southeast, west, or northwest direction. Letting the stairs flow from east to west will be beneficial. 
9. Outside Staircase Vastu Tip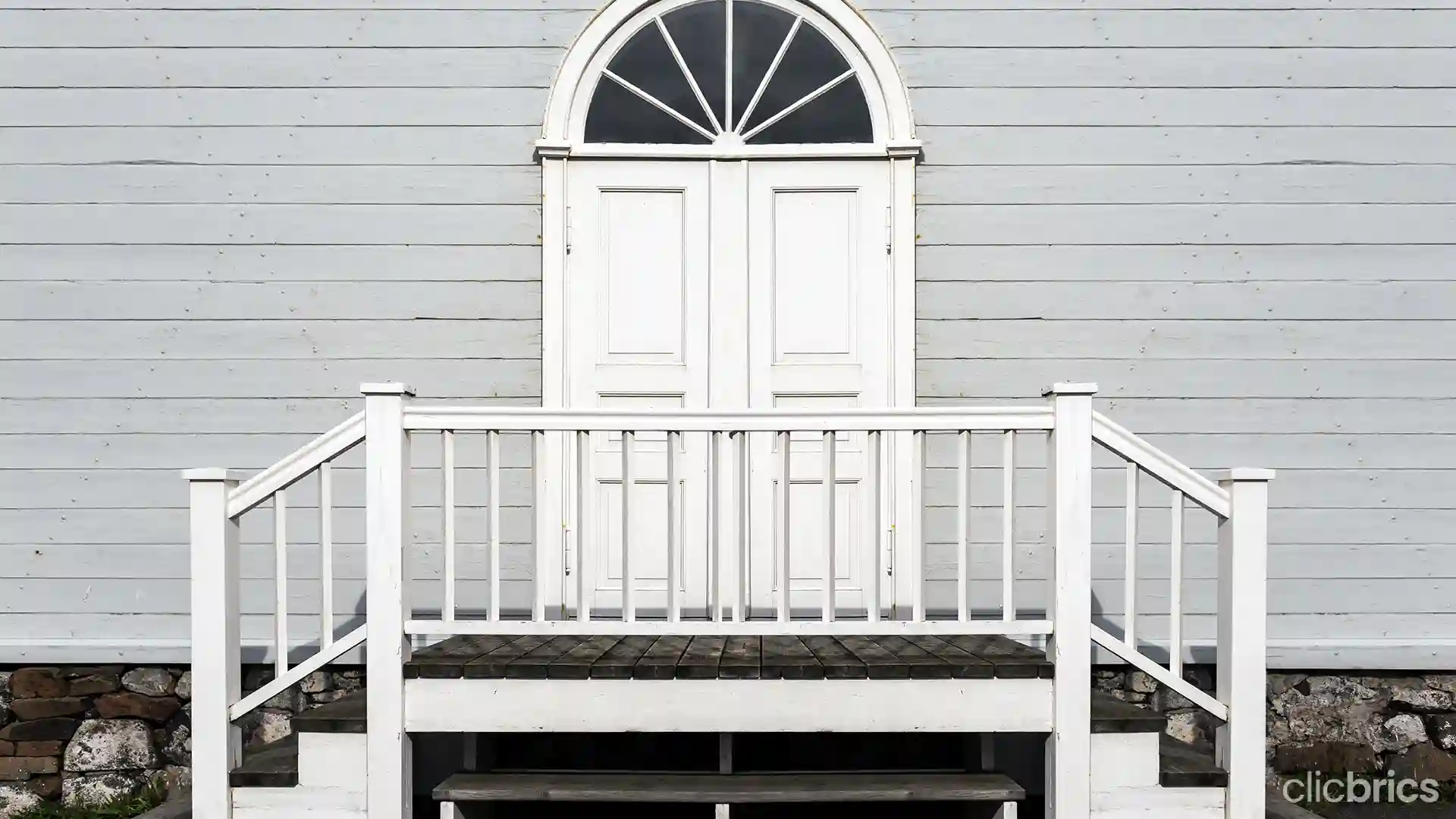 The external stairs are equally important as the ones inside. The directions as per the staircase vastu are mentioned below:
An east-facing house should be southeast, 
for a west-facing house, the external staircase should be southwest 
For a south-facing house, stairs should be placed in the southwest direction. 
For a north-facing house, external stairs should be placed in the northwest direction. 
10. Vastu Tip for Space Around the Inside Staircase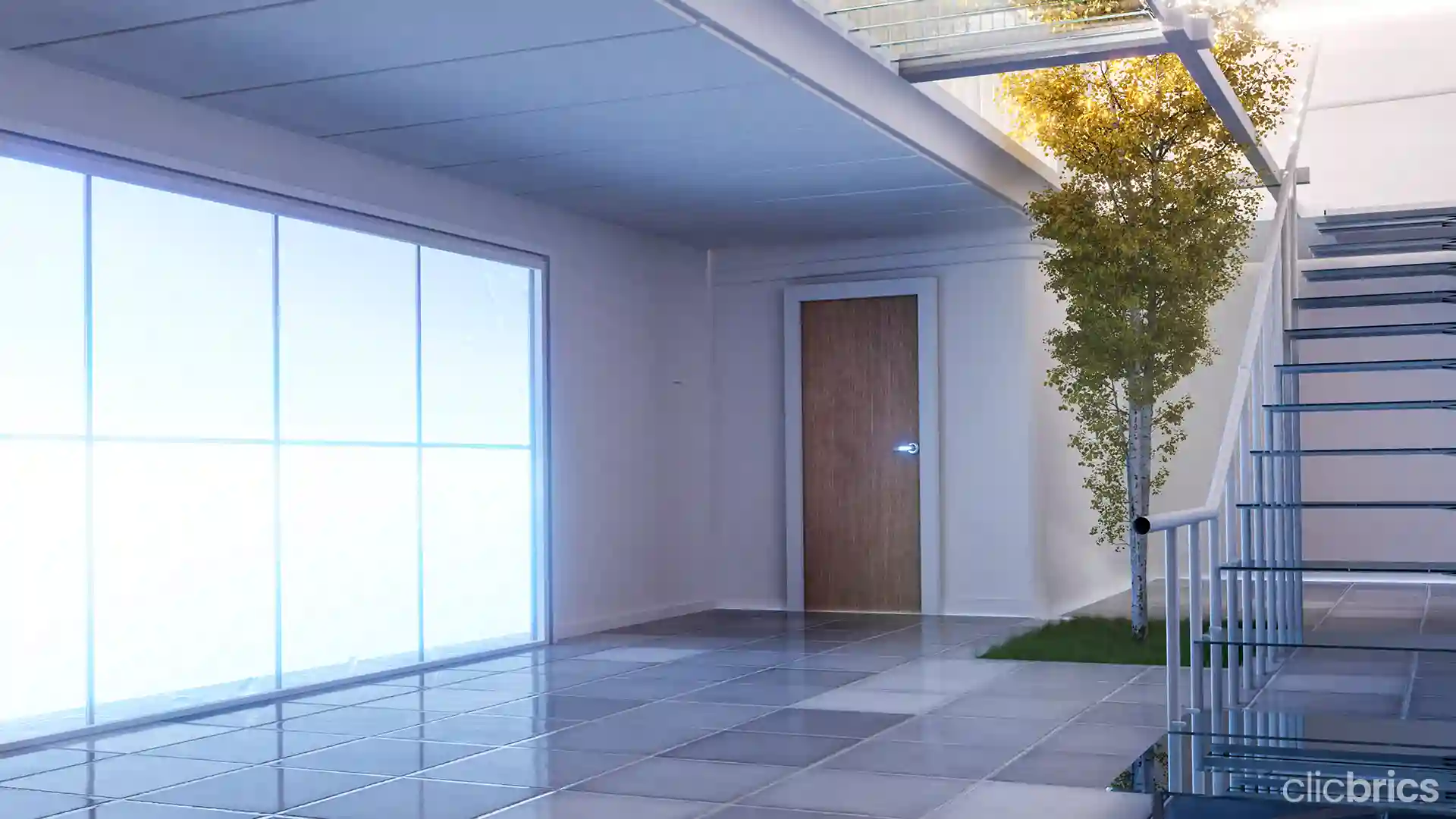 While designing the staircase according to Vastu, you should avoid making a mess and keep the area neat and clean. According to Vastu readings, staircases are disruptive structures, so unless they're off to the side, the construction of staircases in the living room should be avoided. It is because the stairs constructed in the living room will drain the positive energy. 
When constructing staircases at home, you cannot ignore Vastu guidelines. To avoid negative implications, you should follow the above-mentioned staircase vastu tips. The benefit of following these tips is that they will ensure positive outcomes and energy. 
Also Read: Vastu Shastra Compliant Tips for the Home Entrance Door