Table of Content:
It can be stressful yet fun to pick the right elements for your home's interior. While you may visualise the perfect interior for your home, there may be a few things that can make you lose your sleep. One among them is choosing the right flooring for your home. So, if you are facing a similar dilemma, this blog on parquet flooring can be a good starting point for you. 
Continue reading to know more about its benefits, price, and types. 
About Parquet Flooring
Parquet is a type of wooden flooring created by placing small wooden slats in a specific repetitive pattern. Initially, parquet flooring was installed by placing one piece of wooden slat at a time. It is now done by accommodating the tile format of the parquet. These tiles are made by bonding the wooden slats together with a backing material. 
There are different ways of parquet flooring:
Nailing to the subfloor

Glueing to the subfloor

Stapling to the subfloor
The parquet flooring gives your space the perfect finish and durability of the hardwood floor as its strips are made of hardwood. The parquet floor price varies between INR 250 to 800 per square foot. 
History of Parquet Flooring
The origin of the word parquet comes from a French word, parqueterie. Parquet was an alternative to marble slabs in the 17th century. 
Parquet flooring became a better option for homes with time because marble floors were high maintenance and expensive. It was required to wash them frequently which damaged the wooden joints beneath them. Hence, parquet turned out to be the go-to choice back then, particularly tiled parquet flooring, which became popular decor for kitchens, dining areas, and living rooms.  
Parquet is still one of the most well-known flooring types in many countries. The parquet utilised for flooring today is made of:
Oak

Maple

Walnut

Cherry

Mahogany

Other exotic hardwood materials
Softwood-like pines are not used for Parquet as they are very soft. There is a lesser likelihood of using them in engineered wood. 
Benefits of Parquet Flooring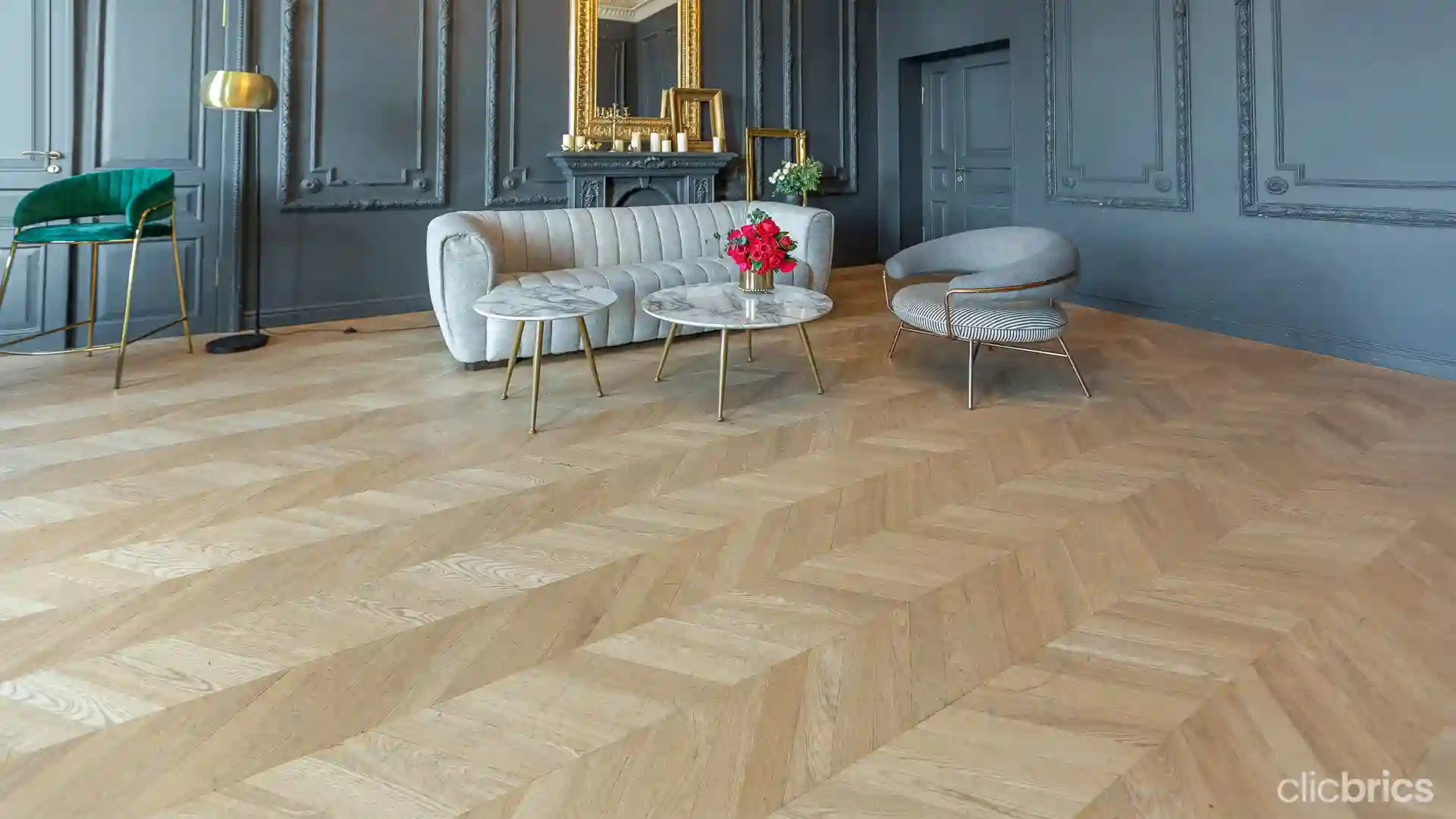 Parquet wood flooring is a timeless floor design used by homeowners when they want their homes to have a classic look. But before you install a parquet floor, you must examine its advantages too.
Here are the benefits of this flooring:
It is a perfect option to make your home feel more luxurious. 

It is easy to maintain and only requires occasional cleaning

It is easily accessible, and you can get it at stores of local retailers

It adds warmth to any room due to the wood grains in the flooring

It provides insulation against sound  
Let's check out the benefits of parquet flooring in detail!
1. Aesthetic Appeal
Parquet flooring gives a feeling of warmth and comfort because it is made of wood. It allows you to customise patterns giving your home a modern look. You can choose every kind of pattern and the sort of stain of wood you prefer. Parquet wooden flooring is always added as a quotient of luxury and comfort in homes around the world.
2. Unique Design
If you want a unique flooring design for your home, you should go for parquet wood flooring without a second thought. Each tile is unique as the materials are combined and cut right before installation. 
You can customise the following for parquet flooring:
Patterns

Materials

Grains

Colour of the flooring
The best part about this type of flooring is no two rooms with this flooring will look alike. Hence, parquet wooden flooring is unique and worth a try!
Also Read: Home Design Tips You Must Know About
3. Free of Allergies
Flooring is also a concern because no one wants a floor that's accumulating dust and harming the young children and pets in the family. It gives no space to dust, dirt, or allergens to accumulate. Hence, it is an excellent choice for families with younger children and pets as they are likely to develop allergies due to dust, dirt, or allergens.
4. Sturdy And Durable
Parquet flooring is sturdy as compared to traditional wooden flooring. Parquet has three layers of wood. The wood is cut at a 90-degree angle to reduce its movement. The top layer of this flooring is called the wear layer. This layer endures the most over a period of time. 
These floors are also more durable and have a longer lifespan. Hence, it can also bear the weight of heavy equipment.  
5. Budget-Friendly
You can use cost-efficient materials for the lower layers of the parquet floors as they are not visible. It reduces the overall flooring cost making parquet wooden flooring one of the less expensive options. 
6. Easy Installation
Parquet flooring is pretty easy to install. So, even if you do not find a professional for installing flooring, you can do it yourself. It is a great choice if you want to remodel your home and do not want to spend a lot of money on new flooring. 
Also Read: Home Decor Trends You Must Bring Back
7. Light Weight
Parquet wood flooring is easy to use and transport. It can be great for any homeowner who needs to move continuously without worrying about wear or tear.  
Types of Parquet Flooring
There are different types of floorings with parquet finishing. Here is a list of a few popular ones!
1. Herringbone Parquet Flooring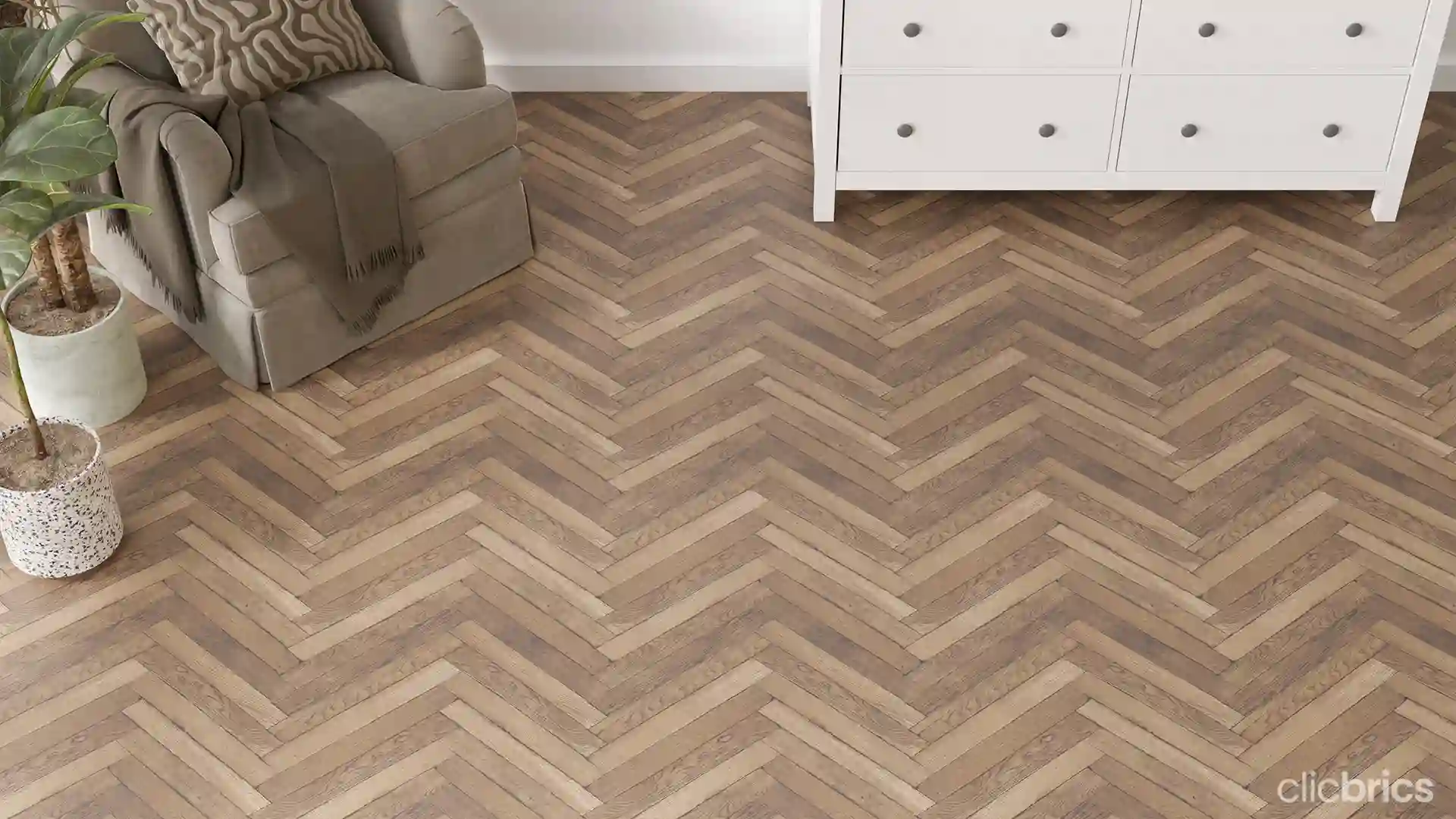 The planks are laid perpendicular to one another in a W-like shape, 90 degrees pattern in this kind of parquet flooring. This style is the most traditional and popular. Used in masonry in Roman times, it is one of the easiest flooring patterns for DIY installers as it needs less cutting. 
It is an alternative to solid wood parquet if you want a stylish look by using colourful accents and is ideal for homes with pets or toddlers.
2. Chevron Parquet Flooring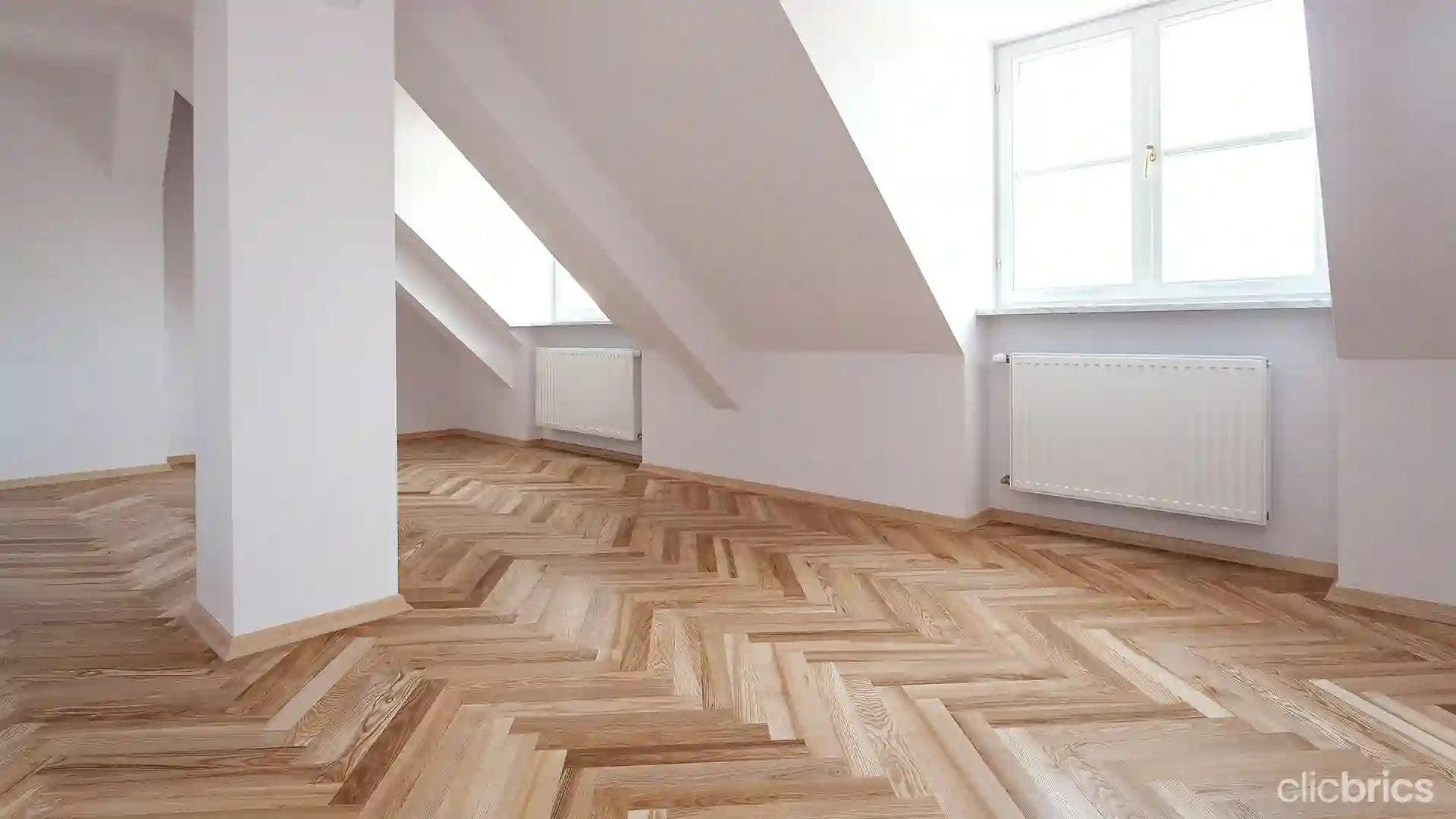 This Chevron parquet flooring is similar to Herringbone parquet floors. The planks are cut at a 45 degrees angle in this flooring and produce a diagonal pattern. 
3. Tiled Parquet Flooring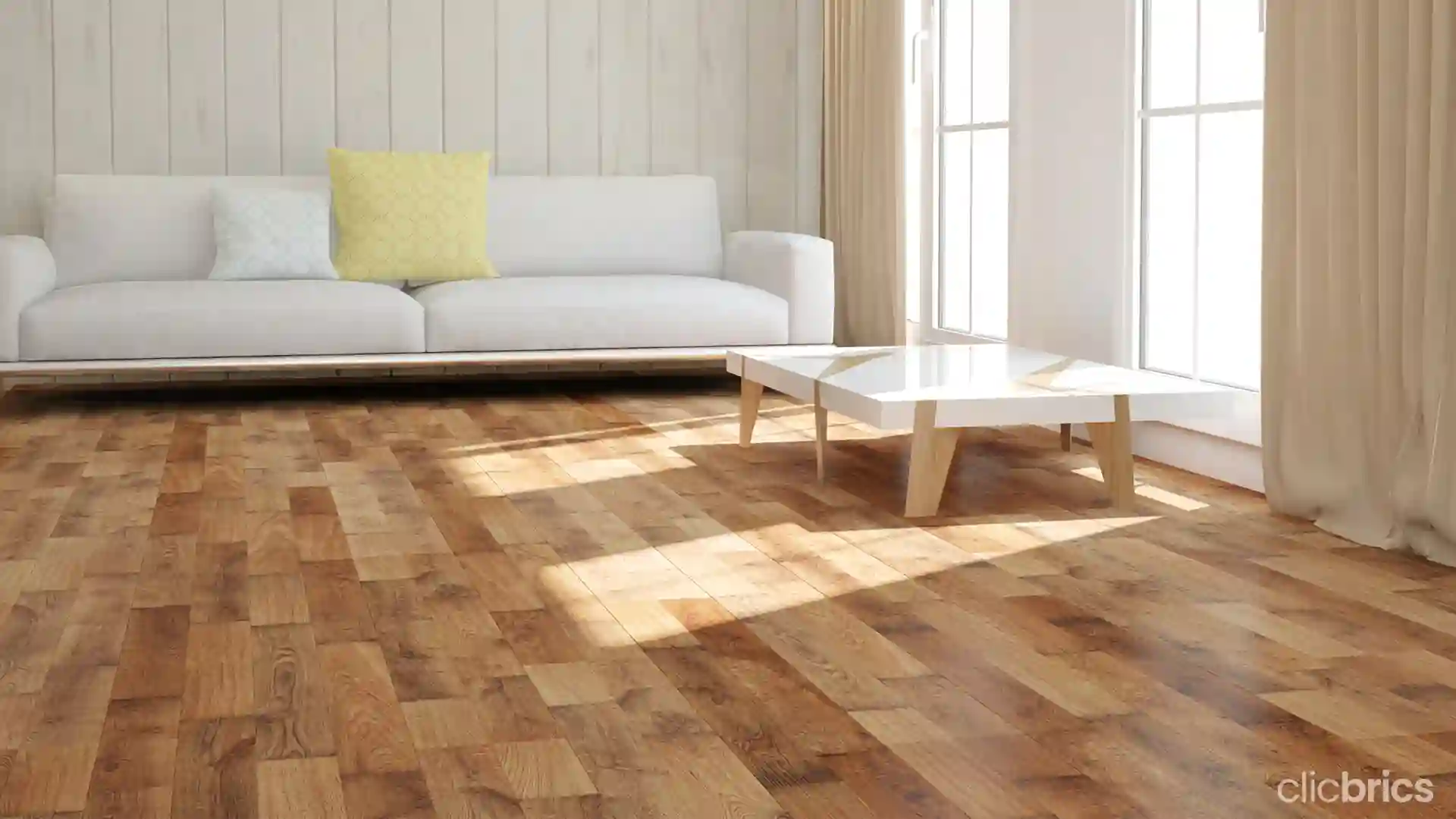 The tiled parquet flooring is made of solid wood. It comes in a variety of designs, options, patterns, and colours. It is easy to maintain and install and can be used in commercial or residential spaces. This type of flooring also comes with a lifetime warranty.

Also Read: Kota Stone Flooring: Designs, Tips, Price & Benefits
Parquet Flooring Tips
Here are a few tips that'll help you care for parquet floors:
Use a microfiber mop if you want to wipe the floor 

Sweep the floor regularly

Reduce the affected area after a spill by using paper towels or a damp washcloth

Try not to walk on parquet flooring with the shoes you wear outdoor

Deep clean it once a month with appropriate products

Do not use wax to polish your parquet floor

Keep dust away from it by using carpets at the entrance

Have protectors on the legs of your furniture to avoid scratching

Do not let direct sunlight hit the floor directly to prevent discolouration

Avoid vacuuming a lot

Try sand and varnish for a smooth effect if the parquet flooring begins to lose its sheen
Conclusion
Now that you know about parquet flooring, if you get them installed at home, make sure you maintain them properly. While floors with parquet finishing definitely look luxurious and inexpensive, gauge all the factors before you decide to go for it!