Table of Contents:
Are you tired of your kitchen floor looking like it's stuck in the last century? Well, it's time to spice up your space with some fresh kitchen floor tile designs! There is no need for a complete kitchen overhaul - just changing the floor tiles can breathe new life into your culinary haven. So, today, in our guide, we will explore some trendy and timeless kitchen floor tile ideas that'll make your kitchen the heart of your home.
Essential Tips For Choosing the Right Kitchen Floor Tile Design
Choosing the perfect kitchen floor tiles design can have a significant impact on the overall look and functionality of your space. Here are some concise tips to help you make the right choice:
Lifestyle Fit: Consider your lifestyle and how much traffic your kitchen gets. Opt for durable, easy-to-clean tiles for busy kitchens.

Style Compatibility: Ensure your tile choice aligns with your kitchen's style. Go for classic, neutral designs or bold patterns to match your decor.

Size and Layout: Factor in your kitchen's size and layout. Large tiles create a spacious feel, while smaller ones allow for intricate patterns.

Colour Coordination: Select a colour that complements your kitchen's palette. Light colours open up the space, while dark hues add depth and hide stains.

Material Wise: Choose the right tile material, like ceramic, porcelain, or natural stone, based on durability, maintenance, and budget.
Suggested Read: Top 3 Kitchen Vastu Tips You Must Know to Infuse Positivity
Kitchen Floor Tiles Design That Will Bring Style To Your Space
Your kitchen is more than just a place where you prepare meals. It's where you gather with family and friends, where you experiment with new recipes, and where countless memories are created. So, why settle for a bland or outdated kitchen floor when you can turn it into an inviting and modern kitchen floor tiles design that reflects your personality and taste? 
Let's dive in and discover kitchen floor tile ideas that can transform your kitchen into a place you'll love to be.
1. Classic Checkerboard Kitchen Floor Tiles Design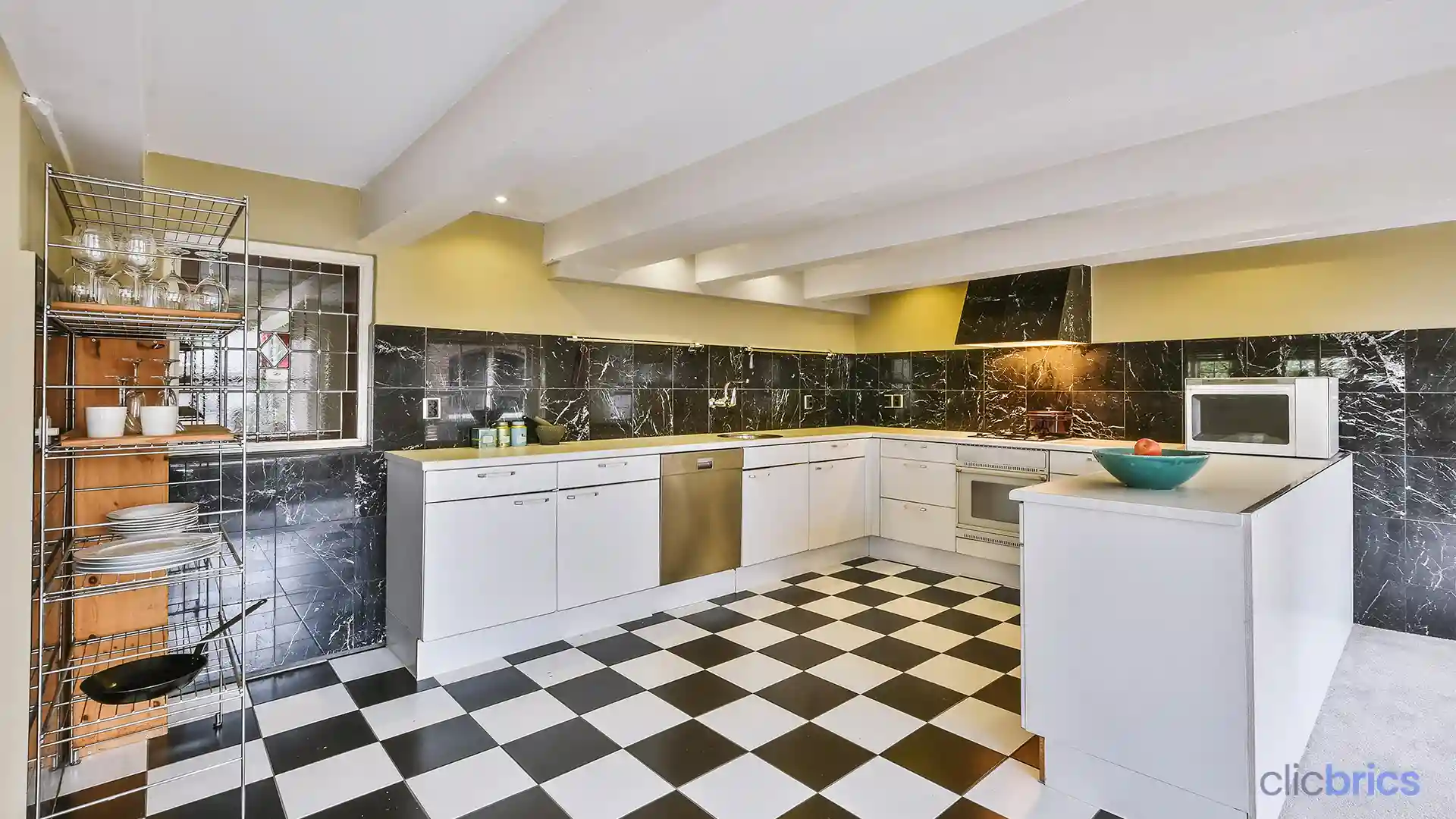 Let's start with a timeless favourite, and that is the checkerboard pattern. It's like a nod to the past that still looks fantastic today. Black and white tiles laid in a checkered pattern instantly give your kitchen a touch of retro charm. This design works especially well in a vintage or farmhouse-style kitchen. Pair it with some wooden cabinets and brass hardware for that perfect blend of old and new.
2. Wood-Look Kitchen Floor Tiles Design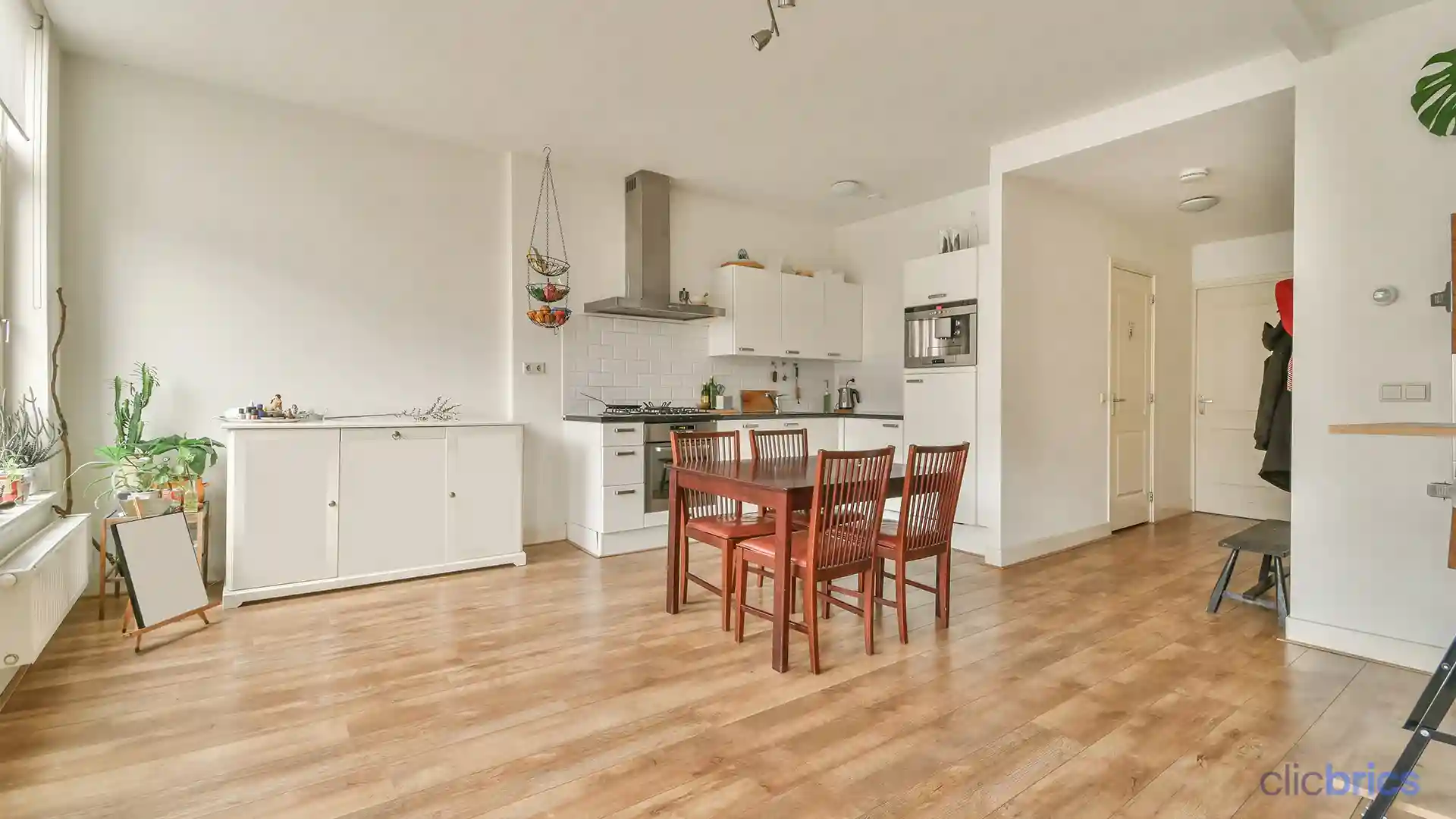 Wood-look floor tiles for kitchen ideas bring the warmth and character of real wood to your kitchen without the maintenance hassles. You can choose from a variety of wood tones to match your kitchen's style, whether it's rustic or contemporary. These types of kitchen floor tile ideas are not only easy to clean but also highly stain and wear-resistant, making them a practical choice for a busy kitchen.
3. Two Floor Kitchen Tiles Design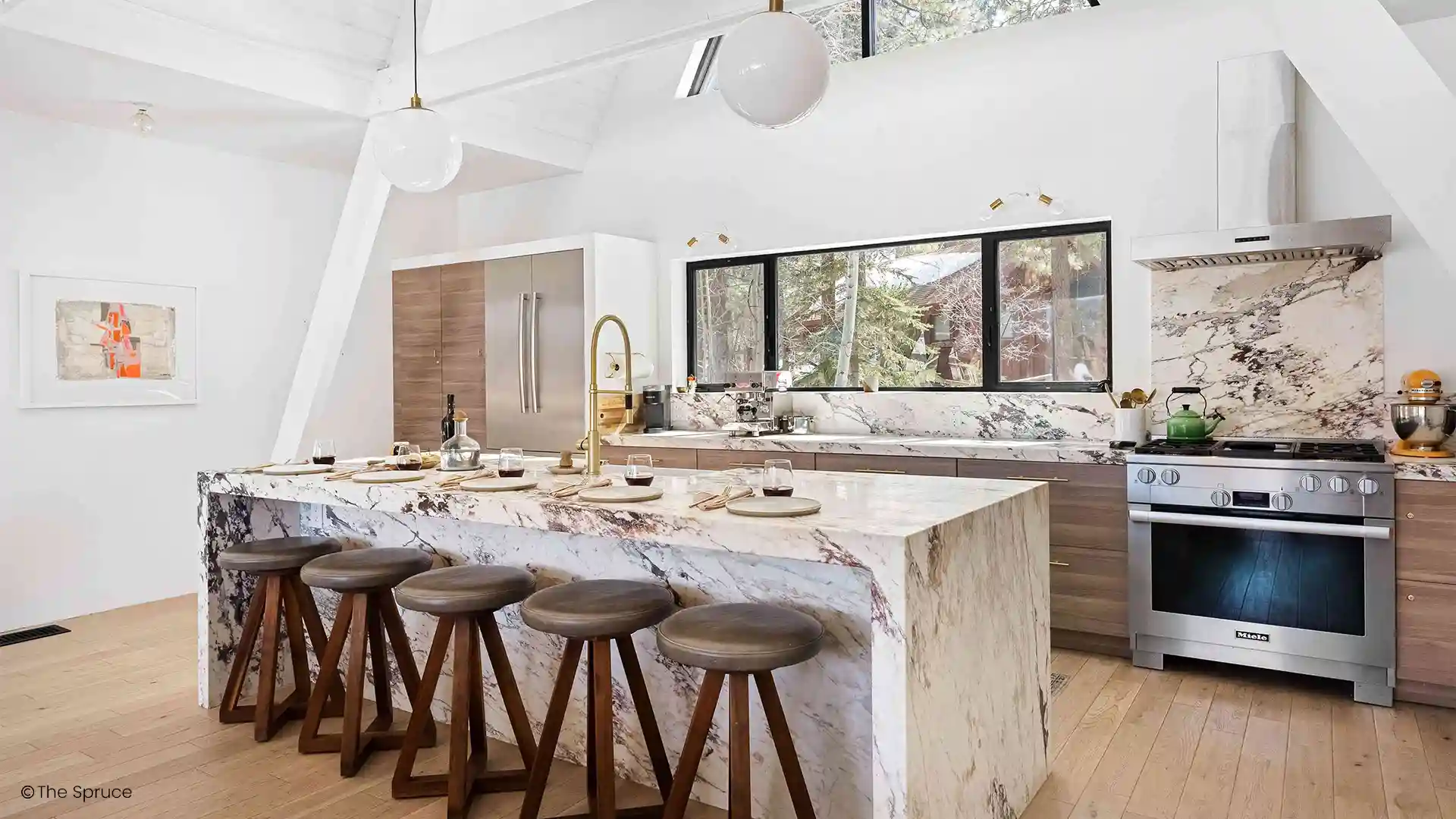 Source - The Spruce

When it comes to incorporating a two-floor kitchen's latest tiles design, the space's aesthetic and functionality are intricately connected. The choice of floor tiles on each level can help distinguish between spaces or create a harmonious flow. Consider a complementary tile design where the lower floor boasts a practical and easy-to-clean tile. In contrast, the upper floor features a more decorative or cosy option, adding depth and character to the kitchen. 
4. Diamond Kitchen Floor Tiles Design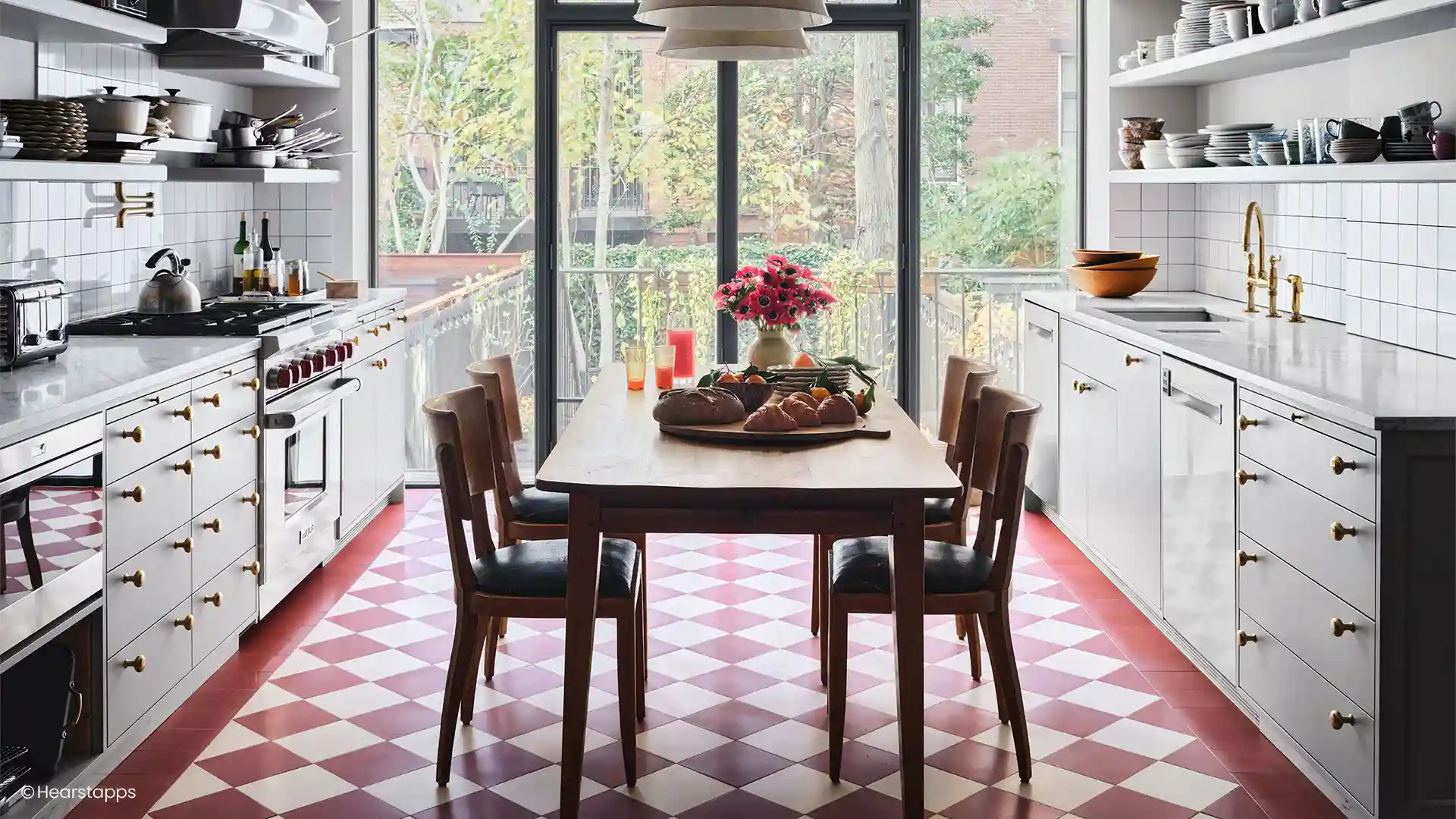 Source - Hearstapps
Diamond kitchen floor tiles design is a captivating choice that brings a touch of elegance and modernity to your culinary space. These kitchen tiling ideas are arranged in a diamond pattern, creating a dynamic visual effect that adds a unique and eye-catching dimension to your kitchen.
5. Terracotta Kitchen Floor Tiles Design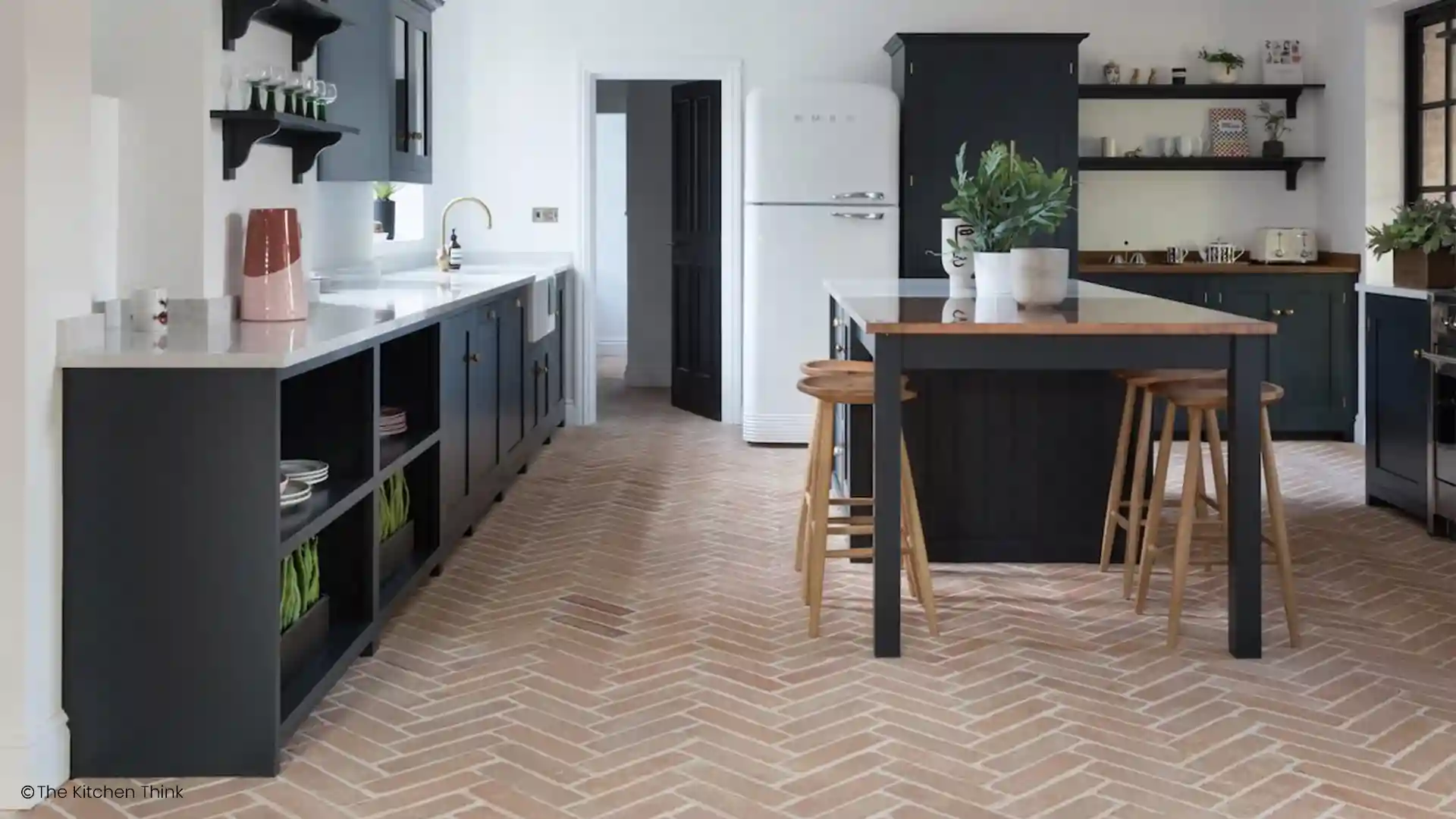 Source - The Kitchen Think
When it comes to small kitchen floor tile ideas, terracotta kitchen floor tiles are an excellent choice. Their warm, earthy tones create a cosy and welcoming atmosphere, making the space feel more intimate. Terracotta's rustic charm and natural texture add character to the room, giving it a timeless appeal. Whether you're going for Mediterranean-inspired decor or seeking a touch of warmth and character in your small kitchen, terracotta floor tiles can be the perfect solution to elevate the overall design of the space.
6. Colourful Kitchen Floor Tiles Design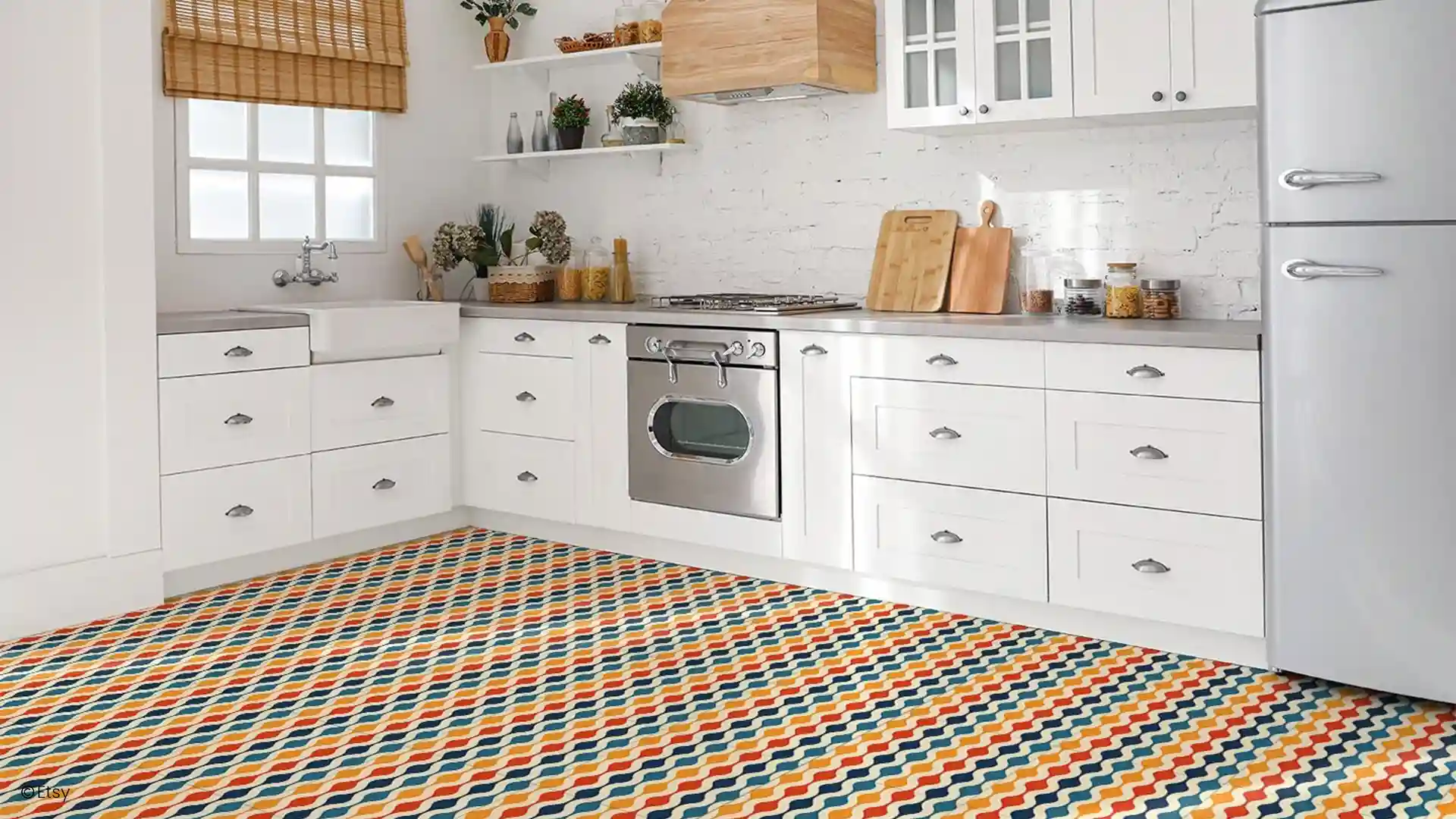 Source - Etsy
Colourful kitchen floor tile ideas are a vibrant and playful way to infuse your kitchen with energy and personality. Whether you opt for a rainbow of colours, a harmonious blend of pastels, or a single bold shade, colourful tiles can instantly uplift the ambience of your kitchen. So, go ahead and add a splash of colour to your kitchen floor—it's a delightful way to make your culinary space as dynamic as your culinary creations.
Suggested Read: 10 Modular Kitchen Colour Combination Ideas
7. Natural Stone Kitchen Floor Design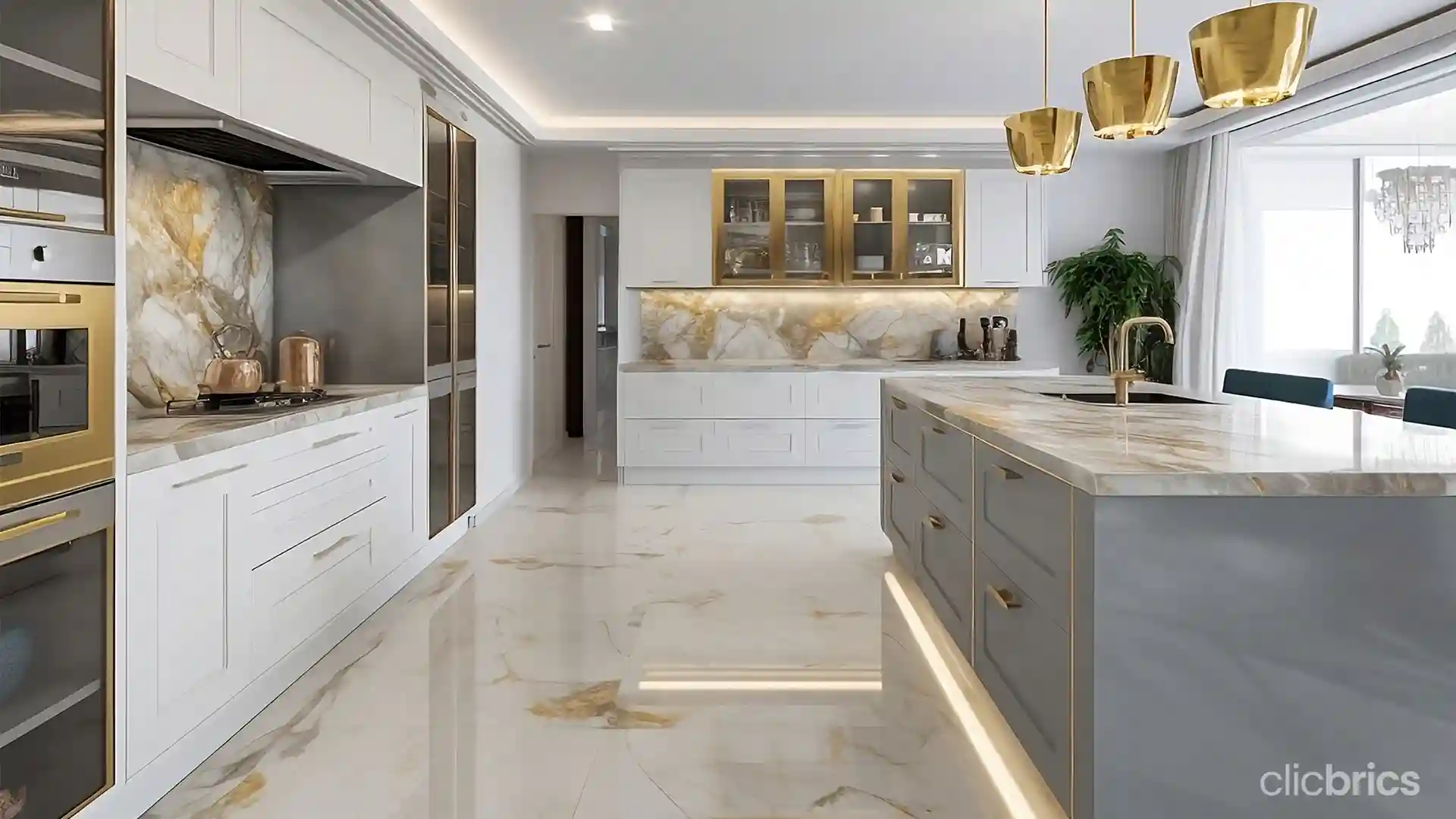 If you're a fan of natural materials, consider natural stone tiles. Marble, travertine, slate, and limestone can all be used to create a luxurious and sophisticated kitchen floor. Each type of stone has its own unique look and feel, making it easy to find the perfect match for your kitchen style.
Conclusion
In the world of kitchen design, the choice of floor tiles is a pivotal decision. Kitchen floor tile ideas can make or break the overall aesthetic and functionality of your space. The above-mentioned essential tips and designs will breathe new life into your kitchen. So, let your tile choice reflect your personality, style, and the unique character of your home. With the right kitchen floor tile design, you can turn your kitchen into a functional and visually appealing masterpiece.