Table of Content:
Sure, doors are primarily there to provide privacy and security, but who says they can't be so much more? In the realm of home decor, where creativity knows no bounds, bedroom doors are your opportunity to make a lasting statement. So, whether you're up for a mini makeover or a major revamp, here you will explore bedroom door design ideas that will give your space a fresh look without breaking the bank. 
Stunning Bedroom Door Design Ideas
Your bedroom's transformation begins here, where doors cease to be mundane and become gateways to a world of elegance and individuality.
1. Wooden Bedroom Door Design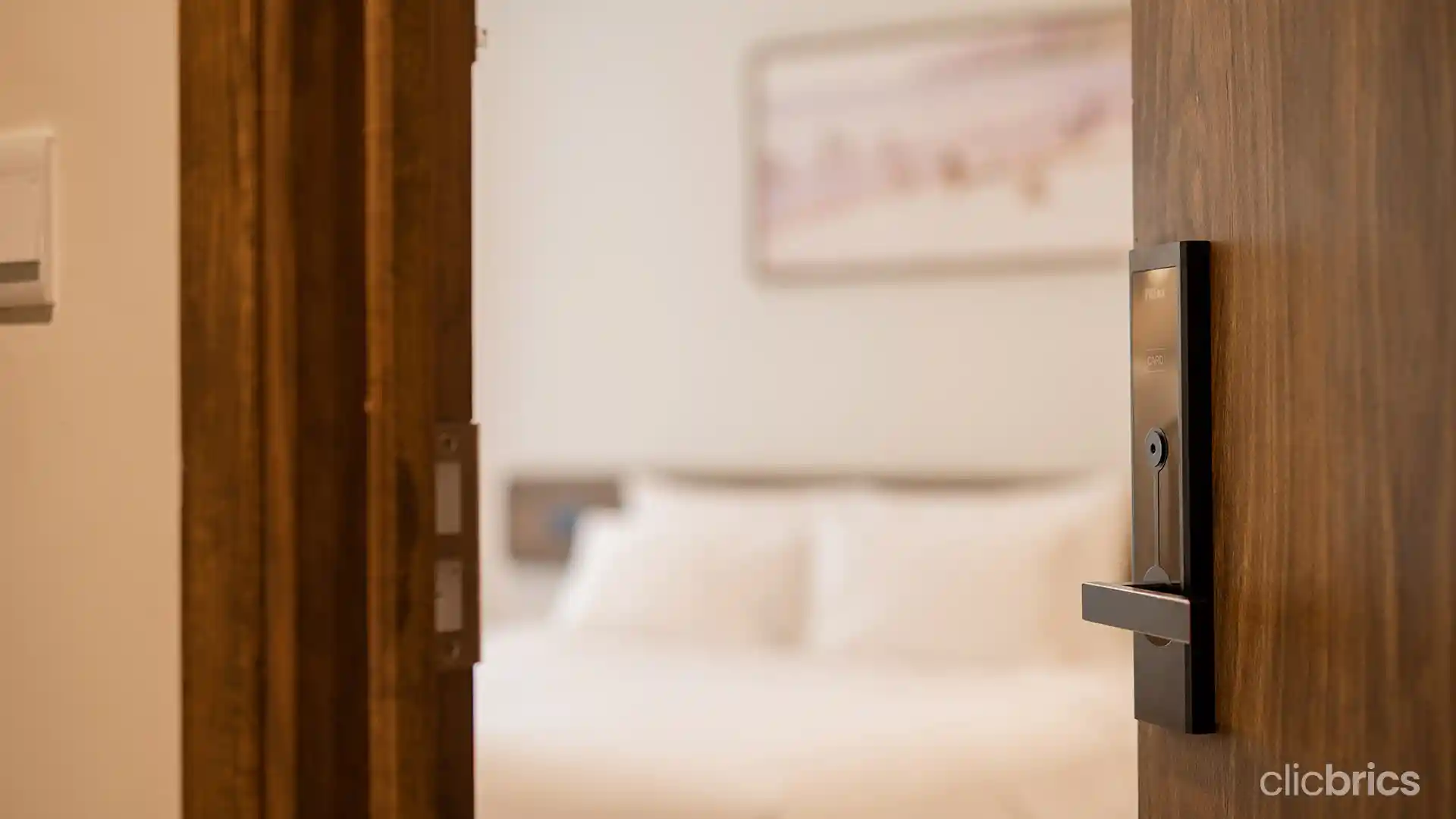 Wooden bedroom door designs exude timeless charm and versatility. The warm, natural aesthetics of wood create a cozy and inviting ambiance in your bedroom, enhancing its overall appeal.  
Also Read: 20 Best Wooden Door Design Ideas for Modern Living
2. Incognito Bedroom Door Design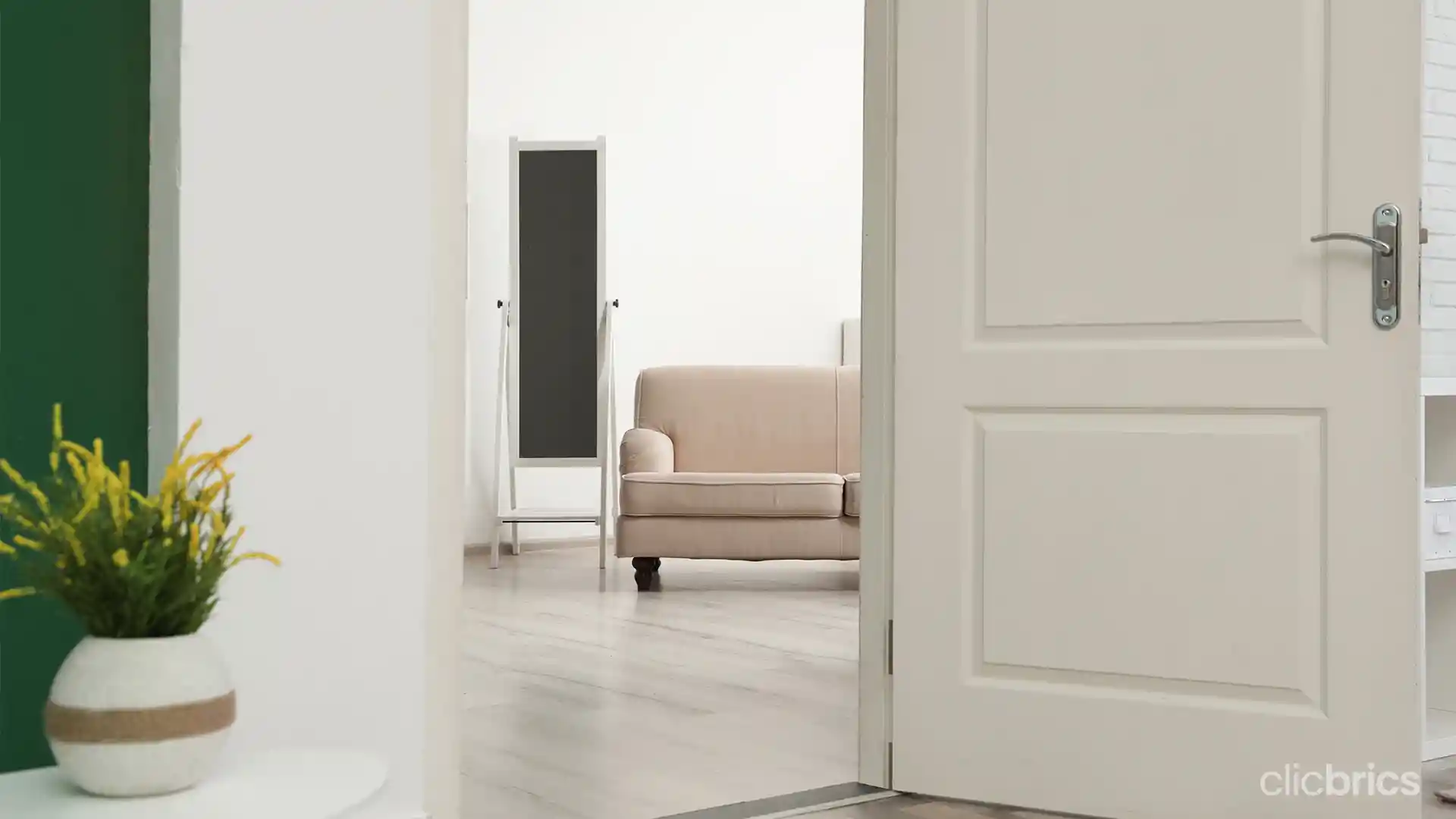 These sleek, understated doors effortlessly blend into your bedroom decor, providing an elegant and minimalist aesthetic that complements any style. The magic lies in their concealed hinges and seamless integration with the wall, creating the illusion of a hidden doorway. Beyond the aesthetics, Incognito-inspired master bedroom door designs save space, making them ideal for smaller rooms, and they offer an unmatched level of privacy. 
3. Waterfall Wood Bedroom Door Design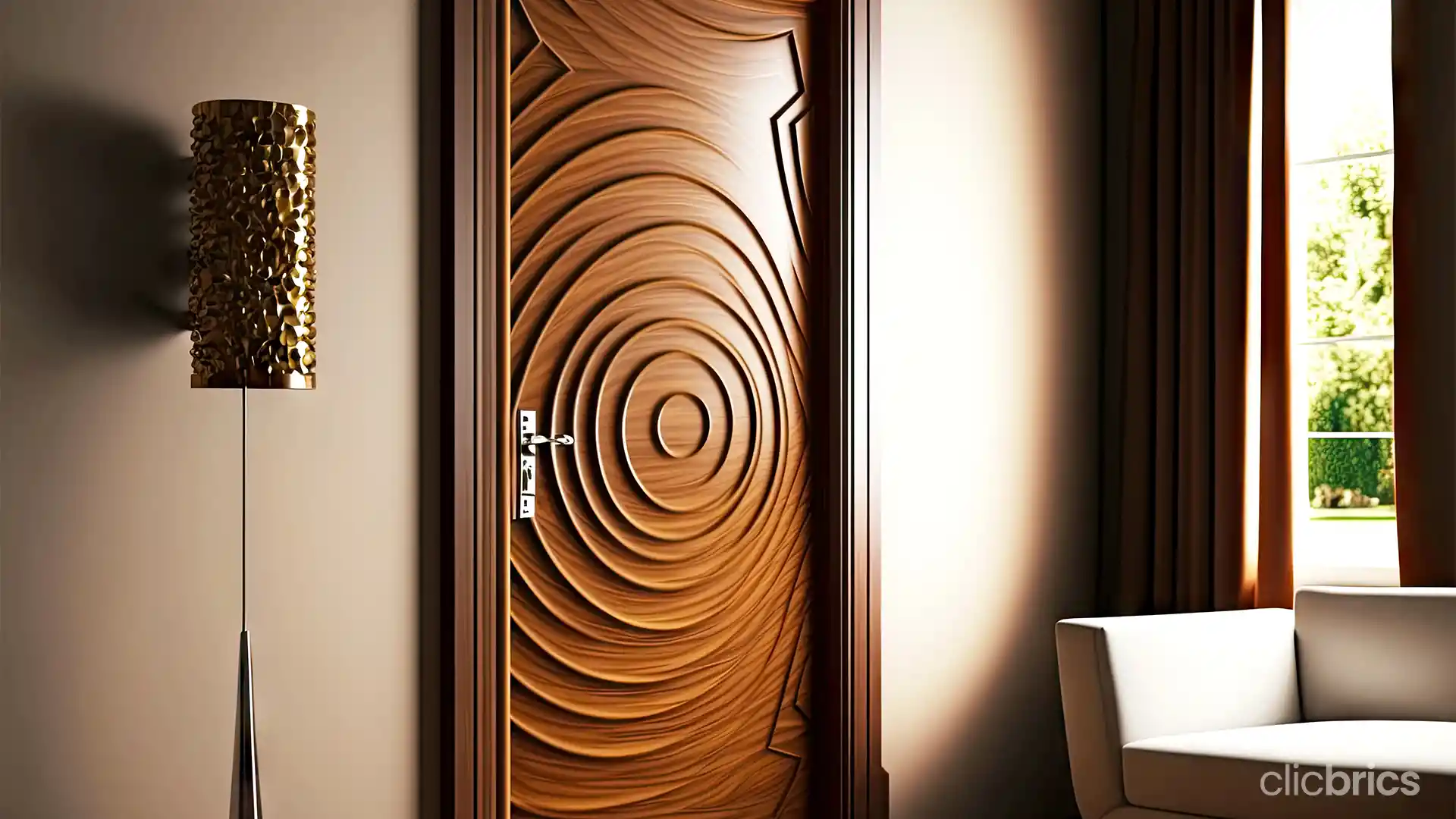 The rich wood texture of the bedroom door design for the home brings a sense of serenity. In addition, the timeless design seamlessly fits into various decor themes, from rustic to modern. Additionally, the sturdy wood construction ensures longevity, making it a sustainable choice. 
4. Round-Headed Wooden Door Design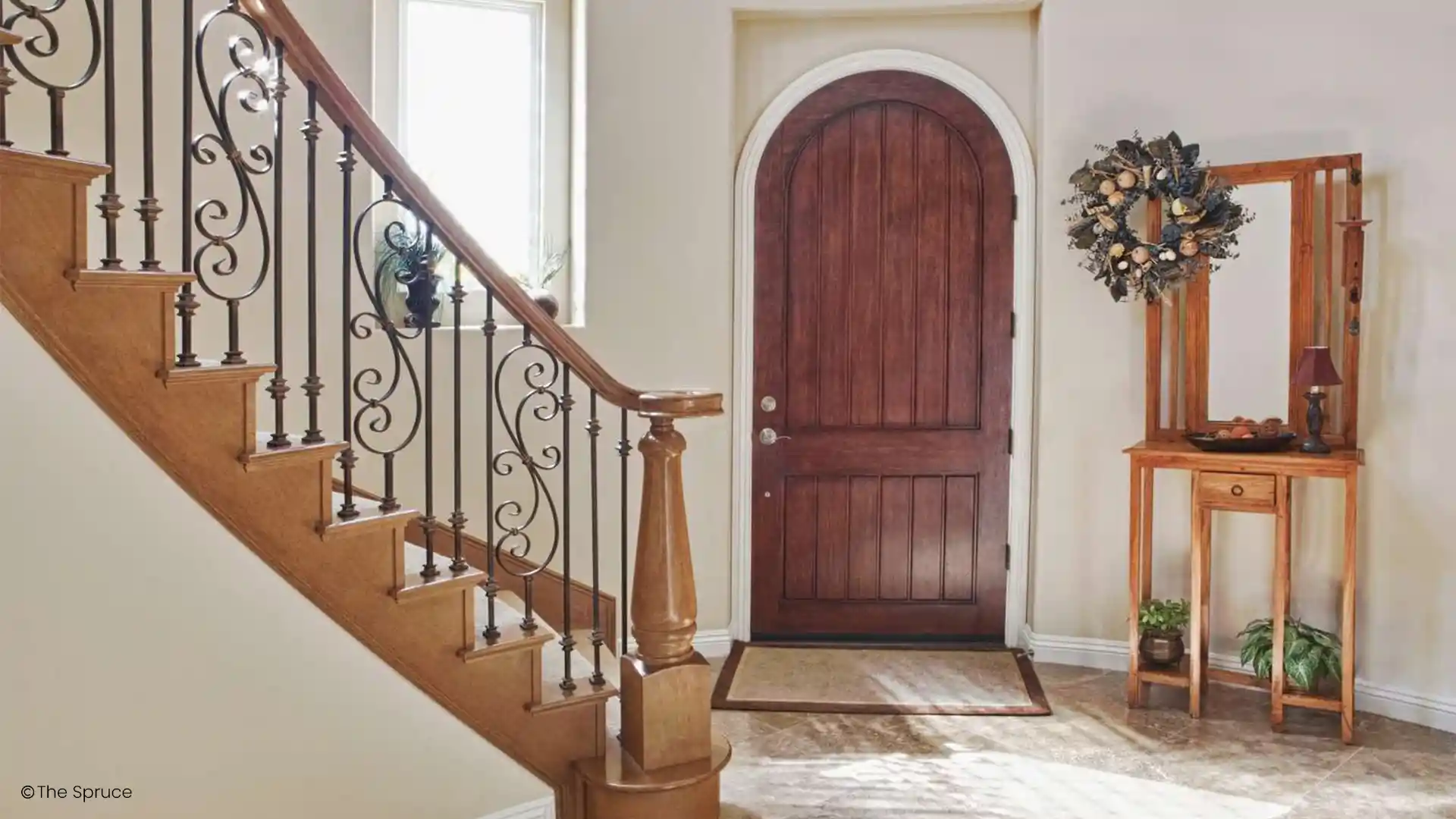 This type of room darwaja design combines timeless craftsmanship with modern allure, serving as both a functional entrance and a statement piece. The gracefully curved top invites a flow of positive energy into your personal space. This type of bedroom wooden door design is often handcrafted, which exudes warmth and creates a cozy ambiance within your bedroom.  
5. Plywood Door Design for Bedroom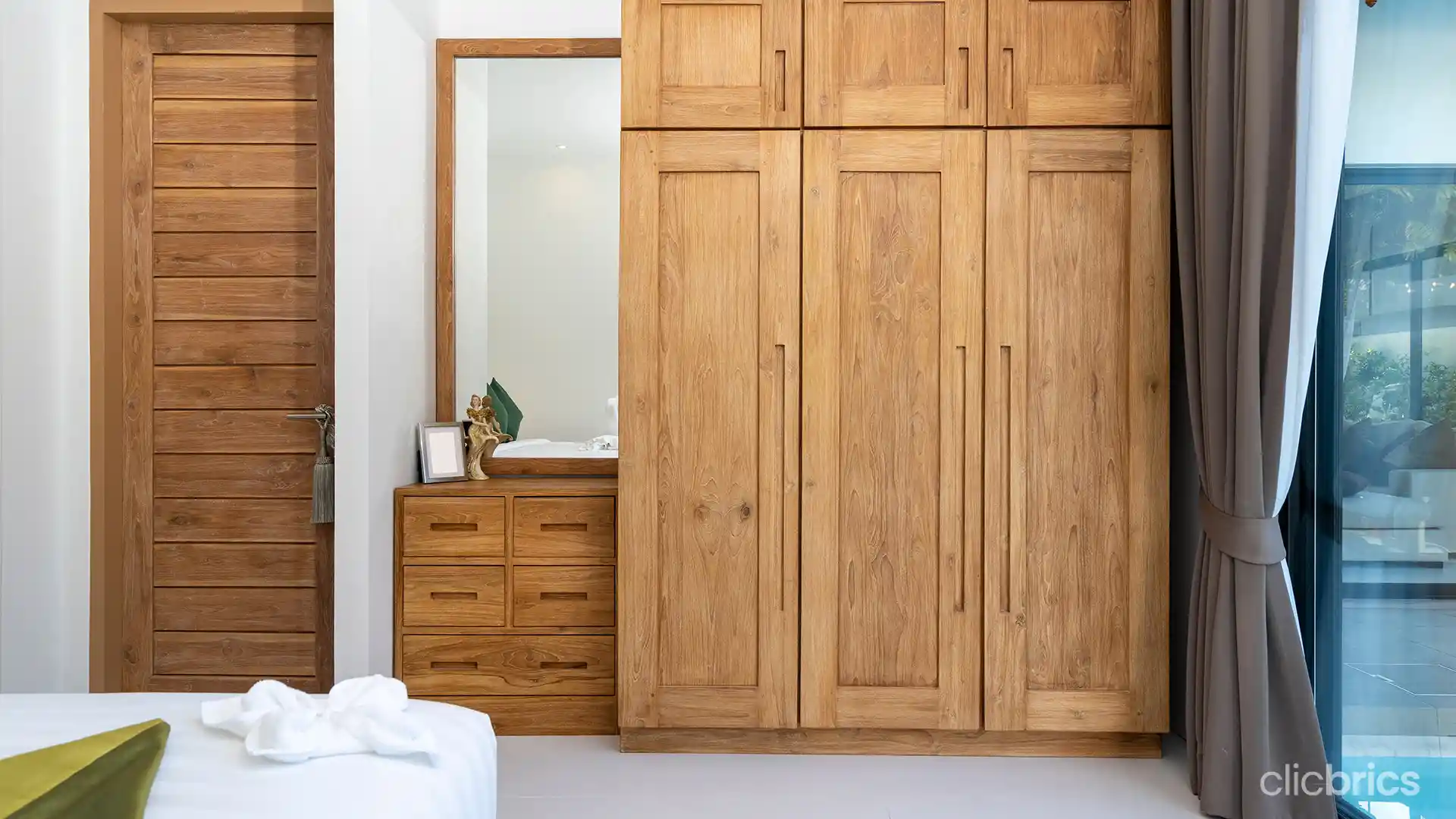 A plywood door design for a bedroom offers a perfect blend of affordability, durability, and versatility. Their sleek appearance can complement various interior styles, while their robust construction ensures long-lasting performance. Whether you opt for a minimalist modern look or a classic, timeless design, a simple bedroom door design provides an ideal solution for a budget-friendly and aesthetically pleasing bedroom upgrade.
6. Double Bedroom Door Design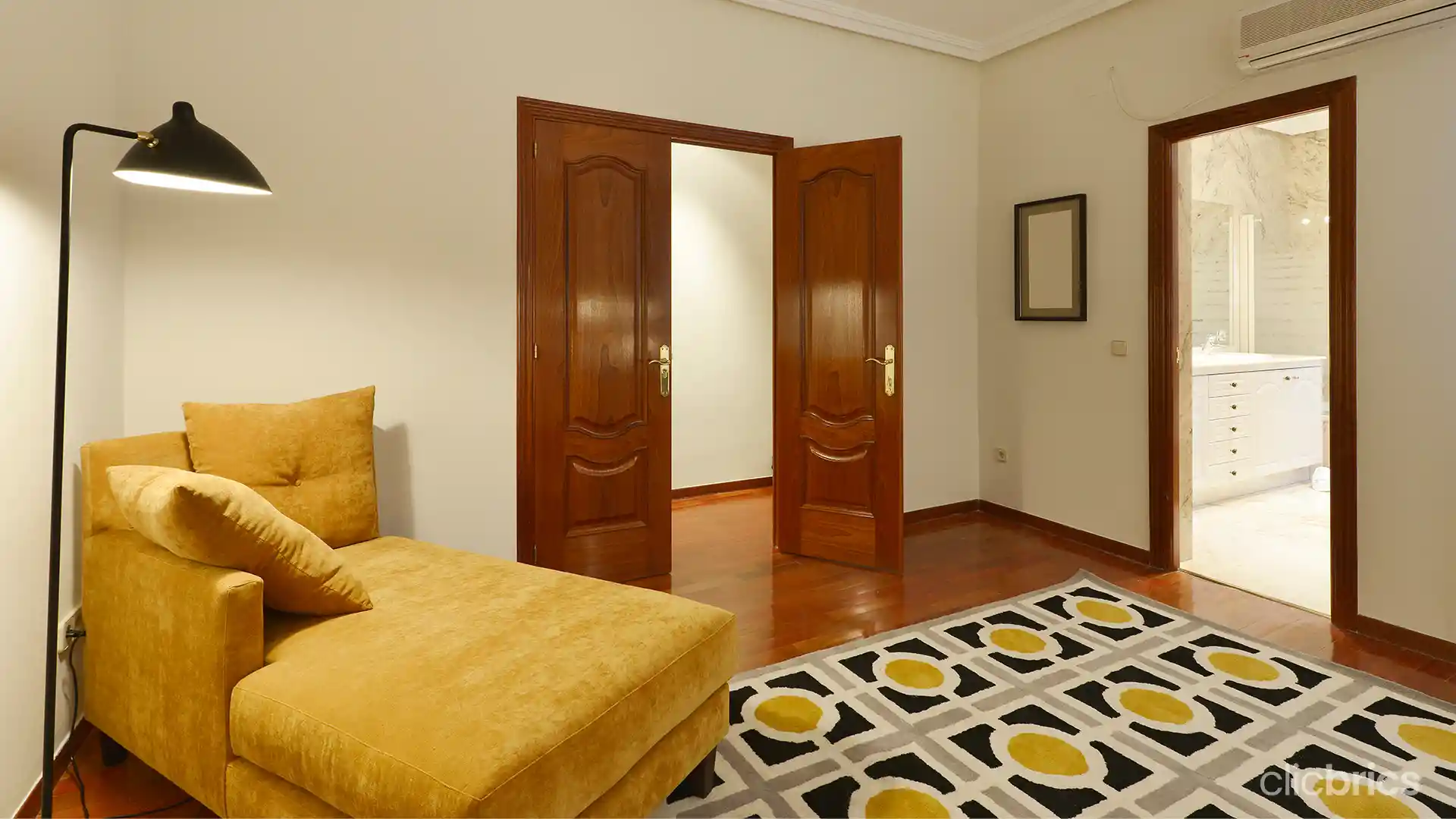 The double bedroom door design, characterized by two symmetrical door panels, adds a touch of sophistication to any sleeping space. They facilitate ease of access and a wider entrance, making furniture placement a breeze and improving the flow within the room. Moreover, double bedroom doors permit ample natural light to filter through, brightening up the interior and creating a welcoming atmosphere. 
7. Glass Square Vintage-Bordered Bedroom Door Design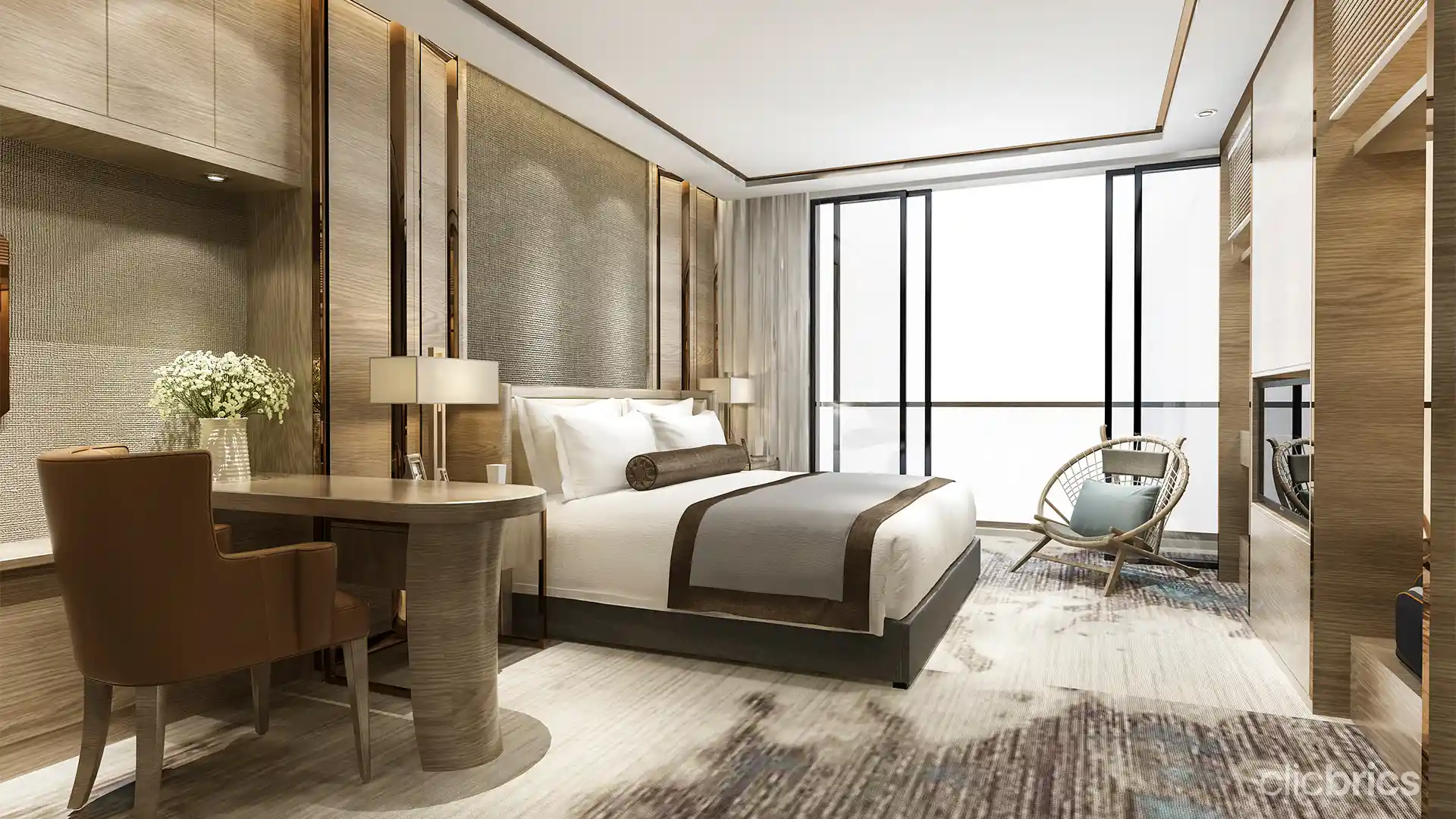 This door infuses your space with natural light and adds a touch of sophistication. The benefit of this bedroom door design latest is that you will enjoy enhanced brightness, the illusion of a more spacious room, and a timeless, elegant look that effortlessly complements various decor styles. 
Also Read: 10 Modern Door Design Ideas for a Contemporary Home
8. U-Shaped Grill Wooden Bedroom Door Design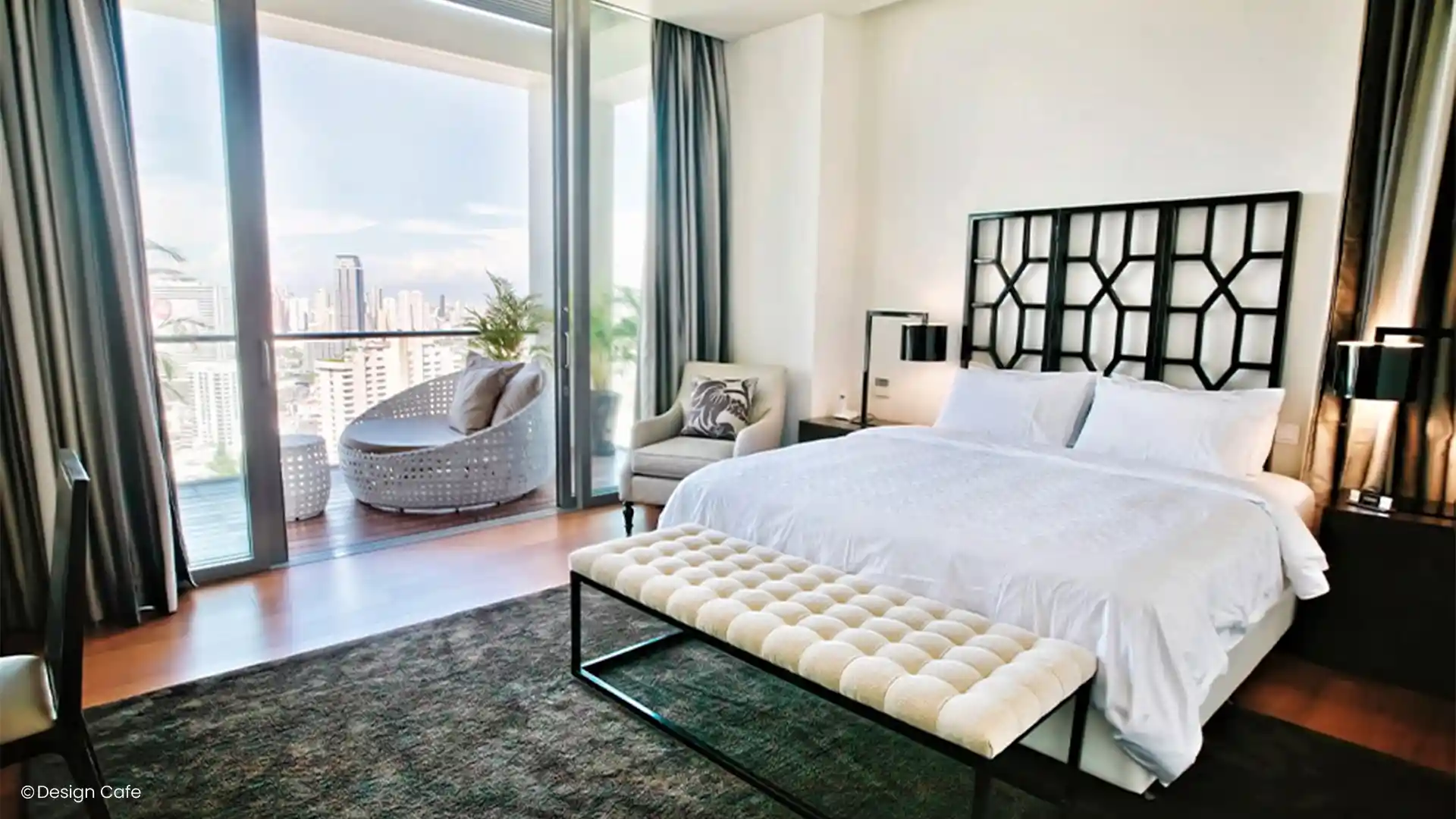 This sort of bedroom gate design is a striking addition to any bedroom, combining aesthetics with practicality. Crafted from rich, durable wood, this design features a unique U-shaped grill pattern that adds a touch of elegance and sophistication to your space. So, feel free to opt for this bedroom door design to infuse your bedroom with timeless beauty, comfort, and peace of mind.
9. Colorful Wood Bedroom Door Design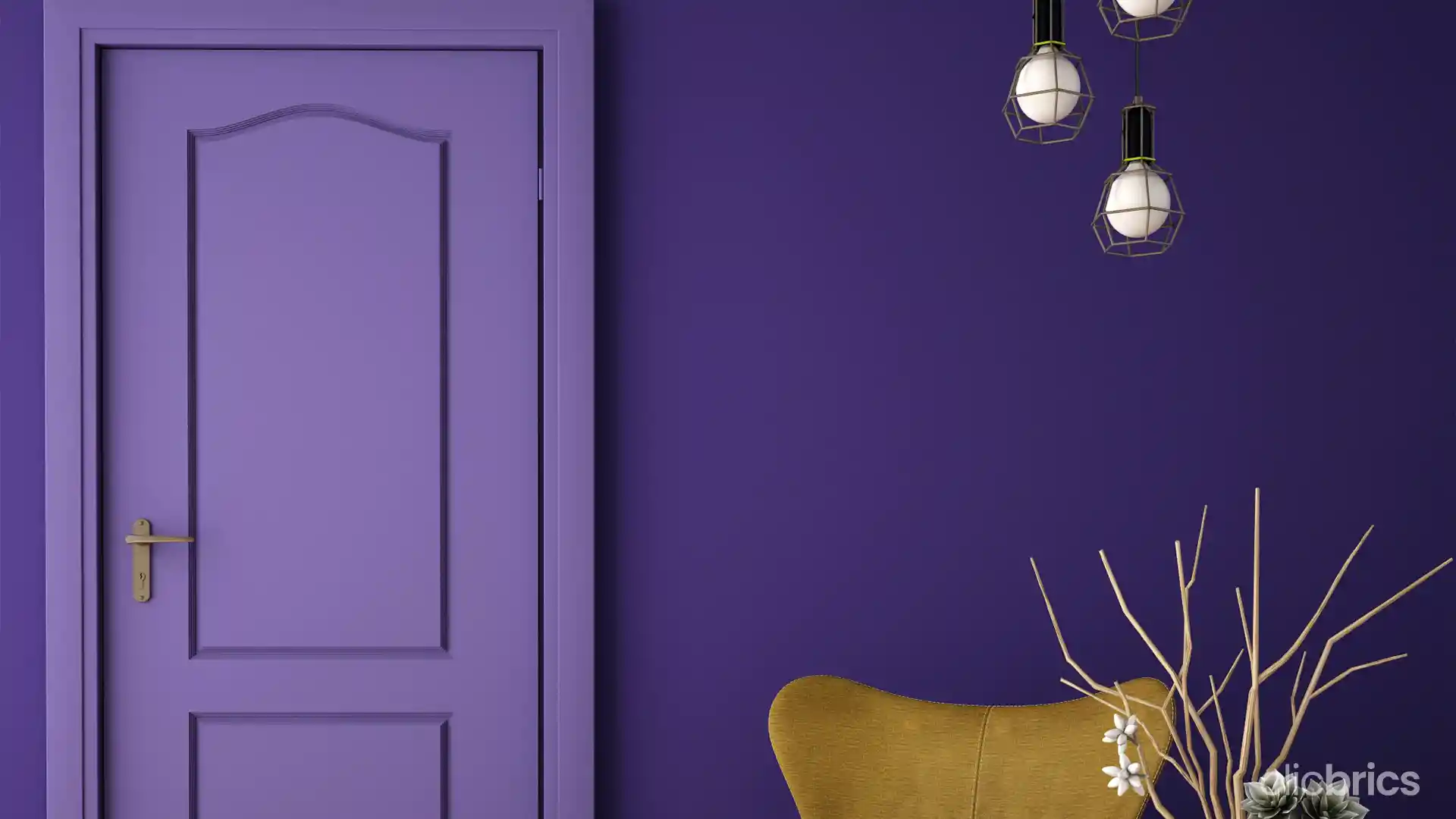 With a spectrum of hues to choose from, you can infuse your room with character and individuality, all while benefiting from the durability and classic appeal of wood. Not only does this colorful room darwaja design offer a visual feast for the eyes, but it also provides a canvas for personal expression, ensuring that your bedroom door becomes a piece of art that seamlessly complements your decor and brightens your daily life. 
10. Sliding Bedroom Door Design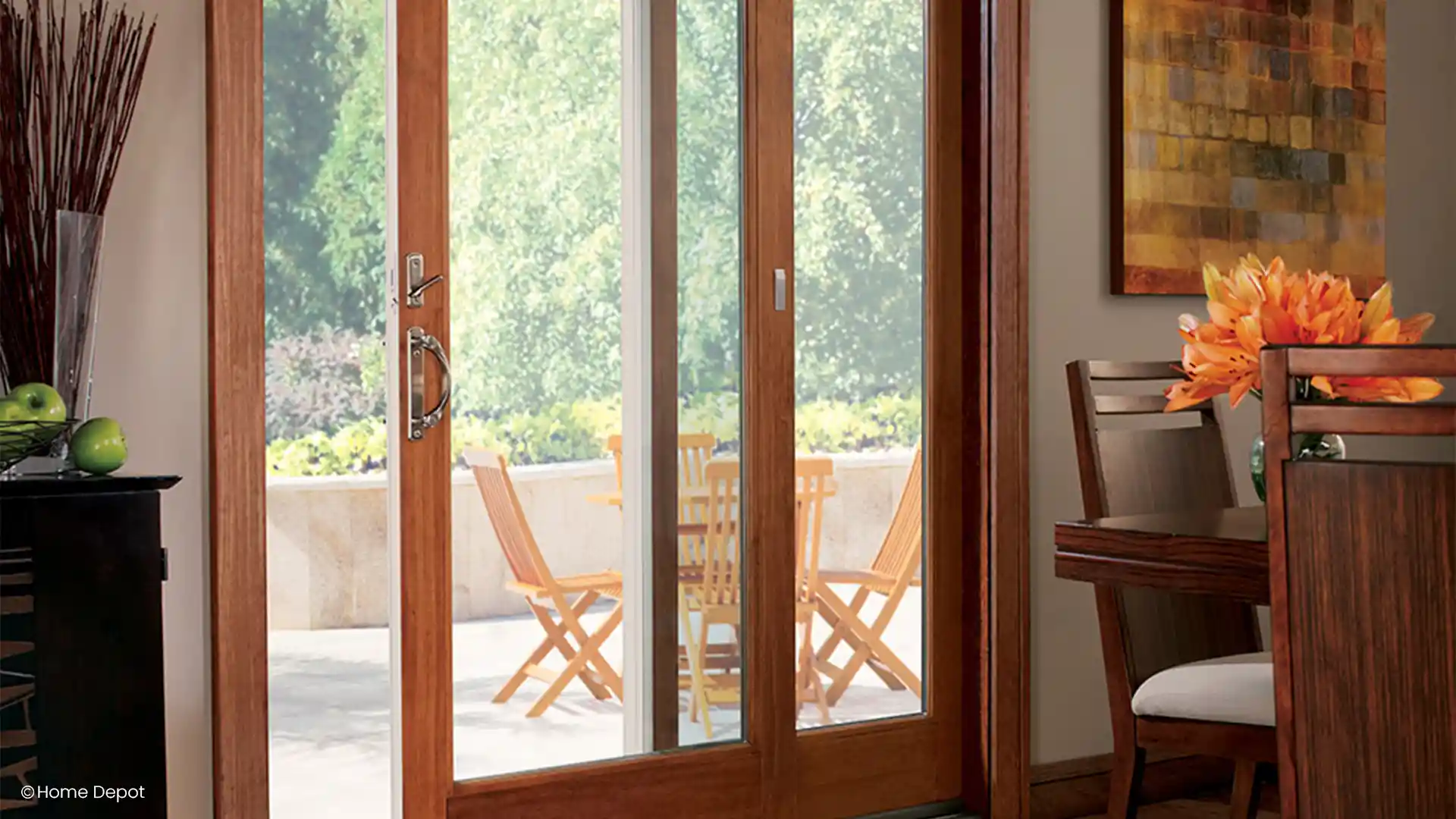 The bedroom sliding door design offers a seamless blend of style and practicality. Furthermore, a sliding bedroom door design comes in a variety of materials and finishes, allowing you to tailor them to your interior decor, whether you prefer sleek glass panels for a contemporary look or rustic barn-style sliders for a touch of country charm. 
Also Read: Top Alternatives to Sliding Glass Doors for Homes
Conclusion
When it comes to bedroom door design ideas, it's all about personal style and practicality. There are so many creative ways to make that often-overlooked part of your room a true statement piece. But don't forget, the best bedroom door design is the one that fits your lifestyle and vibes with the room's overall look and feel. So, whether you go for a rustic charm, a sleek modern look, or something totally out-of-the-box, make sure it suits you and your space.