Louis Parrish once said, "If you can organize your kitchen, you can organize your life".  Believe it or not, designing a small kitchen that's full of style is not impossible. We've put together some easy-to-do small-kitchen decorating ideas that you should try for your Indian apartment.


Replace kitchen cabinets with drawers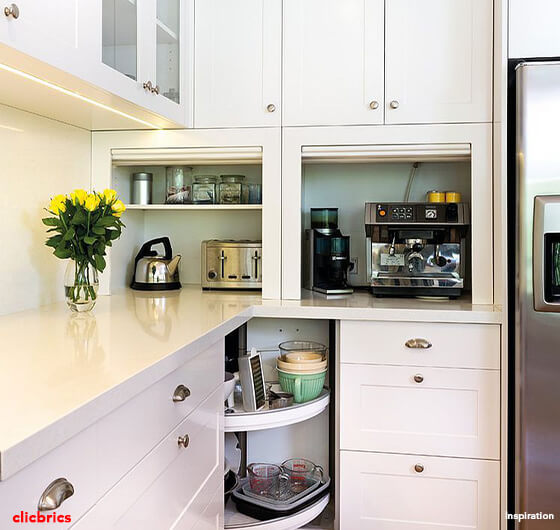 If you're considering a kitchen remodel, then you should consider outfitting your kitchen with drawers under the counters instead of cabinets. Although it may seem like kitchen drawers would limit the storage space in your kitchen, but actually drawers will allow you to store taller things more easily as they don't have to fit under shelves. Source - airtasker.com
Build in your seating
Want an eat-in kitchen but have a limited space for a large dining table in the kitchen? If yes, so you can always squeeze in a small table with a few chairs so that there is no need for a separate dining room. Choose something that is light and fits properly in a corner to save space.  Source- homedit.com

Also Read: Top 10 Cost Effective Simple Kitchen Design Ideas
Large windows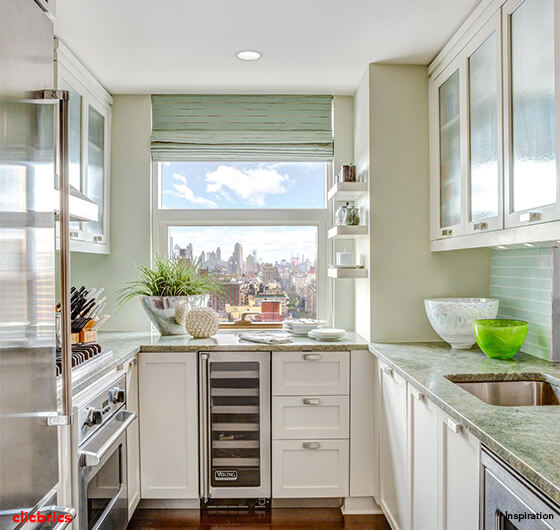 A kitchen is packed with metal appliances and wood cabinets, having a few large windows in the kitchen might be the only source of natural light and embellishment in the entire space. Source - hgtvhome.sndimg.com
All white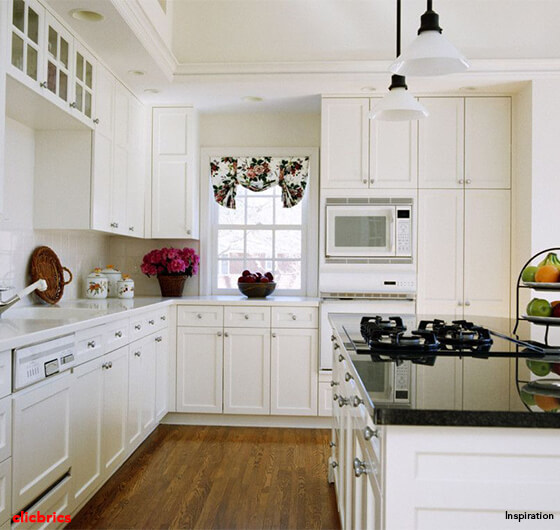 If your kitchen is small, create an all-white kitchen that's fresh and aesthetically pleasing. In addition, it will make a small kitchen feel bigger and brighter that lacks adequate natural light.

Supersize the sink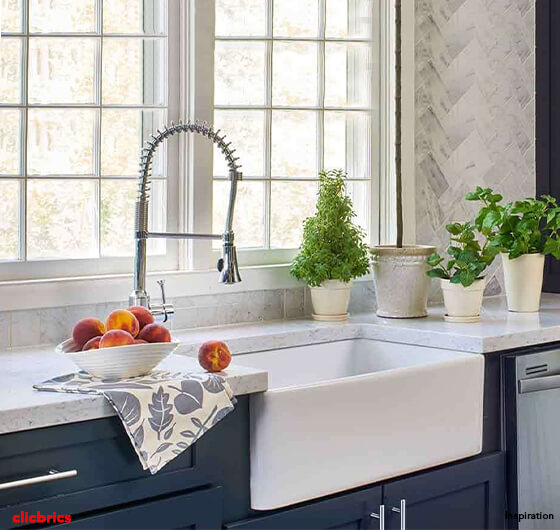 You may think the kitchen is the obvious place to put a dishwasher, but it becomes difficult when you have a small kitchen. Therefore, it's worth finding a space for a double sink. You can keep one bowl for washing and one bowl for dirty dishes. That way you can keep dirty plates out of sight, without cluttering up the entire surface. Source - airtasker.com
Try open shelving in your kitchen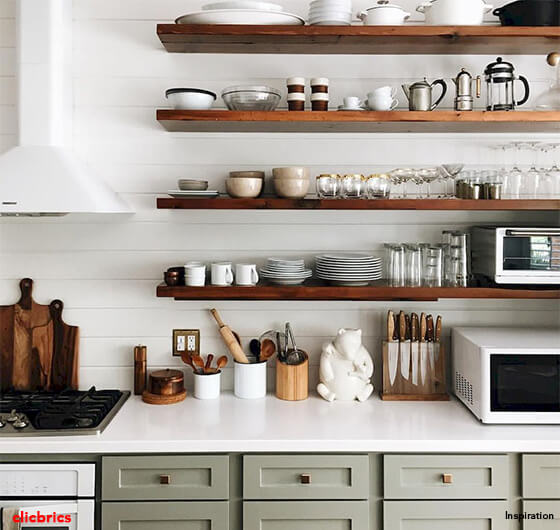 Right now in the small kitchen design, it's popular to use open shelving. You can place the things you use every day on open shelves so you wouldn't have to search through the cabinets. It also gives an illusion of space, open up your walls and make the kitchen makes brighter and more open.

Hang overhead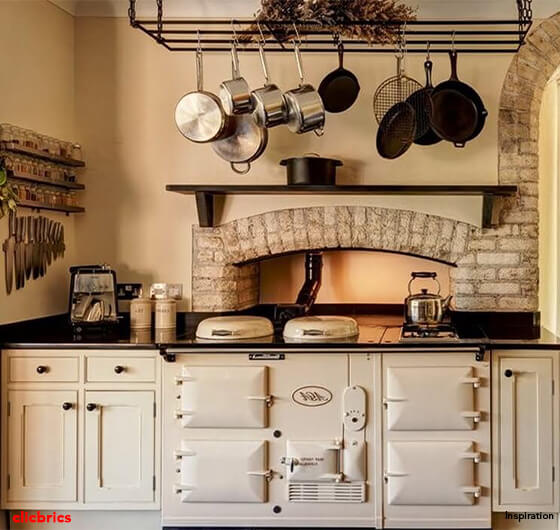 Pots are large, bulky and take up a lot of room in cabinets, so consider using a pot rack to keep them up and out-of-the-way. Hanging pots and pans from the ceiling is a great way to save cabinet space while also keeping everyday items within reach when you need them. If you don't have space for a pot rack, then look for a smaller option that mounts on the wall.

Add a bold backsplash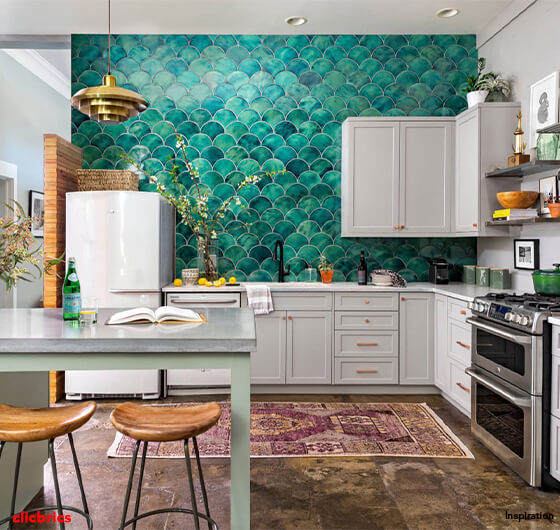 If you want to spice up your next kitchen remodel,  simply add a bold pop of pattern for a backsplash. A bold pattern can bring some liveliness into your cooking space. A bold pattern is the perfect backdrop for a simple yet stunning small kitchen. 
Also Read: 7 Modern Staircase Design Ideas For Every Indian Home


Use your green thumb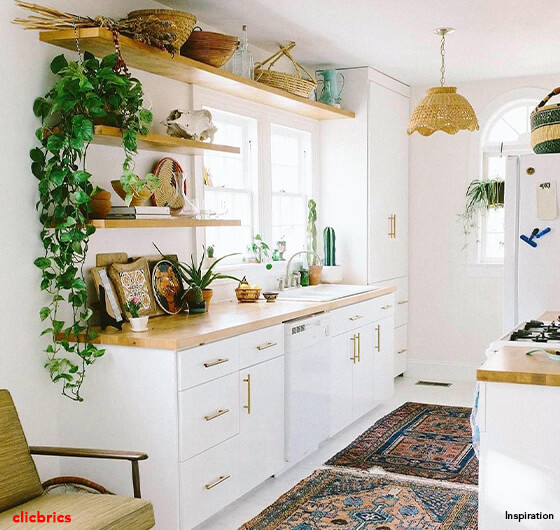 If you're looking to brighten up your kitchen, houseplants are always welcome in a kitchen. Growing houseplants like acti or succulents, artillery plant, polka dot plants, etc in the kitchen not just add a pleasing aesthetic element but also improve oxygen circulation. Plants in the kitchen also reduce humidity. Source - airtasker.com