Table of Content:
Karwa Chauth, a cherished Hindu festival, is a day of love and devotion celebrated by married women for the well-being and longevity of their husbands. Nowadays, it's very common to see Indian men fasting for their wives as a heartfelt demonstration of love and respect. It's a day filled with love, devotion, and anticipation. And what better way to make it even more special than with some delightful karwa chauth decoration. 
Let's explore ways to add a special touch to your Karwa Chauth decorations, turning this day into a one-of-a-kind celebration filled with love and warmth.
Karwa Chauth Decoration at Home
1. Rangoli Art on Your Doorstep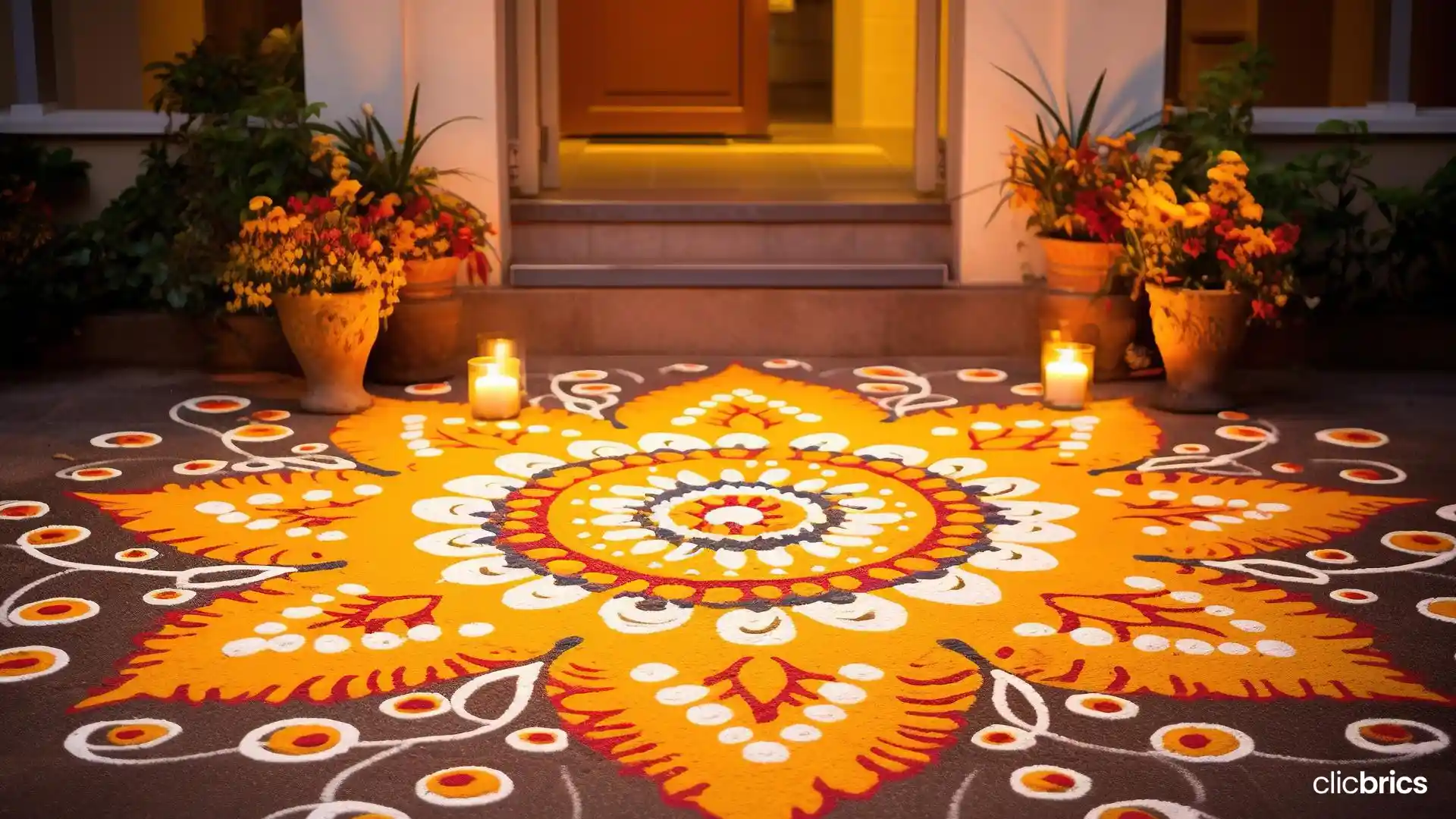 Rangoli is an art form that has been passed down through generations, and it's an integral part of Karwa Chauth decoration. You can take a step beyond the usual flower or colored powder rangoli by trying rice grains to create a rangoli that represents your relationship. Or you can experiment with symmetry and use a mirror rangoli, reflecting the bright festivities into your home.
Also Read: 10 Dusshera Decoration Ideas to Infuse Home & Office With Tradition
2. Thali Art for Karwa Chauth Decoration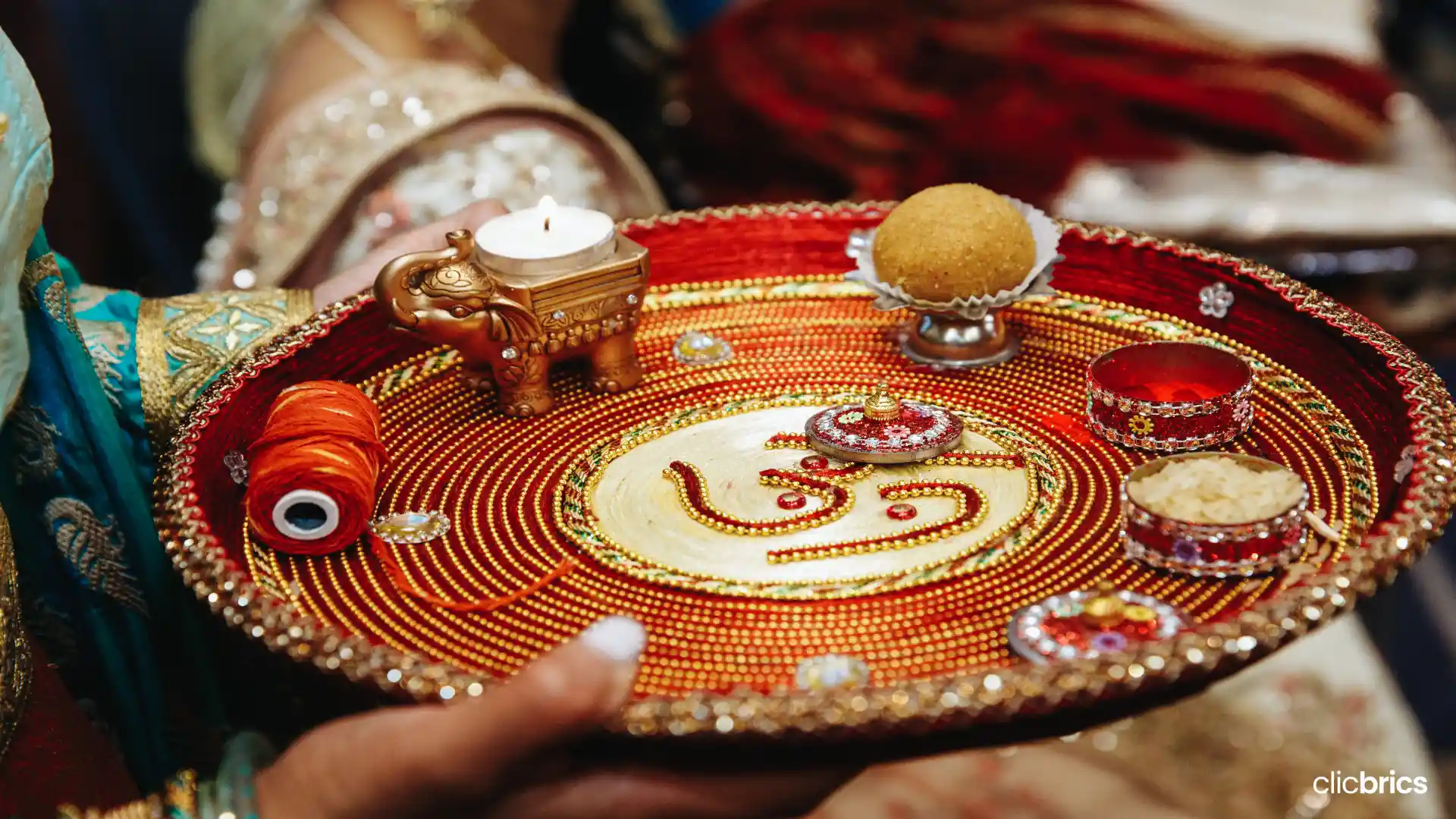 Karwa Chauth thalis, the heart of the rituals, offers a canvas for creativity. You can start by picking a traditional thali to add a touch of uniqueness. Furthermore, you can line it with vibrant, auspicious colors like red or orange. These personalized touches for karwa decor can make the thali a memorable part of the celebration.
3. Add Floral Elegance to Your Karwa Chauth Decoration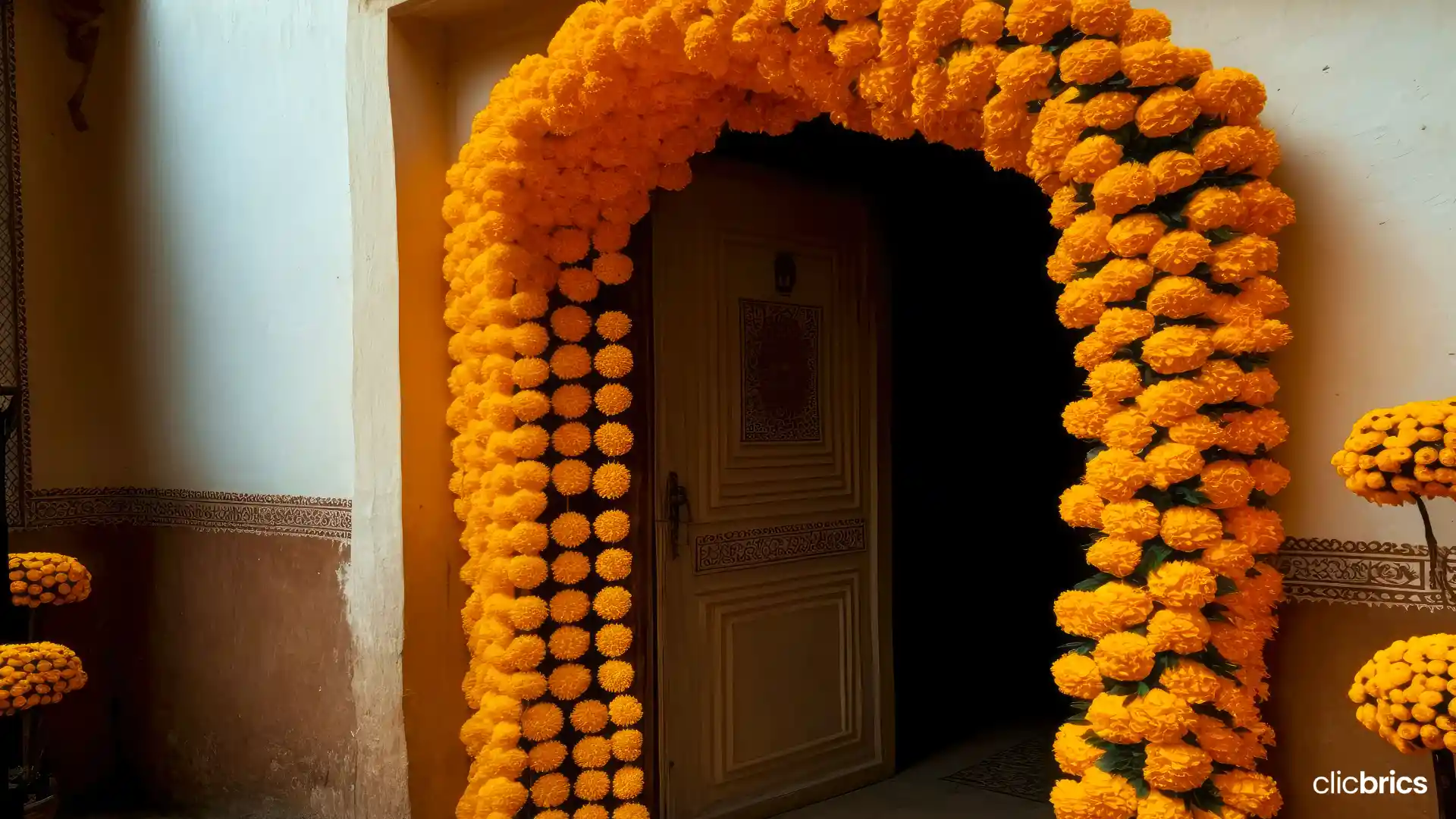 Decorate your space with marigold and rose garlands for karva decoration to instantly infuse your home with a festive vibe. You can take it further by creating a floral arrangement that symbolizes the essence of Karwa Chauth. A chalni or karwa made from flowers can be an exquisite addition, invoking the auspiciousness of the occasion.
4. Candlelit Ambiance to Set a Romantic Karwa Chauth Decoration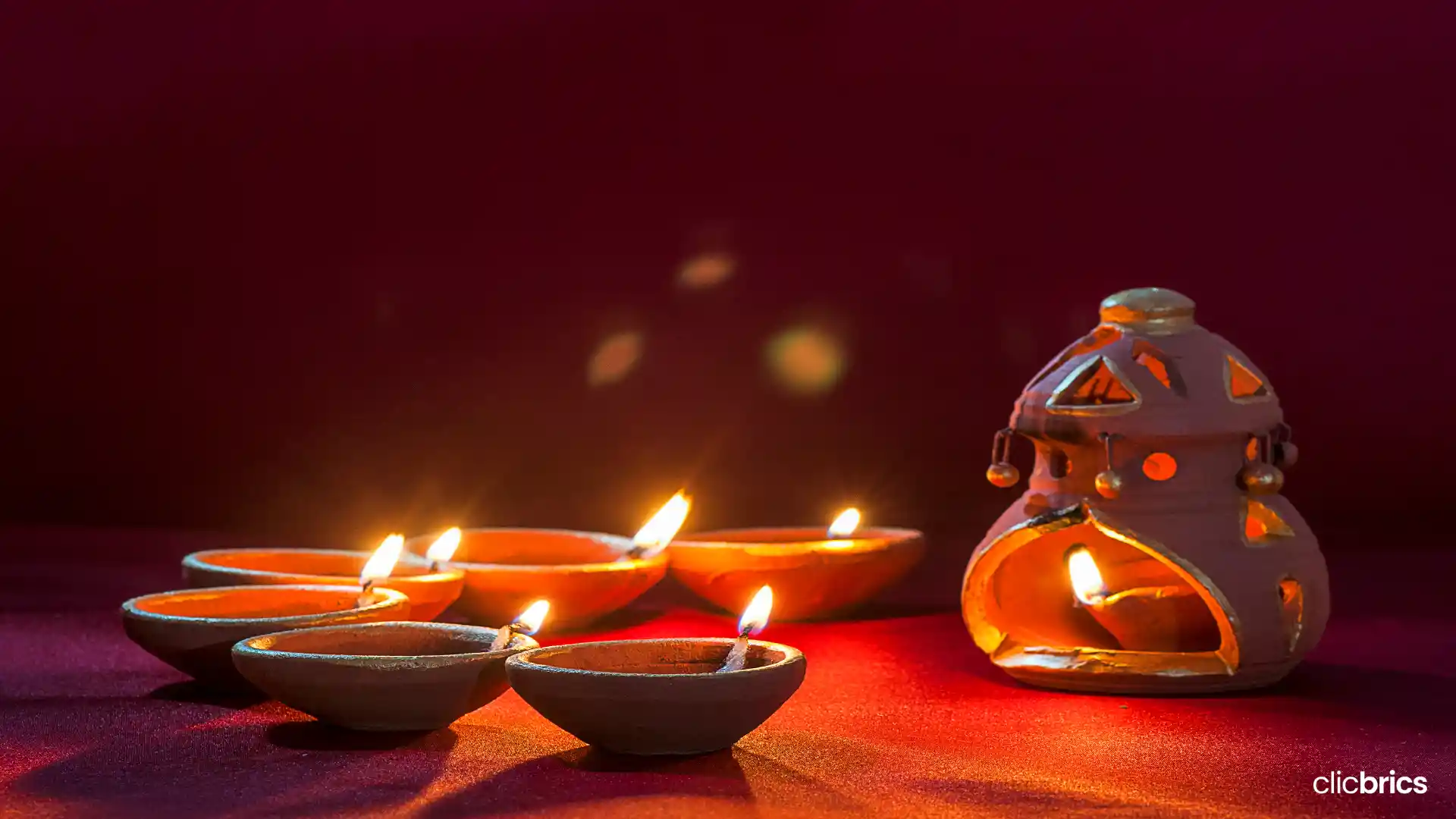 The soft, romantic glow of candles and diyas is a must for karwa chauth decor. You can consider hand-painted diyas or intricate candle holders to add a touch of uniqueness. Moreover, the scented candles, like rose or sandalwood, can elevate the ambiance and engage the sense of smell, making the experience more sensory and memorable.
Also Read: Navratri Decoration Ideas: 9 Inspirational Ways to Decorate Your Home 
5. Karwa Chauth Karvaan: Personalized Pot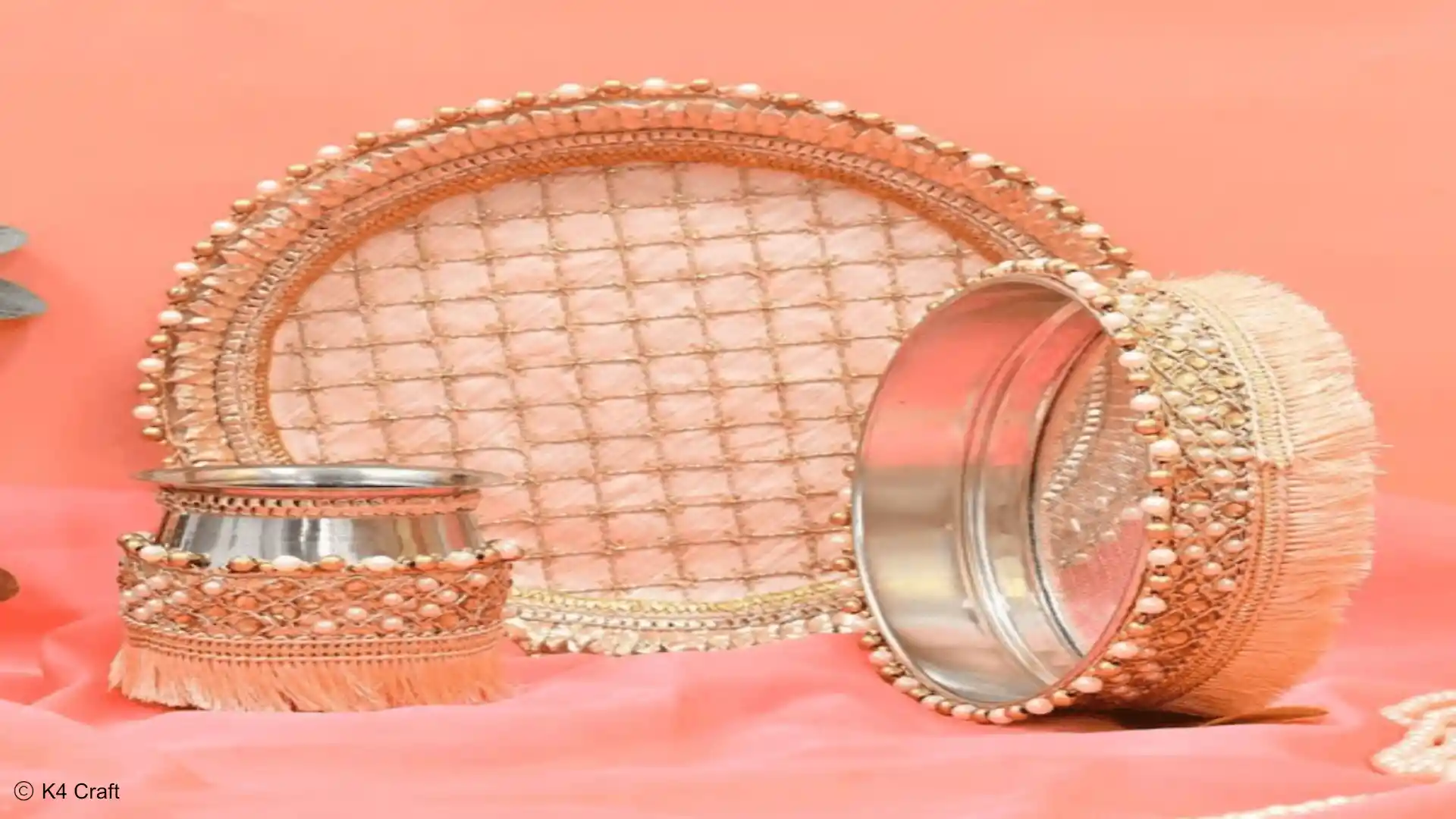 Source: K4 Craft

The karwa, a symbol of abundance, is central to the rituals. You can personalize it by decorating it with your husband's name or initials or painting it with motifs that hold special meaning to your relationship. The unique touch will make this customary pot stand out.
6. Festive Cushions for Karva Chauth Decoration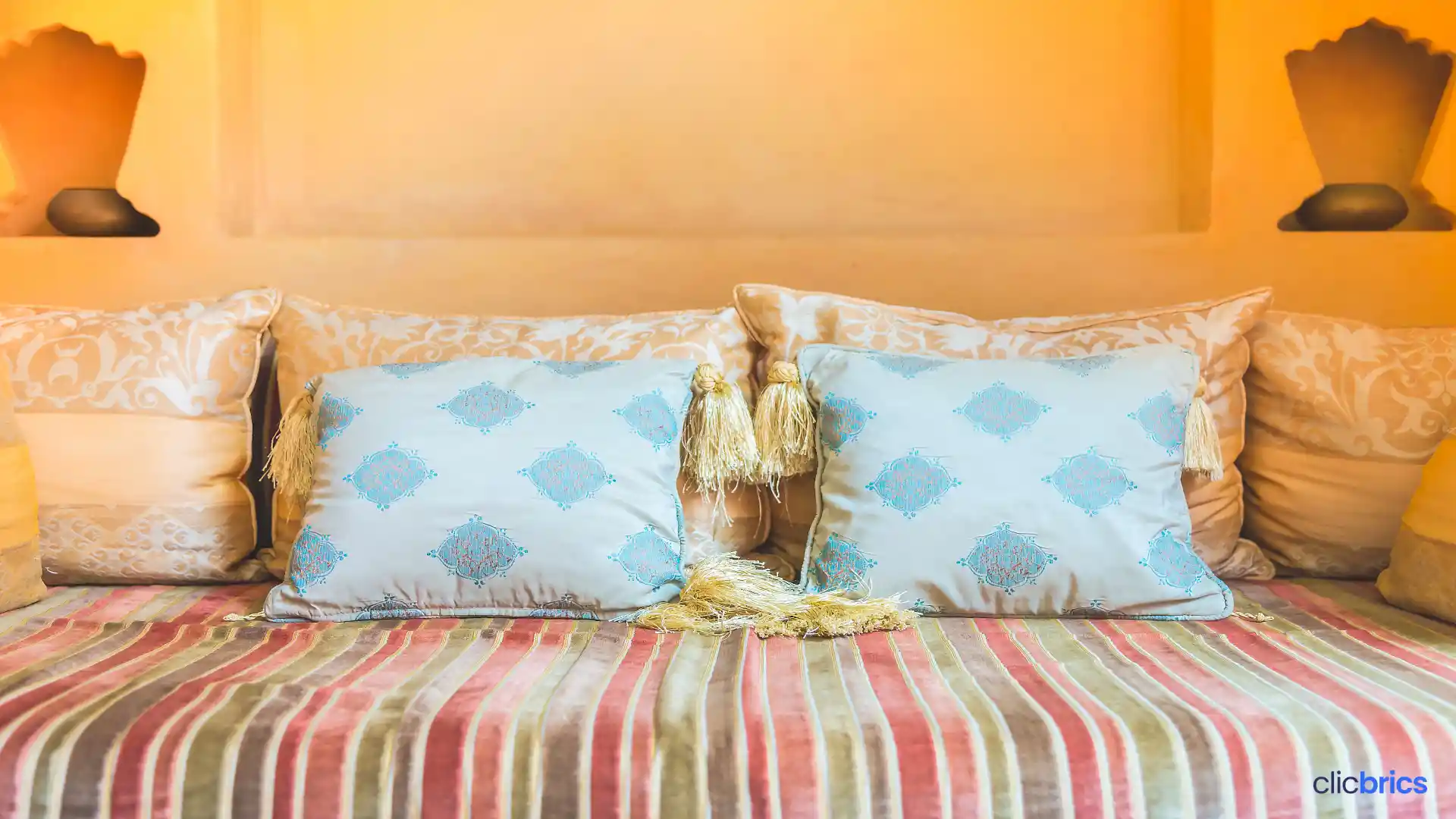 The moment when you break your fast upon sighting the moon is emotionally charged. So, what you can do to enhance the karwa chauth decoration is to create a cozy corner for this special time. Start by laying out some cushions and a soft blanket for comfort. Sharing this moment with your spouse in a personalized nook adds a deeper connection to the celebration.
Also Read: Diwali Light Decoration: 10 Spectacular Lighting Ideas to Brighten Up Your Diwali
7. Festive Curtains for Karwa Chauth Decoration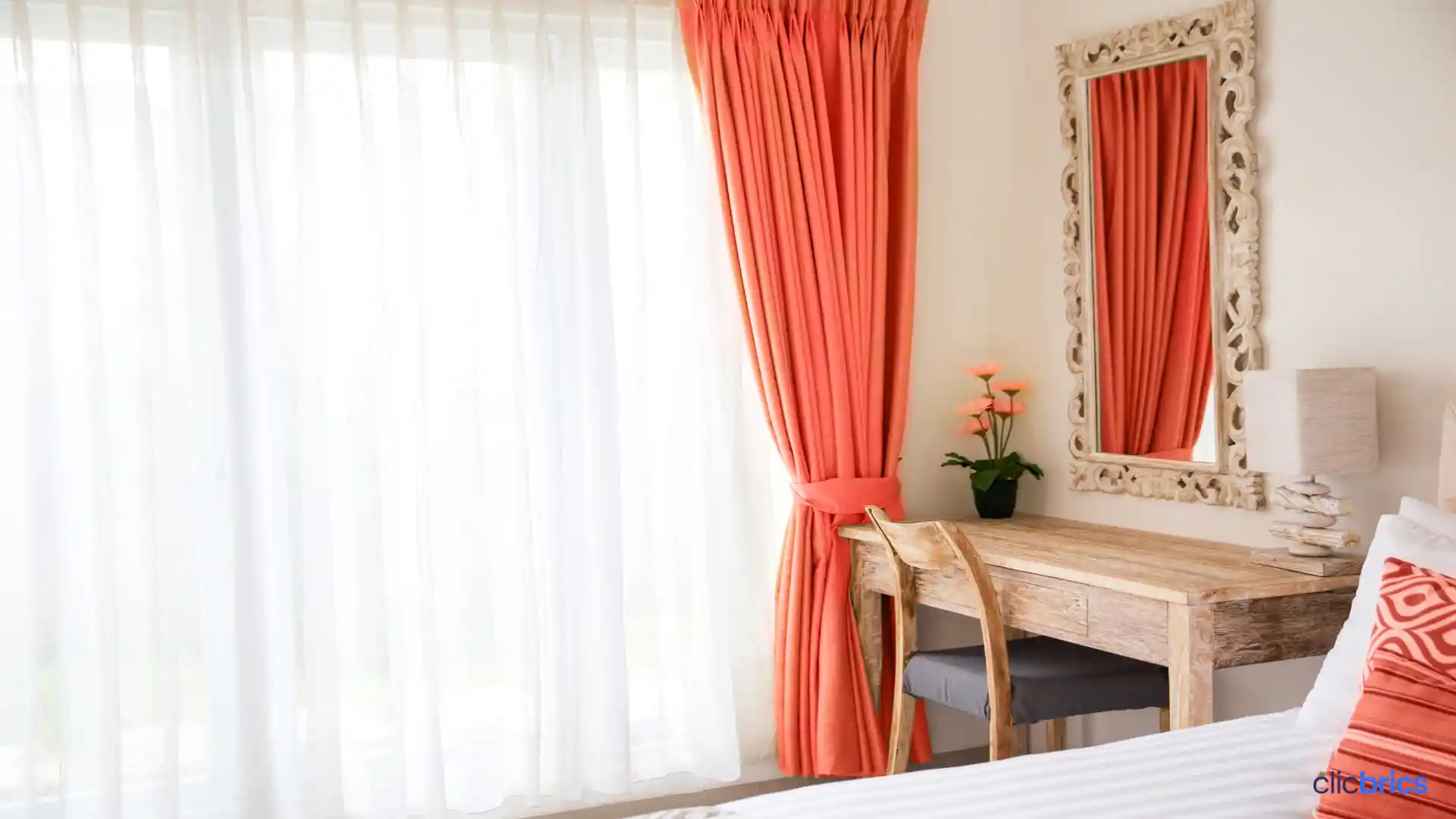 Festive curtains play a pivotal role in transforming your home into a sanctuary of warmth and love during Karwa Chauth. The choice of curtains, with their colors, patterns, and textures, can set the perfect backdrop for the day's rituals and celebrations. 
Whether you opt for rich, traditional hues like deep reds and oranges to symbolize love or prefer to add a touch of elegance with intricate patterns, your curtain selection can add a significant layer of charm to your karva decoration.
8. Ethnic Accessories for an Elegant Karwa Decor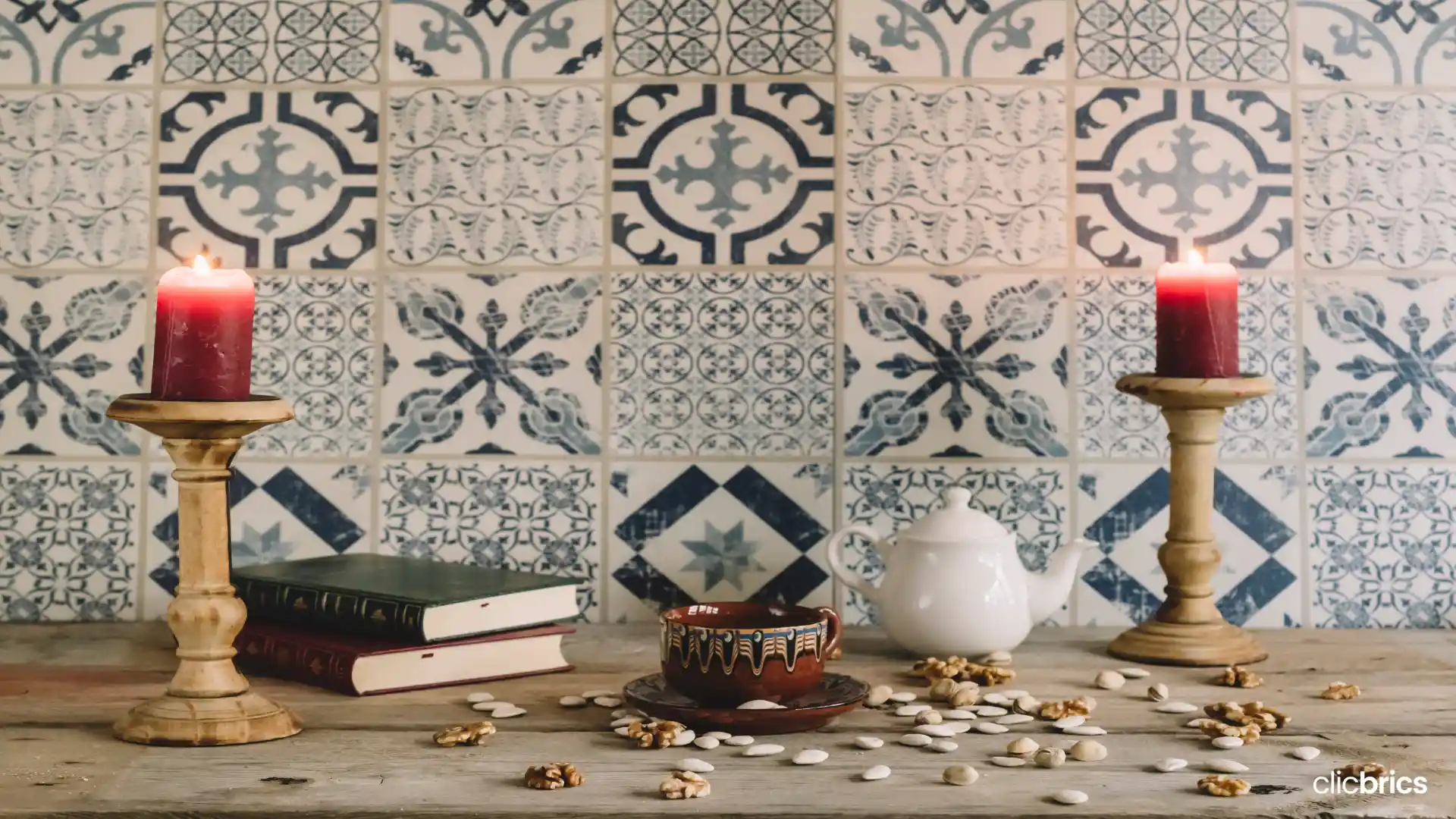 Ethnic accessories play a pivotal role in transforming Karwa Chauth decorations into a vibrant and culturally rich experience. Lamps, with their warm, flickering light, illuminate the surroundings, while brass statues and figurines, often depicting deities or traditional motifs, add a touch of spiritual essence to the decor, creating a sacred atmosphere. 
These accessories collectively infuse the karwa chauth decoration at home with a blend of tradition, spirituality, and artistic flair, making the day even more special and visually captivating.
9. Festive Torans for Karwa Chauth Decoration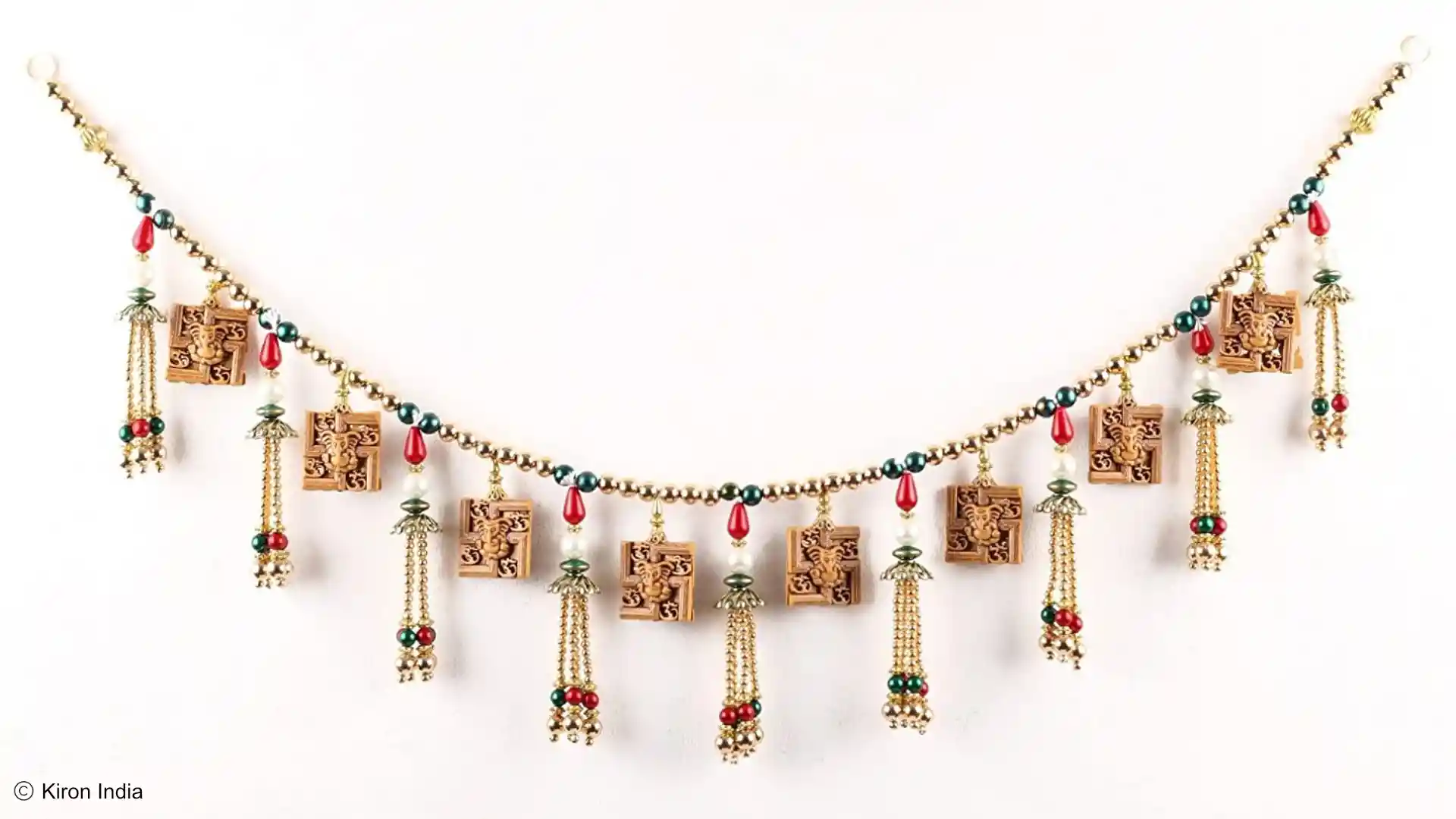 Festive torans, also known as decorative door hangings, play an essential role in the vibrant tapestry of Karwa Chauth decorations. These ornate and colorful embellishments are believed to usher in positivity and prosperity. Often crafted with intricate details, torans are typically adorned with mirrors, bells, and traditional motifs, making them a visually captivating element of Karwa Chauth decor.
Source: Kiron India
Also Read: 10 Diwali Decoration Ideas for 2023 |Create a Beautiful Home for the Festival 
10. Fairy Lights for Karwa Chauth Decoration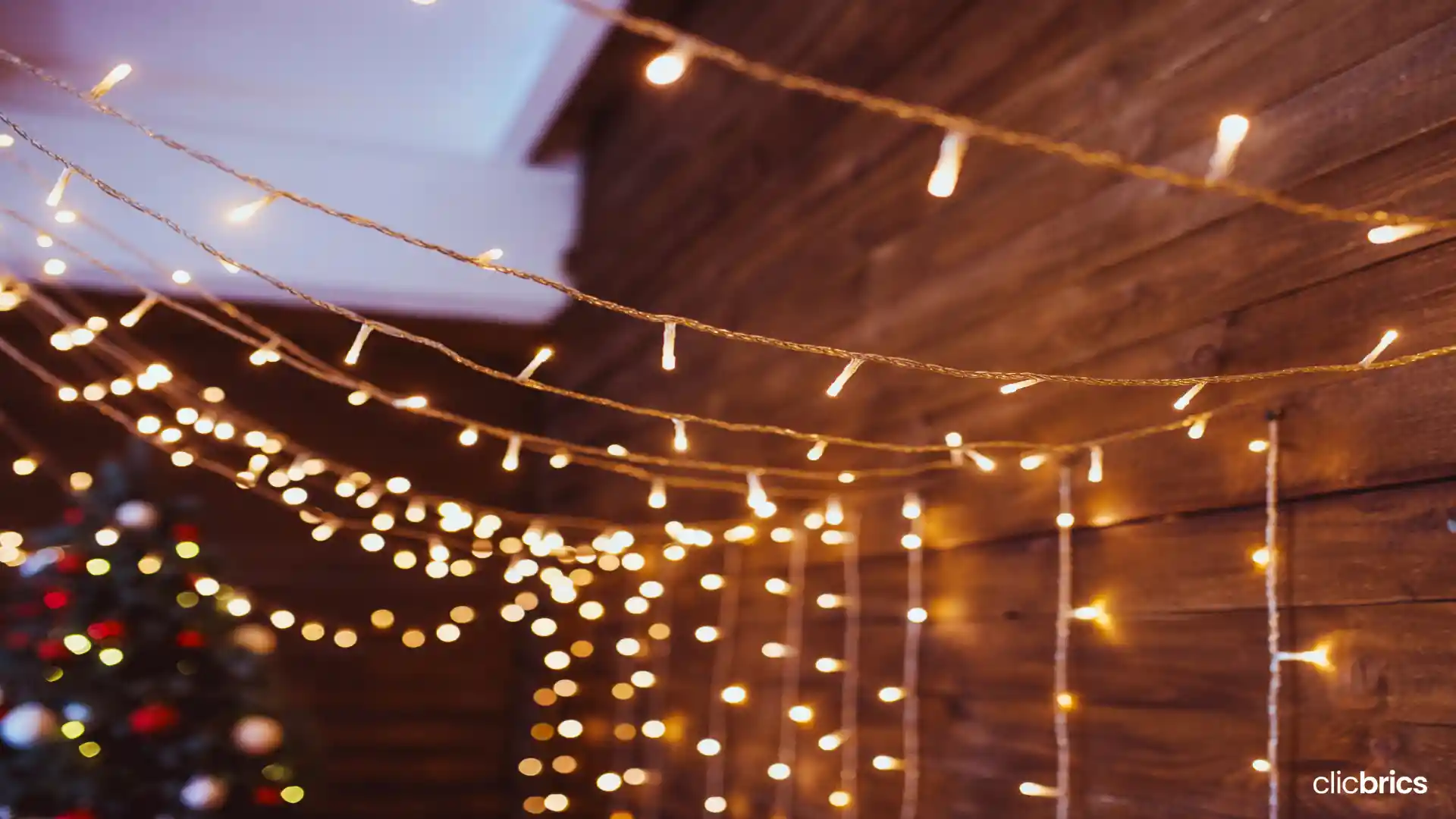 Fairy lights, with their enchanting glow, hold a special place in Karwa Chauth decorations. These delicate strings of twinkling lights add a touch of magic to the festivities. The gentle radiance of fairy lights beautifully symbolizes the enduring love that Karwa Chauth represents, making them an integral part of the decor and illuminating the home.
Conclusion
Karwa Chauth is a day of love, devotion, and celebration. By adding unique and personal touches to the karwa chauth decoration, you can make this special day even more memorable and significant for you and your spouse.