Table of Contents
When you plan on remodeling your bedroom walls, you often presume to work on four walls. But what if we tell you that you've got not four but five walls? Yeah! The fifth wall is the ceiling that is often overlooked by almost every homeowner. So, we prepared this blog to make you realize how a change in the ceiling design can be a game changer. Now that we have grabbed your attention, how about introducing coffered ceilings in your room? 
But why only coffered ceilings? Because the beauty of coffered ceilings strives to capture the kind of elegance you have seen in the movies. You, too, can get the same feel and look by opting for some coffered ceiling designs at your home. It will provide an illusion of spaciousness, absorb excess sound, and add to the home's resale value. 
Before you get too excited, there are 3 significant factors that you need to consider when installing coffered ceilings designs.
3 Factors to Consider when Installing Coffered Ceiling Designs at Home
Ensure Your Ceilings are High: Your ceilings should be nine to ten feet or even higher so that the beams don't feel like they are precisely above your head! 
Set The Right Tone: When we talk about a modern coffered ceiling, it can be a different colour than your walls. You can spice things up by adding a complementary colour to your room. Sometimes, people opt for black coffered ceilings, which look remarkably ravishing and give the room a dramatic look that many of us crave! So, it's good to experiment a little without having to worry about end results. 
Set a Specific Budget: When you think about installing coffered ceilings, you need to consider that it involves a lot of craftsmanship in creating a perfectly segmented design for your ceiling. So, installing coffered ceiling designs in your home can be expensive. But the fact is that a house with a coffered ceiling also increases your home's resale value.

 
7 Timeless Coffered Ceiling Designs 
Let us now take you through a list of the exclusive coffered ceiling designs that you will adore! 
1. Modest Cream Simple Coffered Ceiling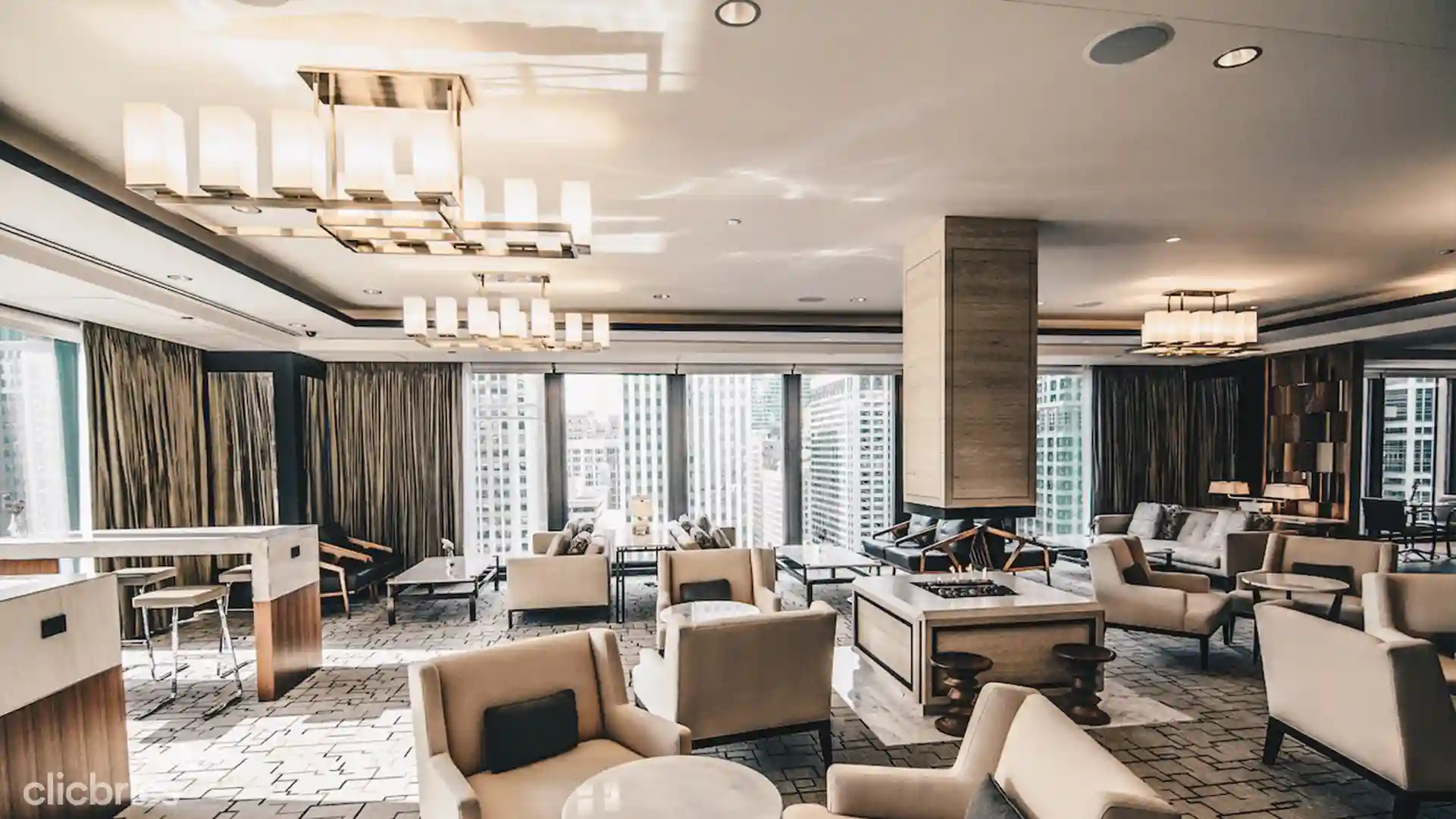 If you just like to keep the sleeping space as simple as possible, then perhaps keeping it in the cream-white base will be an excellent option. This coffered ceiling provides immense depth within gaps for better lighting and good air circulation. The simple cream ceiling is also suitable for stately rooms, which are generally open to the home's exterior. You can also accessorize the room by-
Keeping minimal decor and,
2. Wooden Coffered Ceiling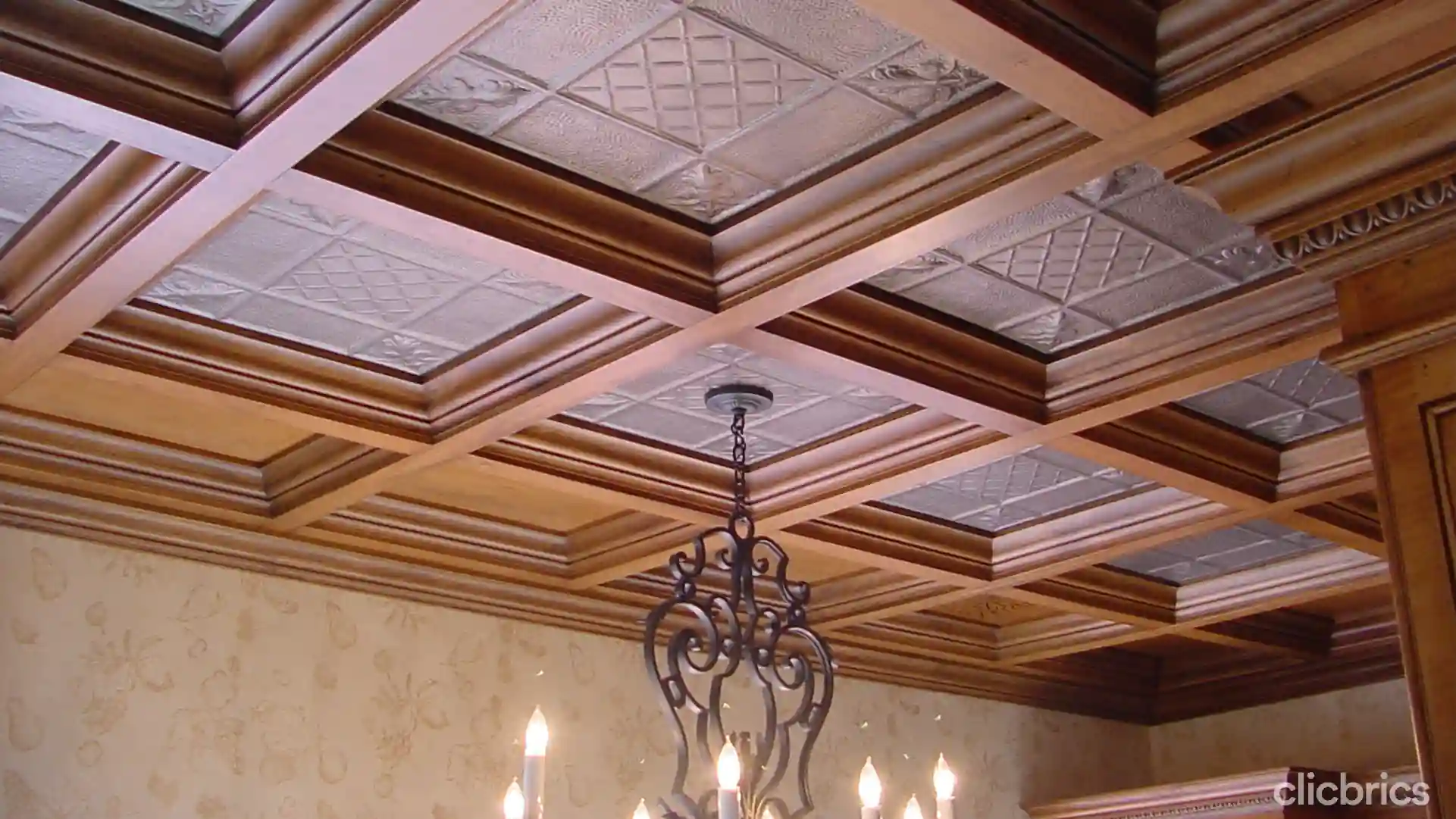 If you want a rustic yet charming effect in your home, you should install wood-coffered ceiling designs. Here's why: The design offers an elegant depth by adding exposed wood, providing a modern Scandinavian touch. 
Also, wooden coffered ceilings offer a perfect balance of classic and contemporary. So, installing a wooden coffered ceiling will be the right move for you to attain warmth, sophistication, and rustic charm. 
3. Simple Coffered Tray Ceiling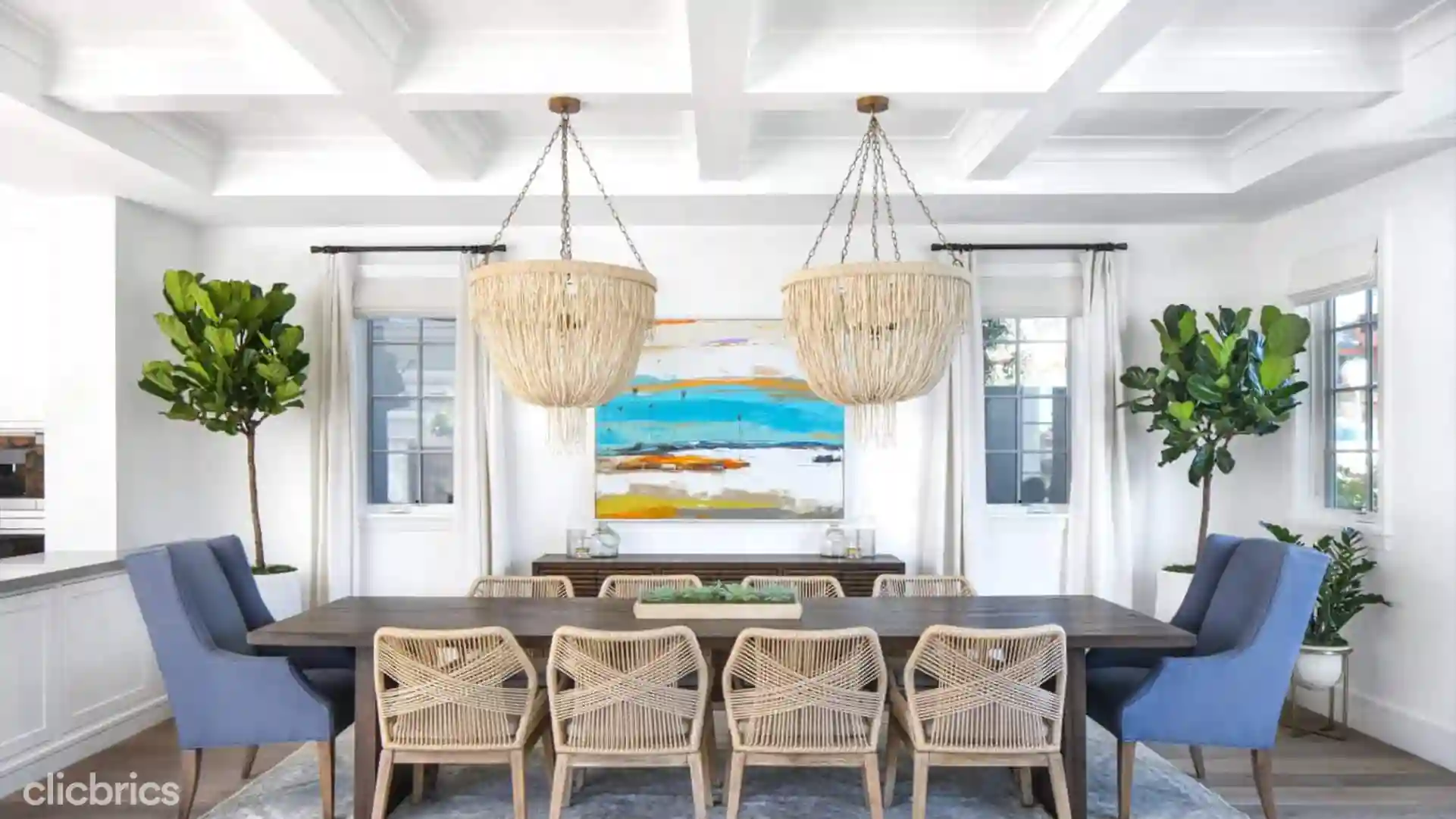 If you're blessed with a place that has vast space and a high ceiling, then opting for the tray ceiling will be the right option for you. If you choose this, consider opting for lighter shades to accentuate the allure of the coffered ceilings. Moreover, people looking for designs for a coffered ceiling living room can also opt for a tray ceiling as it will add dimension to the room and enhance visual interest, thus helping in making the room look bigger.
Don't Miss Reading: 12 Trendy False Ceiling Designs for Your Bedroom
4. Shaded Coffered Ceiling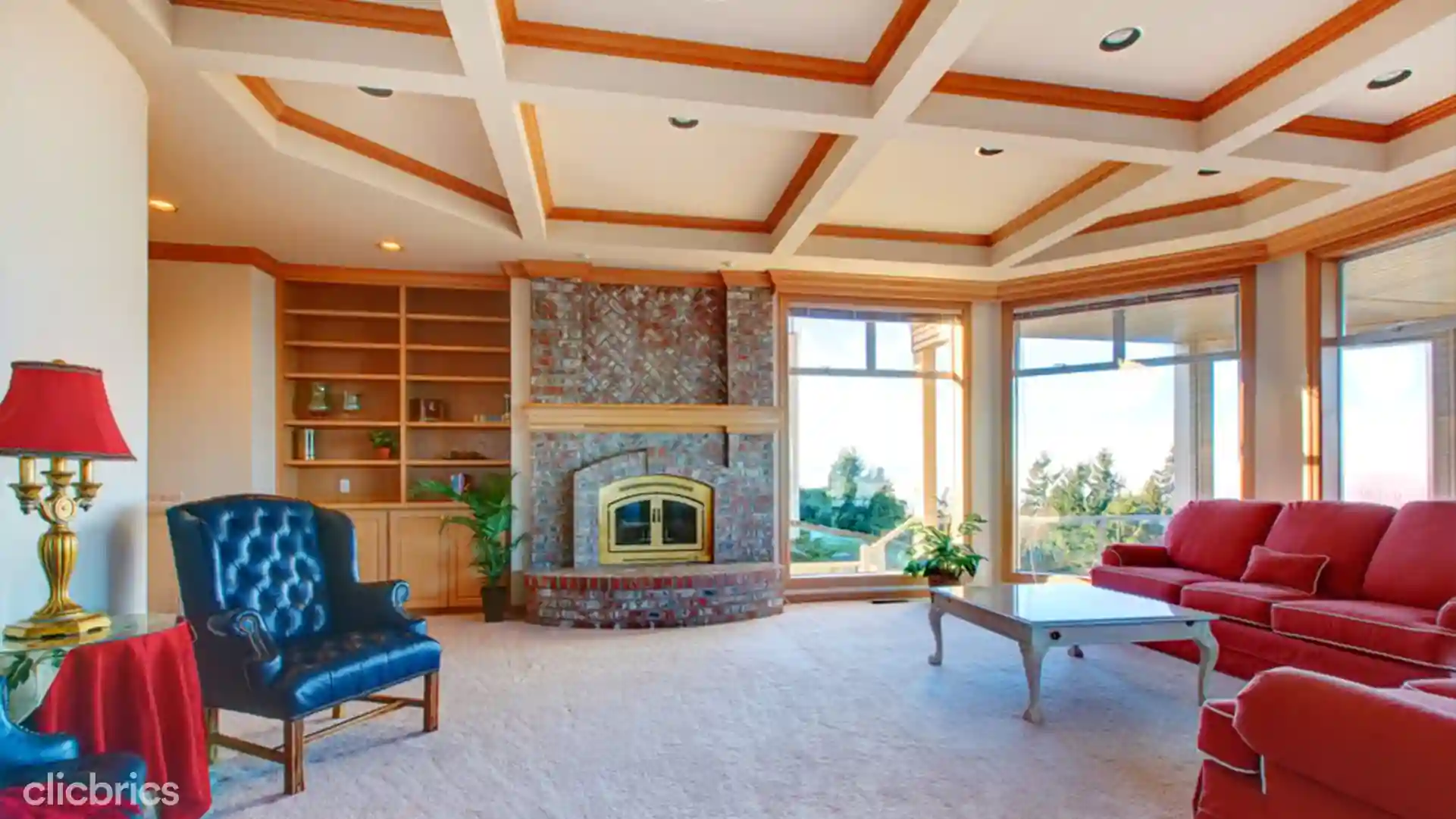 If you wish to brighten your room, you can opt for this stunning coffered ceiling. The double-toned bars go well with the bright cherry colour of the room's decor and make the space look more natural than artificial. You can add soft lighting spots in each column thus adding much-needed depth to the room.  
5. Black-Coloured Coffee Ceiling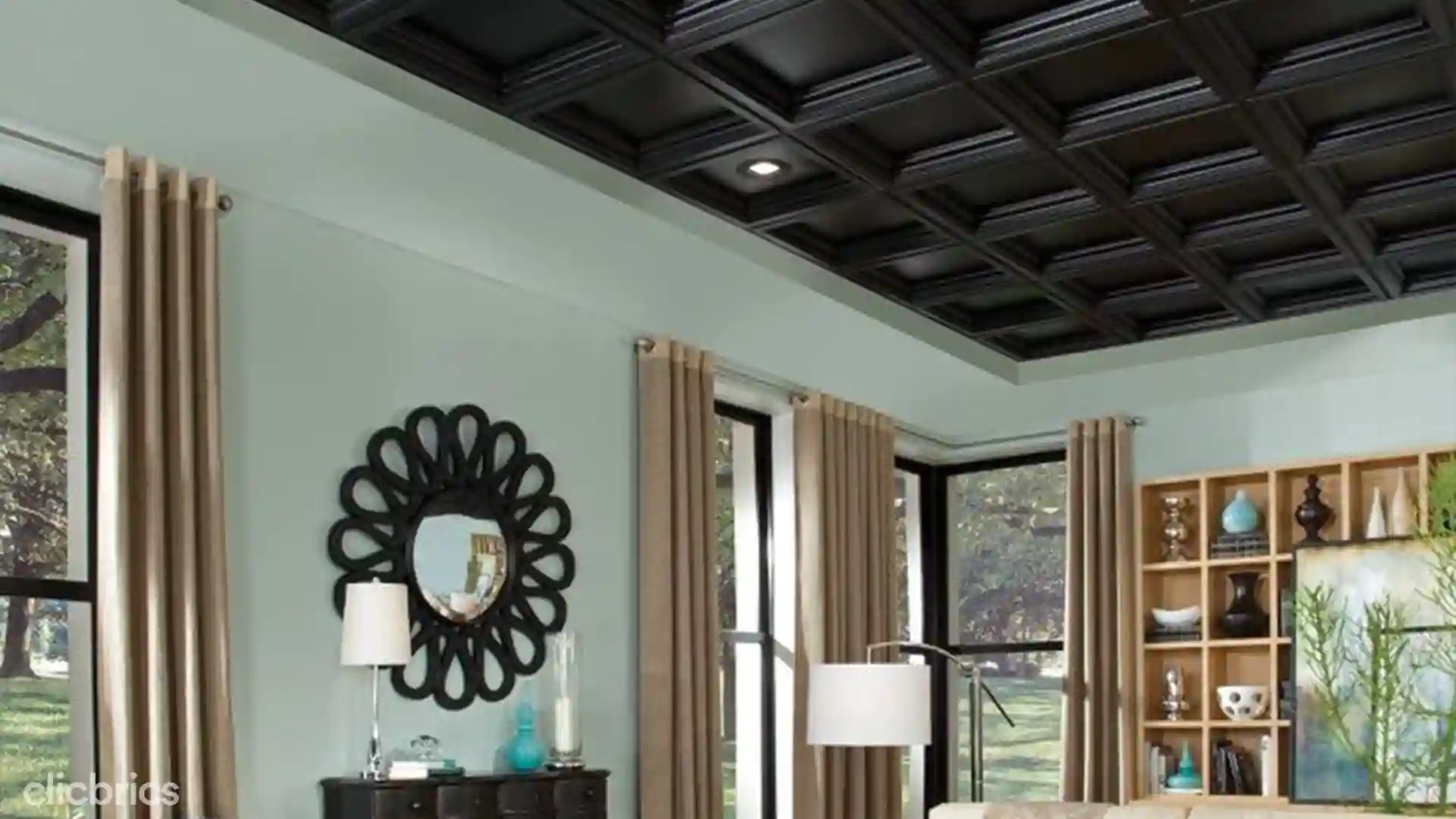 Like the image depicts, a black coffered ceiling creates a beautiful look. You can opt for such a style in your kitchen by pairing it with floral wallpaper. By doing this combination, it will add a sense of depth and will make your room look bigger and taller than ever. 
6. Metallic Coffered Ceiling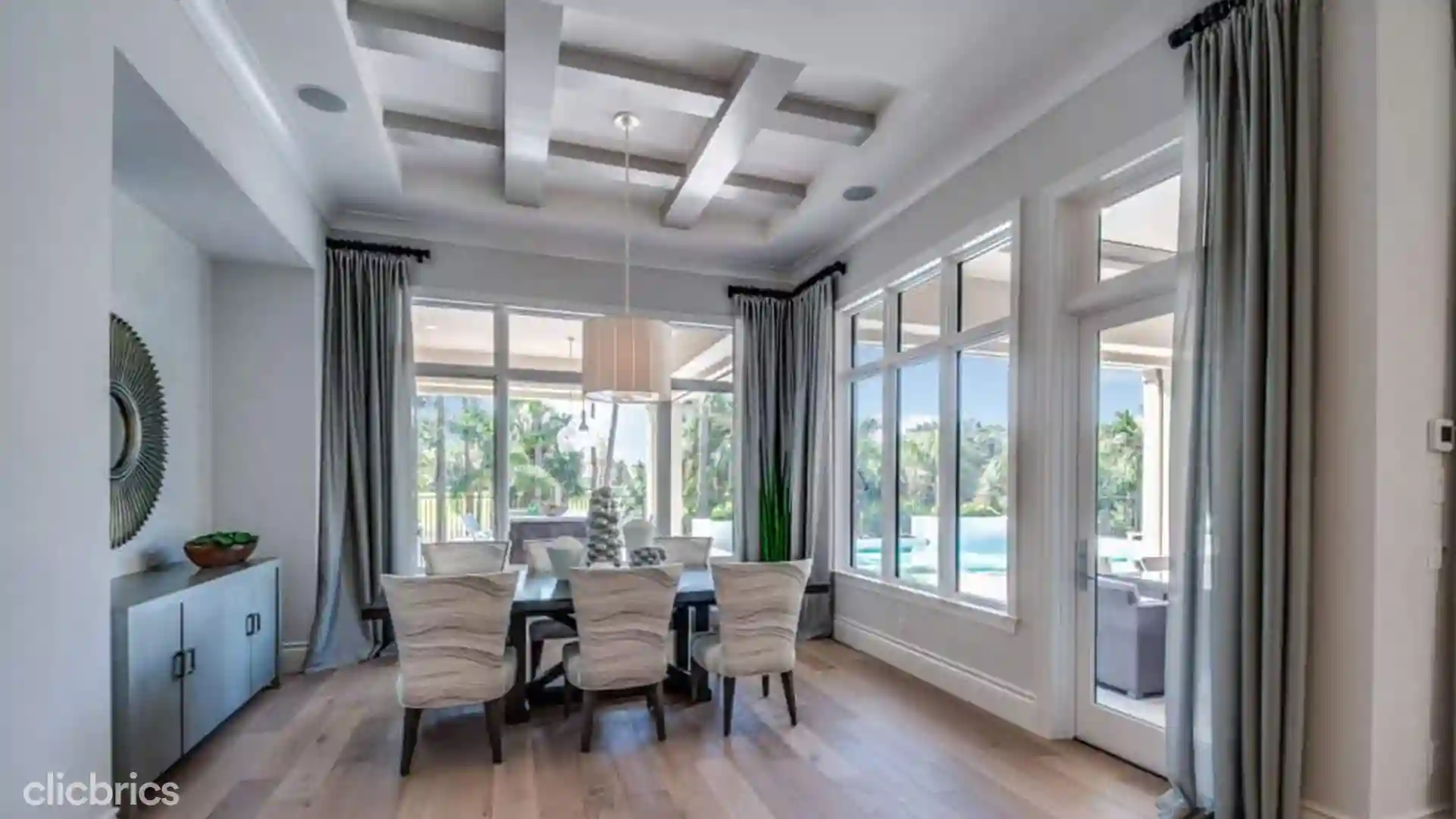 When we talk about modern coffered ceiling designs, there is no chance that we will not mention metallic coffered ceilings. You can add aluminium or metal beams to create your coffered ceiling. Or, if you want the same look with minimal effort, you can paint the existing trim with shiny metallic paint. The look will be sufficient enough to grab the attention of your guests and, of course, will provide more height to the room. 
Also Read: Using Exposed Beams as Home Decor
7. Layered Modern Coffered Ceiling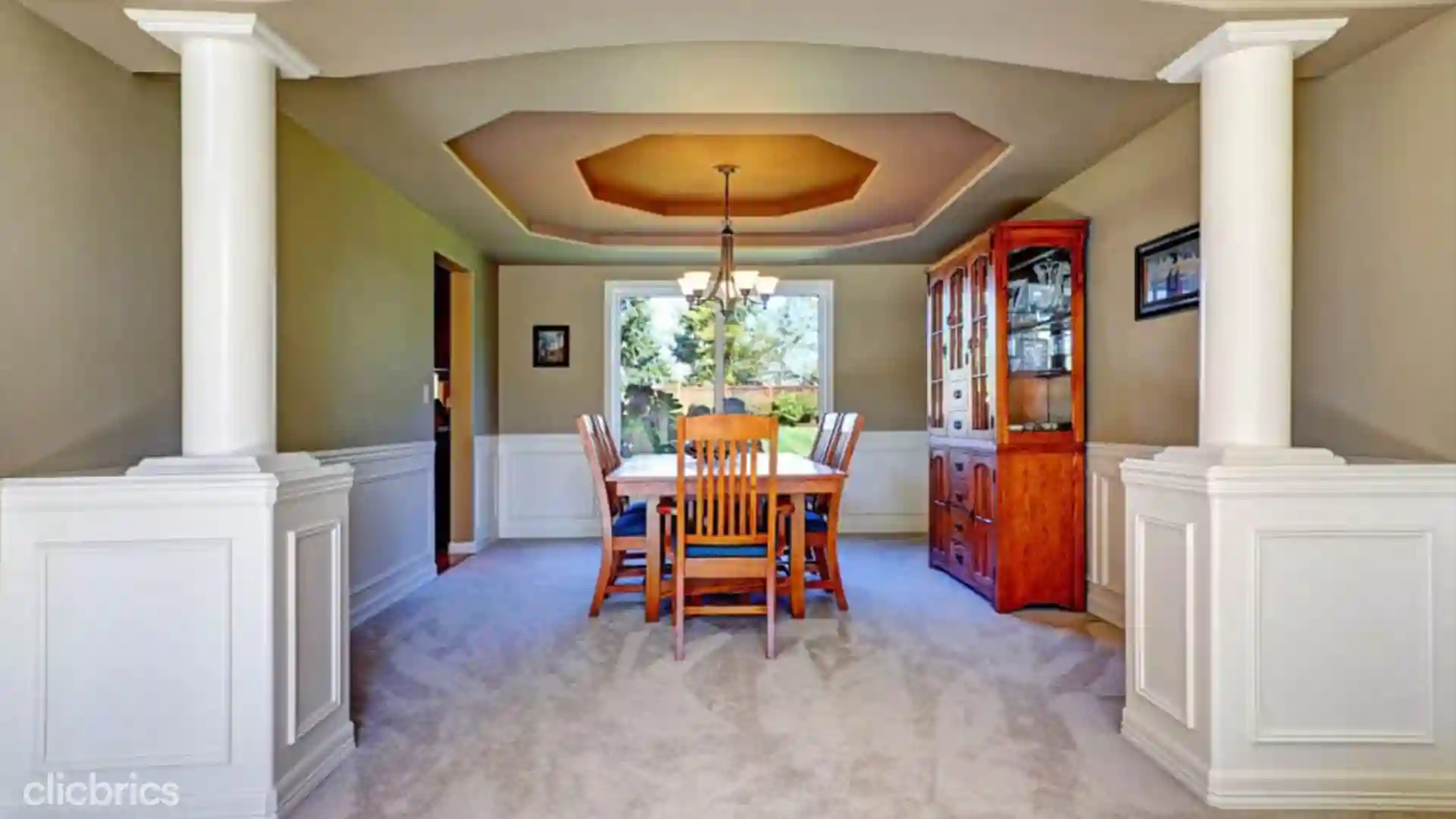 If you already have a layered coffered ceiling, you can beautify it in a way to showcase those dimensions by using complementary colours. If you are working on renovating your kitchen by installing a layered coffered ceiling, you can provide a darker gold base, a warm tan for the middle layer, and a beige that matches the rest of the ceiling. It will create an effect known as the "tunnel effect," where layers will provide a darker shade when away from the light. 

Coffered Ceilings to the Home Decor Rescue
We're not kidding when we say that coffered ceilings have existed for millennia. Coffered ceilings are standard in many homes, increasing the room's beauty and giving it a more modern and prominent appearance. If you're looking to enhance the look of your home, investing in coffered ceiling designs is the right move!