Table of Content:
It's your birthday! Time to celebrate! But what can you do to make this year's birthday standout from the previous ones? The trick is simple— Make your birthday party one to remember with the perfect decorations! But you must be wondering: from picking up the best birthday outfit to preparing a meal, how will you get time to go out shopping for birthday decoration items? 
We understand your stress, but don't fret! Our list of birthday decoration items has everything you need to make your birthday party look great. The blog consists of pictures and descriptions that will make it easy for you to pick the perfect items for your birthday party. 
So hop on this journey of finding the perfect happy birthday decoration items to make your party one to remember. 
Birthday Decoration Items at Home to Make Your Party Memorable One!
Birthdays are a reminder of the beautiful years you've passed and commemorate all the hardships you've overcome! Below you will find a list of birthday decoration items whose installation will double the zest of your birthday party. 
1. King of Birthday Decoration Items = BANNERS!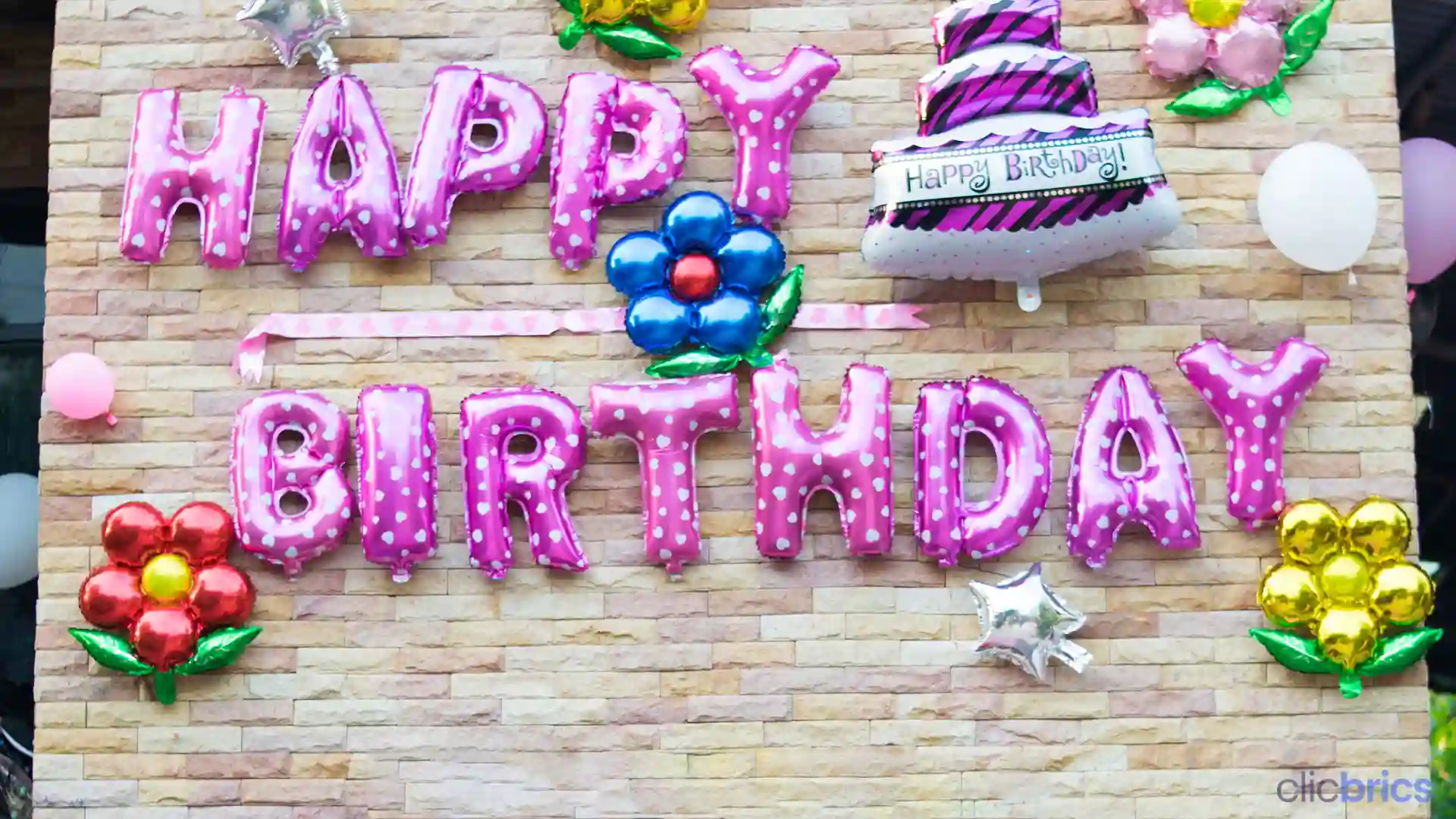 Are you looking for a way to make your birthday event look cheerful? Then start by installing banners as birthday decoration material. You can use black and gold banners because they look great for indoor and outdoor events. Make a string and hang birthday alphabets with a nail or tape to see how your space will dazzle! 
2. Use Lights For Birthday Night Party At Home!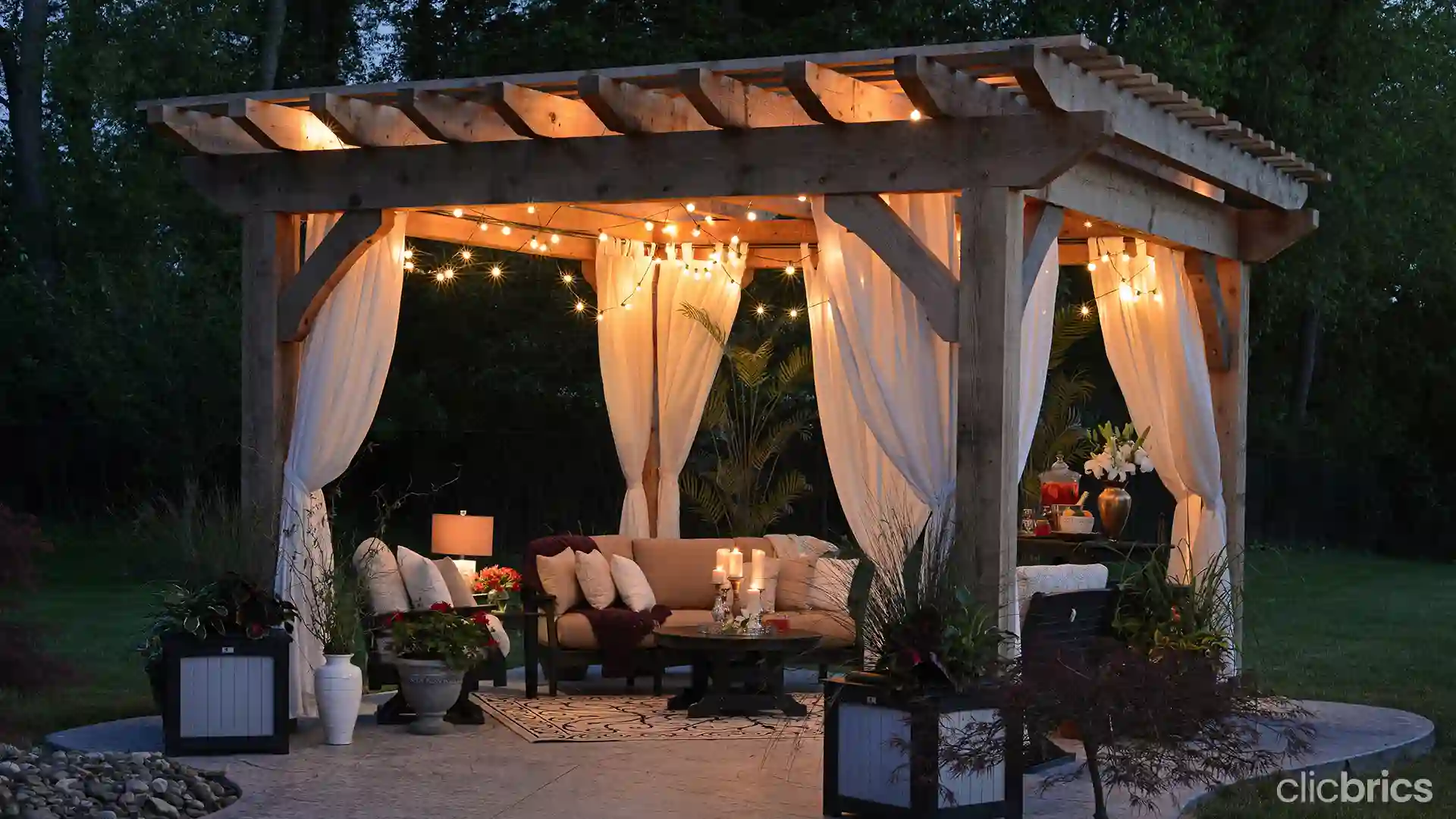 Create a string of LED lights to establish a cosy and warm vibe. LED lights as birthday decoration material are a low-cost way to energise the space. You can also use neon lights, which create an amazing backdrop in the space and can become a great photo booth. 
If you're planning a birthday party on a terrace, you can use a canopy, flowers, string lights, and place cushions for seating, and your birthday party is ready to roll.
3. Let Candles Work Their Charm for the Birthday Party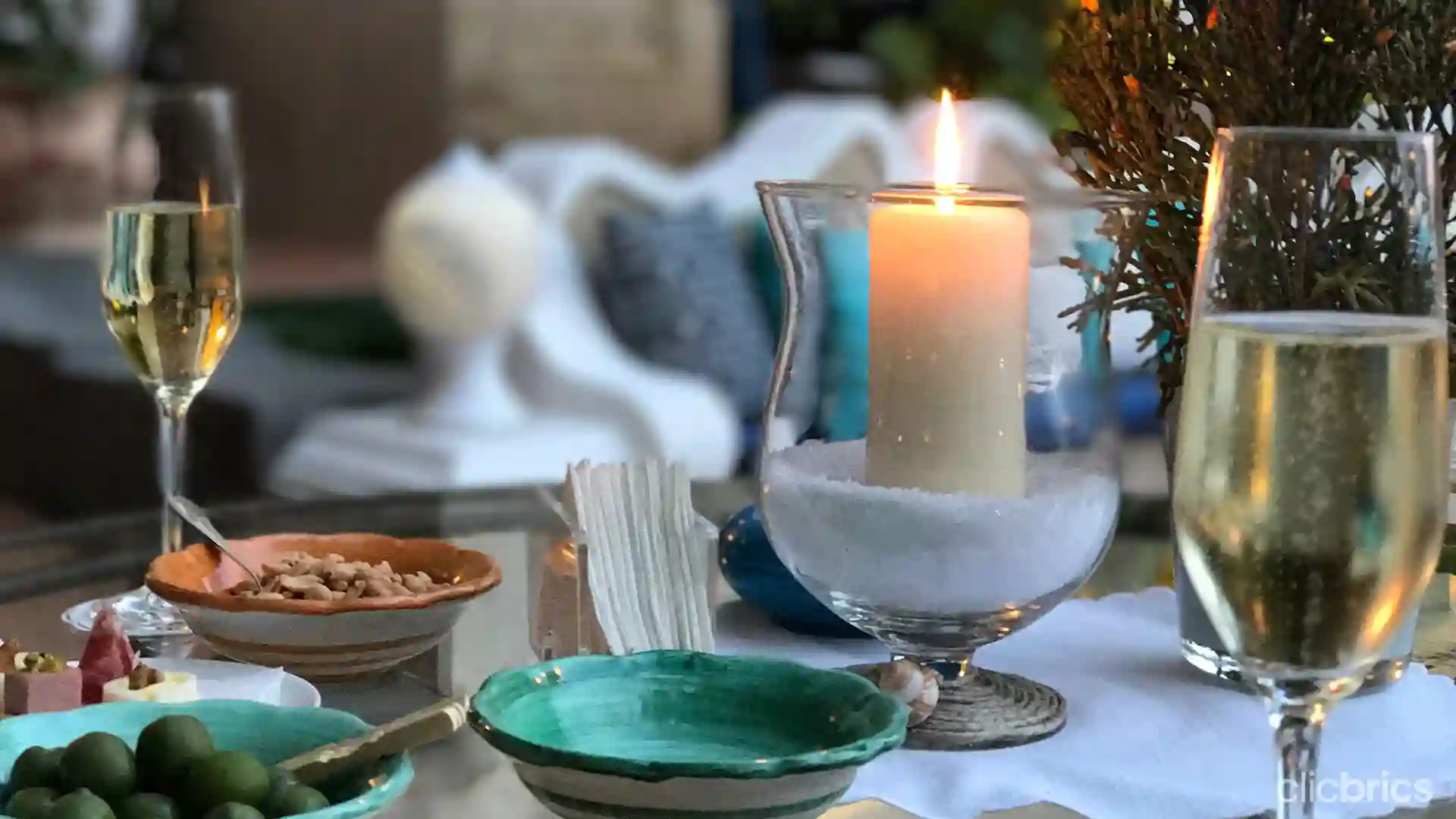 Birthday decoration items are incomplete without candles. You can easily find candles in different colours, patterns, and designs at a reasonable rate from your nearby market.  Using gold-coloured candles as simple birthday decoration items can provide an elegant look to your decor. 
ClicTip: To make your birthday decor stand out, match the colour of your candles with the cake's colour! 
4. Pack Metallic Balloons for a Stunning Birthday Decor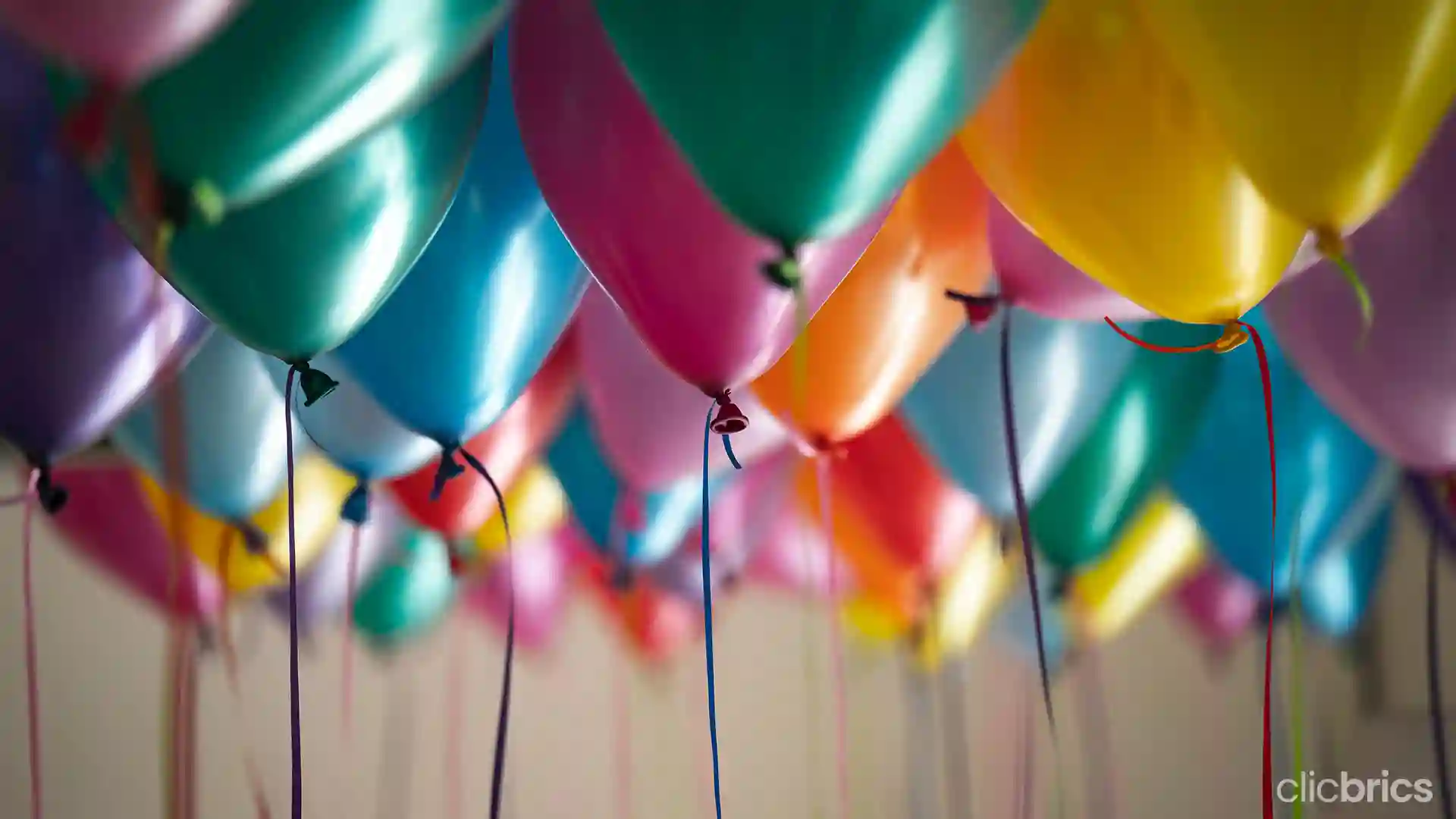 Balloons are one of those birthday party items that everyone loves! They are always in style, and their presence at a birthday party triples the fun vibe. 
To make your birthday party look ready, add metallic balloons; you can also opt for cartoon or different-shaped balloons, and it's done! So, when you shop for birthday decorations, saman, remember to purchase balloons as your choice. 
Also Read: 7 Birthday Balloon Decoration Ideas That'll Add Life To Your Party
5. Use Paper Hats For Birthday Backdrops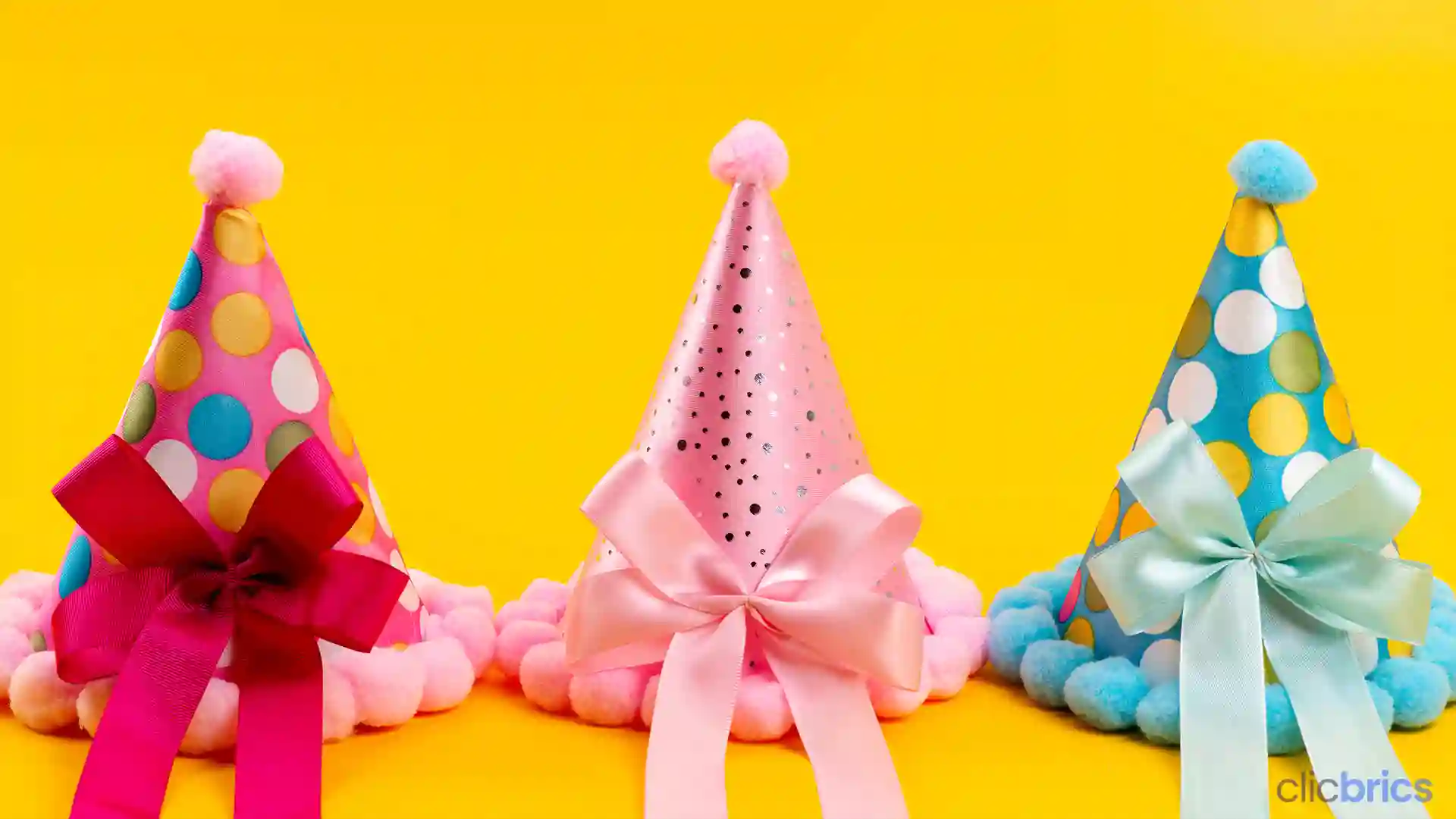 You can use the paper hats left from last year's birthday party or buy new ones to decorate your home for a birthday event! Lovely birthday party decoration items in the form of paper hats look super adorable. Although the host wears the cap, you can create a string of hats and hang them right where you will cut the cake. 
6. Birthday Party Decoration Sticks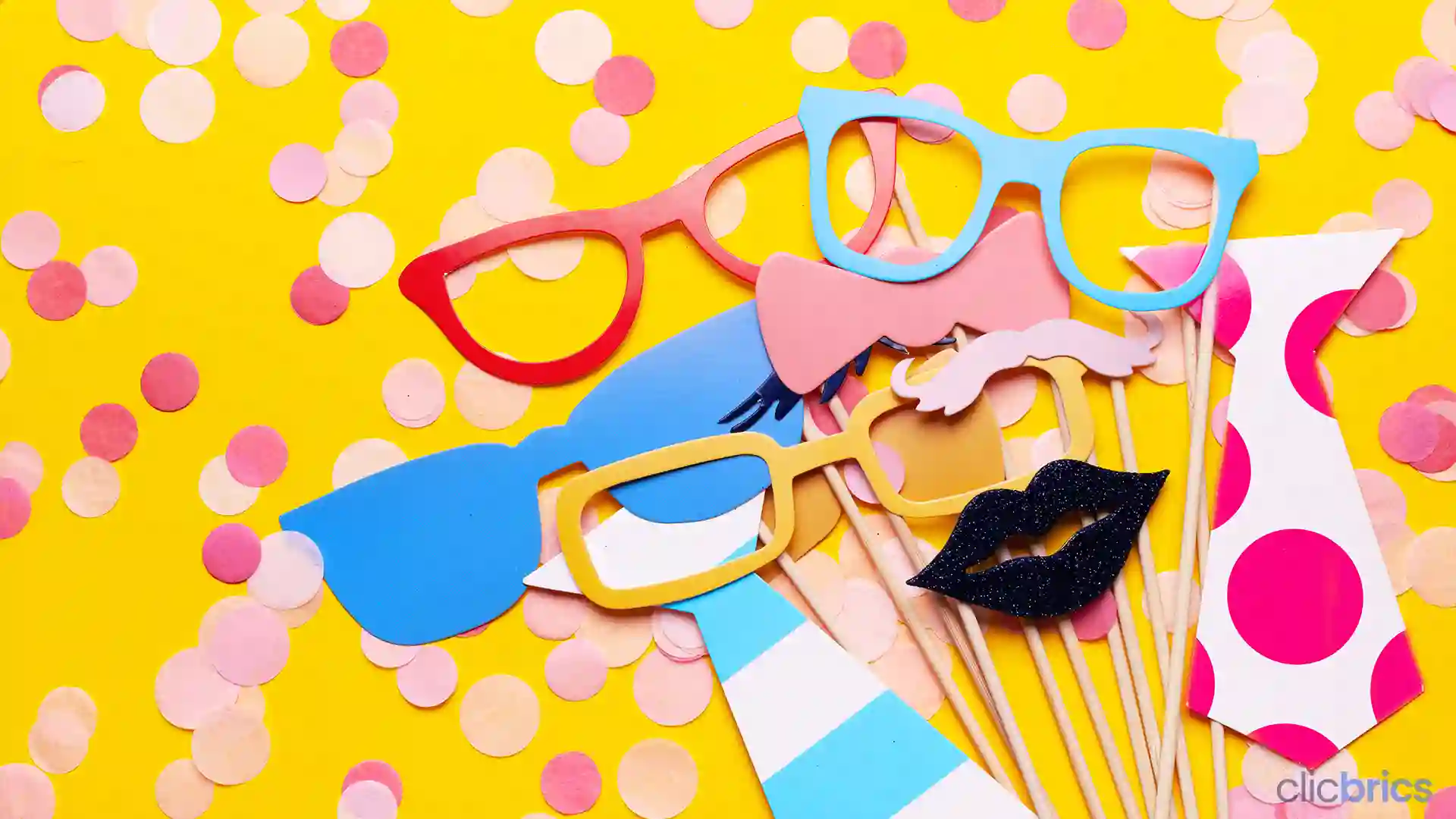 Planning to do something creative this birthday? Use birthday decoration items like character-shaped or paper-decorated sticks to make your party exciting. You can also shop for sticks that have something meaningful written on them. Party sticks are available in different colours and are a low-cost solution to birthday decoration material shopping. 
7. Place Frilly Curtains as Birthday Decorations Items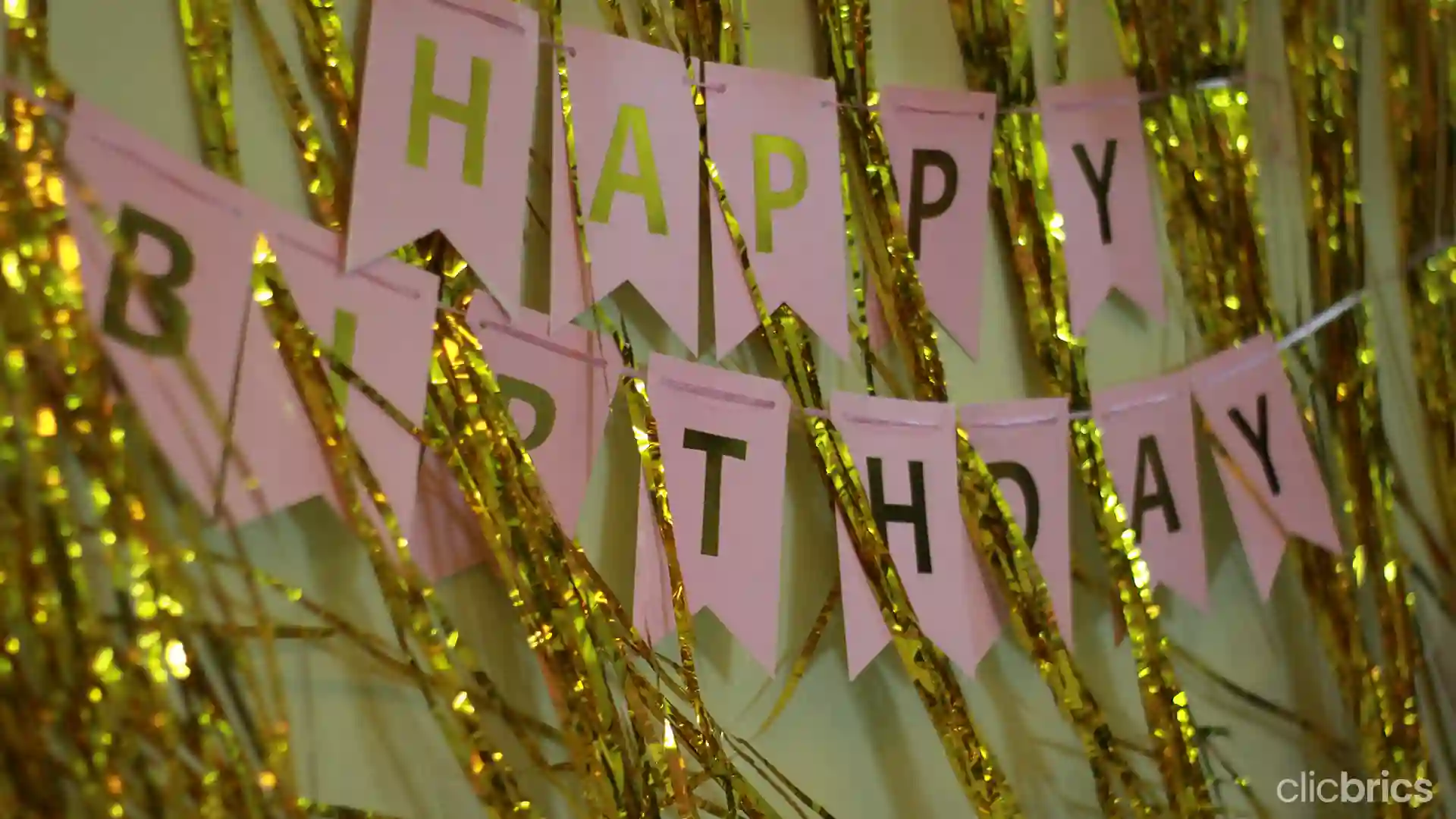 Frilly curtains are a great solution for a quick birthday backdrop. They are similar to sequin panels but shimmer in appearance. This birthday decoration material can easily be placed and removed without creating a mess. Frilly curtains birthday party items are available in various colours, including green, blue, pastels, silver, gold, and rose gold. 
8. Use Party Blowers For Birthday Decor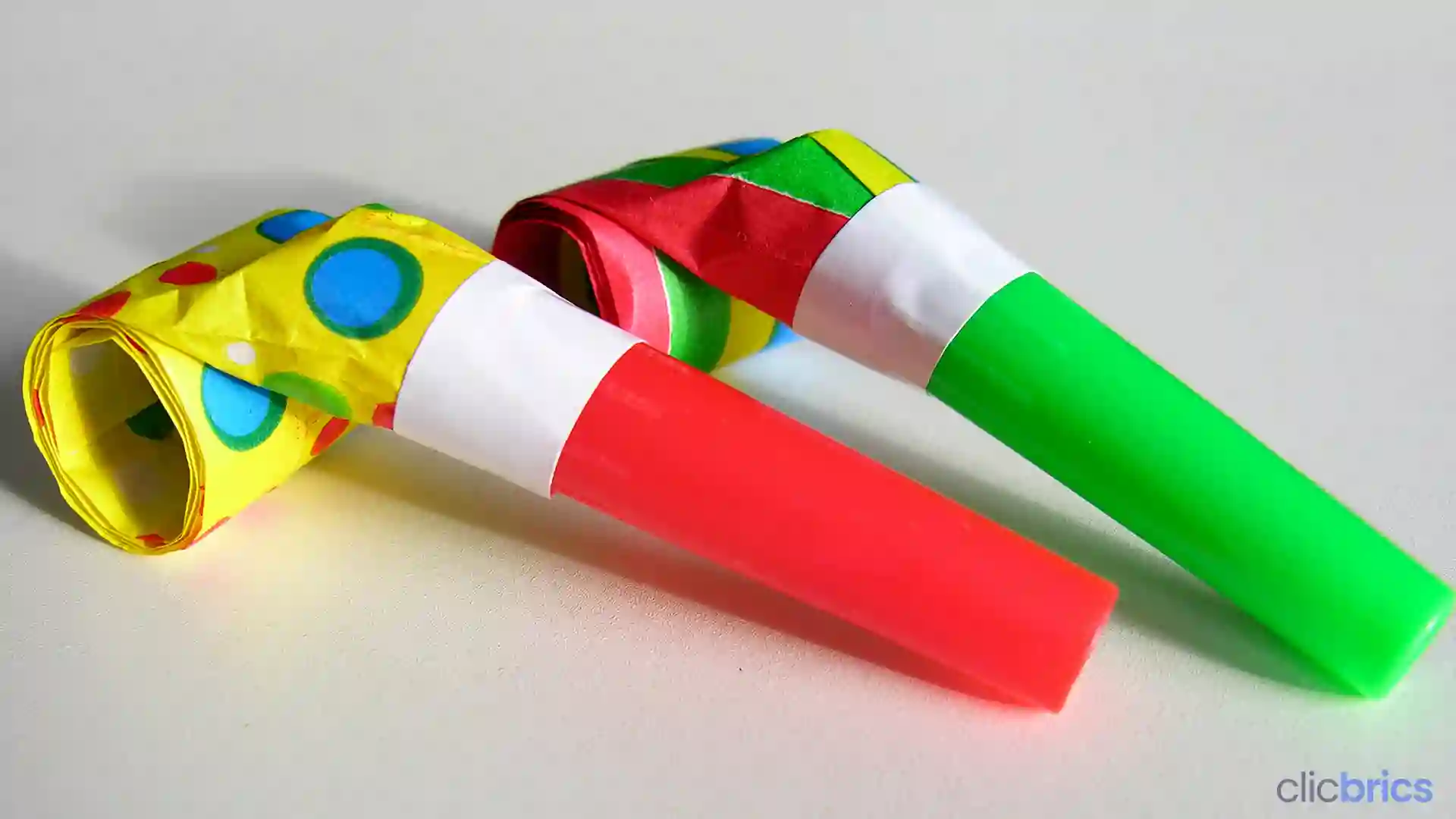 Let party blowers help you make some noise at your birthday party. No matter whose birthday it is, be it young or old, party blowers add an extra-fun element to your celebrations. You can place the party blowers on the table around the cake and later wear them when clicking pictures. 
9. Place Vintage Lanterns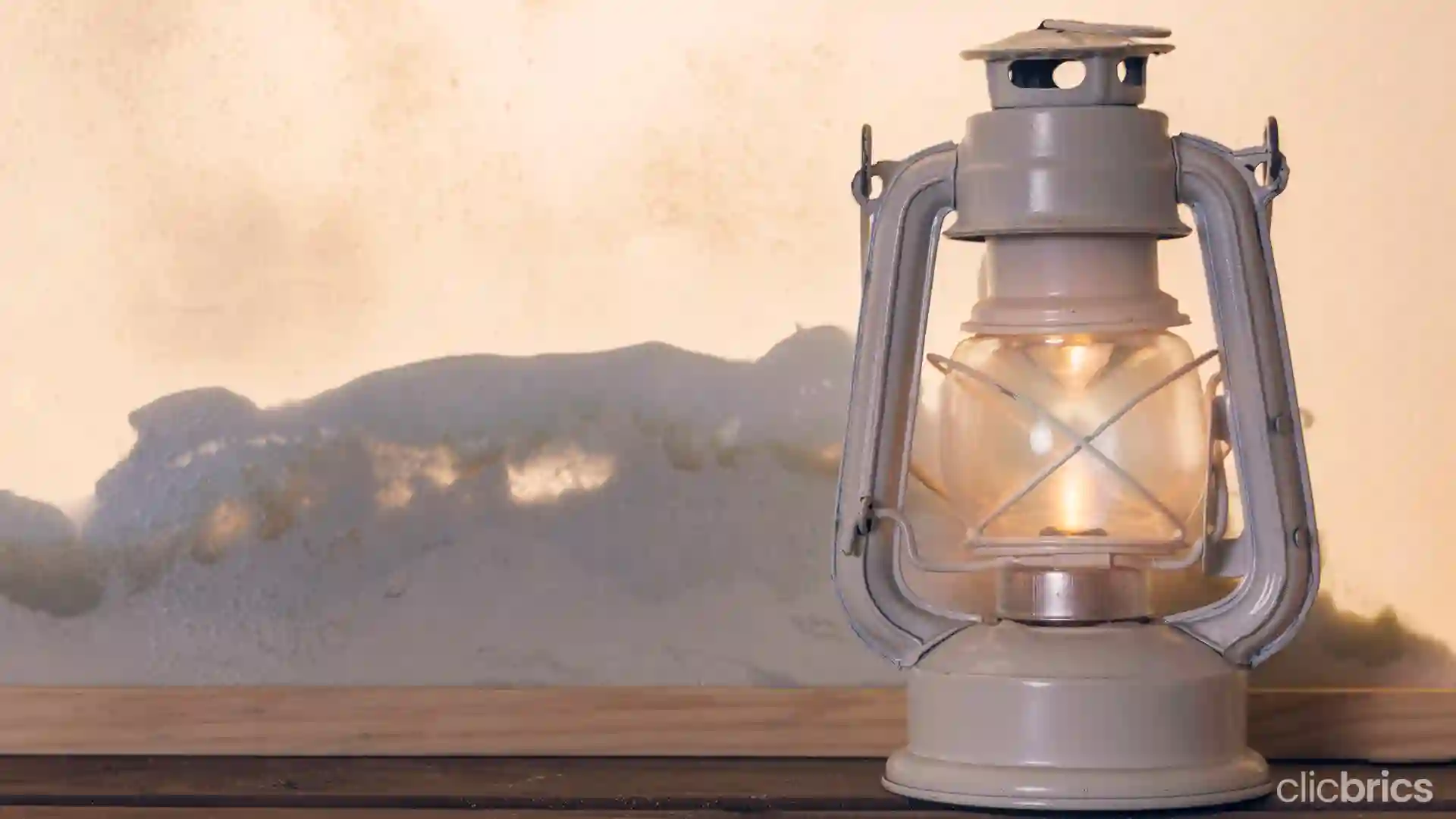 You can use vintage lanterns as part of the birthday party decoration items to light up the entryway for the guests. It will add aesthetic value to your party, and the warm vibes will instantly brighten up the space. 
Also Read: 8 Birthday Decoration Ideas That Will Make Your Party- Just WOW!
10. Crepe Paper Streamers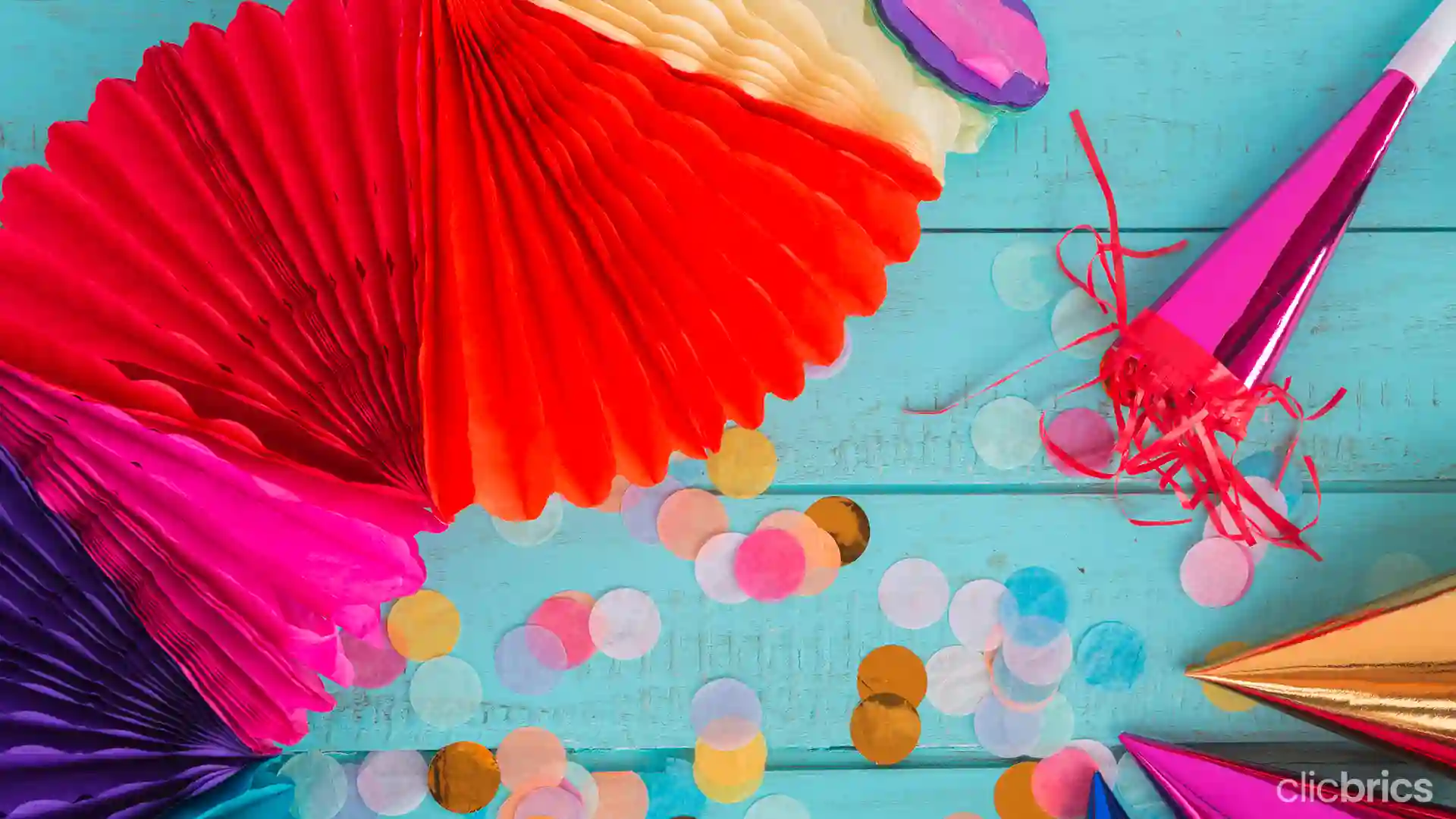 Crepe paper streamers are a must-have birthday decoration material. You can easily find them in your nearby market, which will glorify the space. Preparing a backdrop of crepe paper streamers is a fun activity and allows your creative side to come out. It is also an amazing background for birthday photographs. 
Whether it's your birthday, a family member's, or a friend's, preparing decor for a birthday party is fun. The birthday party decoration items listed above will help you shop for decor easily. With a wide variety of birthday party decorations, you'll be able to find the perfect match for your party theme. So, happy birthday shopping! 
Also Read: 10 Anniversary Decoration Ideas To Make The Day All About Love