Table of Content:
In today's fast-paced world, the kitchen has evolved beyond just a place to cook. It's the heart of your home—a space where cooking passion unfolds, memories are created, and new recipes are tried and tested. Among the various kitchen layouts, the U shaped modular kitchen design has gained immense popularity. 
The ingenious U shaped stylish modular kitchen design offers both functionality and aesthetics, making it a must-have for modern homeowners. If you're looking to revamp your kitchen or embark on a new kitchen design journey, this blog is your ultimate guide. Stay with us to discover the 10 exclusive U shaped modular kitchen design ideas that will inspire and transform your cooking space into a functional masterpiece.
1. The Classic U Shaped Modular Kitchen Design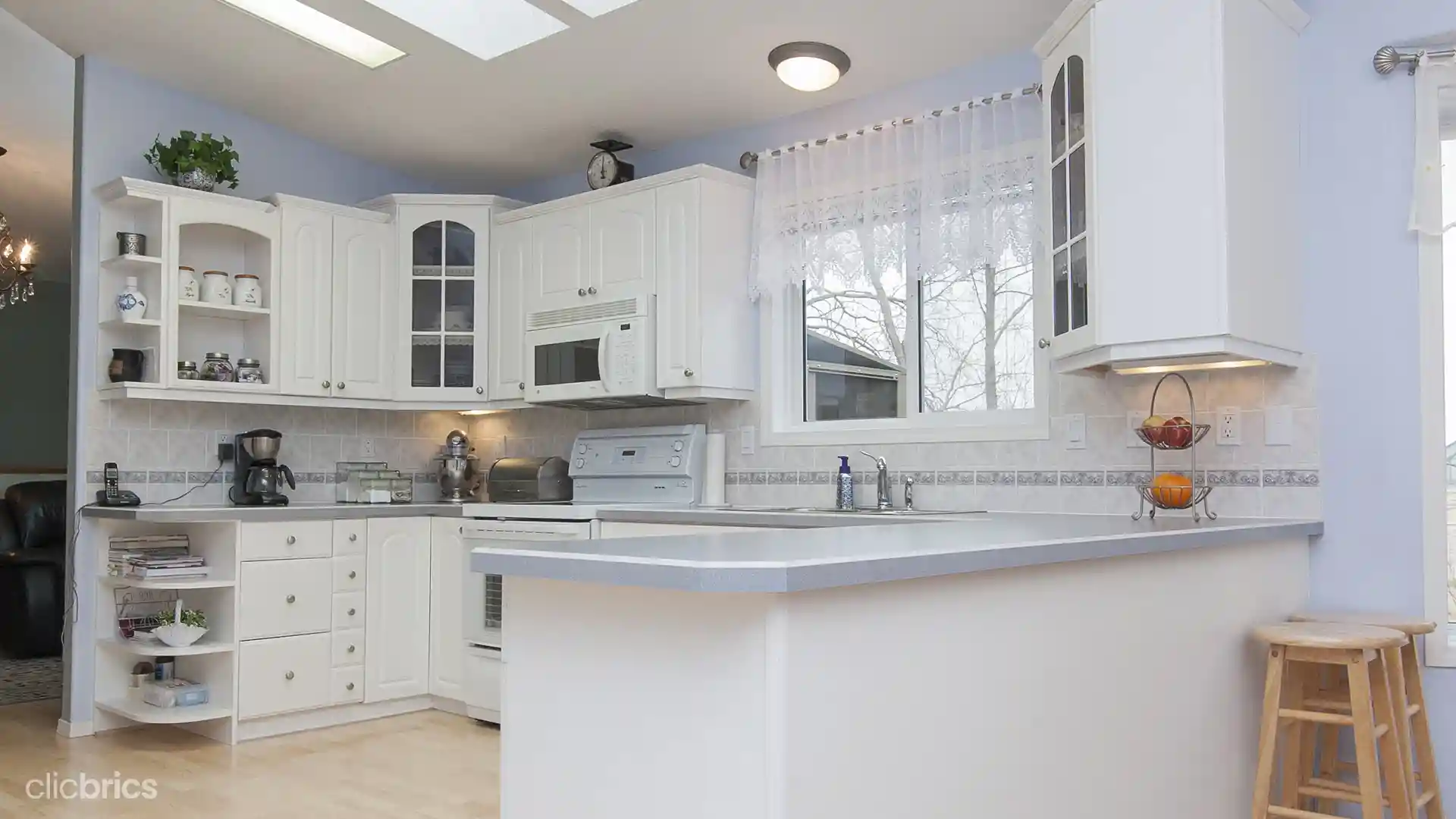 The timeless U shaped modular kitchen design has been cherished for its efficient use of space. It consists of cabinets and countertops on three sides, creating a natural workflow. You can enhance its charm with warm wooden cabinets, granite countertops, and pendant lights, making it a perfect blend of tradition and modernity.
2. U Shaped Stylish Modular Kitchen Design for Small Kitchen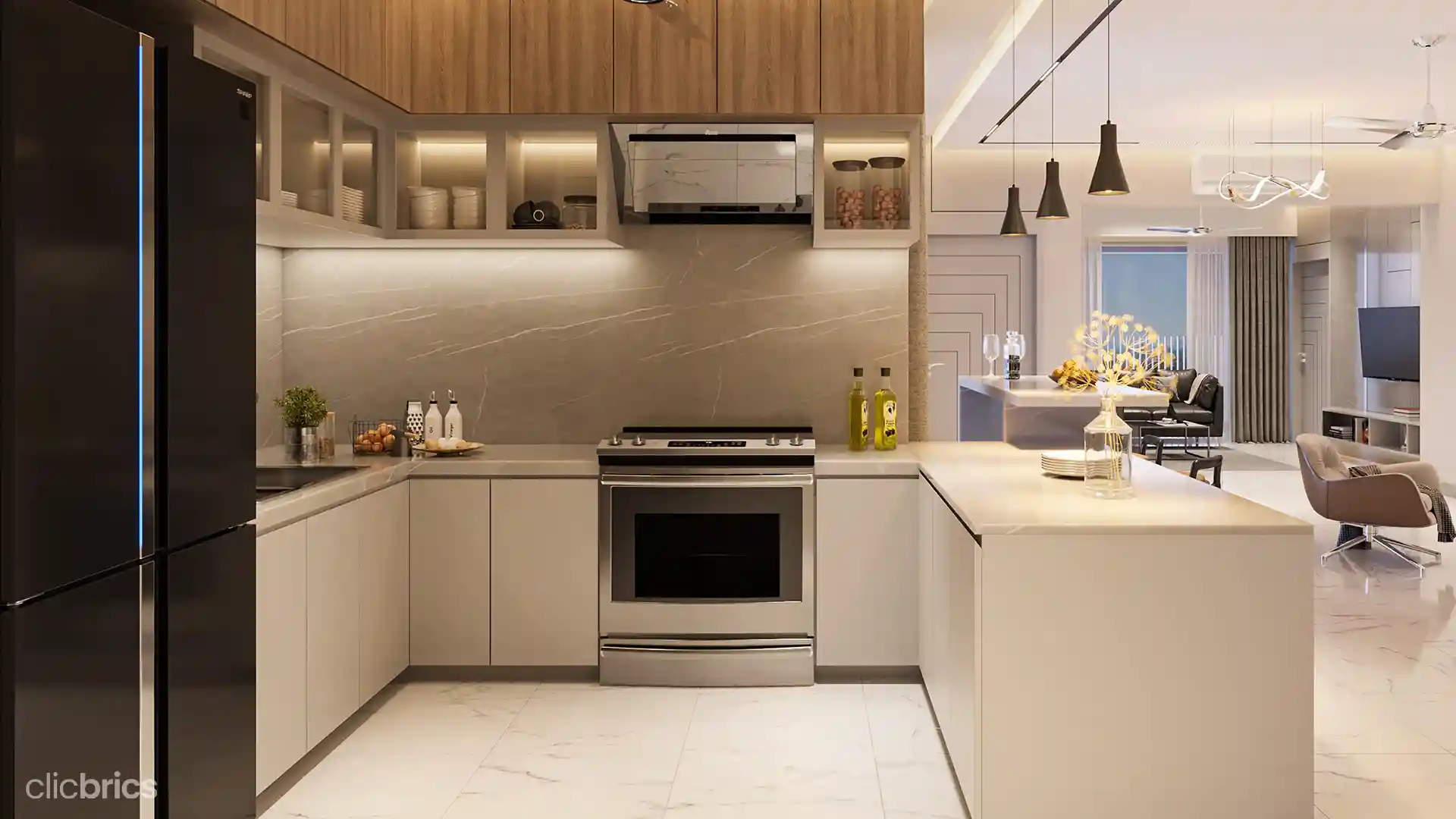 A small kitchen too can have a U Shape small modular kitchen. Creating a sense of spaciousness in a compact U Shaped modular kitchen is by incorporating cabinets with built-in handles. This design eliminates the necessity for extra hardware, resulting in a cleaner and less visually crowded appearance. The U Shaped modern modular kitchen design visually extends the space, enhancing the overall layout of the U-shaped kitchen.
3. Gloss Finished U Shaped Stylish Modular Kitchen Design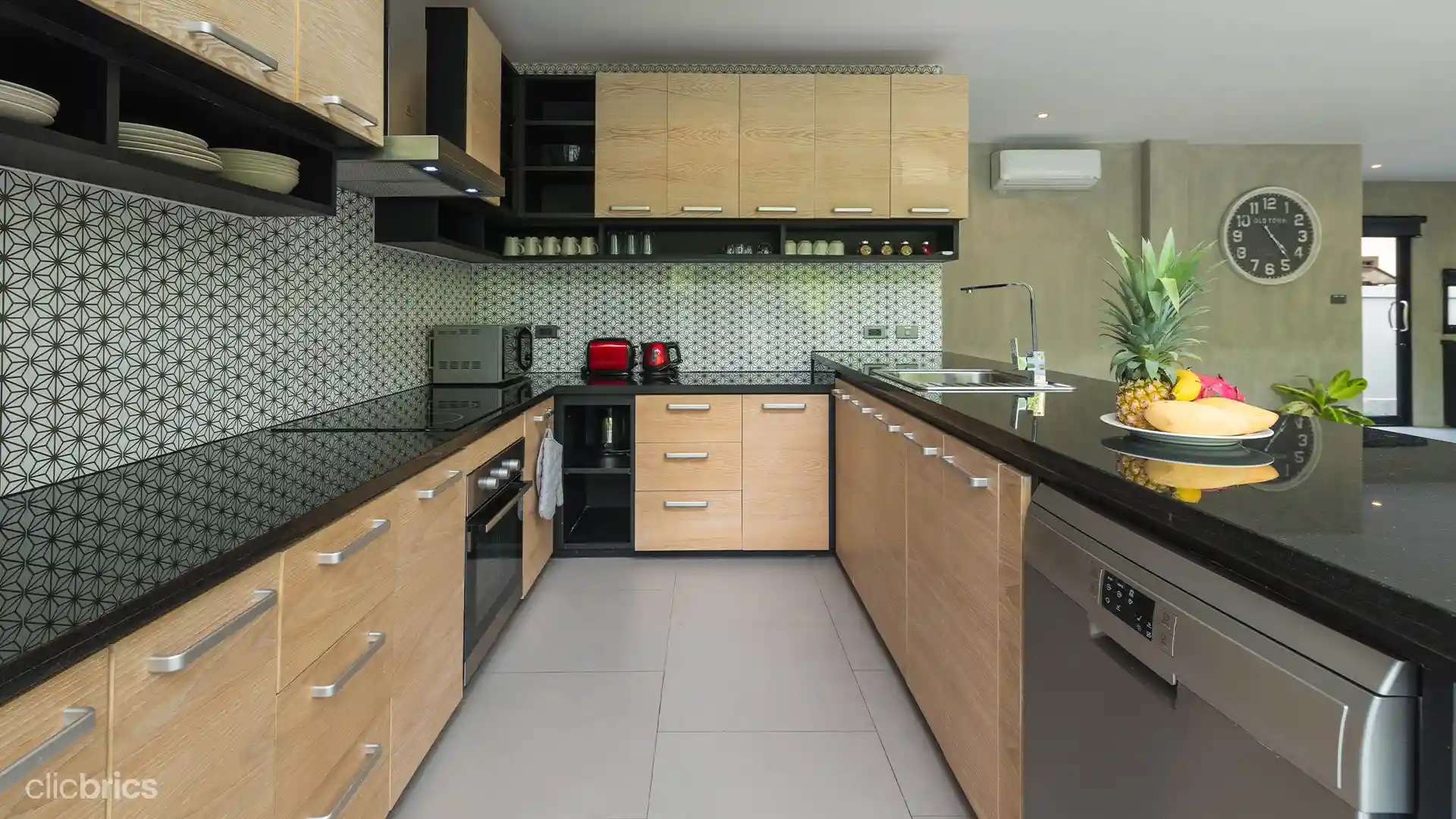 A well-lit setting is essential for food preparation, cooking, and dining activities. In a compact U shaped modular kitchen design, the presence of extensive cabinetry can sometimes limit access to natural light. To counter this issue, a glossy finish can produce a radiant ambiance. By combining a reflective surface with a muted, neutral color, you can enhance the brightness of the space, allowing light to bounce throughout and create an open and illuminating atmosphere.
4. Bohemian-Inspired Style Modern U Shaped Modular Kitchen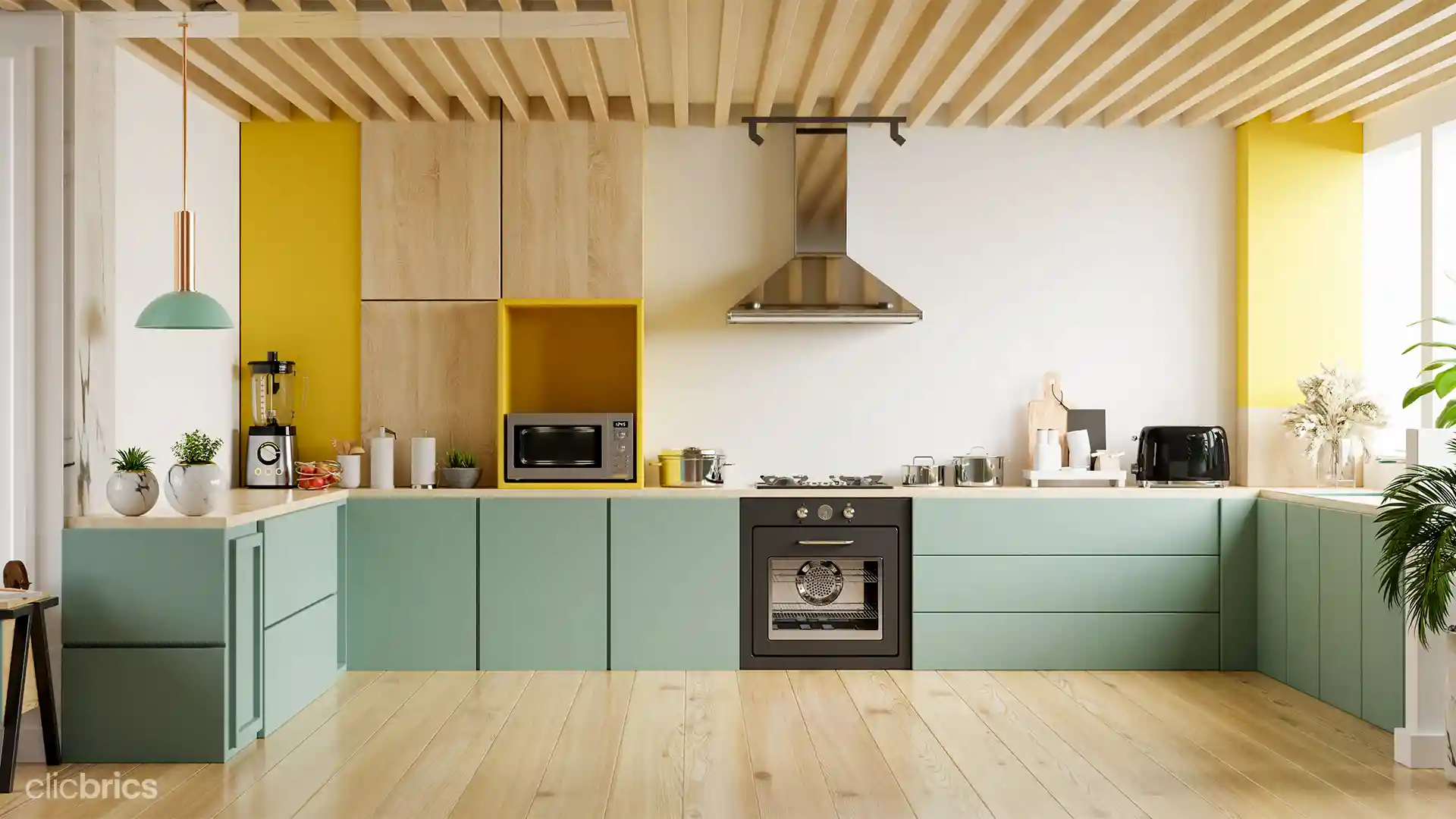 For those with a free-spirited and eclectic taste, a U shaped modular kitchen with a bohemian flair is the way to go. Mix and match colorful tiles, open shelving, vintage rugs, and various plants to create a vibrant and dynamic cooking space.
Also Read: Kitchen Interior Design Ideas to Revamp Your Kitchen 
5. Minimalistic Modern U Shaped Modular Kitchen Design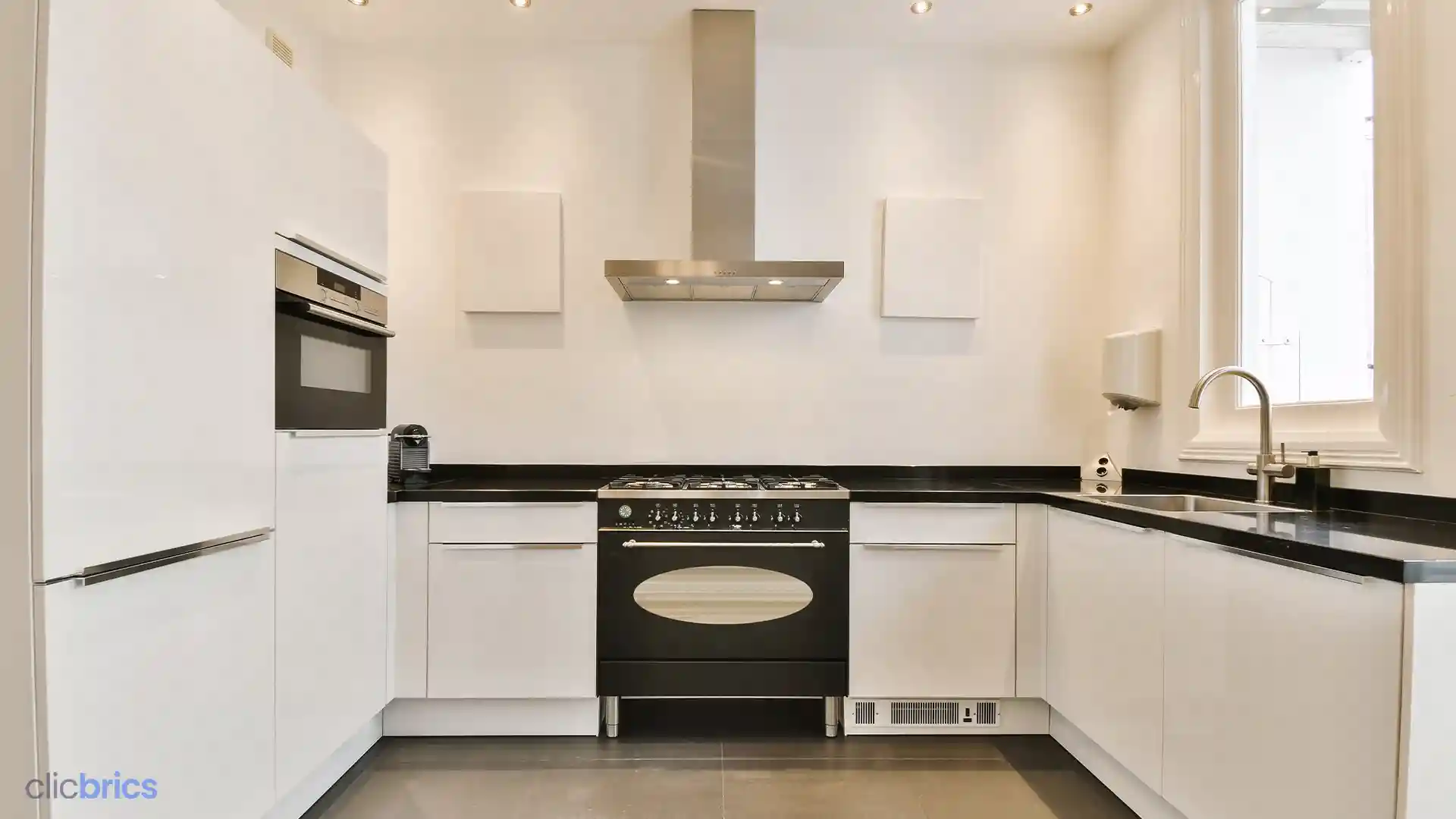 For those who adore minimalism, the sleek U-shaped modular kitchen with handleless cabinets is a top choice. Neutral tones and concealed appliances give your kitchen a clean, clutter-free appearance that's both functional and elegant.
6. Smart & Sustainable U Shaped Modular Kitchen Design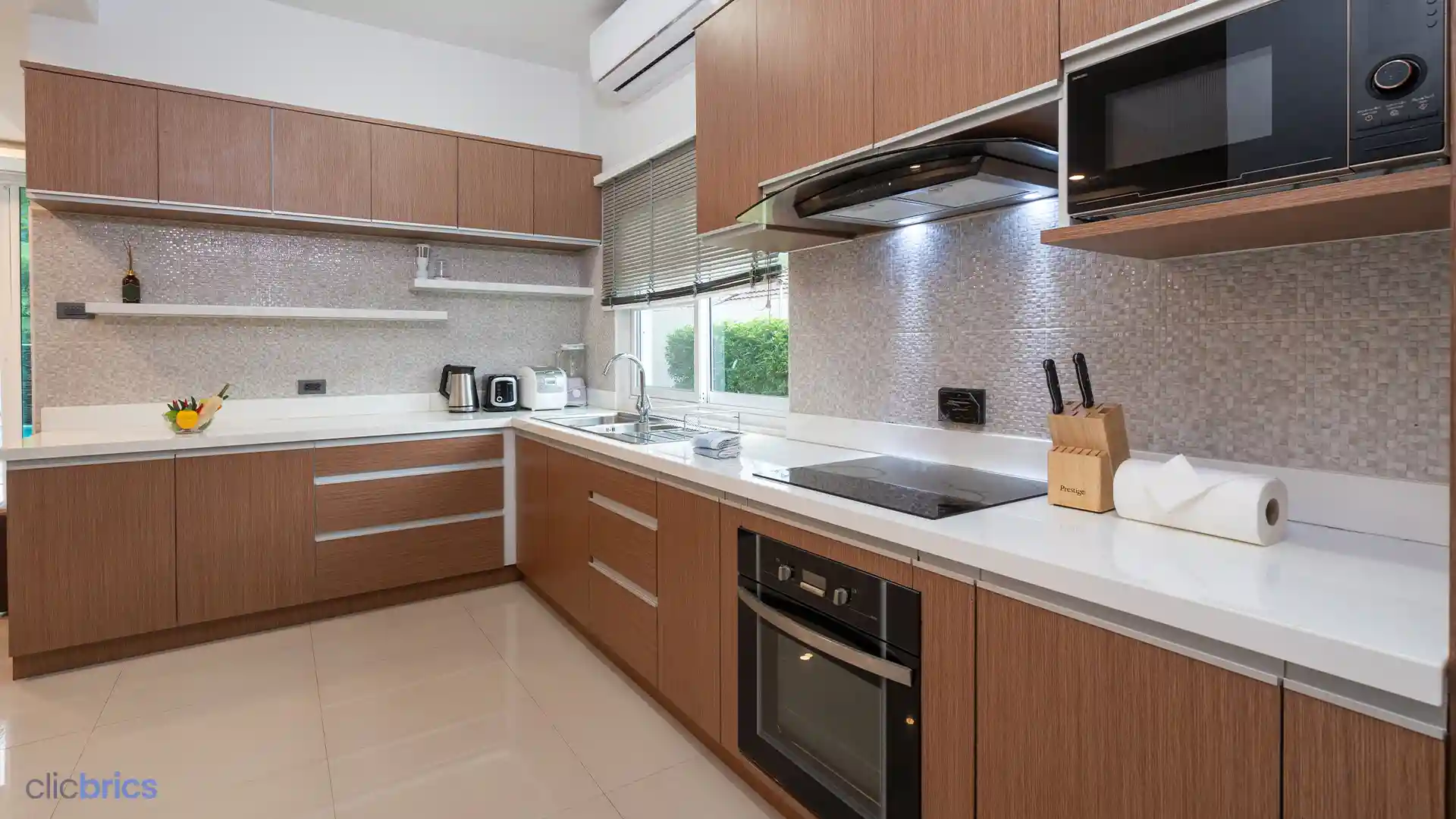 Incorporate eco-friendly elements into your U shaped modular kitchen design. Utilize sustainable materials, energy-efficient appliances, and smart technology like sensor-activated faucets and LED lighting. Not only will you have a beautiful kitchen, but you'll also contribute to a greener planet.
7. Notch Up U Shaped Modular Kitchen with Stools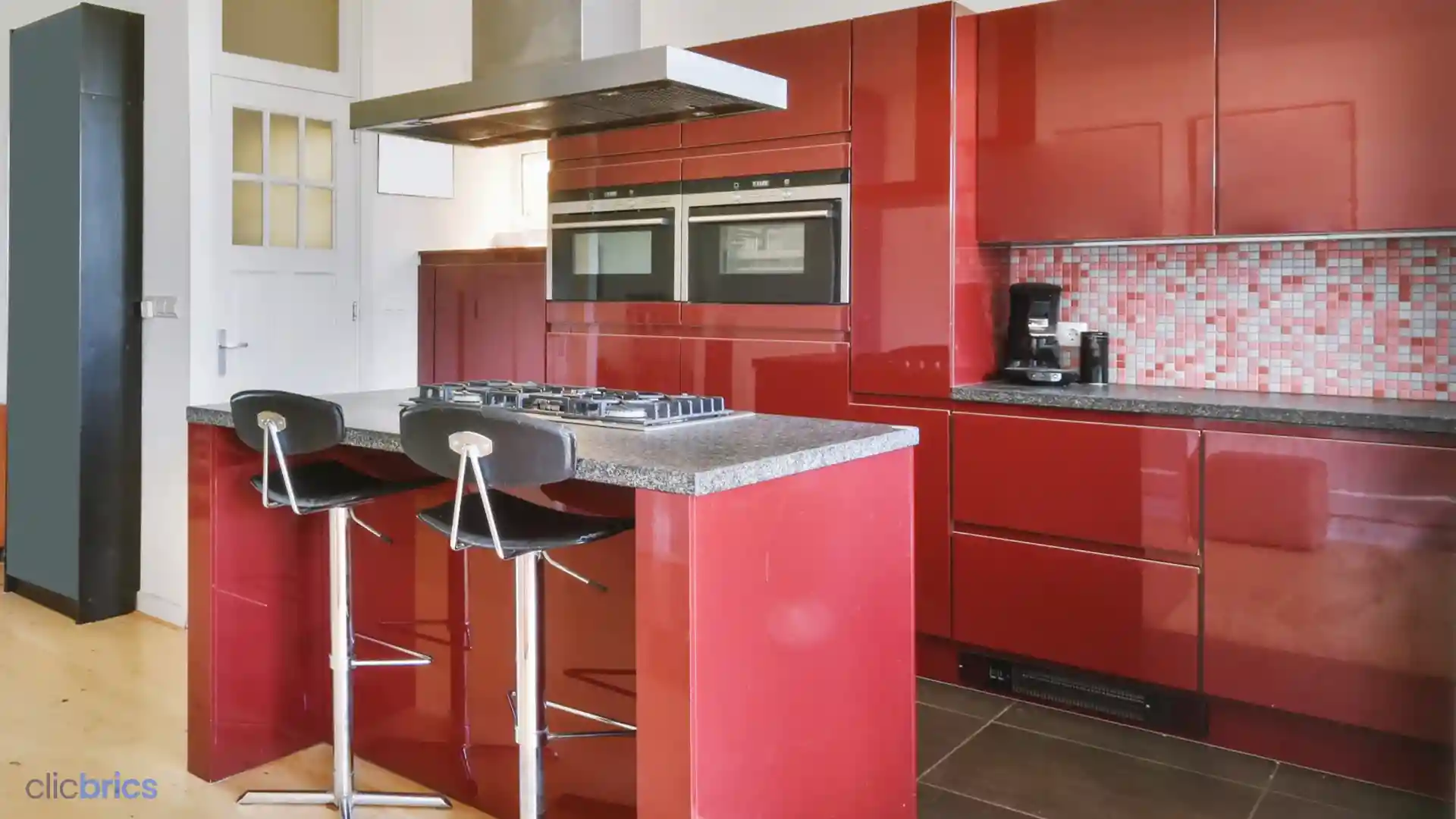 Maximize the utility of a U-shaped modular kitchen area by incorporating a breakfast bar along the edge of a countertop. This addition provides valuable seating and contributes to a multifunctional layout. This modern U Shaped modular kitchen design not only serves as a seating arrangement but also transforms into a versatile space for socializing, dining, or even working, making it particularly advantageous for those with hectic lifestyles.
8. Window Centric U Shaped Stylish Modular Kitchen Design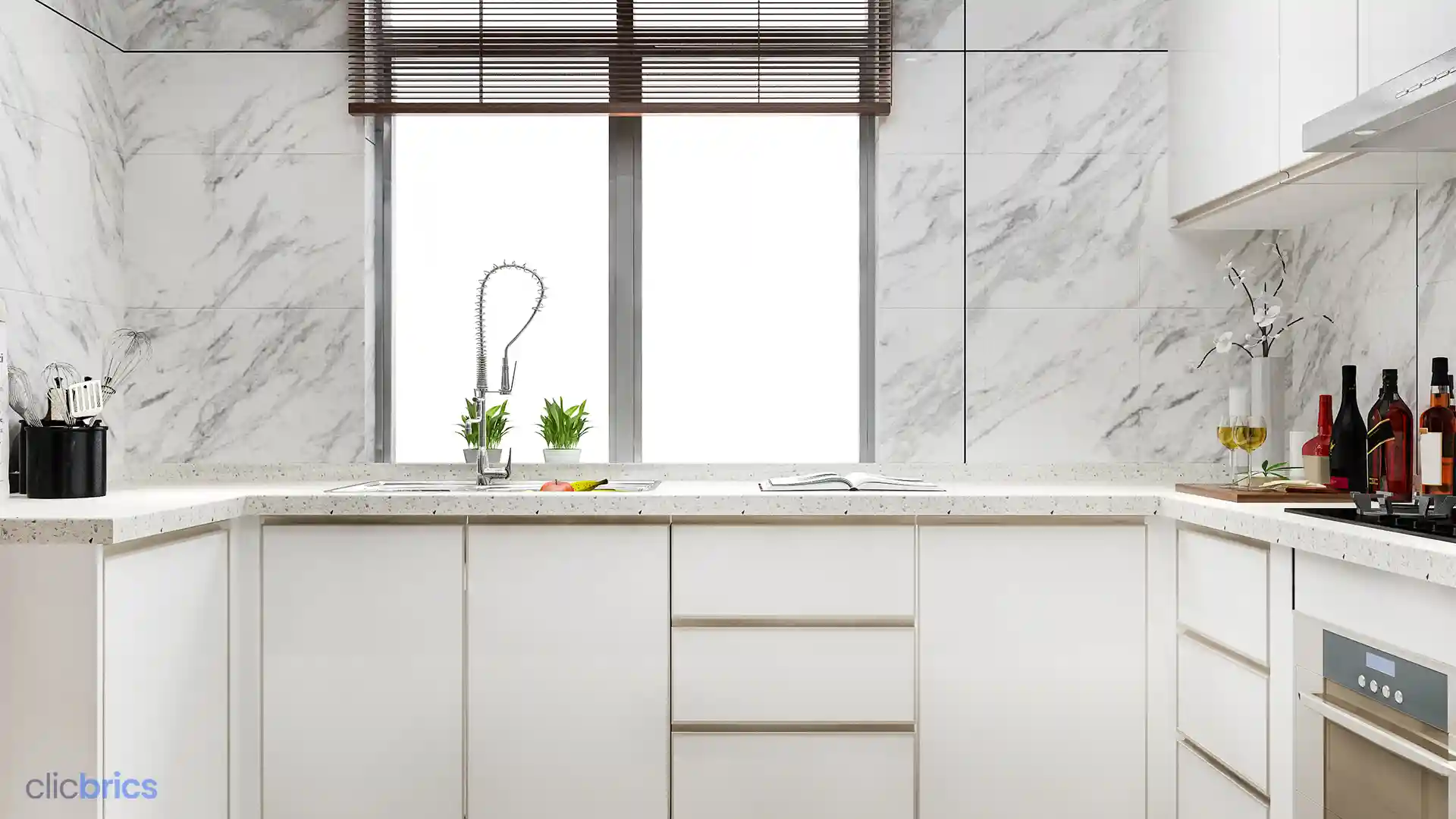 In designing a U Shaped modern modular kitchen design, contemplate positioning the design focal point around a window. This arrangement facilitates the influx of natural light into the space, transforming compact areas into well-lit and welcoming environments. Placing a sink beneath the window is a central feature in the room, leaving extended countertop space for accommodating appliances and food preparation. It is one of the best U Shaped small modular kitchen designs for compact kitchens. 
9. Industrial Chic Modern U Shaped Modular Kitchen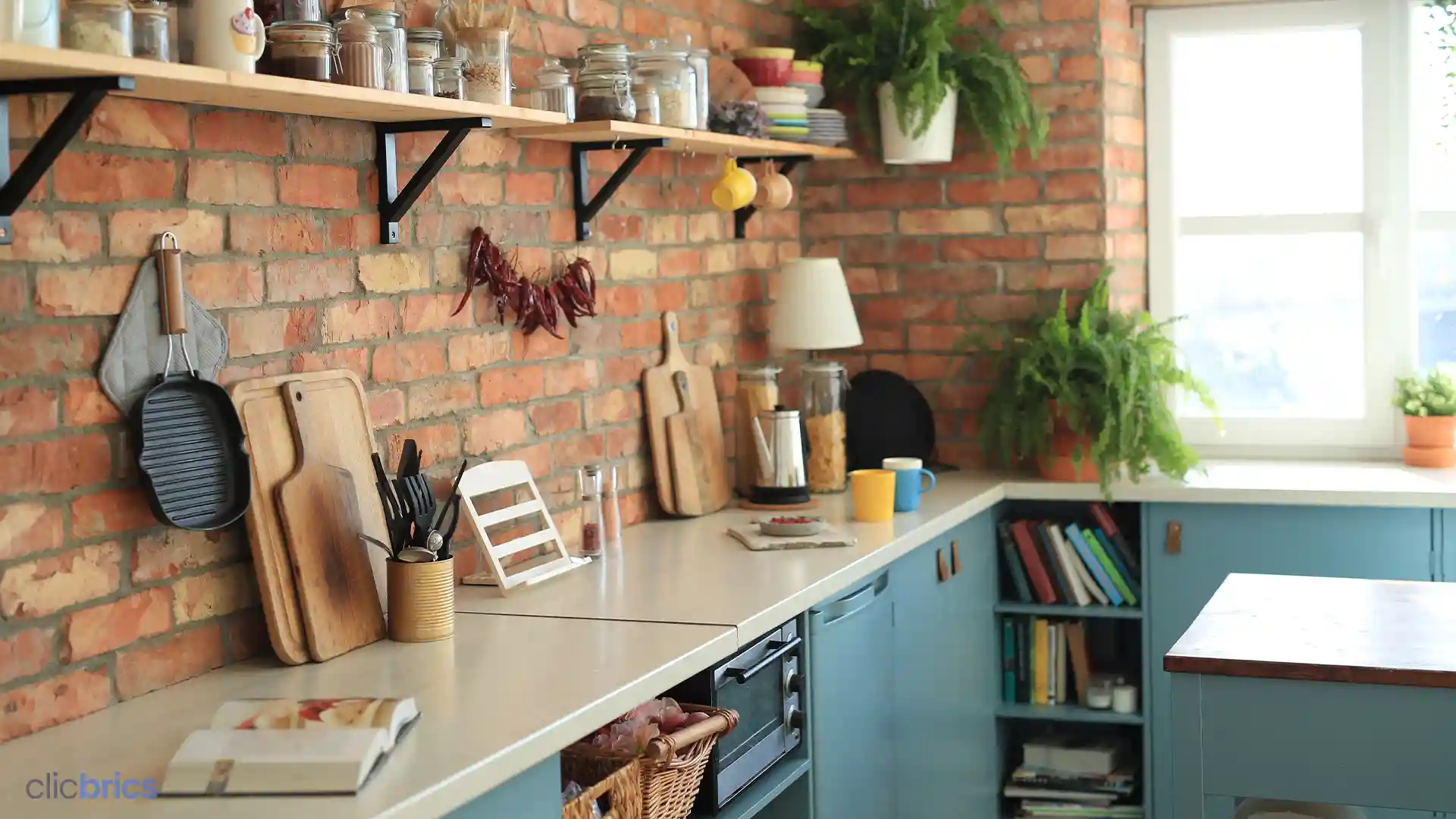 Embrace the industrial trend by using materials like exposed brick walls, concrete countertops, and metallic accents in your modern U Shaped modular kitchen. This design combines raw aesthetics with practicality, creating a unique urban vibe.
Must Read: Choosing The Right Kitchen Sink - A Complete Guide 
10. Mediterranean Delight U Shaped Modular Kitchen Design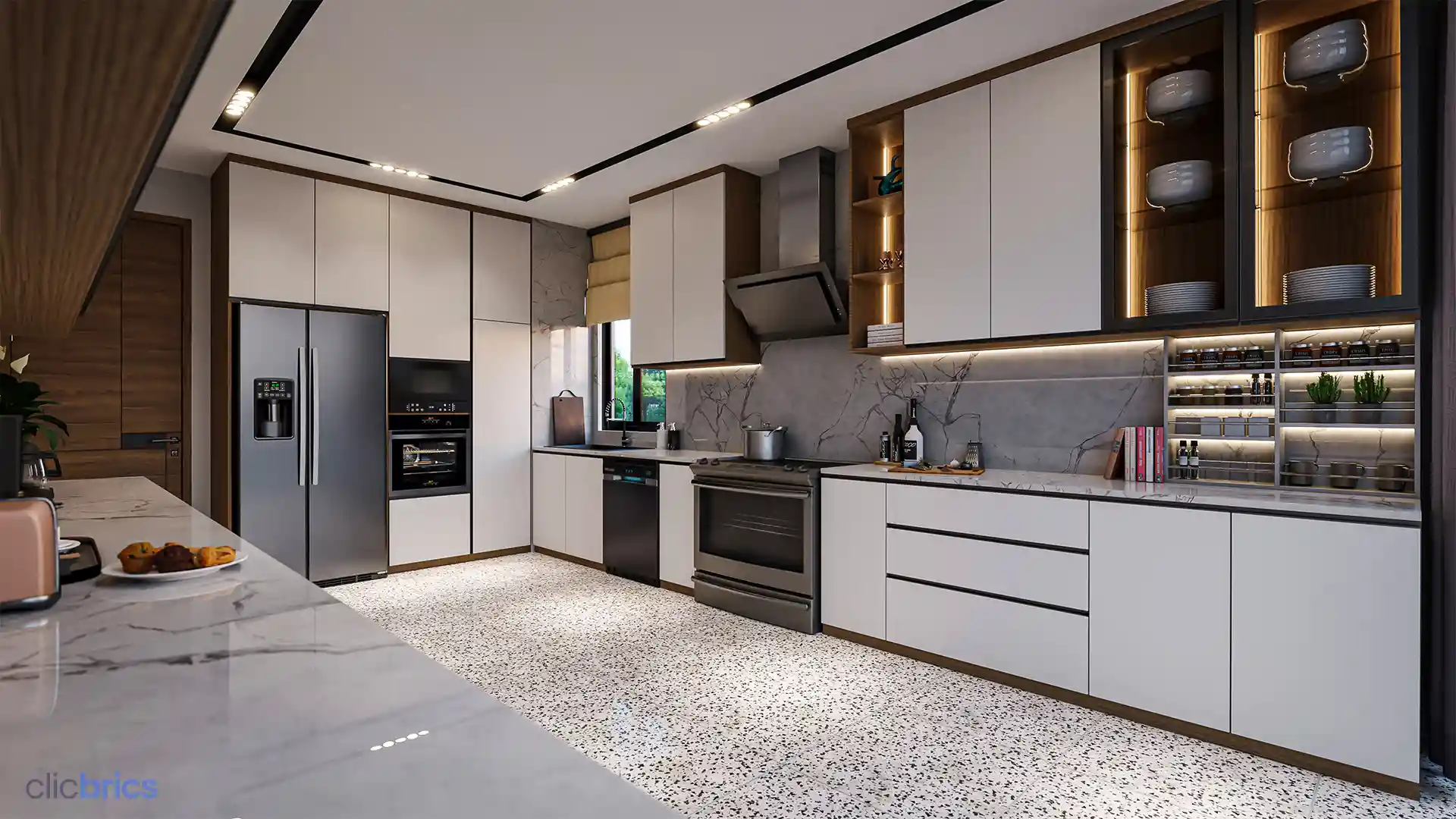 Bring the warmth of the Mediterranean with a U shaped modular kitchen design featuring vibrant tiles, rustic wooden cabinets, and open shelves to showcase your collection of exotic spices and cookware. This kitchen design exudes a cozy and welcoming atmosphere.
11. Coastal Retreat U Shaped Modern Modular Kitchen Design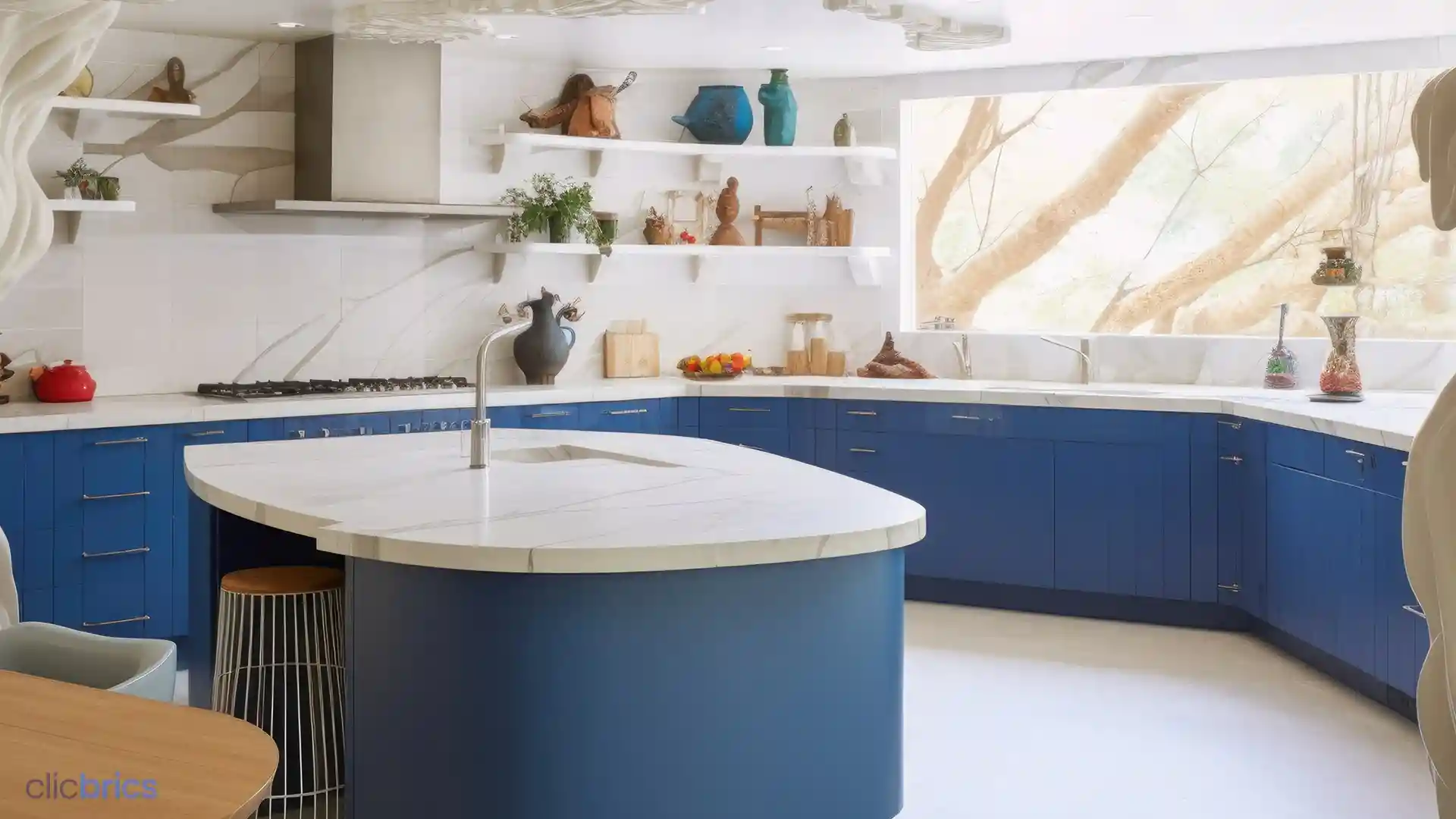 Transport yourself to the seaside with a U shaped modern modular kitchen design that incorporates soft blue hues, beadboard cabinet fronts, and glass pendant lights reminiscent of beachfront cottages. It's a design that will make you feel like you're on vacation daily.
12. Asian Fusion Modern U Shaped Modular Kitchen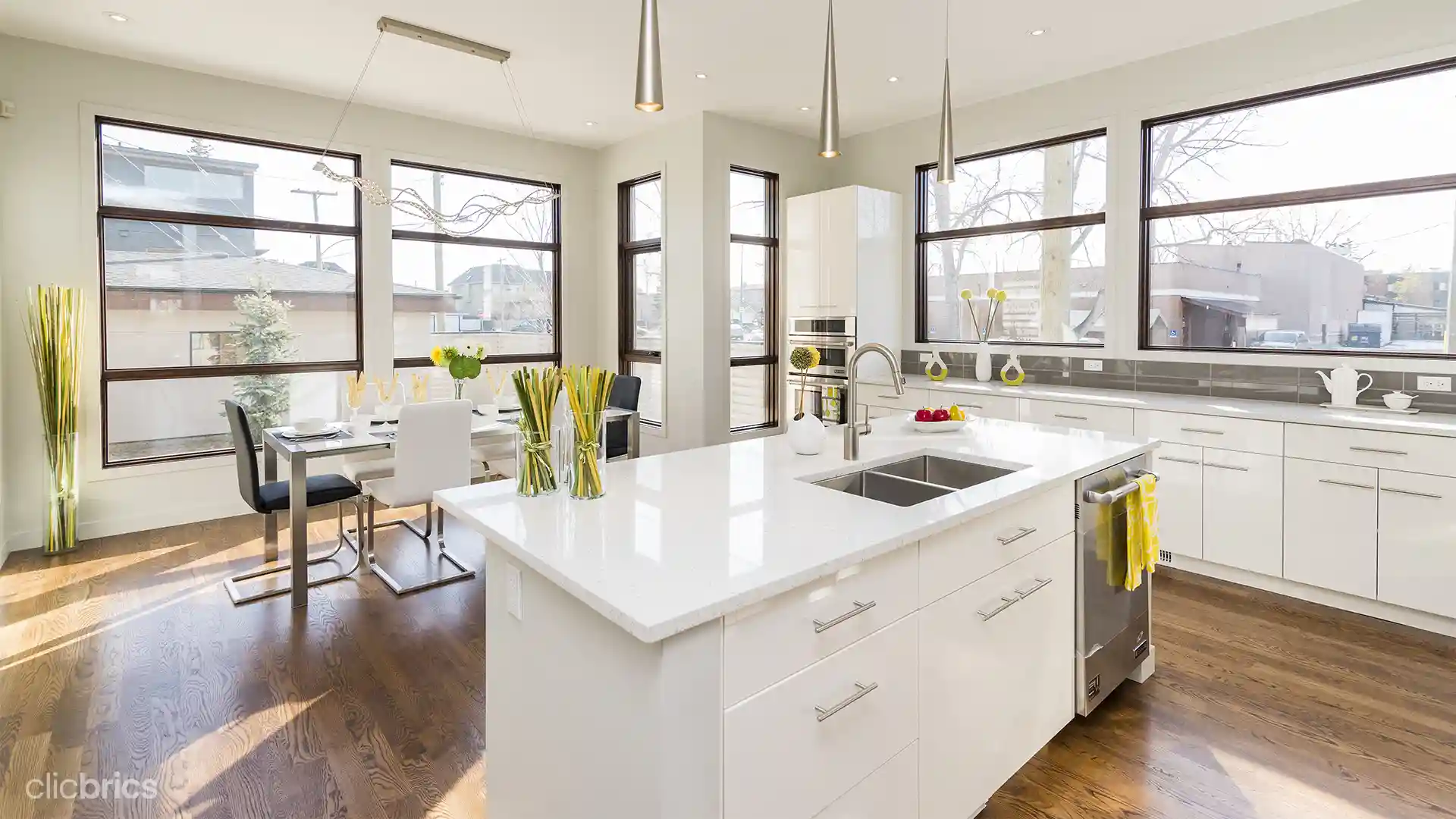 Infuse a touch of Asian culture into your U Shaped stylish modular kitchen design with bamboo cabinetry, porcelain tiles with intricate patterns, and a statement oriental rug. This design creates a harmonious blend of modern functionality and Asian aesthetics.
Also Read: 10 L Shape Modular Kitchen Design Ideas 
Conclusion 
A U shaped modular kitchen design offers a wealth of possibilities for homeowners seeking both functionality and style. You can transform your kitchen into a space that meets your practical needs and reflects your taste and preferences. So, go ahead and embark on your kitchen renovation journey, and watch as your culinary haven becomes the envy of your friends and family. Happy cooking!