Table of Content:
Designing your home is an art that everyone must master. It gives your space a visually striking effect and helps further craft it in an aesthetically pleasing yet practical manner. But let's be honest; if you're reading this, you are surely on the journey to redo your home. And what's interesting is that this blog will bring your attention to the often ignored yet most crucial part of the interior, i.e., the ceilings. A well-crafted PVC ceiling design is all you need to enhance your home's interiors instantly.
The PVC panel ceiling design adds a touch of elegance to your home. Still, doubt it? Let's throw some light on how a decorative PVC ceiling design has the capacity to upgrade your home's interior design. We have coupled some visually majestic and practical PVC ceiling design ideas to help you create a remarkable statement. 
PVC Ceiling: An Overview
Polyvinyl chloride, or PVC, is a lightweight plastic that is very easy to install on ceilings. It is easily available in different sizes, lengths, and colors. Furthermore, PVC ceilings are waterproof and look fabulous in the ceilings of bathrooms, kitchens, and balconies.
Properties of PVC Sheets
The PVC sheets are highly durable and sturdy.

The PVC ceiling boards are available at lower prices as compared to the other building materials.

PVC for bathroom ceilings is water resistant, so you will not have to worry about damp walls.

The associated health risks are quite high, as PVC contains several dangerous plasticizers.

PVC ceilings are safe to install in the living room as they do not get brittle. 
PVC False Ceilings VS POP False Ceiling: What's The Difference?
| | |
| --- | --- |
| PVC False Ceilings | POP False Ceiling |
| Durable and sturdy | Fire-resistant |
| Extremely affordable | Less affordable than PVC |
| You can easily install | Only skilled experts can install |
| Requires less maintenance | Requires time-to-time maintenance |
Best PVC Ceiling Design for Home Ideas
1. Simple PVC Ceiling Design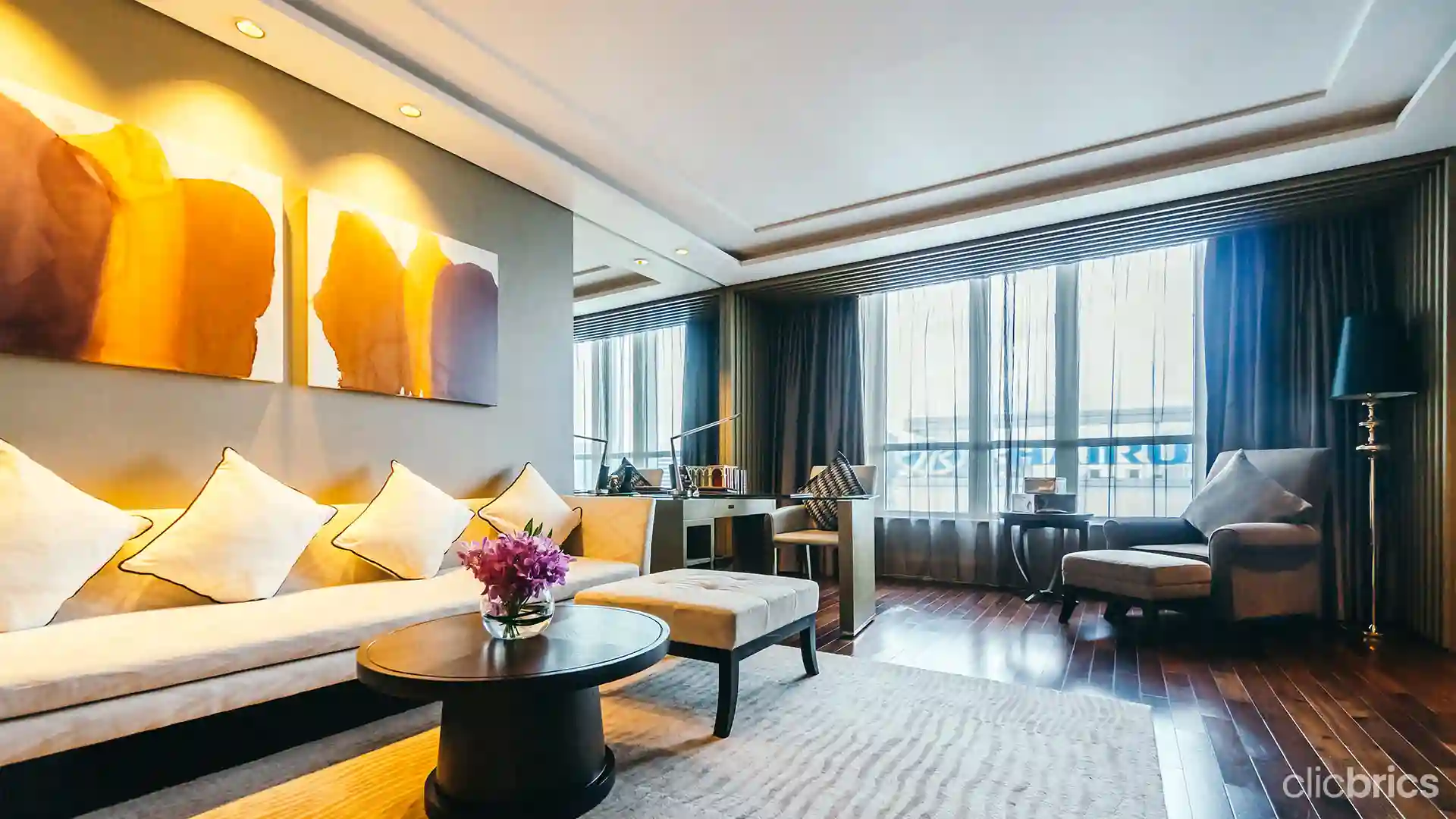 A minimalist PVC ceiling design for the bedroom is a great option. But when working on suspended PVC ceilings, don't cover the entire room, as it will make it look smaller. Instead, it should be confined to a spot where the fan and other light fixtures are mounted to successfully create a peaceful atmosphere with smooth lighting. 
Also Read: 13 Trendy False Ceiling Designs for Your Bedroom
2. Geometrical PVC Ceiling Design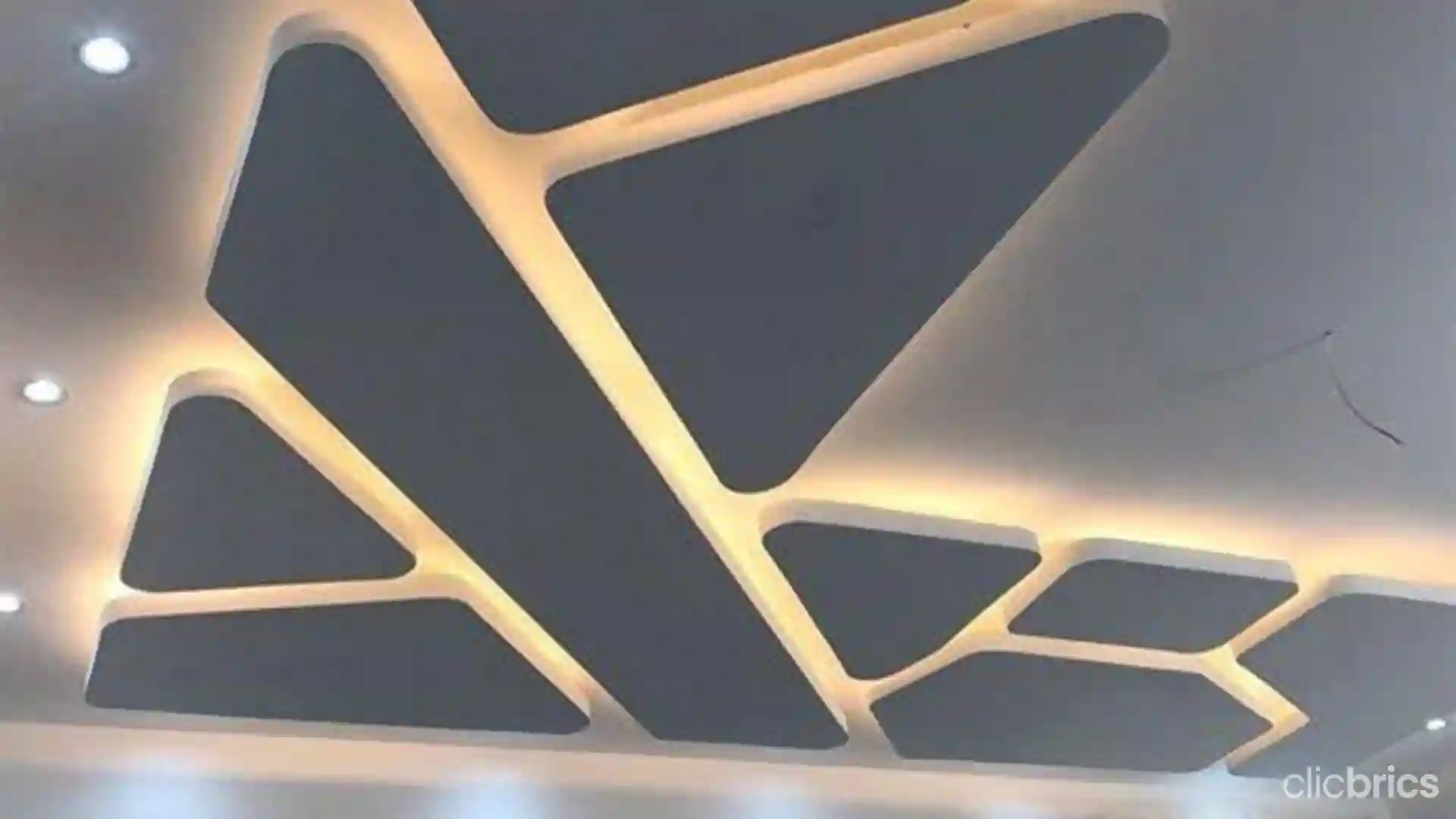 source: avisunproperties

When redesigning the home's interiors, you obviously want something stylish and trendy that reflects your modernity. So keeping in mind your purpose, you should opt for geometrically patterned PVC for the ceiling design. 
Keep the PVC ceiling design simple when working at the base, complemented by a few geometrically patterned PVC boards that will quickly add more depth and interest to your ceiling.  
3. Rectangular Block PVC Ceiling Design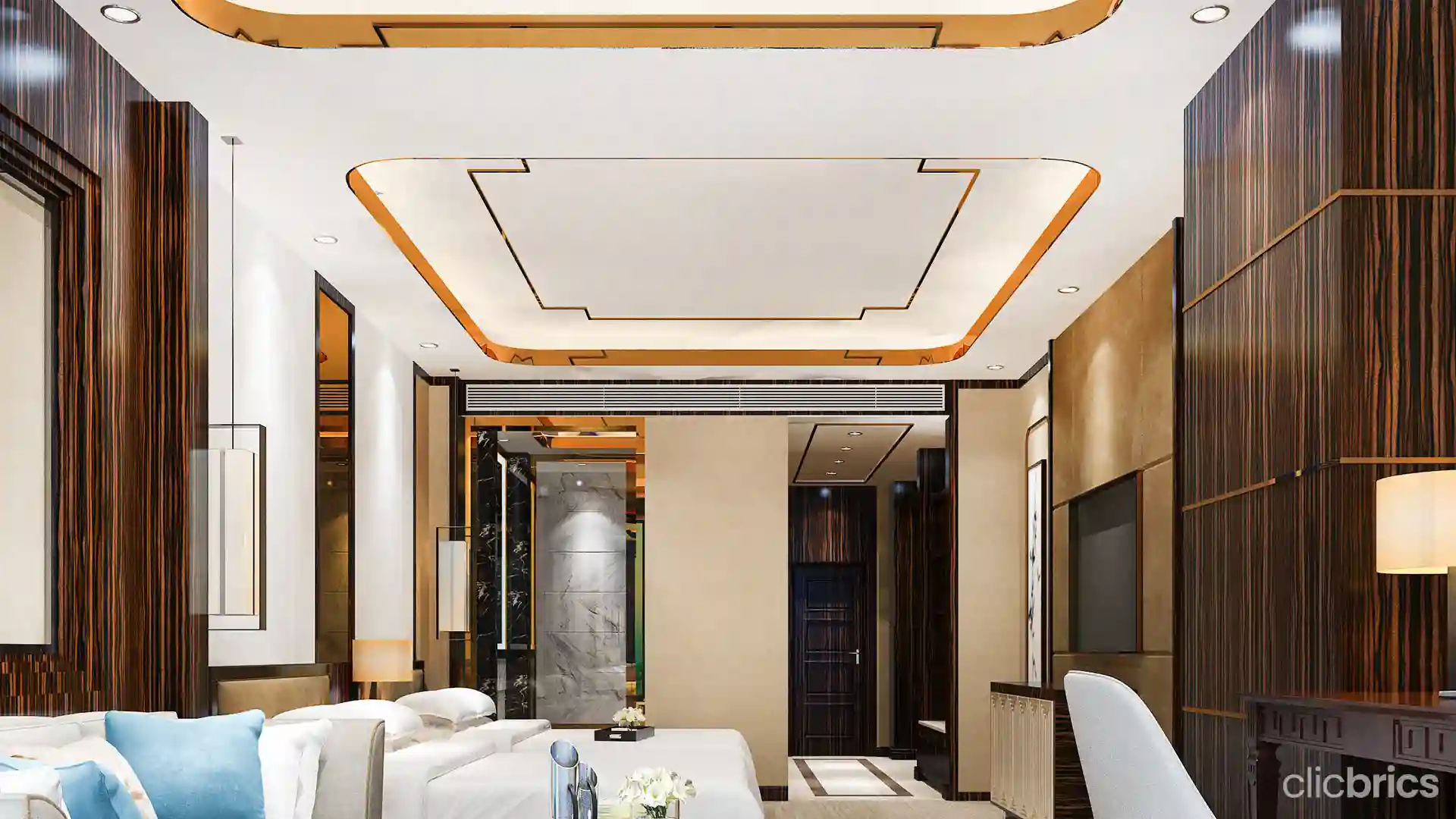 If you want to give your room a vintage yet fashionable vibe, then installing a rectangular block PVC design for the ceiling is the best option. The rectangular block will look amazing and will match any size room. To decorate it further, you can add focus lights on the edges of the ceiling to provide a more sophisticated look. 
4. Circular PVC Ceiling Design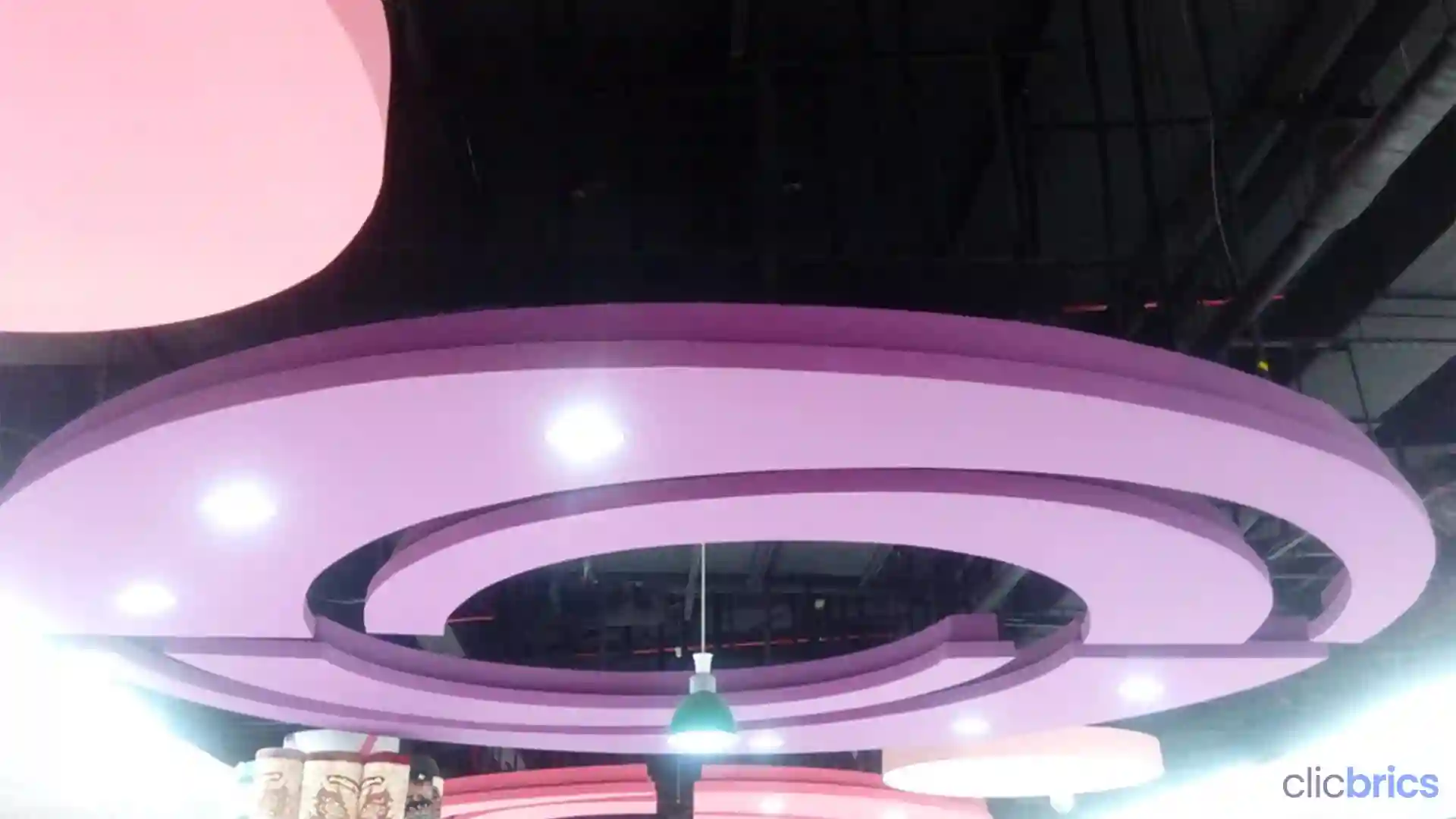 source: homelane


If you wish to give your space a spherical appearance, you should try a circular PVC panel design for the ceiling. It is a unique concept that will look stunning when installed in a bedroom. Moreover, you can install a fan or a chandelier in the center of the ceiling, making the room look spacious. 
5. Hexagonal PVC Ceiling Design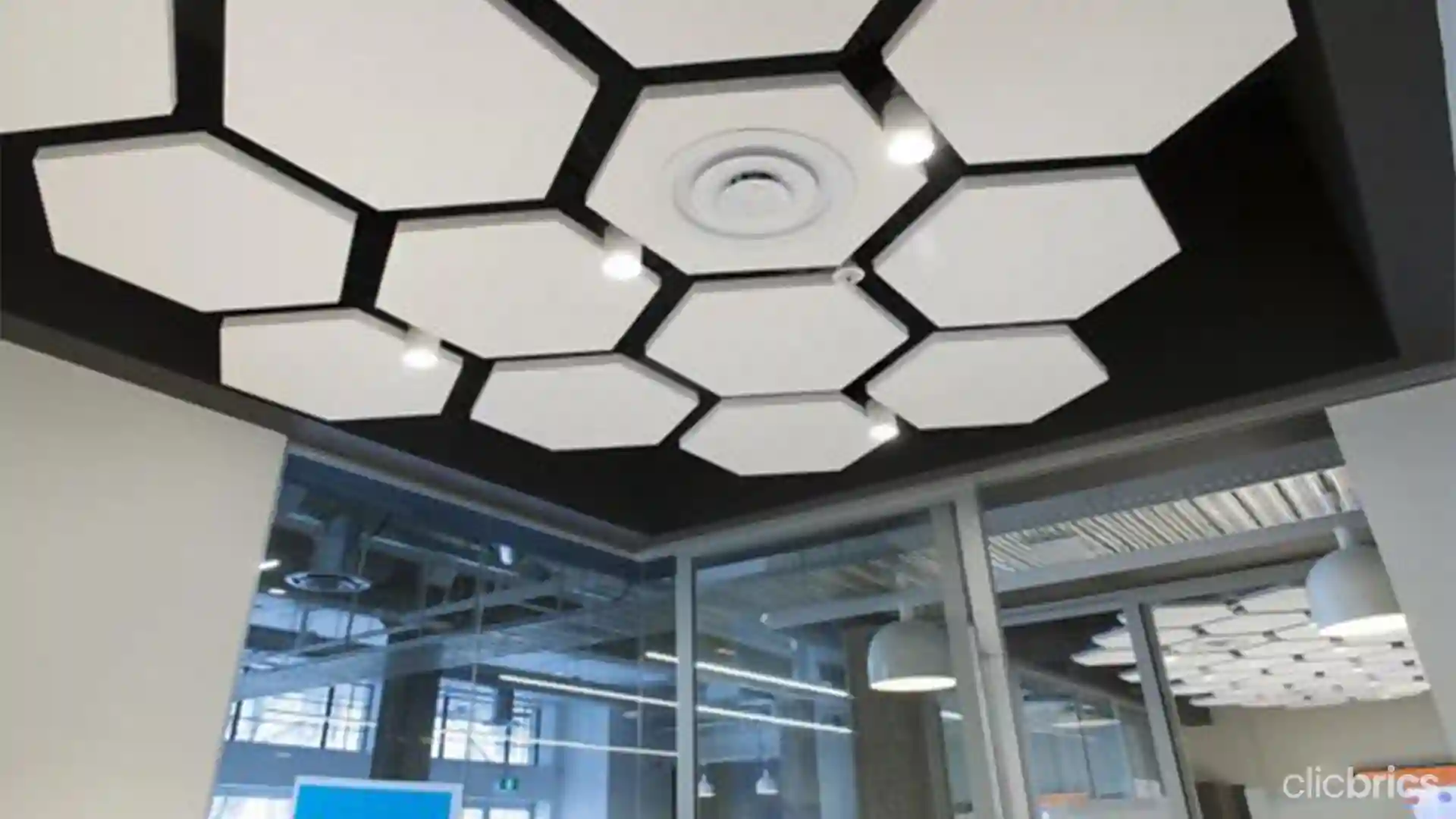 source: pinterest


The cutout in the shape of a hexagon is the new false ceiling trend in India. You will find this hexagonal PVC panel ceiling design in modern, high-end-class towers for homeowners. You can install such a gorgeous PVC ceiling design in your living room to cast a fabulous first impression.

6. Snowflakes PVC Ceiling Design for Kid's Bedroom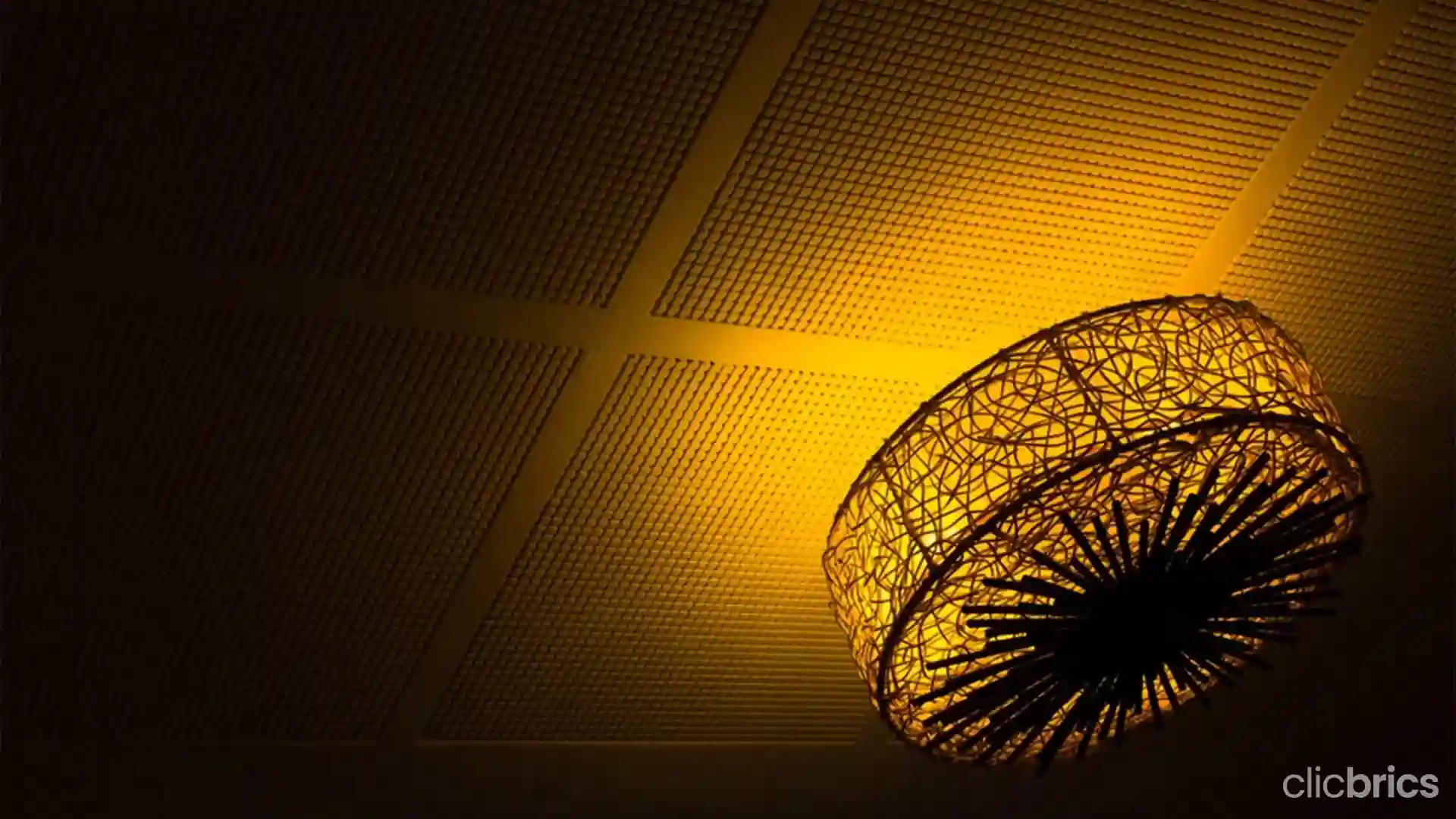 source: homelane


The one thing your kids will love in their room is wonderful designs. And if you want something special for your kid, then you should choose a snowflake ceiling design. 
7. Lattice PVC Ceiling Design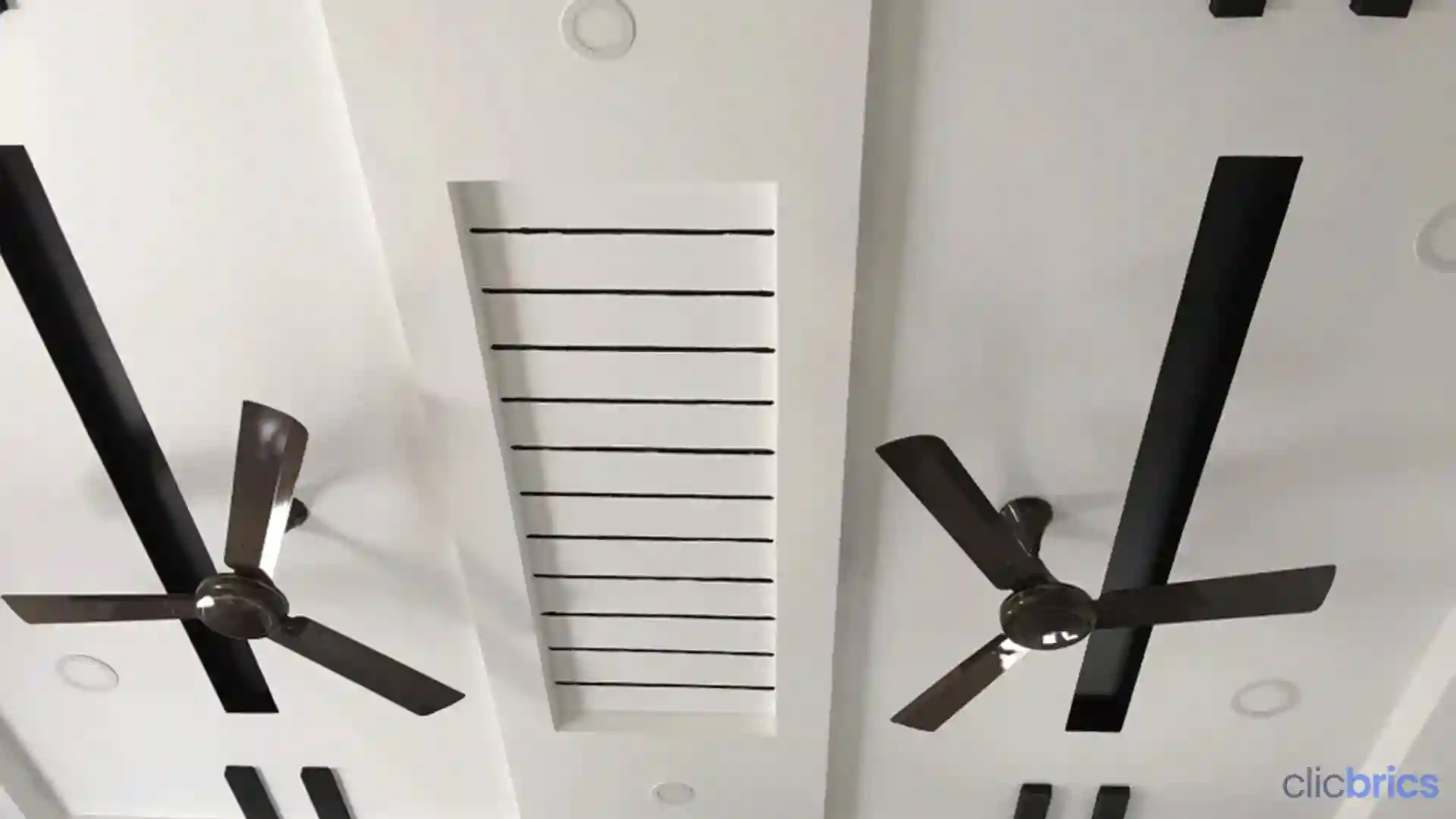 source: homelane


Do you or your partner have a thing for artistic decor? If yes, then you are in luck. You can install a lattice decorative PVC ceiling design that will enhance your room's look. You can opt for a lattice PVC ceiling design for the living room to uplift the look. 
Also Read: 12 Creative Main Hall Fall Ceiling Design Ideas
8. Butterfly Decorative PVC Ceiling Design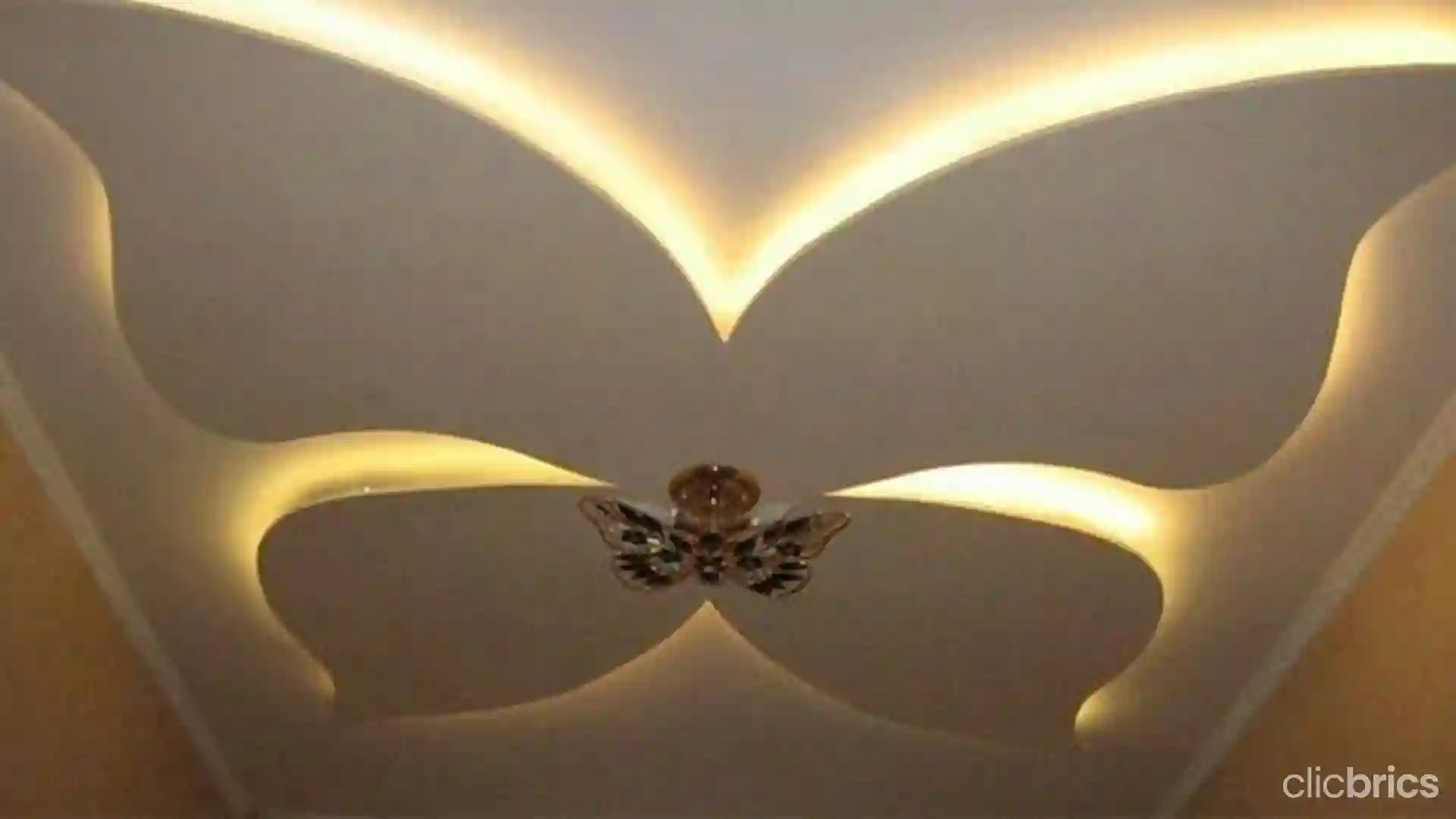 source: pinterest


If you plan to revamp your kid's bedroom, you should install a butterfly-patterned PVC false ceiling design. It will provide a delightful experience for your kid's room, making it more fairytale-like, using the unicorn colour effect. 
9. Basket Weave Pattern PVC Ceiling Design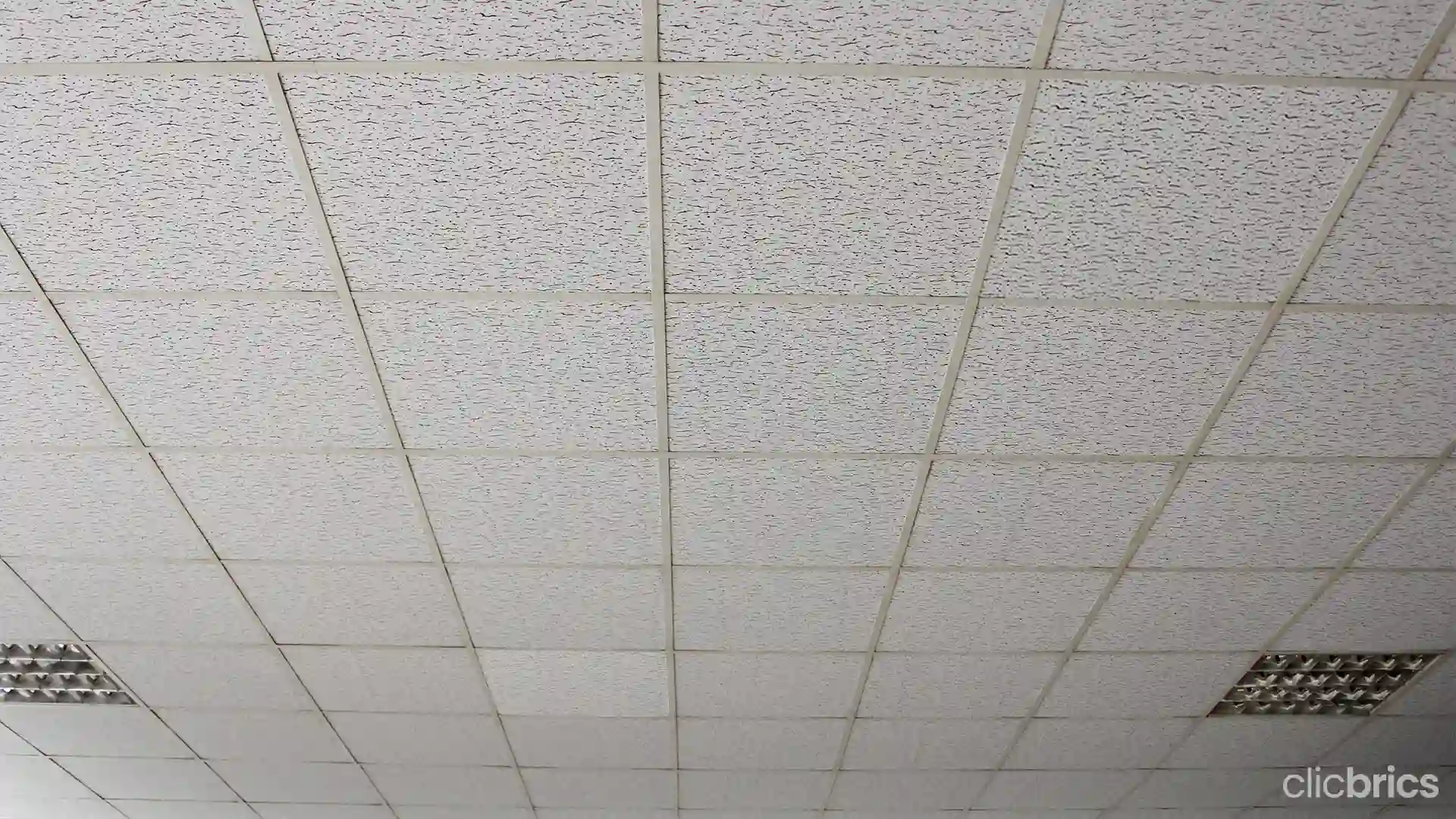 Change your simple ceiling into something unique with a basket weave pattern. It will provide some definition to your room decor, making it look more adorable. When choosing this PVC ceiling design, make sure to paint the upper layers of the weave pattern and let the interlinked part be plain. It will create the illusion that the ceiling is larger than its actual size. 
10. Brick PVC Ceiling Design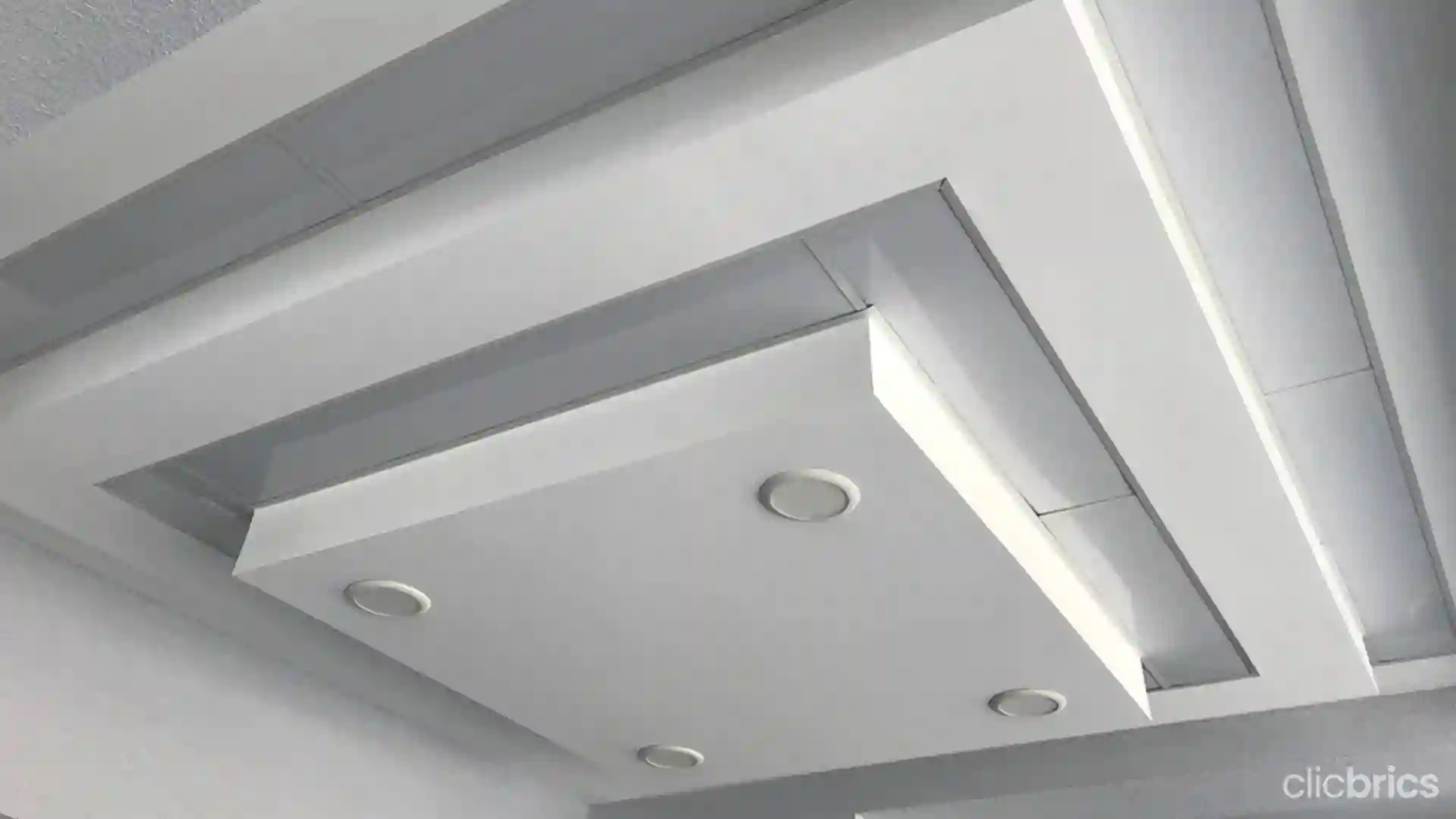 source: homelane


This decorative PVC ceiling design is for those who want to give their home a rustic, old-world charm look. If you are one of those, then you should definitely install a brick-patterned PVC ceiling design in any desirable room. Once completed, you will not require any other home decor element, thus, making this design a win-win deal. 
Keep Reading: Coffered Ceiling Design Ideas You Just Can't-Miss!
Best Colour Combinations for PVC Ceiling Design
 We have gathered beautiful color combinations to create a decorative PVC ceiling design at home.
Neutral Coloured Ceilings: You can use beige, brown, yellow, or cream for the ceiling. It will give your false ceiling a cooler look and make the walls look bigger. 

Darker Coloured Ceilings: If you like darker shades, you can opt for colors like navy, maroon, purple, or grey. But keep in mind that dark color tones for the ceiling make the room appear smaller than its actual size. 
Wrapping Up 
A beautiful & sturdy PVC ceiling design has the power to completely transform the look of any room by giving it a more dramatic vibe. The above-mentioned creative PVC ceiling design ideas would work as an inspiration to provide your home with a new look. They are easily available and affordable and will give your home a grandeur and luxurious look, as you have always wanted.