Table of Content:
Today, many services and facilities are available to Indian citizens online, all thanks to the Central Government's Digital India campaign. Similarly, the government has also initiated Parivahan Sewa, whose portal goes by the name Sarathi Transport Portal, under which more than 1000 RTOs (Regional Transport Offices) available in India have been computerized. If you find the above-mentioned information interesting, then continue reading our informative article on Sarathi Parivahan Sewa and know everything from the application system to renewal.

Sarathi Parivahan Sewa
You must be aware that certain documents, such as a driving licence and vehicle registration certificate, must be carried with you if you are an Indian citizen driving a vehicle. The home parivahan sewa portal, launched by the Ministry of Road Transport and Highways of India, aims to streamline all vehicle registration and DL-related information and create vehicle registrations at the national and state levels.

Services offered By Parivahan Seva Portal
The sarthi parivahan sewa stands out as a game-changer in the fast-moving world of transportation. The Indian government has launched a ground-breaking digital platform called Sarthi Parivahan with the aim of modernising and expediting the procedure for granting driving licenses and car registrations. The Sarthi parivahan.gov.in portal offers the below-mentioned services on the home parivahan sewa portal:

Vehicle-related services are available via the Vaahan Parivahan Sewa portal.

Driving licence-related services include applying for a driver's licence, renewing and issuing a duplicate one, etc. 

Reservation for a fancy number 

Collection of vehicle tax 

National Register (NR) services

Homologation 

National licence authorisation 

All India Tourist Permit Approval.

Speed Limiting Device Manufacturer

CNG manufacturer via CNG Vahan Sewa Portal.

Manufacturer of Vehicle Location Tracking Devices

Pollution Under Control Certificate 

Trade Certificate 

Vahan Green Sewa.

Vehicle recall 
In addition, the Parivahan Seva website offers information services to the public, enabling them to learn about their licence information, vehicle registration information, licences, acts, and new laws and regulations, among other things.
The Parivahan Sewa Sarthi offers services relating to driving licences, such as:
Permanent Licence

Renewal of a licence

Duplicate licence

An international driver's licence

Licence costs

Sample LL Question Bank 
Also Read: The Longest Highway In India
Registration Information On Parivahan Sewa Portal
You can get information about the following registrations on Sarathi Parivahan Sewa:
Temporary Registration 

Permanent registration

RC Renewal 

Duplicate RC

NOC

Change of address

HP endorsement 

HP termination 

Reassignment 

Trade certificate

Diplomatic vehicles 

Transfer of ownership 

Registration display
Get Learners' Licence On Parivahan Sarathi Portal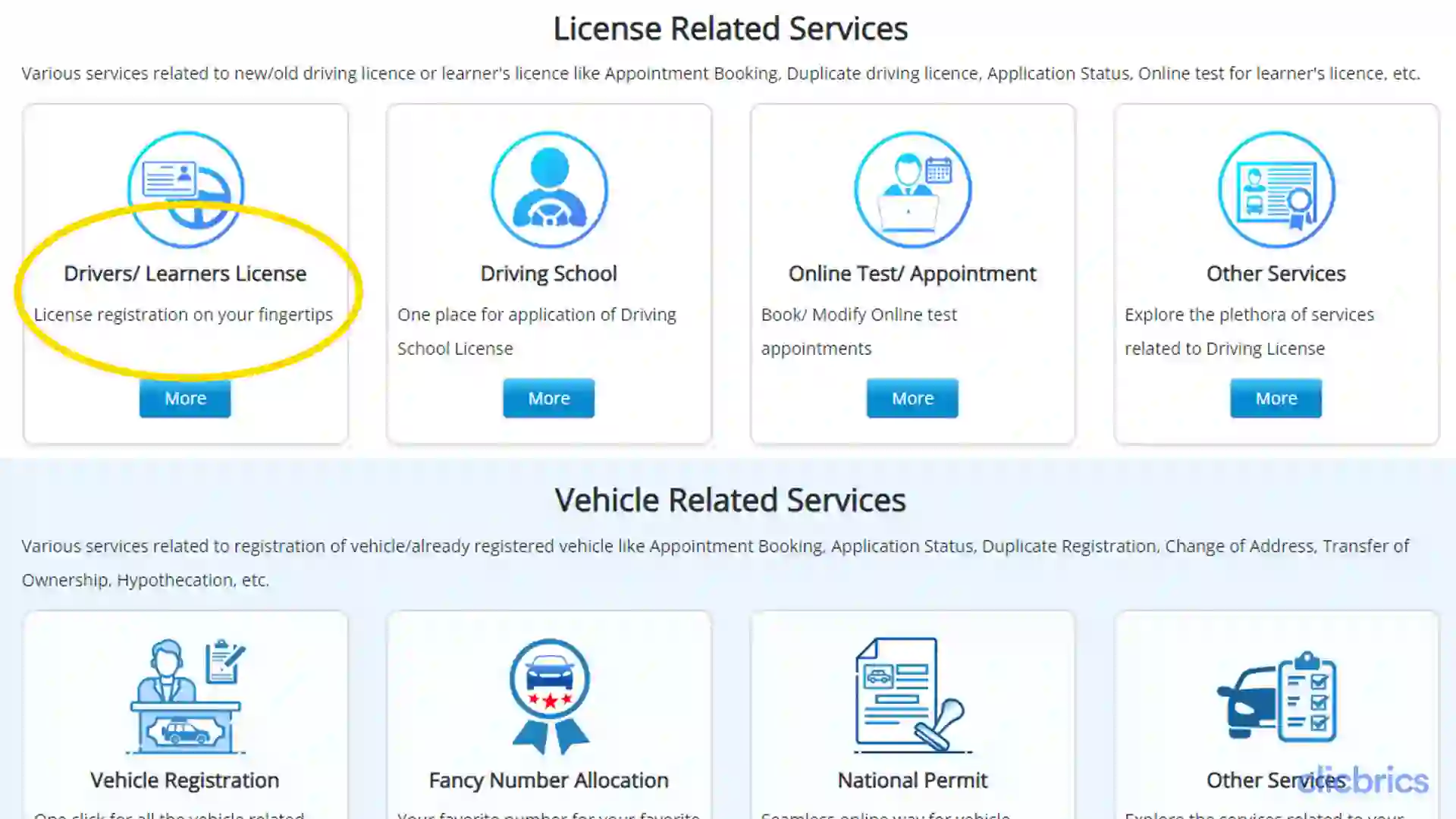 Users can also find learner's license-related services, from applying to re-issuance, with every detail available on the parivahan seva portal. Some of the benefits of the Parivahan Seva website are listed below:
Application for a new learner's licence

Re-issuance of learner's licence

Editing of learner's licence application 

Learner's licence print 

Guidelines for Road Safety Tutorials 

Learner's licence online test 

Learner's Licence Mock Test 

Sample questions for learner's licence
Also Read: Loan Against PPF - Know All About Using Your PPF Account as a short-Term Home Loan
Parivahan Portal: Conductor's License
Even a conductor's licence details are available on the Parivahan Sarathi portal. Some of the major services of this section are listed below:
Conductor's licence—New

Temporary conductor's licence

Conductor's Licence Services

Online Conductor's Licence Test 

Conductor's licence printing 

Regularisation of Provisional Conductor's licence

Driving School Licence-Enrolment and Services 
Also Read: How Does PMAY 2022-23 Make Real Estate Investment More Accessible?
Parivahan Portal: Driver's Licence
From applying for a driving licence to reissuing one, you will find every detail concerning this at the Parivahan Sarathi portal. Some of the primary services are listed below:
Issuing of a new DL

Clubbing of DL

Reprint Extraction

Online public service vehicle badge test 

IDP details 

Documents needed for the Parivahan Sewa Portal

If you wish to fill out an application, you will be required to submit certain documents:

Scanned photographs and signatures 

Aadhar Card

Birth certificate

Passport

Pan Card 

Form 1 & 1A
Also Read: Ultimate Guide To The RERA Act In Maharashtra: Maha RERA
Steps To Apply For A Driving licence On Sarathi Parivahan Sewa
If you wish to apply for a driver's licence at the Sarathi Parivahan Sewa, you will have to follow the below-mentioned steps:
STEP 1: Visit the sarthi parivahan website @ https://parivahan.gov.in/parivahan/ 
STEP 2: Click "Driving Licence Related Services' from the "Online Services" section. 
STEP 3: Once redirected, choose the state from the drop-down menu. 
STEP 4: Select the type of driver's licence you want to apply for.
STEP 5: After getting redirected to a page, read all the instructions thoroughly and click on "Continue."
STEP 6: An application form will appear, which you must fill in.
STEP 7: Upload all documents, signatures, and photos.
STEP 8: Pay the fees using your preferred payment method.
STEP 9: Click on "Submit"
Steps To Check Sarathi Parivahan Application Status
STEP 1: First, go to the Sarathi Parivahan Sewa website.

STEP 2: Select the online driving licence application status option.
STEP 3: Click on "Apply Online."
STEP 4: Now click on "Driving Licence Application Status".
STEP 5: Mention your mobile number and date of birth. 
STEP 6: Click on 'Submit', and the status will appear on your screen.  
Also Read: All About the Haryana Online Building Plan Approval System (HOBPAS)
Steps To Cancel DL Application Process On Parivahan Sewa Portal
STEP 1: Visit the sarthi parivahan website online. 

STEP 2: On the menu, you will see a tab titled "Cancel Driving Licence Application Form."
STEP 3: After clicking it, select the state.
STEP 4: Then click on "driving licence'
STEP 5: Click "Apply Online" and "Cancel the application."
STEP 6: Enter the application number and your date of birth and click on "Submit".
STEP 7: Enter the OTP you received on your phone to verify and cancel the application form.
STEP 8: You will see a confirmation message concerning the cancellation on your screen.
Mobile App For E-Parivahan Sewa
STEP 1: To download sarthi parivahan app, go to the Play Store.

STEP 2: Locate the mParivahan app.
STEP 3: Get the sarthi parivahan app.

STEP 4: The RC and DL tabs will appear when you open the app.
STEP 5: Select DL and enter the DL number.
Now, you will get all the information about the DL on the Parivahan Sewa portal.
Also Read: Understand the 7/12 Extract and Its Legal Importance
Steps To Change The Name On Your DL
STEP 1: Visit the official portal of Sarathi Parivahan Sewa Portal.
STEP 2: Select "Change name on driving licence."
STEP 3: Choose your state and click on 'Apply Online. "
STEP 4: On "Services on Driving Licence", change the name request.
STEP 5: Enter your application number and date of birth.
STEP 6: Make changes to the form and check the declaration box.
STEP 7: Click "Proceed" and upload the name-proof documents as requested.
STEP 8: Click "Submit." 
How To Renew DL On The Sarthi Parivahan Portal?
STEP 1: Visit the Sarathi Parivahan Sewa official portal.

STEP 2: Perform the following drill—driving licence > driving licence renewal.
STEP 3: Now pay the fee, upload the document requested, and click on "Submit".
Sarthi.parivahan.gov.in - Slot Booking Procedure
The Parivahan Sewa Portal of the Ministry of Road Transport and Highways allows you to apply online for a driving licence, learner's permit, and permanent driving licence. 
Once you have given the test, your learning driving licence will be at your doorstep within 15 days. 
STEP 1: Visit the official website of Parivahan Sarathi.

STEP 2: On the Parivahan Sewa homepage, select your state. 
STEP 3: Click on "Apply for DL'
STEP 4: Enter the required details, and an OTP will be sent to your registered mobile number.
STEP 5: After entering the OTP, upload the documents required.
STEP 6: Click on 'Submit', and the registration process will be completed. 
NOTE
The available Parivahan Sewa Delhi slot booking time is from 3 PM to 4:30 PM on working days. Once the booking is made, you must make a booking for the Learning Licence Test in the slot book. 
Also Read: Everything About E-Way Bill
Conclusion
The sewa parivahan, or Sarathi Parivahan Seva, is evidence of India's development in using technology for the benefit of its people. This sewa parivahan platform promotes efficiency, transparency, and road safety by automating the licensing and registration of vehicles.
The Parivahan Seva Portal is a brilliant example of how innovation can revolutionise conventional systems, in the digital era by benefiting both people and the country's transportation environment.