Table of Content:
It goes without saying that good connectivity exemplifies a country's real estate sector's growth prospects. No nation can compromise on effectively developing its infrastructure such as roads and highways when determining a concrete growth in real estate. That is why, National highways that connect various parts of Northern, Southern, Eastern, and Western parts of India are considered the heart of the road network connectivity in the country. As per the Ministry of Roads, Transport & Highways, there are currently 500+ highways in India. But, amongst the most prominent ones, NH44 is the longest highway in India, connecting the North-South Corridor of NHDP (National Highways Development Project). 
Today, let's explore India's longest national highway (NH44) in detail.
The Longest Highway In India: Sneak-Peek
Termed as the longest national highway in India, NH 44 is 3,745 kilometres long. NH 44 highway (previously known as NH 7) covers the North-South Corridor of NHDP (National Highways Development Project) - from Srinagar in Northern India to Kanyakumari in Southern India.  
The NH 44 has been constructed by merging seven major national highways in India. They are:
NH 1A

NH 1

NH 2

NH 3

NH 75

NH 26 

NH 7

Longest National Highway of India (NH44): States Connected
As per the NH44 route, the longest NH in India connects 11 states of the country. They are:
Jammu & Kashmir

Punjab

Haryana

Delhi

Uttar Pradesh

Madhya Pradesh

Maharashtra

Telangana

Andhra Pradesh

Karnataka

Tamil Nadu
Longest Highway In India: Cities Connected
As per the NH44 route, the longest NH in India, it connects more than 30 cities. Here's the list of a few of the cities connected by NH 44 along with the part of national highways they belong to:
| | |
| --- | --- |
|  National   Highway |  List of Cities Connected |
|  NH 1A |  Srinagar, Anantnag, Domel, Jammu, Pathankot, Jalandhar |
|  NH 1 |  Ludhiana, Ambala, Kurukshetra, Panipat, Sonipat, Delhi |
|  NH 2 |  Faridabad, Mathura, Agra |
|  NH 3 |  Gwalior |
|  NH 75 |  Jhansi |
|  NH 26 |  Sagar, Lakhnadon  |
|  NH 7 |  Seoni, Nagpur, Adilabad, Nirmal, Kamareddy, Hyderabad, Kurnool, Anantapur, Bengaluru, Salem,   Namakkal, Karur, Madurai, Tirunelveli, Kanyakumari  |
The Prime Minister of India, Narendra Modi, also inaugurated  Chenani-Nashri Tunnel on 2nd April 2017. It is a significant addition to NH 44 as well. 
Rules And Regulations On India's Longest National Highway: NH 44
Ensure that you abide by these rules if you drive on NH 44 highway route
Any four-wheeler vehicle on NH 44 route in India cannot exceed a speed limit of 100 kilometres per hour. 

NH 44 speed limit for any four-wheeler vehicle cannot exceed a speed limit of 120 kilometres per hour.

Any two-wheeler cannot exceed a speed limit of 80 kilometres per hour on NH 44 route in India. 

NH 44 speed limit for heavy-duty vehicles like trucks cannot exceed a speed limit of 100 kilometres per hour.
Major Attractions/Destinations On Drive Through NH 44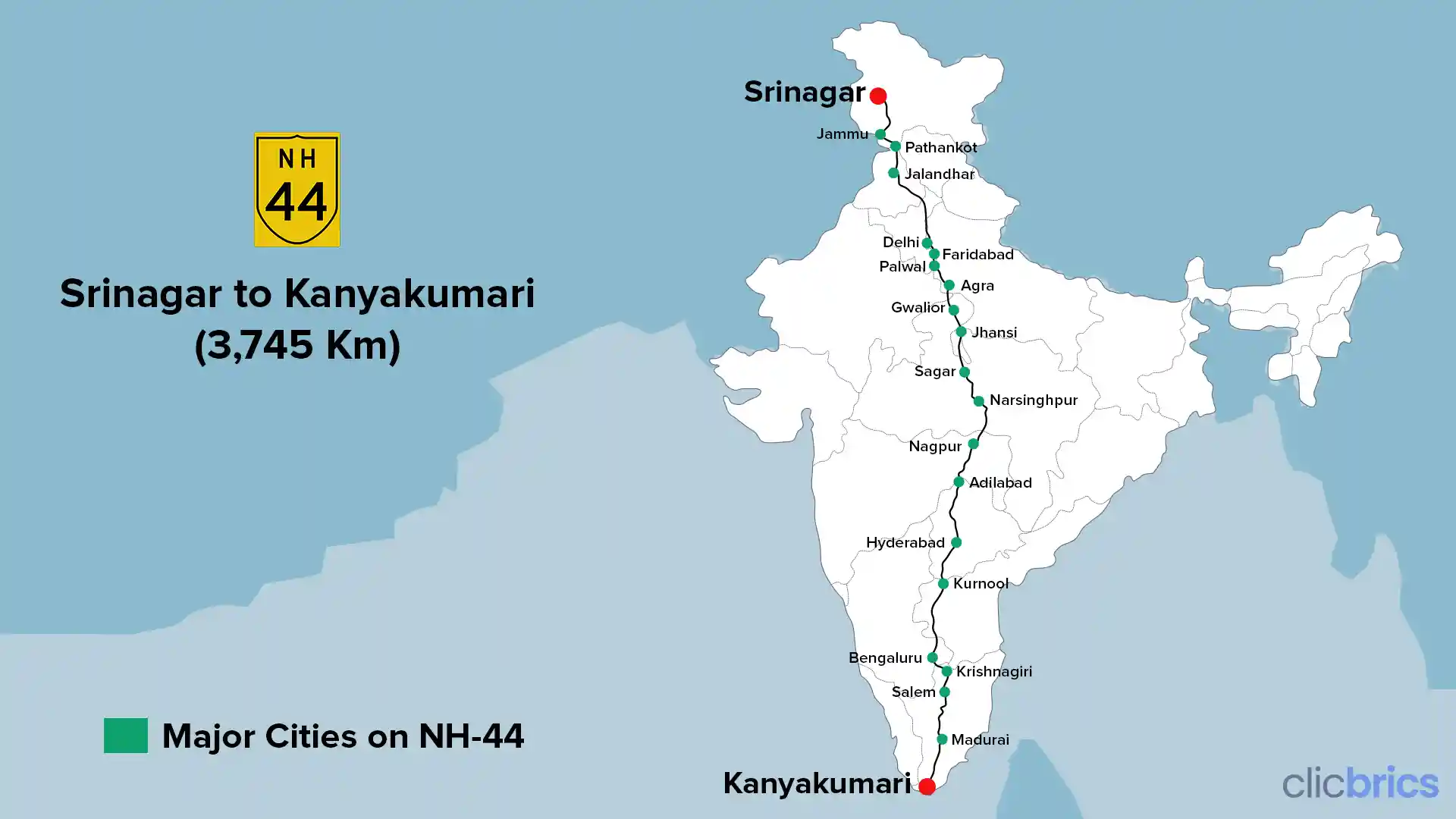 The longest national highway in India, the NH 44 route, covers various beautiful cities from North and South. Have a look:
1. The Land Of Lakes And Gardens: Srinagar
Srinagar is popularly known as the Switzerland of India. It is the northernmost city in India and is known for its unparalleled beauty. It is located in the valley of Kashmir and lies on the banks of the Jhelum river. The city is at an elevation of approximately 5000 feet above sea level. Here are some spots in Srinagar you cannot miss out on:
Dal lake

Nishat Bagh

Shalimar Bagh

Chashme Shahi Bagh
2. A City of Kots, Gates, And Basties: Jalandhar
As you drive ahead, you can get to travel to the ancient city of Punjab - Jalandhar. You will get to see beautiful farms and forests in their rawest forms. Enjoy traditional customs and see the seasonal crops across the lush green farms. Do not forget to enjoy the authentic parathas with butter and Sarson ka Saag. 
3. The Land of War of Mahabharat: Kurukshetra
If you have heard of Mahabharat, this is the land where all of it happened. Hence, it is one of the historical places in India. It is a witness of the war between Pandavas and Kauravas. Visit Shri Krishna Museum if you like seeing historical artefacts. You can also visit Brahma Sarovar. Panipat is just 71 kilometres from Kurukshetra. It is popularly called the city of weavers. Try visiting it too!
4. The Birthplace of Krishna: Mathura
The city of Mathura lies on the banks of the Yamuna river. You can find many ancient as well as new temples in Mathura. It is also one of the seven sacred cities of India, apart from being the birthplace of Krishna. Do try Mathura's popular peda in the city. 
Check Out:Property Prices in Mathura
5. The City of Taj Mahal: Agra
Moving ahead through the longest highway of India (NH44), you'll come across Agra city. It is famous as the city of love because the Taj Mahal, one of the world's wonders and the epitome of love, is located here. This place attracts many Indian and International tourists around the year. 
6. Tiger Capital of India: Nagpur
The city of Nagpur is also popularly known as an orange city. It lies in the Deccan region of India, and you can enjoy fresh oranges along with your travel. Nagpur is also known for Tarri Poha and Santra (Orange) Barfi. 
Also Read: A Walkthrough Nagpur Metro
7. Jasmine City of India: Madurai
Madurai city is known for having a beautiful skyline along with 14 Gopurams. Do not forget to visit the Meenakshi temple in Madurai. It will bring you peace, and its beauty will leave you in awe. Madurai is popularly known as the Jasmine city, as it transports Jasmine flowers to other parts of India. 
8. The Land of Three Seas: Kanyakumari
The NH 44 highway ends at Kanyakumari. You can witness the confluence of three water bodies here:
Arabian Sea

Indian Ocean

Bay of Bengal
None of these three water bodies lose their wave patterns or colours. Make sure to visit the Vivekananda Rock Memorial and enjoy the traditional food at Kanyakumari while enjoying the sunset. 
​
Conclusion
It is undebatable that the infrastructure development in terms of enhancing the nation's road and highway connectivity is one of the Indian government's most rationale steps towards fulfilling people's desires for more streamlined connectivity. Consideration of improved connectivity through roads and highways is one of the most seriously prioritised things when planning a new residential project here, as it affects housing demand, market valuation of properties and living choices in the surrounding localities. 
We hope that with this blog, you've got an overview of the longest national highway in India and all the attractions you can visit on NH 44. Make sure to bookmark our page for more such interesting information.
Suggested Read: 6 Important Tips Before Investing In Real Estate