Table of Content:
Having a nameplate design for a home is a necessity that works as a decorative element to cast the best impression on your visitors. Indeed, installing a gorgeous name plate design is a fabulous way to add a stylish touch to your home's entrance. 
Today, we have brought you some fantastic nameplate design ideas with images that will make you replace your boring design with one of our masterpieces. If you're ready for this ride, hold tight as we begin our quest to find the fanciest nameplate design! 
Creative Name Plate Design Ideas For Main Gate
Below are some stunning name plate design ideas that will give your home a personalized look!
1. Artistic Name Plate For Artistic People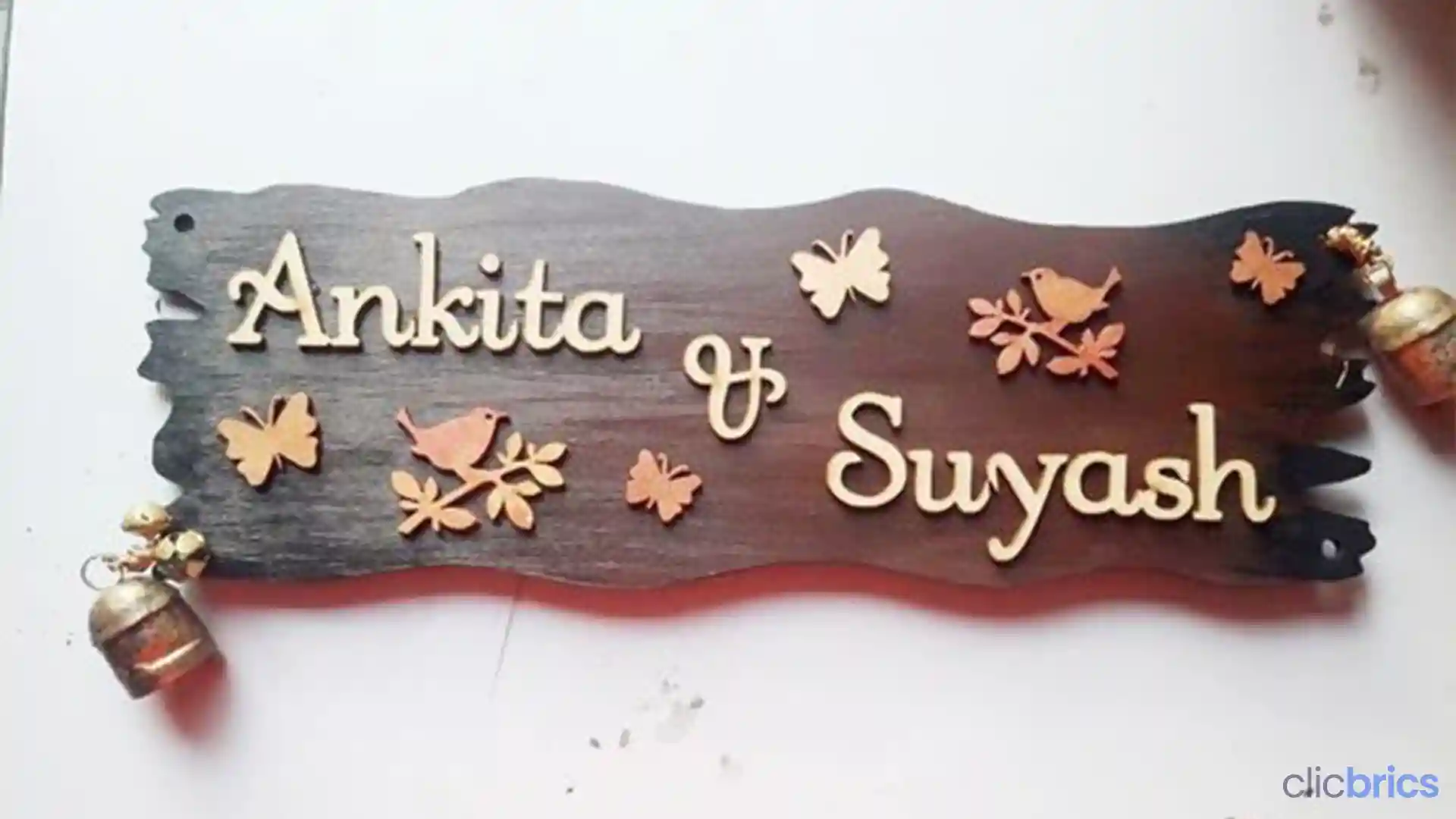 Source: Pinterest
Wish to bring your artistic side into the light? How about you start right from the home's entrance? You can incorporate an artistic, sunshine-shaped nameplate design for your home. It's bright, unique, welcoming, and, not to forget, pleasing to the eye. 
Suggested Read: Start Your Home Design Journey: Quick and Easy Tips |Exterior & Interior|
2. Glass Name Plate Design For Home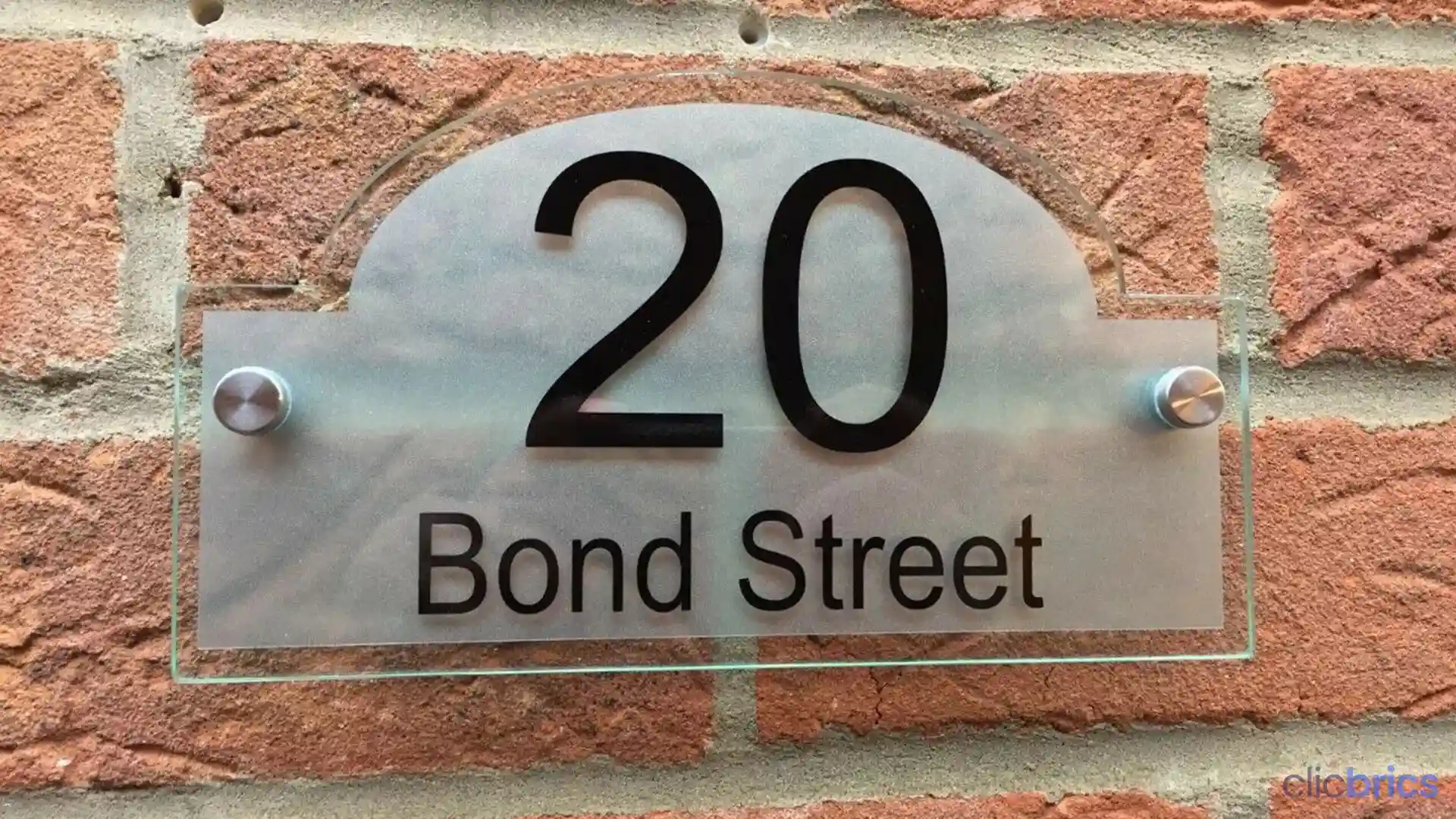 Source: Aliexpress
Glasses are exceedingly favored because they have a stunning, polished appearance. But if you are a fan of glass name plate design and are thinking of installing them, you need to keep in mind that they are highly fragile and can break easily if not taken care of.  
3. Engraved Wooden Name Plate Design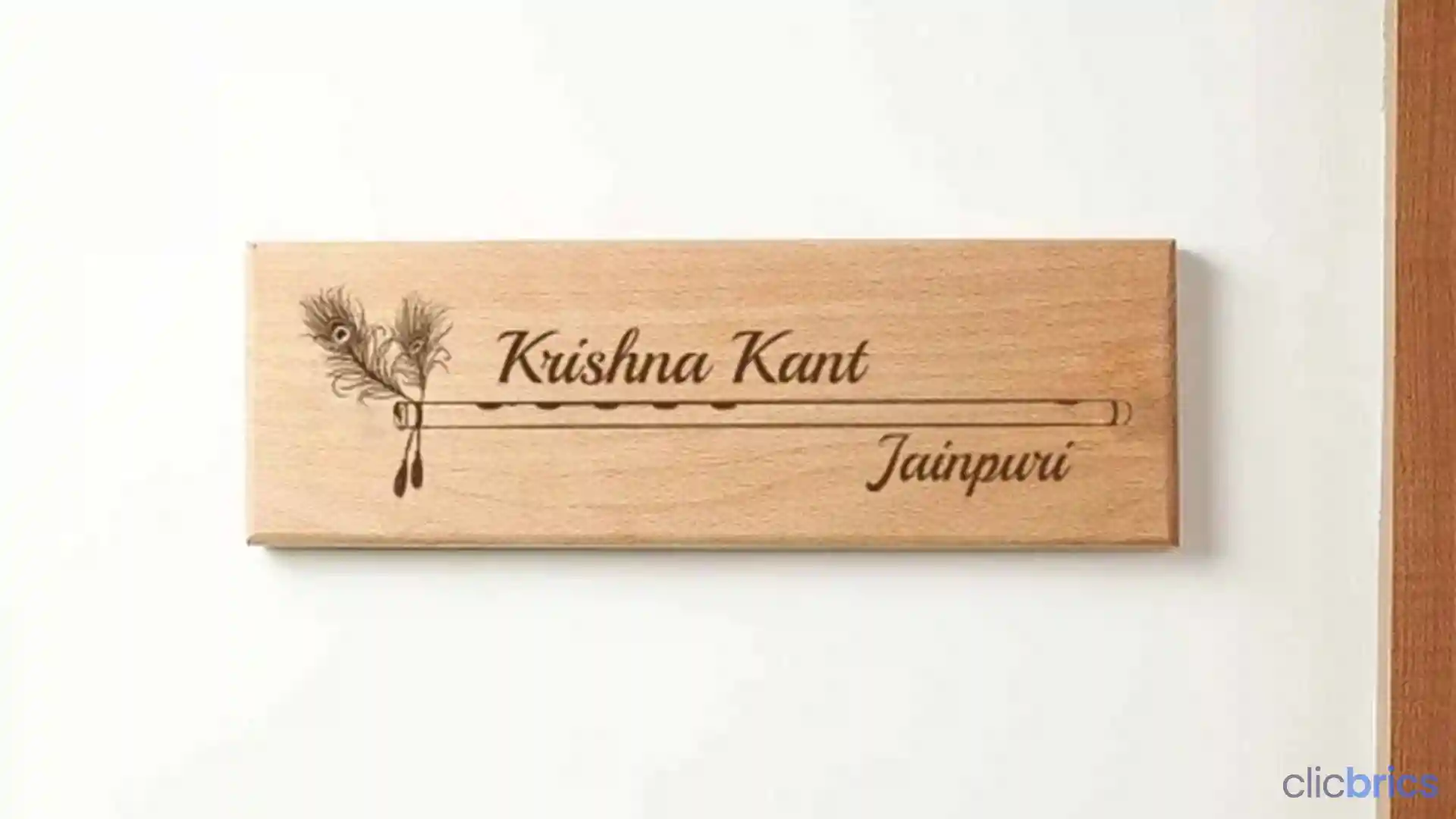 Source: Indidecor
Wooden name plates can improve the aesthetics of any room. If you want to spruce up your front door, consider adding an engraved wooden name plate design. They are elegant and make a subtle statement. You can decorate its parameter by adding floral patterns on either side of the family name. 
For dog lovers who value their dogs more than anyone, you can also engrave a photo of the dog on the wooden plank of the name plate for home. 
Don't Miss Reading: 7 teak wood door designs to add style to your home's exterior   
4. Limestone Name Plate Design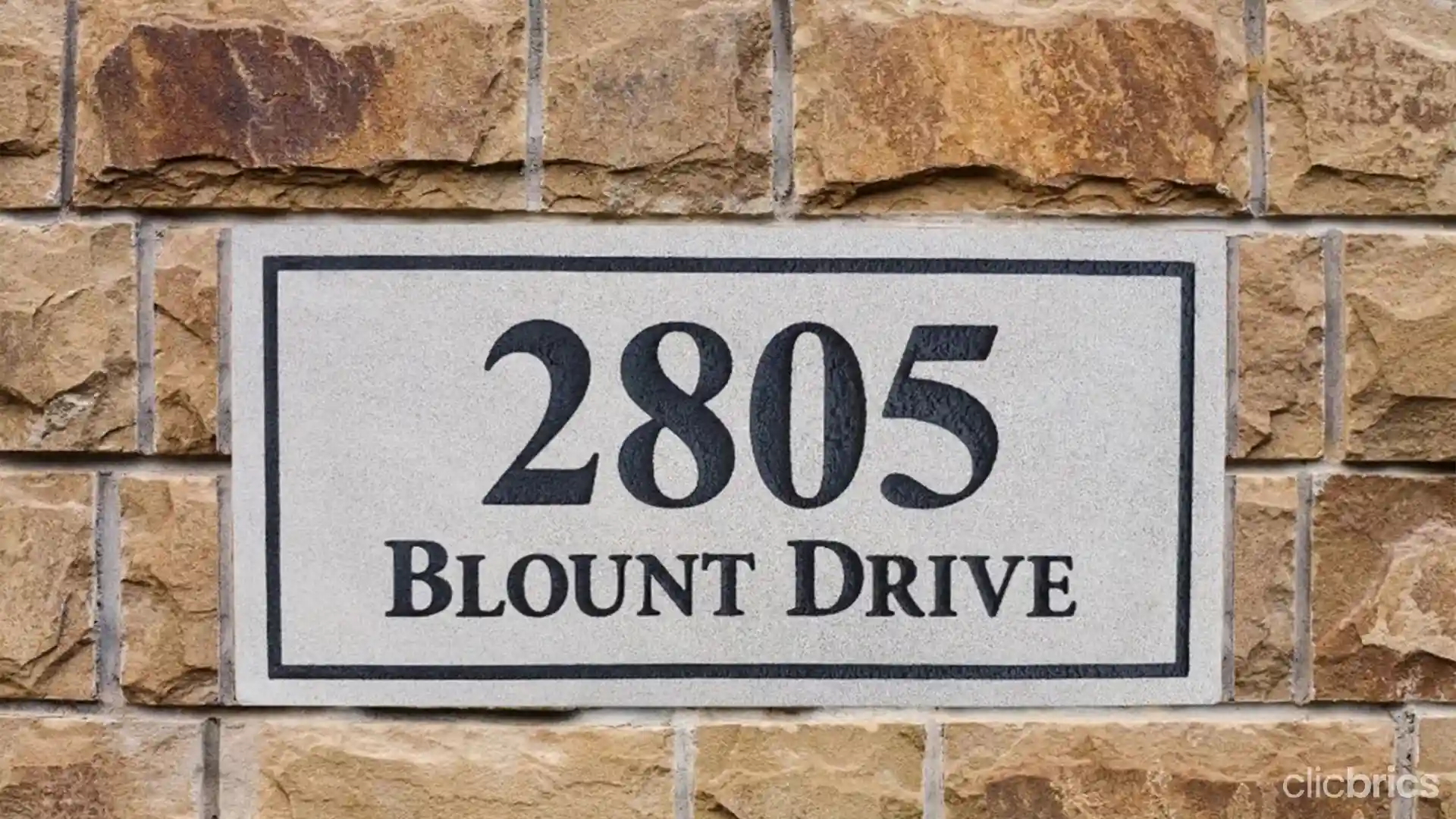 Source: Etsy
This is the ideal choice if you want a modern house name plate design! The limestone name plates provide a rustic feel that many homeowners crave. Even in the workplace, having a limestone nameplate design for home gives it an elegant and long-lasting sturdiness. 
5. Auspicious Symbols Inspired Name Plate Design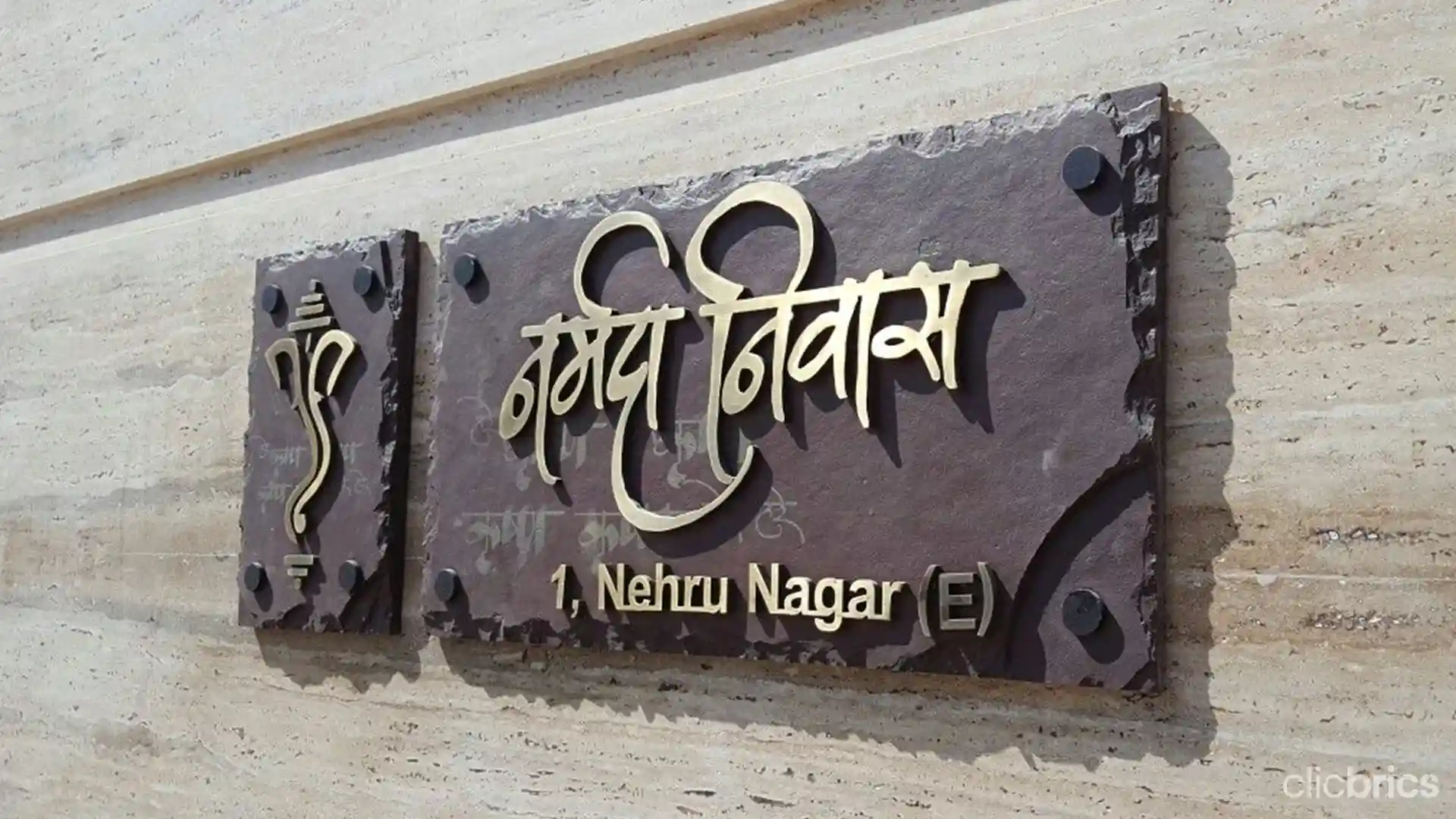 Source: Pinterest
The readings of Vastu Shastra suggest that the main door should be adorned with auspicious symbols like Lakshmi seated on a lotus, etc. It is mainly done to bring home lots of good luck and happiness. You can take a wooden nameplate for home, install & decorate it with Ganesha motifs, Om, Buddha, or other auspicious symbols to invite positivity. 
6. Brass Name Plate Design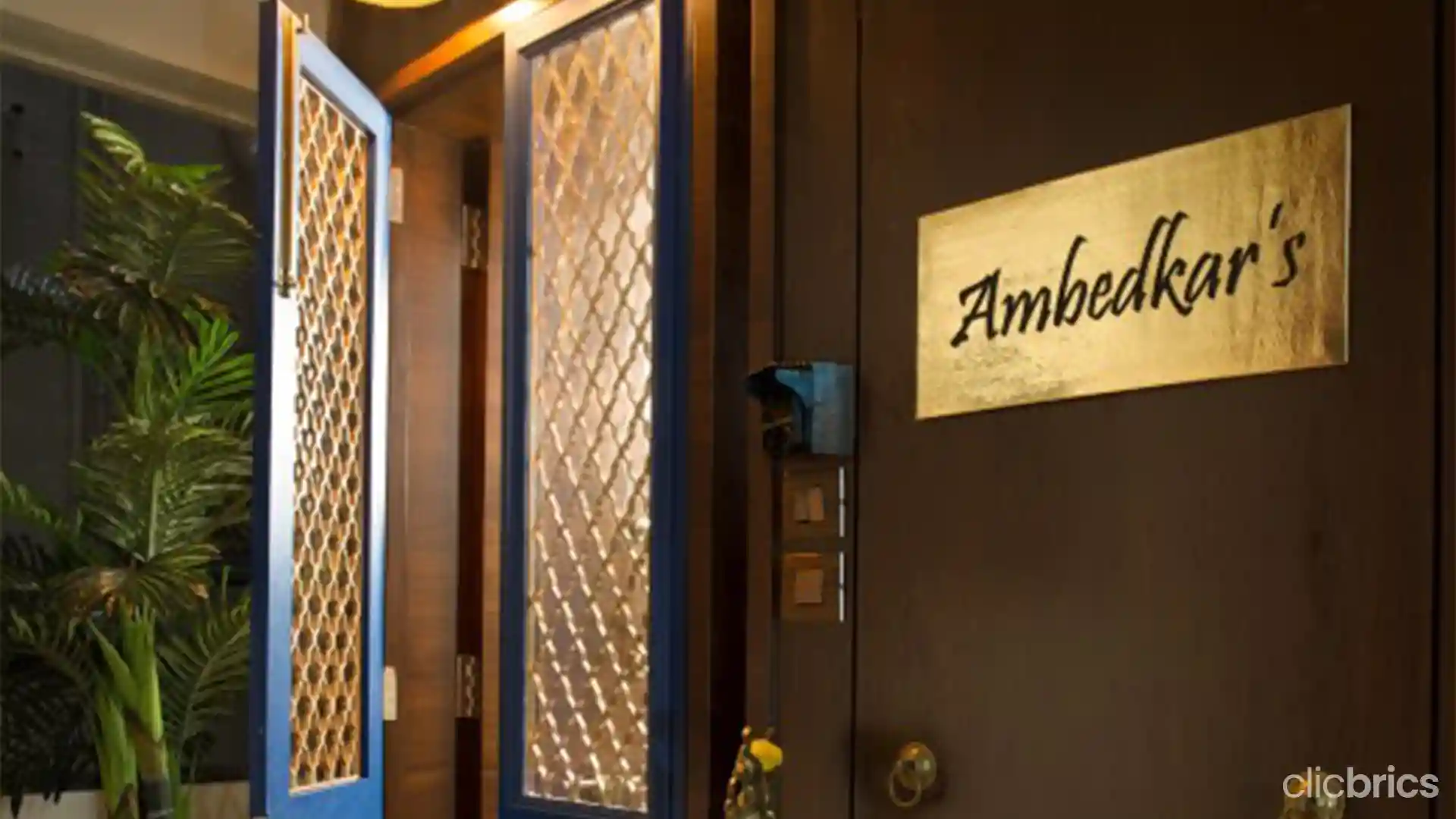 Source: Thearchitectsdiary
A house nameplate design made of brass is classy and stunning. Apart from using brass for the letters, it can be used to create a variety of themes. The brass-made name plate designs for the main gate will make your property's look gorgeous from the outside. 
7. Handcrafted Ceramic Name Plate For Home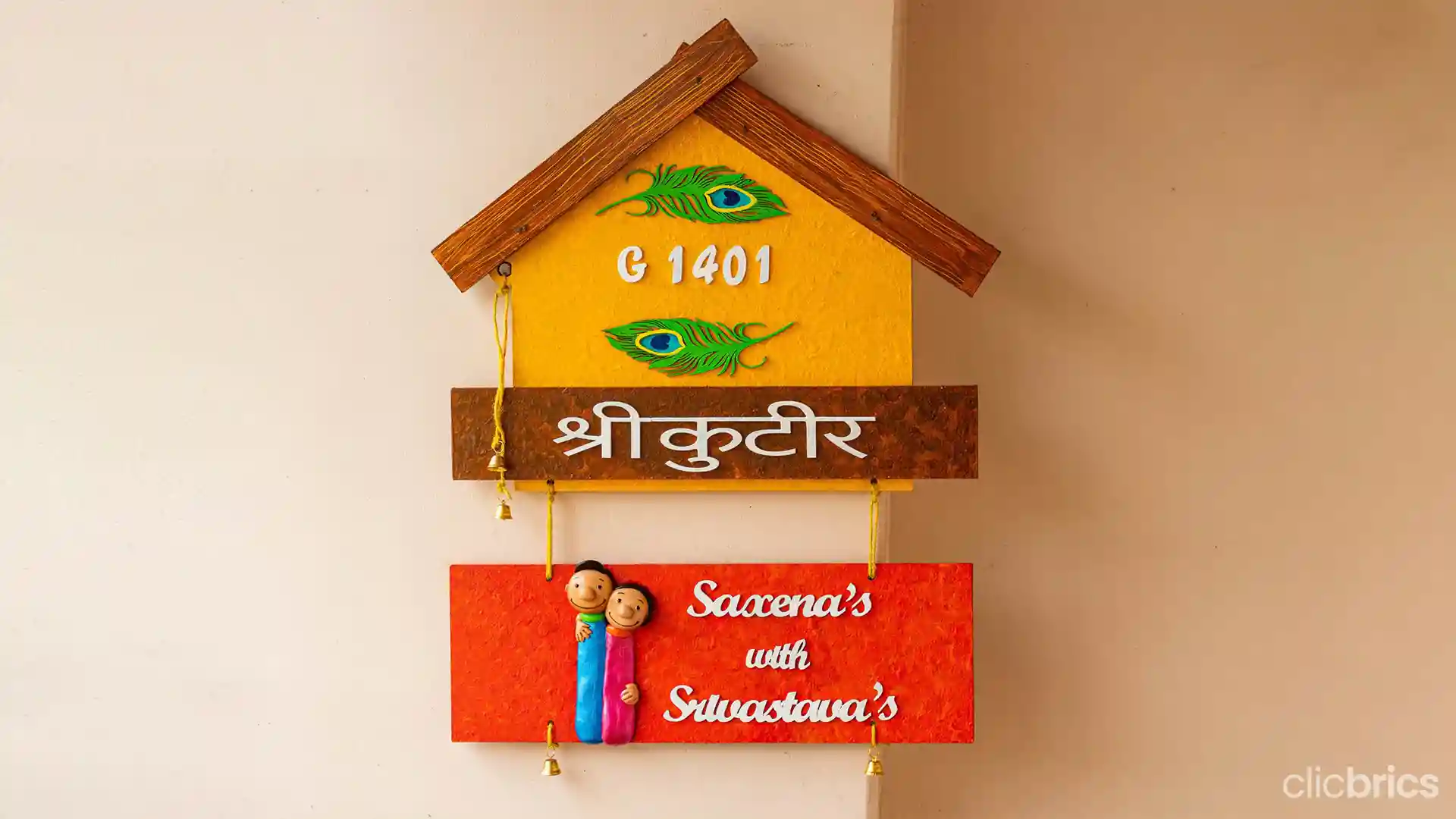 Source: Hitchki
A beautiful ceramic modern house nameplate design manufactured from earthenware clay. This type of nameplate is colorful and lively and provides a whimsical touch to the exterior of your home. The handcrafted ceramic house name board designs are readily available on the market, and you can customize them in any way. 
Don't Miss Reading:  Find your lucky house number as per date of birth 
8. Door Name Plate Design In Steel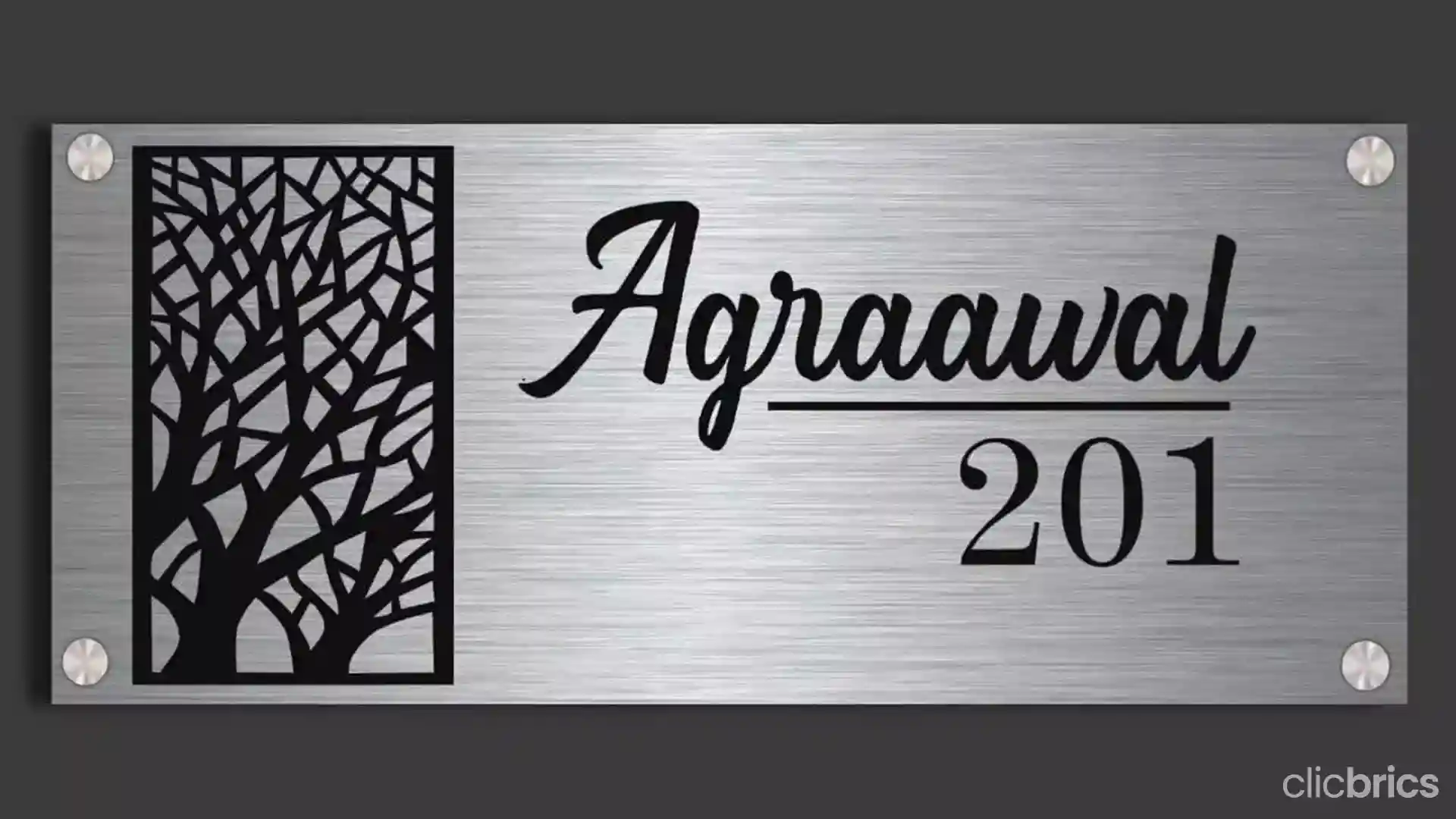 Source: Zocivoci
The home's stainless steel name plate design provides a seamless and sleek finish. 
The benefit of using a steel house nameplate design is that they are resistant to tarnishing, water, and dust, which makes them perfect for use in any weather. Moreover, steel-made name plate designs have a polished appearance that has a  distinct charm. 
Don't Miss Reading: 10 Safety door design ideas that promise complete safety and security 
9. Well-Lit Name Plate Design for Home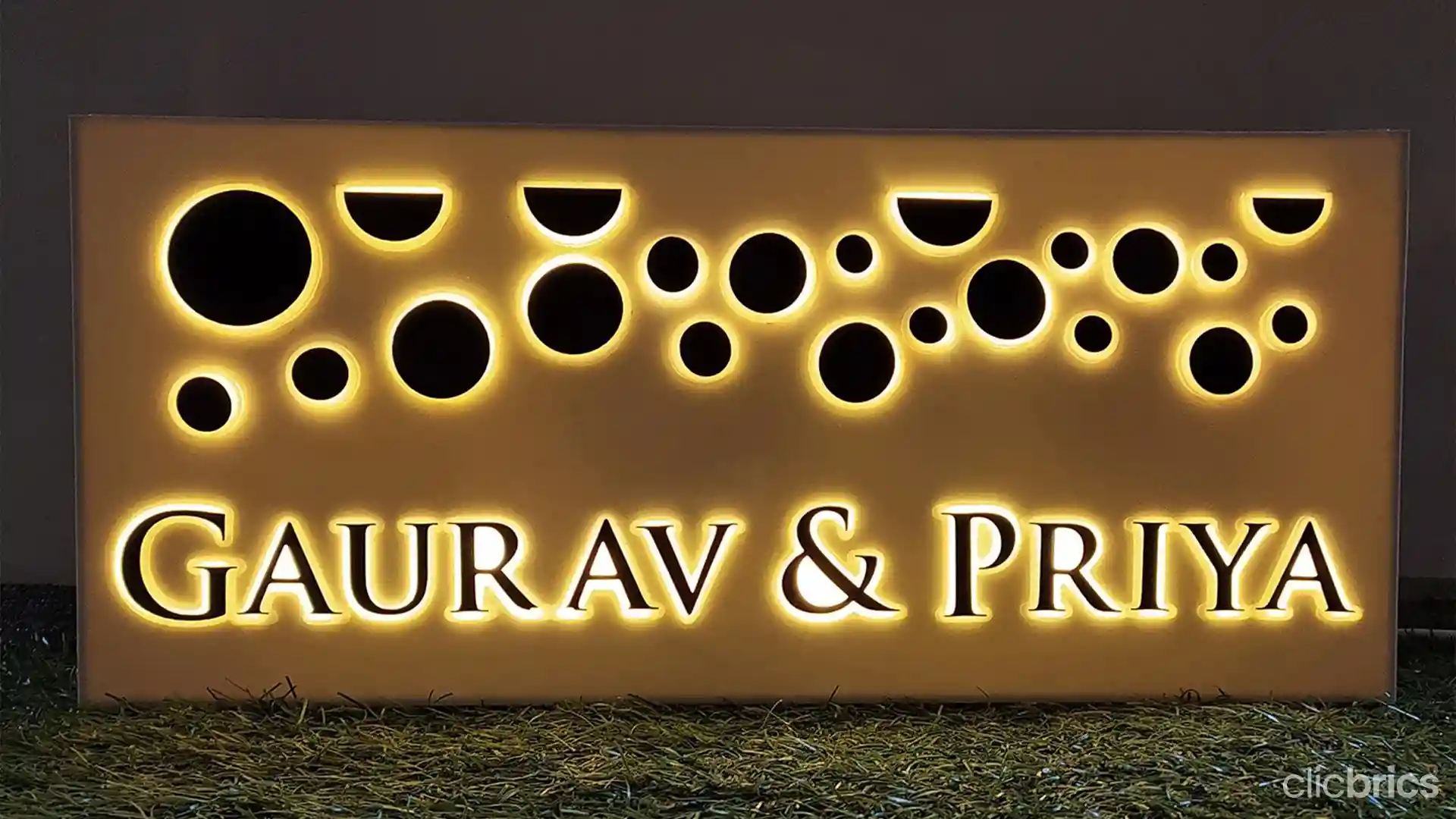 Source: Fnp
A well-lit nameplate is something that many of us find visually appealing. Further, incorporating such a modern house name plate design will make your home stand out and ensure your guests find your residence with no problem. So, if you wish to increase your home's aesthetic value, go for a nameplate design with light. 
10. Traditional-Artwork Inspired Wooden Name Plate Design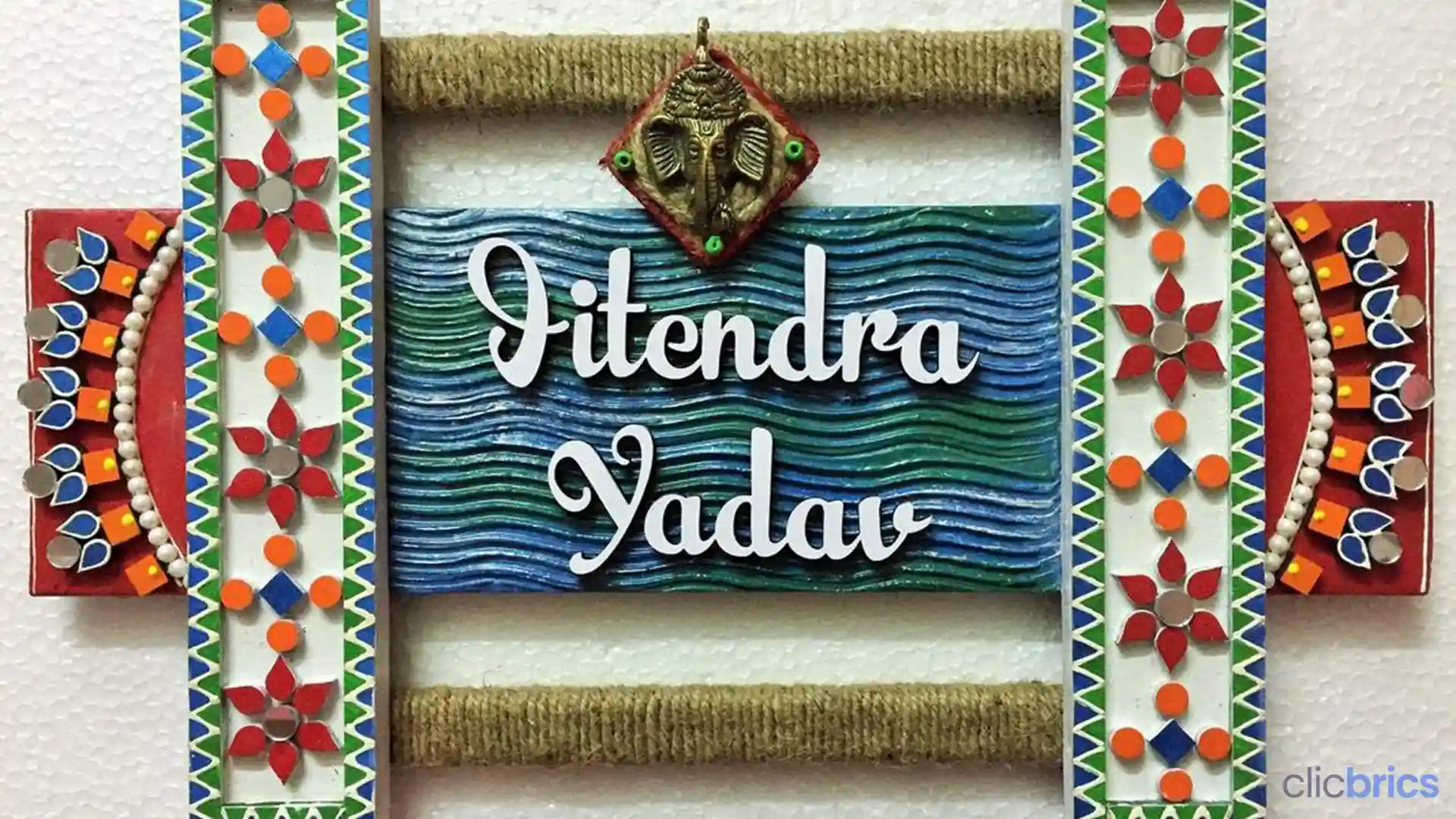 Source: Amazon
People in India have a thing for traditional artwork, which they want to show off to the rest of the world. If you sail in the same boat, we have the perfect name plate design for you! Incorporate any traditional nameplate like dhokra (metal casting), warli, madhubani, or pattachitra. This type of traditional name plate design for the home adds a desi touch to the entrance. 
Conclusion 
Incorporating a name plate design for the home adds a personal and elegant touch to your entrance. Moreover, the nameplate prices in India are not that expensive. So read these above-mentioned unique name plate designs for homes, which are available in different forms, materials, and sizes, and find the ideal nameplate design for your home.