Table Of Contents:
Mirrors are, without a doubt, very useful. That party dress might be perfect, but how about that annoying flick of hair? Especially since mirrors have evolved to serve as ornamental pieces in the home. Mirrors can be used in countless ways to improve the aesthetic appeal of a room, increase natural light, and create the illusion of more square footage. You can use these following unique mirror frame designs to decorate your walls in style.
1. Antique wooden mirror frame design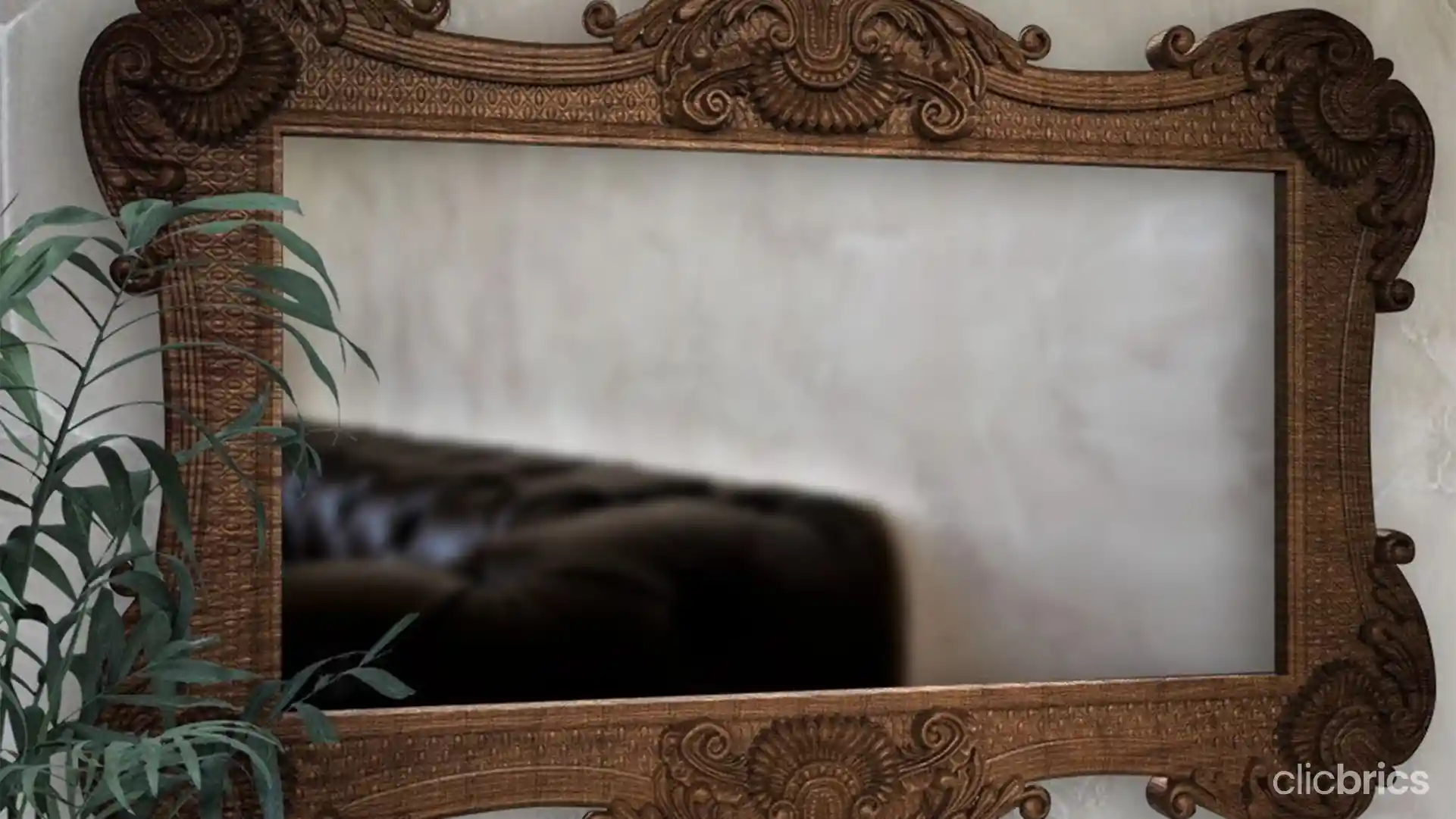 Elegant, fine woodwork decorates the frame of the compact vanity mirror. The mirror's frame, which has been given some antique flowery treatment, is quite lovely. Make sure your hair and makeup look good before heading out to a party. 
2. Mirror frame design with storage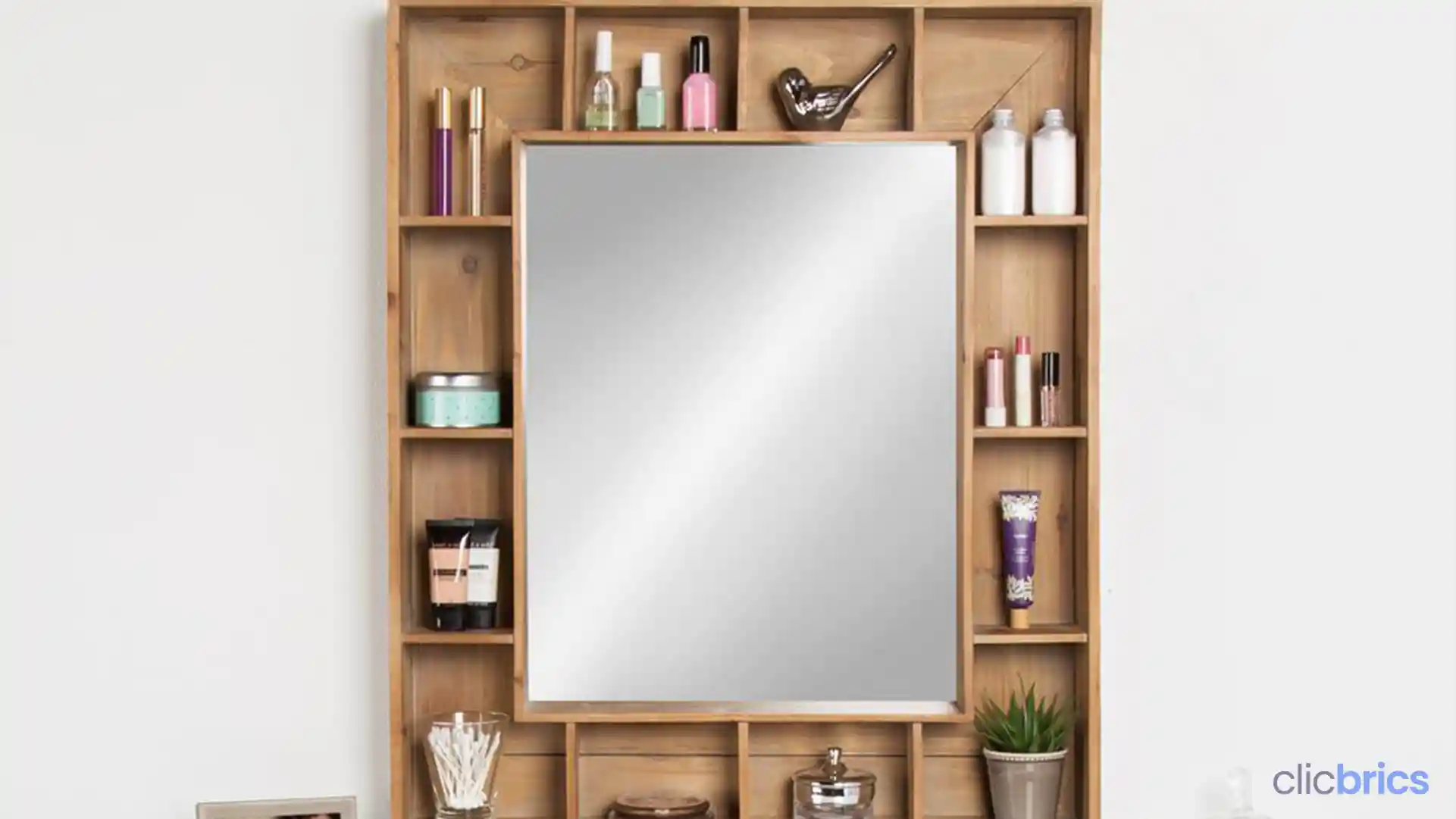 Cabinet mirrors are helpful if you need a convenient place to store frequently used items. They help maintain a tidy appearance in your home.
3. Round wall mirror frame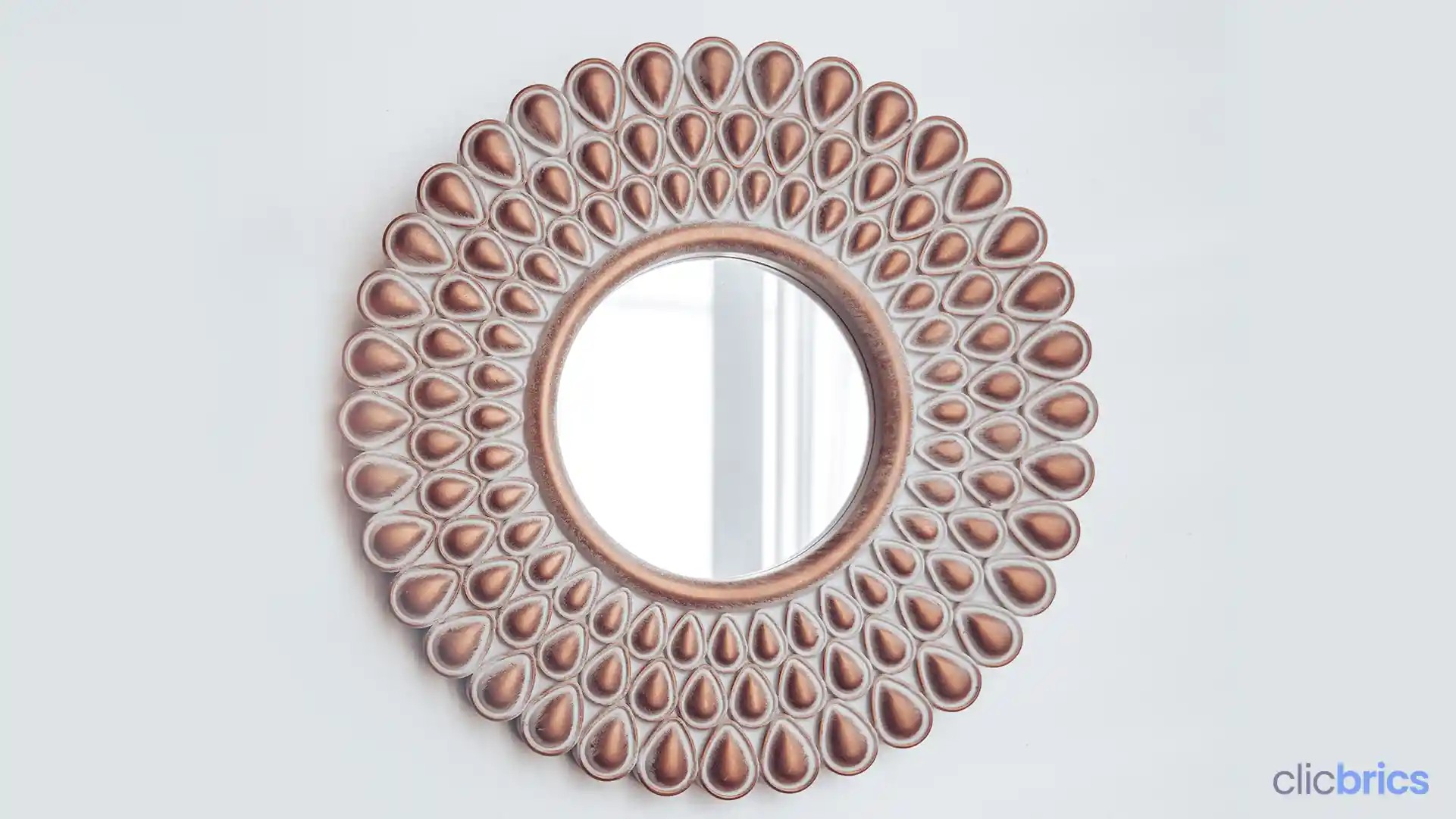 A round mirror mounted on the wall can do wonders for making a room feel warmer and more inviting. Round mirror frame design provides more options than any other shape and instantly elevates any space. Put in a sphere mirror on the wall to reflect light and create the optical illusion of a larger room.
4. Indian traditional mirror frame design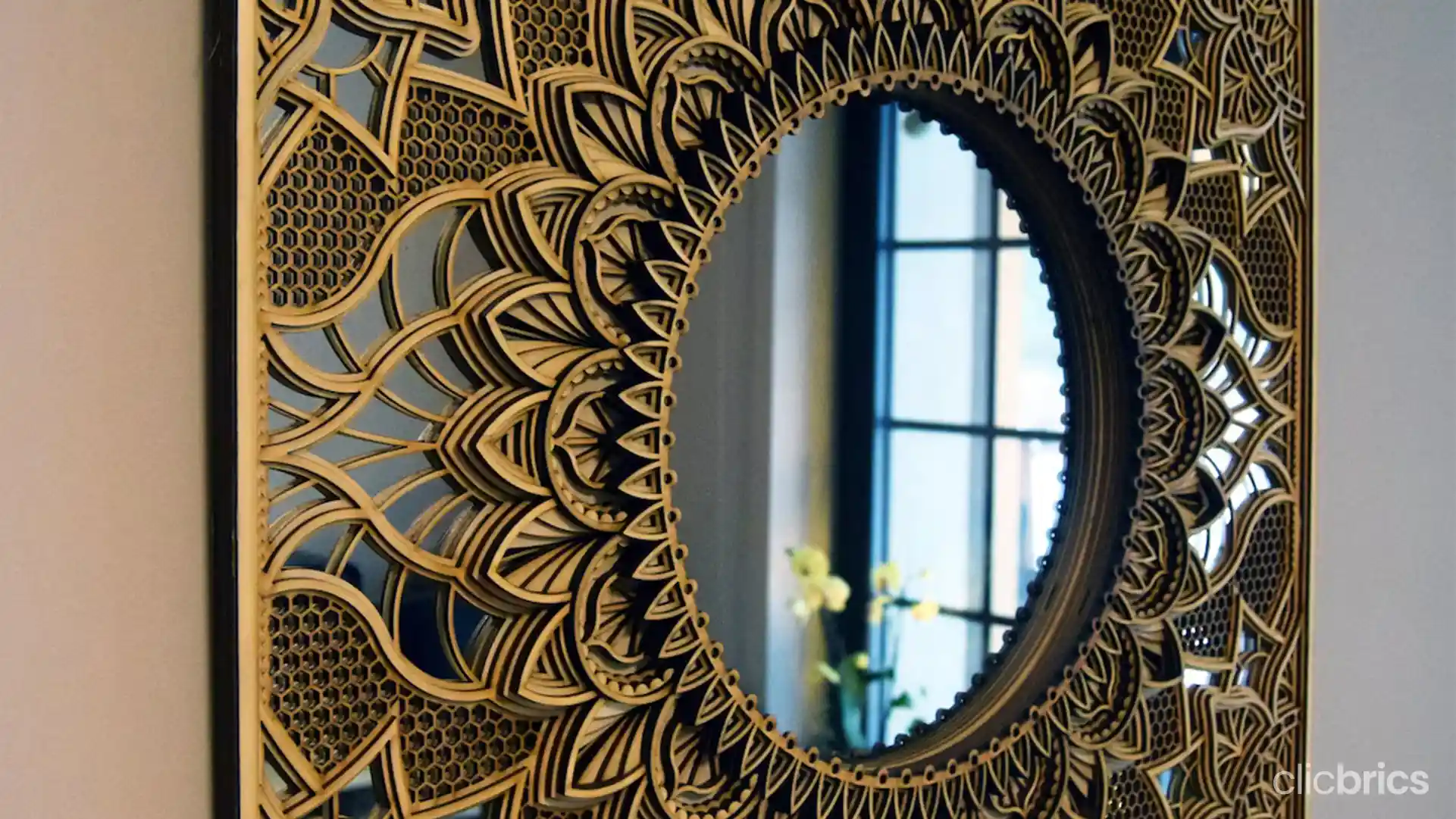 Adding some rustic Indian style to your home with a beautiful mirror frame design adorned with intricate designs from India is a great way to update the decor. It has the potential to make a space look more natural.
Don't Miss Reading: 6 ways to Rejuvenate your Home Interiors with Mirrors
5. Seashell mirror frame design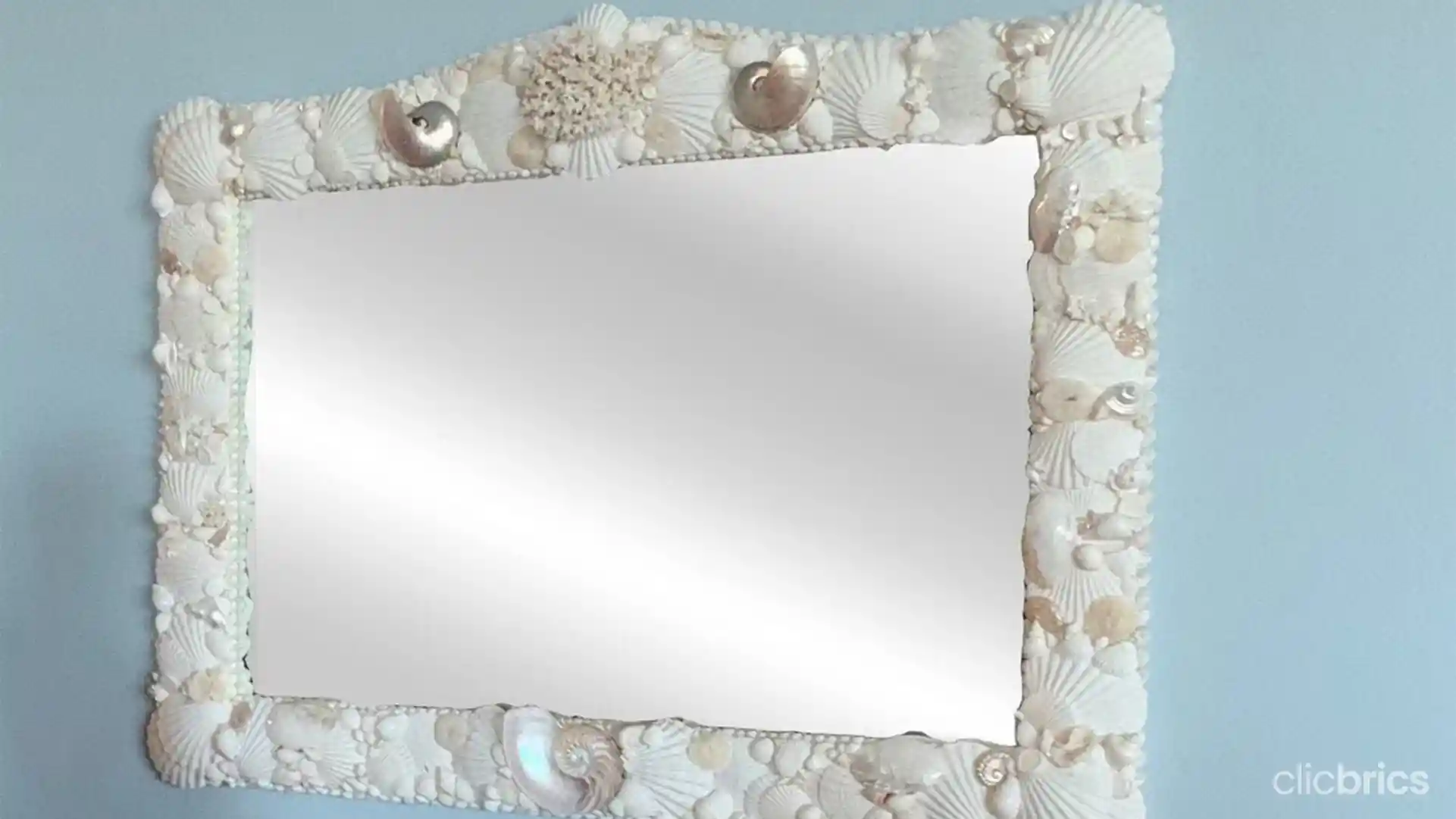 Any room can achieve a stylishly exotic and laid-back appearance by using a mirror framed with seashells. Seashell mirror frame designs are a wonderful addition to spaces that have a straightforward layout and look fantastic against light backgrounds.
6. Amethyst mirror frame design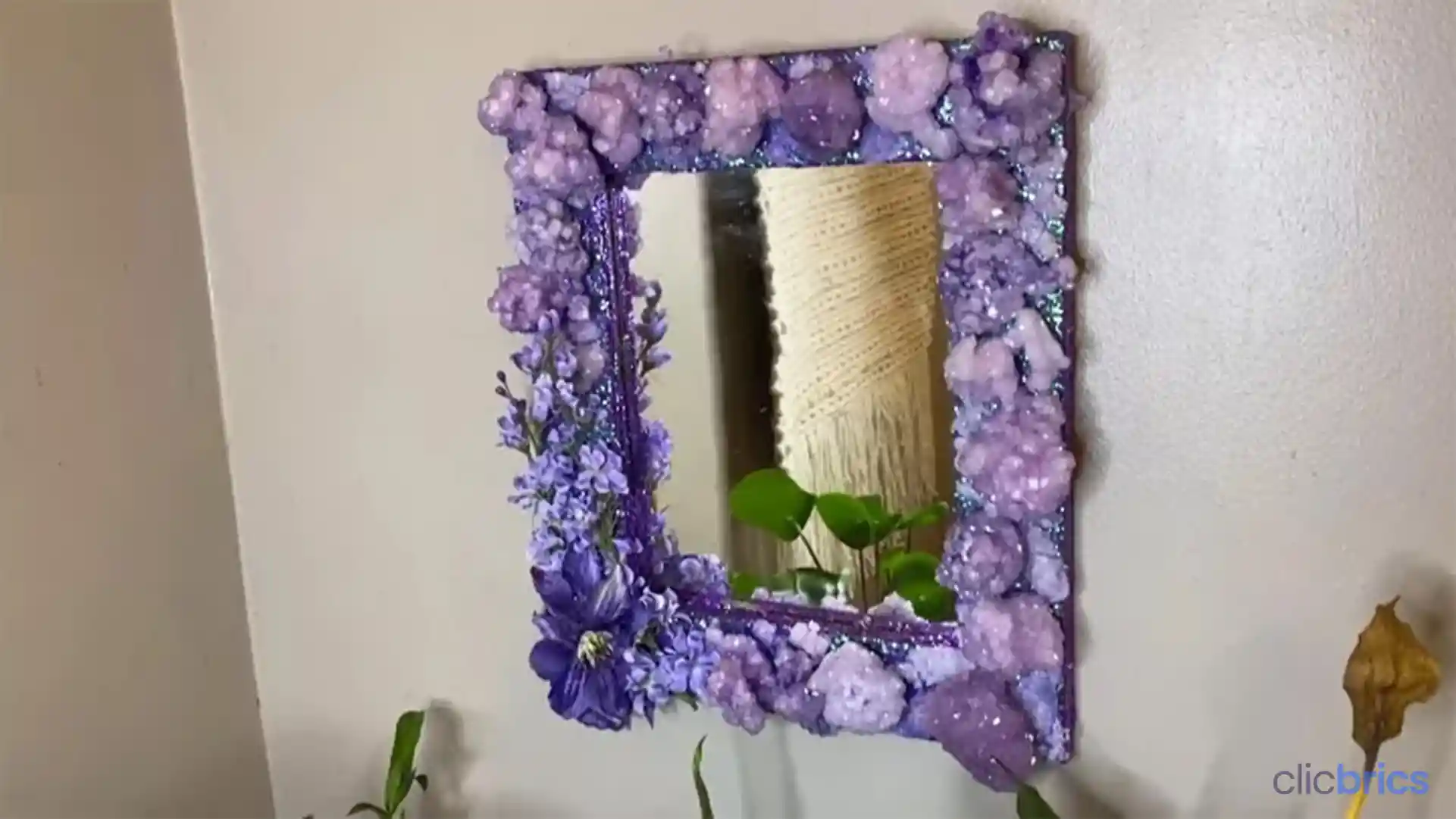 Amethyst mirror frame designs bring you feelings of love, security, joy, and overall well-being by curing both your aura and the environment around you. They also improve the look of your home while maintaining its minimalist statement.
7. Mosaic mirror frame design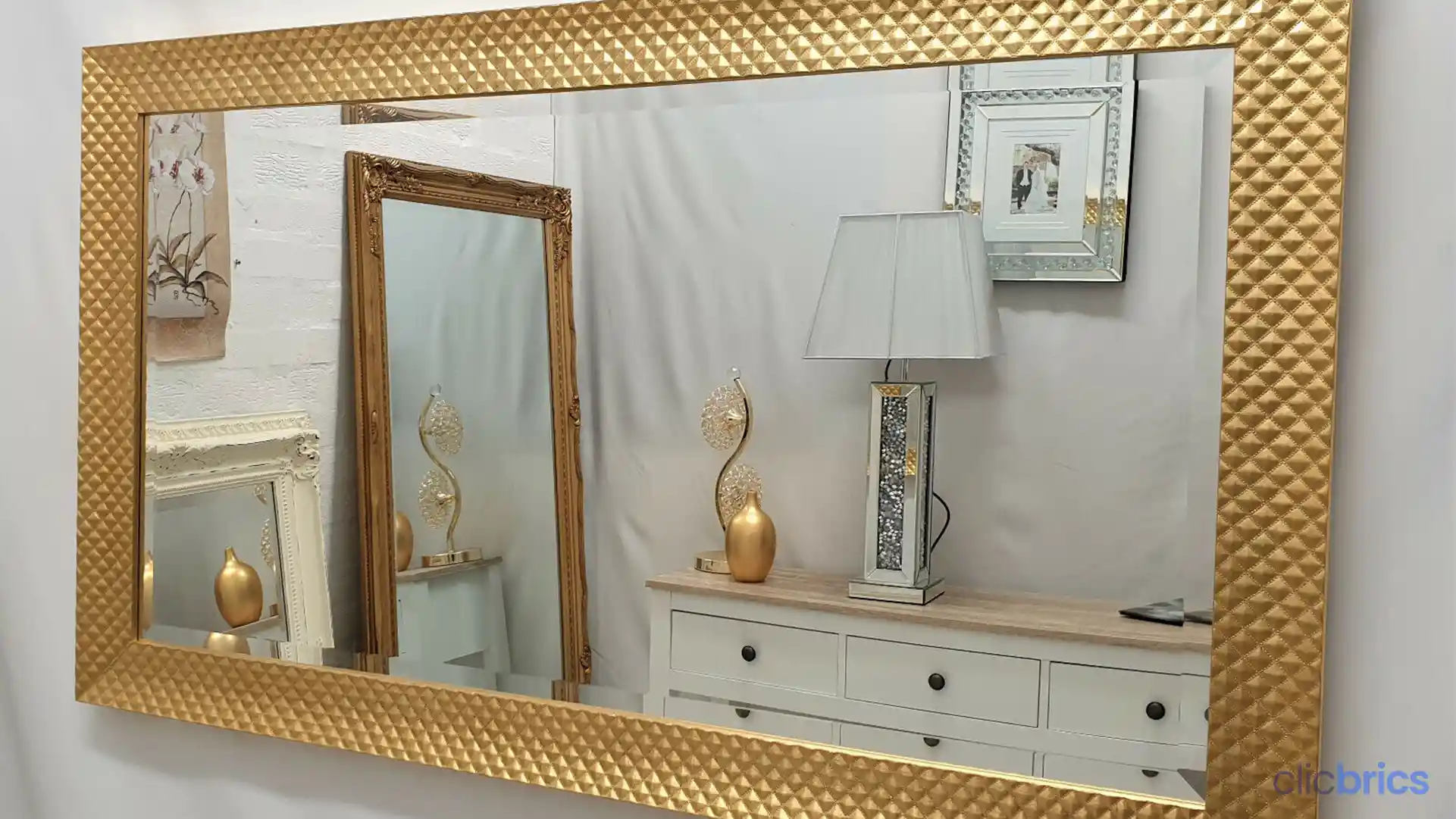 Mirror frame designs that feature stunning multilayer glass mosaic tiles are a wonderful way to grab people's attention. The perfect crowning touch for a wide range of colour palettes and styles of design. Before you buy a mosaic mirror frame design, you should make sure to zoom in and examine the incredible level of detail that is contained within each mosaic tile.
8. Minimalist mirror frame design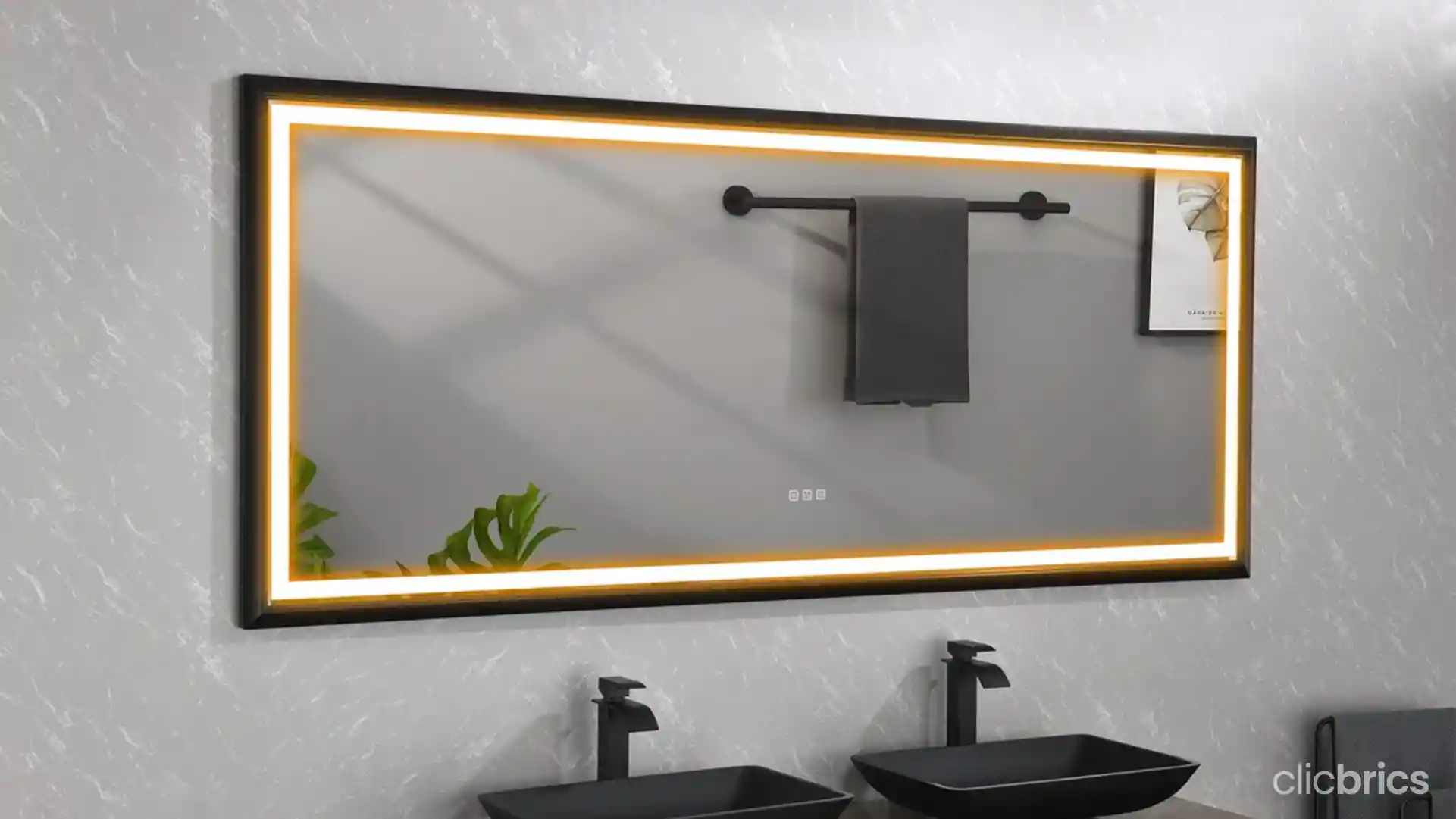 In addition to being a useful addition to bedrooms and living areas, LED-lit minimalist mirror frame designs are also a great choice for bathrooms. It enhances the lighting as well as the mirror area, providing you with a more distinct perception of how stunning you appear.
9. French style mirror frame design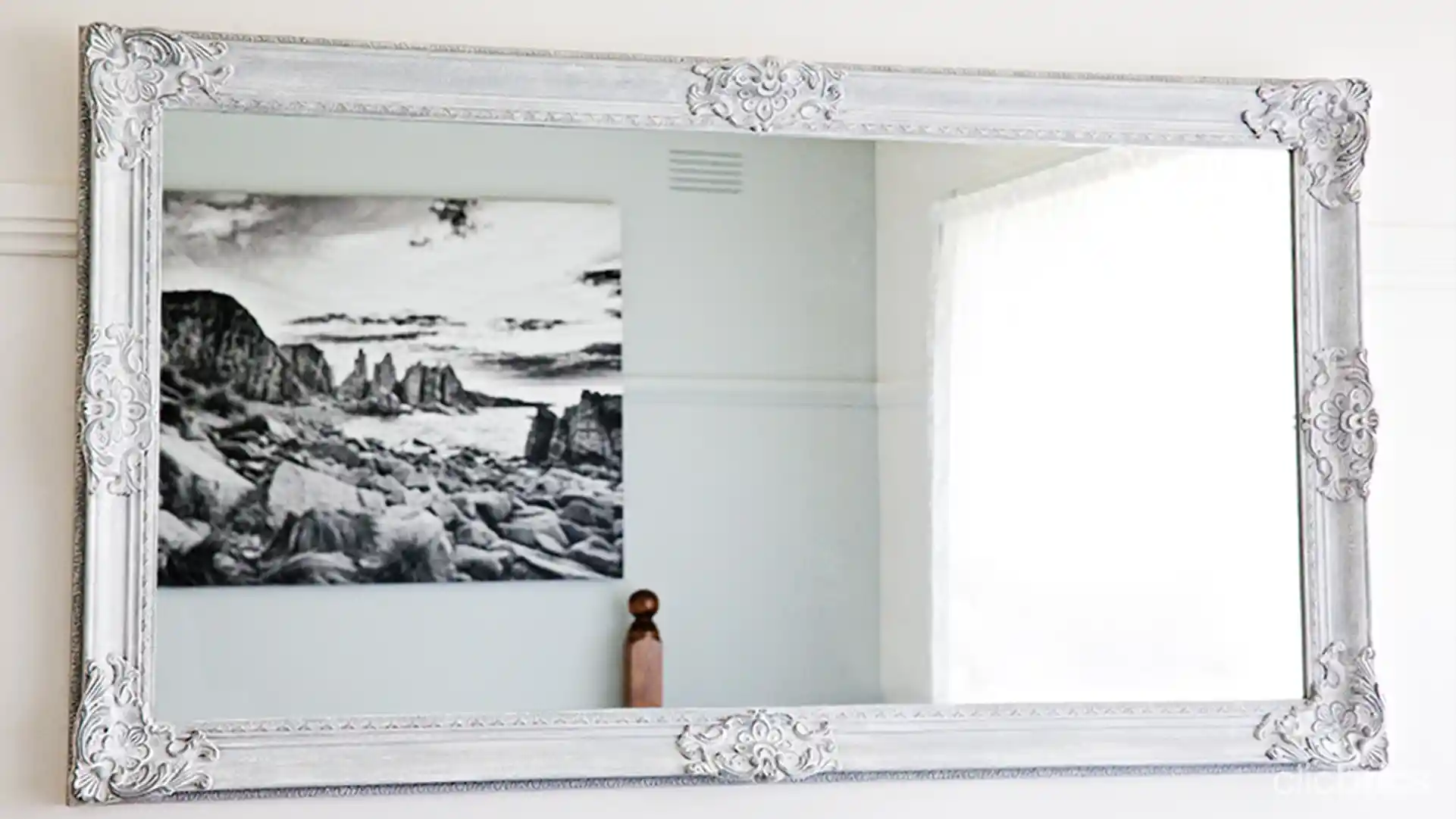 In some circles, they are also referred to as trumeau mirrors. During the 18th century in France, the first Trumeau mirrors were designed and created. A decorative art form of exceptional quality, French furniture made in the eighteenth century is revered as the apogee of elegance and great craftsmanship. This kind of mirror frame design is also considered to be an exceptional example of the decorative art form.
10. Dressing mirror frame design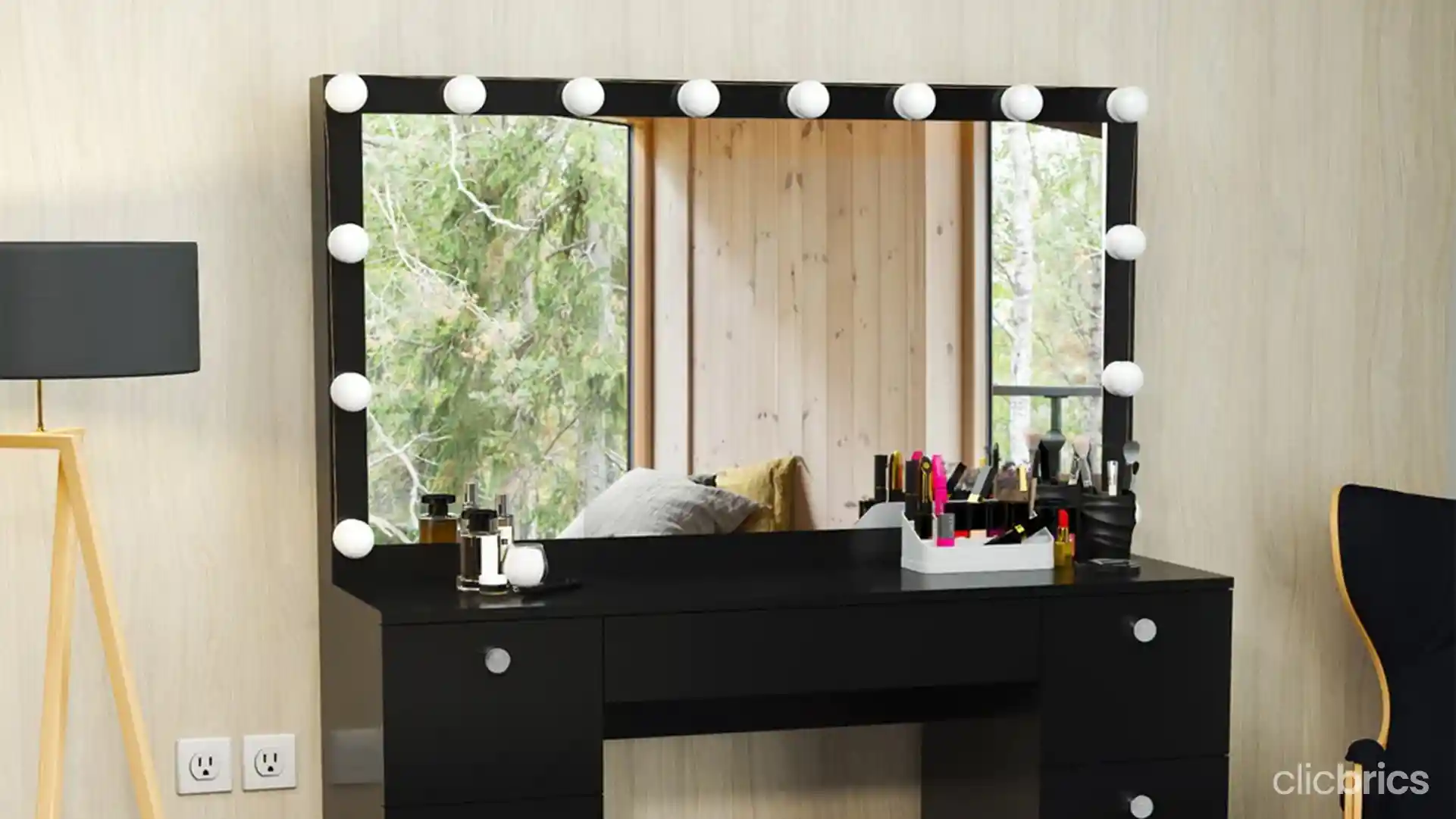 Throughout history, there have always been specific areas designated for both men and women to attend to their personal grooming needs. These may have taken the form of cosmetic chests in ancient Egypt or vanity tables in aristocratic France. The chic dressing table, which features a built-in mirror as well as space for storage, is the ideal piece of furniture to have when getting ready for any day.
Also Read: Deck up your Bathroom with these Mirror Ideas
We've also compiled our four favourite ways to incorporate mirrors into stylish interior design.
1. Mirror for glamour
To amp up the glitz factor, a mirror is a priceless and indispensable prop. Make a decorative and functional statement with mirrors in your hallway. The living room gallery wall would benefit from the addition of several mirrors. It not only makes the room feel more interesting and unique, but it also helps to conceal the unsightly gaps between the paintings and photographs. 
The following is yet another trick: You can highlight a primary colour without covering the walls in it by using a secondary colour to create a focal point. Place mirror frame design along with the mirror strategically around the room to reflect the pretty colours off the wall  and create a cosy ambience. 
2. Colourful mirror frame designs
When you think of mirror frame designs, the options that typically come to mind are things like gilt-edged, silver, dark browns or blacks, and other similar colours and styles. Even though mirrors can be styled to complement virtually any kind of interior design, there are times when you may want your mirror to serve a different purpose than that of an accessory that blends in with the rest of the furniture. This is where the use of coloured frames comes into play. 
Have you ever considered the possibility that mirror frame designs could act as a catalyst that significantly expands your colour palette? Make your wall stand out by painting the frame of your mirror a vibrant shade of crimson or emerald, especially if the predominant colours in the rest of your decor are white, pale yellow, or cream. Not only does it have a stylish and distinctive appearance, but it also helps to divert attention away from spaces that are limited in size.
If you have a mirror with a broad and wide frame, you shouldn't limit yourself to just a single colour for the frame. Refresh your rusty craft skills by embellishing it with small items such as seashells, bits of glass, or pebbles. You could also give your mirror frame design to a skilled craftsperson so that they can turn it into a frieze frame. If you know how to hang it properly, a single mirror can give your room more depth and dimension than any other item in it.
3. Mirrors add style and light
Do you find yourself trapped in spaces that just don't seem to let enough light in? You need only to share the light that you already possess! It is possible to give the impression that a room is brighter than it actually is by placing a mirror (or two!) in a strategic location to reflect the light and thereby extend its reach. The view as well as the atmosphere in the room are both improved as a result of this. 
Watch the room transform before your eyes when you position a large mirror along with a beautiful mirror frame design that stretches from floor to ceiling in close proximity to a window to reflect sunlight at an acute angle. Add some artwork or some houseplants on either side of the mirror, and your room's aesthetic will be elevated to a whole new level.
4. Add a wall-to-wall mirror 
The versatility of mirrors allows them to be used in a variety of settings, including covering an entire wall without looking ostentatious. Flaws on the wall can be hidden, the space will feel more modern and spacious, and there will be an immediate impact from the arrangement of mirrors. 
If you want to experiment with panelling, try hanging multiple mirrors of the same size in separate frames all along a wall. Install mirror panels across an entire wall, and then use markers to scribble notes, doodle, or do whatever else strikes your fancy on the reflective surface. There will be less of a sharp contrast and more of a comfortable atmosphere in the room as a result of this.
Consider covering either an entire section of the wall or just a small spot with mirror tiles for a unique take on the traditional option. This would be useful in bathrooms or in situations where there is room for a mini-bar to be installed. Any type of mirror can be a decorative and functional addition to your home if it has the right lighting.
Summing it up
You should know by now that mirrors can be used for more than just reflecting light; they can also serve as works of art that visually enlarge a space. When you allow your imagination free rein, these ornaments transform a room into a reflection of your unique character. Mirrors have stood the test of time as a popular design element. They give off an aura of lavishness and extravagance, which enhances the impression made on onlookers. As mirror frame designs come in an infinite number of finishes, it allows for both elaborate and subtle customization.