Table Of Contents
An appropriate home design always includes some great floor designs. We tend to focus on suitable flooring because it adds a sophisticated outlook, which is why relying on marble is a wise choice. Marbles are long-lasting, neat, shiny, and easy to clean, and can awe anyone. So it stands to reason that the type of marble border design you choose is necessary as it defines the decor aesthetic of your home. 
However, with so many options available today, we might rush to find the best marble border design for our homes and eventually end up getting confused! But why fear when Clicbrics is here? We have gathered some of the best simple marble border design ideas from which you can choose the best one for your lovely home.
So, without further ado, let's dive into the blog and discover some of the best marble border design ideas to bring sophistication to your home.
10 Beautiful & Modern Marble Floor Border Designs For Home
1. White Marble Border Design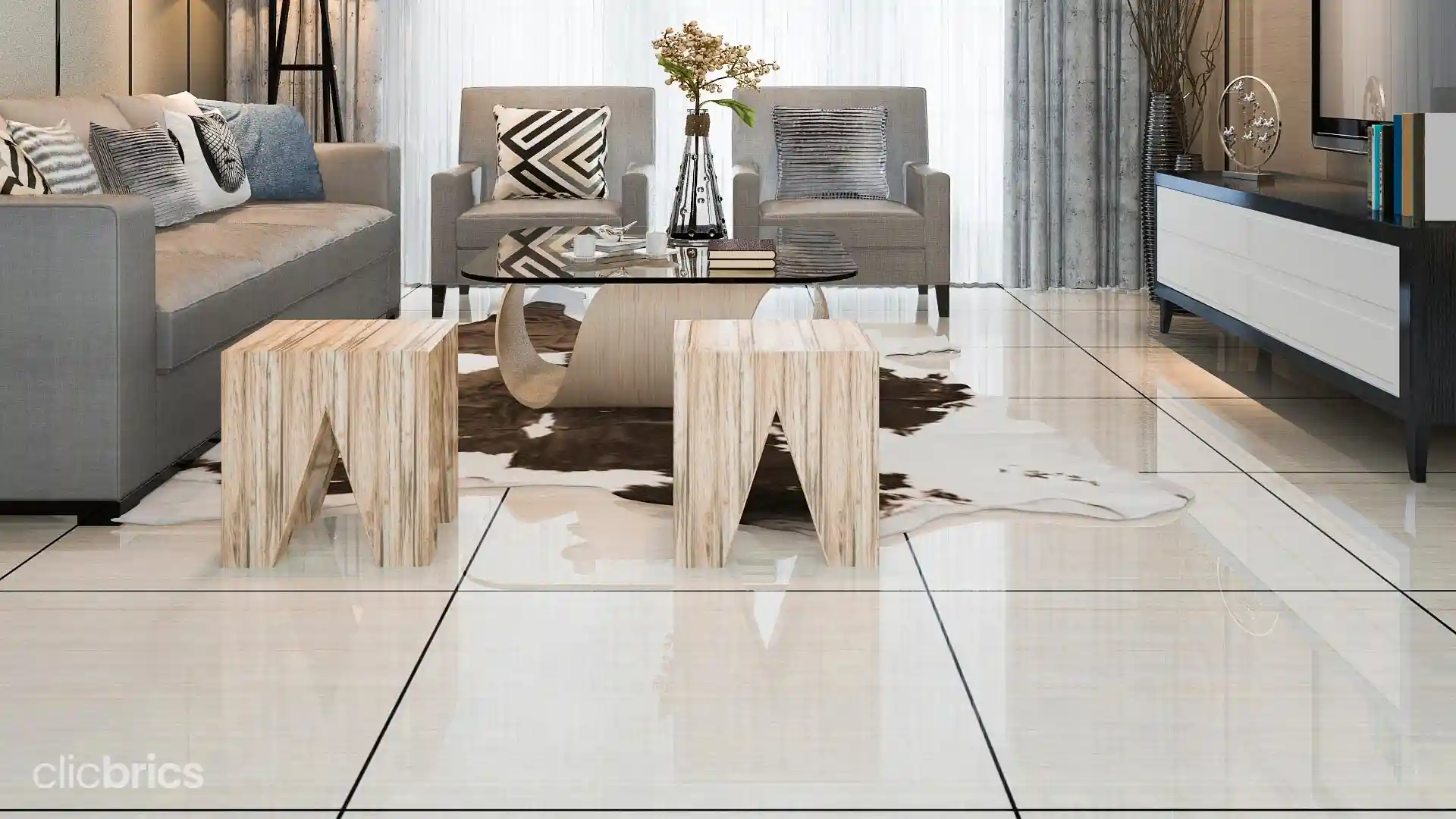 If you want a modern marble floor border design for your living room that exudes a luxurious vibe, then, without a doubt, rely on the evergreen color white. It will give off a subtle yet modern vibe when surrounded by black borders. But, of course, you can also add the same color tone furniture to give the white marble border design an opulent vibe. 
2. Patterned Marble Floor Border Design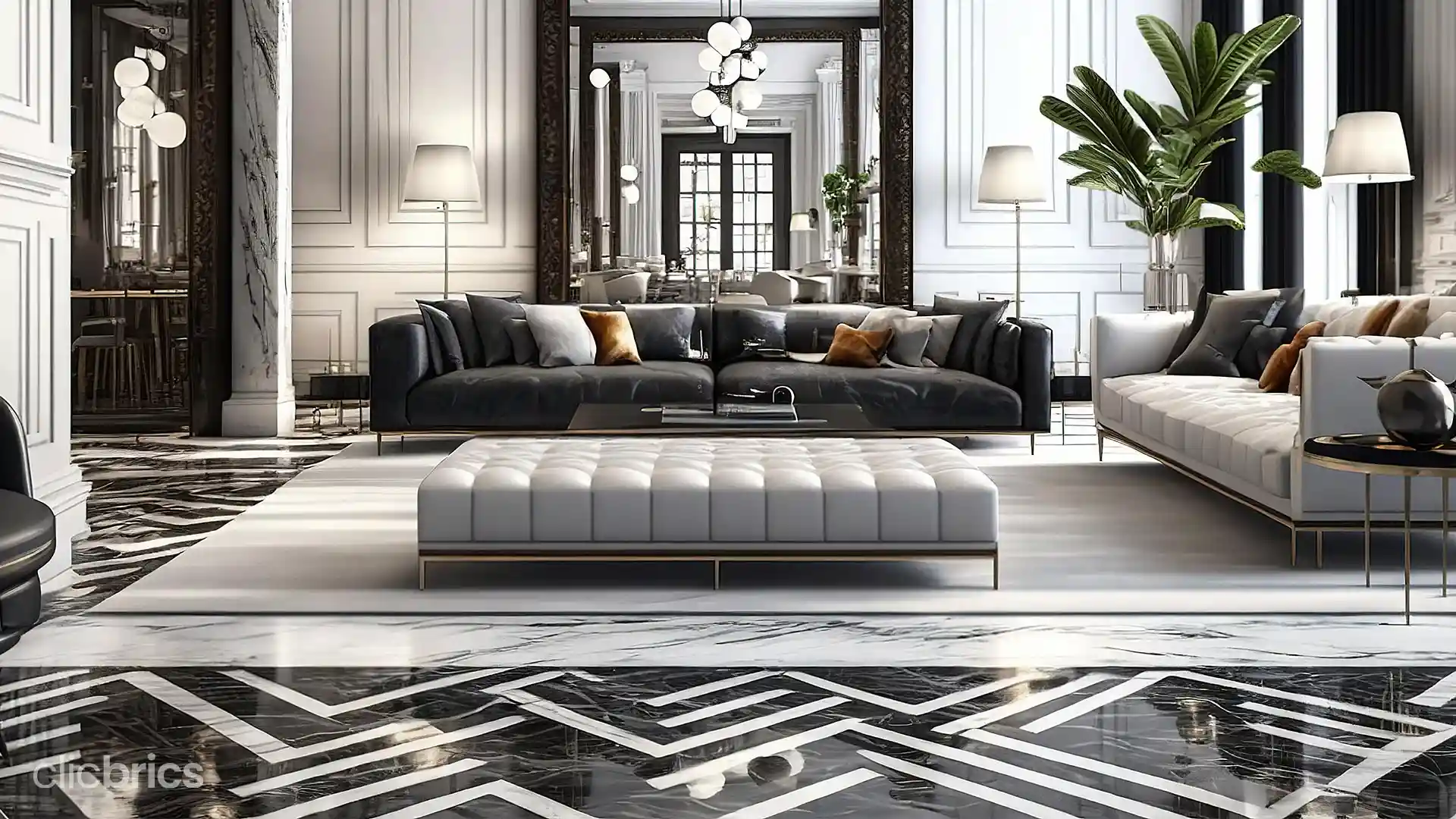 The outer edge of a simple marble floor border design with a pattern will give the impression of an ornamental look. You can try a border floor marble design with patterns in various hues running between the two lines. This way, your plain marble floor design will gain an aesthetic touch from these patterns' decorative appearance. 
Also Read: 25 Home Design Inspirations for Your Interior
3. Add Wooden Texture To Your Marble Floor Border Design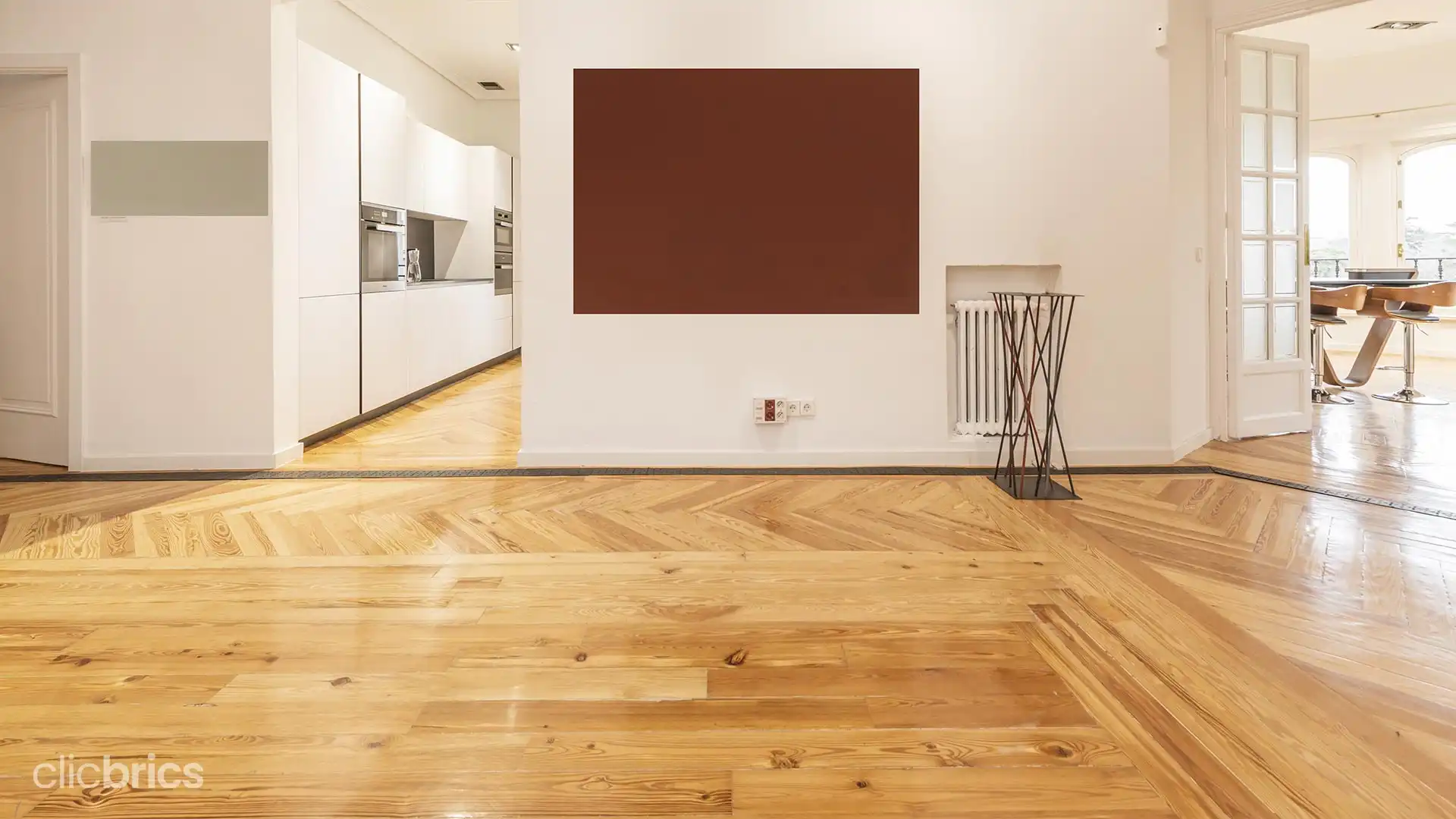 How to get a natural look of woods without the woods? The answer is simple: incorporate a wooden texture into your marble floor design with a good border. These floors with borders are easy to implement and are highly durable. In addition, you can opt for subtle stripes of brown marble to create alluring wooden flooring. 
If you choose wooden flooring, it will be more susceptible to dampness, fire, and scratches, but the wooden textured marble floor border design will not have such hassles. 
4. Black & White Marble Border Patti Design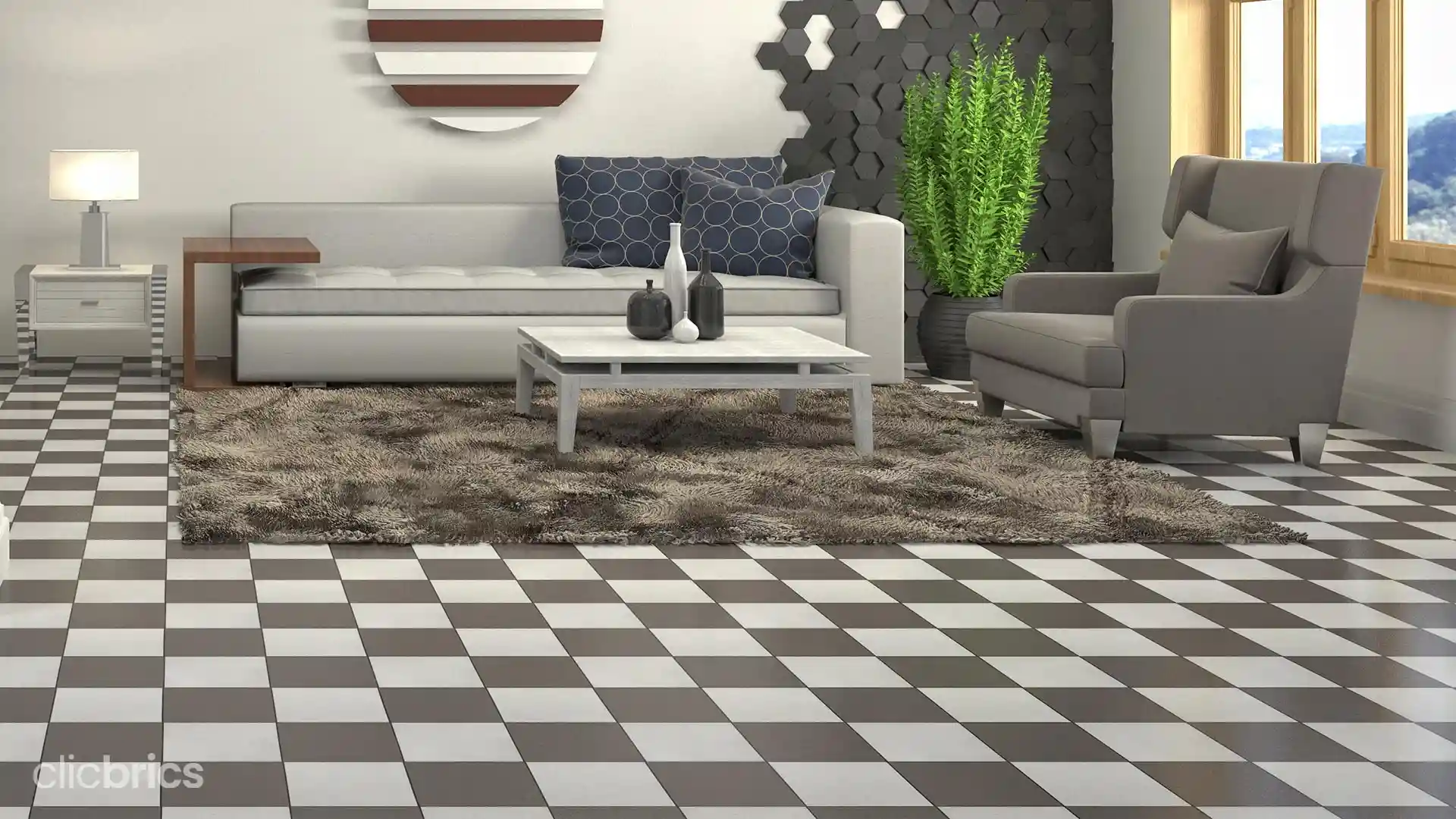 The evergreen black and white simple marble border design for home is quite famous not only in India but across the globe. With its minimalist aesthetic, the chessboard-inspired marble border design will help you capture an old-world charm. 
You can even use a contrasting marble border patti design, which will visually differentiate the look of the floor. 
5. Striated Marble Border Patti Design For Home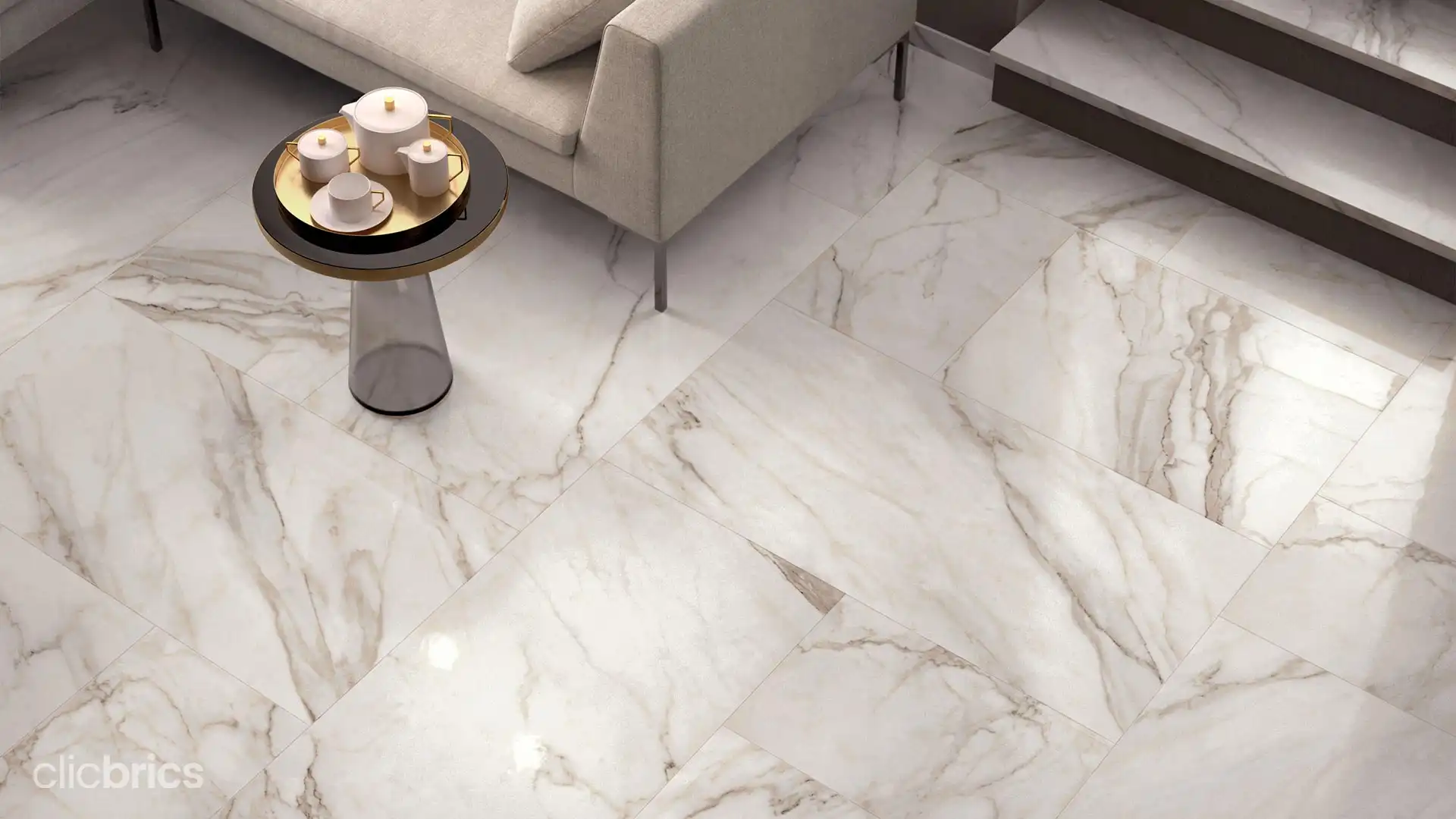 A striated modern marble floor border design with slanting lines will look stunning and provide a neat passageway. You can place a rug or carpet in the center of the passage. This new & simple marble border patti design provides an aesthetically pleasing look and can match any decor. 
Also, this type of marble border design for homes usually looks good for the passage leading into the washroom or a hall that connects different runs.
6. Double Line Marble Border Design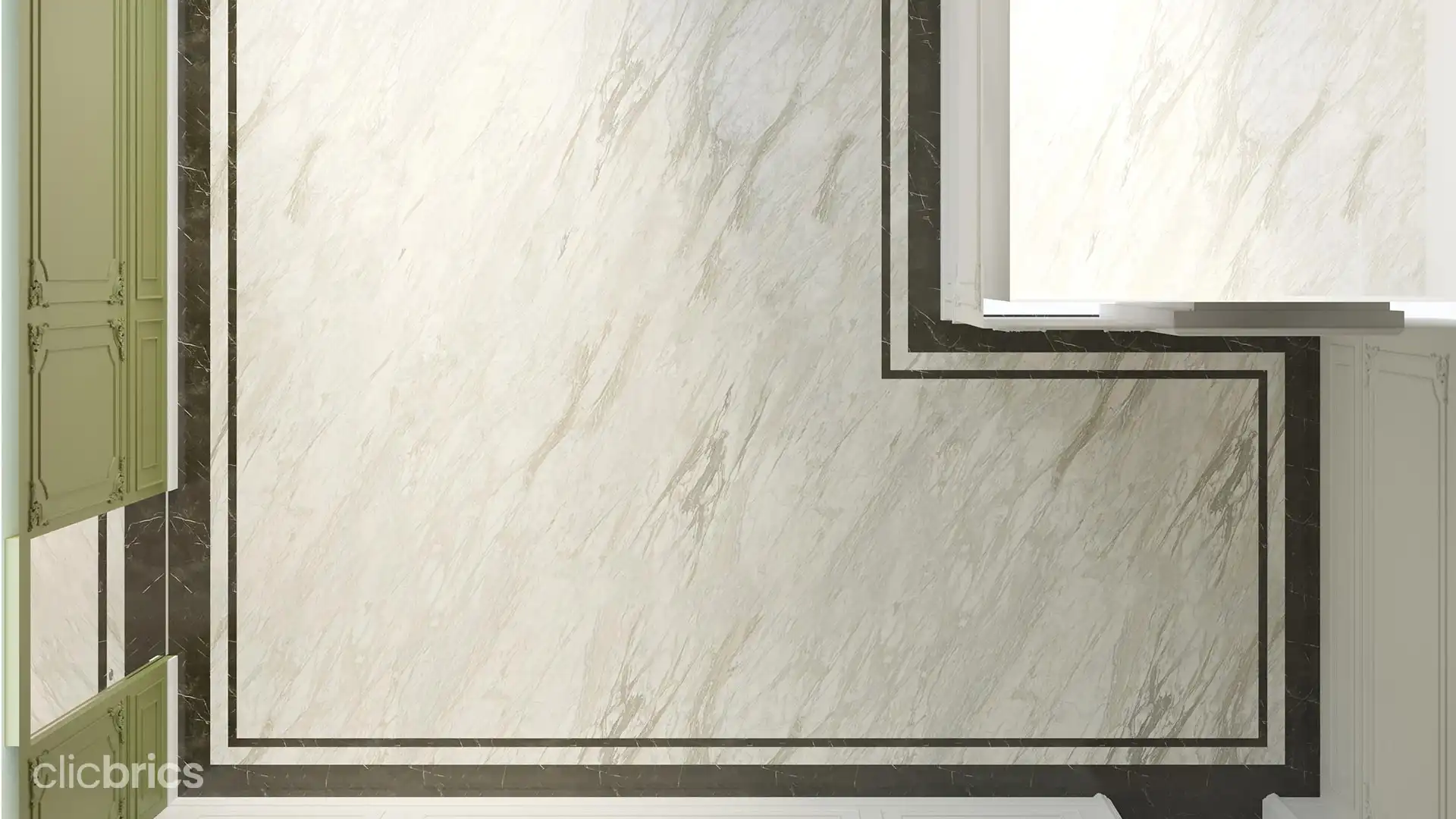 A huge double-line marble border design has the power to make the room feel larger while also making it look neat and well-designed. Most people opt for this design because it makes the room look more spacious. If you too install this marble border design, you will have an excellent opportunity to outline a large piece of furniture like a cabinet while maintaining the spacious look. 
Another benefit of a double-line marble border design is that it will look elegant even with minimal color and design. But for a classy effect, try the color combination of black and white.
Also Read: Start Your Home Design Journey: Quick and Easy Tips |Exterior & Interior| 
7. Veined Marble Border Design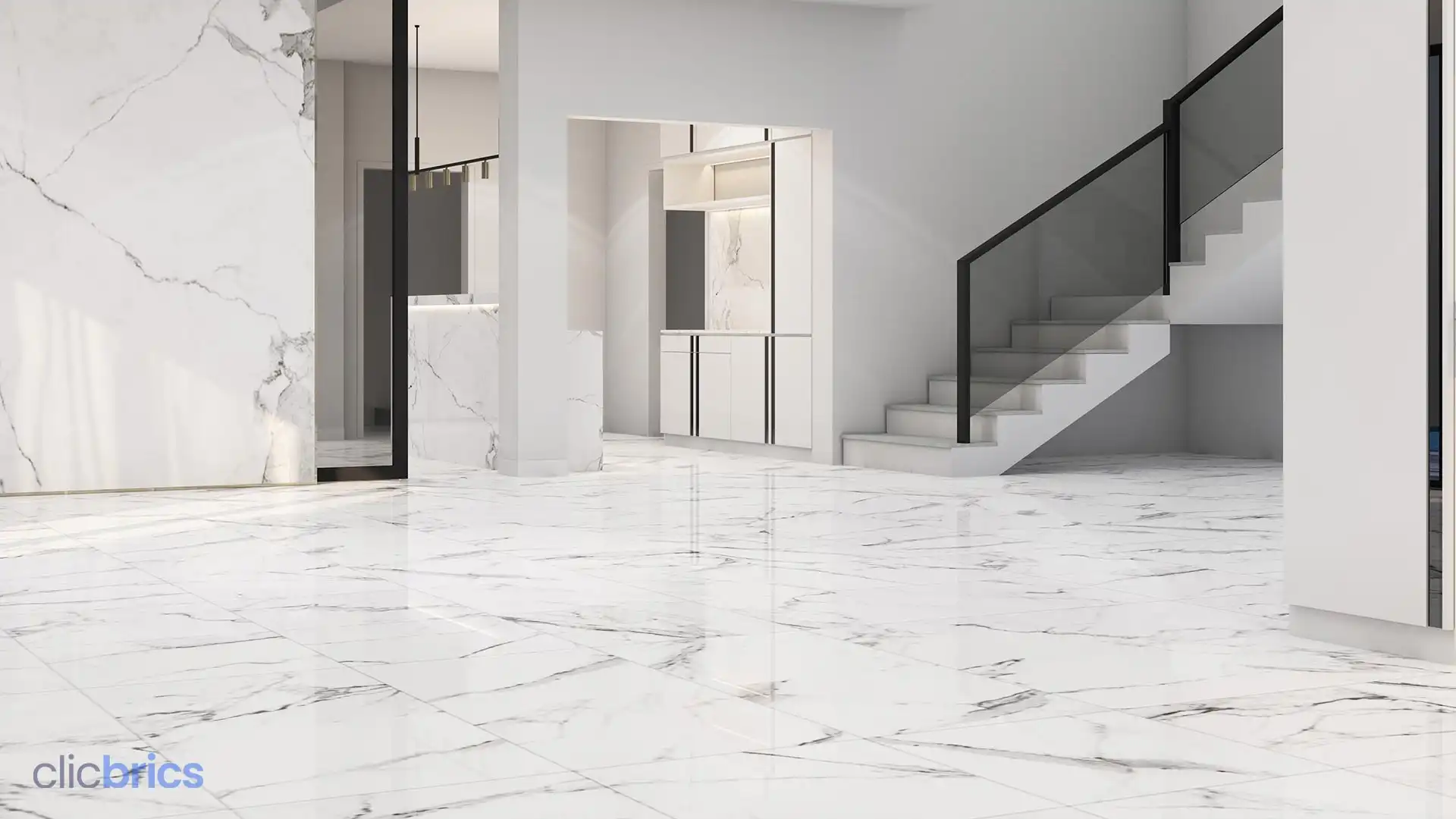 Different veined marble patterns available on the market can make your home look exquisite. These veined modern marble border designs are available in different styles. In addition, you can consider thinner, delicate vein patterns to create a subtle beauty and broader appearance. 
You can also make this veined pattern at the focal point of the room and have a striated marble border. This will create a surreal yet elegant look in your home. 
8. Shiny Black Floor For Home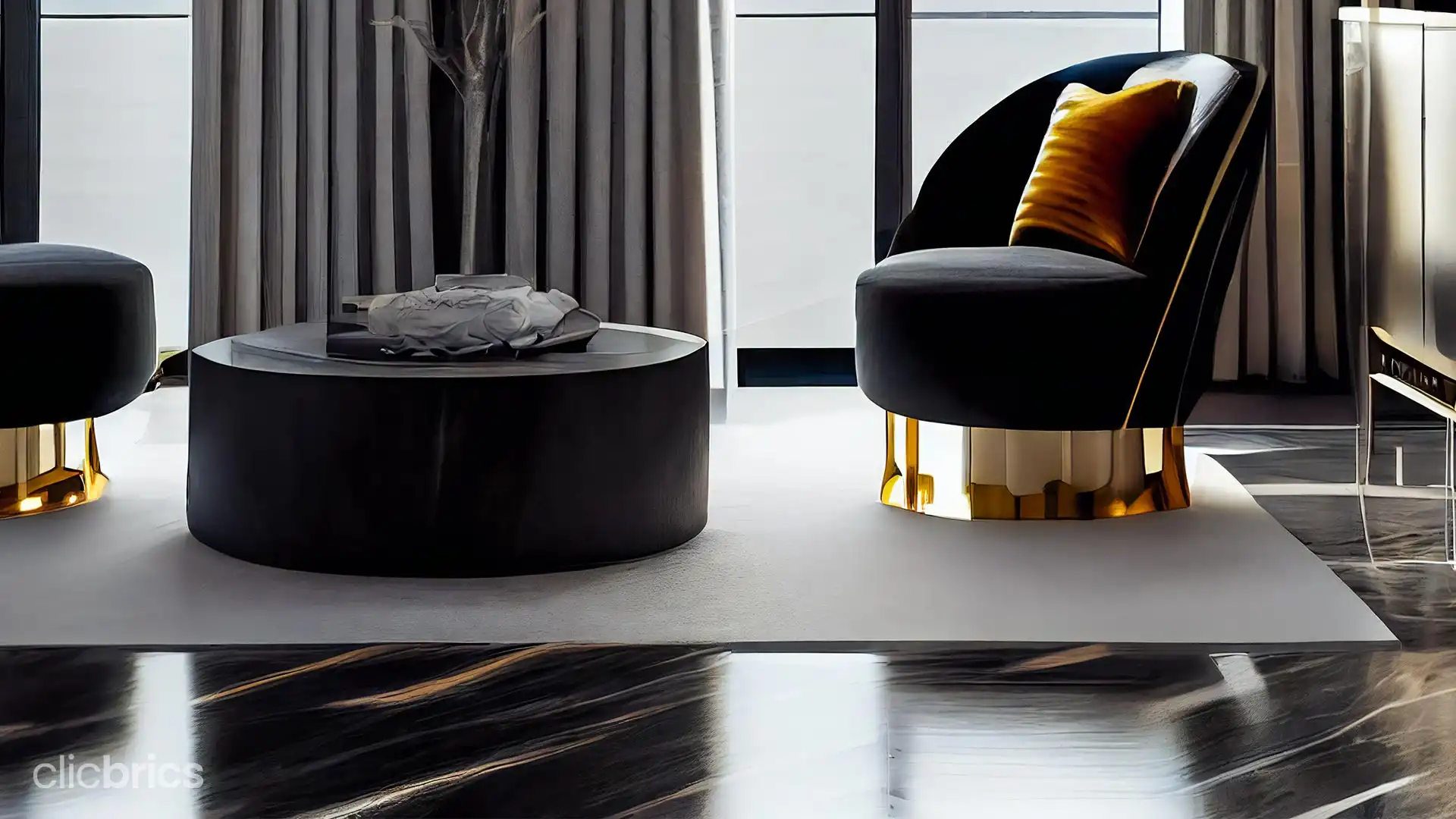 When working on your home's flooring, don't neglect the bathroom space. For that, opt for a shiny black floor with a white marble border design. You can add some shimmery night sky, and these white veins will create a lovely contrast. But it's not that you need this marble border design for the bathroom; you can use it in any other part of the home. 
9. Multiple Marble Border Design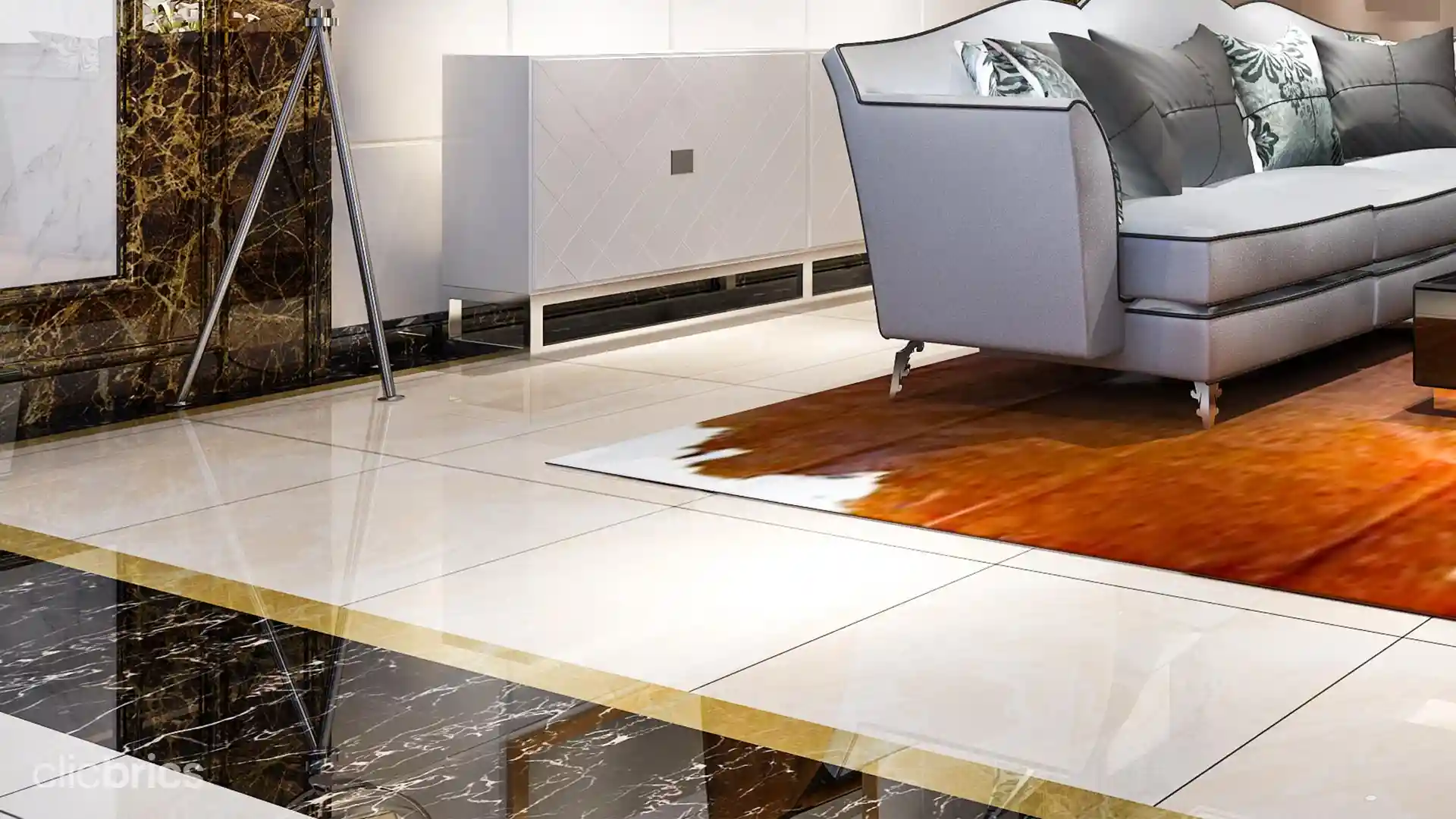 If you have a large, spacious room with a high ceiling, this marble border design is just perfect for you! A multiple marble border will make your living room look grand and regal. To create a fabulous look, you can create an intricate contrast by using dark colors with pale or patterned colors. But to complete the look, add grand lighting like a chandelier or lamps. 
10. Striped Marble Border Design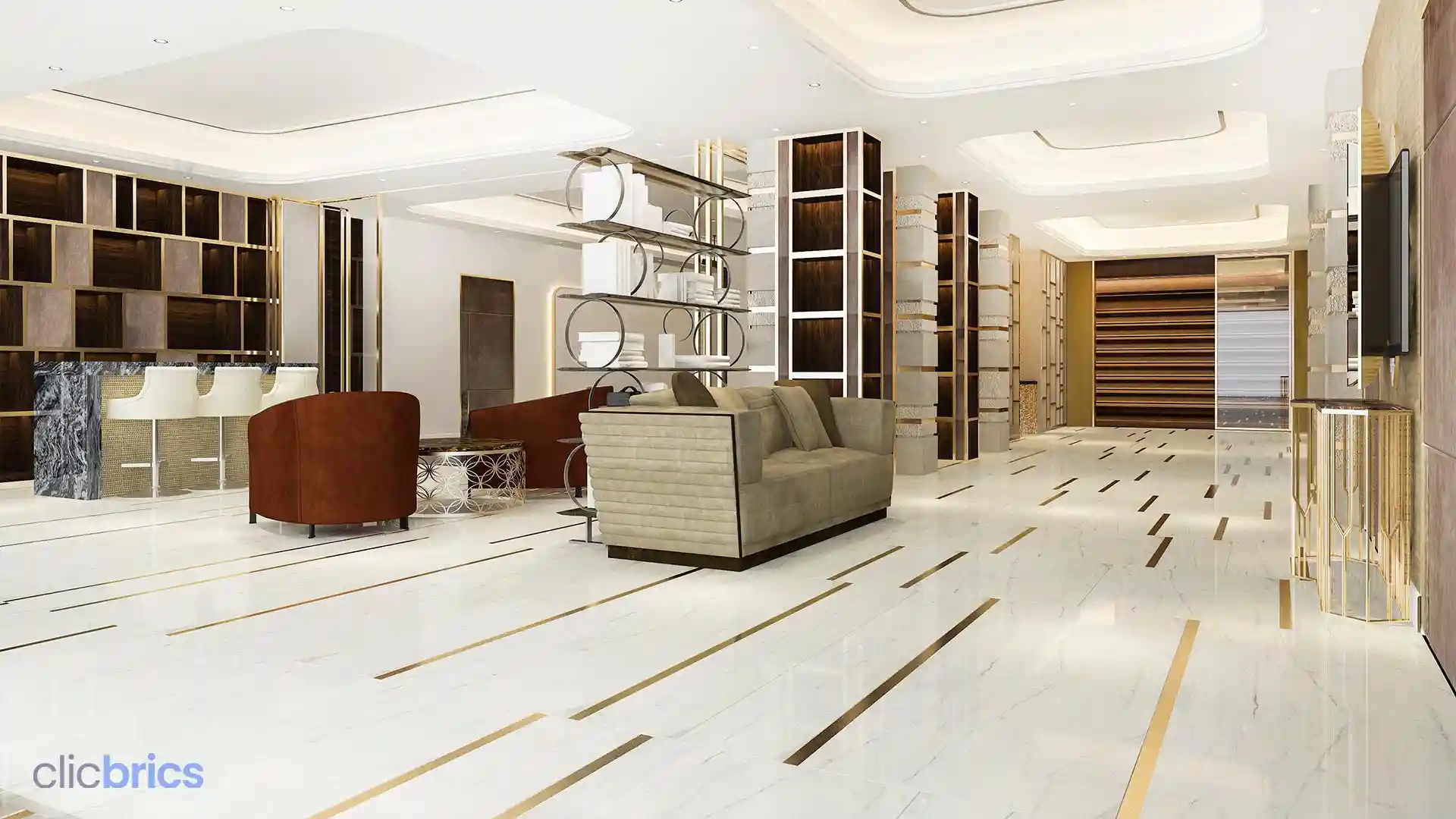 The best way to use a striped marble border design is to contrast it with a different patterned marble in the floor's center, just like a pattern without lines but with shaded hues. Then, in order to create a chic and modern appearance, combine this modern marble floor border design with some white and metal furniture, elegant upholstery, and smooth lighting. 
Conclusion
Modern marble floor border designs can add a touch of elegance to any home, and they're surprisingly easy to install. So, if you are planning to bring a dreamy decor to life, install a lavish marble border design. It will accentuate the rest of the floor pattern. 
We hope the above 10 incredible marble border designs are sufficient to prove its magic in your homes.