Table of Contents
Lohri is a festival celebrated every year on January 13, a day before Makar Sankranti. It is the most important Sikh and Punjabi festival. People begin Lohri decoration at their residences and offices as soon as the new year arrives to mark the start of the harvest season.  
The festival is considered auspicious for a newborn child or daughter-in-law and that is why the first Lohri decorations and celebrations are done for them with full zeal and enthusiasm.
We have compiled some wonderful and easy-to-implement Lohri decoration ideas that you can easily implement at your place. So, without waiting any further, let's dive into the blog and discover ideas to make some ways for a lovely Lohri decoration. 
Beautiful Lohri Decoration ideas For home
1. Bring Out Your Crafty Side for Lohri decoration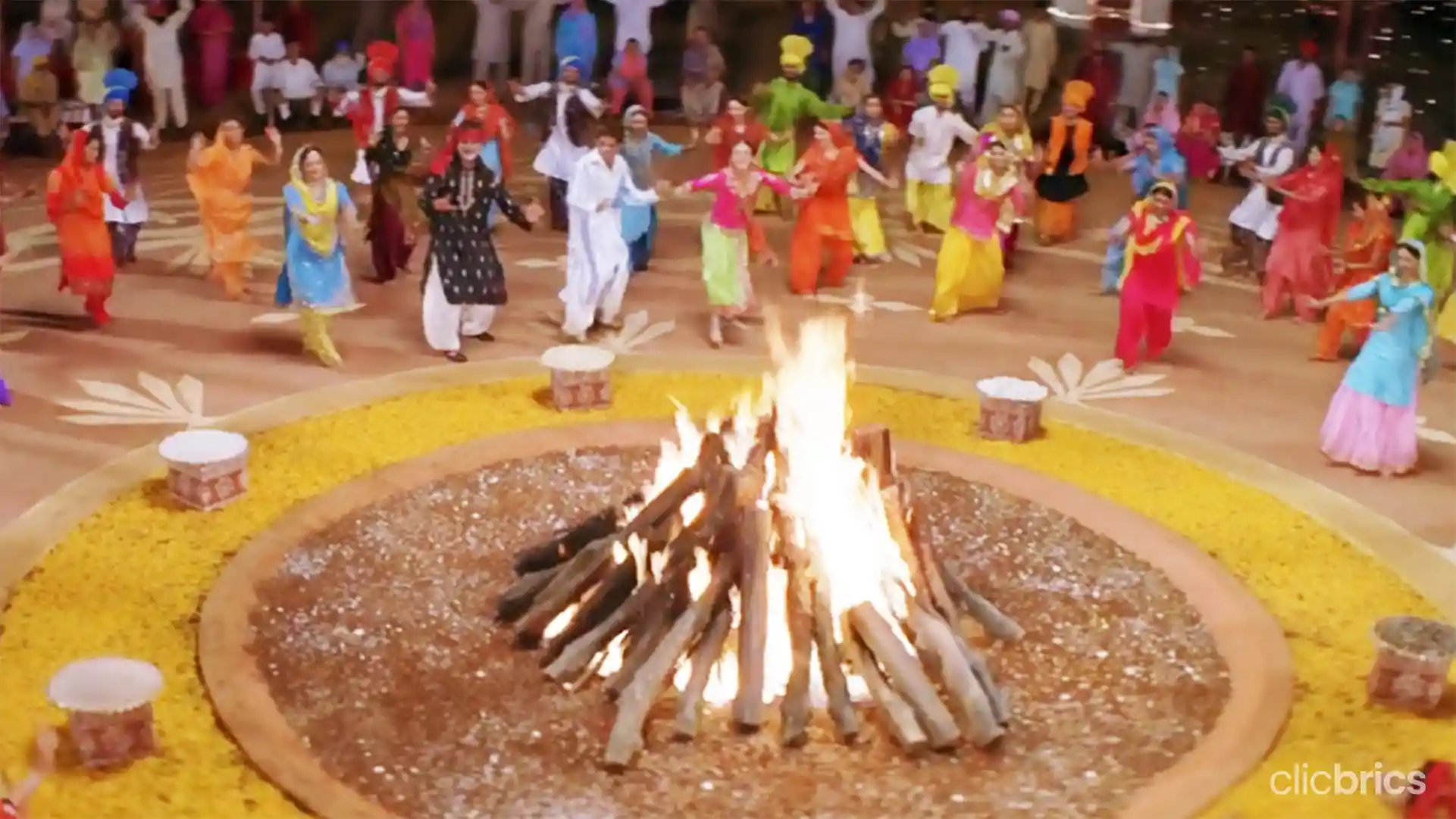 A tiny bonfire out of the sand, wooden sticks and twigs will serve as the foundation for Lohri decoration in 2023. You can recreate rangoli at your doorstep in the same way you do it for Diwali. Later, lilies and roses can be placed all around it. Then, to make it special and attractive, you can add a few bowls filled with sweets like barfi, halwa, peanuts, etc.
2. Decorate the Area Around the Bonfire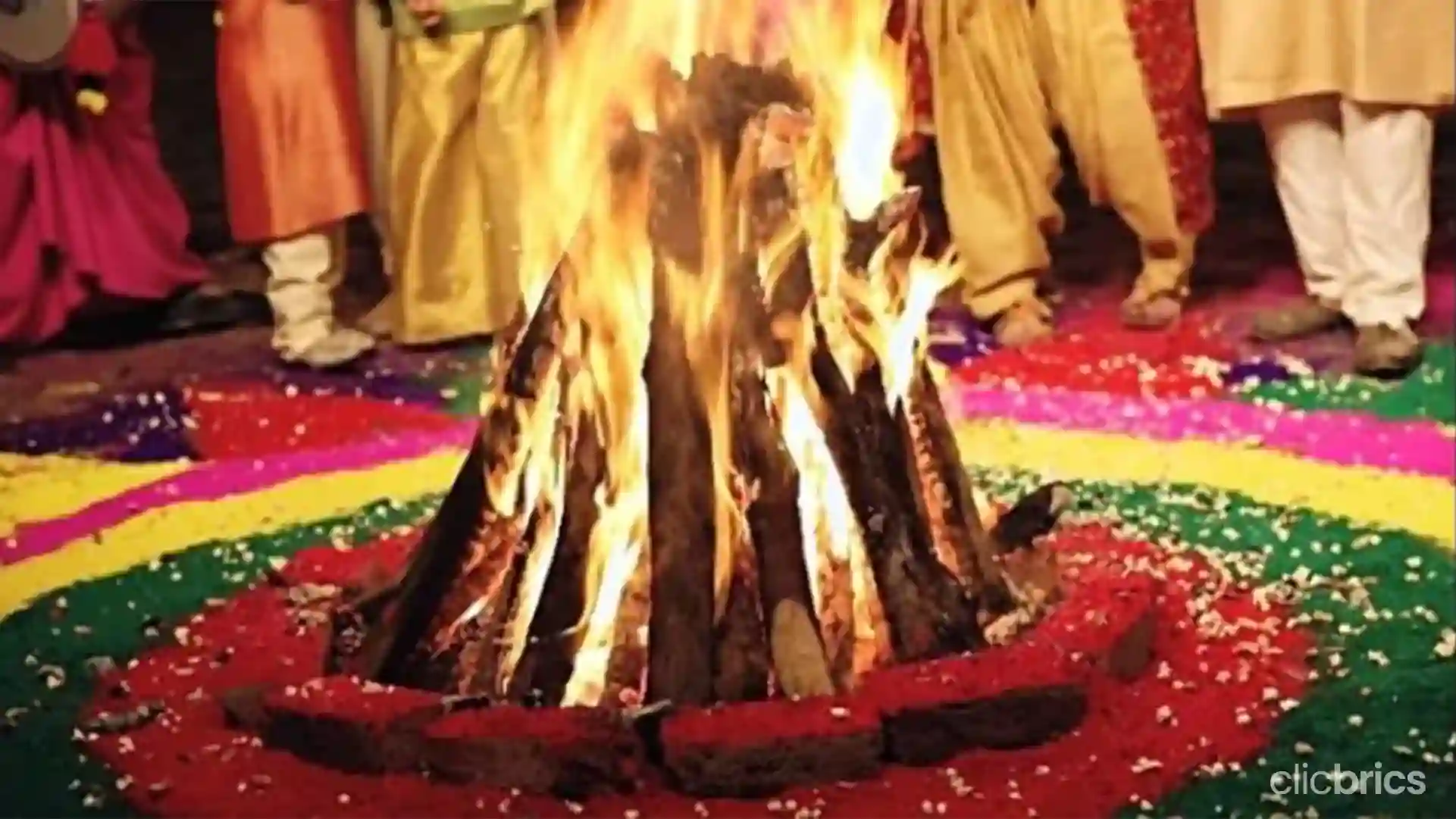 Why leave behind the bonfire when you're already beautifying your house for Lohri? Flowers can spruce up the area around the bonfire. But first, construct a stone abutment to prevent burning wood from accidentally falling. After that, choose a floral pattern for the Lohri festival, and your bonfire will be set for the evening.
3. Glorify Every Corner With Candles For Lohri Decoration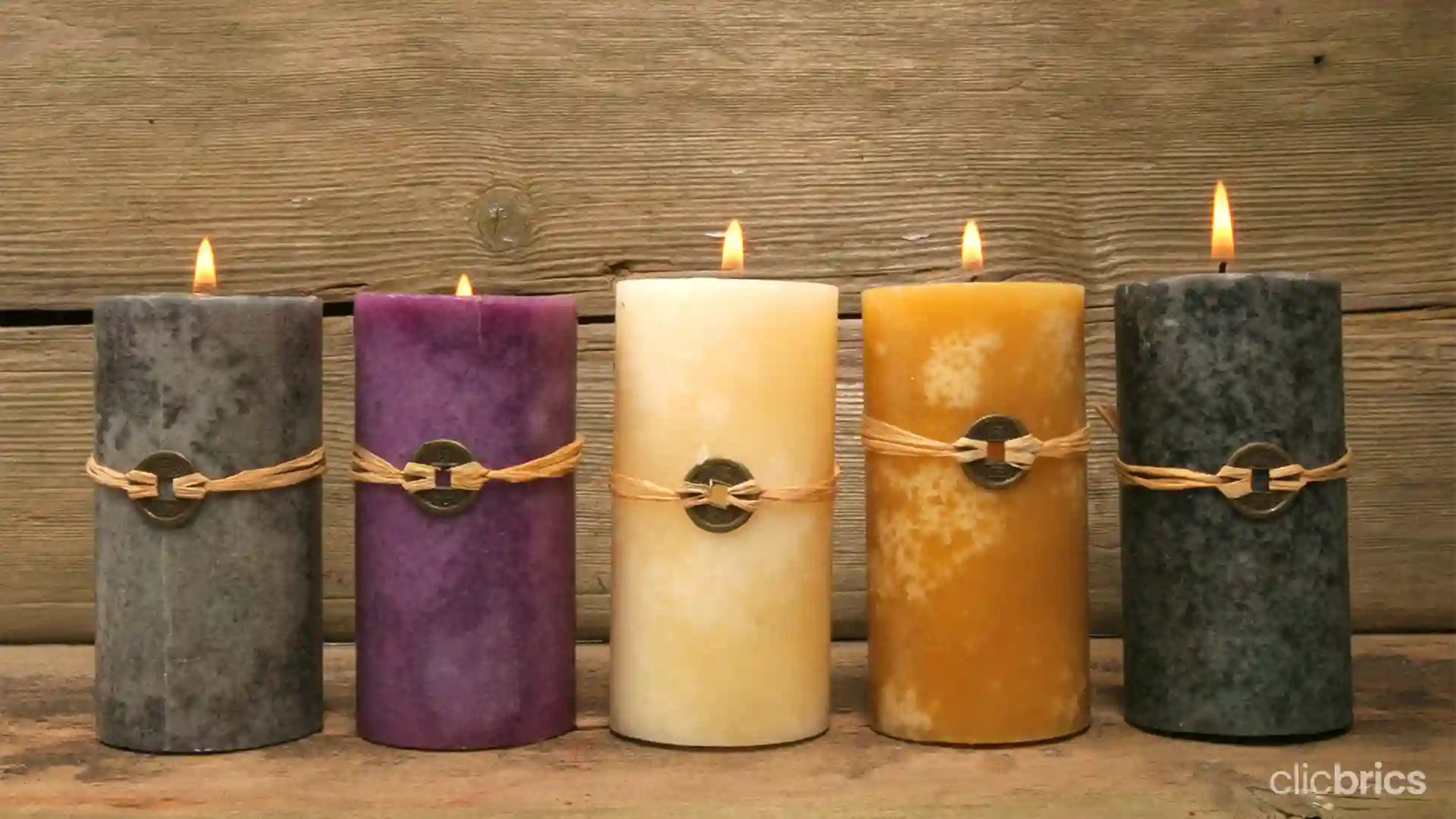 The event is about love, light, and fire; candles can be used as interior decor. You can use LED lights in your living room and patio. You can set scented candles in the corners of your bedroom. It will infuse the space with wonderfully uplifting energy. You can arrange fragrant candles, placed in eye-catching candle holders, to illuminate your staircase. 
In these simple ways, your Lohri decoration with candles will grab the attention of your guests! 
4. A Traditional Lohri Decor Idea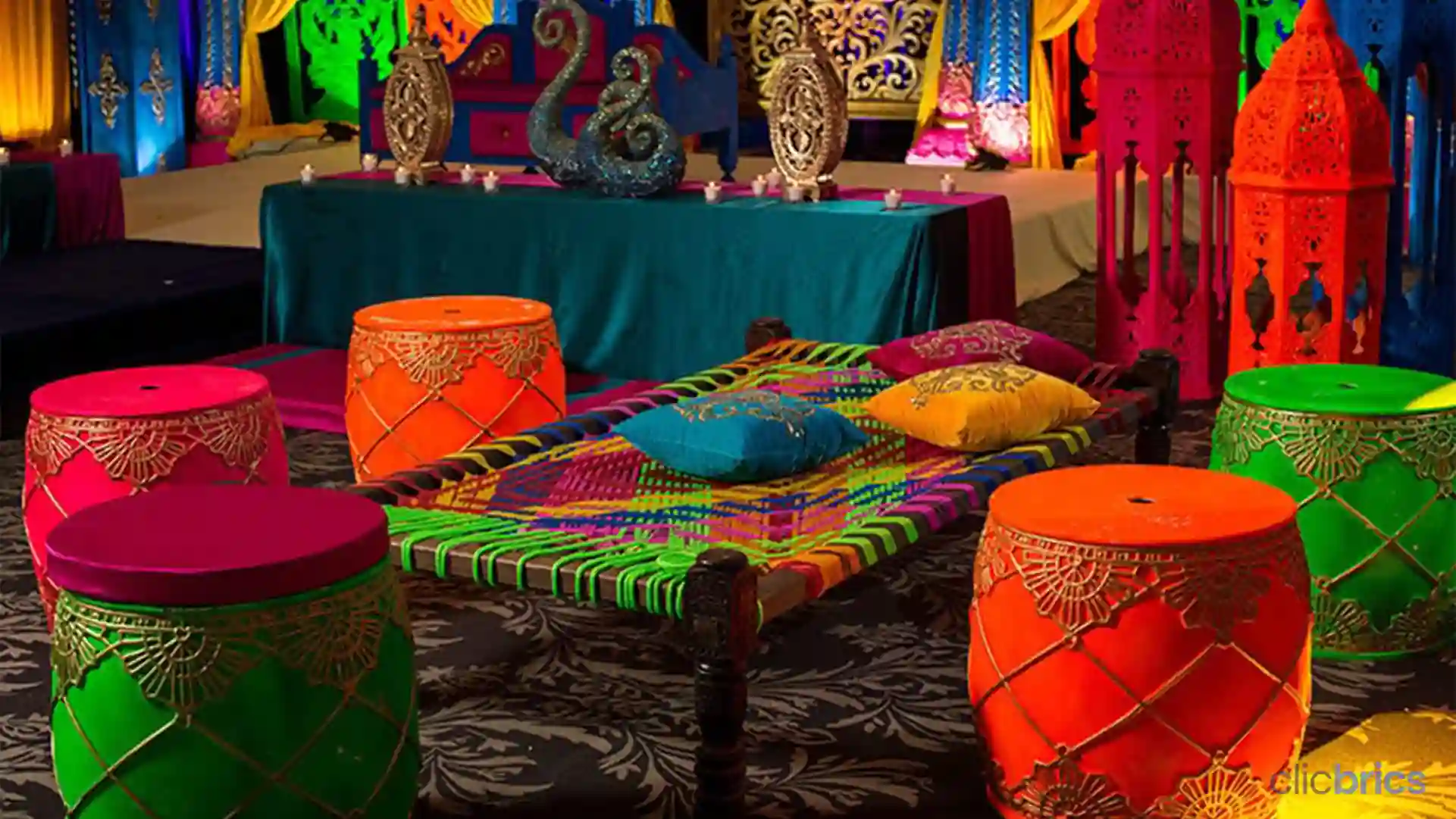 The Lohri decoration is never complete without a touch of ethnic Punjabi! You can place coloured antique benches and hay beds close to the bonfire. You can embellish your house with vibrant tassels, making it feel particularly festive. 
Also Read: Property Purchase Or Holidays: Have You Started Planning Your 2023 Already?

5. Lohri Photo Camp Decoration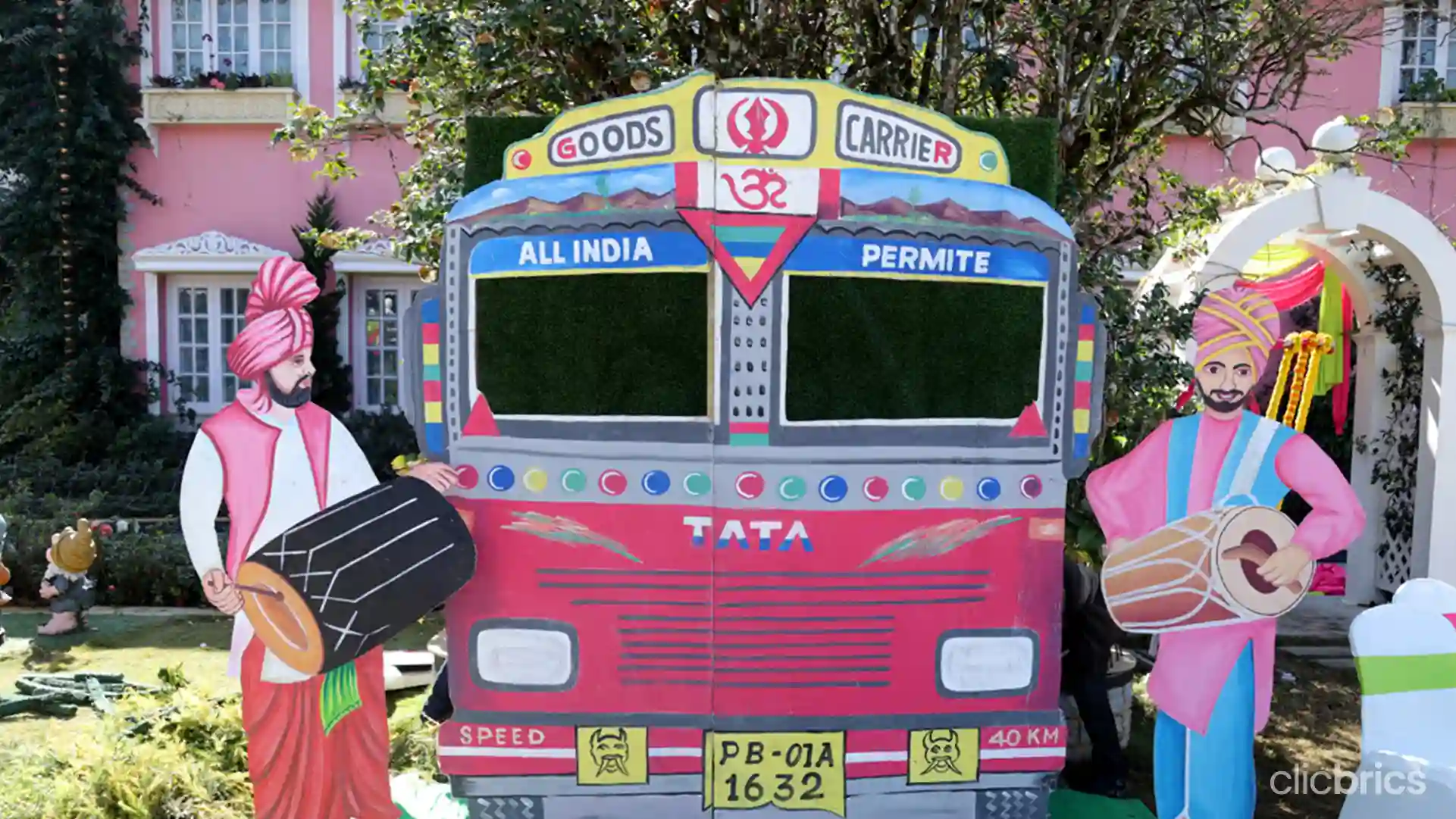 Place a photo booth near the bonfire where friends can stop by and click photographs. Because these photographs will become a memory that you will cherish for life! 
Those of you with Instacam are in for a big treat! Instant cameras are a perfect way to take quick pictures. You can give it to your guest as a return gift for Lohri celebrations. So, don't forget to take photos near the bonfire while eating sweets like phirni, gulab jamun, rabdi jalebi, malpua, and so on!
6. Lohri Decoration With Kites & Candles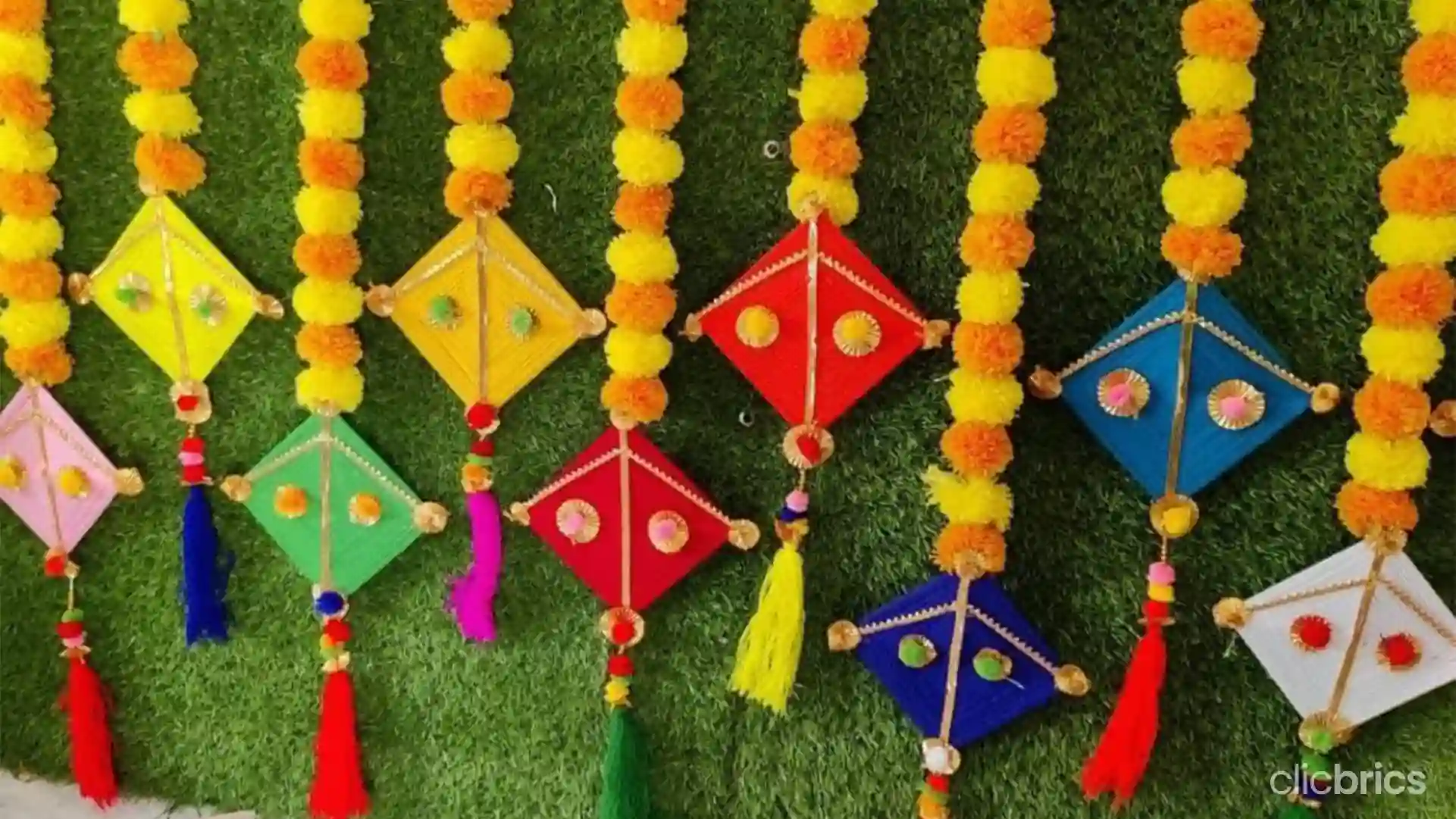 Bright colours, joyous music, and mouth-watering cuisines are necessary for Lohri celebration decoration. Installing colourful kites is another excellent technique to add colour and give your home a festive appearance. To create a traditional touch, you can use kites and lanterns together, as they have an unrivalled ability to enliven any place.
7. Lohri Decoration with Phulkari Dupattas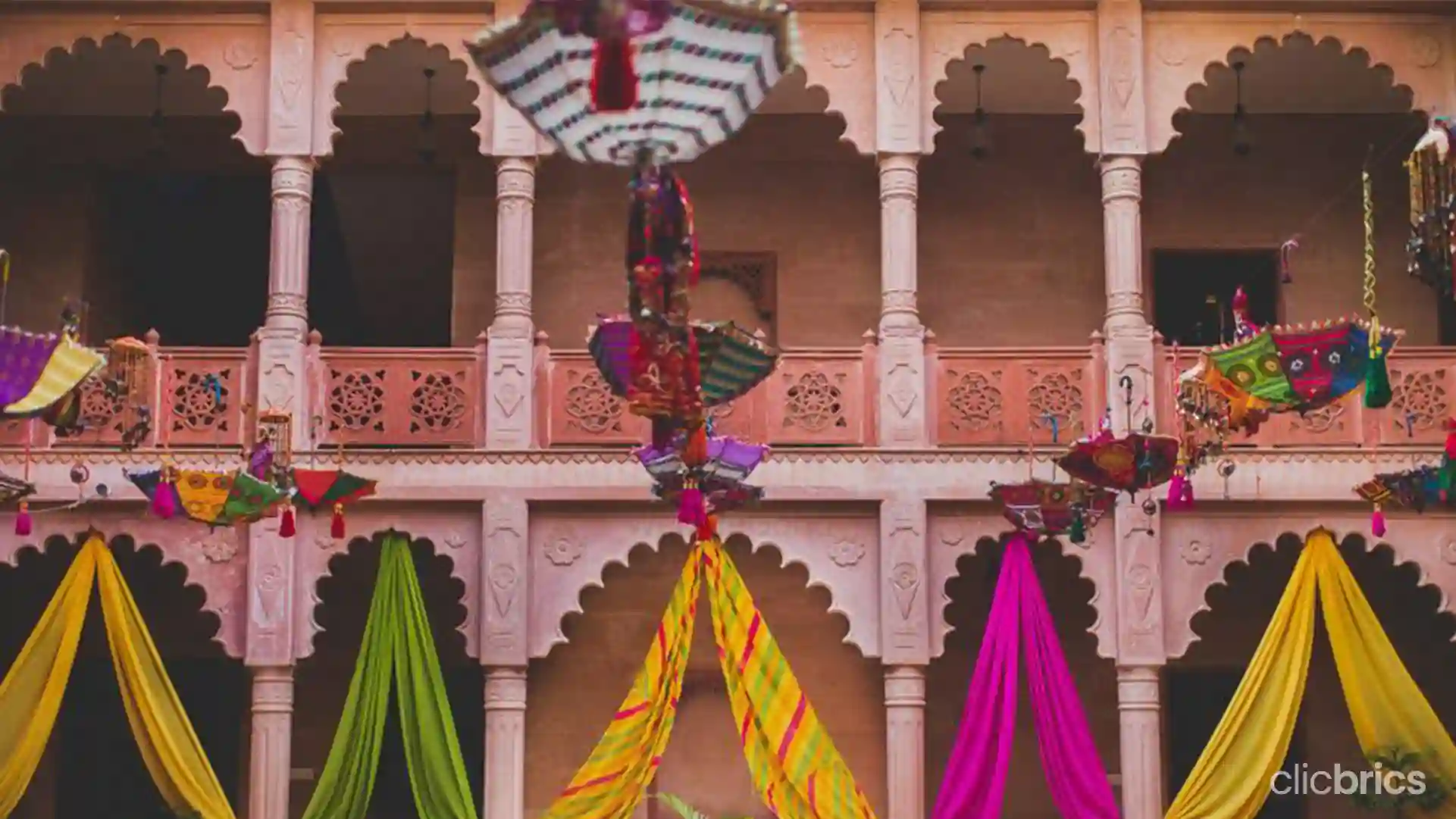 It's time to dig out your grandma's and mother's gorgeous traditional phulkari dupattas and use them for Lohri decoration at home. The phulkari dupattas have an exquisite fabric that will look completely beautiful when hung around the doors and walls. If you're planning a specific-coloured Lohri theme decoration, you can use yellow, pink, and red shades of dupattas to decorate your home. You can also use old, brightly coloured drapes in these shades to brighten up every nook and cranny. 
8. Use Embroidered Umbrellas for Lohri Decorations at Home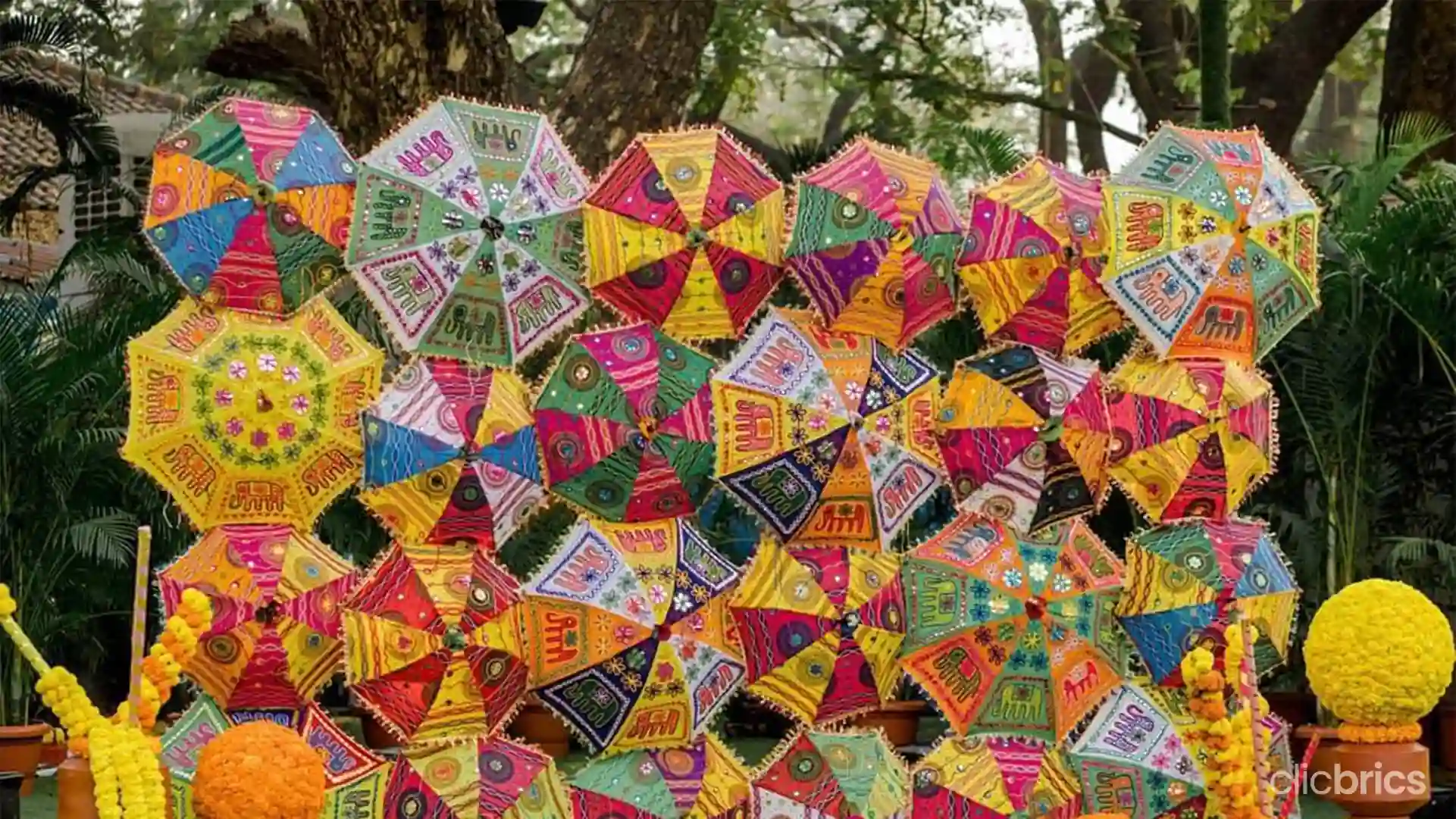 You can easily find embroidered umbrellas at your local flea market to make a traditional Lohri decoration at home. These umbrellas are full of bright colours and look amazing when placed on the floor or carefully hung on the room's ceilings. To make the Lohri night stand out, hang some LED lights around the umbrellas, and your party is ready to rock! 
Also Read: Bhumi Pujan 2023: Best Dates, Time and Importance
9. Lohri Decoration Using Earthen Pots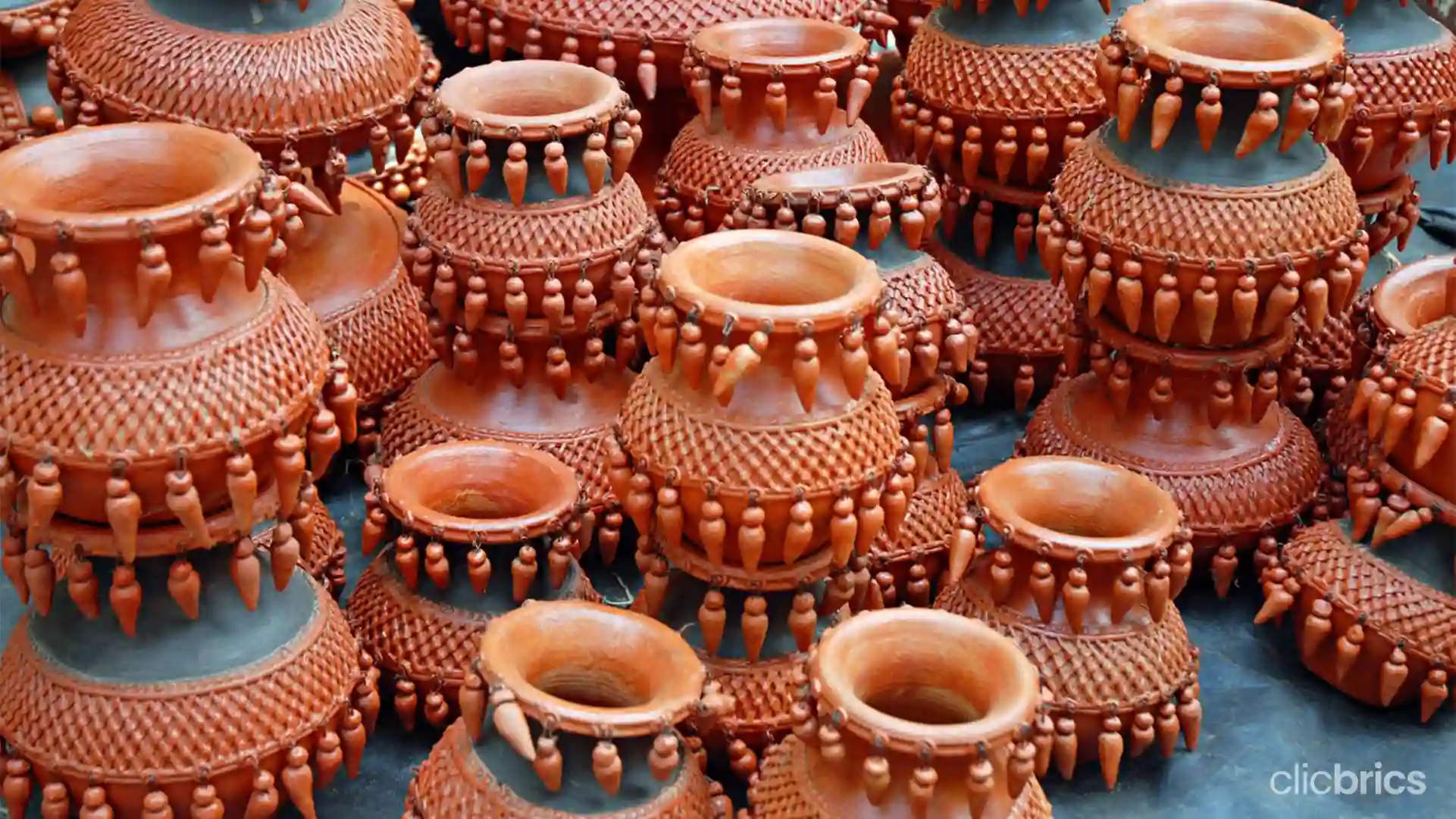 Out of all the Lohri decoration ideas, you will find this one super adorable! Use cute little earthen pots to decorate your home for Lohri. They are easy to find and can become a fabulous addition to Lohri decoration. Once bought, you can paint them or place flowers in them. You can place them at the entrance of your home to give your guests a grand entrance. 
10. Decorate the Table for the Festive Feast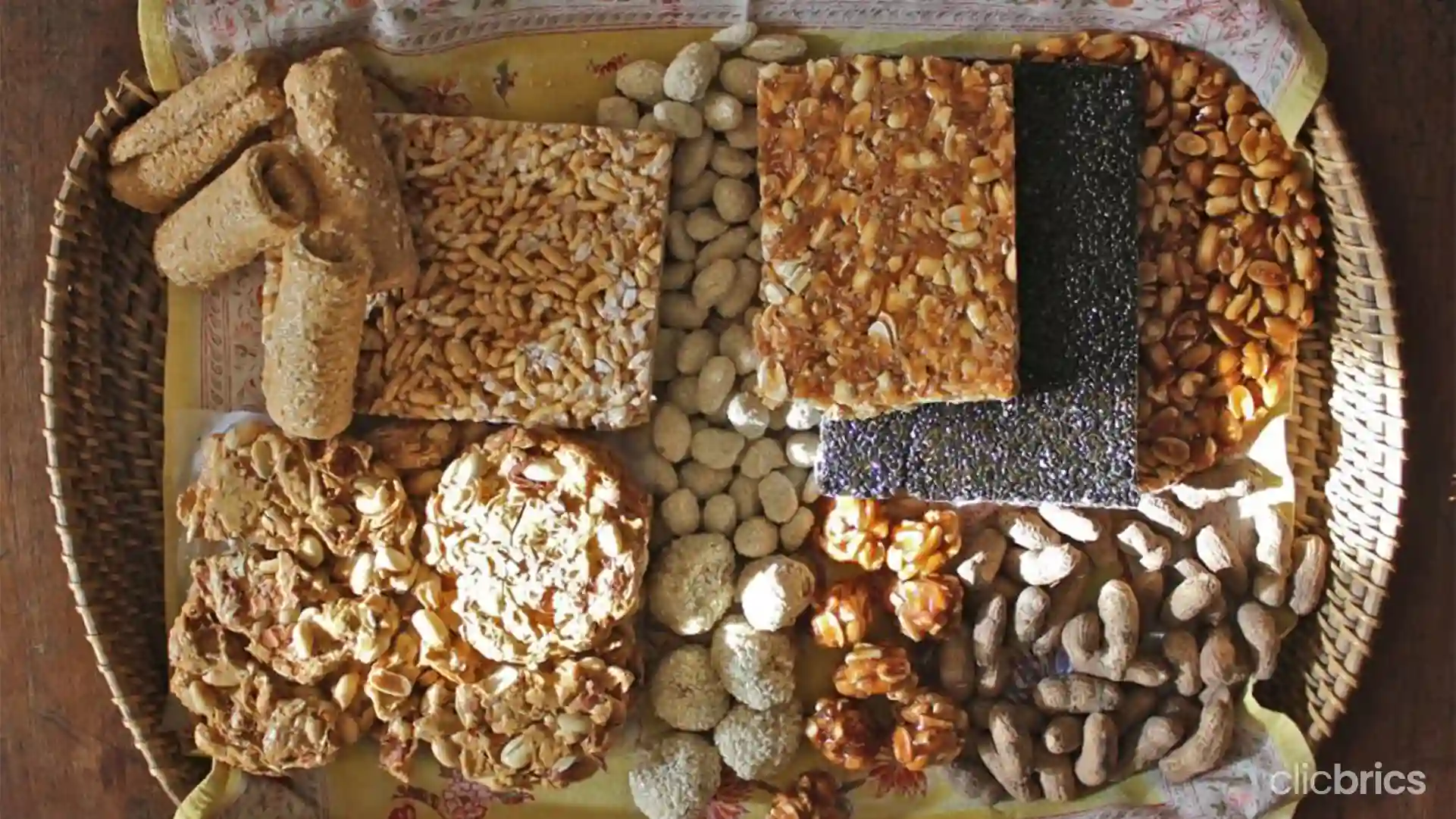 There's no denying that Lohri decoration is essential for attracting guests and putting them in a festive mood, but that doesn't mean one should ignore the culinary elements. Emphasising on delicious food is equally crucial. Be sure to decorate your dining room table with treats like phirni, kheer, dal makhani, sarson da saag, as well as Gur ki Roti. Additionally, remember to keep revadi, gajak, popcorn, and other staples for Lohri. If you place them properly, your Lohri vibe will be perfect! 
Conclusion: Lohri Decorations Can Take The Celebrations To Another High
Lohri is a time for families to get together and celebrate with music, dance, and food. So, add some dhol and nagara, and let the Punjabi music take over. It is the time for exchanging gifts and sharing good fortune. Lohri festival is a great opportunity to show your loved ones how much you care about them. Also, we hope these Lohri decoration ideas will be simple to implement and brighten your festive vibe!
A very happy Lohri to each and every one of our readers!