Table of Content:
Introduction
Japandi or Japanordic is a modern interior design style that combines Japanese and Scandinavian themes. Even though Japan and Scandinavia are different cultures and geographically distant, they share similar core design principles – an appreciation for simplicity and functionality, and respect for craftsmanship and nature. Both are based on minimalist design principles focused on muted color palettes and warm, natural elements.

Japandi style entertains only shiny shapes and lines, rather than gaudy or ornate interior design trends in the living room. Its key features of the functional, yet aesthetic style include natural light and plants. Japandi style focuses on soft hues, simplicity, comfort, and natural materials.
Origin of Japandi Interior Design Style
The Japanese style is based on minimalist principles, natural materials, and clear lines. It is characterized by low-height furniture, blank walls and neutral colour palettes. It gives a Zen like feel with larger volumes and spaces. Japanese styled homes utilize warmer, light wood contrasted with touches of acorn and walnut tones coffee tables to complement the colour schemes.
The Nordic or Scandinavian design is also based on minimalistic principles with its warmth and comfort being defined by its textiles and neutral colour palettes. For home décor, these are mostly whites, greys, accented with blacks and a combination of other neutral tones. It embraces a mix of materials from velvet and knits, leather and crotchets to attain a desired hygge style, with more attention placed on details in furniture.
The combination of functional Scandinavian and rustic Japanese styles give an artsy feel, nature and simplicity. It's a perfect blend of form and function with a focus on light colours, clear lines and bright spaces.
Materials Used in Japandi Interior Designs
Primary materials used include hand-made pottery, natural fibres, rattan, décor, wicker, bamboo, wood (acorn, teak, walnut), cane, cotton, linen and flax blends for upholstery. Its textiles are primarily from organic brushed cotton, organic cotton muslin, organic linen and velvet. Its décor has majored in clay, terracotta, glass, wood, concrete and plants. It is generally handmade with solid colors and its patterns have accents that are less bright and loud.
Don't Miss Reading: The Latest & Updated 2022 Guide to Home Decor Trends
Top 18 Ways to Integrate Japandi Interior Design Style

1. Sustainability: Being purely organic with clean lines and solid shapes, the Japandi style materials are durable, comfortable and its design encourages relaxation with cluttering of the spaces. The interiors prioritize functionality over frills and give an impression of superior aesthetics. Terracotta pots, timber stools, raw wood, wool, sisal rugs, linen and hemp are excellent materials to integrate in the Japandi interior style.


2. Natural and Minimal: Being purely organic with clean lines and solid shapes, the Japandi style materials are durable, comfortable and its design encourages relaxation with cluttering of the spaces. The interiors prioritize functionality over frills and give an impression of superior aesthetics. Terracotta pots, timber stools, raw wood, wool, sisal rugs, linen and hemp are excellent materials to integrate in the Japandi interior style.
3. Inclination to Nature: Abstract décor inspired from Scandinavian design forms an excellent base to tone the natural landscapes and can be complemented by simple line-art or sand coloured canvas. While both Japanese and Nordic styles focus on greenery aspects, the Japandi style focuses on bigger and fewer plants. The delicate branches in large ceramics give colorful vignettes.
4. Craftsmanship: The versatile availability of wood in Japan leads to its building design being built on timber, giving a distinct artisanal feel. Wood is used to make furniture, DIY décor, and architectural structures. Nordic style focuses on simplicity and comfort; hence this combination leads to excellently made functional and comfortable furniture pieces and décor elements.
5. Emphasis on Handicrafts: Since the furniture pieces are handmade and the décor is reliant on the artisans' tasks, it creates uniqueness, with rare instances of similarities in the design. Clay, wood, glass and stone are fit aesthetically as décor materials, while other natural materials include bowls, ceramics and large lighting fixtures made from natural elements. A valuable asset is a soft shaggy rug which draws warmth to the cool Nordic aspect.
6. Warm Palettes: Nordic palettes are mainly white, grey and brown while Japanese are pastels of autumn foliage, the earth and the sky tones. The hybrid Japandi style is a mix of tranquility and coziness, with hues being combined to mimic a natural landscape and an earthly feel.
7. Mix and Contrast: As symmetry is a non-focus area, different kinds of furniture can be combined to give an organic look. It is important to factor in the visual value of each product and emphasize on gaining balance rather than decoration. It goes by the design principle of 'less is best'.
8. More Comfortable: Japandi style prioritizes comfort over everything else. Its bedrooms are primarily minimalist with a few art pieces, bedding and throw pillows as the sole decorative elements without any window dressings.
9. Refined Décor: In order to maintain a calm ambience, decorations are kept to a minimal level. As Japandi furniture is made exceptionally, they do not require various adornments.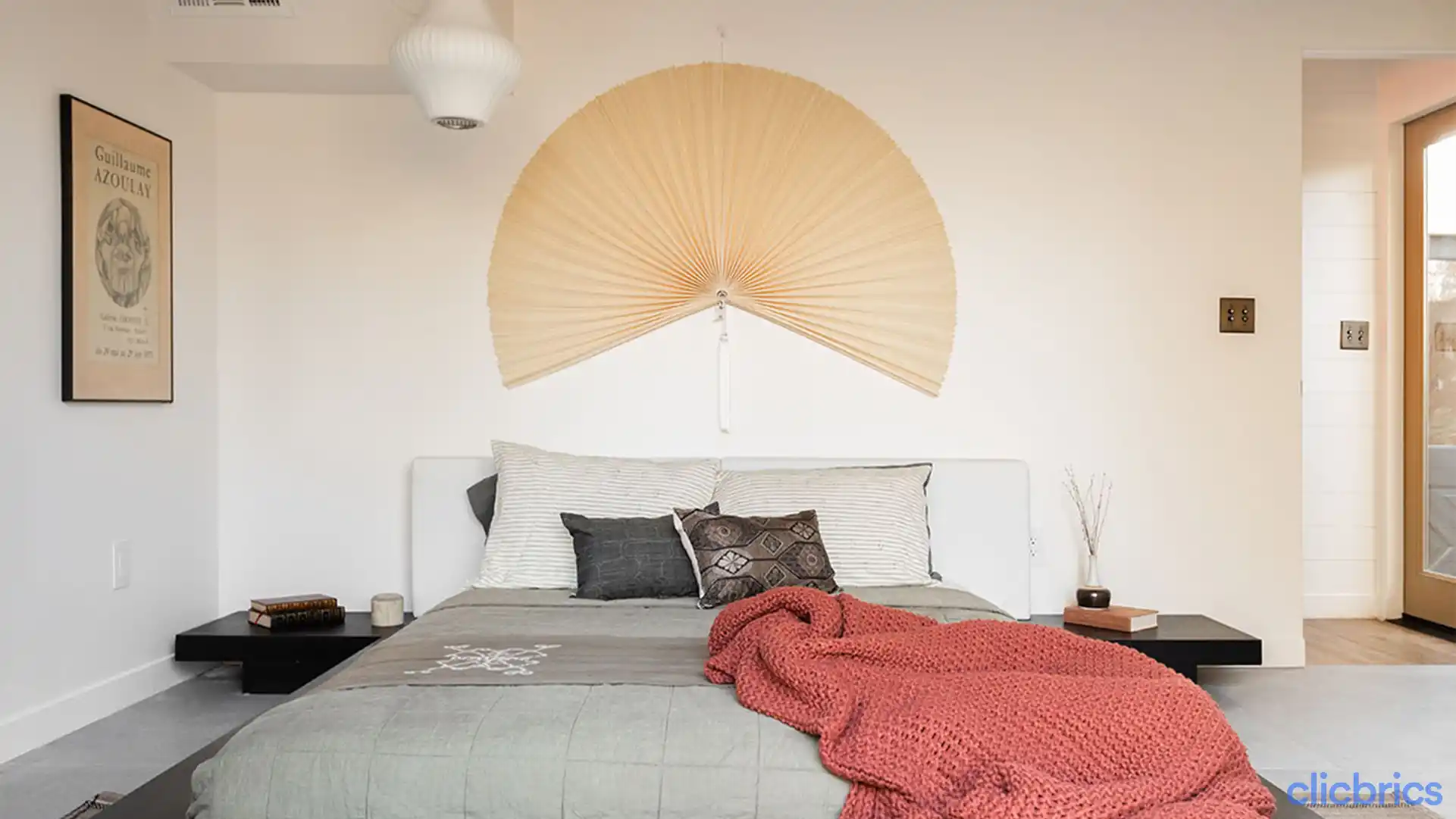 Also Read: The Best 25 Interior Decor Ideas That Will Fit Your Pockets

10. Stripped Furniture: It is the primary and most valued piece in a Japandi style. Hence, the simple furniture in subdued colors should be bold enough to draw a contrast with the décor being at minimal. Japandi interiors' usage of low-profile furniture serves as a proxy towards being close to earth to inspire peace and serenity and provides a comfortable feel to the home. The Scandinavians mainly use Mahogany, Oak, Teak and Pine, while the Japanese use Cedar, Cypress and Red Pine. One can integrate both tones of wood in their Japandi home to create a contrasting effect of dark and light woods. A rich dark brown wood on lower cabinets provides an excellent contrast to putty-coloured walls in a Japandi dining room.

11. Utilization of Sashiko Stitching: Little Stiches (Sashiko) is an ancient Japanese embroidery technique (originally used for quilting in the 16th century), where several layers are sewn together to provide reinforcement. The motifs are usually geometric, classic or organic patterns, often drawing inspiration from nature. Sashiko is traditionally stitched on indigo-dyed cotton with white thread. The indigo-coloured fabric is painted using dark blue dye having violet tones originally extracted from plants.
12. Curate: The best Scandinavian and Japanese interior designs convey simplicity. All items in Japandi interiors require careful selection and curation. Japandi glorifies the danshari concept (which entails eliminating any items creating negative vibes, and retaining only those items that one loves). The focus is on minimalization, so the number of art pieces on display are kept minimal (instead of a number of small pieces on a gallery wall, only one or two large pieces of one's favourite art can be exhibited).
13. Color Pops: Bright color pops are kept to a minimum when decorating Japandi style. One can stick to pieces featuring simple lines/patterns and basic forms. 
14. Adding a Wall Texture:  It is not unusual to find walls made of cedar panels or bamboo in traditional Japanese interiors. Japandi walls feature a similar texture and provide an excellent way to add visual interest to a minimal space. One can create architectural interest by lying across the wall with vertical, thin wood strips. Wooden slatted walls are simple to DIY install, offer high end by-products and give soundproofing. The slated look is attained by either purchasing pre-made bamboo panels or by installing wooden strips sequentially.
15. Flooring: Japandi floors are normally hardwood, however, one can choose either a dark or a light tone for their space. Occasionally, floors are laid out in a herringbone pattern. One can contrast a deep brown wooden flooring with a beautiful natural cream-toned rug.
16. Using Shoji Lightings And Panels: Shoji is a Japanese style of window or a door separating spaces. It is translucent with sheets on a lattice frame and is designed to slide. It is occasionally hinged in a rustic style. It is light weight which makes it easy to slide. It can easily be removed and stored in a closet. These removable sliding wall panels help in sub-dividing a large room into several smaller rooms in a traditional japanese home. Shoji draws out the shallow boundaries between the exteriors and the interior. 
Shoji allows air to diffuse through (which in heating the building when using charcoal) and also blocks external winds. 
17. Multifunctionality: While both Japanese and Scandinavian designs appreciate functional items in the homes, flexibility is an often-overlooked feature of Japanese design. For instance, Japanese beds are often folded up and stowed away when not in use. Kotatsu (Japanese heated tables) are multi-functional and often at the center of a Japanese home. Origami inspired foldable furniture doubles up as storage spaces and are perfectly appropriate in Japandi interior designs.
18. Symbolism in Japandi: Japandi is a philosophy of life which embraces Japanese simplicity and Scandinavian rustic styles in a splendid manner. It is characterized as a stylistic design movement with simple emotions and elegant details uniting the best of both cultures. It builds on wabi-sabi (Japanese expression for finding beauty in the imperfect and the incomplete). Such imperfection is expressed through the combination of raw functionality, clean lines, as well as utter and flawless craftsmanship. It emerged as a counter to the styles that are strongly influenced by lavishness and the usage of rare materials. Wabi-sabi finds the beauty of the imperfect and is about connecting an individual to the Earth with a strong appreciation for authentic aspects of life.
Final Words
Japandi style is indeed the best style feature to attain a natural and sustainable Zen-like feel and comfort in the modern home. Its décor uses minimal style, makes efficient use of the space, with its décor pieces more inclined towards green hues and plants.