Table of Content: 
Buying a house is a dream come true in anyone's life. It is probably one of the most vital investments. Given the significance, when someone enters into a newly constructed house for the first time, it is imperative for them to put each step right. That is why Hindu families in India perform a Griha Pravesh puja ceremony, often referred to as the house warming ceremony, to get rid of negative energy and purify the space.
Types of Griha Pravesh Puja
As per Hindu traditions, there are three types of Griha Pravesh Puja:
1. Apoorva – when one enters a new newly constructed house for the first time.
2. Sapoorva - entering the existing house for living after arriving from abroad or after migration from another place.
3. Dwandwah - entering a reconstructed or renovated house because of the damage caused after uncertain calamities.
Also Read: Bhumi Pujan Muhurats in 2023
Benefits of Performing Griha Pravesh Puja
As per Hindu accreditations, Griha Pravesh puja must be performed to ensure peace and harmony in the new house. Performing Griha Pravesh or housewarming puja imparts the following benefits:
1. It is a special puja performed to protect the house from evil forces.
2. Performing a Griha Pravesh on an auspicious day will bring prosperity, good fortune, and good health to those living in the house.
3. Performing the Griha pravesh ritual eliminates the ill effects of the bad Vastu.
4. It purifies the space and allows the occupants to start a new beginning with positive energy.
5. It provides spiritual harmony to the inhabitants.
Griha Pravesh/Housewarming Cermany Decoration Ideas
People are so excited when they plan to throw a housewarming party for friends and family to celebrate this milestone. Your guests will visit your house for the first time on this occasion. Therefore, you do not want to leave no stone unturned in getting your new house ready for the housewarming ceremony.
Well, put on your creativity cap, we are bringing you a comprehensive collection of house warming ceremony decoration ideas that are easy to create and will improve the appearance of your home. Start scrolling and be prepared to be amazed.
1. Create A Floral Paradise In Your Home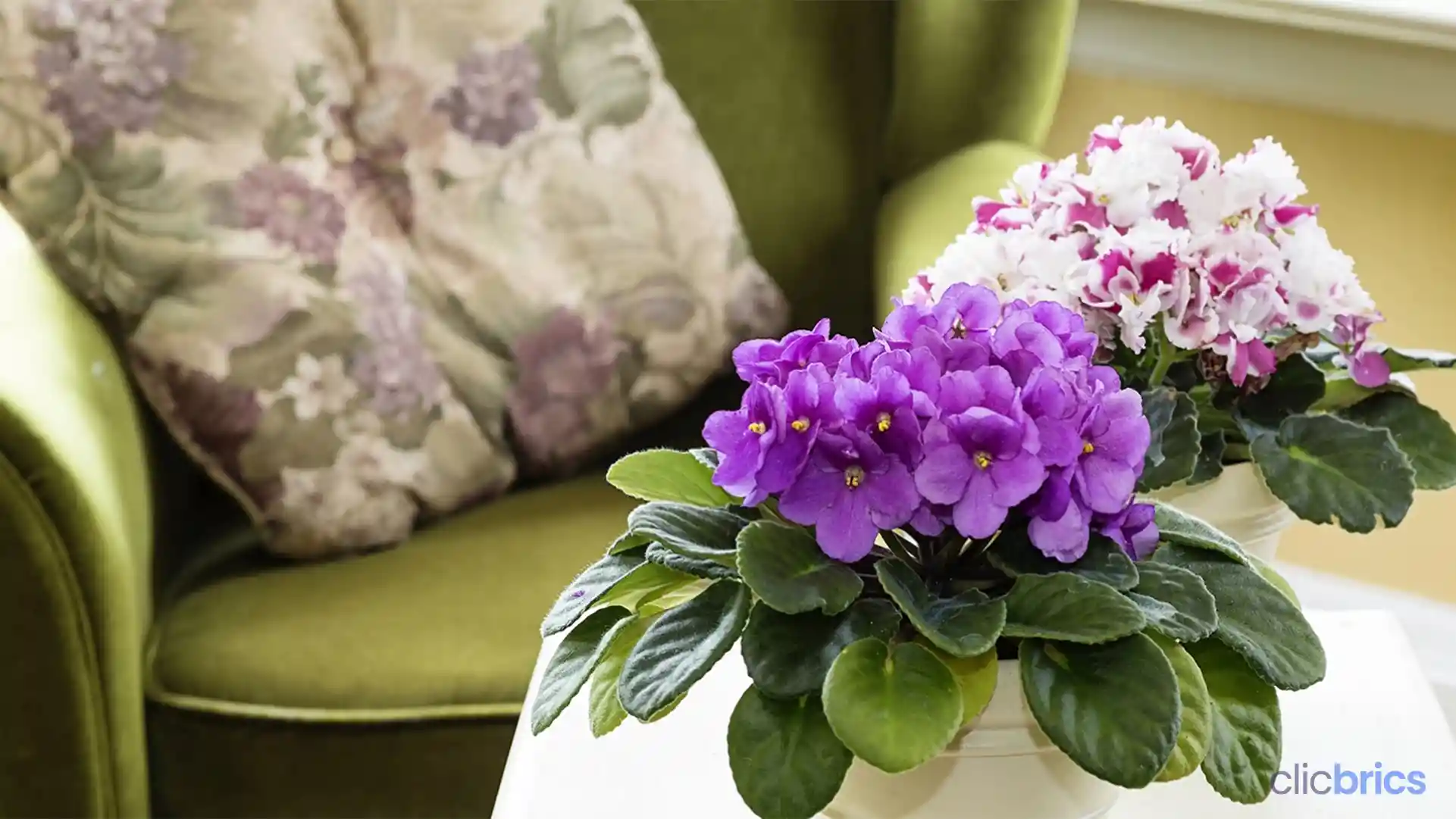 It is no exaggeration to say that placing beautiful flowers everywhere in the house will not only brighten up your home but you will also love the freshness and aroma. Flowers are super easy to incorporate into the design of your house. You can use flower arches, bouquets, bunches or make patterns with flowers to add a touch of freshness and vividness to the ambiance.
You can decorate the front entrance with a toran of traditional flower yellow or orange marigold and fresh mango tree leaves. Furthermore, to welcome the positive energy, you can also put a Swastika symbol or feet of Goddess Lakshmi on the main door.
Apart from the main door, you can use the western combination of orchids, roses, lilium and carnations to decorate arches, overhead hangings, centerpieces, staircase and corners of your house.
2. Invite A Divine Aura By Decorating Home Temple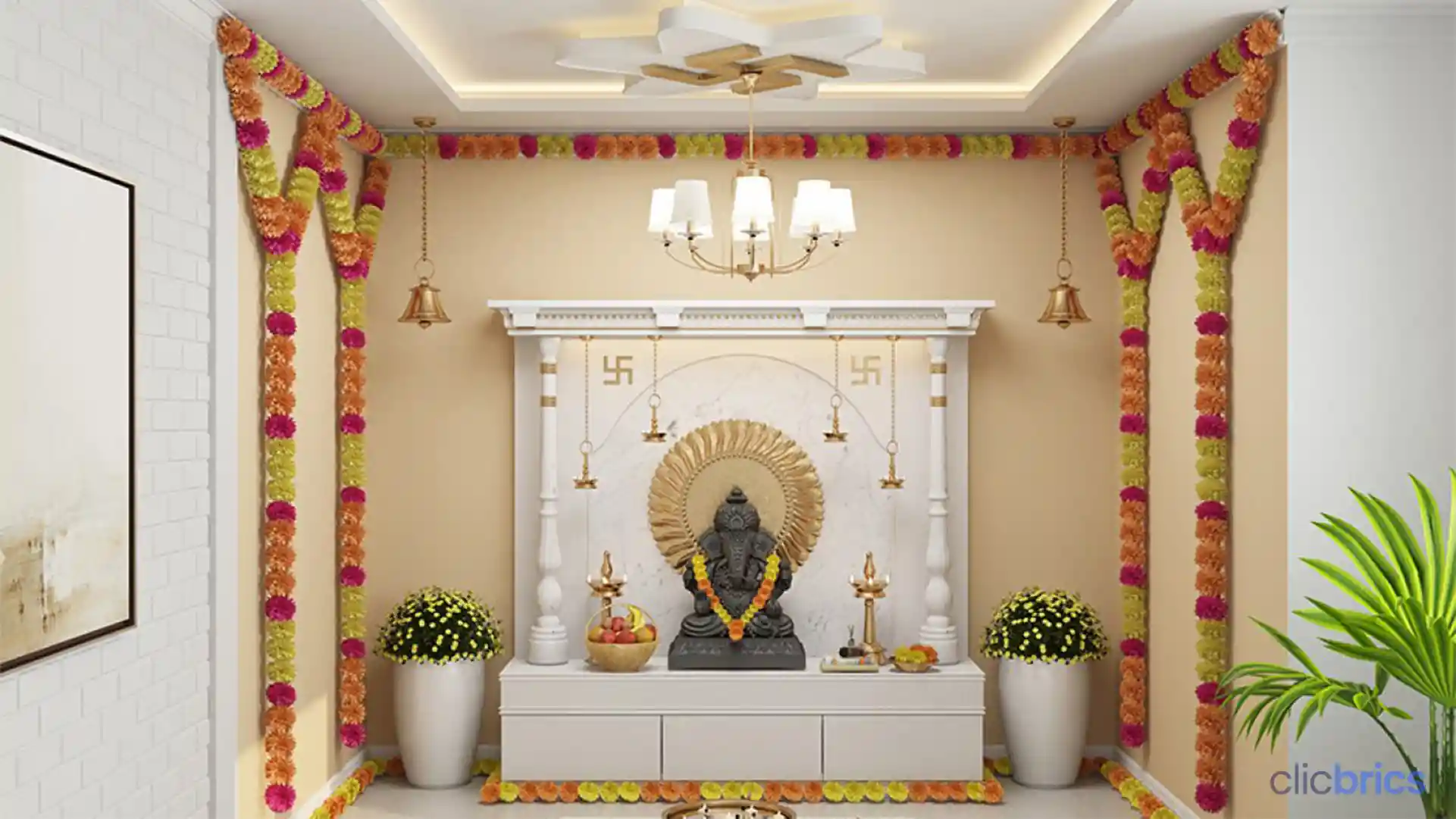 The puja room or home temple is a crucial part of the house. To bring a divine vibe, decorate your temple in the right way.
First, dress up the idols in beautiful attires and jewelry pieces. Also decorate puja thali with haldi, kumkum etc to make them Griha Pravesh ready. Install a shelf or a wall-mounted cabinet to place your idol and hang floating lamps or bells suspended from the ceiling on either side to give a uniquely traditional look.
Fresh flowers and indoor plants are great natural decor elements that lend freshness and positive vibes. Decorate your home temple with some garlands of fresh flowers and let the fragrance play its part. You could also place potted plants and bonsai on either side of your home temple to bring greenery into the space. You can also decorate curtains with artificial flowers to complete the look.
Making beautiful rangolis in front of the mandir is also considered to be a sign of auspiciousness and elevates the look of your puja room.
Also, keep a round rug and some poufs on the floor for a comfortable seating as it would add a modern touch. 
3. Illuminate Every Corner of Your House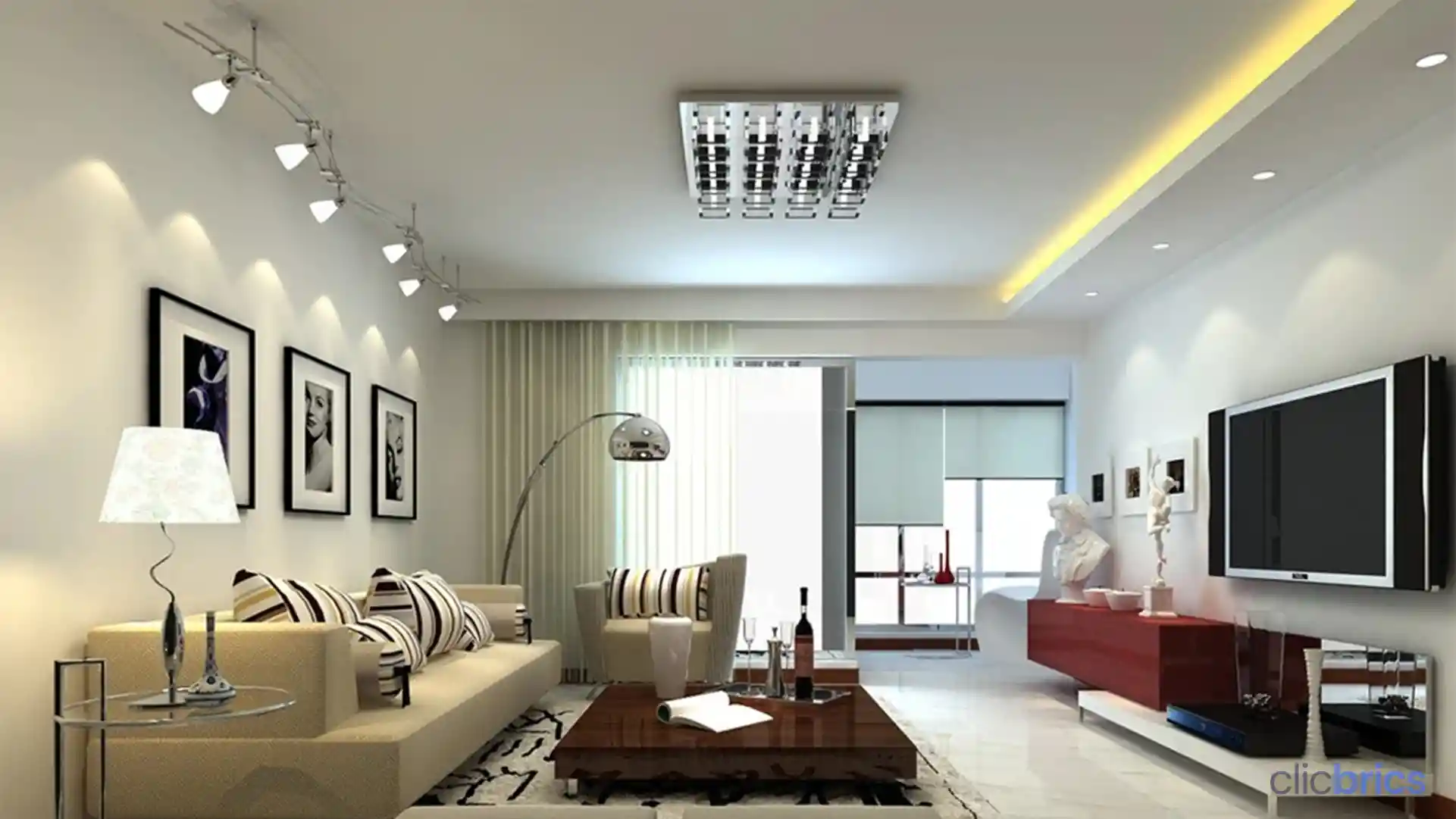 Lighting is one of the essential elements for any decoration and can ultimately brighten up the house. That is why it is important to decorate with different sources of light you will need, whether it is fairy lights or an eye-catching chandelier that illuminates the entire space. Make sure there isn't any kind of darkness in a single nook and corner of your house.
You can add a mix of fairy lights, candles, LED lights, or even diyas to make your space brighter and more beautiful. On this special occasion, you can use an earthen oil lamp to beautify the space. It is also considered very auspicious as it invites good fortune. You can also hang matching pendant lights above your puja room to give the space a sense of balance and symmetry.
4. Make Rangoli To Spruce Up Your Home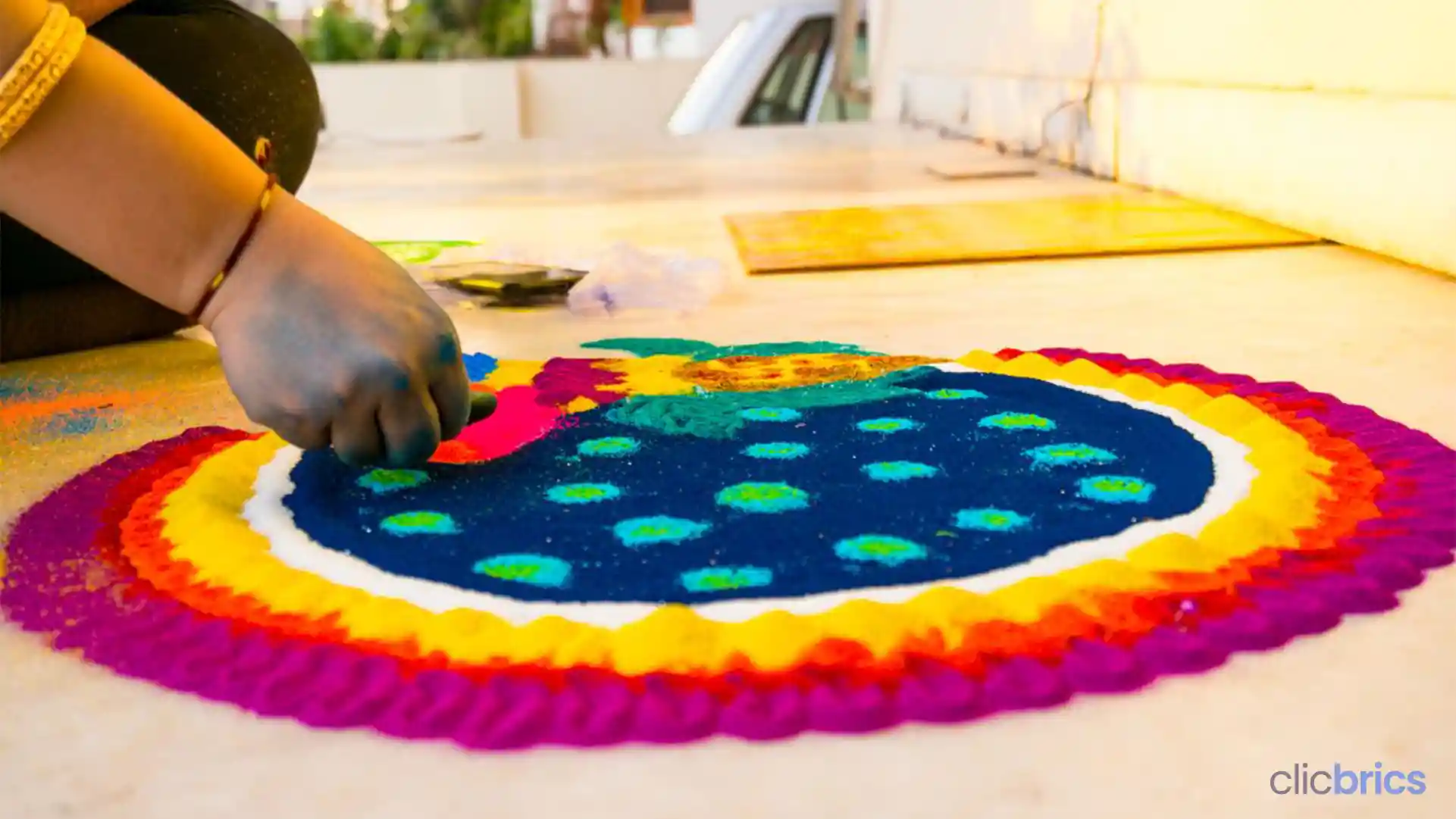 From ancient times, a rangoli beautifying someone's house has been a symbol of celebration. Carrying forward the same traditions in your housewarming ceremony, make a beautiful Rangoli at the entrance gate to give your new home entrance and interiors the glamour it needs. After all, with everything from the walls to the staircases decked up, you would not want the floors to be left behind, would you? Amp up your housewarming ceremony decorations with alluring and unique floral rangoli designs. Place diyas in the center of Rangoli to make that colour pop worth a WOW!
5. Glam Up Your Dinner Table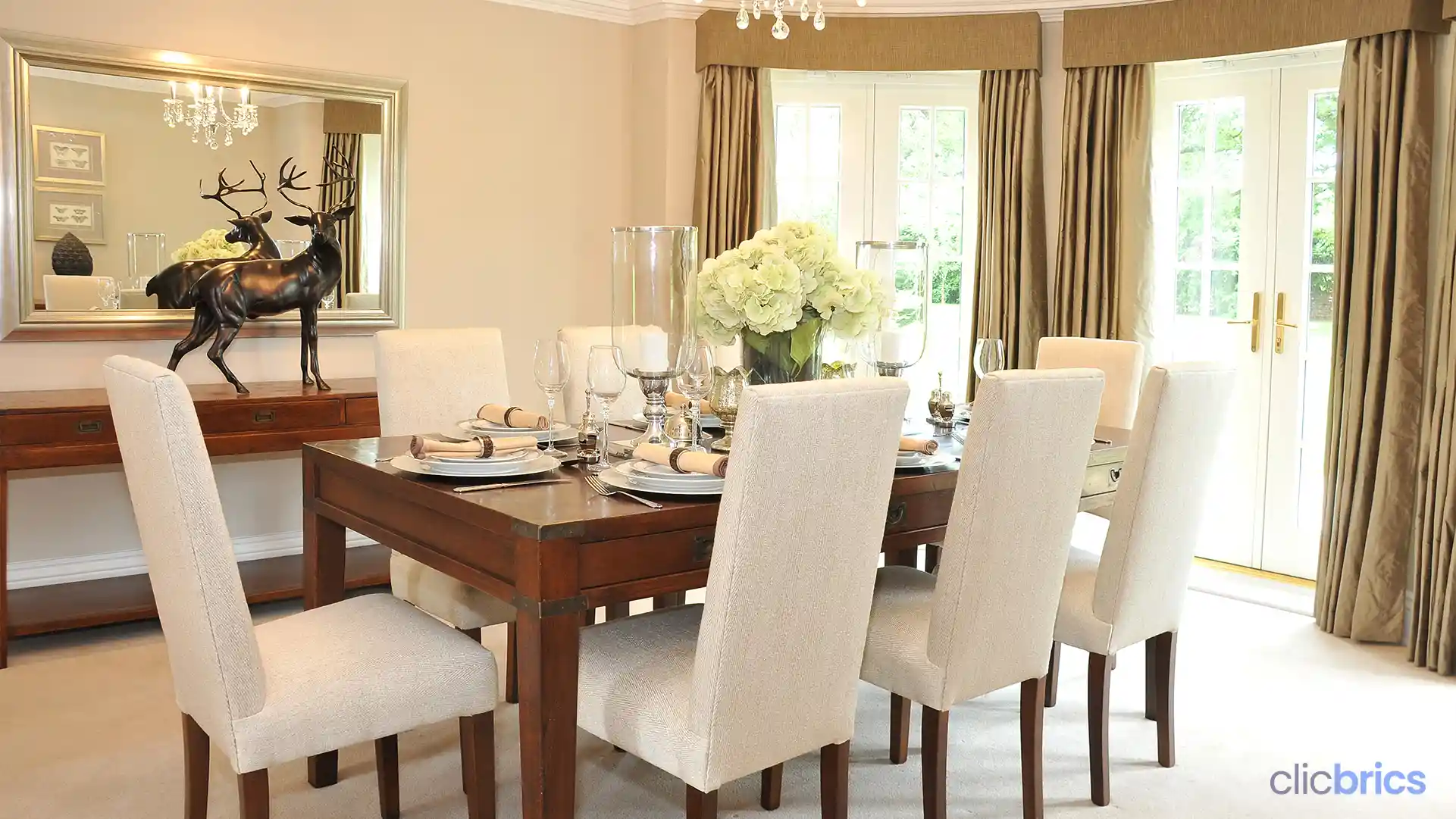 When you are done with the puja, it will be time to offer food to the guests. Bring some fancy dinnerware to add grace to your housewarming party. Showcase those perfect plates and cutlery on the dining table and boost the luxe factor of the dining room. From dinner plates to snack bowls, every single item can be used for both serving as well as decor purposes. Guests love being fed on beautiful plates and can improve their opinion of your new house.
To add ethnic value to your dining table, you can also use well designed, handmade tea coasters, or personalized tea coasters for keeping cups and glasses.  Moreover, they attract a lot of your guests' attention.
Don't Miss Reading: Alluring Living Room Decoration Ideas
Conclusion
A housewarming ceremony is an important occasion and a big reason to celebrate with your family and friends. With all the above housewarming ceremony decoration ideas, you can easily incorporate them to decorate your new house and wait for the guests to love them too. Make proper planning to get the arrangements done in time, keeping in mind that every guest must leave satisfied. 
Here's to settling in your new home and making it your own!