Table of Content:
Ramadan is halfway over, and people are gearing up for the Eid festival. The ritual of decorating a space with beautiful lights and accessories at the time of the Eid celebration is always a fun activity. However, people around the globe are fretting about how to decorate their homes for Eid. So, we took the liberty to provide you with some Eid decoration ideas for your home. Our ideas will increase your space's beauty and ambience to match this day's divinity.
Eid ul Fitr
Eid ul Fitr is anticipated to fall this year on either Thursday, April 20, or Friday, April 21. Eid decoration ideas include everything from setting tables for lip-smacking food to adding new lighting to the ceiling. And why not? After all, our friends and families gather to pray and to enjoy the feast. With the guests coming in, you might not get time to do Eid decorations. So, without further ado, let's check out some easy-to-implement Eid decoration ideas at home that you can start today and be done in no time! 
Also Read: 10 Ramadaan Decoration Ideas To Make Your Home Look Best
Eid Decor Ideas To Brighten Up Your Home
1. Adding Eid Mubarak Banners Is a Great Way To Start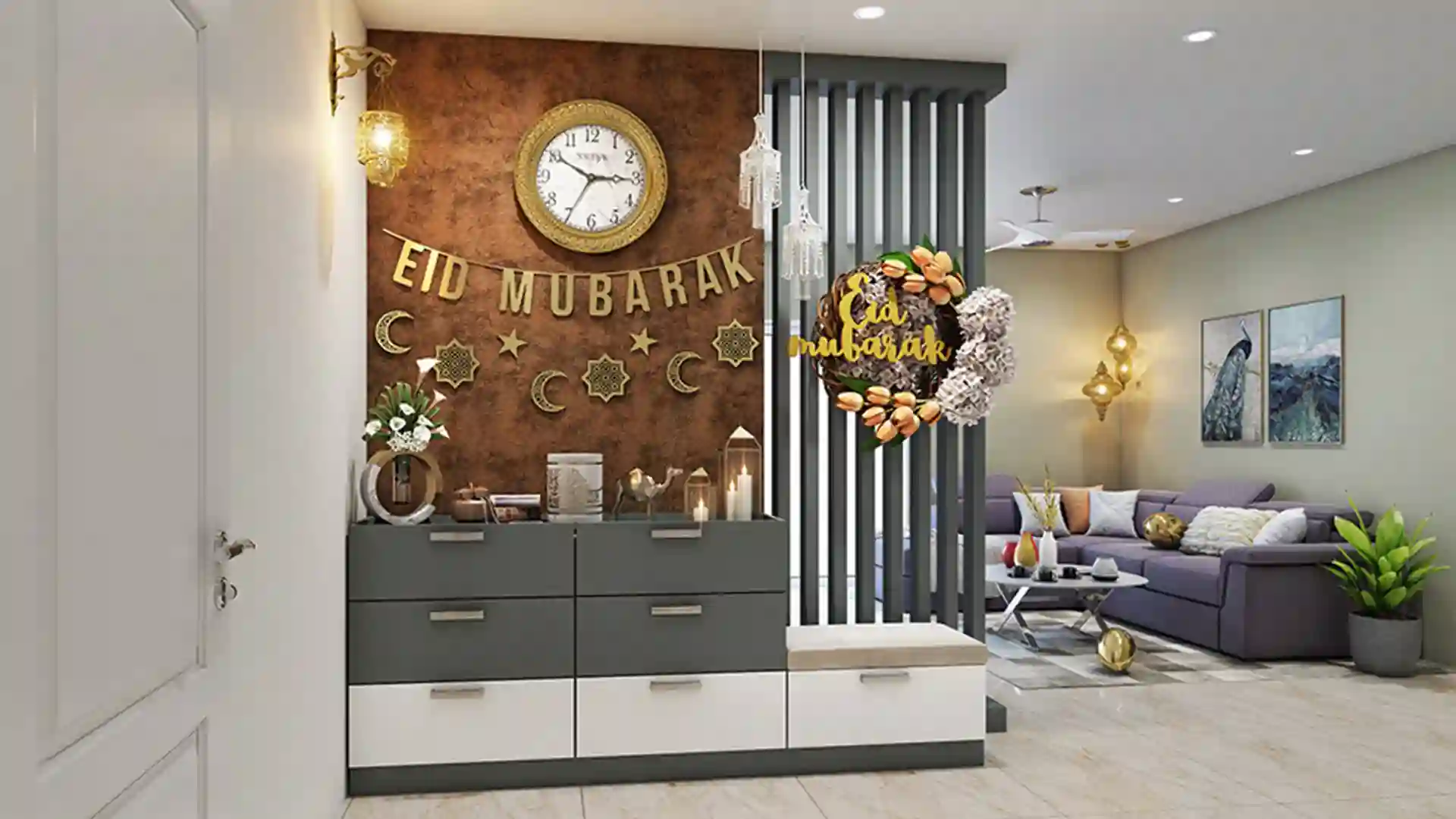 Source: designcafe
Are you wasting your time looking for expensive Eid decoration ideas online? Well, just stop right there! Why invest in heavy decor items when pretty things are just around the corner? So, instead of wasting your precious time and money, you should prepare an Eid Mubarak banner and hang it in your living room, foyer area, or prayer room. These kinds of DIY Eid decorations are easy-to-implement and will boost the charm of your place in a blink of an eye.
2. Enhance Eid Decorations By Placing Embellished Carpet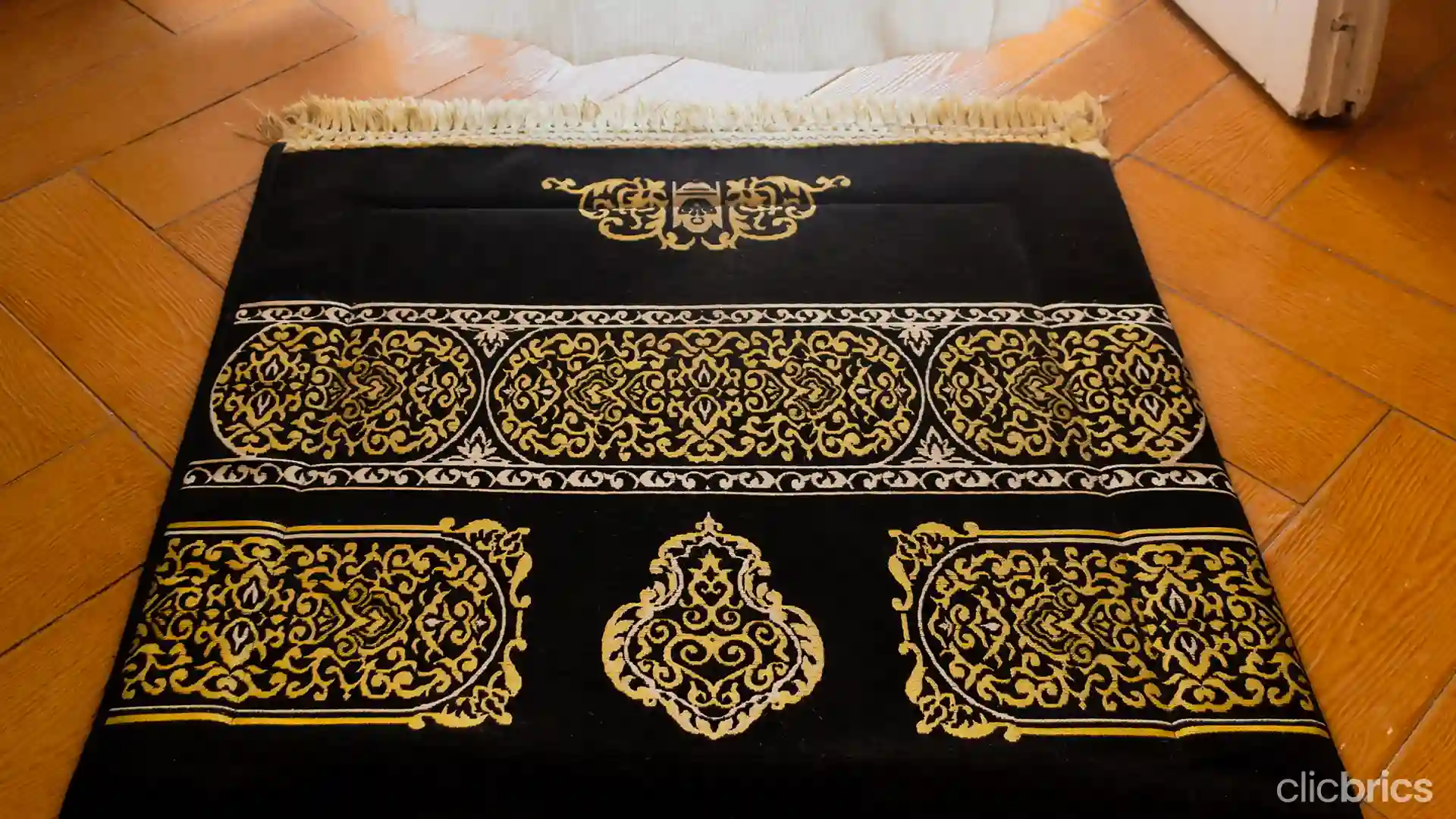 For the best Eid decoration idea at home, just place a beautiful carpet. Adding ornate carpets to the floor adds a soft, traditional touch that attracts everyone's attention. 
Plenty of material for Eid decorations is available in the market, and carpets are one of them. They come in beautiful designs, and the fine knots and softness of pashmina wool are all you need on this Eid al Fitr. 
3. Add Lights To Your Eid Decorations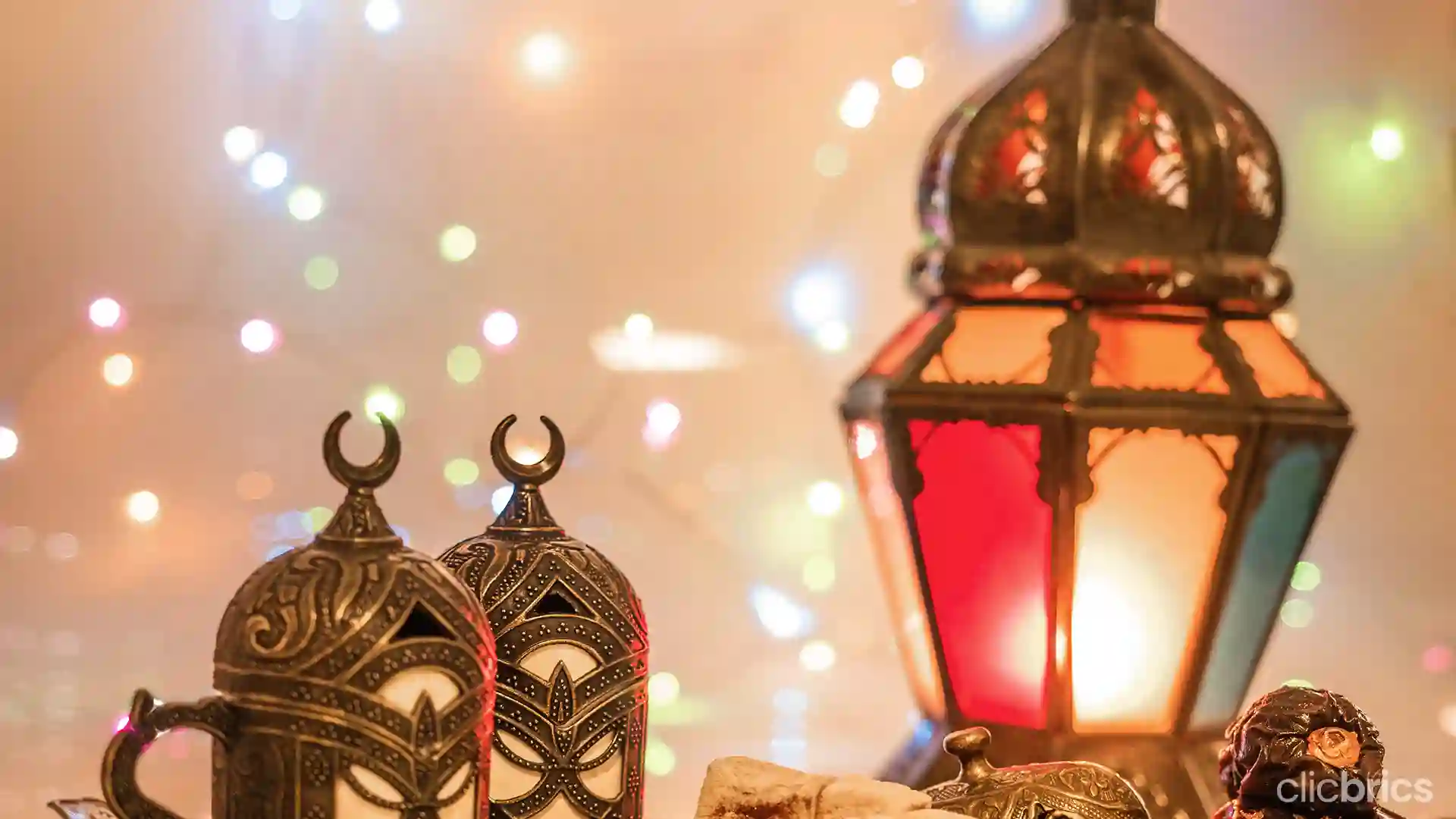 Adding lights at home is a fabulous way to brighten up your space on the auspicious occasion of Eid in no time. You can hang fairy lights inside your home. They are available in different colors, patterns, and sizes. 
Also Read: 10 Anniversary Decoration Ideas To Make The Day All About Love
4. Use Exquisite Crockery To Enhance Eid Decorations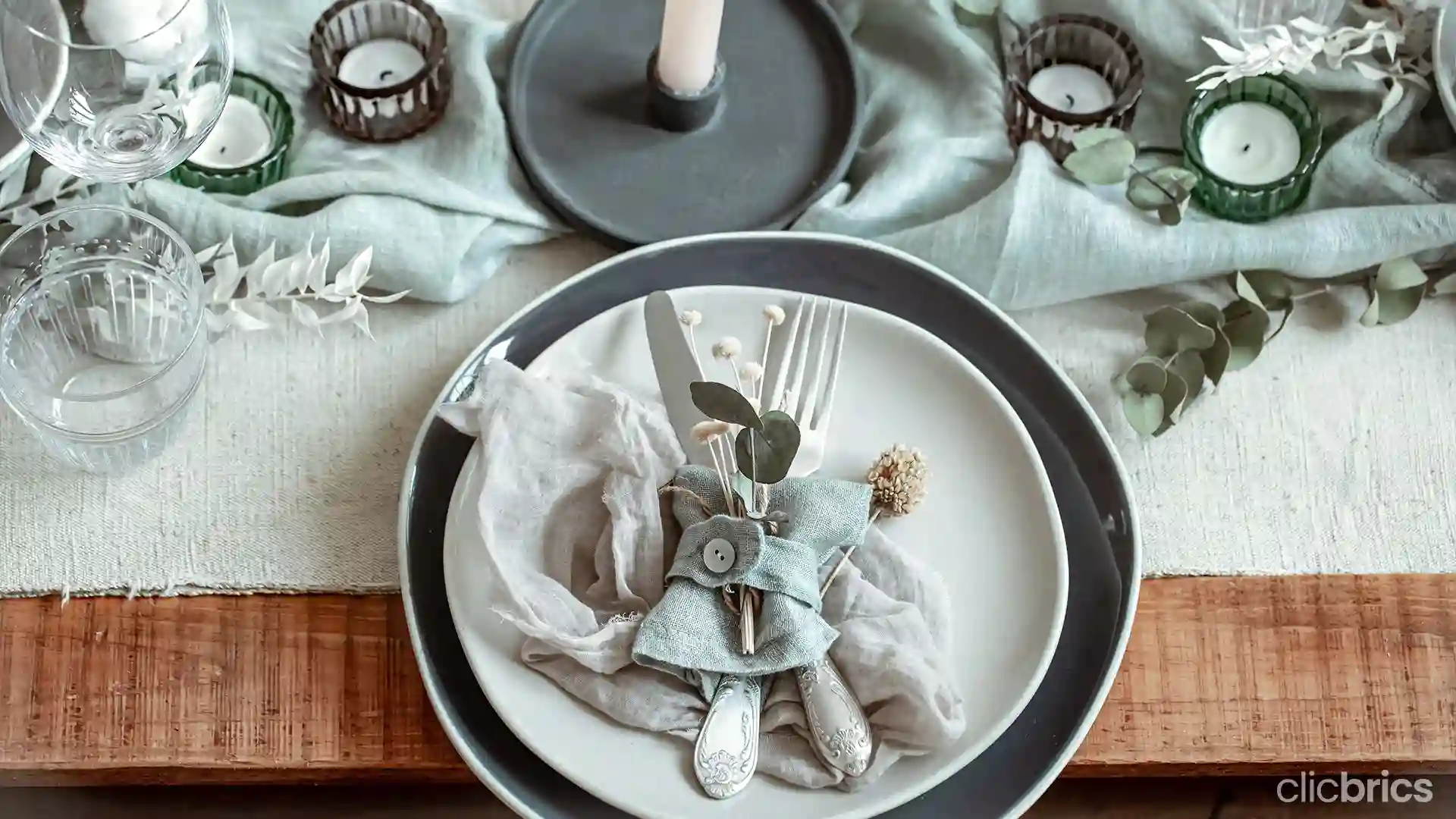 If you were thinking Eid decoration ideas for a home were only limited to lights, then you were in the wrong dilemma. Eid celebration is the perfect time to bring out the fancy crockery and put it to use. Placing delicious food on the table will not only make guests enjoy the delicious food, but the crockery will also contribute to the beauty of the dining space. 
5. Use Simple Balloons for Eid Decorations at Home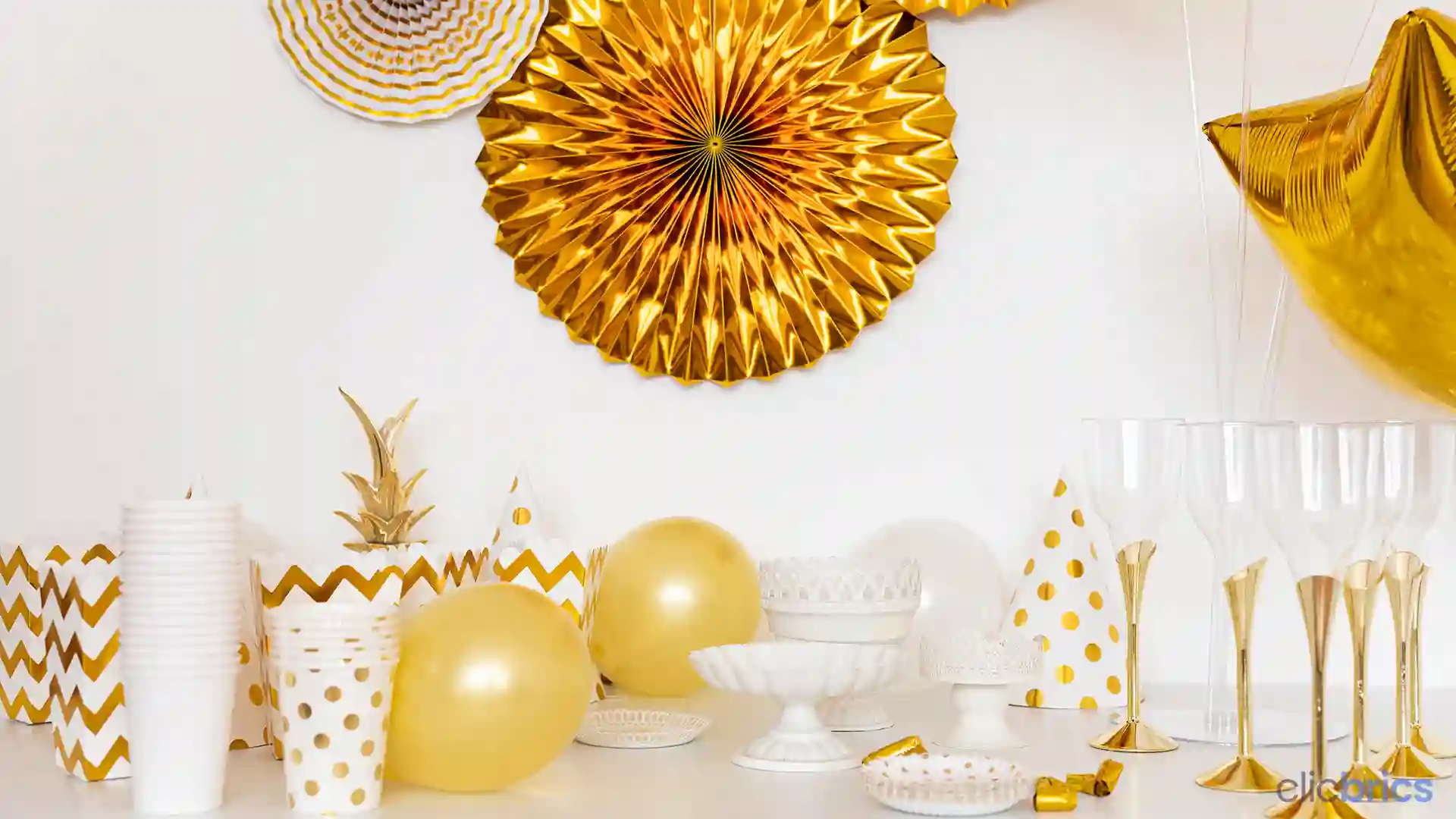 You can use Eid Mubarak balloons to spruce up your home without putting in too much effort. Just give a thought to which color of balloons you wish to have in your home and place them in your living room, and your room is all decked out! 
6. Eid Decoration Ideas To Beautify Your Open Terrace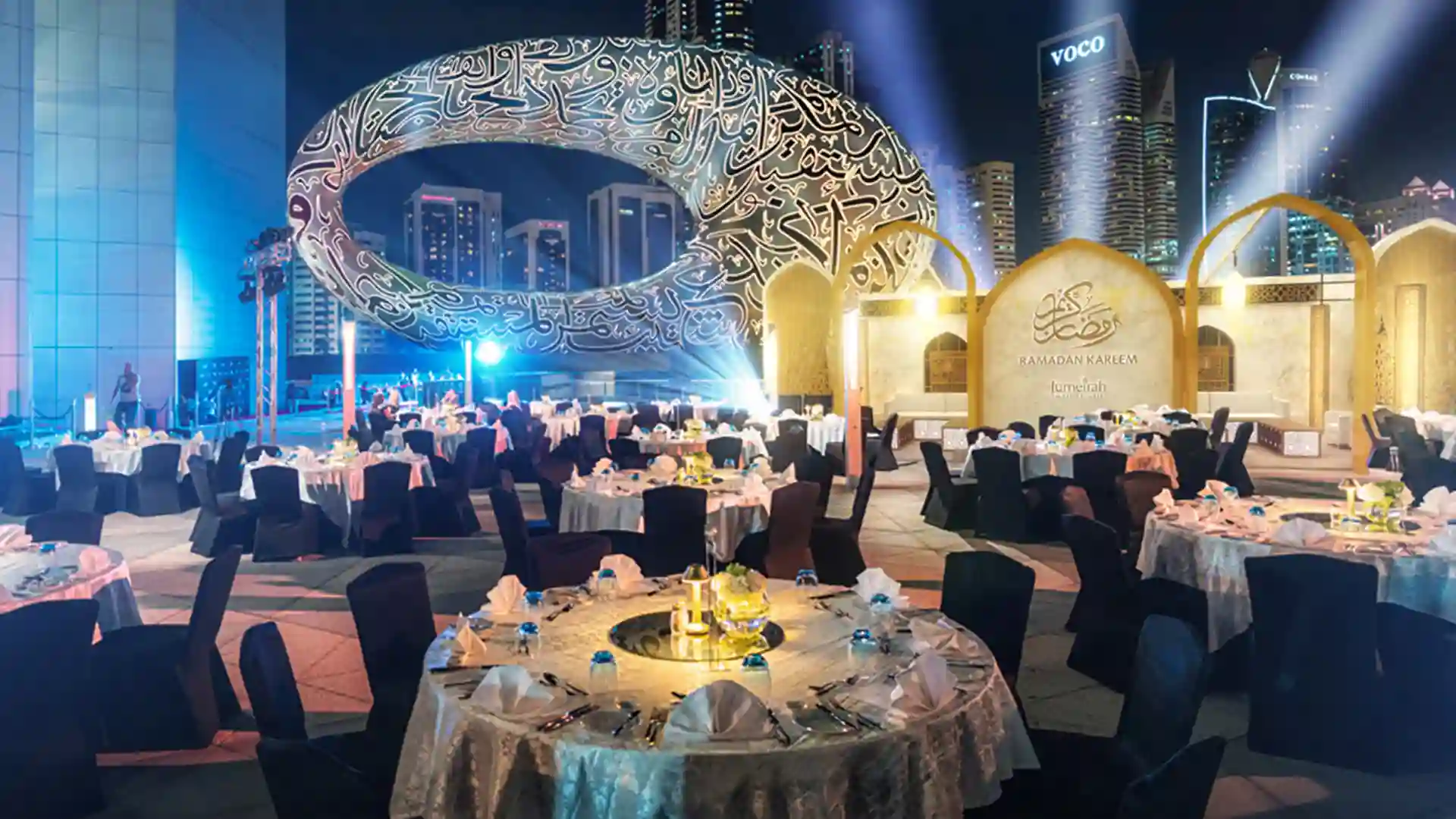 Source: timeoutdubai

Eid decorations can also be implemented into your terrace so that you can enjoy a splendid evening with your loved ones. Just start by adding white curtains and beautiful plants, and place sofas on the ground. Furthermore, you can hang LED or Eid Mubarak customized lights on the walls. The admirable Eid decor is ready. 
7. Eid Decor Ideas To Prep Your Dining Space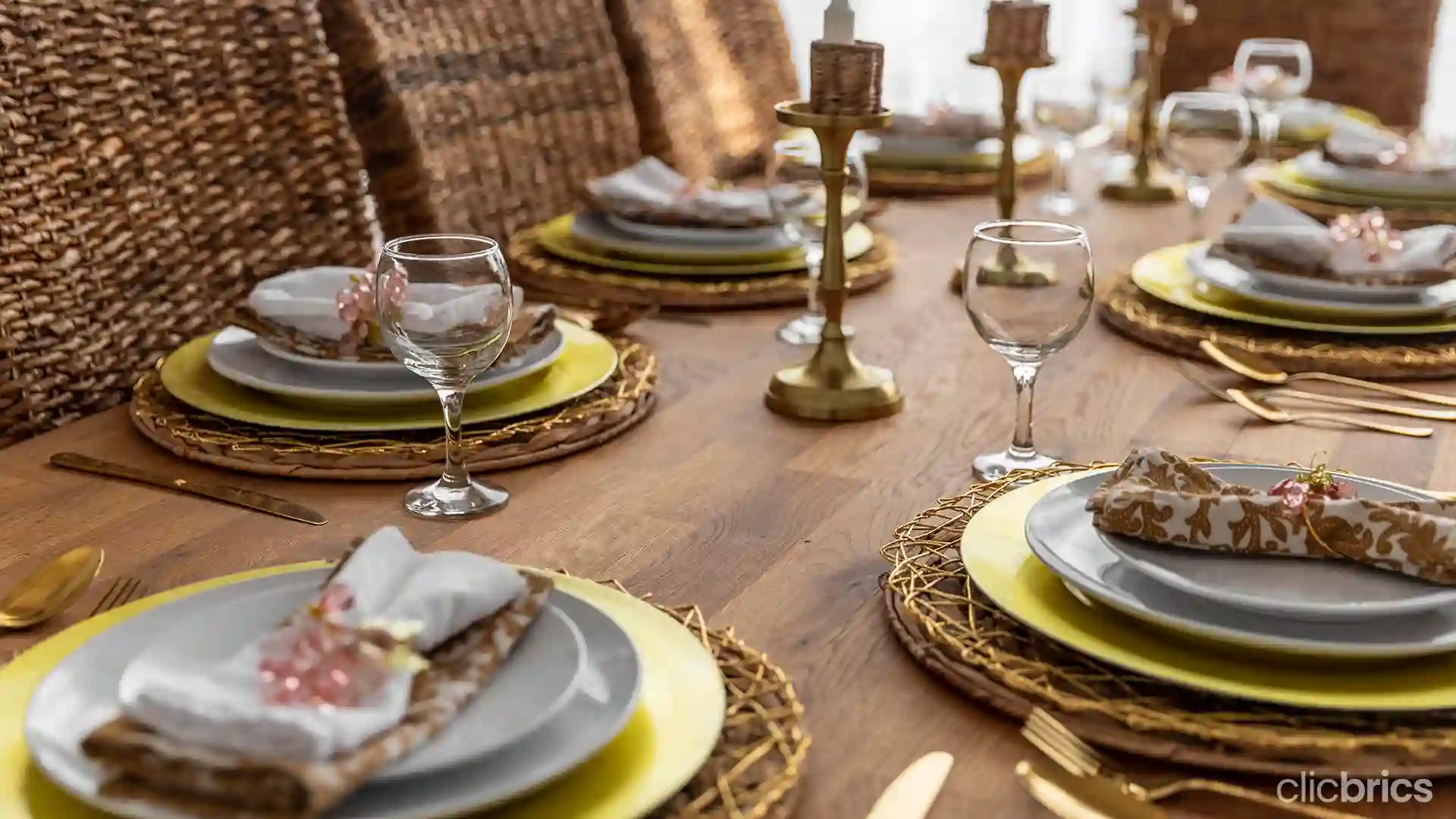 Nothing is more important than enjoying a memorable Daawat with loved ones. Since Eid ul Fitr is a big festival, it is important to serve delicious food to guests while ensuring that the table is tidy. 
Also Read: 5 decor ideas that will liven up your dining room 
8. Eid Decoration Ideas To Beautify the Praying Corner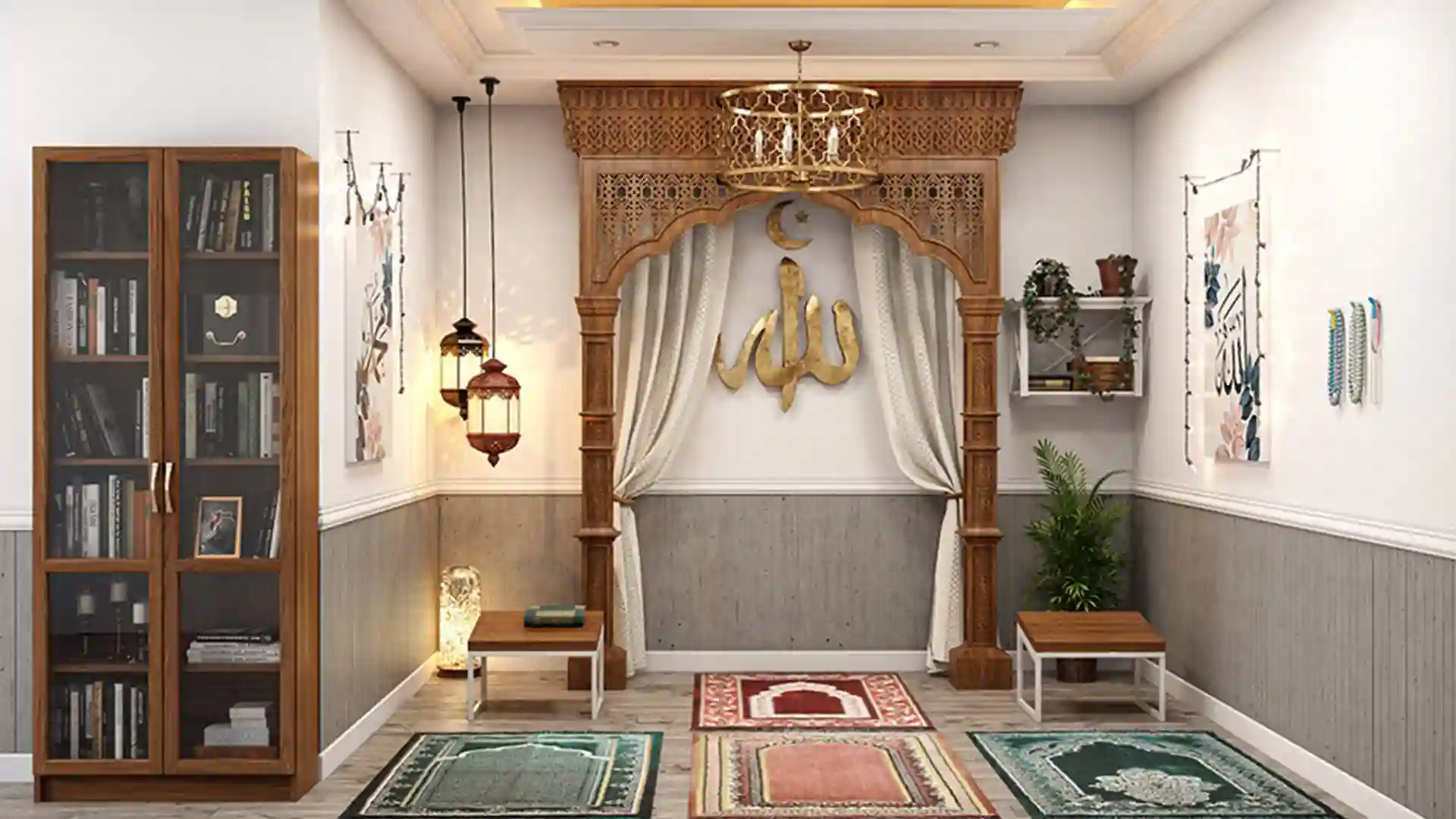 Source: designcafe

Beautifying the prayer corner is also said to be part of Eid decoration ideas at home. If you enjoy praying in the corner, start by dedicating a room or a small corner of the living room to offering prayer to Allah. This way, you will stay away from all the distractions and pray in peace. 
9. Eid Decorations Using Well-Lit Lanterns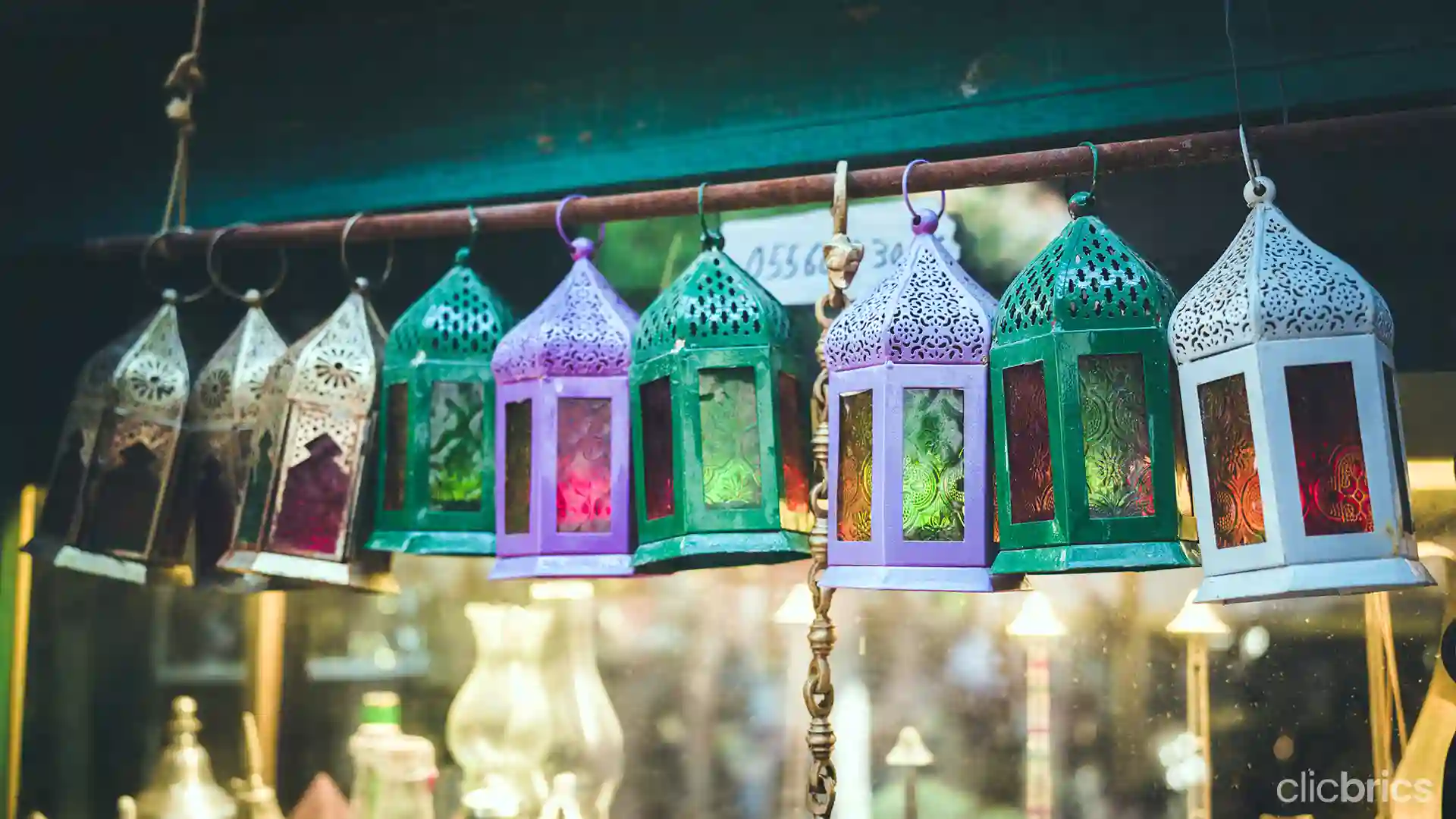 Lanterns play a very important role in glorifying the look of the home. So, on Eid, you can place lanterns in your dining room, living room, or prayer room. The beauty of these lanterns will add charm and make the space look more inviting. 
10. Make Florals a Part of Eid Decorations At Home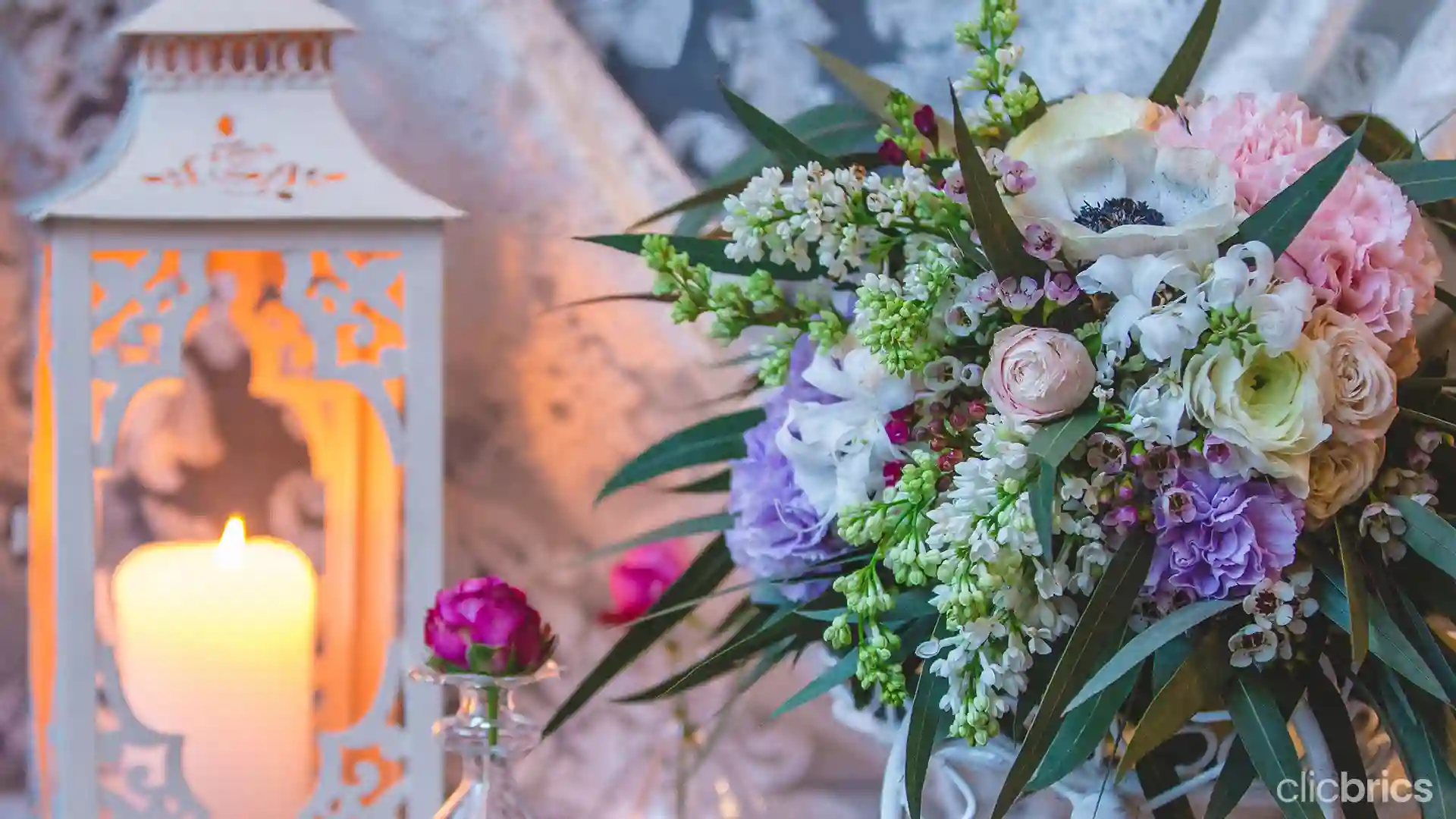 Flowers are a natural beauty that play a pivotal role in Eid decorations. The fragrant aura that they lend to a room is incomparable. You can use some elegant flower vases to display the festive charm. You can even place a floral wreath at the entrance of your home to welcome your guests.
Also Read: 10 flower decorations at home to add nature's touch 
The Eid decoration ideas mentioned above will add a festive atmosphere to your home and give it a new look. May Allah bless you with good health, wealth, and peace on this Eid ul Fitr!
Eid Mubarak!