Table of Content:
Ramadan is a special and holy month in the Islamic calendar and culminates with the festival of Eid-al-Fitr. One of the most important aspects of Ramadan is fasting from sunrise to sunset and performing prayers. 
As the holy month is approaching, you might be thinking of starting with Ramadan decoration in your home. But how should you decorate and what's the right way to do this? 
For Ramadan 2023, we've gathered some unique and enticing ways to decorate your home. Continue reading to explore! 
Quick & Unique Ramadan Decoration Ideas At Home
Doing Ramadan decoration at home is a creative activity that can turn your home into a festive scenery. Our list of Ramadan decoration ideas for the home are easy and have the power to bring a spirit of the peaceful season to your home. 
1. Use Fanoos To Light Up The Space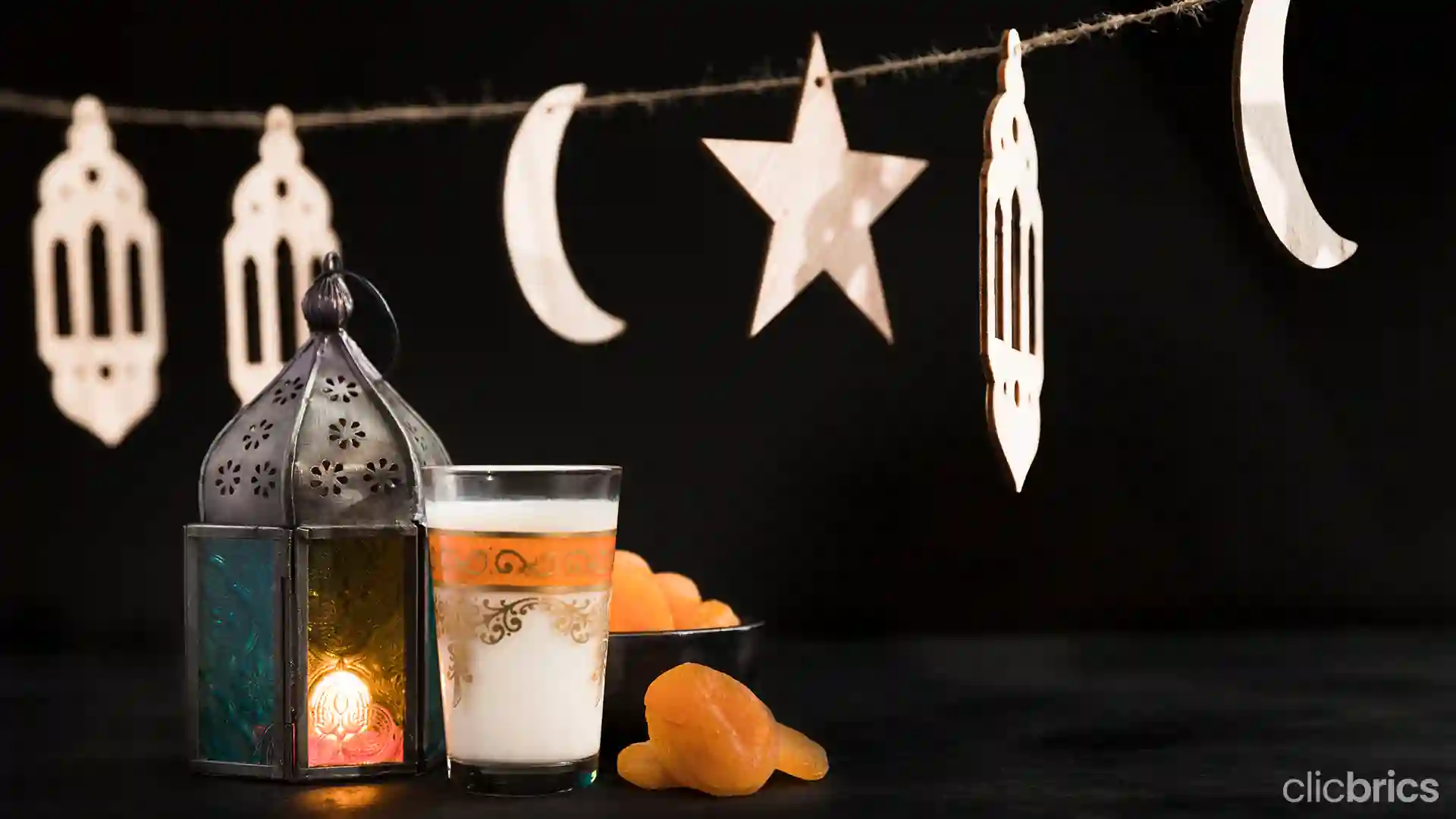 Ramadan decorations are incomplete without good lighting, so you should start decorating your home with traditional lanterns known as Fanoos. It is mostly used in the holy month and adds a positive flair to your space. If you want simple Ramadan decor ideas for offices, you can use decorative lights, like wall lamps, or install LEDs and string lights into lanterns, to make the space look bright. 
2. Scented Candles for a Blissful Aroma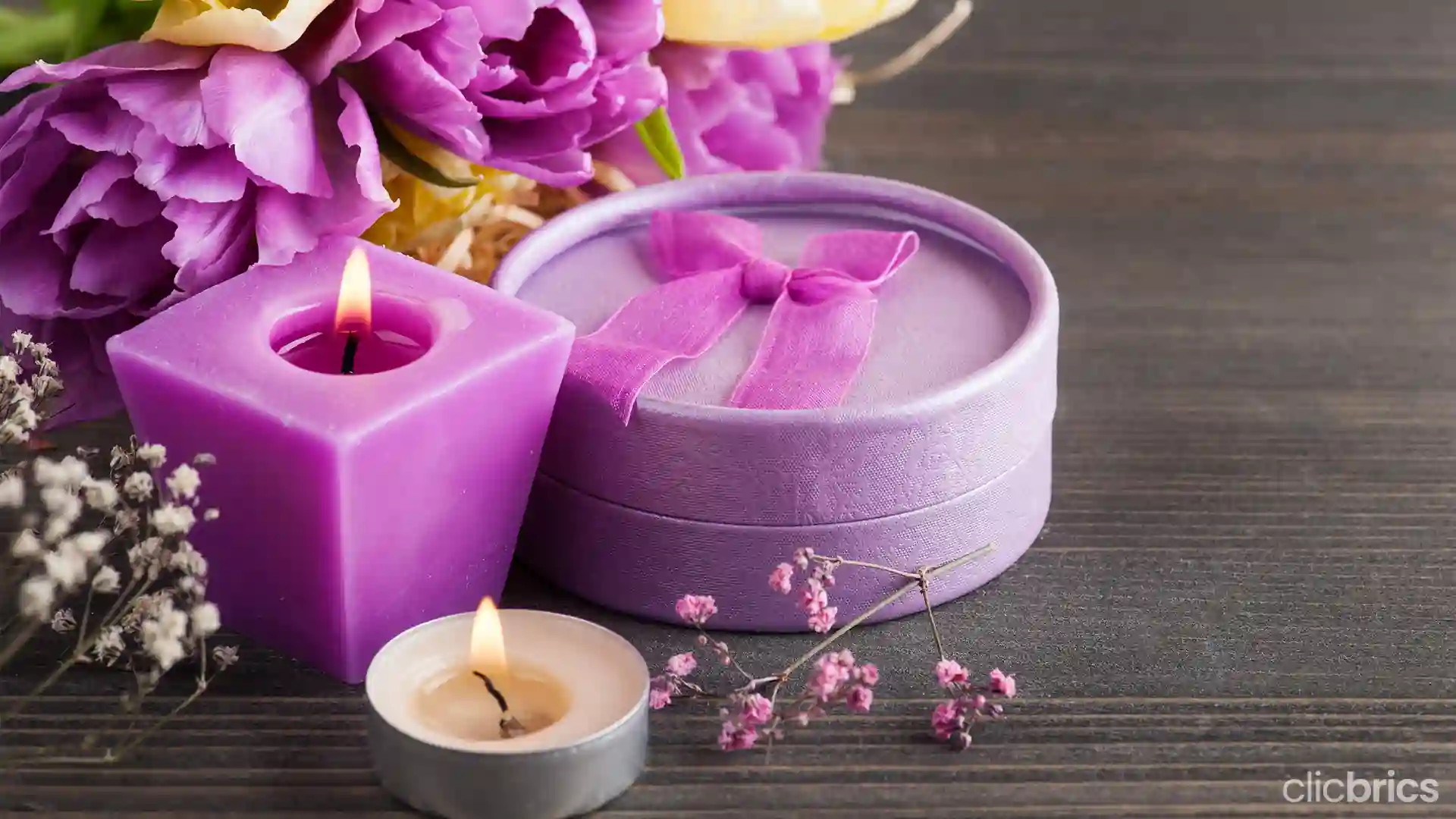 No doubt lights can work their charm, but nothing can beat candles for doing the best Ramadan decoration at home. Scented candles can improve the mood because they have a rich aroma of fresh lavender, roses, and peonies. Buying scented candles and installing them as a part of Ramadan decor is a perfect way to make the space look more hospitable and spiritual. 
3. Use Balloons for a Quick Ramadan Decoration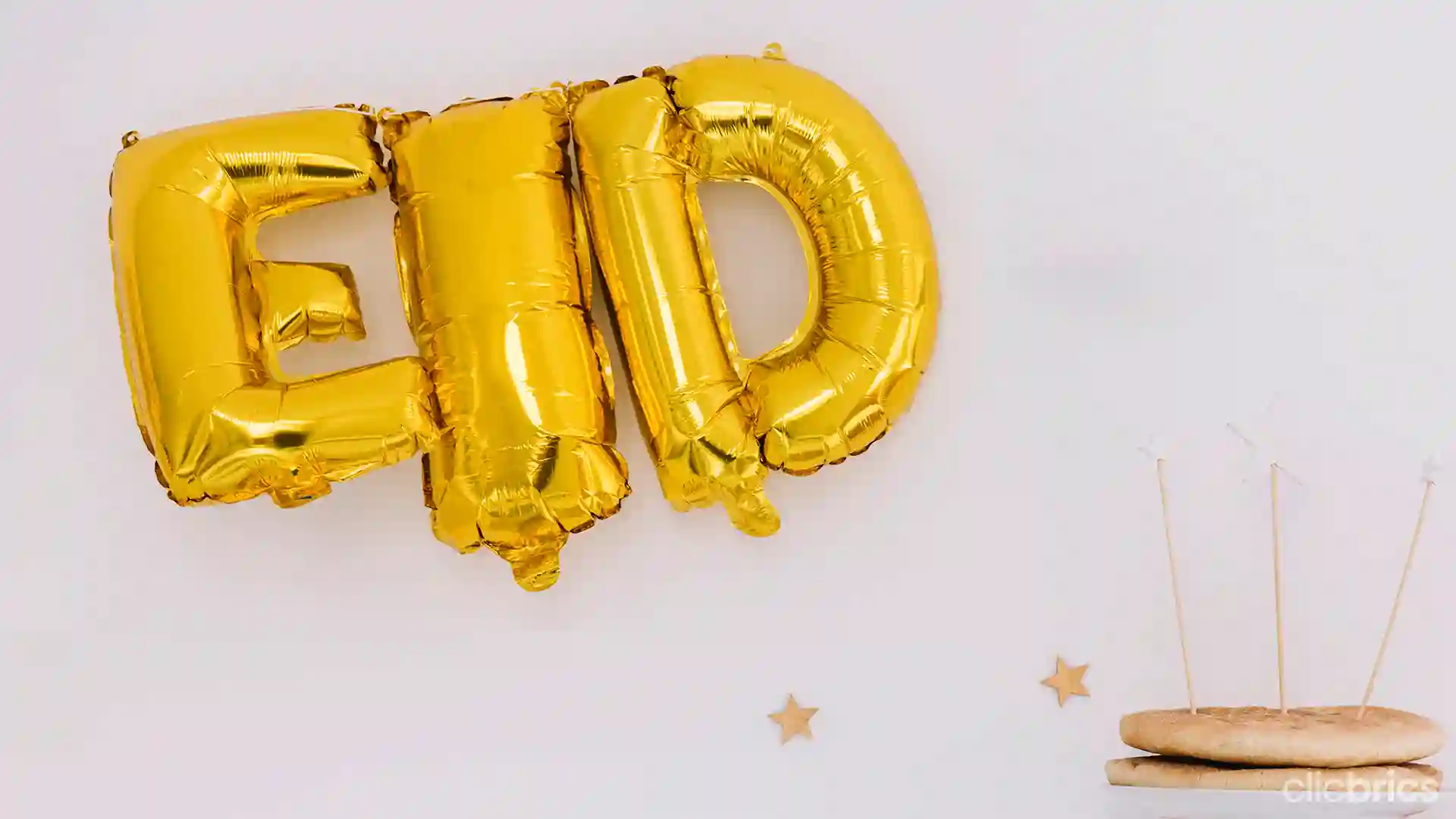 Doing balloon-based decorations at home for the occasion of Ramadan is a fabulous way to uplift the look of the space. You can use thematic-shaped balloons for the backgrounds, ceilings, walls, and entrances and see how wonderfully your home's look will be transformed. 
4. Ramadan Decoration For Outdoor Space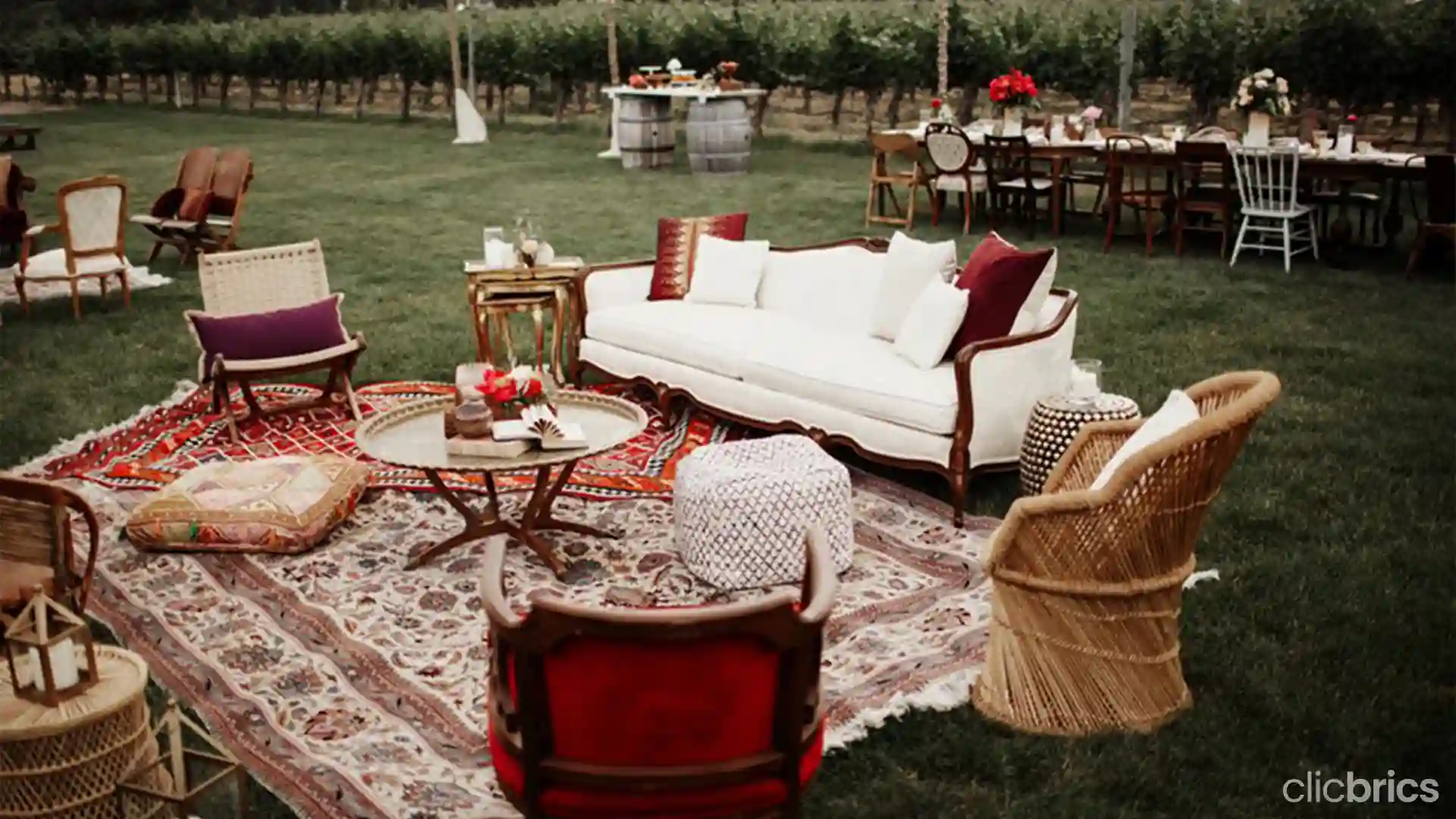 Source: chicvintagebrides

You can create an Arabian-style seating arrangement with an open space in the form of a garden, balcony, etc. 
To do Ramadan decoration, add cushions and place a low table on the grass. Add floor lamps and lanterns to create a warm feel, surround your family and friends, and enjoy these precious moments.
5. Place Handcrafted Rugs For Elegant Ramadan Decorations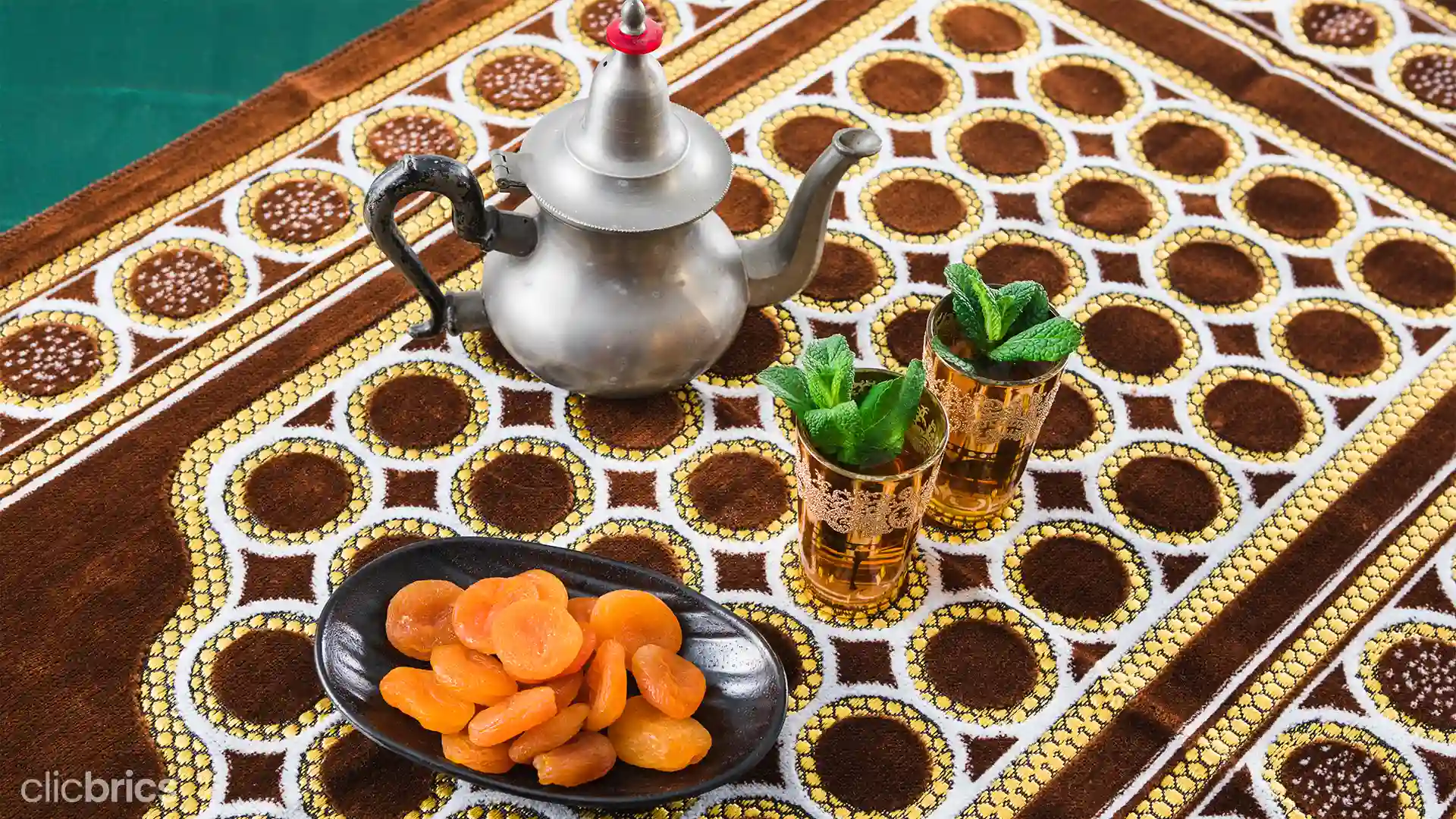 Ramadan is a special month and an opportunity to redesign the space. So, add a vintage touch by placing elegant rugs. You can find plenty of designs to choose from, like hand-tufted rugs, shaggy rugs, and oriental rugs, at a good price. 
6. Ramadan Kareem Decoration In Kitchen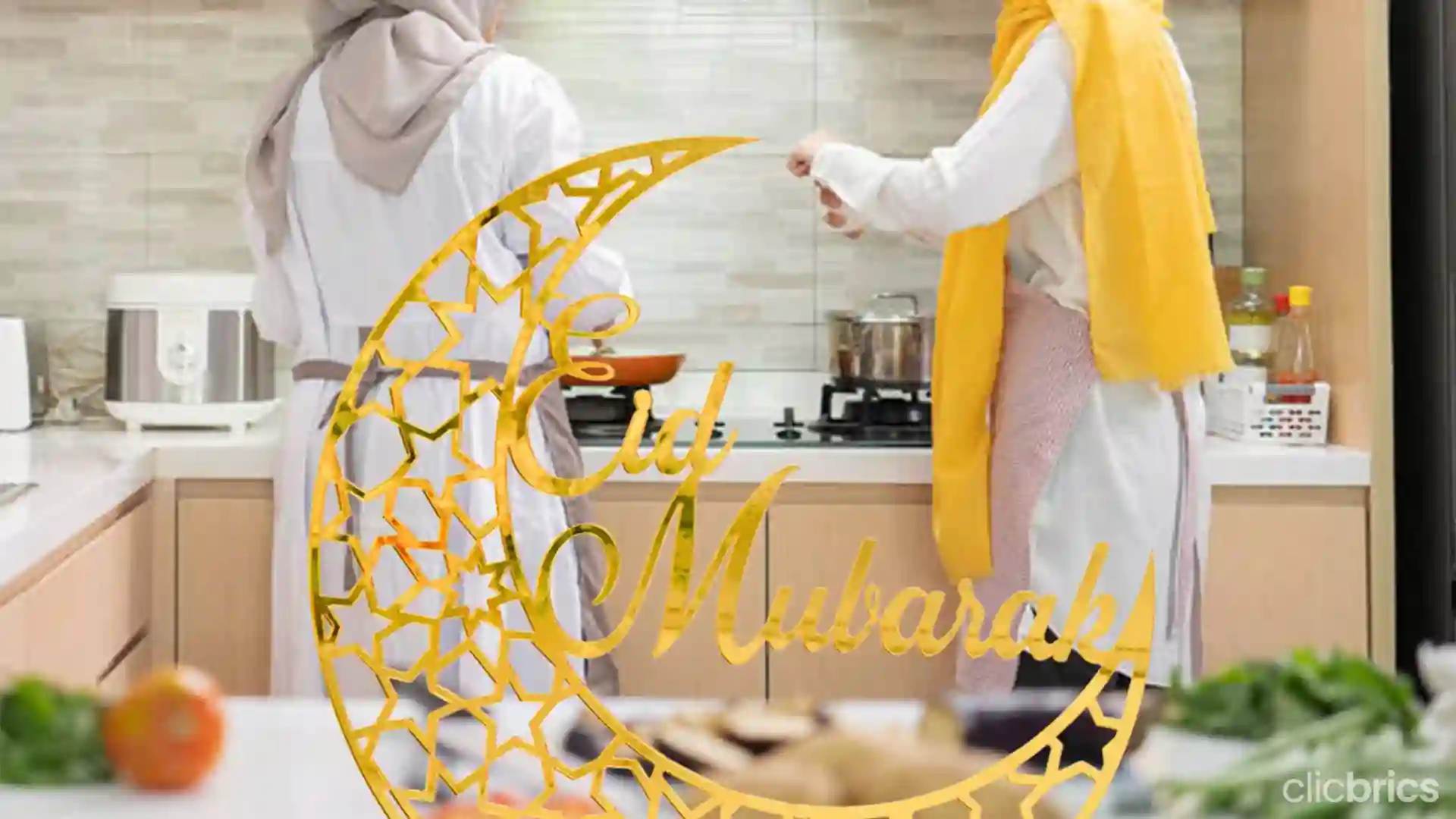 Source: aliexpress
We can never miss the opportunity to decorate the kitchen for the holy month of Ramadan. From cooking holy meals for iftar and suhoor to preparing Knafeh, everything happens in the kitchen. 
You can keep your kitchen simple by adding a Ramadan sign to the counters to decorate them. 
7. DIY Ramadan Decorations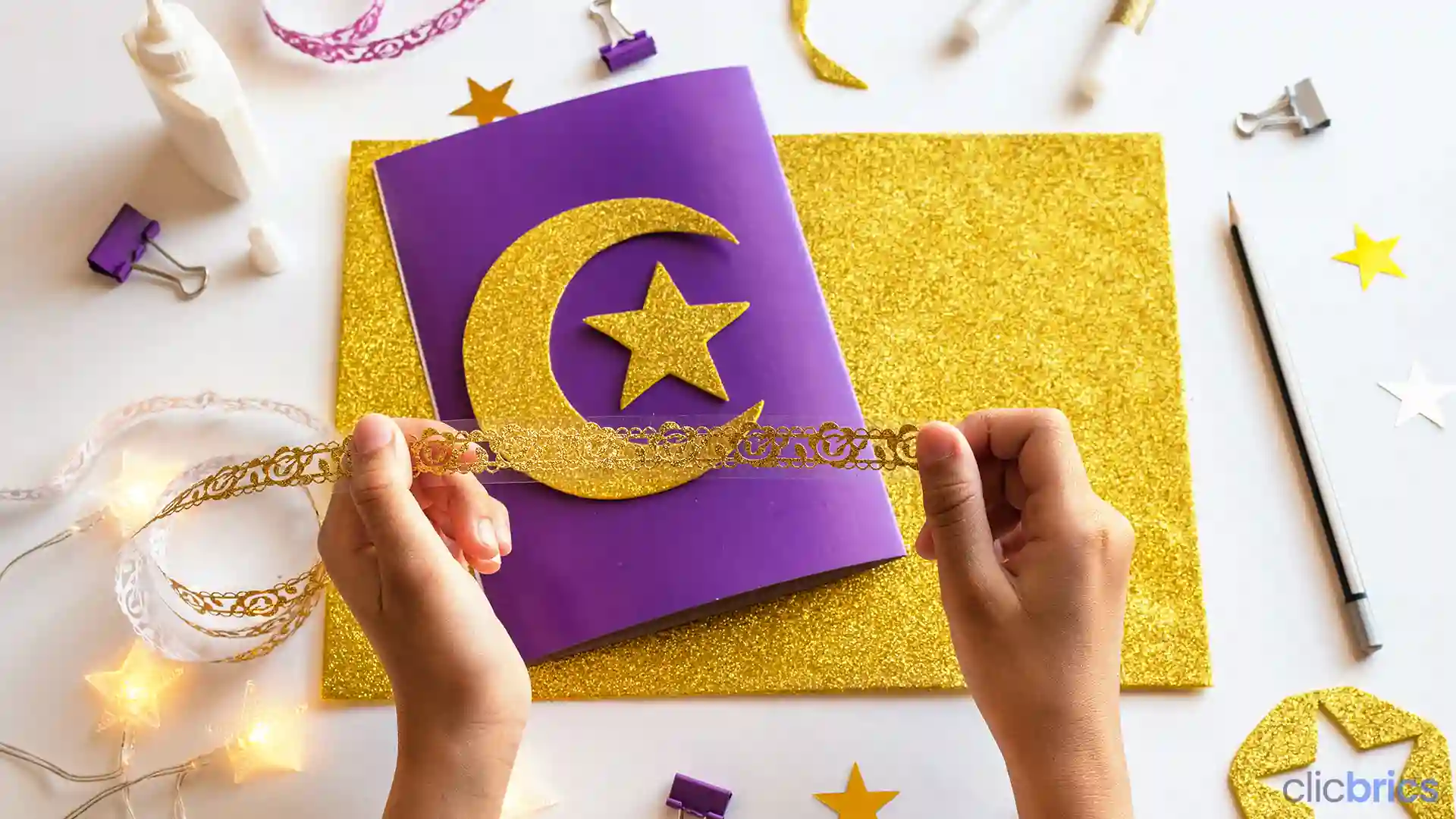 Nothing beats the fun activity of DIY more than spending the whole day crafting and decorating places with kids. You can assign kids a task to cut circles and stars out of paper and then glue them together. This way, a colorful string will be made, which you can hang on doors and windows. This beautiful eco-friendly craft will add an artistic look to your home.
8. Ramadan Decoration In Dining Area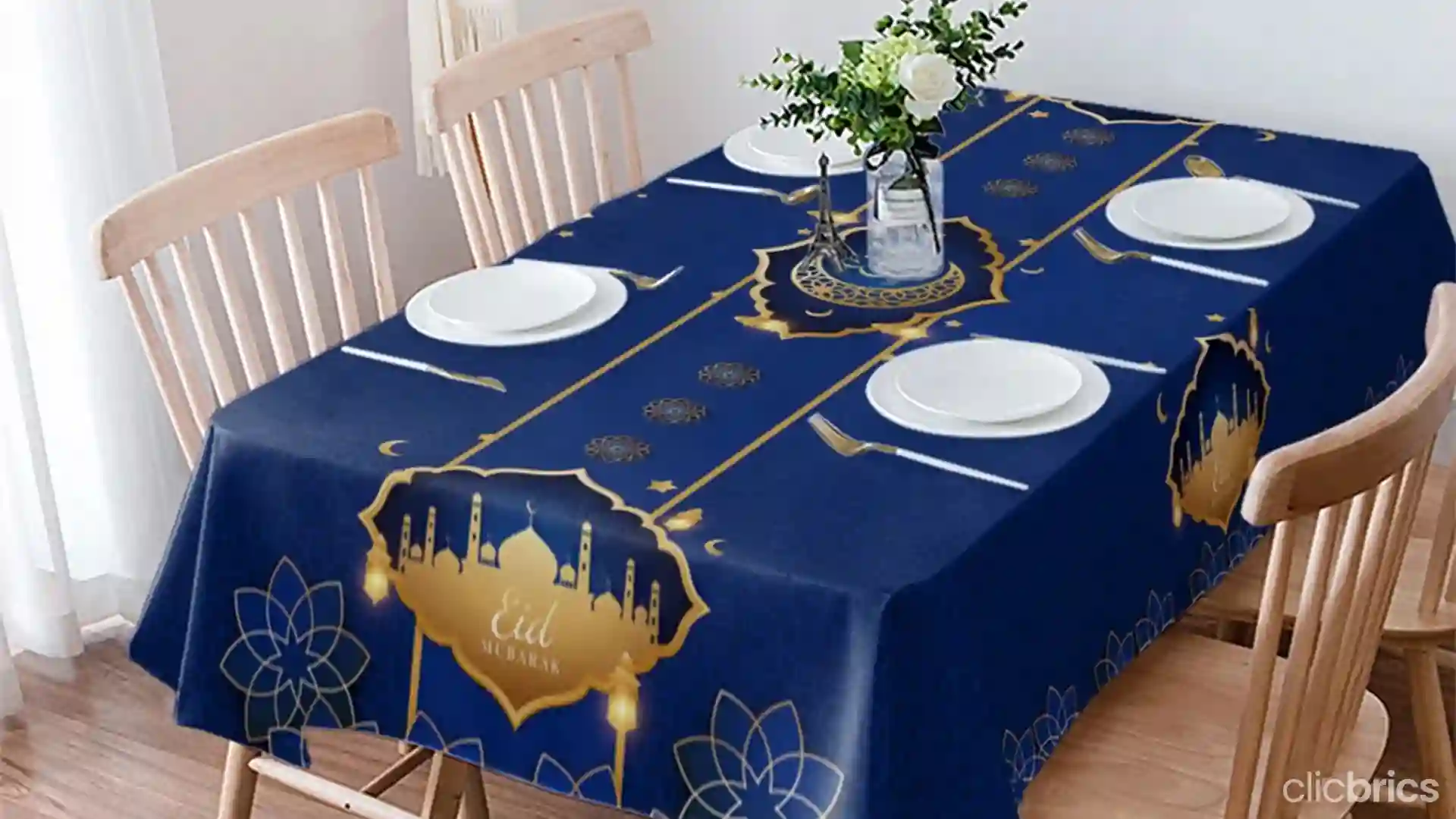 Source: aliexpress
Making Ramadan decorations in the dining area is very important because you're going to have your meals with your friends and family.
Start by placing lively-patterned napkins. 
Choose Ramadan-themed trays and place nice glasses along with them. 
Place gold lanterns on the table to increase the decor.
Place a beautifully patterned tablecloth where you can later place desserts. 
Also Read: Fun ways to light up your dining room
9. Decorate the Praying Area To Set The Spiritual Mood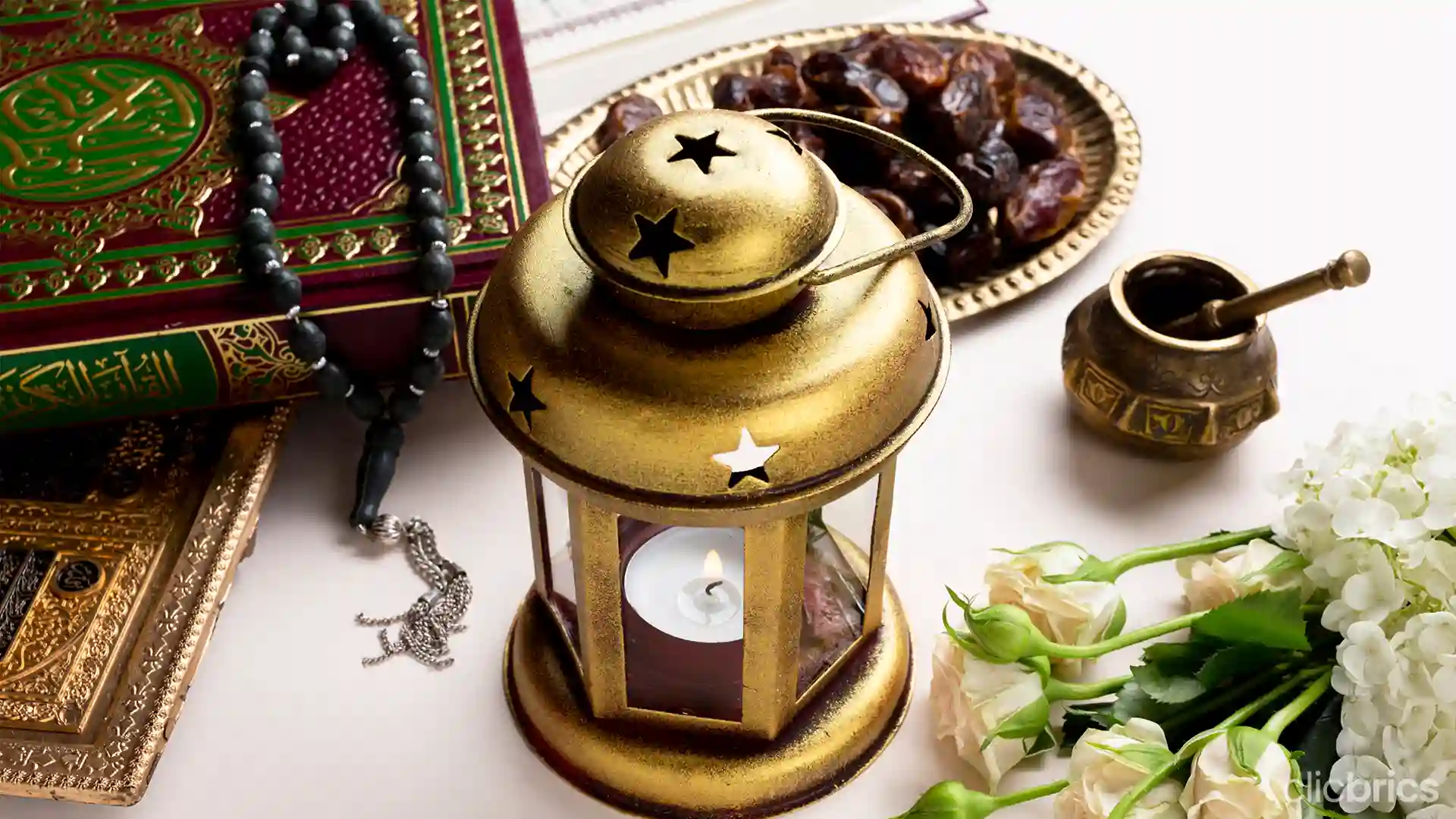 Follow the below-mentioned tips to set up the praying room in the month of Ramadan 2023
Set a comfortable area in the corner with a lamp to read the Quran.
Add a new colorful praying mat
Add lanterns in the corners to decorate the praying space. 
10. Place Ramadan-Inspired Wreaths & Banners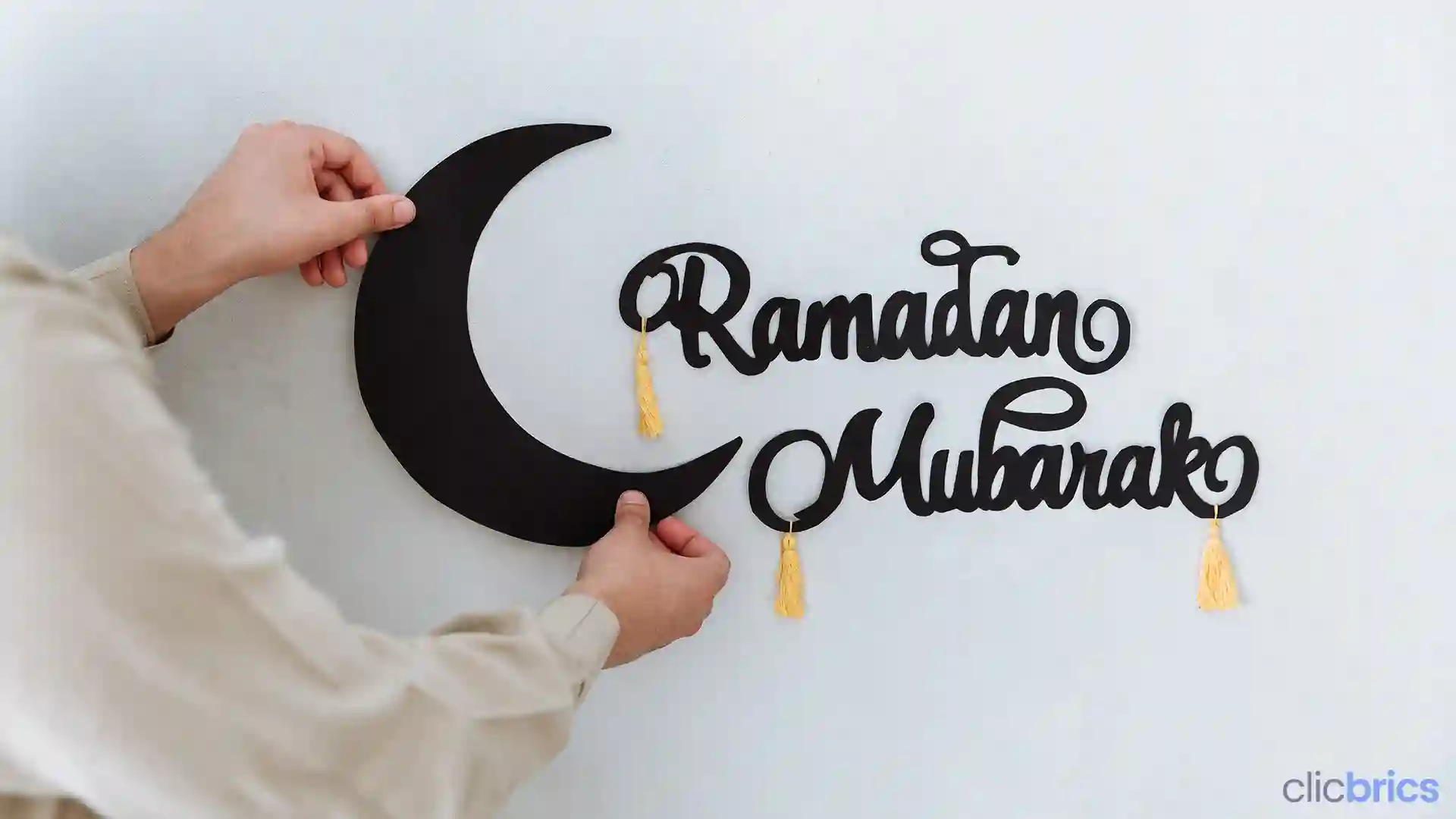 It's time to decorate the doors and windows with Ramadan wreaths and banners. You can easily find "Ramadan Mubarak'' or "Ramadan Kareem Mubarak'' banners online. It is an easy yet special way to enhance the spirit of the holy month. 
We've all started seeing the shops, malls, kiosks decking up with Ramadan decorations so why shouldn't your home? Don't miss out the opportunity to try these super easy Ramadan decoration ideas for the home mentioned above that are sure to brighten up your home during this blessed month.
Ramadan Kareem Mubarak