Table of Content:
Situated in Udyog Vihar, Gurugram, the DLF Cyber City is a beautifully designed corporate park and is home to top IT and Fortune 500 companies. This swanky place is dominated by a vibrant nightlife, shopping centers and is a heaven for foodies. With its convenient location and world-class facilities, it's no wonder that the DLF Cyber City is the heart of Gurugram and is the most sought-after place to work, relax and unwind - not only for the residents of the city but for the entire Delhi-NCR. 
As a prominent commercial and employment center, DLF Cyber City in Gurgaon continues to influence housing demand, the value of properties, and rental rates in the areas close to it.Two of the most sought-after residential areas nearby are Sectors 54 56, Sushant Lok Phase I & DLF City Phase 4 -  barely 5-10 km from Cyber City.  
If the information mentioned above intrigues you, then this complete blog will be a bonus as it offers you information on an endless trail of cafes, restaurants,offices and whatnot! 
So, hang in here and explore places to visit in DLF Cyber City with your friends, family, and colleagues. 
DLF Cyber City Gurgaon: A Quick Synopsis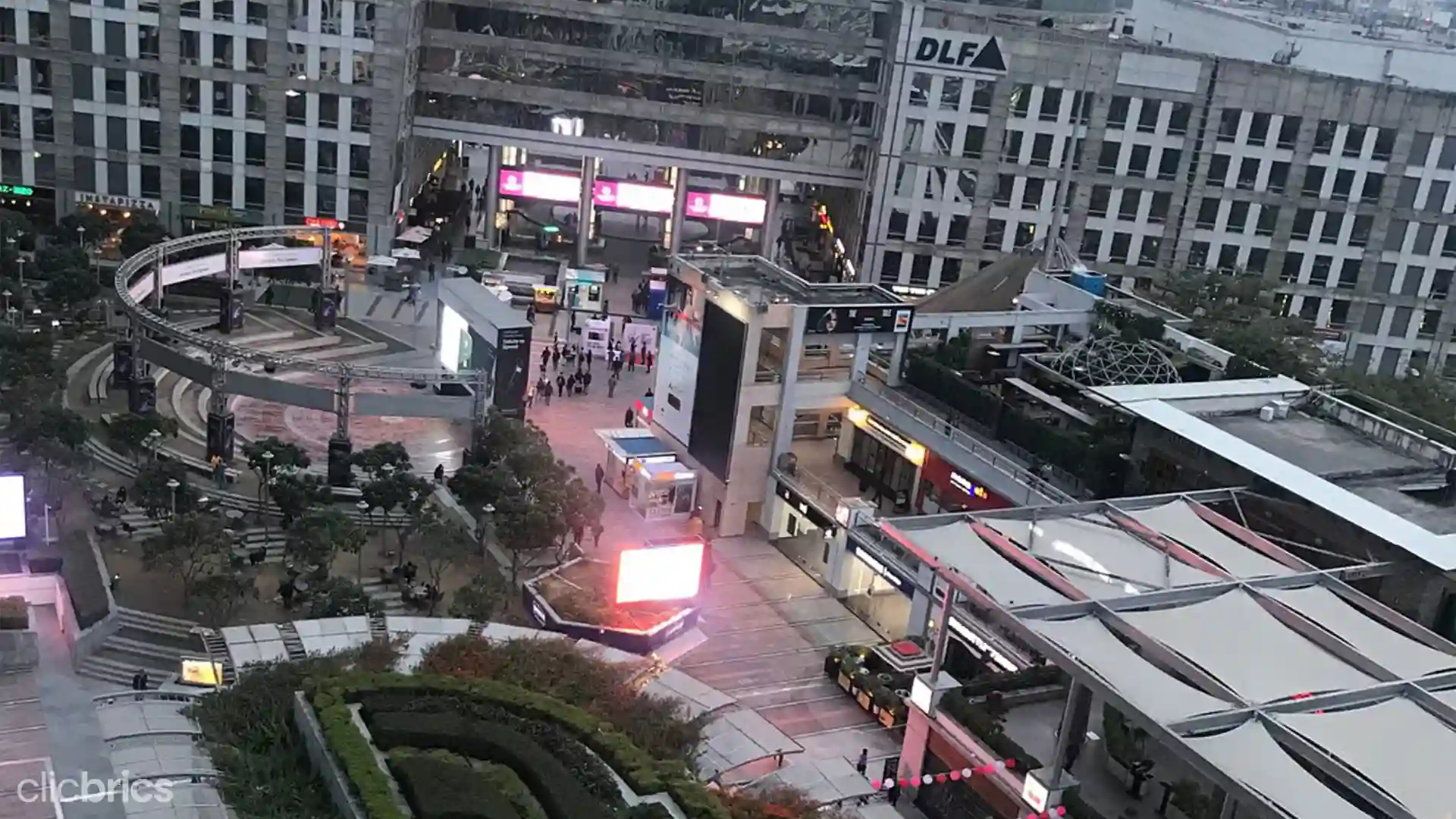 Source: tripadvisor
The Cyber City is spread over 400,000 sq ft (37000m2 ) and is located on the main artery that connects Gurugram to Delhi via NH 8. Moreover, DLF Cyber City, Gurgaon is often a home to many art and cultural shows, media launches, lifestyle shoots and stand up comedy shows. 
A unique, one-of-a-kind corporate park, DLF Cyber City was opened in 2003. Ten years later, the introduction of Rapid Metro in Cyber City, made the accessibility much easier as it now connects Cyber City with the Delhi Metro. 
If you plan to visit, you should remember that DLF Cyber City timings are 9 a.m.- 1:30 a.m., from Monday to Sunday.
DLF Cyber City: Location & Ways to Reach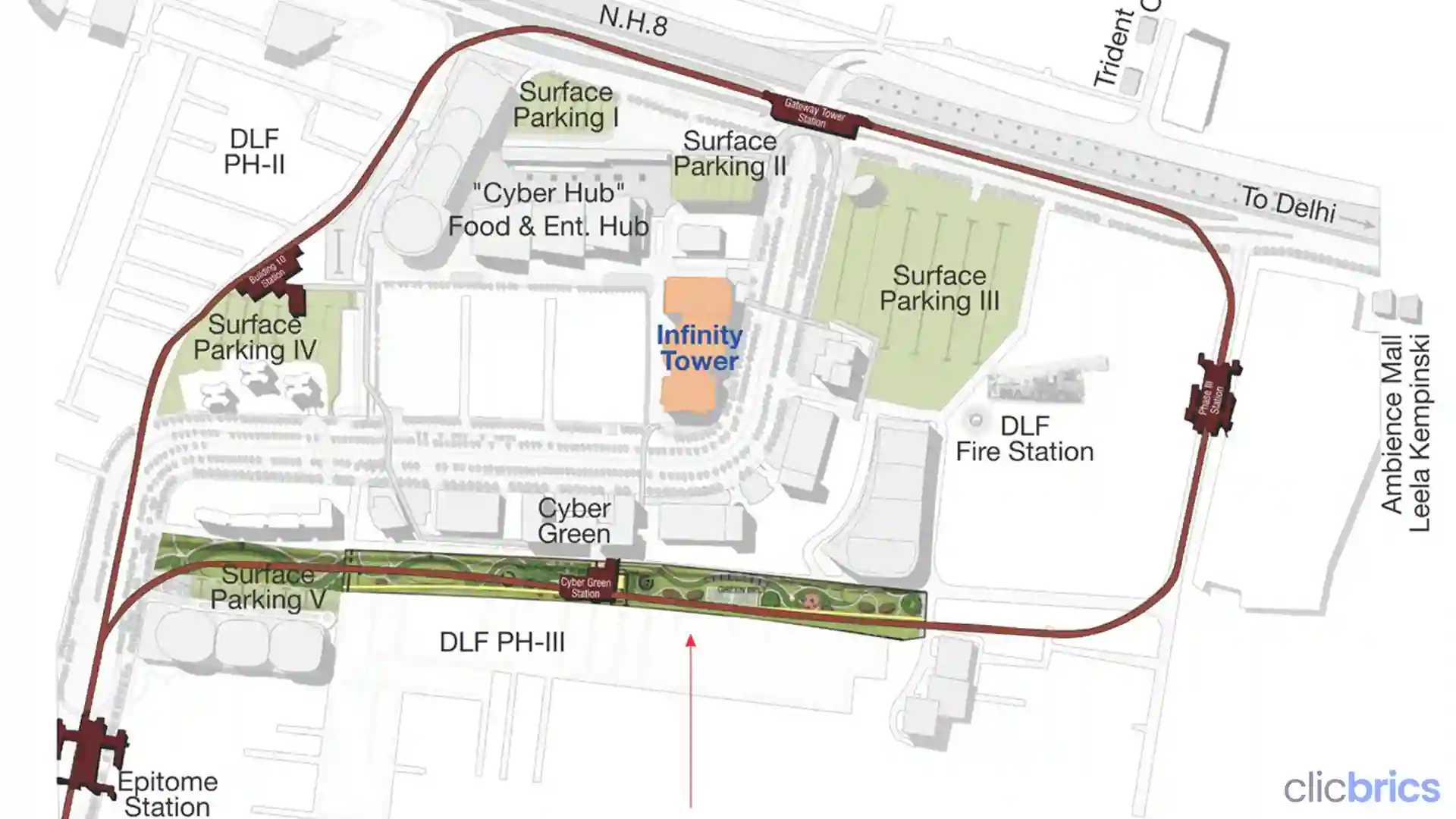 Source: DLF
To get to DLF Cyber City in Gurgaon, you can either use a taxi or your own means of transportation. However keep in mind that parking will take up a lot of time if you use a personal vehicle on the weekend. Thus, it is preferable to use taxis/cabs on the weekends.
You can also take the Delhi Metro to reach DLF Cyber City. The Yellow Metro Line crosses Rapid Metro at Sikanderpur Station. After taking this metro route, you get down at the IndusInd Bank Cyber City metro station (the nearest metro station to DLF Cyber City, Gurgaon). 
If you're commuting from DTC Bus, your stop will be at Shyam Chowk. From there, DLF Cyber City Gurgaon is just 7 minutes away. 
Famous Offices In DLF Cyber City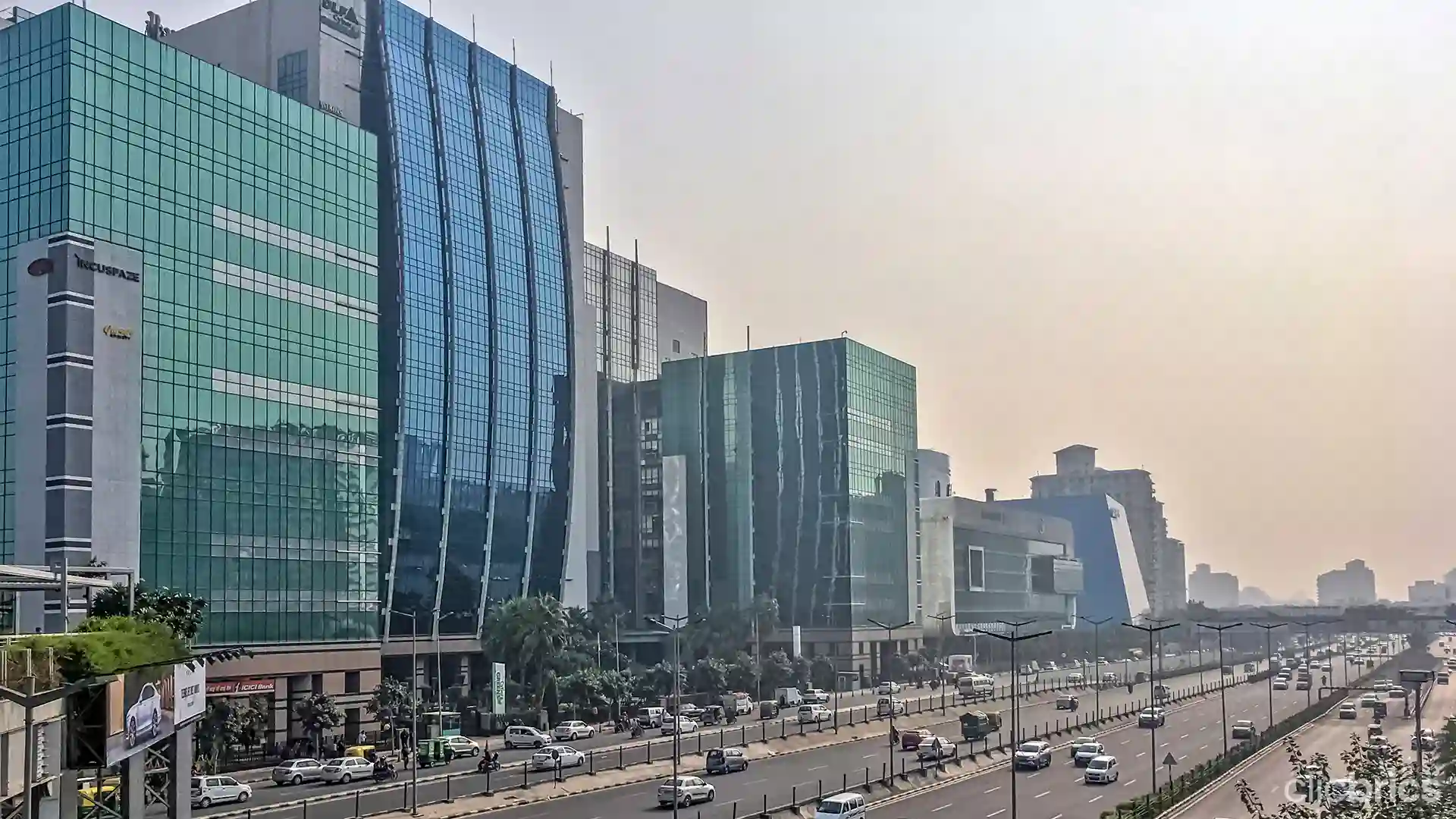 Gurgaon is becoming one of the most prominent financial hubs in India. Top organizations like BMW India Pvt. Ltd., American Express Banking Corporation, Nokia Solutions & Networks India Pvt. Ltd., Mitsubishi Electric India Pvt. Ltd., and Akzo Nobel India Pvt. Ltd. are situated in DLF Cyber City.
Check Out: Property Prices In Gurugram
DLF Cyber City: Brimming With Cafes & Restaurants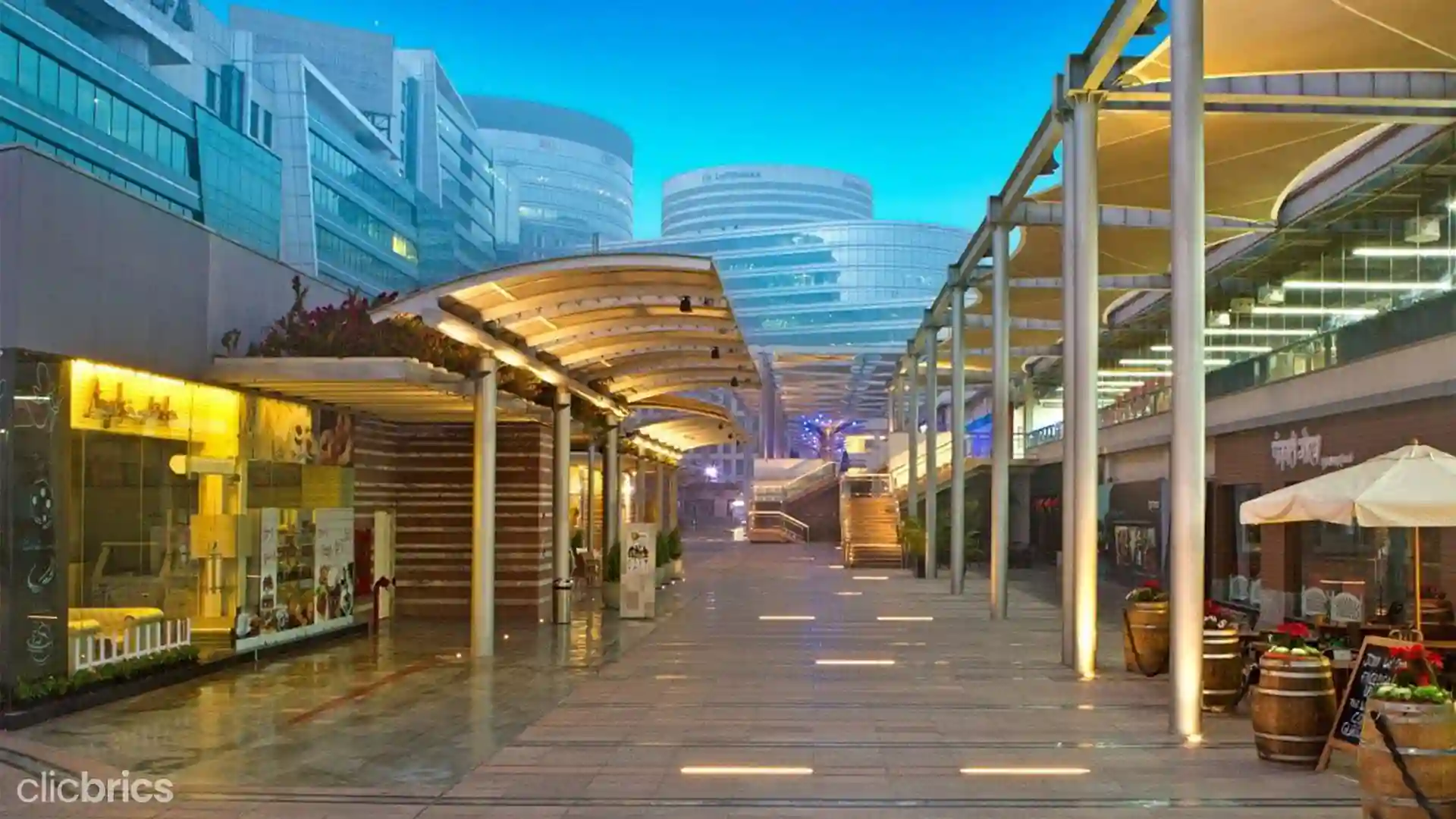 Source: tripadvisor
A prominent retail area in DLF Cyber City, Gurgaon is Cyber Hub, where you will find plenty of food and beverage destinations to relax. We have curated a list of the most visited places in Cyber Hub, in Cyber City, that you can't miss seeing. 
1. Burma Burma
The place is well-known for serving some lip-smacking Burmese dishes. The ambiance is created considering the Burmese lifestyle, and the restaurant serves vegan food. The average cost of dining at Burma Burma in DLF Cyber Hub, Gurgaon is Rs 1500 for two people. 
2. Farzi Cafe
This cafe is famous for its unique yet outstanding wooden interiors at Gurugram's Cyber City. Not only for the ambience, but the Farzi Cafe is also an excellent place to enjoy some live music along with delicious food and drinks. Guntur chili chicken, edamame hummus, and Farzi apple are must-try foods. The average cost for two-people dining at Farzi Cafe will be approximately Rs 2000. 
3. Cafe Delhi Heights
People who just love to indulge themselves in some of the tastiest north Indian, Italian, continental, and American cuisines should try Cafe Delhi Heights at DLF Cyber City, Gurugram. The restaurant is famous for its mouth-wateringly juicy lucy burger, pan-fried noodles, and grilled chicken. The average cost of two people enjoying food will be around Rs 1300+ Taxes. 
4. Soi 7, DLF Cyber Hub
If you're looking for a place to enjoy some fun quality time with your family and friends, Soi 7 is the place for you! The restaurant serves some scrumptious Chinese and Asian cuisines. You will also get to enjoy live music and fantastic music or match screenings. A must-try restaurant in DLF Cyber City, the food here will cost approximately Rs 2500 for two people. 
5. The Wine Company
The casual-dining restaurant in DLF Cyber City is perfect for people to enjoy some wholesome Italian food. The decor is super impressive, and the restaurant offers outdoor seating and a well-stocked bar. The average price of enjoying food is Rs 2500 for two people. 
Also Read: Know How To Register A Property In Gurgaon
Hotels Near DLF Cyber City
Gurgaon is a happening place where there are leading commercial and employment centers. While many business leaders and job seekers tend to travel to this city, people living in Gurgaon and Delhi visit here as weekend getaways. 
So, whatever the reason, Gurugram offers many accommodations and hotels in and around DLF Cyber City. Some of them are Trident Gurgaon, Treebo Trend, Le Meridien, Courtyard by Marriott, Radisson Gurgaon, The Atara, Hotel Acco, Park Plaza, etc. 
DLF Cyber City: For Endless Entertainment In Gurgaon
Enjoying the time of your life at DLF Cyber City is one big treat! There are endless trails of restaurants, bars, hotels, shopping centers, and cafes here that'll take you on a ride through fun & frolic. That's the thing about Gurgaon. Not just DLF Cyber, but it has everything you could want - from great schools and hospitals to shopping and entertainment. It's not just a great place to live, but even a great place to work and maintain a good lifestyle!
Suggested Read: Entertainment Overloaded At Elante Mall Chandigarh