Table of Content:
Did you know one of the biggest malls in India, Elante Mall is in Chandigarh? India's first mall with a planetarium, Elante Mall is a crowd puller that features a water park, bowling alleys, skating rinks, 5D cinema, and what not for non-stop entertainment. You also will be surprised to know that a 2022 article stated that during Diwali the average footfall over the weekday at this mall was 65,000 per week!
With the thriving real estate in Chandigarh over the years, the residential and commercial infrastructure developments have taken a leap of growth and so has the accessibility, amenities & entertainment in the city - and Elante Mall is the perfect example of the same. 
Let's explore further details about Elante Mall in Chandigarh and the plethora of happy elements it offers to the people in Chandigarh. 
Elante Mall: Chandigarh's Entertainment Hub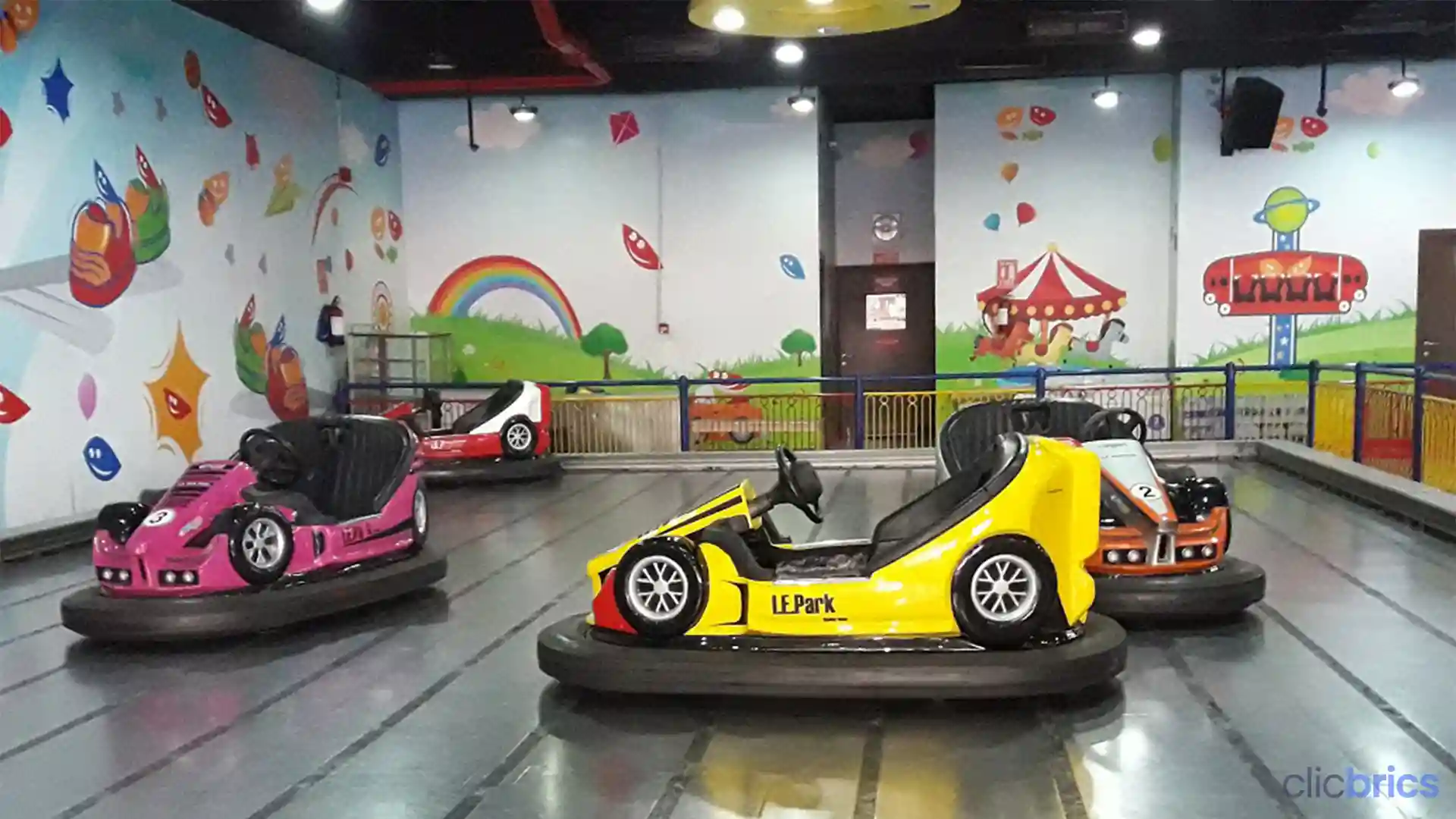 Nexus Elante is the largest mall in Chandigarh, the seventh-largest retail mall in Northern India, and the tenth-largest mall in India. Opened in 2013, the mall was developed by Larsen & Toubro Group. 
It is a known fact that Chandigarh is a well-planned city. It has well-constructed and safe residential colonies, great commercial infrastructure and is also an entertainment destination for families, bachelors, and working professionals alike. This green Union Territory of India offers a peaceful lifestyle to its residents. Besides Sukhna Lake, Rock Garden, and Iskcon Temple, Elante Mall is one of those places in the city that's well-known for its ambiance - luring enough to attract even tourists.
Check Out: Property Prices Near Elante Mall, Chandigarh
Elante Mall: Address & Location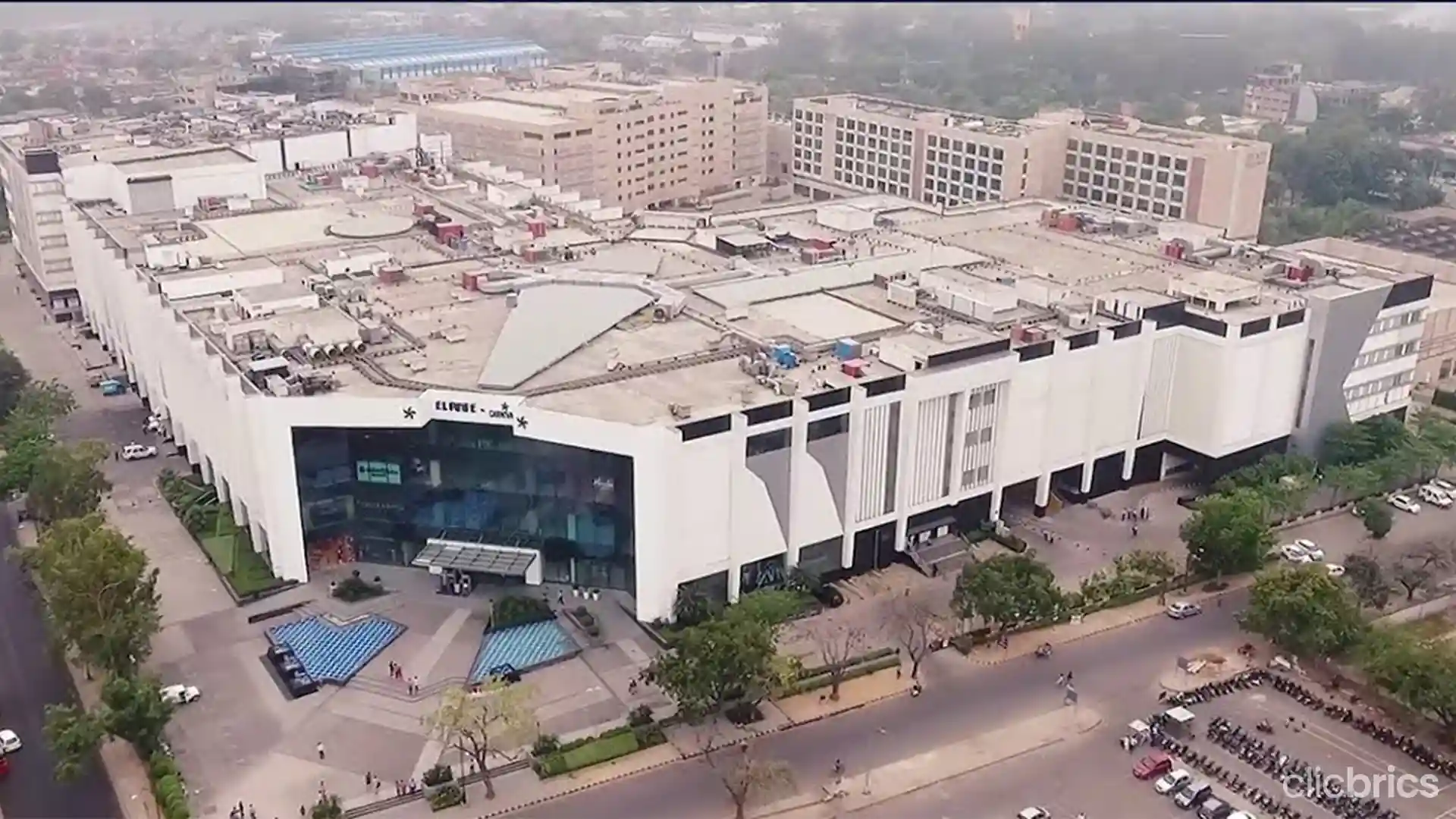 Source: cityultimate

Elante Mall's address is : No. 178, Industrial Area, Phase 1, Chandigarh, 160017, India.
You can locate this mall without difficulty, and it is accessible via any public or private transport. 
Elante Mall: Floor Plan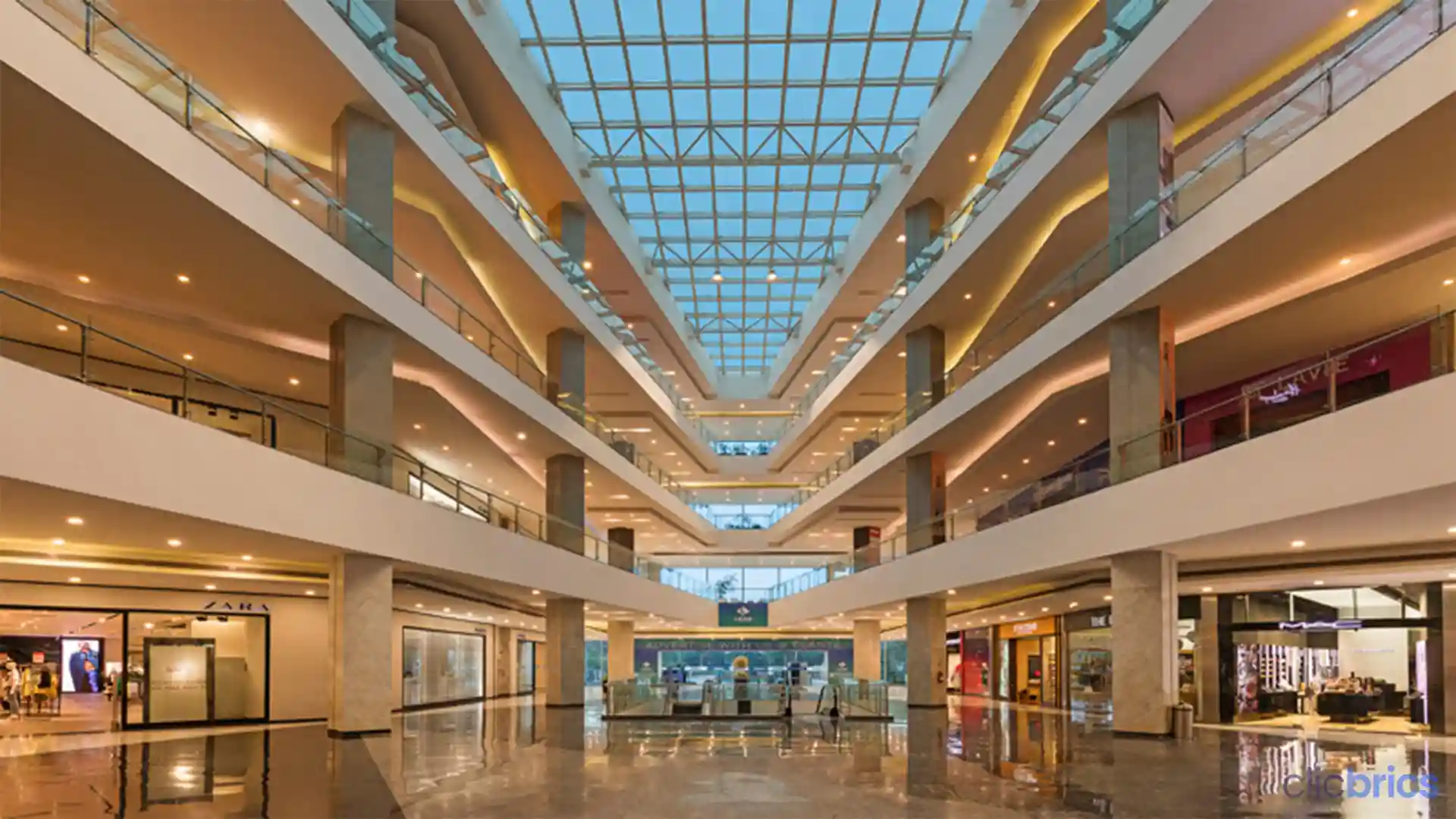 Source: scai
Elante Mall boasts a huge infrastructure and accommodates retail stores, food & beverage outlets, and entertainment zones. The total retail floor area of the mall is 1,150,000 square feet. This makes it a go-to place for families as it has everything under a single roof. It consists of three major facilities:
Shopping Mall

Hotel with a central courtyard

Office complex
The mall is designed such that all the amenities start from the utility area, well-planned services, and a central courtyard. Elante mall has two travelators, 17 elevators, and 40 escalators. It has a 16 meters wide aisle space, and the entire ground floor has Italian Marble flooring. 
The food court is on the third floor of the mall and is spread over an area of 1858 meters. It can accommodate up to 750 people, and it has a vast range of food joints from domestic to international. The parking area of the mall is designed to accommodate up to 5800 cars, and three basement floors are dedicated to it.
Here Is What You Can Find At The Elante Mall
Entertainment options 

Food and beverage options

Fashion brands

Cosmetics & skincare brands

Jewellery brands

Other retail stores
This mall has something for everyone and every age group. It makes a good choice for a hangout area, for shopping, or if you want to spend some time with your family.
Don't Forget Reading: Enter Into The World of Happiness at Lulu Mall Lucknow
Elante Mall: Exciting Activities To Do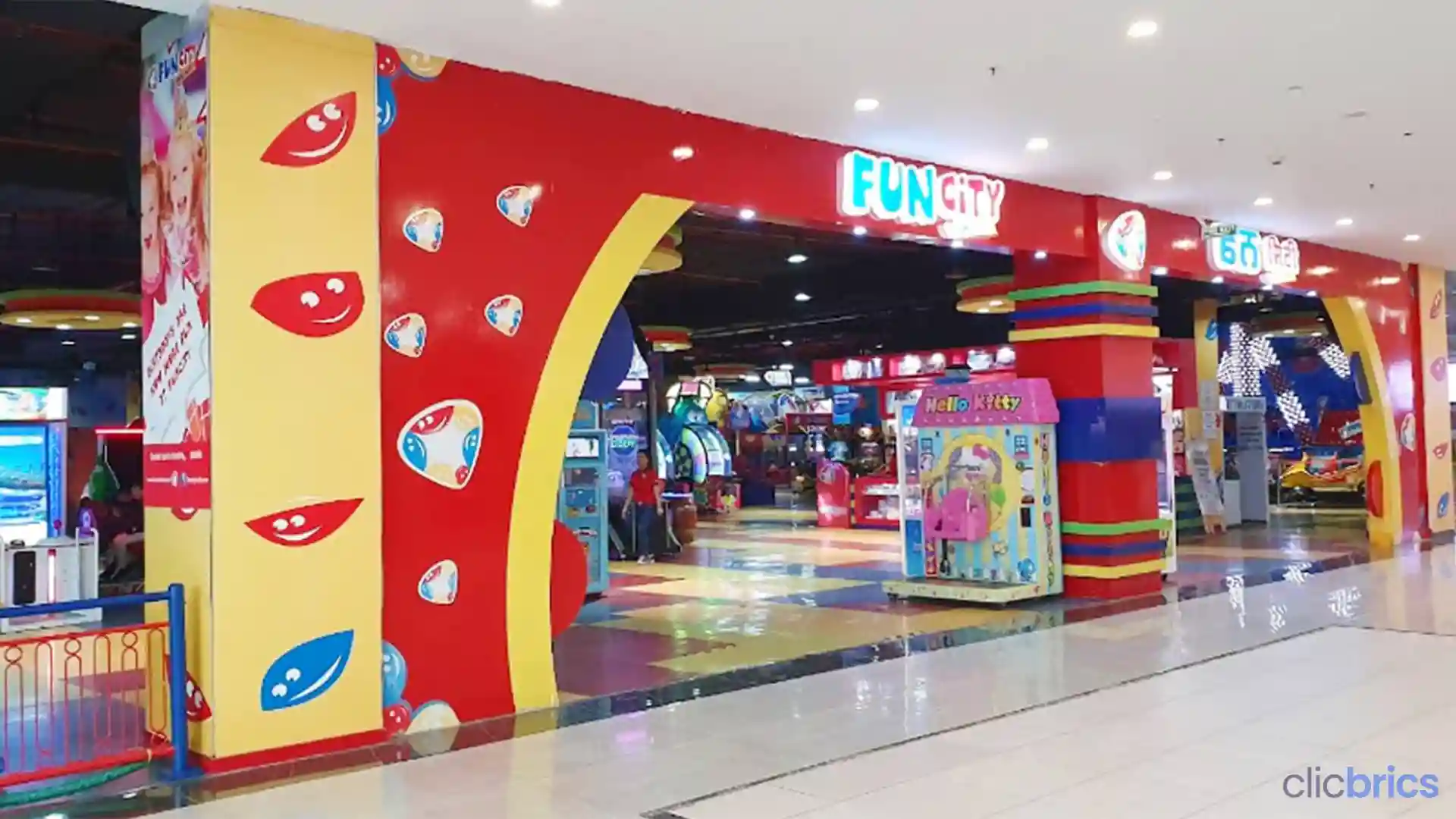 Source: chandigarhtourism
There are a lot of options here if you want to spend quality time with your family at the Elante Mall, Chandigarh:
A. Fun Entertainment
It is a leisure concept that offers exciting indoor games for kids to enjoy. 
There is an eight-screen multiplex where you can enjoy the latest movies with your family members and friends while sipping your favourite beverages and munching popcorn.   
If you enjoy bowling, this is just the place for you. You get amazing drinks and food here too.
It is a museum that showcases various flavours of Punjab. This place has a vibe that will leave you mesmerised.  
You can play various other games and enjoy rounds of bowling along with delectable cuisines. 
Pyramid Elante Chandigarh
If you love hanging out with your friends, head to Pyramid Elante Chandigarh in the late evening hours. 
B. Food
There are many places to dine in the mall with your friends and family including Musafir, Pashtun, Xero Degrees, Pink Wasabi, Dumpling Hood, Brooklyn Central, Sole Mio, Nando's Elante and many more outlets offering scrumptious delights.
C. Fashion(Shopping Brands at Elante Mall)
You can shop from the best possible shopping brands in Chandigarh at the Elante Mall. You can find an exclusive collection of clothing for children, women, and men. 
Some of the shopping clothing brands In Elante Mall are  Zara, Trends, Pantaloons, Shoppers Stop, Lifestyle Stores, Forever New, Uniqlo, Levi's Exclusive Store & many more.
If you are looking for exquisite bracelets, earrings, necklaces, or other accessories, here are the stores you can visit at Elante: BlueStone Jewellery, Mia by Tanishq and Reliance Jewels.
You can also find electronics, grocery, and pharmacy stores in the mall. Here are the electronics stores you will come across in the mall: Croma, Dell Exclusive Store, Elante Electronics Store, Portronics Store and many more. 
There also grocery and pharmacy stores in the mall can fulfil all your home-based and pharmaceutical requirements.
Elante Mall: Timings & Parking Rates
Elante mall's opening time is 11:00 AM, and closing time is 10:00 PM. This mall in Chandigarh remains open throughout the week.
The parking charges at the mall are INR 20 for two-wheelers and INR 40 for four-wheelers. These parking charges are nominal because it is a place that has everything under a single roof. 
Conclusion
Elante Mall in Chandigarh can definitely be stated as a shopping paradise for the people of Chandigarh and a one-stop destination for ultimate entertainment.
Check Out: Property Prices in Chandigarh