Table of Contents
It's the time of the year to get merry, and there's no better way to get on to the holiday spirit than by having a great party. Whether you're looking for theme ideas for Christmas as a way to spice up a family reunion or need inspiration for an office vacation, we've got you covered. 
Even if you don't consider yourself an event planning expert, this guide will give you the best party ideas, including Christmas theme decorations, food, drinks, games, and activities. To make it even better, these ideas are perfect if you are on a tight budget.
Holiday Party Planning: Decor, Themes, and Food
When it's time to consider Christmas theme decorations, the below illustrated party ideas can make for perfect entertaining get-togethers at home or the office. The first step is to send out invitations for your Christmas party. Once that part is done, it is time to move on to next stages of the party planning process
Decor Ideas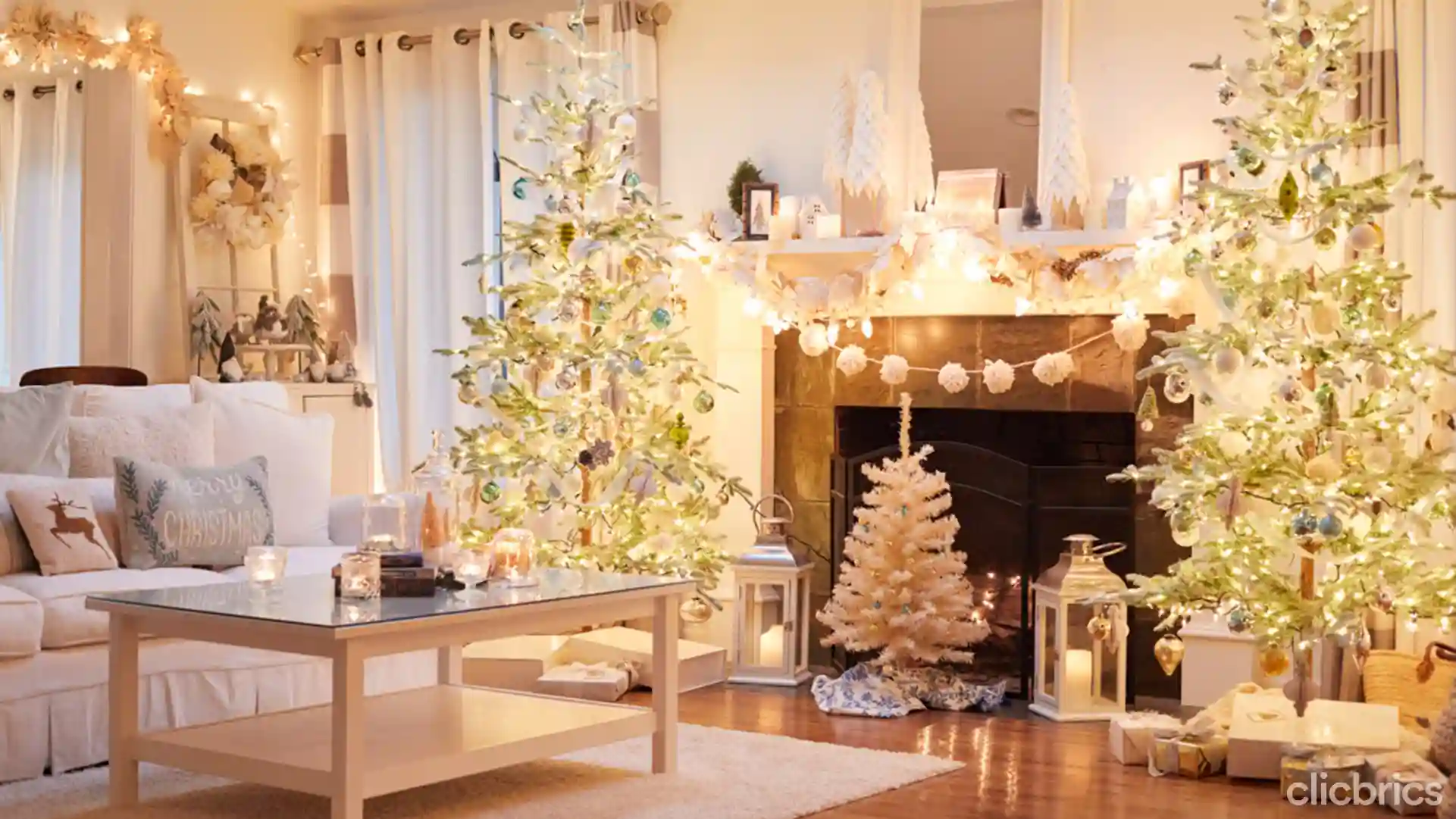 You don't have to spend a lot of time and money to create the perfect décor for your Christmas holiday party. Here are a few Christmas party décor ideas curated for you.
1) Light up the Room
Fill your mason jar with flameless tealights or votive candles to keep the seasonal theme bright and cosy. Wrap the jars with festive ribbons and mini bells, holly twigs, or other decorations of your choice. The best part is that almost all of these items can be found at your local neighbourhood stores.
2) 
Forage for Decorations
Save money and be natural! Use fallen twigs, pinecones, branches, and clumps of pine from your garden, local park, or other public outdoor space. (One can also strategically prune a few branches from their Christmas tree without anyone noticing it). After cleaning up a bit, you'll have a truly natural Christmas theme decoration for your winter wonderland. Sprinkle in some walnuts, pecans or chestnuts, for another seasonal twist.
3)Dress up the Chairs
Whether you're decorating a conference room in the office or your home, you can easily add a festive touch by wrapping your chair in a wide ribbon and tying the ribbon at the back. For a whimsical finish, incorporate fresh or artificial greenery, berries, pinecones, or glitter plastic ornaments into snowmen, snowflakes, reindeer, and other holiday-themed shapes.
4) 
Place Ornaments in a Jar
Sometimes, the simplest theme ideas for Christmas are the best. The ornaments instantly create a festive atmosphere; so fill up your clear vases or jars with colourful ornaments. Use glassware of different sizes to add visual interest. You can fill a wine glass, rocks glass, or other small glass with mini-Christmas ornaments.
5) Add Some Gift Box Glam
Who says gifts are to be placed only under the tree? For stylish Christmas theme decorations, simply wrap empty boxes of various sizes with coordinating ribbons and colours and place them at various spots in the living room. Add them along with other decorating ideas from the above list to create beautiful holiday vignettes.
Party Themes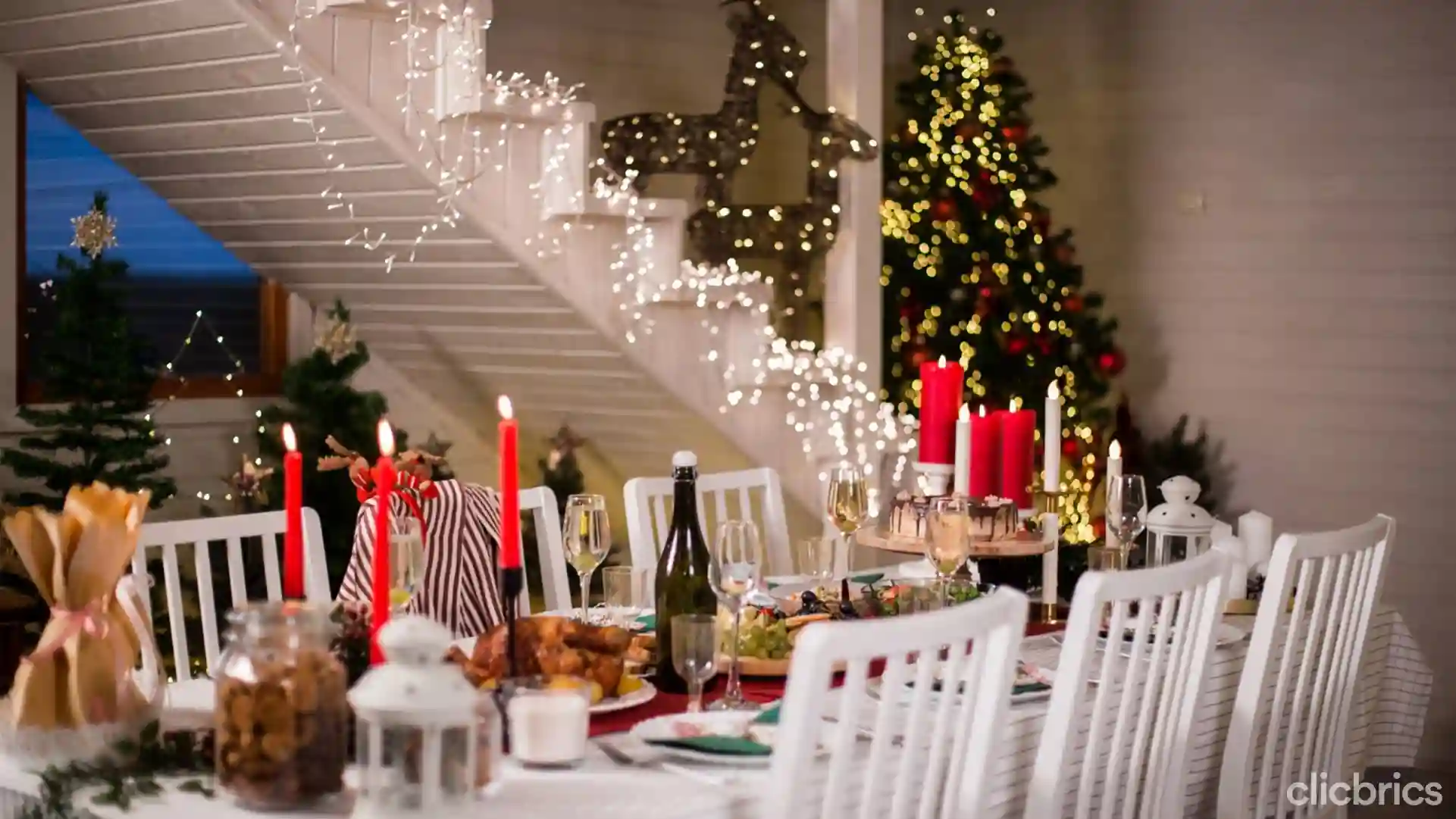 Now that you have some Christmas party decor ideas, you still need a theme. Check out the below creative theme options for your next party which could be a mix of traditional Christmas themes as well as modern ones.
1) Holiday Pyjama Party
There's nothing cosier than having a pyjama party with your loved ones. This theme can be a little tricky to pull off for an office party, but we don't think that your co-workers have any reason to complain. After all, you do not have to change clothes after the party - you are straightaway ready for bed.
2) Snow Theme Decoration
You can set up "Frosty The Snowman" in your living room, and invite guests and children to click pictures and sing carols near it. You can also set up a contest amongst kids on who can decorate Frosty the best!
Also Read: Top Halloween Decoration Ideas
3) 
Summer in Wintertime
While it can be cold outside, however, that does not stop you from heating up things with a fun-filled summer-themed holiday party. You can choose a beach, tropical, BBQ or luau theme that brings with them those warm, sun-filled vibes indoors. Greet your guests with colourful and leis cocktails, and motivate them to put on their favourite summer hats and Hawaiian-print shirts.
4) Favourite Things Fete
A raindrop of roses and a kitten's whiskers might well be Julie Andrews' favourites, but you can make a blast on your own by having your guests mutually gift one another their favourite items. Under this Christmas party theme, you can pre-set a spending limit (say around INR 2,000) and watch how the conversations flow as guests share why they chose a particular gift.
5) Holidays around the Potluck
This is one of the theme ideas for Christmas that is especially suitable for corporate parties where employees from different backgrounds gather. Ask everyone to bring in their favourite dish(es) that celebrate their respective cultural holiday culinary traditions. Whether it is Idli-Dosa, Chole Bhature, Kofta Curries, Theplas or Biryanis, the party conversations will quickly shift towards guests asking about the backstories of the respective dishes.
6) DIY Ugly Sweater Party
Why should you buy an ugly sweater when you can design it yourself? Have your guests bring their old sweaters or sweatshirts to the party; have the table stocked with lots of craft supplies such as hot glue guns, scissors, stencils, fabric markers, pom poms, rhinestones, appliques, bells and sparkles. At the end of the party, you can award the one with the cheesiest sweater wearer in the group.
Also Read: 13 Creative Baby Shower Decoration Ideas
Christmas Food and Drinks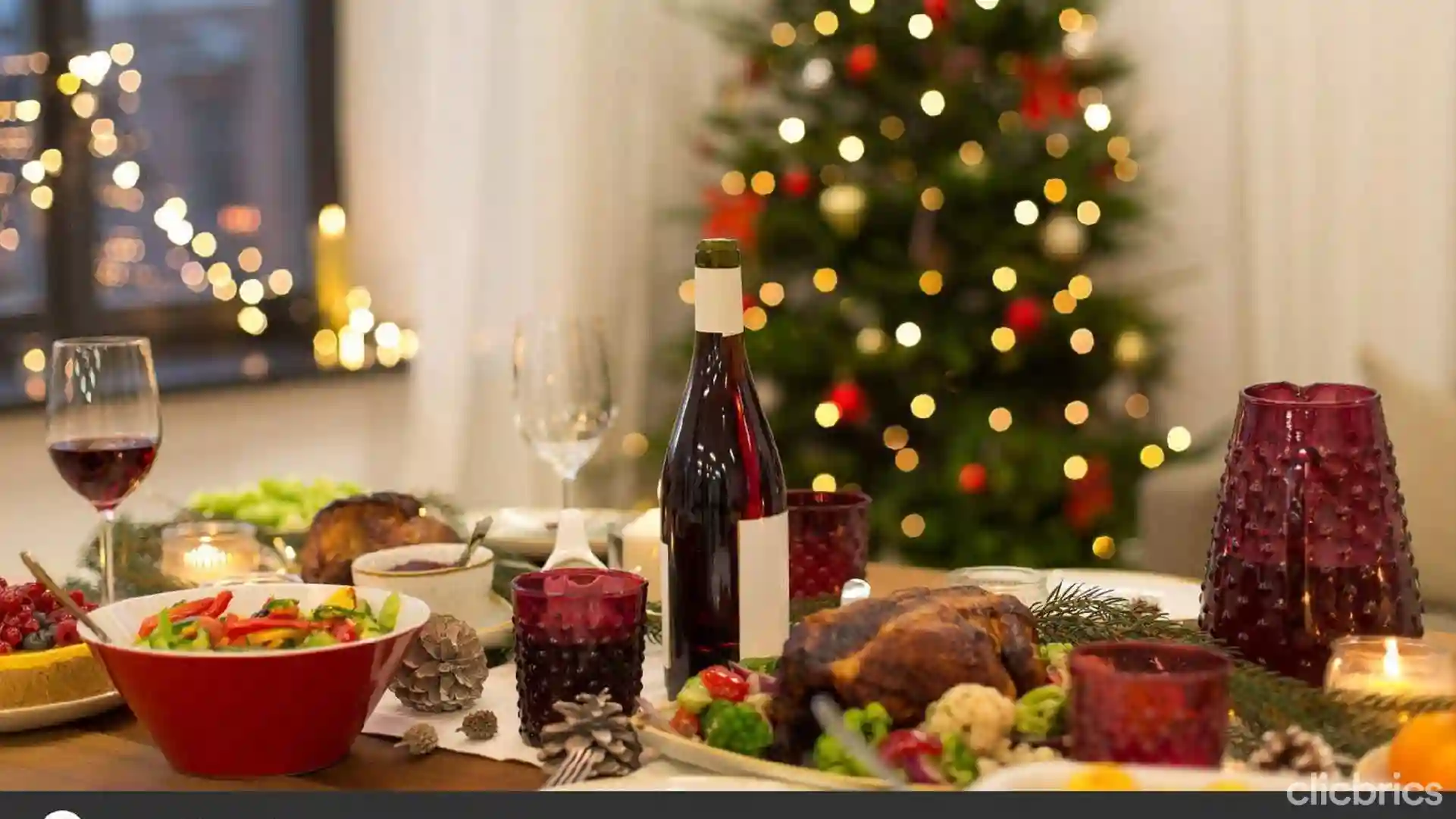 Any Christmas theme decorations and the party feel incomplete if there are no tasty holiday treats. Below are some of the tasty food and drink ideas for your holiday party.
1) Hot Chocolate Station
Have some marshmallows, cocoa, chocolate shavings, cinnamon sticks, mini candies and sprinkles on hand and to enjoy this sweet idea that will appeal to the inner child inside us. You can also consider spiked hot cocoa options for the "Nice or Naughty" theme for adults.
2) Finger Foods
If you are worried about party expenses, remember that you don't have to host the entire sit-down dinner by yourself.  Instead, host it in a happy hour style by offering a variety of appetizers and simple party snacks. You can even request guests to bring their own food which can be shared amongst all.
3) Champagne Bar
This is a part of one of the perfect Christmas party themes for adults. Pop, Fizz, Clink! Yes, let your guests make their favorite sparkling drink by popping open champagne bottles. Add some wine, blenders, and garnishes (sliced ​​oranges or sweet lime can be a good seasonal choice). In order to stay within the budget, you can opt for Prosecco or Bubbles instead of purchasing real champagne to have the desired effect.
4) Dipping Station
Along with some finger food, you can also offer dips like spinach dips paired with zucchini chips, breadsticks with marinara, hummus recipes with pita, and chicken/fish/veg tikka with chutneys. These dipping pairs are usually economical and add variety to the guests' taste buds.
Delicious Christmas Cakes For Your Holiday Party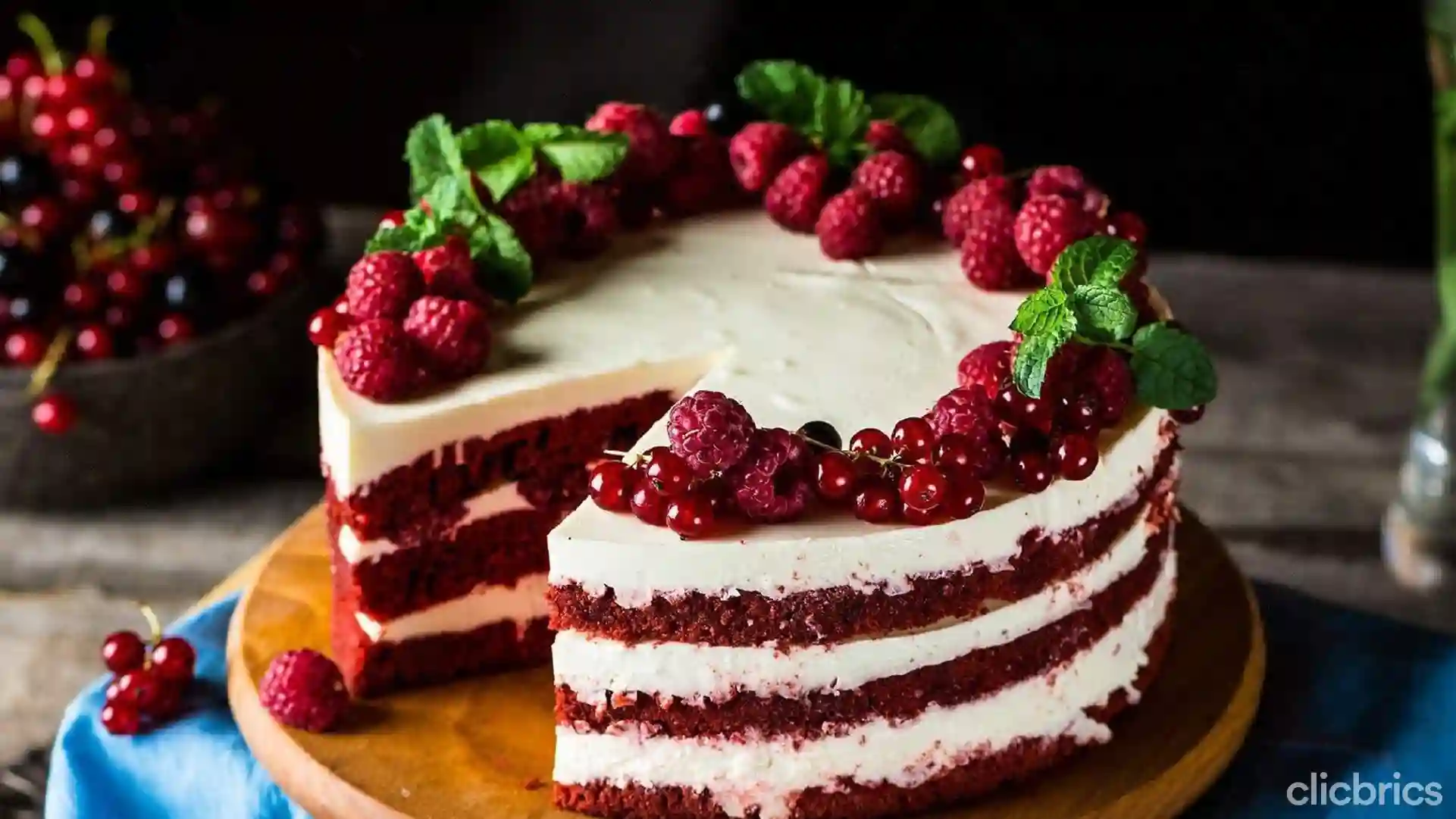 There is no doubt in accepting that Christmas is incomplete without a lip-smacking cake. Here are some amazing Christmas cake ideas that will add spark to your all-time celebrations.
1) Bûche de Noël (Yule Log Cake)
For a cake with a real wow factor, you can't pass this traditional French dessert.  Buche de Noel is a yule log cake, often served as a dessert near Christmas. This Christmas favourite looks and tastes incredibly impressive.
2) Chocolate-Peppermint Cheesecake
Prepare this chocolate peppermint cheesecake and we bet they will be amazed by your culinary skills. It has a buttery Oreo cookie crust and is topped with chocolate ganache and crushed candy canes. This cake is a perfect sweet delight for your Christmas theme party.
3) Red Velvet Cake
This famous American dessert is made with some easily available ingredients such as all-purpose flour, icing sugar, almonds and cashews. 
4) Pumpkin Gingerbread Cake
Crumbled gingerbread cake is the new Christmas cake in town! Layered with pumpkin pie pudding and whipped cream and sprinkled with crumbled gingersnap cookies, this Christmas cake will impress everyone! 
5) Andes Chocolate Cake
Andes chocolate cake is ideal for showcasing as the feature dessert for your Christmas party. The layers of chocolate and mint buttercream will make you fall in love!  
Also Read: 10 Best Living Room Decoration Ideas Curated For You
Games and Activities are an Important Part of Christmas Party Themes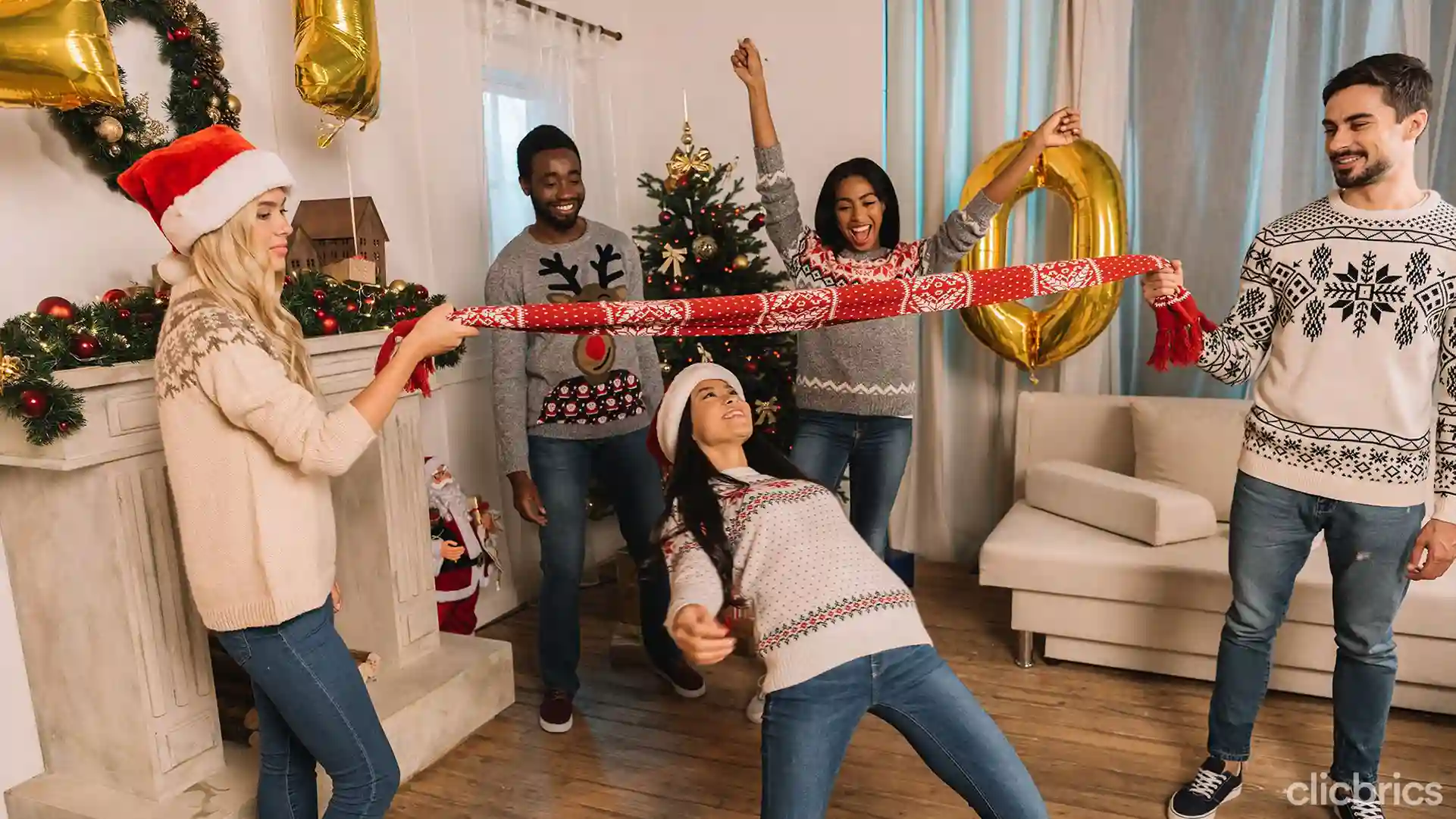 You can set up the Christmas celebration theme by adding fun elements such as interactive games for both corporate parties as well as at home with family and friends. Below are some of the ideas for holiday party activities and games.
1) Wrapping Paper Fashion Show
Gifts are not the only items to wrap in this holiday season; you can also wrap up the guests with this hilarious game. All you need is tape, scissors, and wrapping paper along with a stunning catwalk style. You can dress up the guests in teams of two (a model and a fashion designer), or you can have each participant dress themselves up to make it even more challenging. You can consider giving out awards or prizes for the best attire.
2) Selfie Station
As an affordable alternative to expensive photo booths, collect fun props (such as Christmas hats, horns, reindeer, silly glasses, etc.). You can have your guests pick up such props, take their picture, and share it on social media with your party hashtags. You can let everyone know the party hashtag in advance through your invitation email, and also remind them during the party.
3)Holiday Movie Trivia
Ranging from "A Christmas Carol" and "The Santa Claus" to "National Lampoon's Christmas Vacation" and "Elf" and beyond, you can test everyone's knowledge of pop culture with a Christmas movie trivia game. You can always add fun facts and memorable quotes from your personal favourites to make the game entertaining.
4) The Talent Show
Connect with friends and family by adding this fun game to one of the party theme ideas for Christmas. Let your guests know in advance that you are organising a talent show so that the guests intending to participate can bring any required equipment (such as glow sticks or juggling balls etc).
5) Merry "Textmas" Showdown
For this fun twist on texting, think of a holiday or Christmas message (at least 260 characters or more) and write it on a chalkboard or poster for everyone to see. Then set a timer for 10-20 seconds, ask everyone to send a message (it doesn't have to be sent to an actual recipient), and check who is writing the messages correctly. Read a part of the text aloud - you might be astonished by the amusing autocorrects.
Get, Set For the Christmas Bash!
There is nothing better than enjoying the holidays with friends, family and colleagues. We hope the above theme ideas for the Christmas party will inspire your creativity. Remember that sending invitations online is one of the best ways to save time and money. And while you are already in the Christmas spirit, don't forget to order a Christmas card and share the season's happiest greetings.