Table of Content:
Often categorized as "vacation homes", "waterfront homes", or "mountain homes" due to their adaptability to different environments, A-Frame house plans are distinguished by a steeply pitched 'A-shaped roof. Their purpose is to help snow in reaching the ground during heavy snowfall. Because the roofline typically extends from the peak to the ground, only the two remaining sides of the house are exposed to the elements, reducing the need for exterior home maintenance. 
A-Frame House Designs: An Overview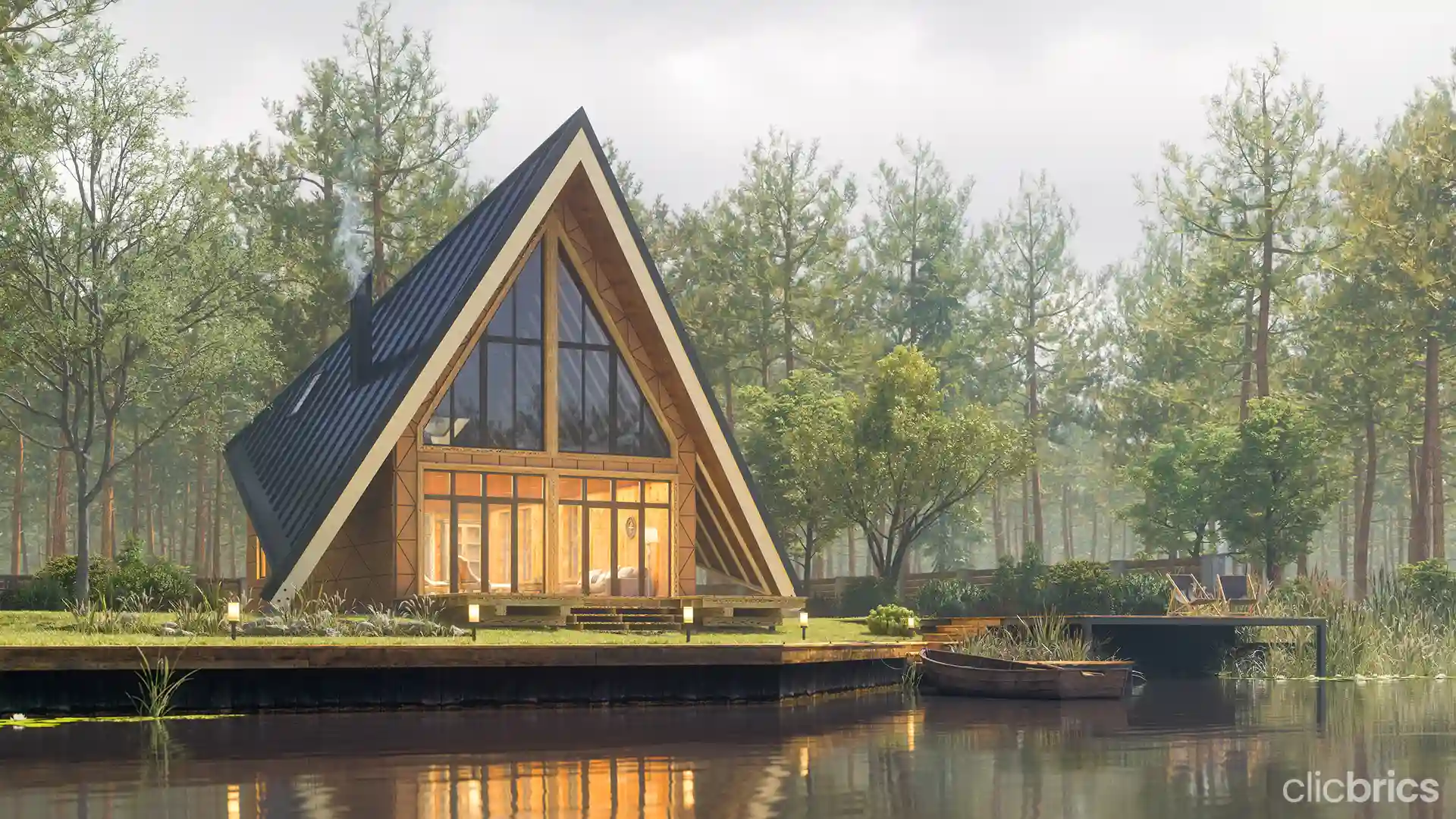 A-frame house(also known as an A-frame cabin) designs encompass vaulted ceilings and large windows, both of which are ideal for taking in breathtaking scenery. Wrap-around decks and open floor plans are hallmarks of the A-frame style of home design.
A sleeping loft or additional storage space is also included in the A-frame house's design. 
Going back into history, in 1934, architect R.M. Schindler built the first modern A-frame house for owner Gisela Bennati in Lake Arrowhead, California, ushering in a new era for home design. These houses skyrocketed in popularity after World War II because they were easy on the wallet to construct, especially as they were sold as pre-made kits by chic stores like Macy's department stores.
While the A-frame house's popularity declined in the 1970s, it experienced a resurgence in the 1990s as people sought out more eco-friendly and cost-effective housing options. The A-frame cabin is still widely recognized as a house with a symbol of freedom, originality, and exploration.
A-Frame House: Key Features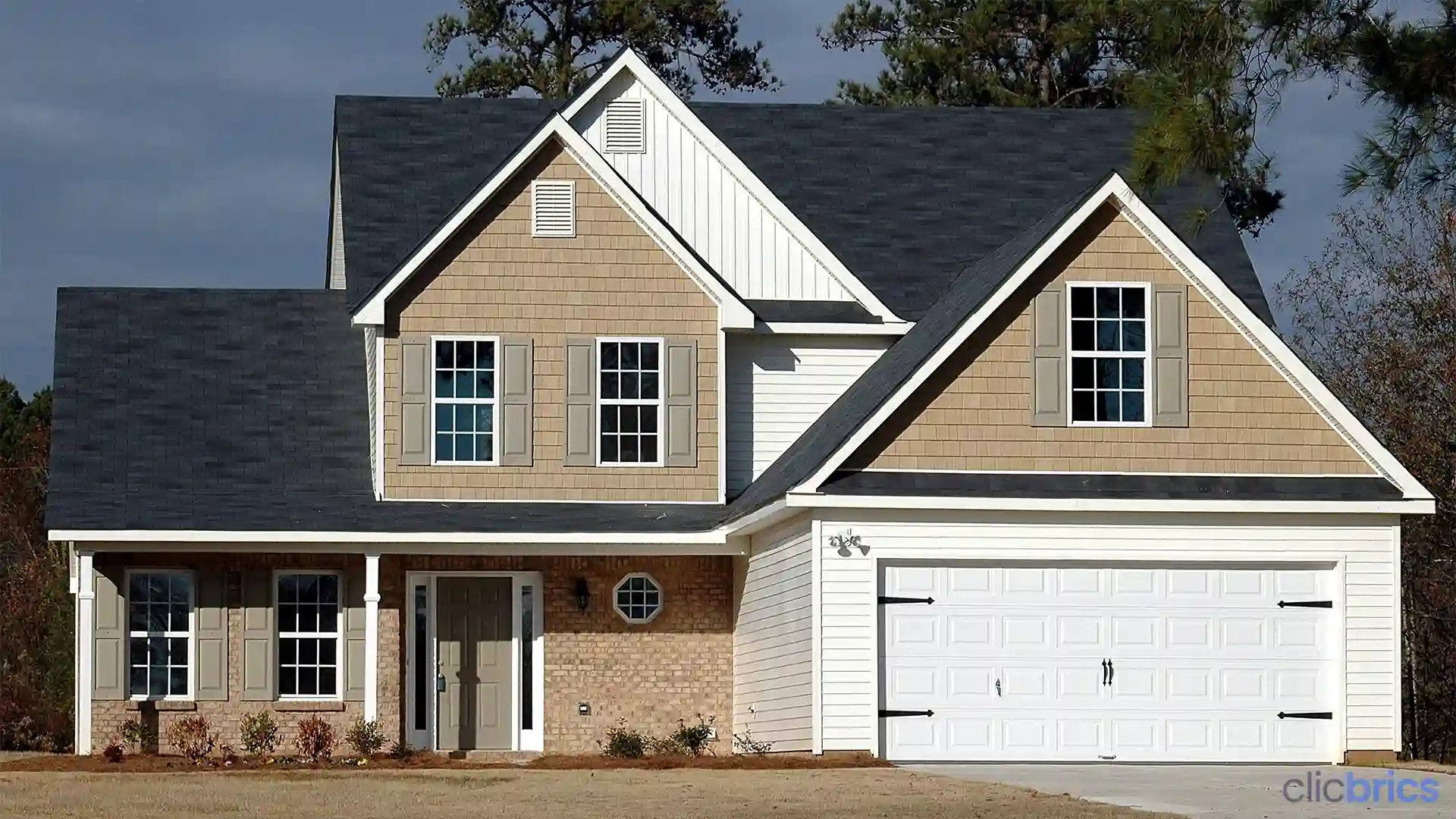 The most common specialty of an A-frame cabin or cottage is its triangular shape, which looks like a big 'A', but there are some other features that will definitely catch your interest. 
So, let's delve into the features mentioned below:
Loft Areas

Floor plans with open spaces

Interiors with high ceilings

Broad windows

Hefty eaves

Wooden siding

Front and back gable structures
The A-frame house must have its own unique set of benefits and drawbacks that must be considered. The following is a list of both the advantages and disadvantages of the A-Frame cottages.
Also Read: Normal Front House Elevation Designs You Must Explore
A-Frame House Benefits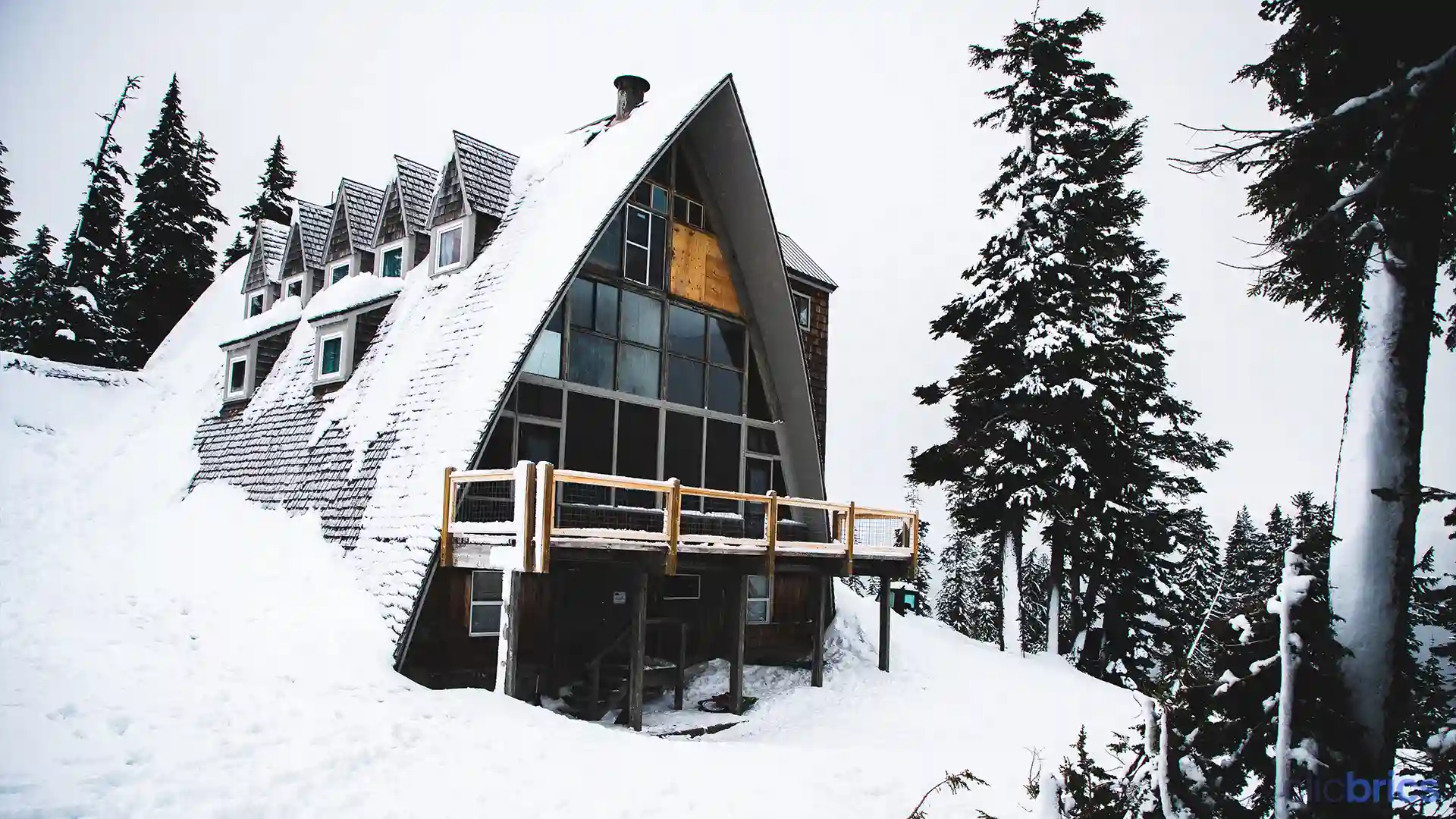 Located in a wooded setting, A-frame cabins have attracted generation after generation. Here's why:
Affordable: A-frame cottages have some of the simplest designs and builds that are not heavy on the pockets as well.
Ready-to-assemble kits: Whether you're looking for a big residence or a more modest but still luxurious vacation home, an A-frame house can be easily scaled - thanks to the availability of prefabricated kits that helped popularise the style after World War II. 
          These kits are versatile, easy to install, and cost-effective in comparison to custom home construction. You can't go 
          wrong with any of the gorgeous A-frame cabin designs at reasonably priced options.
Large windows: Windows typically line the front and back walls of A-frame house plans, providing ample natural lighting. If you want even more light in your A-frame home, you should think about installing skylights. Skylights can make a house seem more spacious. 
          Many A-frame house plans and cabin kits include skylights.
Steeply-Pitched: Problems with snow and leaves are avoided by the steeply-pitched roof of an A-frame cottage. The A-shaped frame easily sheds ice, preventing costly buildup.
Perfect for first-time buyers: The A-frame cottage has substantial benefits, such as the fact that a first-time buyer considering this property can anticipate substantial returns due to the simplicity of the a-frame house design and the ease with which it can be constructed. 
Cut costs and energy consumption: A-frame houses are ideal for solar panel installations due to the steepness of their roofs. Because of this, not only are the houses economical, but they also benefit the environment. Also, as most of the living space is located on the ground floor, hence, these houses are easier to cool in the summer because there are fewer vertical walls to overcome.
Sturdy: The A-frame's triangular shape makes it more robust than other home types, making it more resistant to the damaging effects of wind, rain, and snow. However, because the triangle A-frame house design is what sets it apart, they are often rigid in terms of layout and aesthetics.
Open layouts: A-frame cabin provides an open layout which in itself is a top priority for today's homebuyers. These rooms have few vertical walls, so it will be difficult to obscure sightlines anywhere inside. 
A-frame houses also have high ceilings, big windows for taking in the view, and a straightforward layout, all of which are must-haves when buying a house.
Also Read: Two-Storey Modern House Design Ideas For You
Delightful A-Frame House: Construction Tips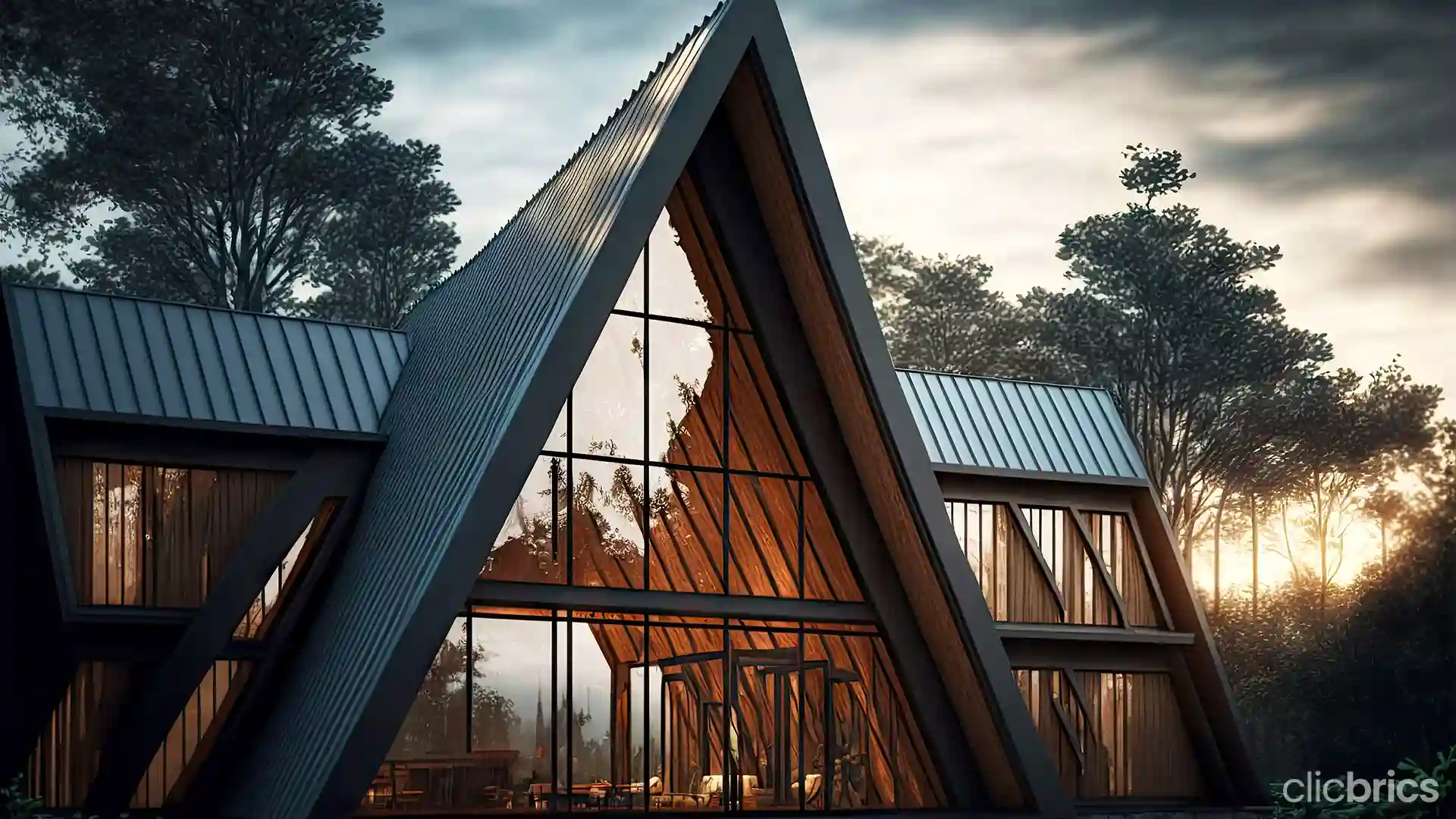 We've put together a list of suggestions to assist you in realizing your vision for your A-Frame house plans: 
An A-frame cabin kit provides all of the materials and instructions necessary to construct a house from scratch. Your own personal gear is still required.

Invest in a Prefabricated A-Frame House: If you can't build an A-frame yourself, a contractor likely sells prefab versions of the structure. Flatbed trucks can be loaded with small A-frame homes and driven to your property. However, you'll still need to supply the fundamental structural unit, and the total price may be higher than if you built everything from scratch.  

Bring the Indoors Outside: With their expansive windows and exposed wood, A-frame cabins put you in touch with nature. You could use a wide deck on either side of your A-frame cabin to set it off. If one end of the building is at ground level, the living area can be expanded outdoors by adding landscape features such as a fire pit or a hot tub.

Raise the Roofline: Like any small home, an A-frame cottage may be lacking in internal storage space. By elevating your home off its foundation, you can create extra space for storage between the ground and the lowest floorboards. Waterproofing this storage space is as simple as pouring concrete around the entire base.

Focus on Efficiency: It's important to give serious thought to whether you want to buy a prefab home or construct your own A-frame cabin from the ground up. 
Will your A-frame home serve as a primary residence or a weekend retreat? The layout of a primary residence and vacation/rental A-frame may vary. The number of bedrooms in a primary residence may be prioritized over the size of the living area in a vacation rental.
If you build an A-frame house with practicality in mind, it will last you a very long time and bring you a lot of joy.
Conclusion
Many A-frame houses go out of their way to provide spacious decks, patios, and other outdoor areas where you and your family can enjoy the weather and spend some quality time together while on vacation. There's a good reason why the A-frame design is so popular among cabin enthusiasts. A-frame houses have become increasingly popular in recent years, but their classic look and feel ensure they will remain in vogue for the foreseeable future.
Suggested Read: Simple House Design Types You Must Know Before You're 40!