Table of Contents
The concept behind Vastu Shastra is not believed by everyone but whoever believes in it considers it a crucial part of having a happy home environment. If we talk about the home then the pooja room is the soul of your entire house. In other words, we can say that it is the birthplace of holy and positive vibes. But do you know that Vastu doshas with respect to your pooja room design can completely stop the flow of good spirits in your house? Well, it can!
So, if you wish to learn the basic pooja room Vastu tips to get your pooja room designed in a perfect manner then we have got your back. Make sure to read the article till the end.
1. Location and direction of the pooja room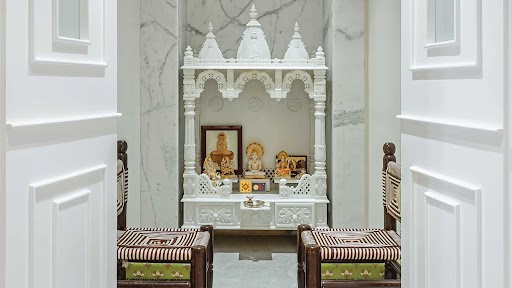 According to Vastu Shastra, the location and direction of the pooja room play a major role in spreading positivity in your house. Often while designing houses, people build pooja rooms as per their convenience and not as per Vastu principles. But in reality, the direction and location of the pooja room help in controlling the positive energies entering the house.

If we talk about the perfect direction then the pooja room must be located in the northeast direction because Jupiter is the lord of the northeast and this direction is known as Ishan Kona. Also, make sure that there are no stairways or bathrooms next to the pooja room in your house. In case you have an already built house and it is impossible for you to change the pooja room direction then you can buy and place a small mandir unit in the northeast direction. 
Also Read: Indian Style Pooja Room Designs
2. Structure of the pooja room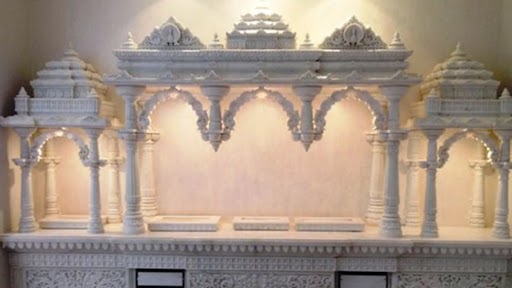 It may sound pretty surprising but yes, the structure of the pooja room determines what kind of energies are entering your house. Generally, people tend to choose pooja room designs that perfectly match the decor of their houses. In order to suit the minimal designs of the modern Indian house, the design of pooja rooms is becoming more angular and contemporary. But this can be a huge Vastu dosha. Also, a pooja room with a modern rectangular roof will fail to spread positive vibes into your house. 

Now, if we talk about the perfect structure of the pooja room as per Vastu Shastra then you must choose the one with a low ceiling and pyramid-shaped roof. This will create symmetry and helps in maximizing the positive vibrations. In addition to this, try to keep a threshold at the entrance of the pooja room, if possible as it will prevent negative vibes from entering the place. 
3. Colours to use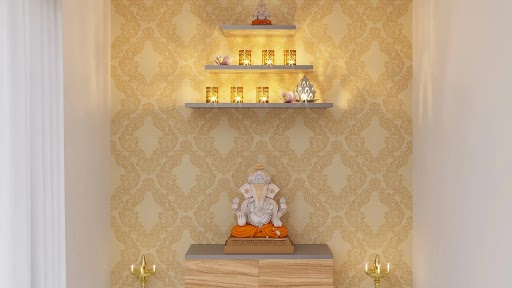 Another thing that plays a major role in Vastu Shastra is colour. Not all colours are related to positivity and as per Vastu Shastra teachings, dark colours in the pooja room are strictly a big "NO". Dark colours like brown or black harness negative vibes and make the entire space look pretty confined which in turn disrupts the overall meditative and peaceful atmosphere in the pooja room. 

Now, when it comes to choosing the right colours for your pooja room then you must opt for light colours like yellow or white. All these colours create an environment of serenity that is beneficial for praying. If in case you already have a pooja room painted in a dark shade and don't want to change it then you can simply get the wall behind the idols painted in a light shade. 
Also Read: Home Mandir Design Ideas
4. Entrance of the pooja room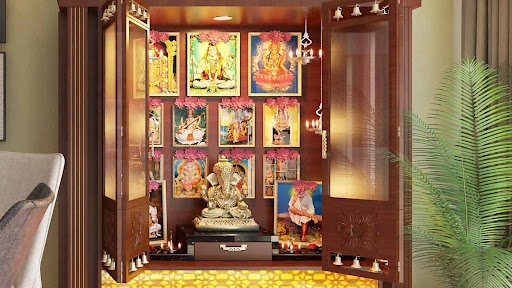 The entrance of the pooja room is that threshold through which the holy energies pass into the rest of your house. An entrance to the pooja room that has a Vastu dosha will prevent the flow of positive energy into your house. So, it's always better to consider Vastu shastra while planning the entrance of your pooja room. According to Vastu experts, a pooja room without a door is bad because, without a door, the religious energies inside the pooja room can weaken. In addition to this, having a single door is also not advisable. 

So, you can correct the Vastu dosha by having two doors in the pooja room. In case, if building a pooja room is not possible then you can simply drape a curtain that will work as a makeshift door. 
We hope you found all our Vastu tips useful! Following all the above-stated Vastu tips for your pooja room will definitely ensure that your house is completely filled with positive divine energies. So, what are you waiting for? Get a perfect pooja room ready in your house as per Vastu shastra and enjoy living in a blissful space.