Table of Content:
Pongal is an auspicious festival celebrated by the Tamil community for four days. It is similar to Lohri celebrations in North India and Makar Sankranti in North-West India. The Tamil community thanks mother nature, farm animals, and the Sun on this day. From making rangoli to using flowers and lights for Pongal decorations at home the joy of the festival takes over one and all. 

This year, the Pongal will be celebrated from 15th January to 18th January 2023. Here is how you can welcome the new harvest season with beautiful Pongal decorations at home. Let's explore!

1. Decorate The Pot For Pongal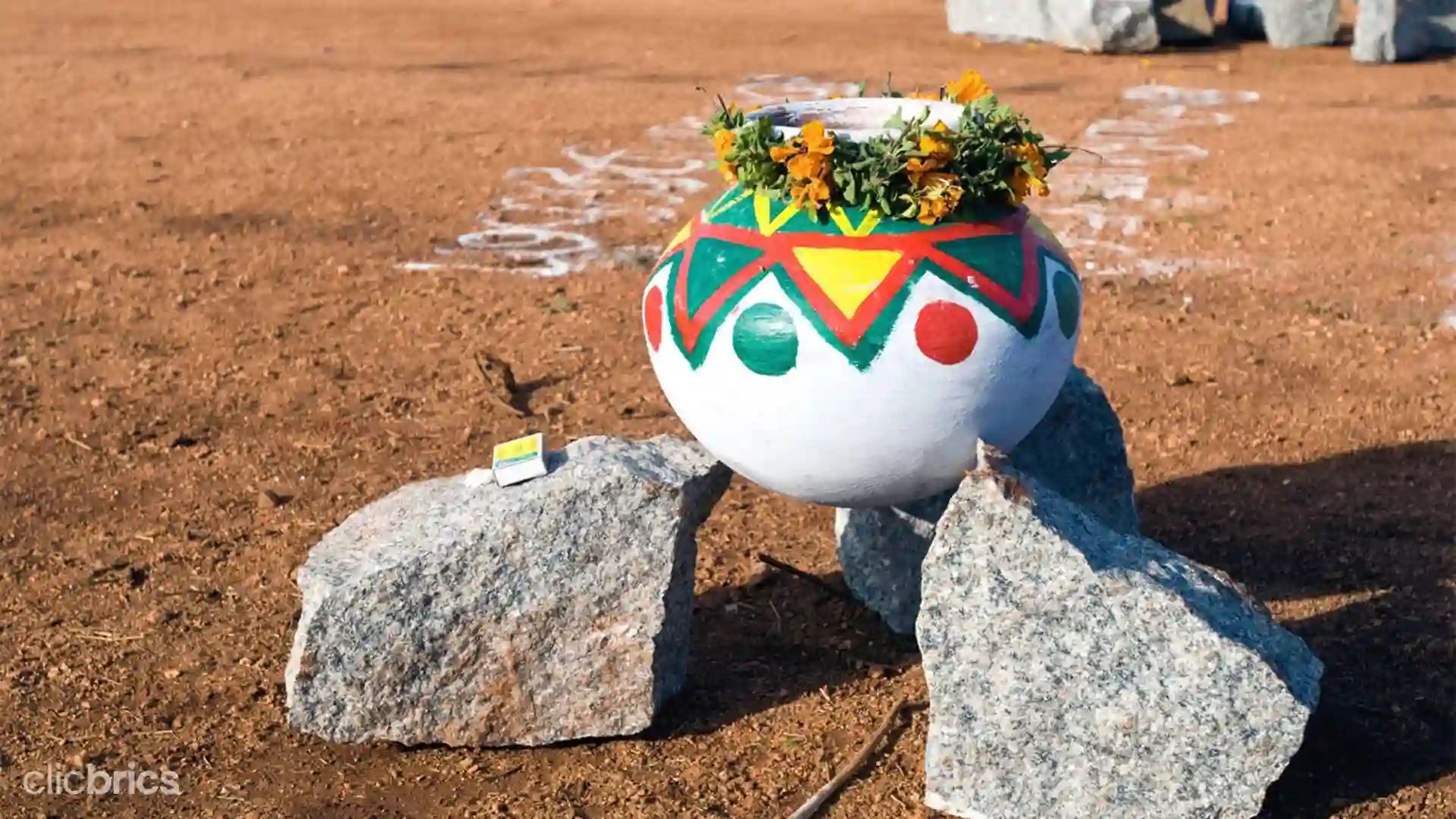 The first thing that can strike your mind for Pongal decoration at home is the pot in which you make Pongal. It is a clay pot that you can decorate with different patterns in various colours. Paint some quirky designs on the clay pot to add vibrancy. Add beads or floral decorations to make your clay pot more appealing!
2. Use Banana Leaves For Your Pongal Feast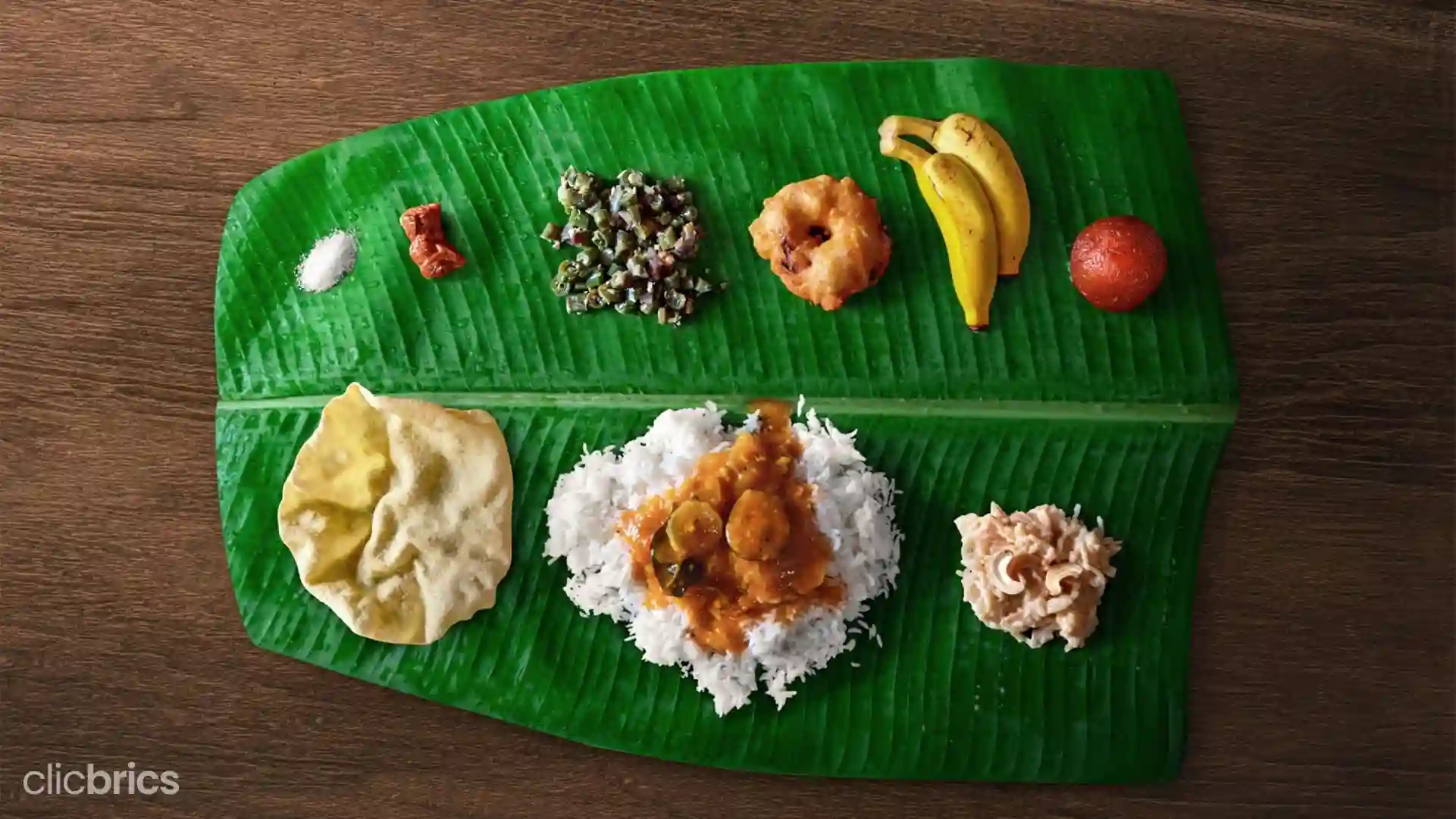 One of the main attractions of Pongal decoration at home is how you serve the feast. Serve your Pongal feast on banana leaves. This feast includes sweet or savoury food. The entire meal becomes a fulfilling experience in itself when served on banana leaves. You can use banana leaves on plates and even wrap them around the glasses.
Also Read: 10 Budget-Friendly Indian-Style Pooja Room Designs For Your Home 
3. Design Rangoli That'll Elevate Your Home's Look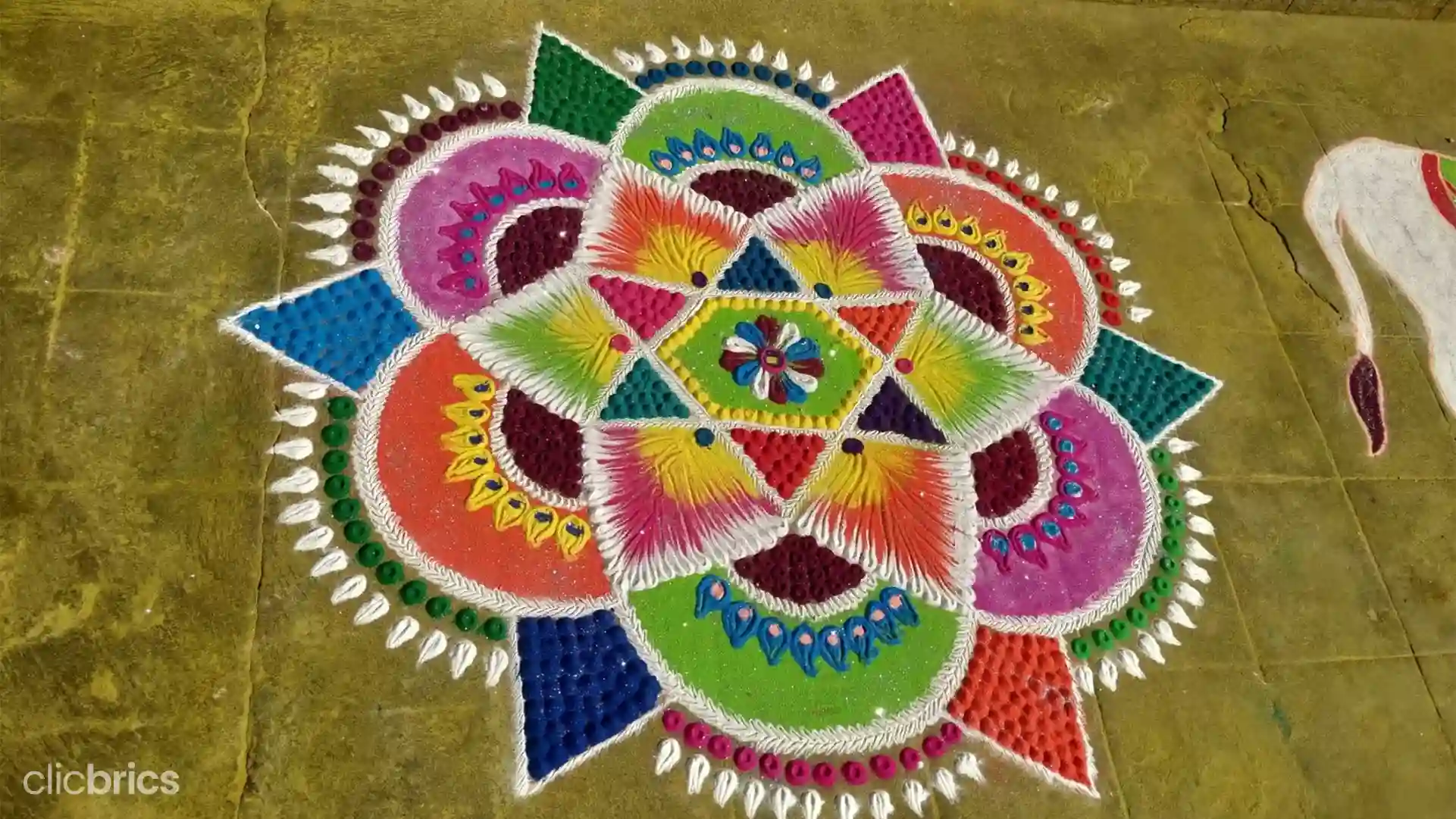 Pongal decoration at home is incomplete without making rangoli designs. This rangoli is popularly known as Pulli Kolam. You can make it at the entrance of your home. The rice flour is used in a grid-like pattern to form various symmetrical patterns. 
If you do not have rice flour at home, you need not worry. You can even use flower petals or powdered rangoli. Try creating designs that resemble cows since they are worshipped during this festival as they plough the land and contribute to a good harvest.
4. Use Sugarcane For Pongal Decoration In Home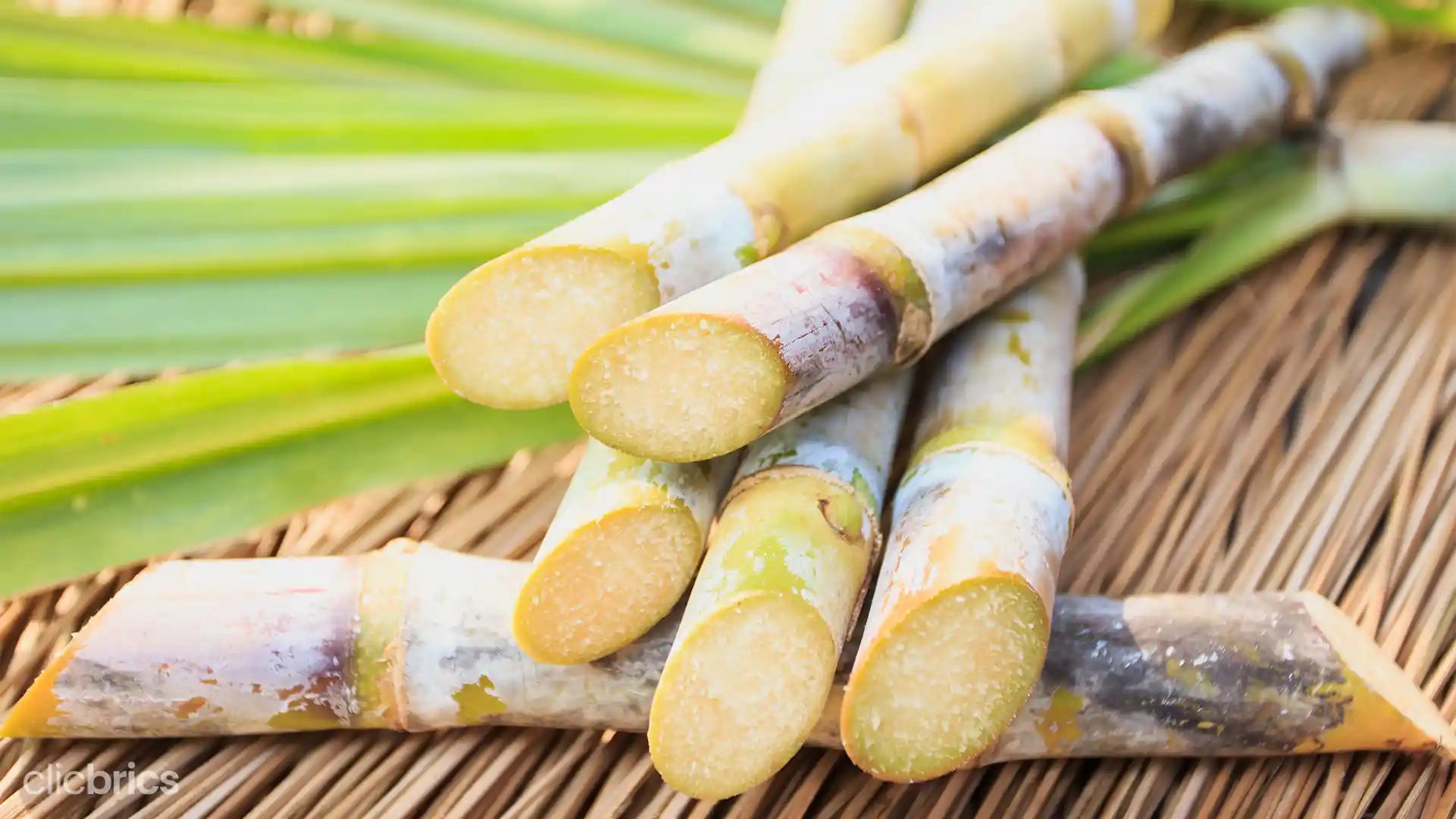 Something more that you can use for Pongal decoration at home is sugarcane. Sugarcane is one of the most crucial components of Pongal celebrations as it signifies well-being and prosperity. It makes a beautiful prop for Pongal decorations as well. Choose the long sugarcane sticks with leaves on top of it.
5. Try Flowers For Pongal Decoration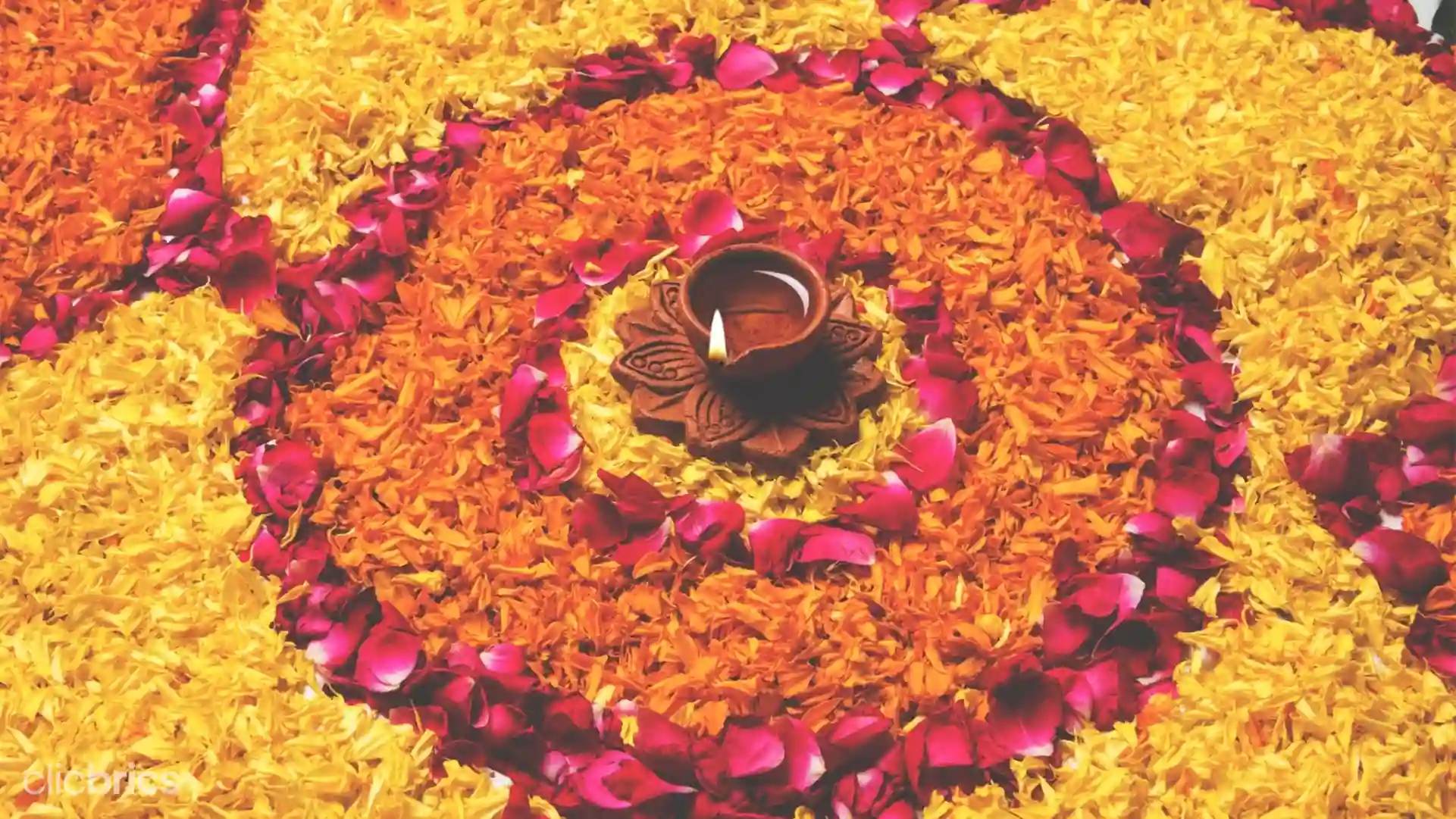 Flowers have a beautiful appearance. Use flowers for Pongal house decoration or Pongal floor decoration. Fill your home up with the aroma of fresh flowers and beautify your home right away!
6. Use String Lights To Illuminate Your Home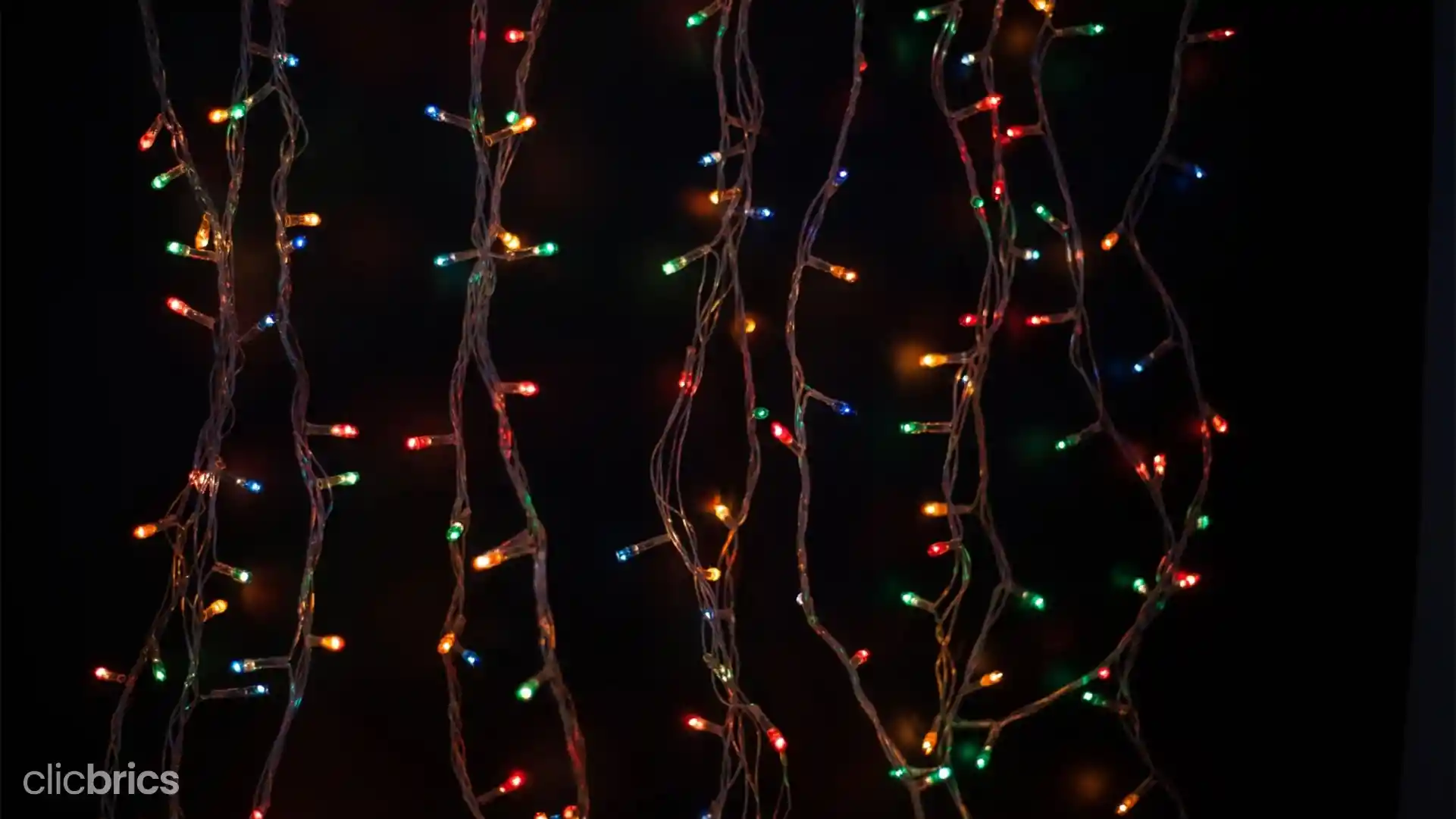 Add a spark to the festival with string lights. Hang these string lights in your home. You can also try bunching them up and putting them in glass jars. Not only this, you can even try keeping them on windowsills. What's better than being able to add glitter to a four-day-long celebration like Pongal, right? 

7. Go For Sustainable Decorations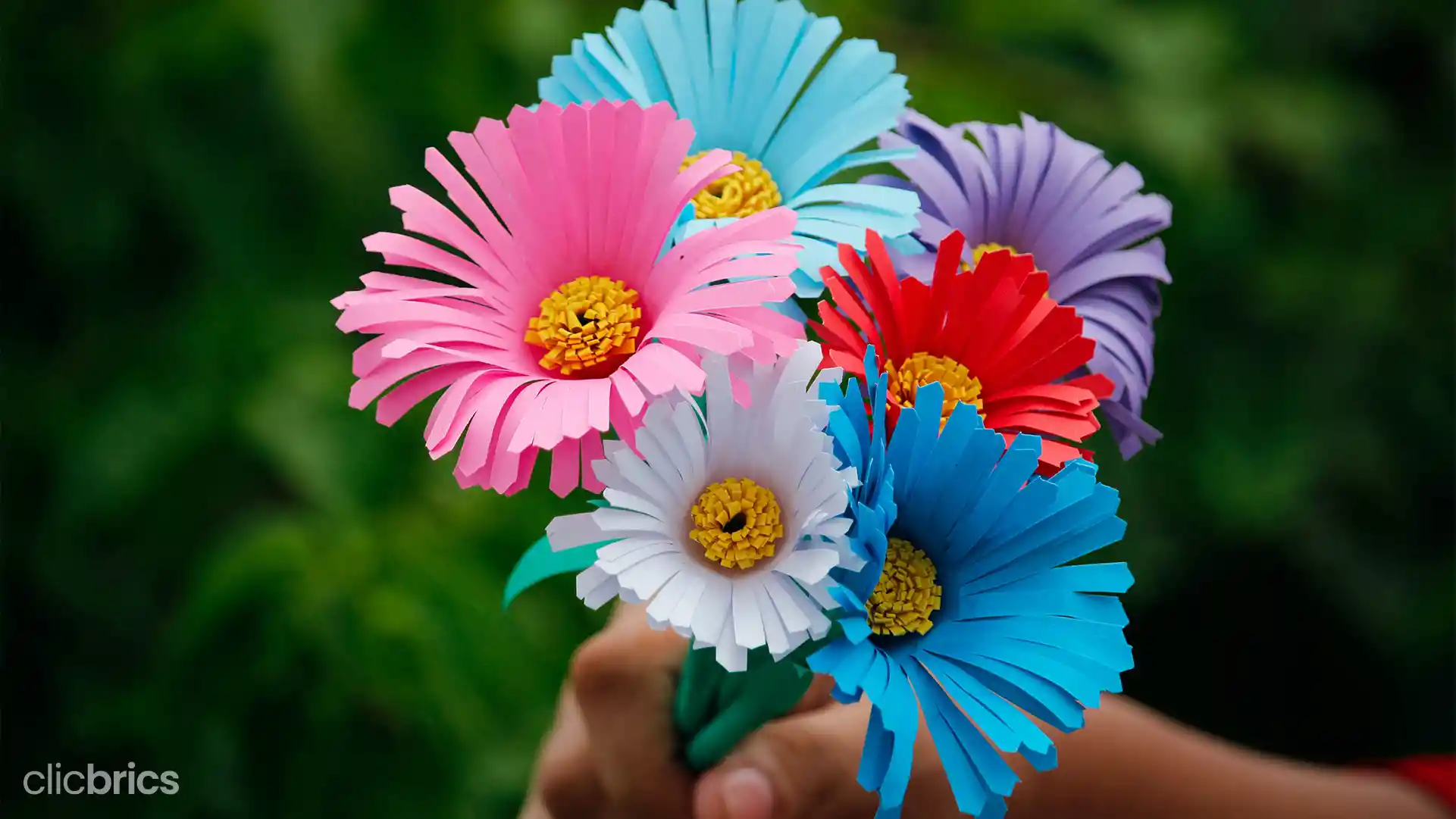 It is the most inexpensive and cost-effective way for Pongal decoration at home. Try making paper-crafted sugarcane and decorating your house. You can also recycle the sea shells and small ornaments and hang them at home.
8. Decorate Your Room With Kites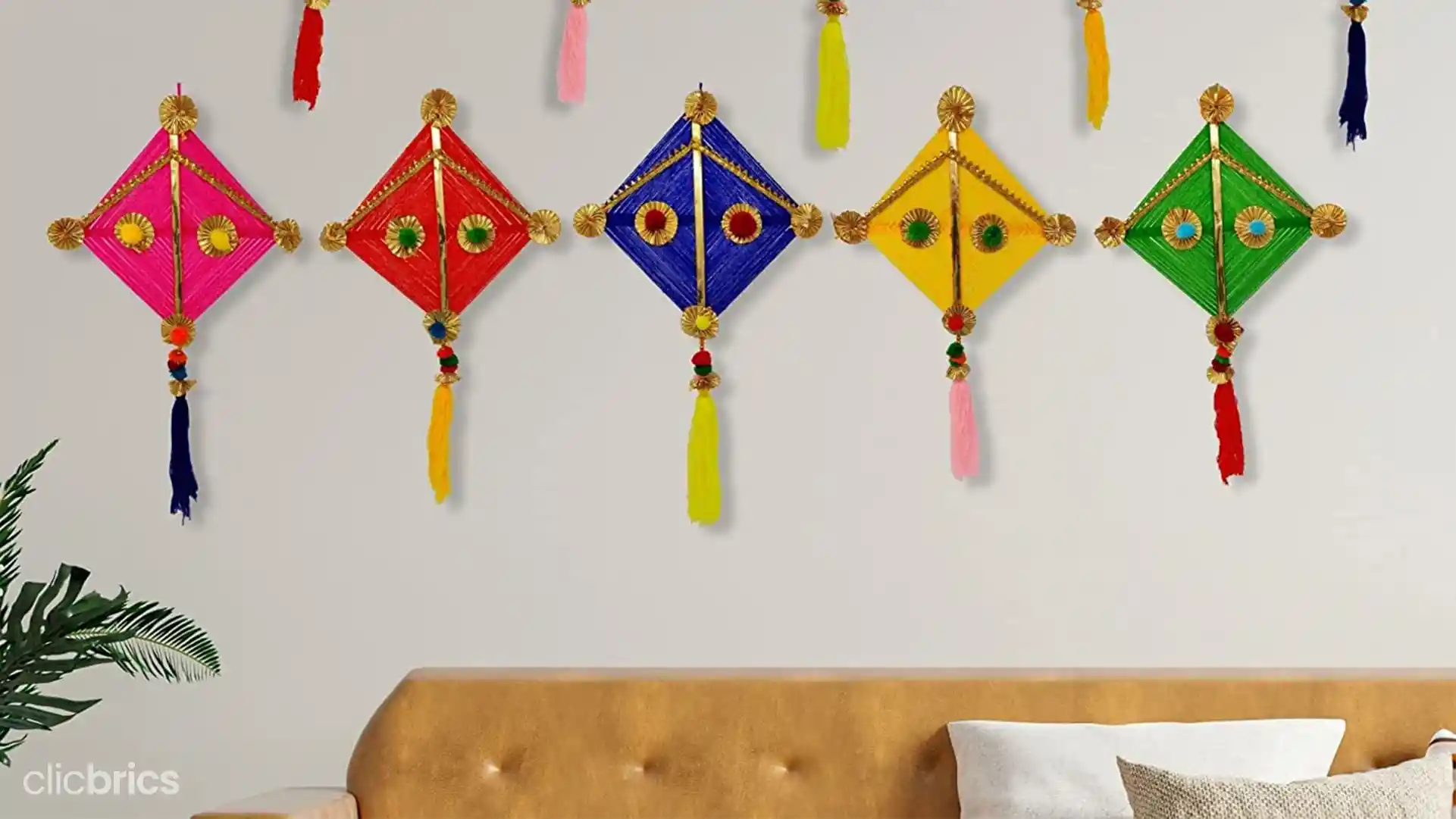 Kids love to fly kites during Pongal. Try using these kites to decorate your room. Choose colourful kites to add vibrancy to your room. Place them on the walls or behind the sofas in your home to make your home look bright and spectacular. It adds a beautiful pop of colour to your Pongal decoration at home.
9. Add An Indian Touch With Diyas And Candles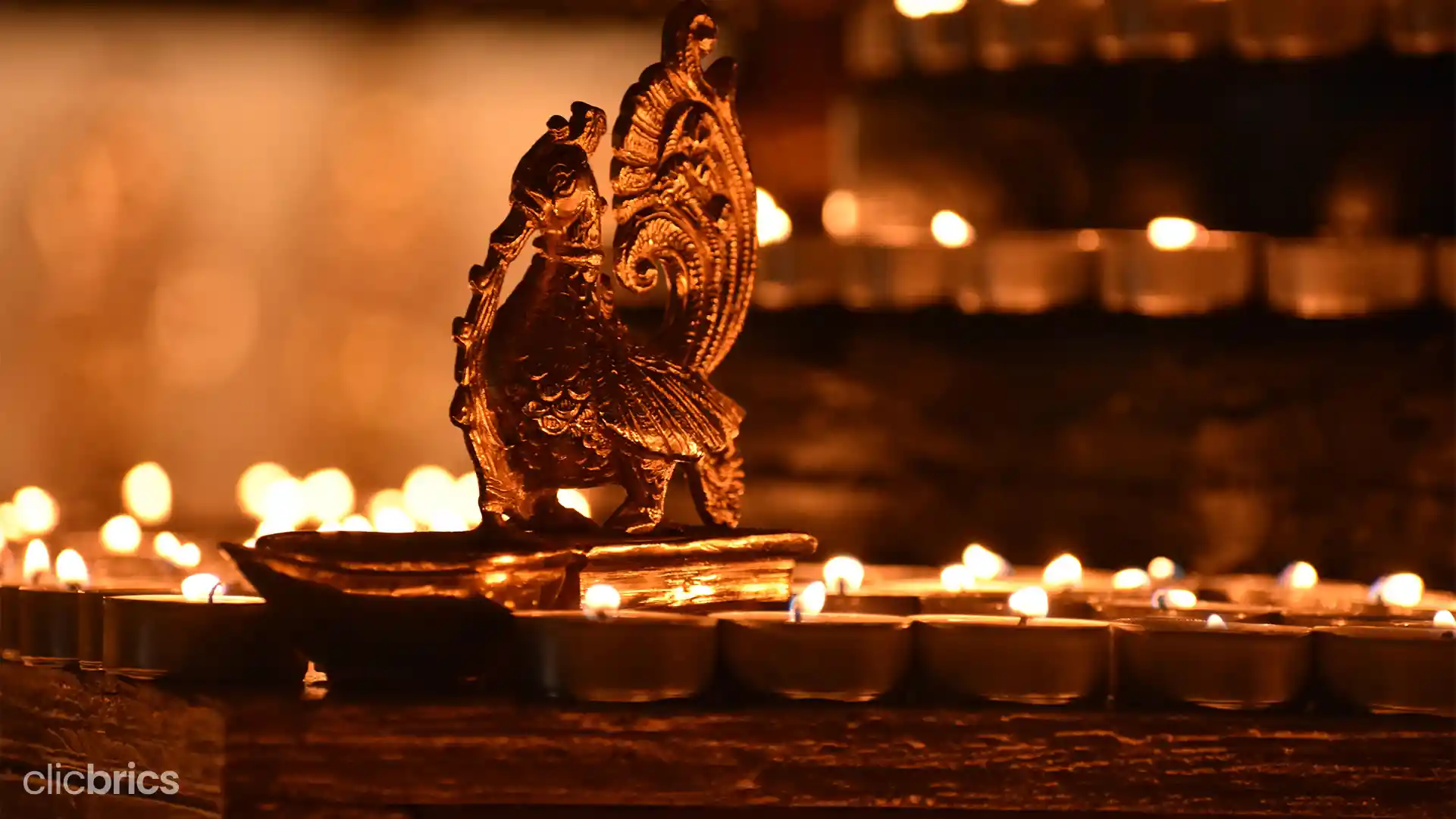 Diyas and candles give an aesthetic appeal to any room. Add handmade diyas to bring a personal touch to your room. You can also get some scented candles to light up your space and make it aromatic.  
10. Shimmer Your Way Into Pongal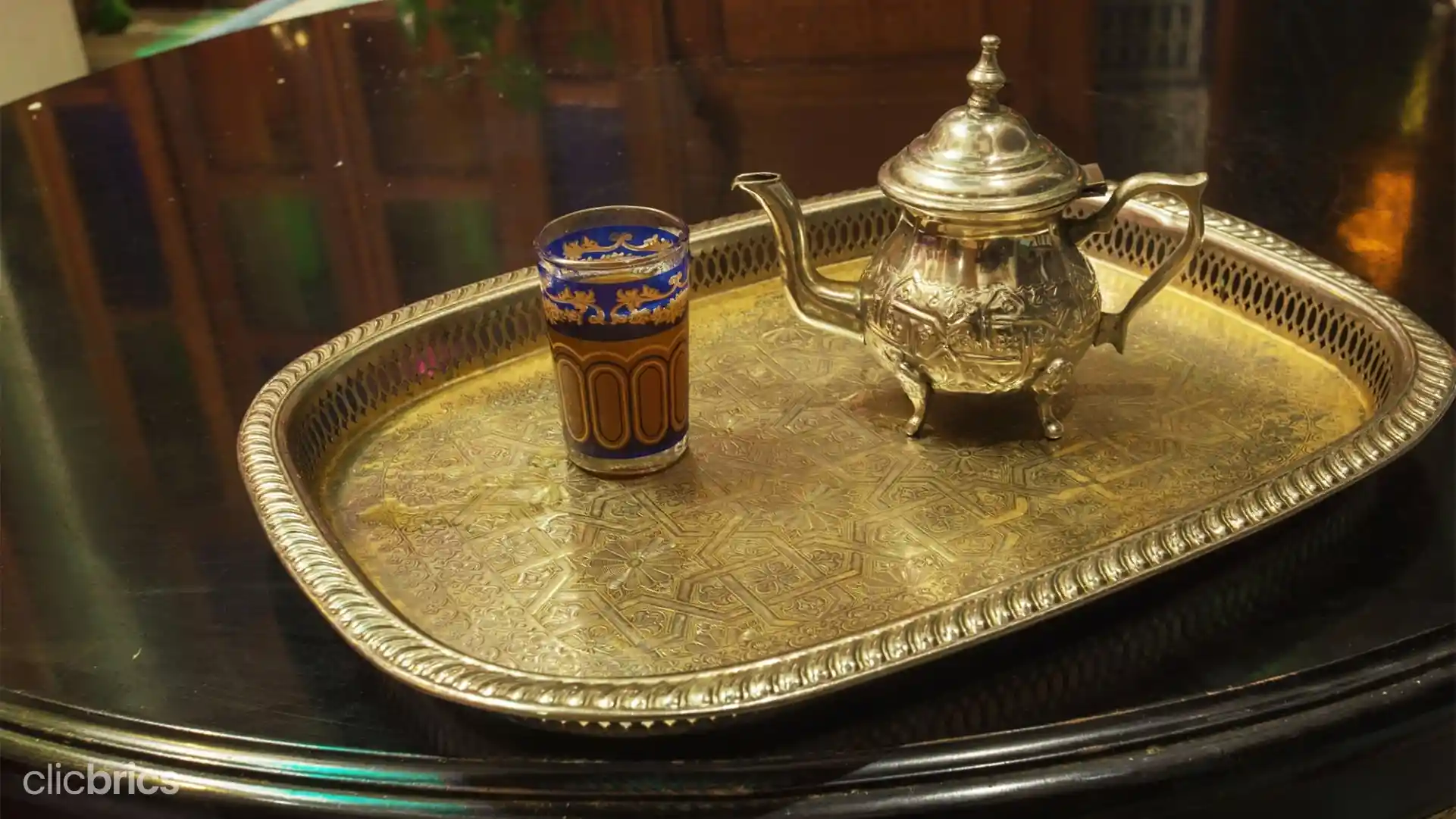 Add silver accessories to add a touch of royalty to your home. Silverware looks elegant and has medicinal properties as well. It also helps fight diseases and seasonal ailments. It also increases brain power other than just adding a shimmer to your room. So, it makes a great addition!
11. Add Metal Bells To Your Decoration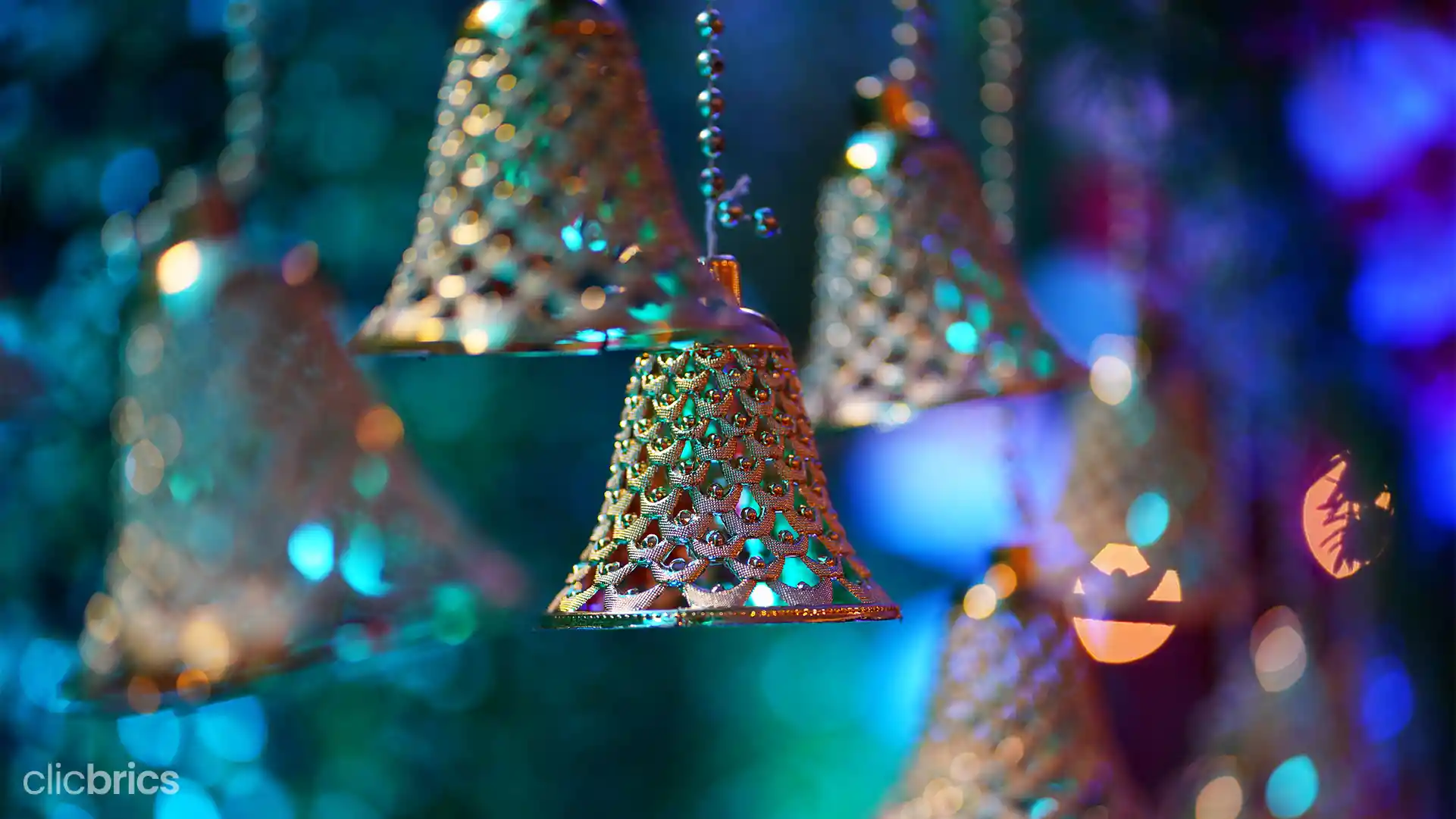 Every Indian prayer room has a metal bell. Using metal bells adds a traditional touch to the space. The sound of these bells also adds divinity.
Conclusion
Pongal is an auspicious occasion. It becomes even more special when your friends and family visit you. We hope these suggestions will help you redecorate your space and give out a traditional touch to your home. Do the Pongal home decoration that'll illuminate your home & hearts!
We hope there is a lot of fun for you in store with Pongal decoration at home Happy Pongal!