Table of Content:
Are you dreaming of transforming your living space into a harmonious blend of functionality and style? Imagine the possibilities of creating stunning kitchen partition designs that seamlessly integrate with your living area. The kitchen partition designs between living enhance the overall appeal of your home. Let's embark on a journey of creativity and functionality as we explore how these ingenious kitchen partition designs between living space that will add a touch of elegance and practicality to your home. 
So, whether you prefer modern sophistication, cozy warmth, or a blend of both, these kitchen partition designs between living ideas cater to various tastes and preferences, allowing you to personalize your living space to perfection.
Kitchen Partition Design Ideas
Here are some innovative kitchen partition designs between living that can beautifully blend with your living space:
1. Kitchen Partition Design With Glass Wall with Sliding Panels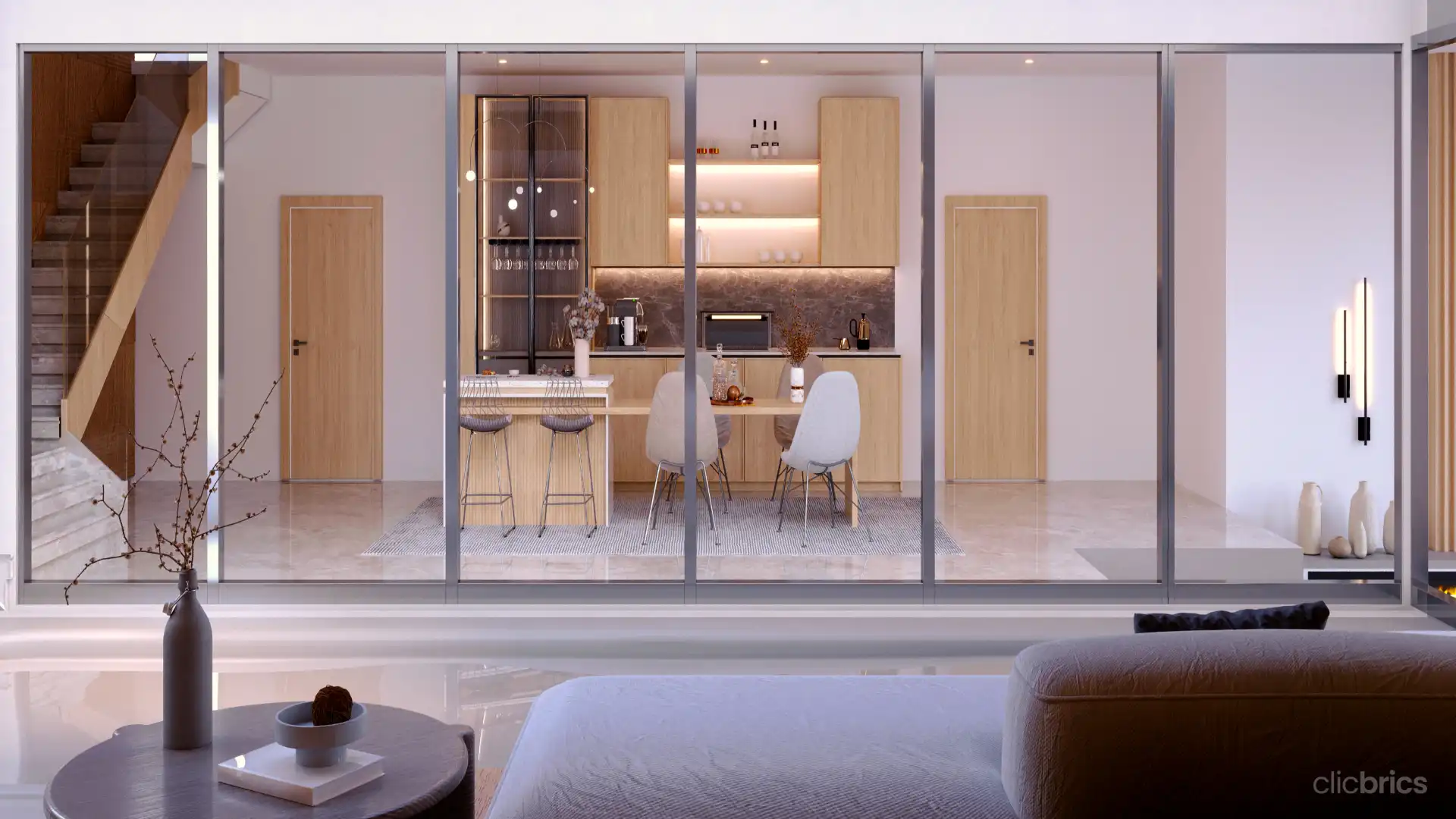 Embrace a modern and sleek approach by installing a glass partition between your kitchen and living area. Opt for sliding panels that offer versatility in controlling the level of openness and privacy. Frosted or tinted glass adds an elegant touch, allowing natural light to filter through while creating a visual division. This kitchen partition design not only modernizes the space but also maintains a seamless connection between the two areas.
2. Living Green Wall Partition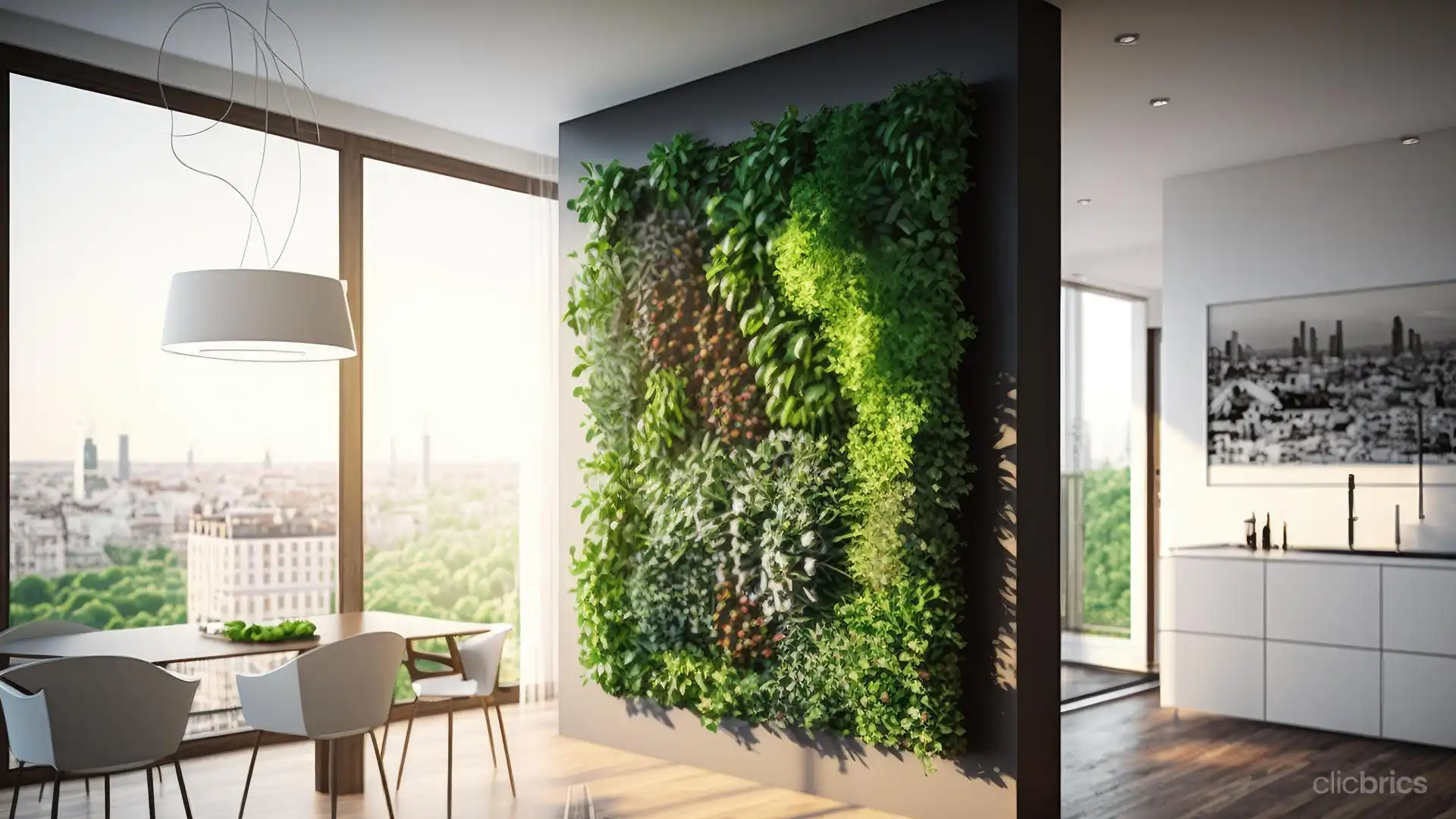 Incorporate nature into your home by installing a living green wall as a unique partition. Utilize vertical gardens filled with lush plants or herbs that not only delineate the spaces but also improve air quality and infuse a refreshing ambiance into both areas.
Also Read: A Comprehensive Guide to Finding the Perfect Kitchen Sink Design
3. Kitchen Island with Breakfast Bar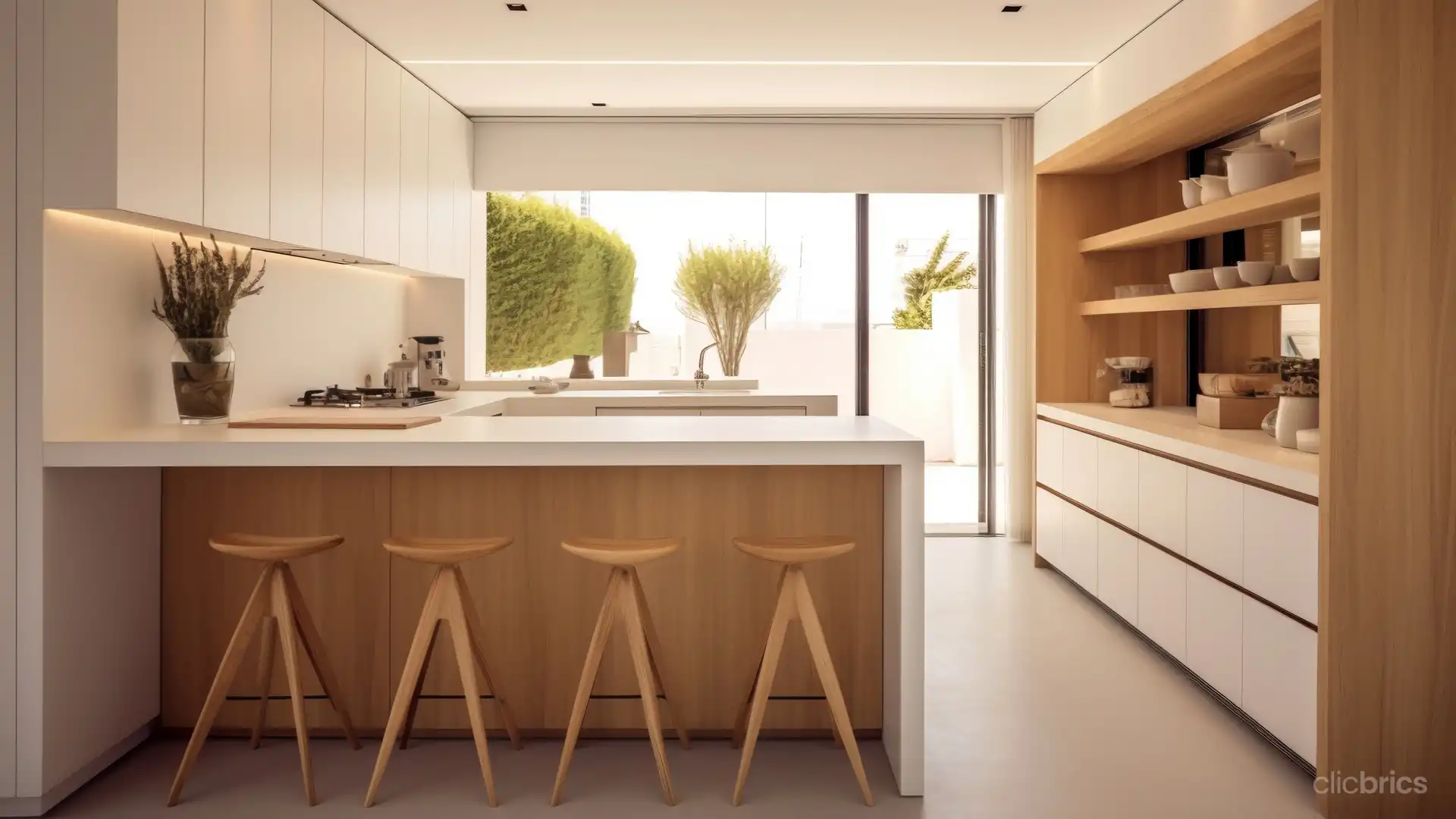 Enhance your kitchen's functionality by incorporating a multifunctional kitchen island that serves as a subtle partition. Choose an island design that includes a built-in breakfast bar, providing an additional surface for dining or casual gatherings. This kitchen and living room partition adds a central focal point, optimizing space and facilitating interaction between the two areas.
4. Slatted Wood Screen Kitchen Partition Design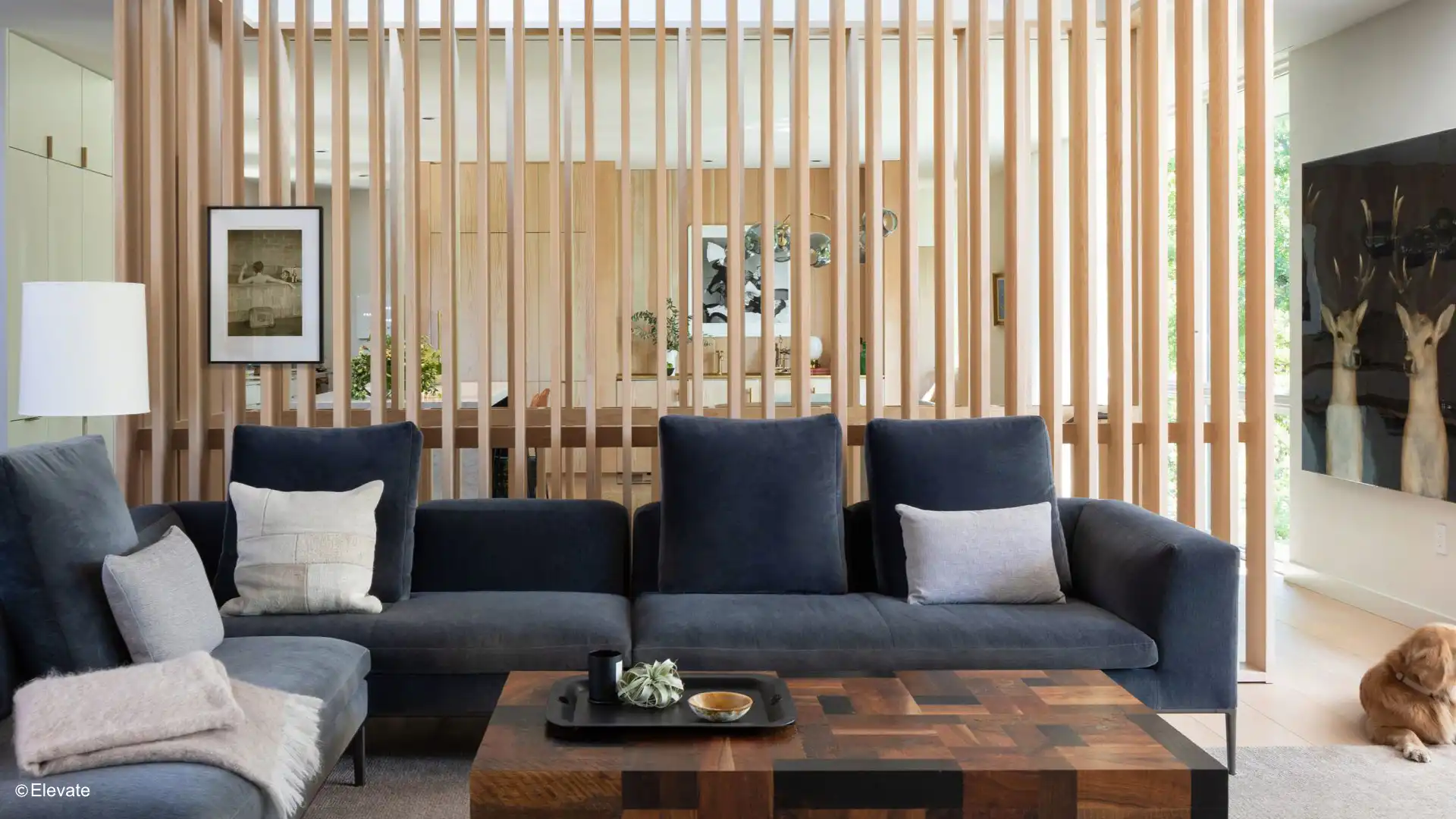 Source: Elevate

Infuse warmth and texture into your space with a slatted wood screen partition. These kitchen partition designs between living screens offer a cozy and inviting atmosphere while maintaining a sense of privacy. Whether crafted from natural wood or stained to complement your interior palette, slatted wood screens allow light and air to flow through, creating a seamless yet distinct separation between the kitchen and living area. 
5. Pocket Doors To Create a Quick Kitchen Partition Design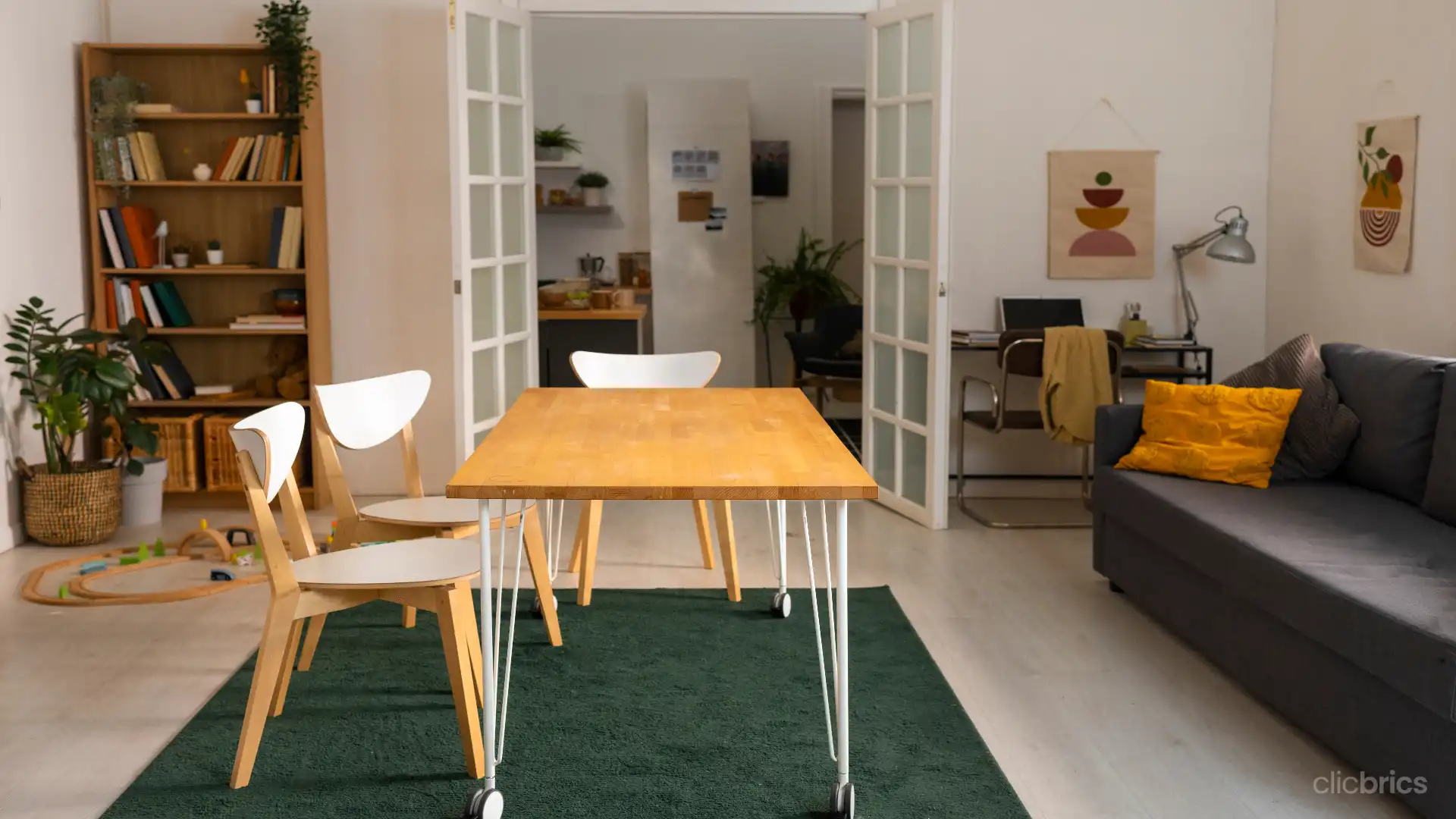 Opt for practicality and flexibility with pocket doors or folding panels that act as movable partitions. These space-saving solutions can be tucked away when not in use, allowing for an entirely open layout or discreetly sectioning off the kitchen. Choose stylish door hall and kitchen partition design that complement your decor, providing the option to easily transform the space based on your needs.
Also Read: 9 Small Kitchen Practical Design Ideas That You Say, 'Wow'
6. Jali Open Kitchen Partition Design Infused with Boho Vibes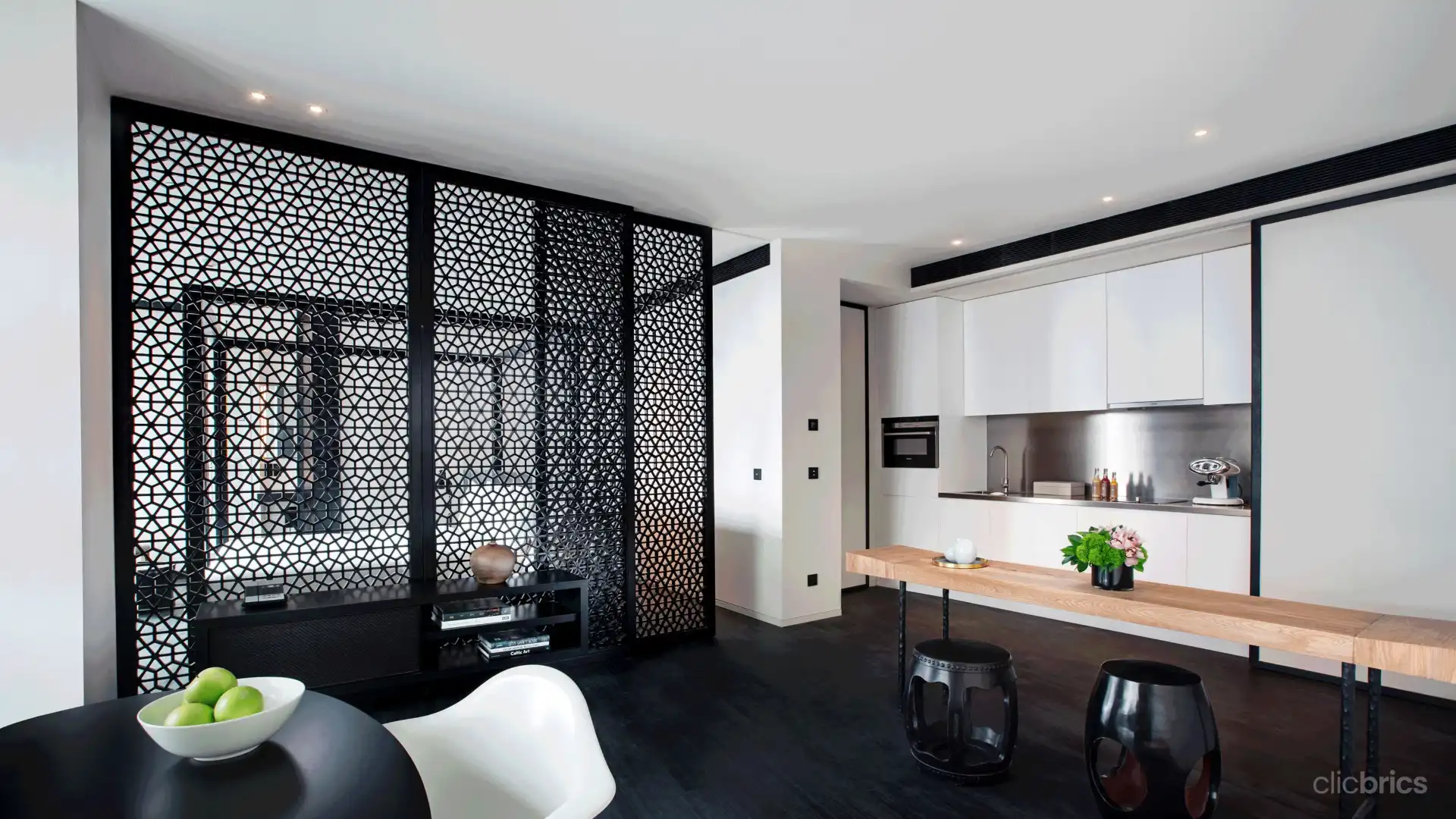 Inviting the free-spirited essence of bohemian design into your home, the jali open kitchen partition perfectly encapsulates the Boho vibe. This partition for kitchen and living room design, characterized by intricately carved wooden or metal screens known as jali, effortlessly merges the charm of openness with the cultural richness of Bohemian aesthetics. 
7. Sliding Glass Panels in Kitchen Partition Design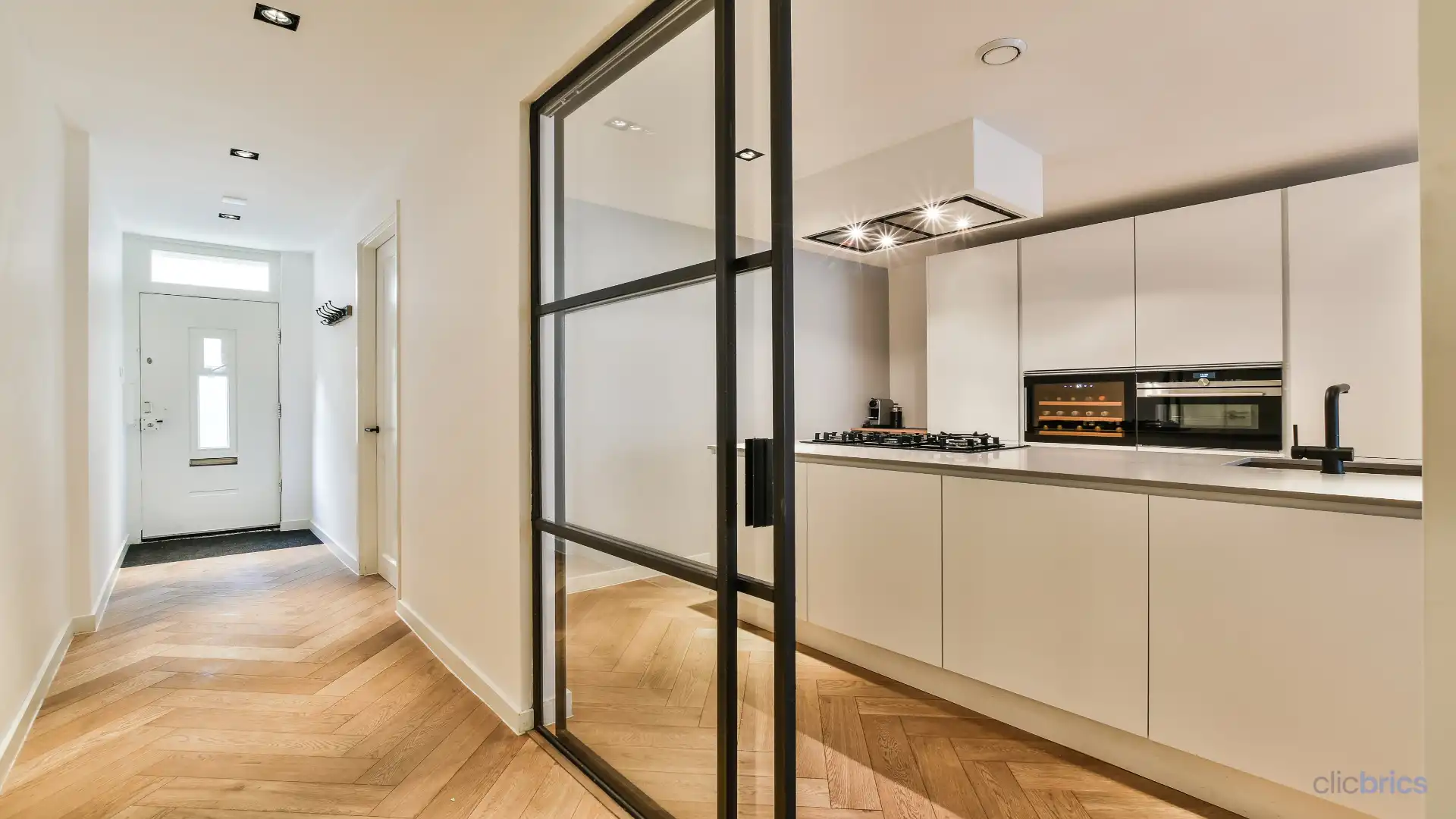 Sliding glass panels represent a contemporary and versatile approach to kitchen partition design, seamlessly merging functionality with aesthetic appeal. These panels offer a sophisticated solution, allowing you to effortlessly create an open layout or a more private space as needed. 
8. Vertical Garden Wall as a Stylish Kitchen Partition Design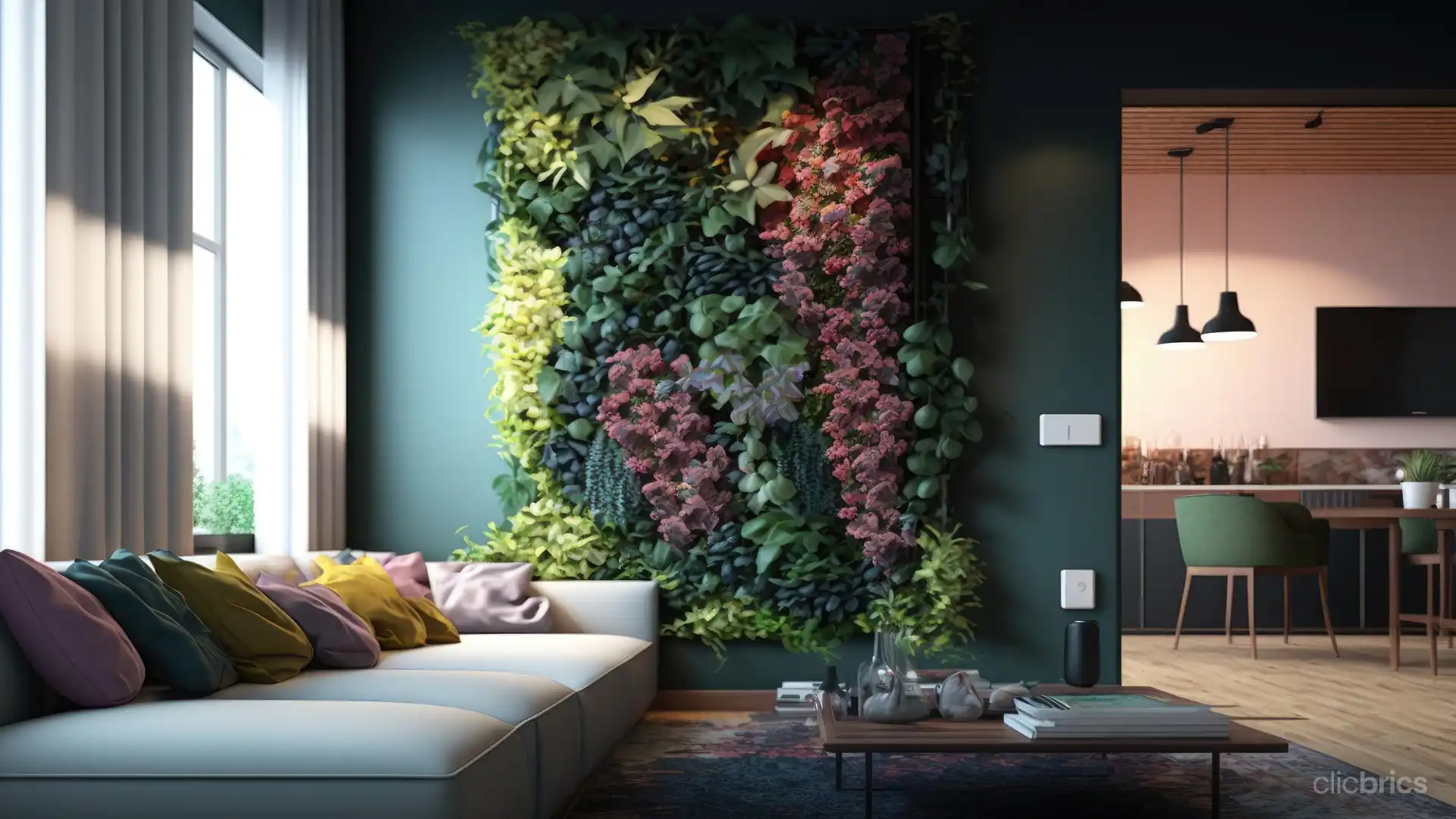 Imagine transforming your living space with a vertical garden wall, not just as a partition but as a breathtaking statement piece. This innovative kitchen partition designs between living merges the beauty of nature with functional elegance. A vertical garden wall doesn't just separate spaces; it breathes life into your home, offering a vibrant and refreshing ambiance. 
9. Metal Screen Kitchen Partition Design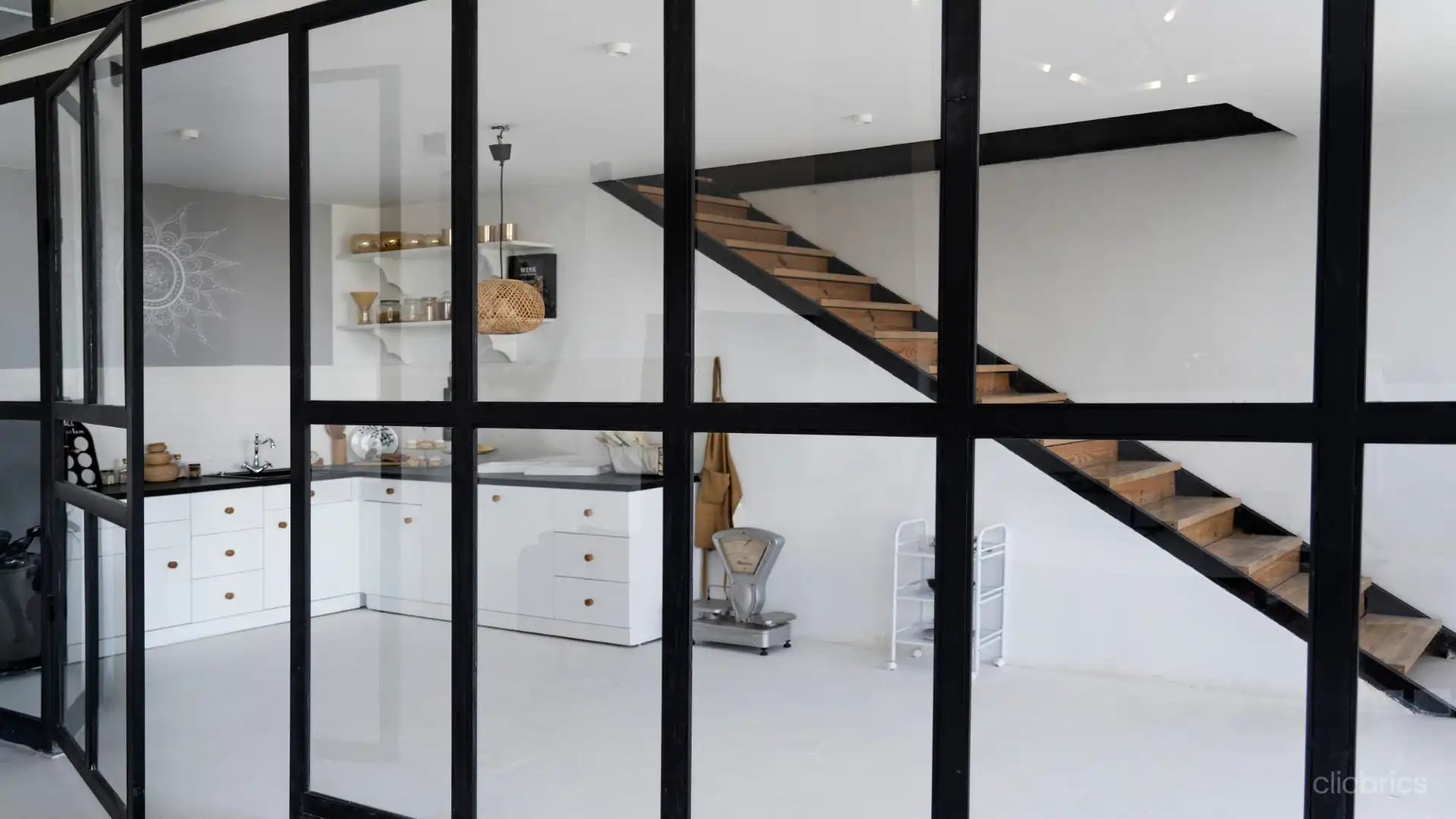 The metal screen partition design for hall and kitchen stands as a statement of modernity and functionality. This innovative partition solution employs sturdy metal screens that not only delineate the kitchen from the living area but also add a touch of contemporary flair. This style choice adds a unique visual element to your space, transforming it into a chic, industrial-inspired haven.
Also Read: 7 Kitchen Floor Tile Design Ideas for a Stunning Makeover
10. Open Shelving Kitchen Partition Design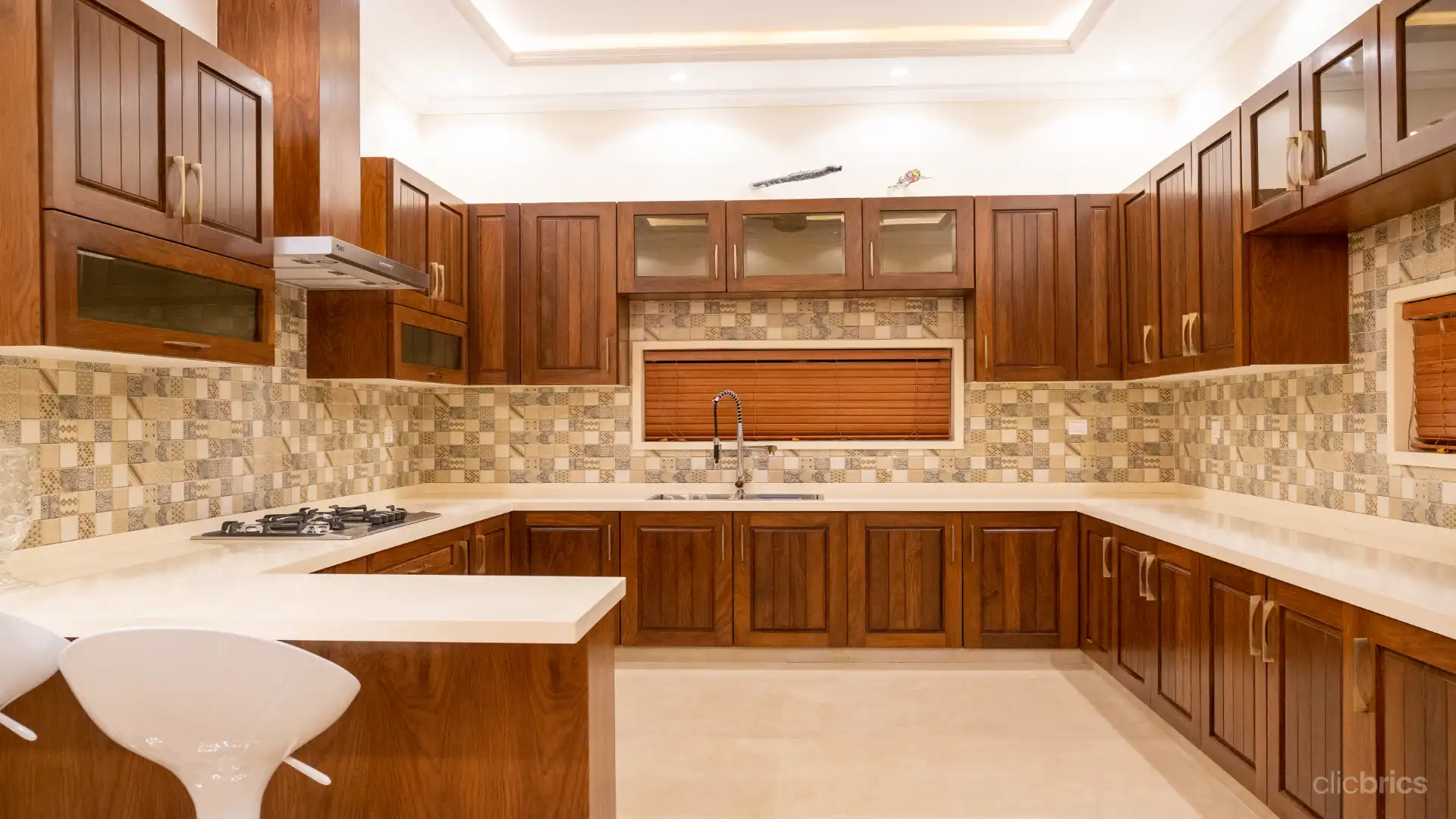 Utilize open shelving as a functional and decorative divider. Install sturdy shelves that span the desired height, allowing for a clear division between the kitchen and living space while enabling visual connectivity. This kitchen partition from living room design offers the opportunity to showcase decorative items, cookbooks, or stylish kitchenware, adding personality to both areas. 
Conclusion
As we explore the myriad ways to partition your kitchen from the living area, it's evident that these kitchen partition ideas transcend mere functionality. They're portals to creativity, expressions of personal style, and bridges connecting different spaces within your home. With these creative kitchen partition designs between living, you're not just shaping spaces but crafting an experience—a home that's as unique as you are.