The city has experienced quite an upgrade in the past couple of years. The city started to grow just when the manufacturing plant of Maruti Suzuki and BPO operations were established simultaneously, i.e., in the late 1970s. Earlier, it was believed that Guru Dronacharya taught his students, including Arjuna, that's why it was named Gurugram. Since that time, the city has manifested itself; Gurgaon is a hub of many leading industrial, financial, and IT companies and now, in 2022. The economic growth story of Gurgaon being the home of many Fortune 500 companies is not hidden. With its fantastic connectivity to Delhi Road, Metro, and its own Rapid Metro, many people shift to Gurgaon, with or without families, in search of better opportunities. 
Gurugram offers excellent employment opportunities, which is why people from abroad are also moving to this city. But living here has its own cost, so if you are one of those people moving to Gurgaon, you will encounter various expenses. However, we don't want an unexpected expense to come as a surprise to you and disbalance or hamper your budget. So, we have prepared a complete breakdown of costs that you will face when moving to Gurgaon. 
Factors to Consider
Relocating to any place requires patience, which involves the process of 'researching before moving'. When considering shifting to Gurgaon, there are certain factors like transport, food, amenities, connectivity and others whose solutions should be well prepared in advance. It will allow you to set a budget and live a comfortable life in Gurgaon. So, it is mandatory to evaluate the below-mentioned points. 
Is the job better than the current one? 

Will you relocate with your family or live alone? 

Your monthly expenses are based on your lifestyle.

Accommodation preference: to buy a property in Gurgaon or to live on rent in Gurgaon 

Transportation and travel expenses.

Fuel expenses if commuting on your transport

Food expense 

Electricity, gas, cable and other utility bills

Domestic help 
The points mentioned above are the crucial factors that one needs to consider based on their respective lifestyles to calculate their living expenses in Gurgaon. 
The Average Cost of Living In Gurgaon 
 BASIC EXPECTED EXPENSES
| | |
| --- | --- |
| Item Name | AVERAGE COST |
| 2 BHK apartments in Gurgaon for rent | Rs 23000 |
| 2 BHK flat in Gurgaon | Rs 80 lakh |
| Utility expenses | Rs 5000 |
| Transportation Expense | Rs 4000 |
| School Fees | Rs 30000+ |
| 1 Time Expense on Food | Rs 600-800 |
| 1 Time cost of Quality Food | Rs 1500+ |
| Monthly Groceries Expense | Rs 8000-10000 |
| Miscellaneous Expenses (if any) | Rs 5000+ |
The list mentioned above is a detailed version of the cost of living in Gurgaon. From basic amenities to evening coffee dates, it pretty much covers everything you need to know when deciding to stay in Gurgaon. 
Nevertheless, the basic average cost will also vary based on your preference, lifestyle and whether or not you are moving in with your family or alone.
Let's discuss in depth the cost involved in various scenarios-
Cost of Living in Gurgaon Alone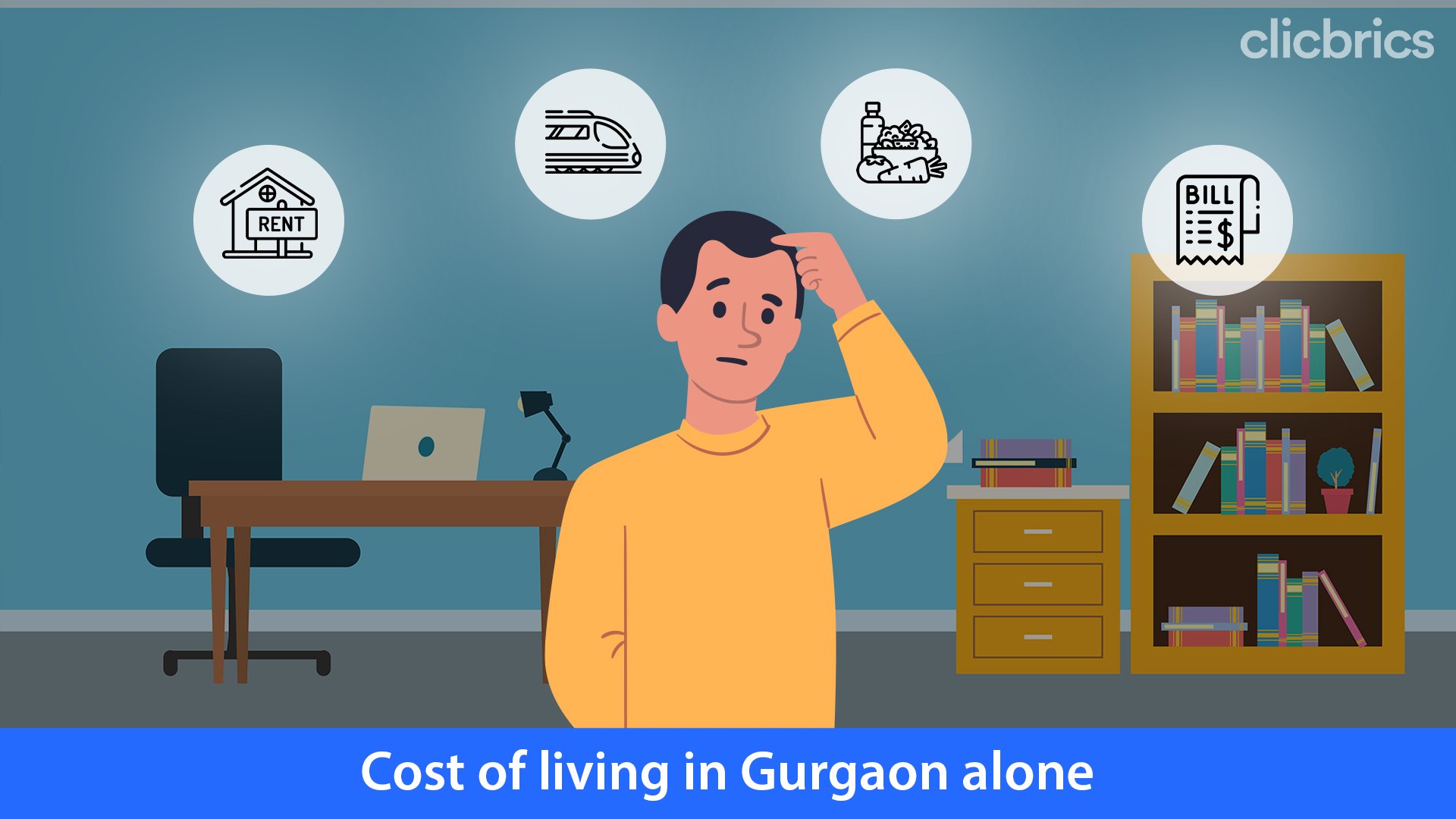 The following are the factors that must be considered by bachelors when living in Gurgaon. 
1. Property on Rent
You can find a 1 BHK apartment in Gurgaon for rent at Rs. 15000 a month, whereas 2 BHK apartments are around Rs 20,000 a month. One BHK or 2 BHK can be stated as an ideal choice for people living in Gurgaon alone. You will have the luxury of choosing a whole apartment for yourself or living in a shared apartment with others. 
2. Basic Household Expenses 
If you decide to live alone in Gurgaon, you will have to pay for electricity, cable, water, gas, domestic help, garbage disposal, etc. In short, the whole burden will be upon your shoulders, and somewhere it will cost you around Rs 10,000/month. 
Also, the lifestyle expenses vary from person to person, so an average estimated cost would lie between Rs 3000- 8000, respectively. 
3. Conveyance 
The best advantage of living in Gurgaon is that it has the best connectivity possible. Plenty of transportation services in the form of buses, metros, and autos are available. You can keep a budget and expect an expense of Rs 3000-5000 a month. 
Cost of Living In Gurgaon With Your Partner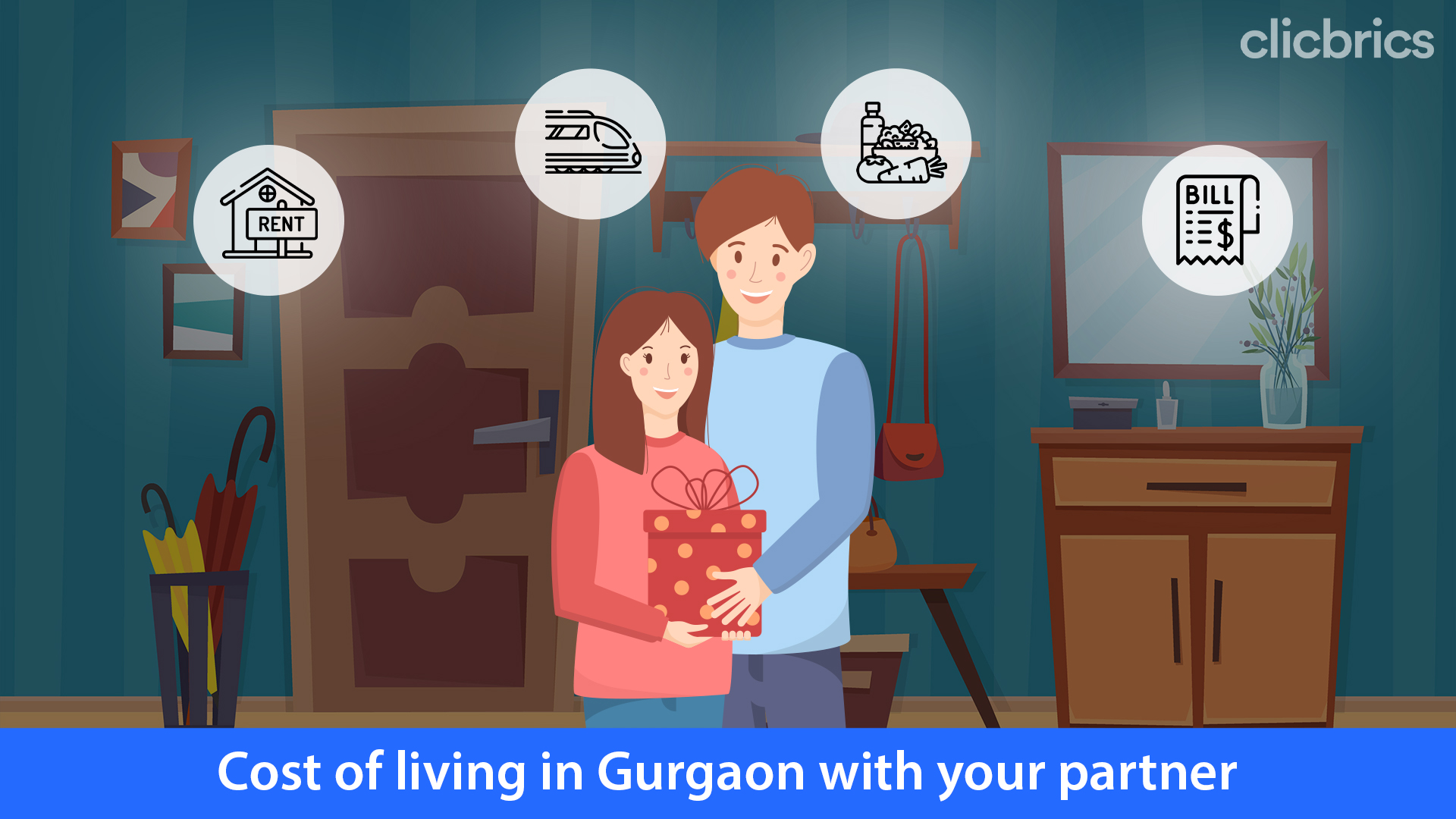 The cost of living with your partner in Gurgaon could be considerably high.
1. Property on Rent 
If you opt for a 2 BHK apartment in Gurgaon, it would cost around Rs 32000, whereas if you opt to live outside the city, the rent would be around Rs 2000 or more. 
2. Conveyance 
The expected cost that a couple would have to bear will range from Rs 4000-5000 a month. 
3. Food Expense 
Couples generally prefer to prepare food at home, so with ay shopping could cost them around Rs. 8000–10,000/month.
Cost of Living in Gurgaon With a Complete Family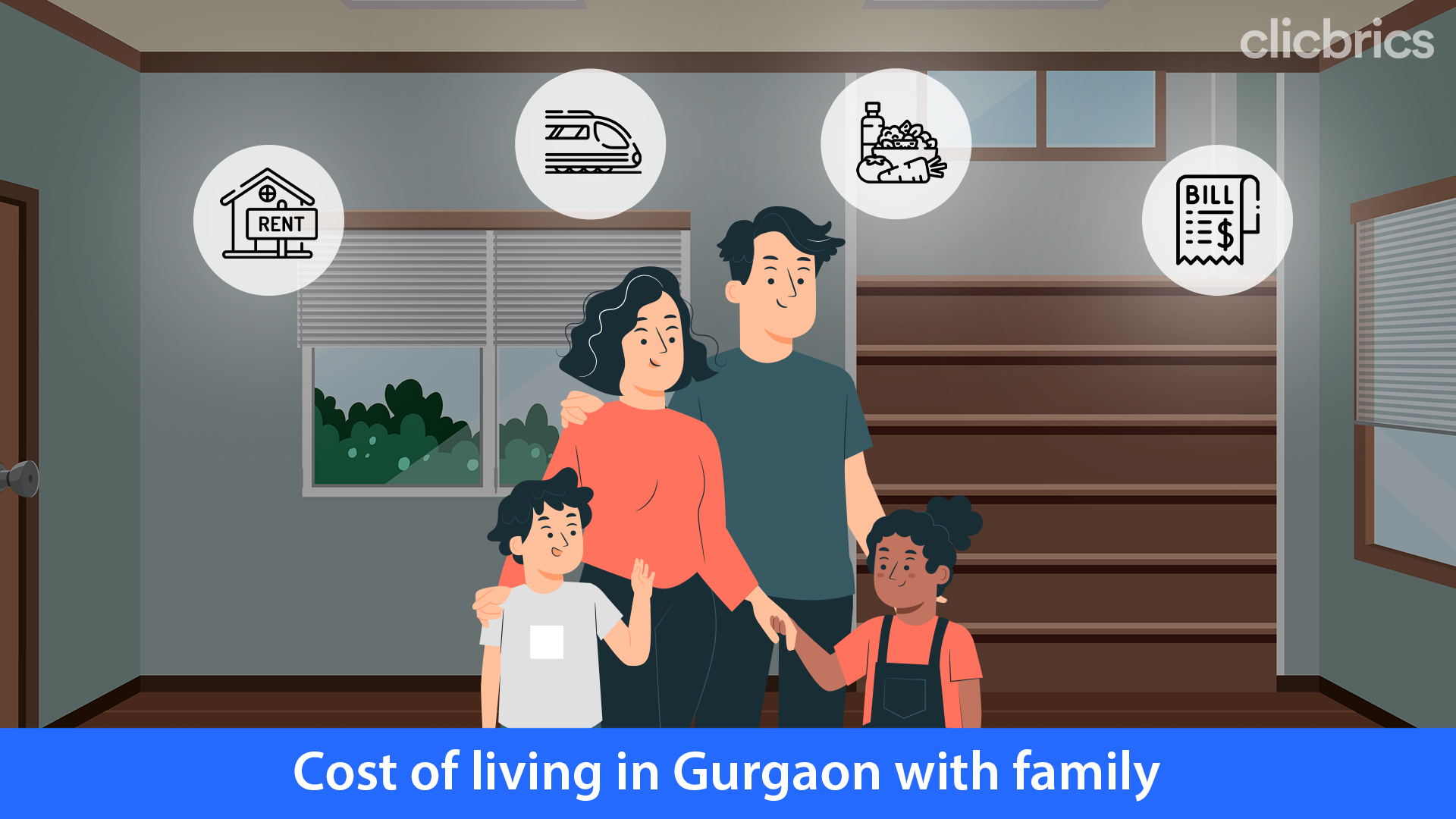 Let's assume you are a family of four. You, your partner, and your two adorable kids. If a new job entices you so much that you are willing to shift to Gurgaon with your family, keep the below mentioned average expense in mind. 
1. Property on Rent 
If you plan on living with your family, you would most probably opt for a 3BHK in Gurgaon, which would approximately cost Rs 50,000. But living outside the city can cost comparatively less, i.e., around Rs 30000.
2. Conveyance 
Around Rs 6000 or more could be set to be the average cost of transportation that a family has to bear when living in Gurgaon. 
3. Basic Household Expenses 
A family consisting of 3 to 4 members will have to spend an average of Rs. 6000–8000 on utility expenses like electricity bills, cable bills, WiFi, water bills etc. These miscellaneous costs go up to Rs 10000. You might require domestic help, childcare costs, medical expenses, and maybe more. 
4. School Fees 
If you have two kids, the average education expense could cost Rs 50,000 or more if you live in Gurgaon. 
Elated to move to Gurgaon but worried about the high cost of living? Don't fret! Either you opt to live in any of the top 4 best properties in Gurgaon on rent or for a permanent solution, you can get in touch with Clicbrics. They can help you find a good property in Gurgaon at very reasonable rates. So, what are you waiting for? Hurry up, try today! 
Also read: Are You Planning to Move to Gurugram With Family? Read These 5 Factors Before You Do So