What makes Chandigarh 'The City Beautiful' worth living as part of India - is its well-planned infrastructure, beautiful roads to drive on, and the list goes on. Planning to buy a property and settling in the city of Chandigarh is assured of one's well-being and benefits. Not just Chandigarh, but the entire country has to adhere to the provisions of the Registration Act, of 1908 which says that it is mandatory to register all property transactions. The purpose of doing it is to ensure the transfer of clean title to the owner. 
E-registration for real estate properties in Digital India
However, the traditional land registration process is a complicated task that is time-consuming as well. With technological advancement and the initiative of Digital India, the government is on a mission to eradicate loopholes and problems caused by the traditional registration process. Hence, the implementation of E-registration became an answer to it.
While some of the states in India have a full-fledged online facility to register their properties, the state of Punjab, including Chandigarh, has made the process partially convenient. 
With an aim to enable  'anywhere access to data and information to both the property buyer and regulatory agencies regarding the registration of real estate properties, the Department of Land Resources developed a software named National Generic Document Registration System (NGDRS) through the National Informatics Centre (NIC). This system was adopted and inaugurated in Punjab on 27th June 2018. This initiative enabled all 173 sub-registrar offices in Punjab to get fully computerized. 
Considering the positive response, NGDRS created an online property registration facility in its portal. With this, the state of Punjab became the first to launch online property registration in the country in 2018.
How does online registration benefit property buyers?
Online registration provides ease of use where one need not waste a lot of time standing in a queue in the registrar's office for registration.
The objective of online registration is to hide nothing about the property from the buyer. It surely enhances transparency and minimizes fraudulent practices in property dealings.
One can have evidence of all transactions related to the property, in case of any dispute occurrence.
Stay safe and assured as government servers are equipped with multiple layers of security.
For those who have specifically chosen Chandigarh for buying property, we have discussed below the procedure in detail and things to keep in mind while registering the property online:
Visit the official link https://chandigarhdistrict.nic.in/service/online-appointment-at-sub-registrar-office/ 

A form will appear which you need to fill in.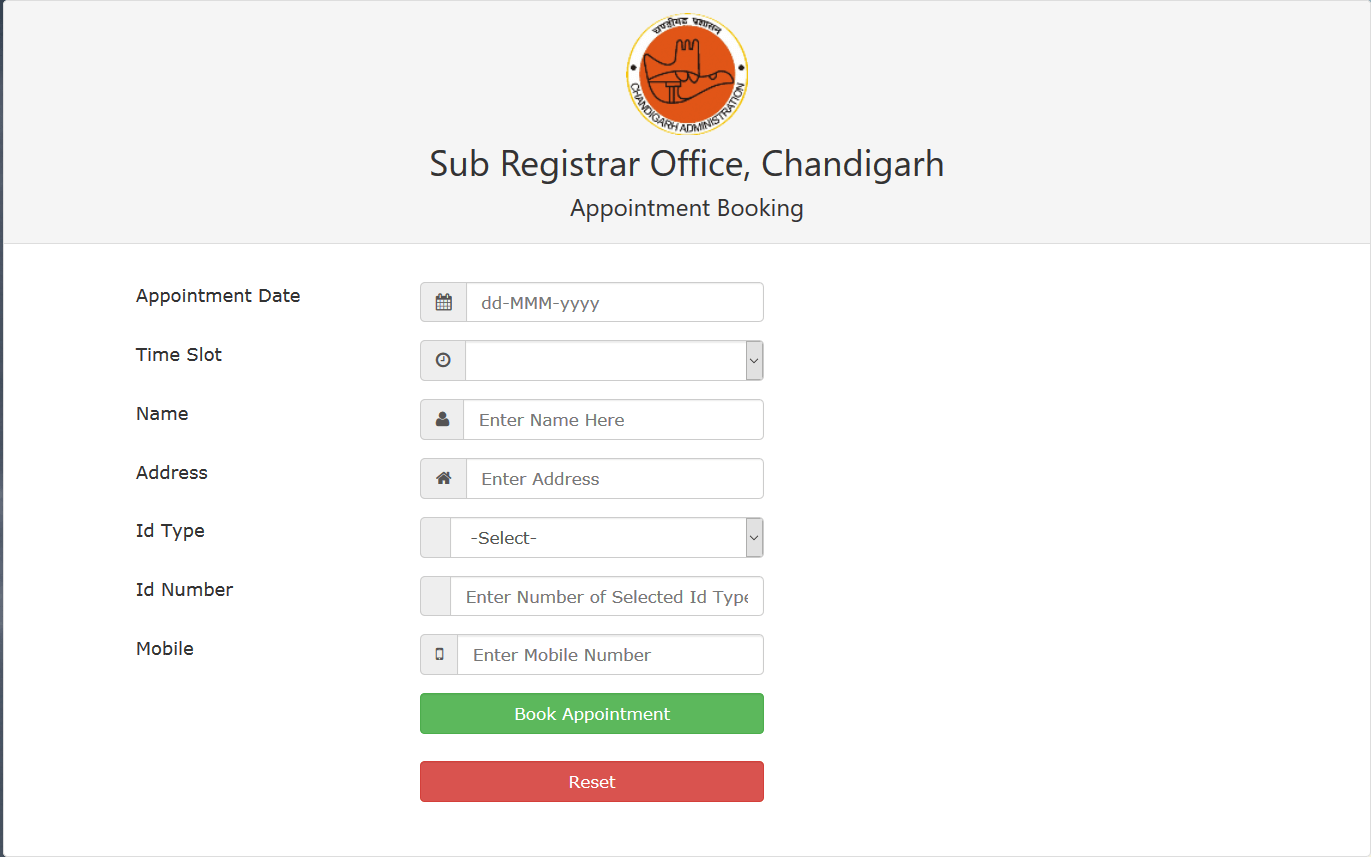 What are the documents required for registering deeds in Sub Registrar's Office in Chandigarh?
The buyer must be all set with both original and duplicate copies of the certificates for registration purposes.
Three parties are required to be present in the office for registration - seller, buyer, and all the witnesses, and each should keep their two passport-size photographs handy as well as Photo Identity Proofs such as a voter's ID card and passport.
All parties are required to take their PAN Cards and photocopies along and annex them with the Sale Deed.
Certain proofs are compulsory for registration purposes namely proof of the land register card and proof of municipal tax bill. The purpose of a land register card indicates that the land/ property does not belong to the Government whereas a municipal tax bill serves the purpose of recording the specific year in which the land was built or constructed.
In case the buyer is a company, certified copies of documents of Incorporation of both buyer and seller are mandatory.
Check Out: Bhubaneswar Development Authority: Mission, BDA Housing Projects & Other Details
Manual procedure for registration of your property in Chandigarh
The Sub Registrar's Office address - is 30 Bays Building Ground Floor, Room No. 1 & 2 near Estate Office, (Old Building) adjoining Central State Library, Sector 17, UT, Chandigarh with working hours between 9 AM to 4 PM.

The Sub Registrar's Office is responsible for registering documents such as Sale Deeds, Agreements to Sale, Lease Deed, Rent Deed, Family Settlement, Partnership Deed, Gift Deed, GPA/SPA/Will, etc. 

The officials after the registration process will deliver the documents on the same day.

The State Bank of India (Treasury Branch) is the bank where you need to deposit the payment regarding Stamp Duty/ Deficiency of Stamp Duty. For this purpose, visit SBI at Sector –17, Near K.C. Cinema, Chandigarh.

Refer to the table below to know the rates of the stamp duty in Chandigarh:
S. No.
Documents
Stamp Duty
1
Sale Deed/ Gift Deed
6%
2
Transfer of Lease Right Deed
3%
3
Exchange Deed on the higher value/ rate of the property
3%
4
Lease Deed 1 to 5 years
Lease Deed 1 to 10 years
Lease Deed 1 to 15 years
Lease Deed 1 to 20 years
Lease Deed above 20 years
On Security or Advance amount (if any)
1.5%
3%
6%
6%
6%
3%
5
Mortgage Deed Without Possession
Mortgage Deed With Possession
1.5%
3%
6
Trust Deed
Rs. 50/-
7
Family Settlement
Rs. 50/-
8
Amendment Deed
Rs. 5/-
9
Relinquishment Deed
Rs. 50/-
10
Redemption Deed
Rs. 30/-
11
Award/ Decree
1.50%
12
Partnership Deed
Rs. 25/-
13
General Power of Attorney
Cancellation of GPA
Rs. 15/-
Rs. 15/-
14
Special Power of Attorney
Cancellation of SPA
Rs. 5/-
Rs. 5/-
15
Adoption Deed
Rs. 40/-
16
Sub General Power of Attorney
Cancellation of Sub GPA
Rs. 15/-
Rs. 15/-
17
WILL/ Cancellation of WILL
Nil
Note:

Such fee in case of duplicates, if presented with the original document, shall be Rs. 2/-, Duplicates, if not presented along with the original documents must be treated as the original records.
The registration charge to be paid on partition deeds must be calculated on the amount of the share or shares on which stamp duty has been assessed under Schedule 1-A to the Indian Stamp Act, 1899.


Registration Fees

The following are the registration fees leviable on the registration of documents:
S. No.
Registration of Documents
Registration Fees
1
For all optionally registrable documents except lease deeds
Rs. 50
2
For all compulsorily registrable documents (other than leases of immovable property)
1 percent of the value of the document, subject to a minimum of Rs. 50 and a maximum of Rs. 10,000
3
If the value or consideration be only partly expressed (in addition to the ad valorem fee as above on the value or consideration money expressed) If the value or consideration be not at all expressed
Rs. 100
4
For a lease of immovable property and surrender of leases.
At the rates given on the amount of rent of which stamp duty has been assessed under Schedule 1-A to the Indian Stamp Act, 1899 and the lease be exempt from stamp duty by four rupees.
5
When the value exceeds Rs. 1,000
When the value of the property/ land bequeathed is not expressed.
Rs. 200
Check/ Verify Property Details:- 

Applicants can check/verify the details of any land that has been registered in Chandigarh using the District Name, Tehsil Name, Village Name, Khata Number, or Khasra Number or Name on the official website.