Table of Content:
Who doesn't love to glorify their home with some decorative accessories? Well, the answer is everyone! The amalgamation of standard and taste goes way back, as different people have different choices. But we would all have to agree that paintings play a significant role when it comes to decorating a house. It is because painting enhances a home's decor in the blink of an eye. Having a beautiful painting on the walls of your home is not just a personal choice; it is also recommended by Vastu Shastra. Shocked? Well, according to the ancient principles of Vastu Shastra, one should hang 7 horse painting to welcome strength, success, and peace in their home. Also, it doubles the positivity impact if the seven-horse painting direction in the home is also determined before placing it.
Meaning & Importance of 7 Running Horses Painting
Horses personify strength, hard work, resilience, loyalty, and courage. According to Vastu, placing 7 horses painting in your home or office will help you achieve growth and prosperity. The 7 running horses painting with sunrise benefits to balance the energies in your home. Also, there is something lucky about the number 7. Don't you think? You must have noted how there are seven rainbow colours, saptarishi (seven sages), seven oceans, and seven oaths at a Hindu wedding. Thus, seven numbers play a significant role in our lives and have an auspicious meaning.
7 Running Horses Painting Vastu Direction Placement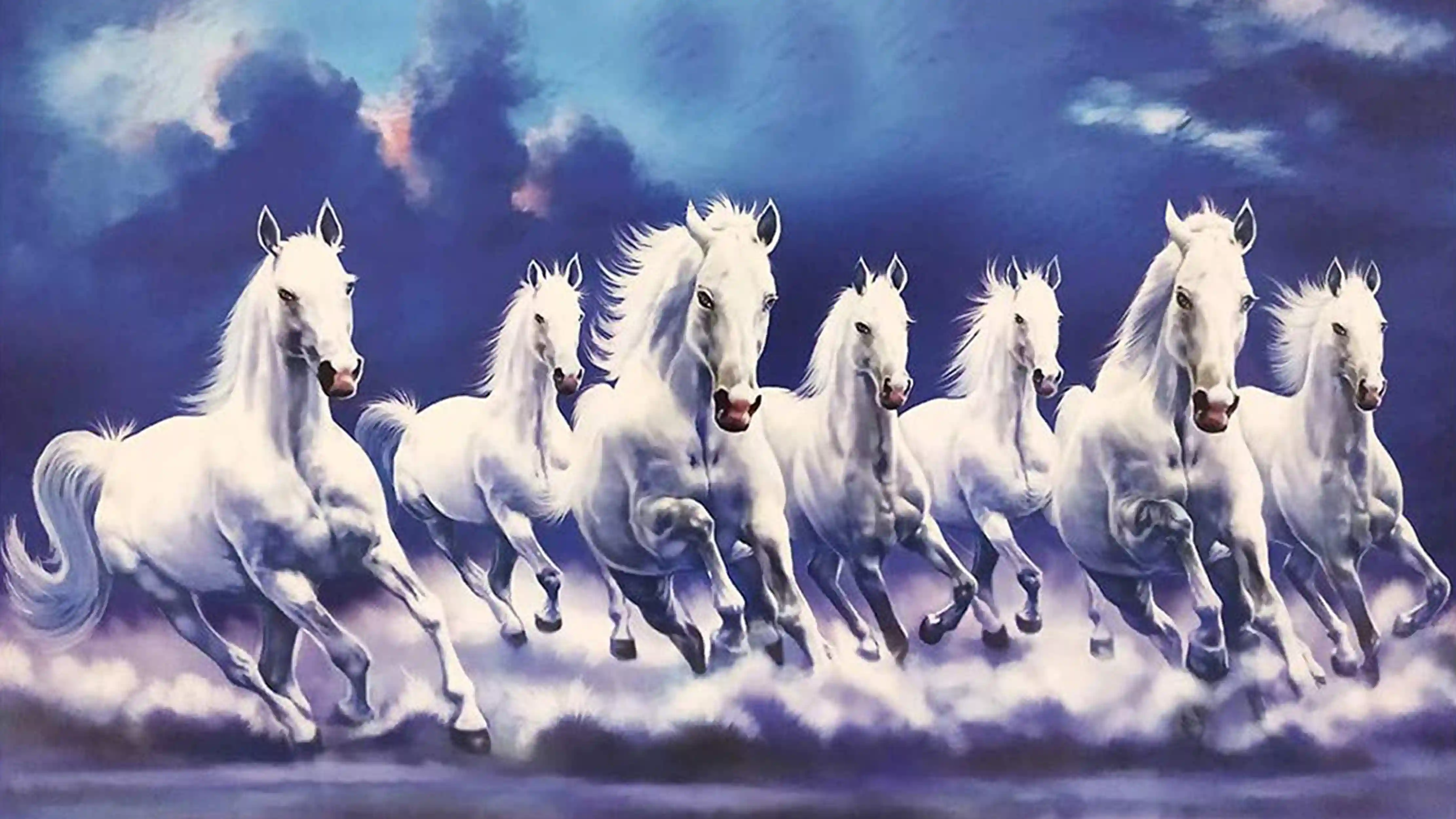 It is important to know the vastu direction for 7 horse & paintings in your home or office
The seven horses' painting direction in the home should be south, according to Vastu Shastra. It is because the South is known for success and fame. If you don't have a wall in this direction, you can place the painting in either the north or east direction. 
When you hang the painting in the east direction, you will experience your speed of completing work faster than before. So, if you want to experience a boost in your career path, place the painting in the east direction. 
According to Vastu Direction, if 7 horse paintings are 

facing west

, it will promote your growth in artistic nature. 
If you point the seven-horse painting with a red background toward Mars, it will help you boost your self-esteem and confidence. 
Whereas if the background of your painting is blue, then the position of the 7 horses painting should be that of Saturn, as this ensures calmness in your day-to-day activities and will bring harmony to your home. 
If you are experiencing some fights and irrelevant arguments, then hanging a painting of seven running horses in the position of Venus will be considered fruitful. It is because Venus is known for love. The 7 horses painting's direction in home toward Venus will ensure positive emotions between you and your loved ones at home.
Clip: If you want to experience the changes soon, make sure that the seven horses' painting direction at home is as such that it is visible at all times.
Colour-Based Astrological Importance of the 7 Horses Painting
| | |
| --- | --- |
|  COLOR |  ASTROLOGICAL IMPORTANCE |
|  WHITE |  The White horse is a symbol of the Planet Moon |
|  BLUE |  The black horse is a symbol of the Planet Saturn |
|  GRAY |  Grey horse is a symbol of Planet Rahu |
|  ORANGE |  The orange horse is a symbol of the Planet's Sun |
Vastu Tips For Hanging Seven Horses Painting
When hanging the 7 horses painting in the Vastu direction, ensure that the horses should be running in a straight line. 
Horses should be running on open ground, not on the water
For boosting self-esteem, choose the painting with a red background as it symbolizes the influence of Mars.
If you want to invite peace and harmony into your home or office, choose the painting with a blue background as it symbolizes the influence of Saturn. 
Canva and wood are said to be the right medium for the painting, according to Vastu. 
7 Horse Painting With Sunrise: Benefits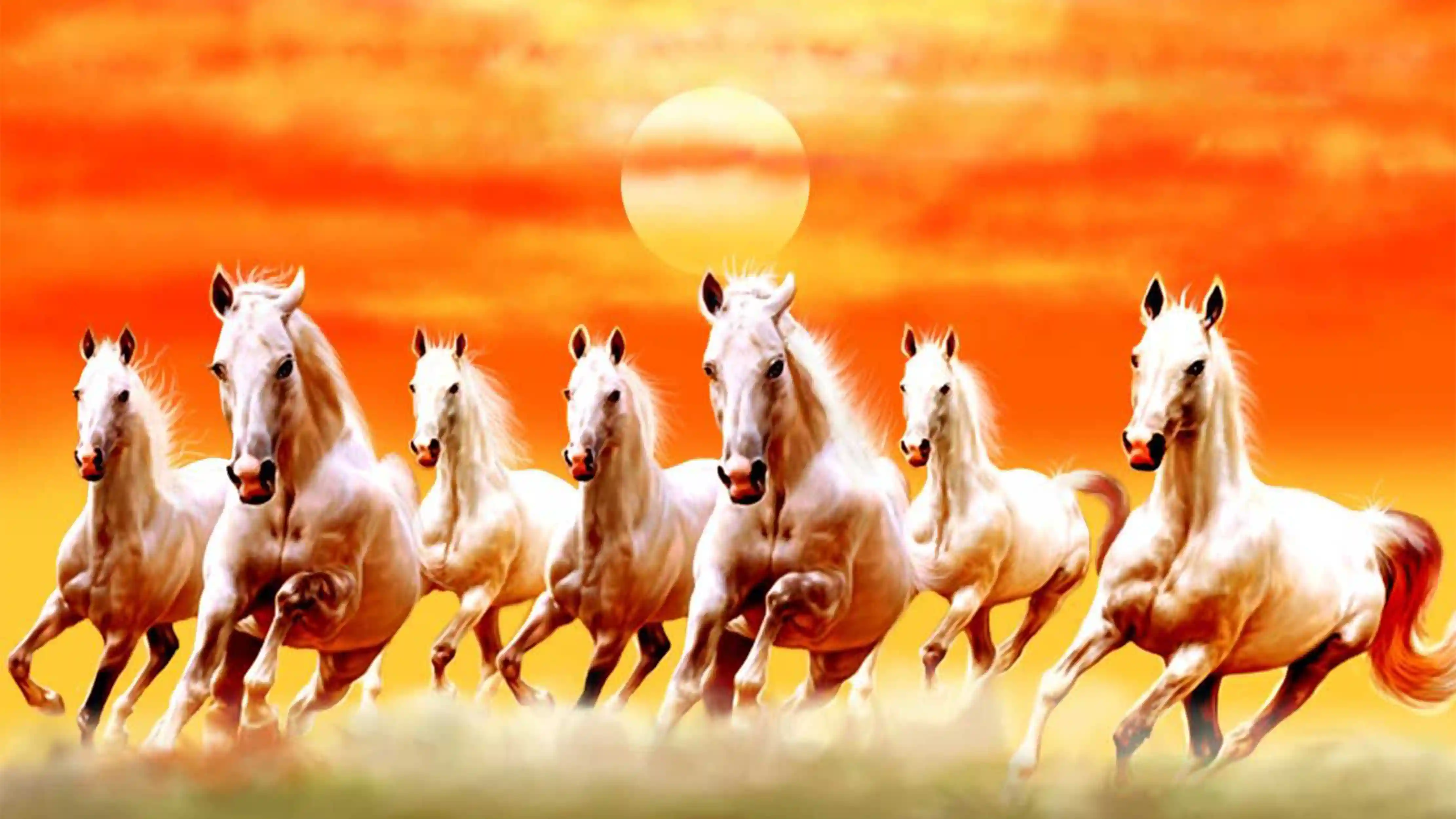 7 horse painting with the rising sun benefits in a way that it indicates success and financial stability. When placing at home or at the office, the only thing to remember is to point in the right direction.
Specifically, where should the lucky seven horses painting be placed at home?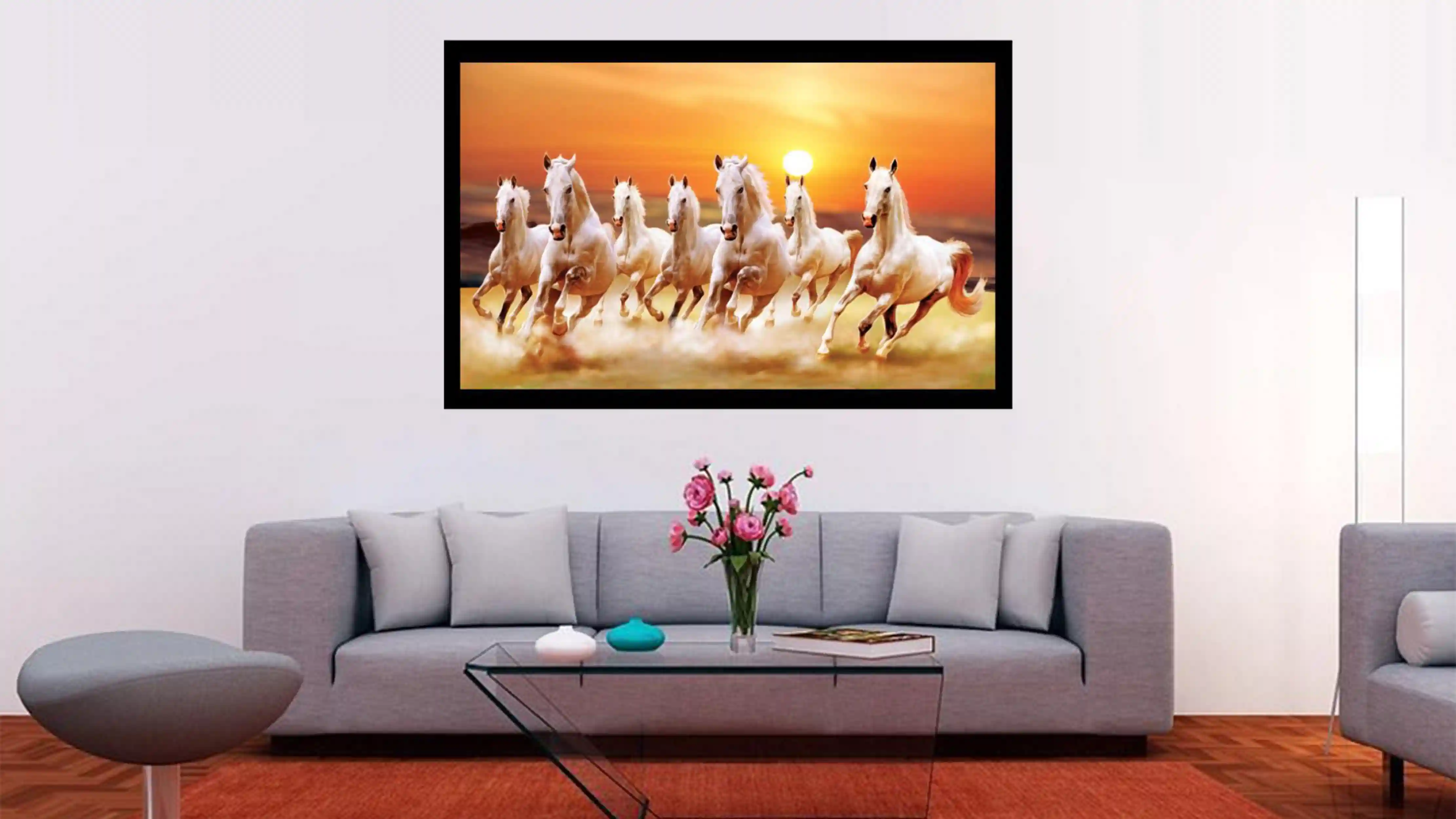 According to Vastu Shastra, there are certain things which a man cannot do based on their wishes, like you are not allowed to hang seven galloping horses painting in your bedroom, temple, walls facing the washroom or study room. If you wish to hang the painting, the ideal location is recommended in the living room and dining hall. And avoid placing it near the window or main entrance.
Specifically, where should the lucky seven horse painting's vastu direction be in the office?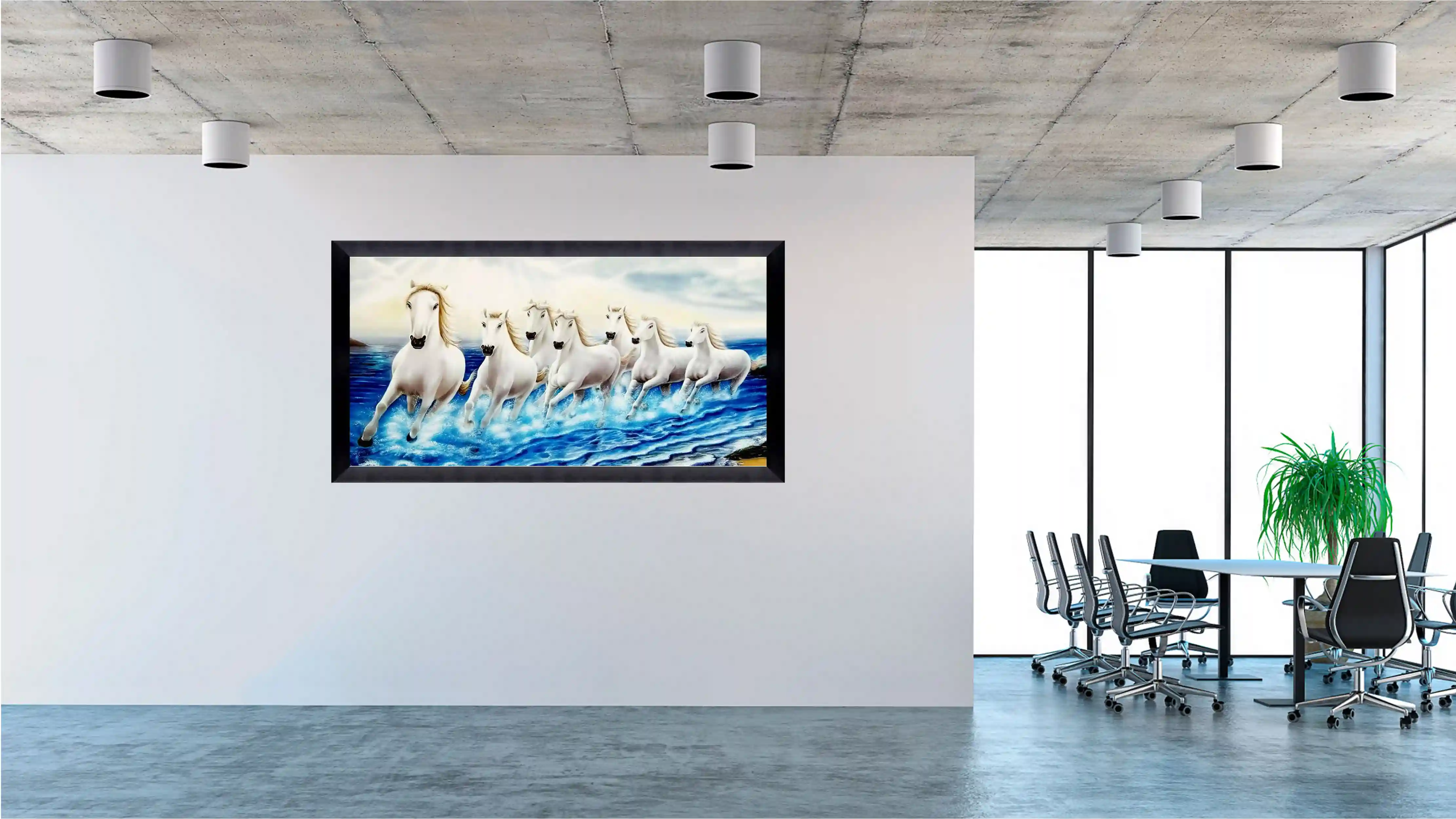 The office's 7-horse vastu direction should be towards the south. It is because the South signifies success, fame, and progress in the business. If this ideal location is not available, then the right 7 horse vastu direction will be to the east. The only thing to keep in mind is never to place the painting outside the office. In case you are still experiencing negative energies at home, you can perform 8 Vastu Dosh Hacks to welcome peace, wealth, and good health.