Sohna Road, a part of New Gurugram, has emerged as a prime residential location in Gurugram, witnessing rapid development. Encompassed by the beautiful Aravali Hills, Sohna Road is seeing growth in terms of the development of townships, luxury residential projects, and affordable housing projects. 
There are several reasons why Sohna Road is catching the attention of the domestic as well as foreign investors. Clicbrics identifies top reasons which make Sohna Road, a popular real estate destination.
Connectivity Advantage
A lot of new projects are being built along the Gurgaon-Sohna Road due to its easy accessibility from all the major NCR cities via SPR (Southern Peripheral Road), NH-248A, NPR (Northern Peripheral Road) and the KMP (Kundali-Manesar-Palwal) Expressway. The Dedicated Delhi Mumbai Industrial Corridor that connects Mumbai and Delhi also goes through the south-eastern part of Sohna Road. In the north, Sohna road is being connected to NH-8 while it is intersected by Golf Course Extension Road towards the south. 
As per the Gurugram's new master plan, Sohna Road will be soon transformed into a state highway. Already, work on converting Sohna road into an eight-lane road is underway. Also, this master plan shows a Southern Peripheral Road which will intersect Sohna Road near Vatika City (Sector 49). Once the peripheral road is completed, it could emerge as the next city center. 
There is a route for the proposed metro line in the master plan which will run along Golf Course Extension Road and the Southern Peripheral Road. Whenever the Metro line is built, traveling time for commuters from Sohna Road to MG Road and Delhi will get reduced.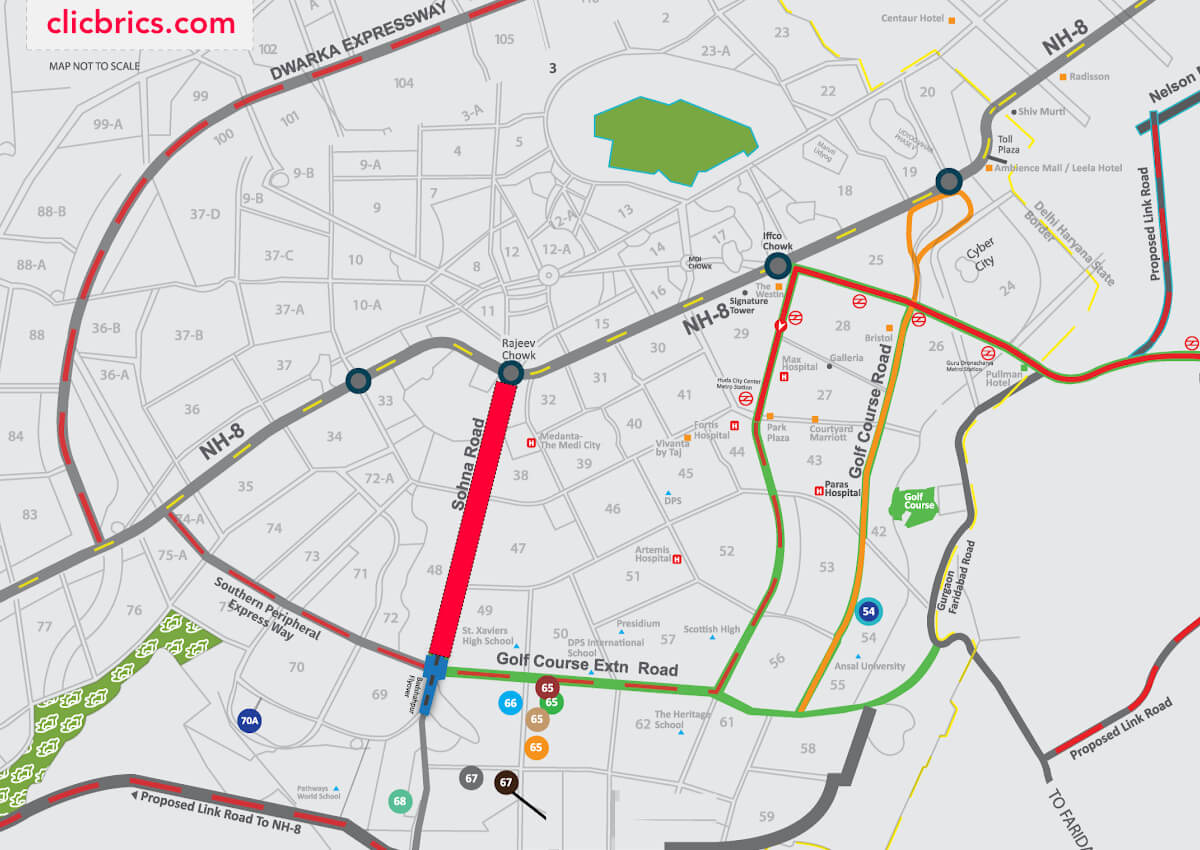 Social Infrastructure
Impact of infrastructure developments on real estate at Sohna Road can be seen by the rising commercial belt and the presence of many retail outlets, which is also luring people to shift base here. There are several reputed educational institutions in this neighborhood like Ryan International School, Amity International, GD Goenka Education City and K R Mangalam University. In the case of healthcare facilities, one of the biggest hospitals such as Medanta, Fortis Hospital and Max Hospitals in close vicinity. 
On the commercial realty front, there are many popular groups like Spaze, Vipul, Bestech have come up with their projects in this area include Omaxe Mall, Liberation Mall, Omaxe House, R-Mall, Home Mall, 9X etc. The upcoming industrial corridor and the neighboring industrial hubs have created many employment opportunities in this area. The recently built flyovers too have helped to decongest the major traffic bottlenecks here. 
Real Estate Price trends at Sohna Road
Since Residential Properties in Gurugram is full up to the brim, the realty developers started shifting towards the outskirts of the millennium city, Sohna Road being one such micro-market. Because of the rapid infrastructure development started off in this area, many developers have come up with their under construction properties, duplexes plotted developments, luxury, and affordable homes as well as ready to move projects like CHD Vann, CHD Avenue 71, Signum - 71, Primanti Garden, etc. in this area.
The price range of the budget homes starts from tentative Rs 50 lakhs for apartments, with the average rate of tentative Rs. 3,964 per sq ft whereas prices of villas start from Rs 3 crores. A number of residential, commercial and retail properties in this region are being developed by developers like Raheja, Supertech Limited, Unitech, Eldeco Group, Central Park, Omaxe, CHD, Ansal, Parsvnath, Ashiana Homes etc.
Conclusion
Over the years, Sohna Road has emerged as a residential hub and will continue to provide investment opportunities in the commercial and residential segment. Many of the housing projects that were launched five-six years ago are up and still running, so a lot of ready to move in space is available here. This is the reason why many developers are actively promoting Sohna Road as the Gurugram's next big site for a quality living.