Real estate investment needs planning and adequate knowledge because you don't want to end up spending your money for a lesser resale value or such that your living standards and lifestyle cannot fit into the invested property or neighborhood. There are many factors that determine and help you decide where to invest in real estate. 
If you are interested in living in the house where you are investing or other factors such as the number of rooms along with the amenities that you want if you are planning to use this property just as an investment and give it out for rent.
However, before you set out to lay out a massive amount of your money, you also need to make sure how much do you want to invest in real estate and exactly which place in India would guarantee a higher return on investment. If you have been worrying about these factors, then there is some good news in store for you. 
This year's glorious Budget and the government's innovative smart City push have together brought good news for those interested in investing money in real estate. The cities that are quintessentially considered as a choice for real estate investors have been consistently more or less in the list of hotspots and there is a sound rationale behind their choice and ever-increasing performance in every year.
These hotspot cities are also impacting and driving force behind the real estate sector. On one hand they are attracting new businesses and industries and on the other hand, the respective governments of these cities are also promoting them as ideal investment cities by investing resources to build adequate infrastructure in order to attract capital. 
Talking about other crucial aspects such as the scope for residential properties in these cities, the influx of talent and skilled workforce is irrevocable and growing with each passing day. As suggested by the market reports, these cities are thus, also an ideal choice for residential property investment.  Even developers in these cities are showing their growing interest with many upcoming real estate projects.
This can be credited to comparatively low down of prices in these cities that are making all kinds of big and small developers to plunge into the concept of affordable housing schemes. This is, in turn, attracting, even more, investors and buyers who are in search of their dream and pocket-friendly homes.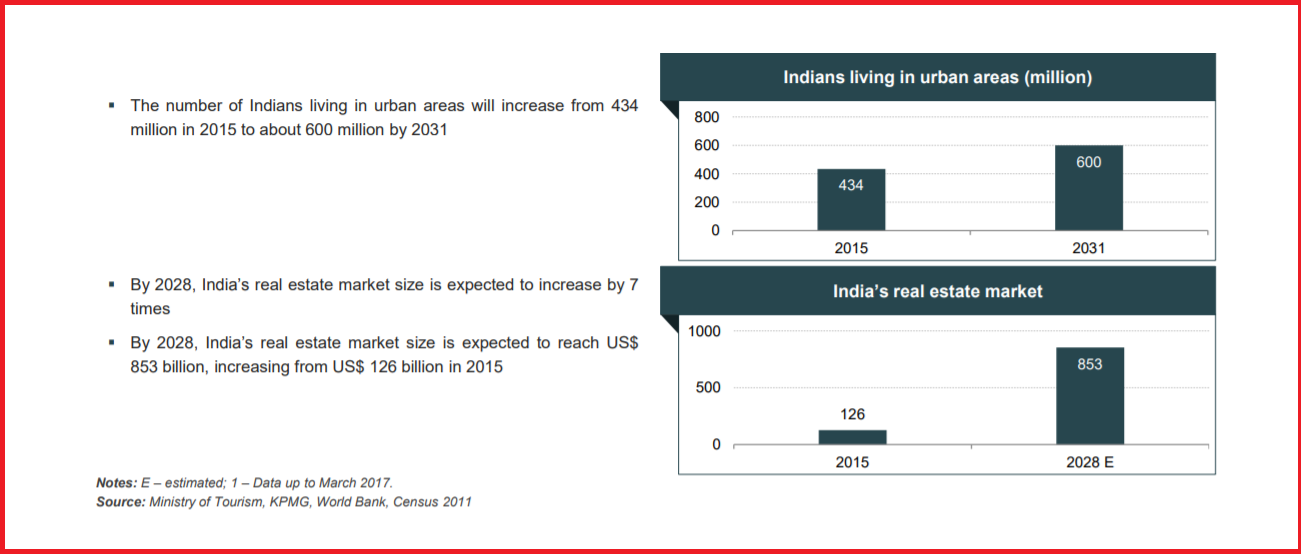 Image Source IBEF
Here is a list of the top 5 Cities that are ideal for Real Estate Investment in India-
This city has observed a steady increase in real estate, also owing to the fact that it is the capital of the country. Delhi is also amongst the most forward and advance metropolitan cities of the country and had expanded considerably to engulf surrounding towns and villages. 
Delhi has also been voted among the top cities for residential housing. Delhi also provides a wide range of options for both affordable and luxury living.  Ample job availability is another factor that makes it an ideal hotspot for investment. Owning a property not only guarantees excellent returns in the future but also makes it an ideal choice for corporate destinations. Good transportation and flexible rates are other favorable factors for the city.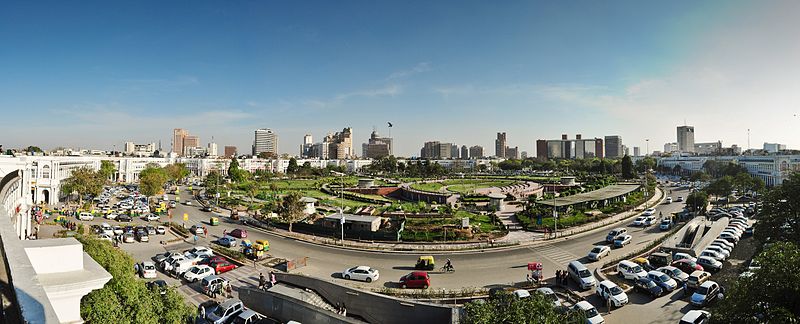 Many new residential and office spaces have sprung up in Faridabad and also in the area between Faridabad and Palwal. It is one of the ideal choices for investment because of the economic boom in the area, owing to land crunch in Delhi. It is already a home to several MNCs, ISO-based industries, and many medium- and small-scale manufacturing units. With upcoming metro link advantages, the real estate region is expected to get a further boost in Faridabad, thus making it ideal choice for investment.
Indeed one of the inevitable cities for growth, the silicon valley of India is becoming more crowded and expanded every year. It is one of the hotspots for the IT sector and areas like Whitefield, Marathahalli, Sarjapur Road and Electronics City are becoming one of the best investment attracting locations. Also having close proximity to Airport areas like Hennur, Devanahalli, and Yelahanka are the most sought after. Bengaluru also attracts NRIs since the regulatory environment has turned pro-consumer on the back of RERA Act.
One of the major locations of the NCR, The "millennium city" connects to the Delhi and other parts of the National Capital region easily. Gurugram presents a wide range of affordable and luxury living spaces if you are planning to live here. Even if you want to invest in a commercial project by reputed builders, 
Gurugram has the various upcoming ideal and affordable commercial projects in store for you. Since the millennium city is one of the vastest hubs for Information Technology in the city, investing here has many advantages considering its proximity to business and industrial hubs. Gurugram is also a destination for your luxury necessities. 
You will find beautiful handcrafted penthouses and Bungalows along with golf courses. Golf Course Road and Golf Course Extension Road, Sohna Road,  NH8, and Sector43 are the poshest areas and considered hotspots for investment.
Again one of the most popular and growing cities of the National capital region is Noida and its extension to Greater Noida. Noida is the abbreviation for the New Okhla Industrial Development Authority: This city is one of the fastest growing in terms of IT sector and educational hubs. The real estate market is also well regulated since most of the land is government owned in these cities. Easy connectivity to the Delhi Metro provides ease of transportation, being an advantage to the location. 
The city is covered by Delhi, Ghaziabad, Greater Noida, Dadri, Faridabad and stretches up to Gurugram to an extent, thus making Noida situated halfway in the NCR. These factors make Noida a most sought destination for residential and commercial purposes. Some of the top-notch investment locations in the city are Noida, Greater Noida, and Noida Extension.
Thus, with aggrandizing government policies in favor of the real estate are making even more and more cities a good choice of investment. Those planning to invest in government approved projects by trusted builders have many options along with favorable time this year for preferable negotiations. However, other competing cities that can be seen catching up fast as smart cities in the countries are Indore, Hyderabad, Visakhapatnam, and Kochi, leaving the investor with indeed many propitious options.