Since Mumbai's real estate market has always been highly dynamic and also prone to fluctuations, understanding the market value of properties in Mumbai helps potential buyers and investors make informed investments. When engaging in real estate transactions in a city like Mumbai, having knowledge of the market value places buyers in a stronger negotiating position - enabling them to assess the fairness of a seller's asking price.
Knowing the property's value in Mumbai online allows individuals to outline their financial planning - from estimating the net worth, loans, insurance coverage, asset allocation, and managing the overall financial portfolio. Being aware of the property's market value enables property owners to understand their tax obligations accurately and avoid any legal or financial complications.
Explore: Game-Changing Factors Affecting Property Prices In Mumbai
How To Calculate Your Property Value Online In Mumbai? 
Property valuation online in Mumbai provides insights into the overall health of the real estate- whether it's a buyer's or seller's market, and the factors driving property values. This online information helps investors in Mumbai make strategic decisions and seize opportunities for investment or diversification.
Clicworth is a free estimation tool provided by Clicbrics, which offers an approximate market value for properties in Mumbai. It aims to provide price transparency to users by utilizing a pricing model developed by Clicbrics, incorporating extensive public, proprietary, and user-submitted data to calculate accurate property prices. By leveraging the property address as the primary input, Clicworth employs proprietary formulas and algorithms to estimate the price of a property for buying, selling, or informational purposes. The tool also compares similar properties in a specific area to provide an estimate of a property's value.
Primarily operating in Mumbai, Clicworth is also active in multiple other Indian cities including Thane, Pune, Hyderabad, Noida, Lucknow, and Ghaziabad. The tool intends to expand its services to cover price estimates for residential properties across India.
The accuracy of Clicworth estimates depends on the available data in the specific area of the property in Mumbai. The more data available, the more accurate the estimates provided by Clicworth.
To obtain an instant and free estimate of a property's value in Mumbai using Clicworth, you need the following information:
1. Project, address, or locality details
2. Floor number
3. Square ft area of the apartment
Also Read: How Online Property Valuation Helps Buyers And Sellers?
Steps To Find Estimated Value Of Your Property In Mumbai With Clicworth
1. Visit the Clicbrics website and click on "Home Estimates" at the top of the page.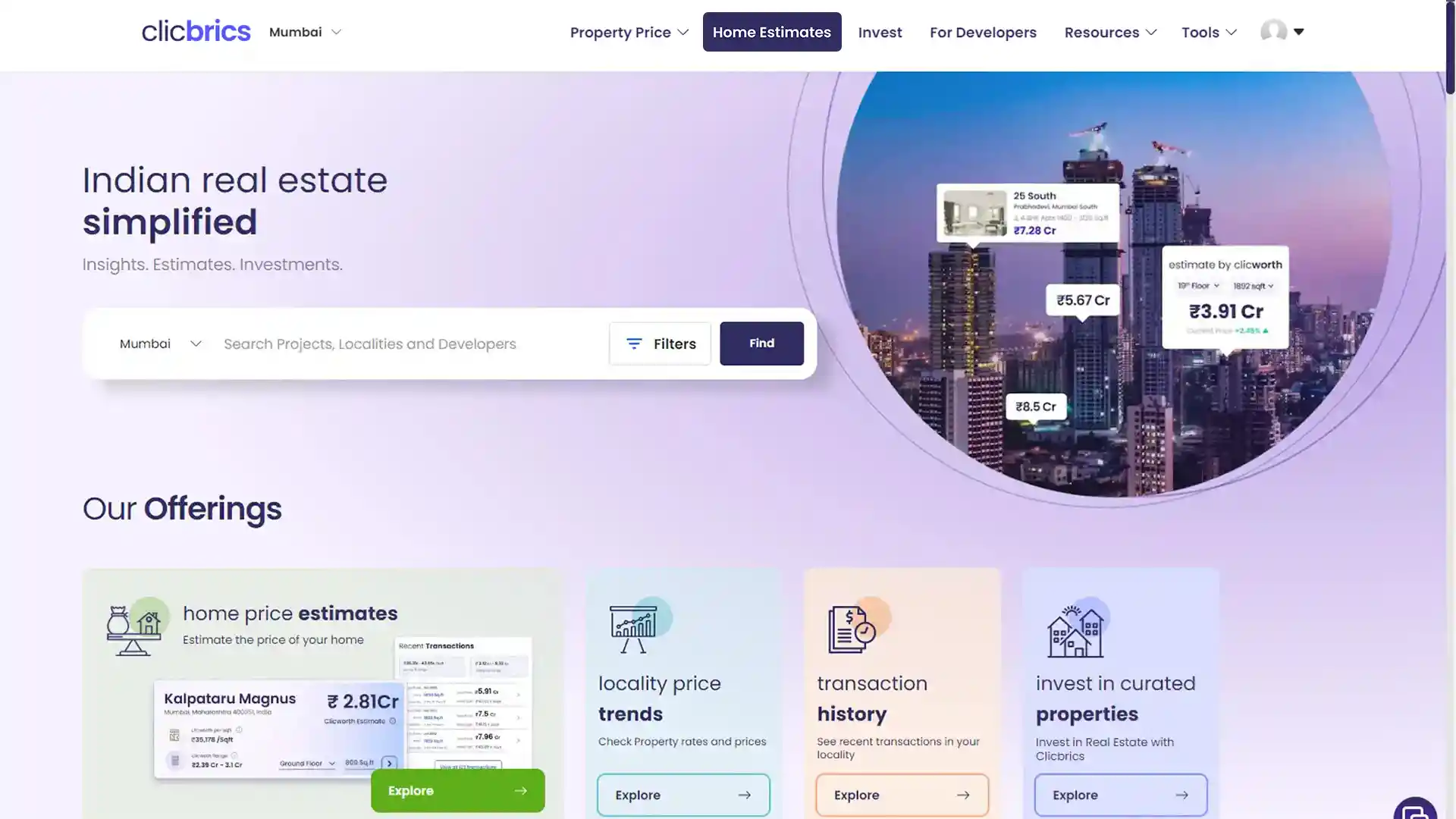 2. You will be redirected to the Clicworth property valuation page. Enter the project, address, or locality information.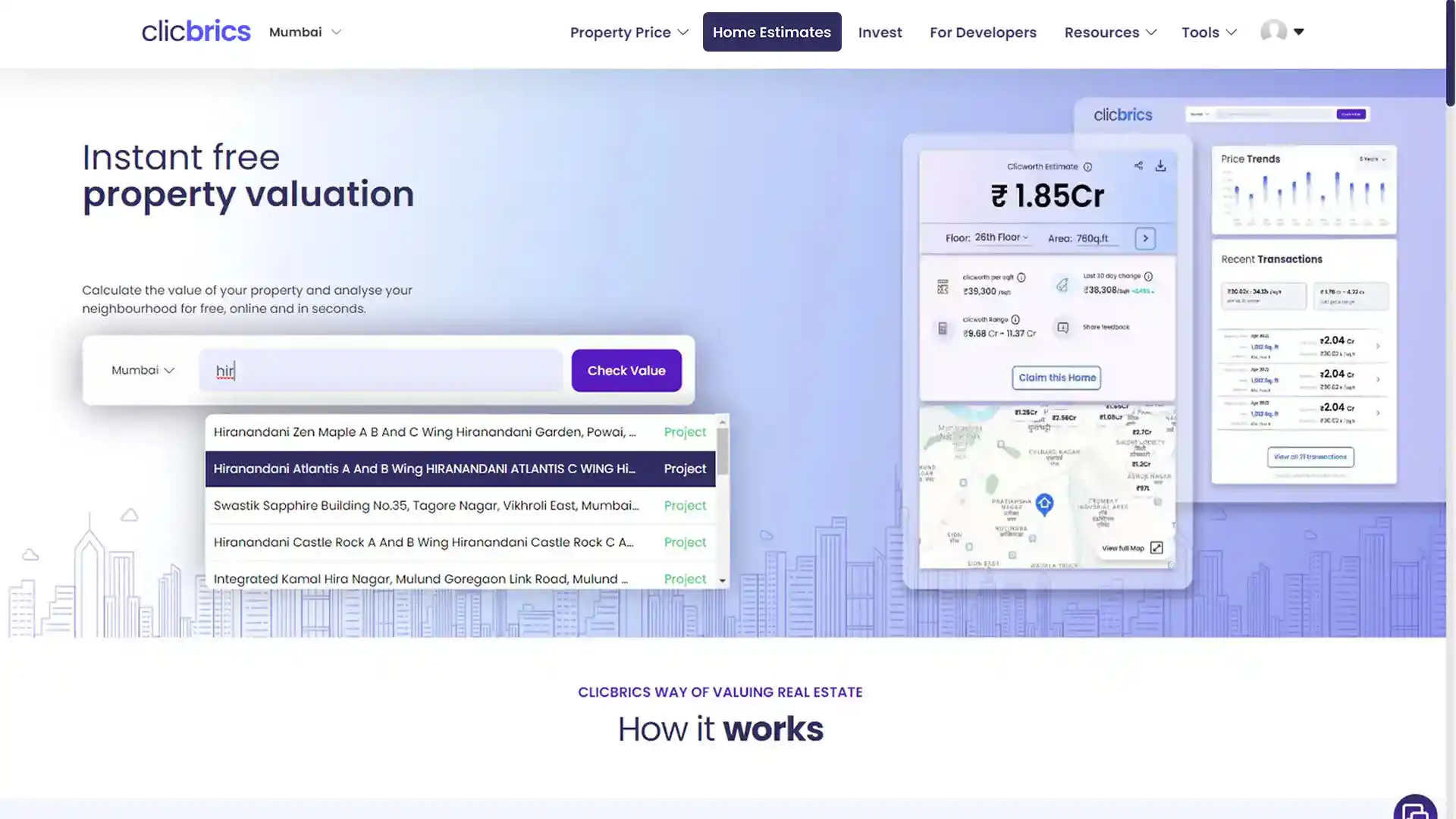 3. Select the floor and provide the square footage area.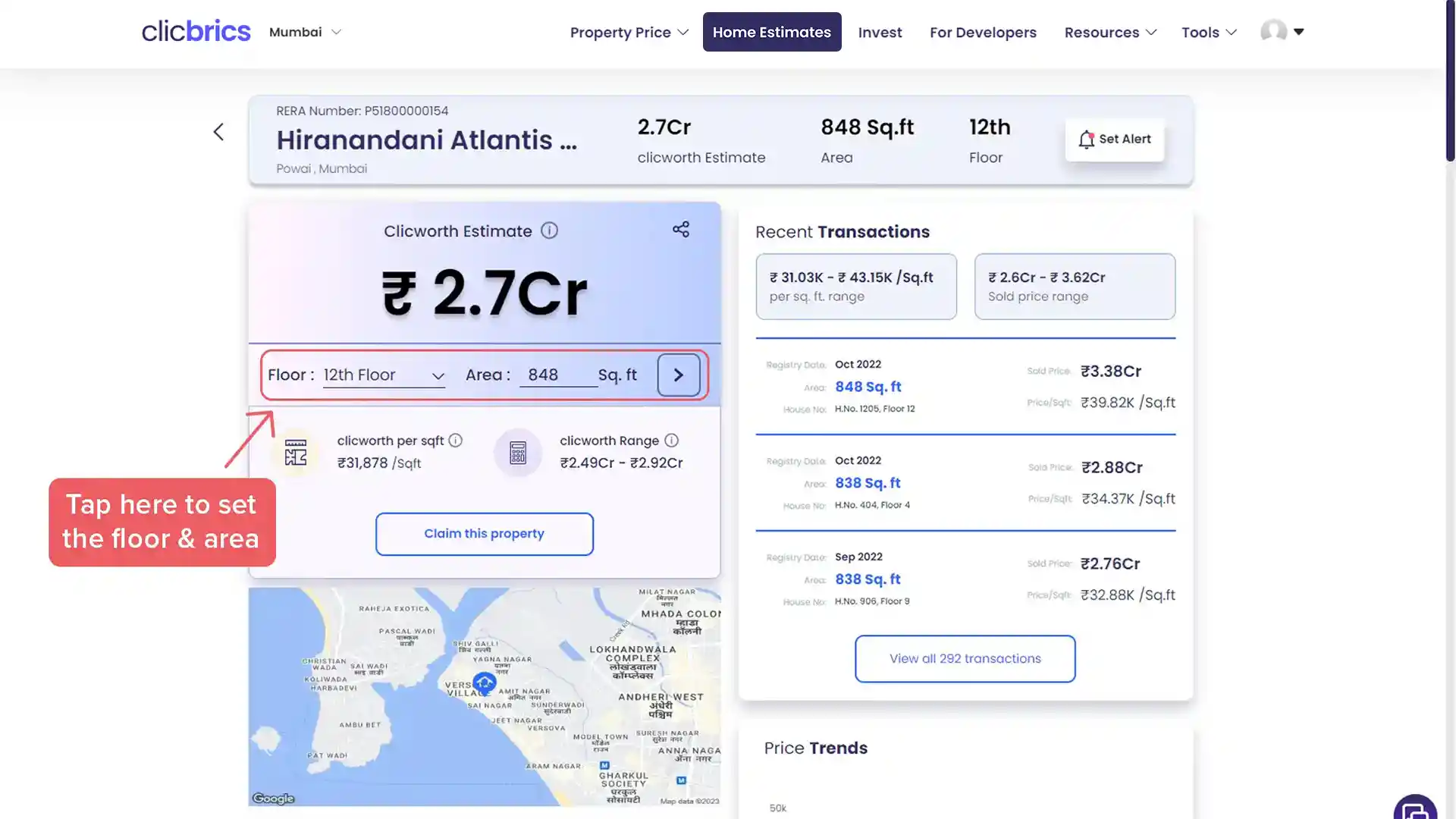 4. You will be able to view the estimated value of your Mumbai property.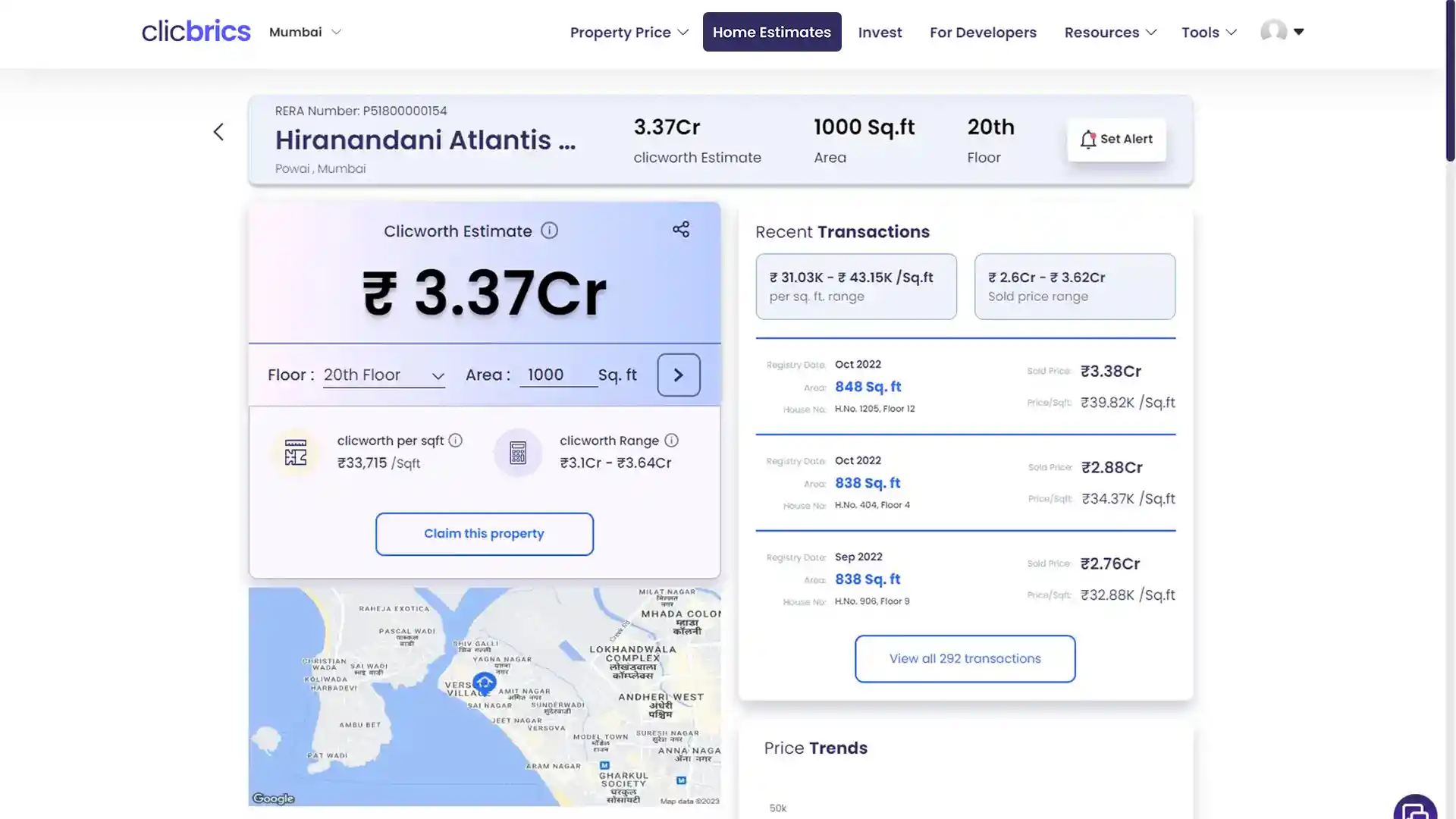 Additionally, the estimated price will be accompanied by an EMI calculator, which provides details such as the monthly EMI, loan amount, tenure, and interest rate. Furthermore, you can also 'Set Alerts' to access updated estimates, transaction history, other latest price insights for properties, as well as view nearby sold properties and available projects for sale, along with their recent sold prices.
The Takeaway!
Pricing a property too high can lead to extended vacancy or limited buyer interest, while pricing it too low may result in financial loss. Hence, for individuals looking to sell or rent out a property in Mumbai, understanding its market value with Clicworth estimates helps in setting a competitive asking price, attracting potential buyers or tenants, and minimizing the time a property remains on the market.
Interesting Read: 10-Pro Tips In Boosting Property's Market Value