Bollywood actor Alia Bhatt, at the age of 23, is the proud owner of the lavish apartment in Mumbai. Just like the different roles, Alia plays in her films, variety, and versatility is the key feature in Alia's house. We will show you the dreamy pictures of her apartment and also we pick out our favorite interior designs inspiration for you! So shall we begin?

Blue Entrance

Alia Bhatt's entrance lobby is a wonderful splash of colours. We're loving the vintage style in her entrance lobby. Let's get in!
Decor tip:Isn't the simple chair with colourful cushionand cloud light idea on the wallan awesome entrance way deck up?  Image Source:- zricks.com
Classy Living Room

The living room featureswhite-washed walls, plush sofas, concrete-tiled floors, expansive windows and printed rugs – showing that the Richa Bahl.
Decor tip: The Pendant Light hanging towards the rightmost end in the living room and the printed rug can addbeauty to your seating space. Image Source:- s3.scoopwhoop.com
Also Read: John Abraham's home - "Villa In The Sky" is like a Dream.
A Tea Bar For Easy Evenings

Wow! What an innovative interior idea for all the tea-addicts in Alia's apartment – the tea bar! A much-loved spot, where Bhatt sisters like to enjoy an evening cuppa while seating on the rustic brown wooden tea bar stools.
Decor tip: Rustic Brown is one colour that can bring warmth to a seating space. How about implementing it in your lounge chair too? Image Source:-storypick.com
The Reading Nook

Since Aliaand her sister enjoy reading, their Juhu apartment features a brightly lit reading space. Throughout the reading hall, you will find an impressive range of décor items like a quirky lamp.
Decor tip: The yellow pairing heavy pillow alongside a comfy low-levelled sofa is a perfect combination for a reading nook space. Image Source:- static.dnaindia.com
Larger Than Life Dining Hall

The dining area in Alia's house is giving the feel of a hillside café. This Swiss styled hanging lights and Roman windows in the dining area is just what we can't stop admiring!!
Decor tip: Try patterned Flooring in the dining area as it is one of the trendiest home decor designs in the market. 
Image Source:- zricks.com
Also Read: Inexpensive Home Decor Ideas To Get A Dreamy Look

The Moroccan Styled Bathroom

The bathroom is one of the most striking areas of Alia'ssweet home. The installation of Moroccan styled flooring in the bathroomagainst a white layout is pure genius! We're loving the little details!
Decor tip: Installing glass in your shower space is a good idea to save your storage from getting wet but also increases the space. Image Source:- static1.squarespace.com
A Cool American Styled Kitchen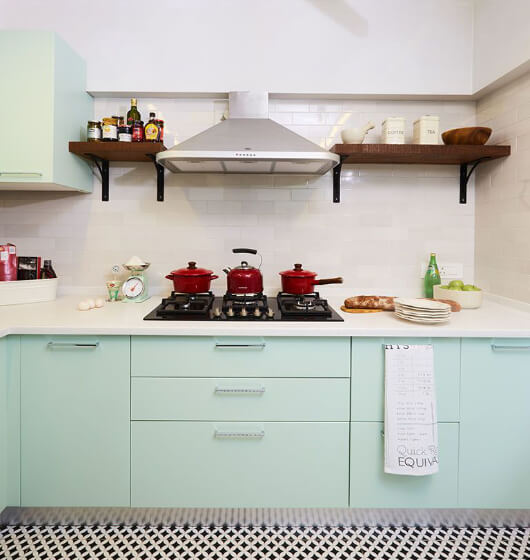 This kitchen space gives you a cool American diner feel–the pastel green cabinet colours and thebasket weave flooring pattern. The kitchen looks spacious and extremely modern by the look. Ah, what an eye for details! 
Decor tip: If you are planning to revamp your kitchen space, pastel cabinets is one thing you are going to LOVE IT!  Image Source:- zricks.com
Functional & Stylish Dressing Room
Richa styled Alia's dressing room into a separate space to ensure the rest of the house would remain private, even if she was in the middle of fittings.
Decor tip: There are a variety of places around the house where you'll get cluttered with the family's shoes, so why not dedicate a corner to keep your shoes stored?  Image Source:- blog.housejoy.in
Also Read: Inside Pathan Starrer, Deepika Padukone's House In Mumbai : Check Photos