India is witnessing rapid urbanization at an unprecedented level and is expected to grow at 2-2.5% Compound Annual Growth Rate (CAGR) from 2015 to 2021. Following this trend, urban areas in India Will comprise of 40% of the population of India. 
This explosive growth in population is a concern for the government; thus to combat this situation, the Central government launched the "Pradhan Mantri Awas Yojana-Housing for All (Urban)"in 2015, where our Honorable Prime Minister envisioned a Pucca house for every Indian family. Under the Urban PMAY, 20 lakh houses have been approved for construction in 4720 cities (Source: Elite Wealth)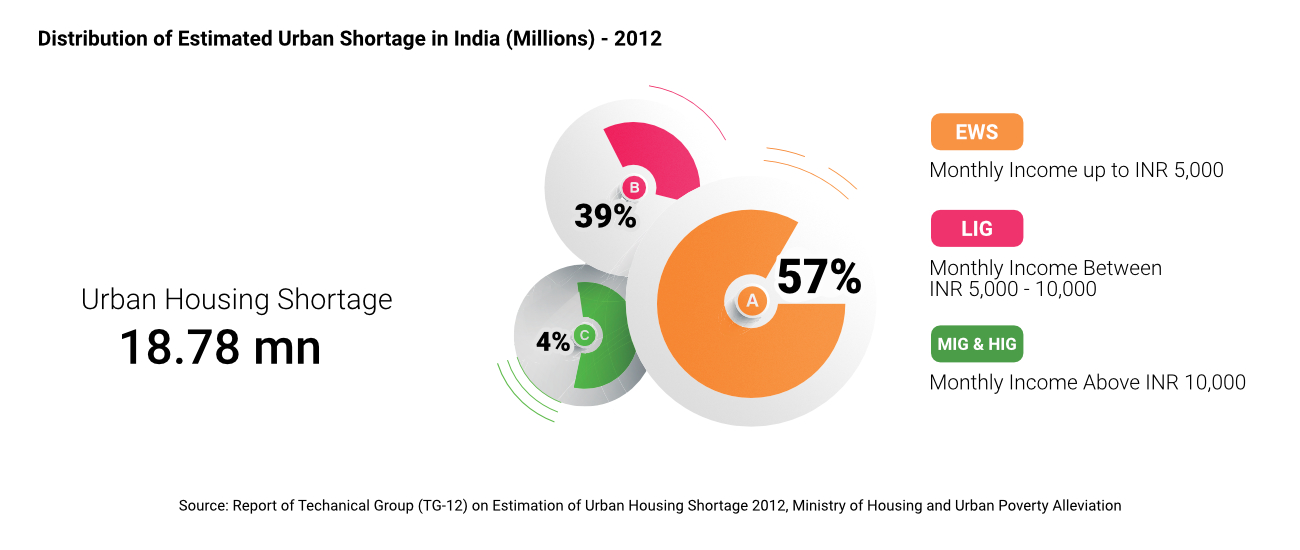 Real Estate developers interest in the affordable housing segment
These days, affordable housing projects are not only attracting the interest of home buyers, but also the realty developers.Affordable housing for all has become a "hot" topic for all the Infrastructure developers, with the focus shifting from the development of compact residential apartment towards the Government Promoted"affordable" segment.
This is primarily due to the high demand for affordably-priced apartments, easily putting premium segments in the shade. Developers are now focusing more on this rising category; thus making the sub ₹50 lakh apartments - the new flavor of the season for realty developers.
Recently, Prestige Estates Projects, Bangalore - based real estate developers, has partnered HDFC's arm HDFC Capital Advisors to set up Rs 25 billion (Rs 2,500 crore) funds to develop affordable and mid-income housing projects in India.

PNB Housing Finance Ltd has tied up with International Finance Corporation (IFC), part of the World Bank Group, to raise $800 million for green and affordable housing across the country.
Many of these developers believe that the government's push to this segment can possibly bring back the hay days. It is evident from the three-fold increase in the stock of houses completed under PMAY-U since April 2017:
The Union Budget 2017-18 Announced A Slew of Measures To Boost Affordable Housing
The Government has granted infrastructure status to affordable housing segment;

Increasing the time limit for project completion from three years to five years; for the promoters of affordable housing projects;

Providing a year's time to realty developers to pay tax on national rental income on completed but unsold units;

Re-financing facility by National Housing Bank (NHB) for individual housing loans, for the affordable housing segment.

The announcement of a new CLSS for the MIG with a provision of INR 1,000 crore;

Affordable housing projects that commit at least 30% of total cost for the projects would be exempt from the minimum built-up area

The affordable housing segment has recorded a rise of 27%, in new units launched during the period of January and September 2017. However, overall residential unit launches recorded a decline of 33% due to demonetisation,implementation 
RERA and GST in real estate, according to a study by realty consultant Cushman & Wakefield, covering the top eight cities of India.
In 2017, the prices of around 44% of the total launches across top seven property markets, or 55,000 residential apartments units, were below Rs. 40 lakh.
The decrease in the average size of apartments across all top seven cities is a clear indication that realty developers are focused to offer affordable housing for customers.
According to the Ministry of Housing and Urban Affairs, a total of 2,97,183 housing units are occupied by beneficiaries as on March 2018. However, earlier the housing shortage was proposed at 18.78 million in the year of 2011, has been revised downwards to about 10 mn units as of the last year through later estimation carried out by the MoHUA.
Conclusion
With this rising demand for affordable housing, it is likely to be the main focus for the government as well as the real estate industry in years to come. The central government's financial and regulatory support, growing urbanization, and increasing affordability is converting a huge demand for affordable houses into a commercially feasible opportunity.
In nutshell, it can be said that affordable housing sector, which is also called the 'growth engine of Indian Realty Sector', is surely going to witness the boom in the coming months