​"Yakeen ho to koi raasta nikalta hai, hawa ki ot bhi le kar charagh jalta hai (if there is belief then a road ahead will open up, sheltered from the winds the lamp will burn brightly)" 

As these lines were reiterated by Finance Minister Nirmala Sitharaman from an Urdu poem while presenting Union Budget 2019 in the parliament on July 5. 



The entire nation was eyeing big on the announcement of the latest Union Budget for two reasons:
For being the first Union Budget in Modi 2.0 Government.

To see Nirmala Sitharaman as the second female Finance Minister present the budget in independent India after Indira Gandhi (not-full time) who had presented the Union Budget of India in the year 1970 for 1970-71.
During the March quarter this year, the growth of India's GDP (Gross Domestic Product) slipped to 5.8 percent, recorded as the slowest pace in 20 quarters. Hence, a high expectation was kept on the Union Budget for Finance Minister to share strategies to boost the economy. With an aim to make India $3 trillion economy this year and highlighting the progress report, Nirmala Sitharaman said, "It is now the sixth largest economy. Five years ago it was 11th".
What were the praiseworthy aspects for real estate in the Union Budget 2019?
Among several industries covered in the budget, Real Estate was announced to have a major focus on the housing sector by taking progressive steps in rental housing, and sops for affordable homes. More importantly, the various projects announced are aimed to lift the Tier II, Tier III cities, and rural areas. New India will see growth towards urbanisation as an opportunity and not as a liability. 
Commenting on the continuity of policies, Dinesh Jain, MD of Exotica Housing said, "It is a great move that no changes have been made to previous announcements such as the hike in TDS limit of rental income or LTCG or notional rental value".
While highlighting the mention of affordable housing in Union Budget to get a boost, Hariom Dixit, Director of Gayatri Group was happy to state, "Budget was dedicated to the affordable housing segment. This budget has increased the saving capacity of home buyers and this will convert into home purchase".
The Director of Eros Group, Avneesh Sood, praised the budget's take on housing sector and said, "The steps to provide impetus to the housing sector would have a multiplier effect on GDP growth given the sector's significant economic linkages, a deduction of Rs 1,50,000 on interest on loans borrowed under affordable housing, will help boost the demand of Housing for All by 2022".
The core aspects of Union Budget 2019
The Finance Minister announced that the government will allocate ₹ 100 lakh crore investments for the infrastructural development over the next 5 years which will further benefit housing developments. The move will certainly make India a $5 trillion economy by 2024-2025.
The use of technology in constructing around 13 lakh homes under Pradhan Mantri Awas Yojana has made the government happy. Real estate developers are equally happy with the support received from the government in their technology-use initiative. Hence, the government is open to discussing more improved technologies.
The National Housing Bank (NHB) has been an in-charge to regulate housing finance companies. However, Union Budget announced a managerial shift of housing finance to RBI with an aim to work towards eradicating the existing liquidity issues. 
Ms Sitharaman also feels that the rental laws at present are old-fashioned and outdated which fails to address lessor-lessee relationships. With an aim to better the rental-housing sector, Model Tenancy Law has been proposed. Once the law gets finalised, it will be circulated to all the states.
What were the shortcomings for real estate in the Union Budget 2019?
The two areas where the Union Budget failed to impress were co-working space and industry status. 
Surendra Hiranandani, MD of Hiranandani Group said, "To bring back growth in the sector which is so vital to any developing economy, we expected the government to impart industry status to the sector which would enable developers to cut capital costs and pass on the benefits to consumers. We were also expecting single-window clearance which has been a long pending demand from the sector".
The Chairman of 315 Work Avenue, Manas Mehrotra said, "Start-ups have firmed themselves into the Indian economy and with many a sops announced to nurture these, co-working space providers find it to be indirectly beneficial for the health of such commercial spaces. "Though several measures across labor laws, education, and rental housing segment will have a direct impact on start-ups in the country, leading to enhanced demand for co working spaces, there still are several demands that could have been met".
What the apex body of private Real Estate developers, Confederation of Real Estate Developers' Associations of India, or CREDAI has to say on Union Budget 2019?
Manoj Gaur, MD, Gaurs Group & Chairman, Affordable Housing Committee, of CREDAI stated, "Union Budget 2019-20 in terms of real estate has been heartening where CREDAI's long-standing proposals to reform archaic rental laws and promote public housing on government land figure have been among the immediate policy agenda outlined by Finance Minister. With regulation of Housing Finance Companies returned from NHB to RBI, we hope that Reserve Bank of India would bring about much needed reforms for financing of real estate sector such as land, giving priority sector status to housing finance and lower cost of funding. Moreover, an additional deduction of Rs 1.5 lakh on interest on loans borrowed under affordable housing scheme has been announced, which means those purchasing affordable house will get tax relief up to Rs 3.5 lakh on interest paid".
What Clicbrics as the online Indian real estate marketplace feels about Union Budget's take on Real Estate presented by the newly elected Finance Minister?
Hari Mohan Sharma, Director of Sales, Clicbrics quoted, "Firstly, we at Clicbrics congratulate Honourable Nirmala Sitharaman on being the second female Finance Minister of India and making us all proud. Coming to the Union Budget and its take on real estate presented by her, the remarkable announcement was the additional deduction of ₹ 1.5 lakhs for those seeking home loans for affordable housing projects. This boost on the demand side was clearly needed as a lot of home buyers were awaiting such tax sops".
Nirmala Sitharaman made an unforgettable appearance with her revolutionary step as the Finance Minister of India.

Nirmala Sitharaman, who was previously Defence Minister, and now India's first female full-time Finance Minister also became the first Finance Minister of the country to ditch the iconic colonial briefcase, used for presenting the budget. Unlike her predecessors, she was seen holding a red cloth folder enclosed with a string and emblazoned with the national emblem. 
An instance to show how previous Finance Ministers carried the budget in a colonial briefcase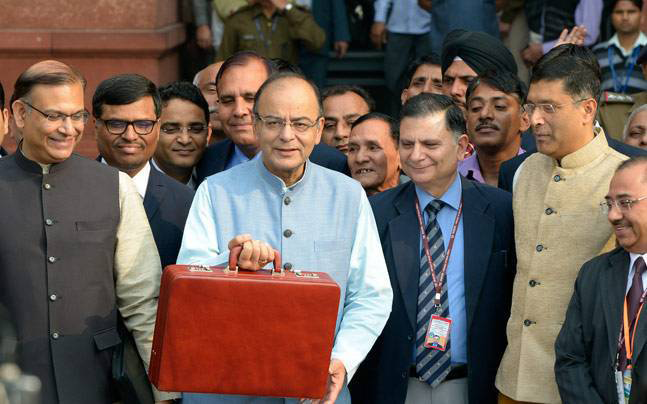 Image: Former Finance Minister Arun Jaitley holding the colonial briefcase 
Commenting on her revolutionary move, Chief Economic Advisor Krishnamurthy Subramanian said the budget briefcase has been replaced by the traditional Bahi Khata. He said, "It is in Indian tradition. It symbolizes our departure from slavery of western thought. It is not a budget but a 'bahi khata'(ledger)".
PMAY continues to be the centre's pet scheme. Highlighting the same, Sitharaman said about 1.5 crore homes were completed in the first phase of the scheme. Modi's 2.0 government focuses on completing about 1.95 crore proposed houses in the second phase of PMAY.