Table of Content:
After the nationwide establishment of the Real Estate(Regulation and Development) Act in 2016,  RERA Goa was launched by the state government in 2019 for the online registration of real estate agents, projects, and complaints.
It is mandatory for all real estate agents and project developers in the state to register online with the Real Estate Regulatory Authority in accordance with the RERA Goa Act.
Suggested Read: Know Everything About RERA In India
RERA Goa: Responsibilities
The RERA Goa is in charge of making sure:
Developers and builders lay out every detail of their projects.

Registering legitimate projects in Goa.

All of Goa's real estate agents have valid licenses.

Concerns voiced by customers are heard and resolved.
Goa RERA: Registration Rules
The RERA Goa is responsible for registering all construction projects in the state. Construction projects that have not yet been granted a completion certificate (CC) or an occupation certificate (OC) are included here.
All residential and commercial real estate developments are required to be registered on the Goa RERA's website, with the following exceptions:
The total area of the proposed development does not exceed 500 square meters.

In total, there can be no more than eight units.

The completion certificate has been issued to the realtor.

The renovation, repair, or redevelopment being undertaken does not involve the marketing, advertising, selling, or new allocation of any apartment, plot, or building.
A promoter who fails to register in accordance with the RERA Act in Goa could face fines of up to 10 percent of the project's budget if caught. 
Persistent offenders may face up to three years in prison, a fine of up to 10% of the real estate project's budget, or both if the violation occurs on more than one occasion.
Interesting Read: Positive Changes RERA Brought In Indian Real Estate
RERA Goa: Project Registration Steps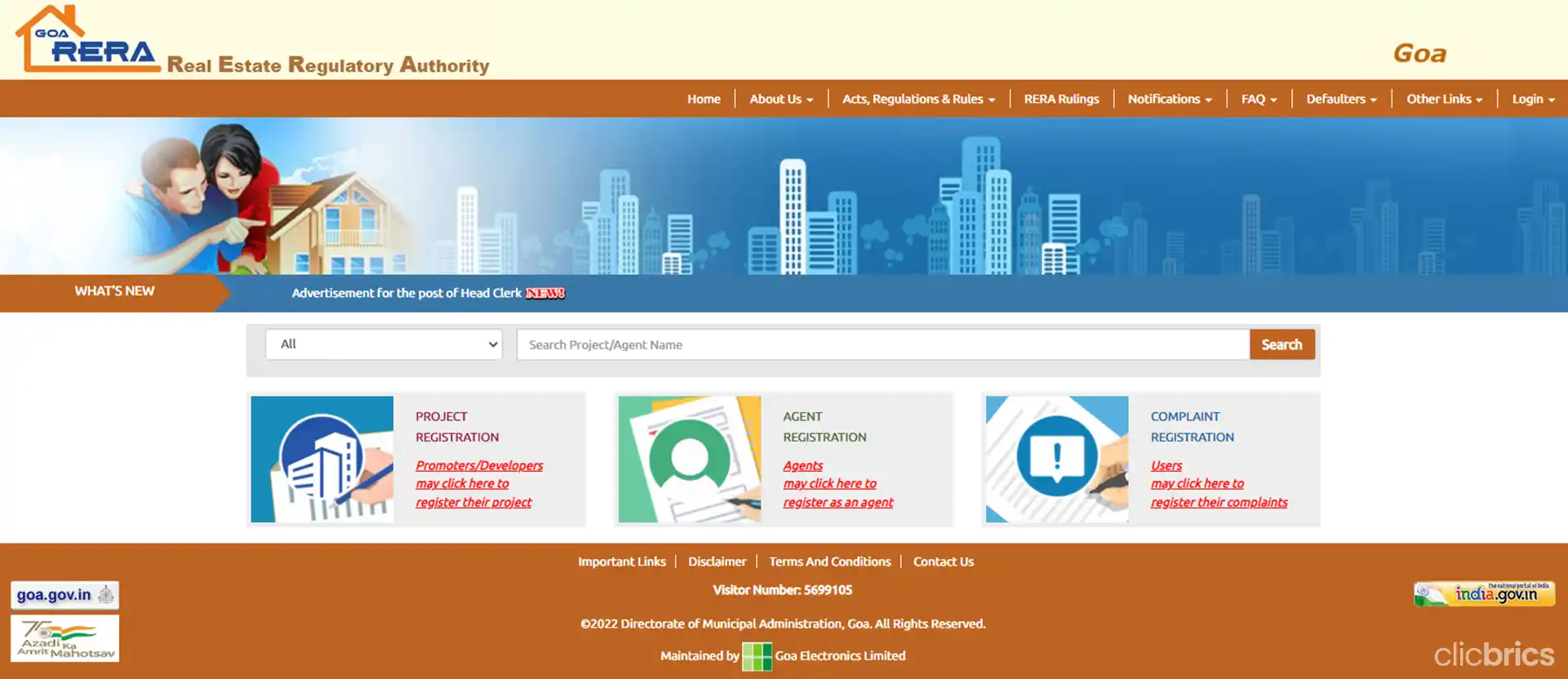 To register a project with RERA Goa, a developer needs only navigate to the site: https://rera.goa.gov.in/reraApp/ and click on the 'Project Registration' tab.

Submit your email address. RERA Goa will send a one-time password to your provided email address.

Once you enter the OTP, click "Next" to continue filling out the form and registering with RERA Goa. Keep in mind that you'll need your PAN number, Aadhaar number, and GST number in order to register.
RERA Goa: Agent Registration Steps
Agents can sign up for RERA Goa by going to the website and selecting the Agent Registration tab. 

They need to provide their email address in order to create an OTP. 

After entering the generated OTP, they will be directed to a page where one can choose between registering as an individual, a society, a company, a partnership firm, a government body, or a limited liability partnership.

Information such as the agent's name, company name, Aadhaar number, PAN number, address, previous registration number, and more needs to be entered. 

To proceed, one must first declare whether or not he/she is facing any criminal charges before uploading a personal identification number (PAN) card, proof of address, and company letterhead.

Submit the application and the payment to RERA Goa. 
Goa RERA will notify you via email address whether or not your application has been accepted.
Agents must register with the government under the Goa RERA Act. Without registration, no agent may facilitate the sale or purchase of real estate property on behalf of any person.
If a real estate agent fails to register, he/she could face fines of up to five percent of the purchase price of the property involved.
How To View Goa RERA Registered Projects?
In order to view the registered projects under Goa RERA, follow the following steps:
The 'Search project /agent name' box on the homepage is where you can enter the project's alphanumeric RERA ID to see if it has been registered with Goa RERA and to see what its current status is. 

Simply choose "All," "Agent," or "Project" from the drop-down menu and then "Search."

If you click the image below, you'll be taken to a page with information about the project's name, promoter, promoter type, total area, property type, and status. If you want to know more, click the "Read More" button.

It will take you to a new page that first displays the date of the page's most recent update.

The Project Description section will include specifics about the project. 

To examine the project's financial statements, quarterly approvals / NOC that have been taken, pending approvals, quarterly building details, and quarterly external development, click on the "Click to View" button.
All declarations and pictures of the project can be found in the RERA Goa information website.
Steps To File A Complaint Under RERA Goa
A consumer can file a complaint, if a real estate developer has violated or breached the rules set forth under the Goa RERA Act. 
A home buyer can appeal RERA Goa's decision to the Appellate Tribunal if he/she is dissatisfied with the decision and can even further appeal to the High Court.
If a buyer wants to file a complaint, they can do so by selecting "Complaint Register," on RERA Goa's website. 

First, under "Details of the complainant," provide your full name, mobile phone number, Permanent Account Number (PAN), email address, and answer to the question: "Whether complainant is Buyer?" 

Then, provide the address where all notices will be sent, as well as the address where the complaint was filed.

The next step is to provide specifics about the complaint. Include an explanation of why an interim order is necessary.

The final step is to include the necessary paperwork. You can attach additional files by selecting the "add more" option. After that, you'll need to pay Rs 5,000 to officially file your complaint. Click the "Pay and Submit" button.
Also Read: A Detailed Guide To File A Complaint Under RERA
How To View Court Decisions on RERA Goa
Click the RERA Rulings tab on the homepage to view/read through a list of RERA Goa's decisions. You can learn more about each one by clicking on it.
Also Read: A Guide To RERA Maharashtra