Table Of Contents
Earthquake tremors were felt across Delhi-NCR on Tuesday, January 24, 2023, at 2:30 PM. Many people fled their homes and workplaces in a panic as the earthquakes persisted for approximately 30 seconds.
According to the National Center for Seismology, an earthquake with a magnitude of 5.8 that struck Nepal caused tremors to be felt throughout Delhi and surrounding areas. 
The capital experienced the earthquake again after 20 days, when a 5.9-magnitude earthquake struck Afghanistan's Hindu Kush region on January 5, 2023. 
On January 1, a magnitude 3.8 earthquake had also jolted Delhi and surrounding areas at around 1:19 AM. 
The Department of Applied Geophysics and Seismology at IIT Dhanbad had already predicted last week that the state may experience an earthquake in the next few days. The Delhi-NCR region has experienced nearly ten mild to moderate earthquakes over the past 1.5 months. Even if specialists cannot foretell the precise location, there has been a persistent seismic activity in the Delhi (NCR) area, which is a cause for alarm.
Since an earthquake as a natural disaster can occur anytime without warning, one should learn how to prevent an earthquake from damaging personal belongings. Taking protection against earthquake is important to secure yourself and your assets from mishaps.  
Continue reading our blog for tips on protection against earthquake that can keep you and your family safe.  
How to Prevent the Earthquake: Tips To Reduce Damage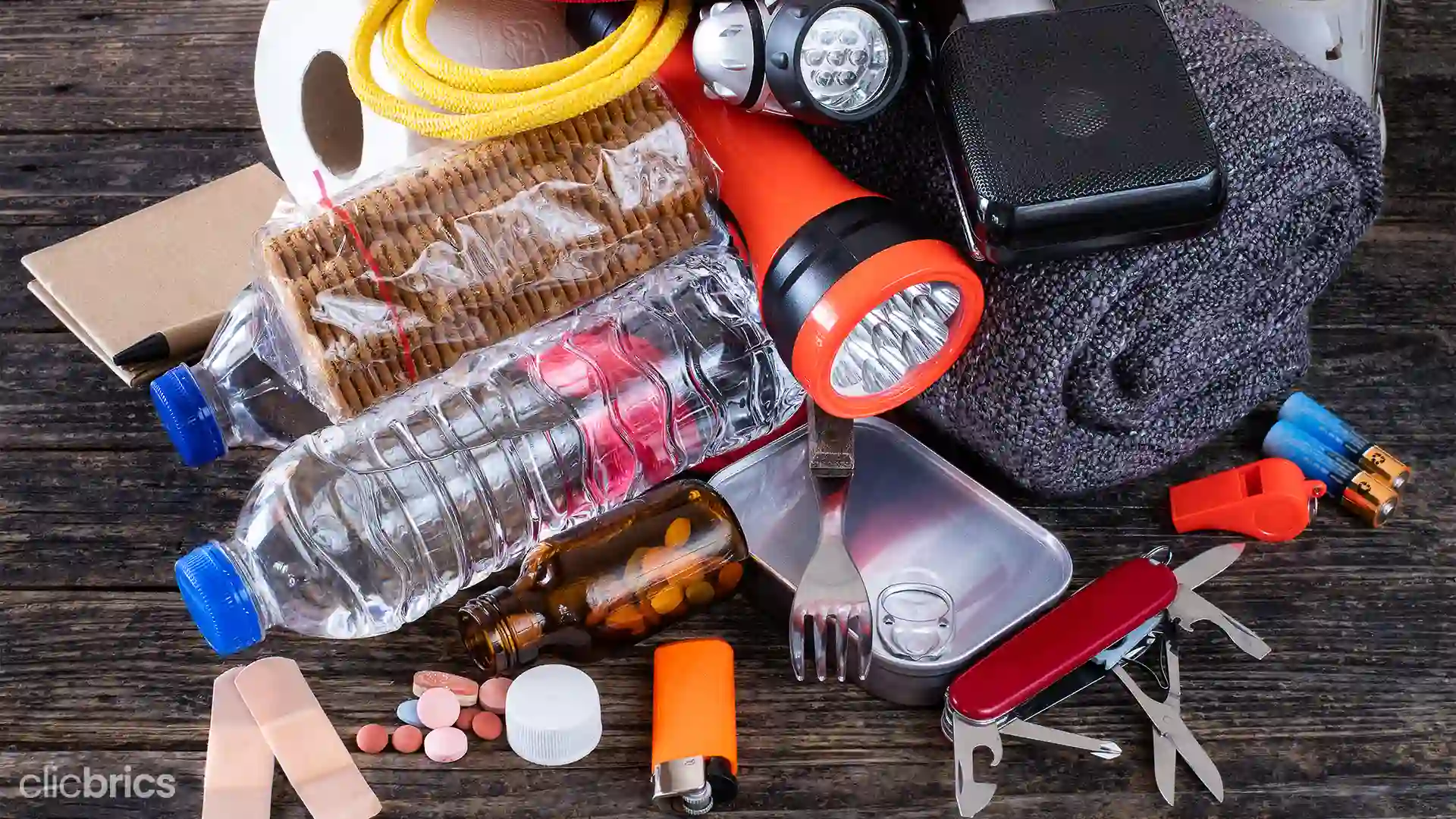 In order to receive protection against earthquake, we have a detailed plan on the measures you can take before, during, and after the earthquake.
What Should You Do Before The Earthquake?
It is mandatory to earthquake-proof a house, which means if your home is old, you should focus on identifying the potential weaknesses. The tangible asset in your home is also as important as the house walls.
Start protection against earthquake by taking a tour of your home and identifying things you think can fall or break. 
If you think your home requires some reorganization, start by moving your furniture here and there and moving large objects to the lower shelves. 
Install latches on the cupboards and bolt the bookcases to the wall. 
Create an Emergency Supply Kit for Earthquake
For protection against earthquake, you need to create an emergency supply kit that will last 72 hours. The supply kit must contain water, food, and other important items. Every household member should carry the kit. 
What Should You Do AfterThe Earthquake?
You are greatly mistaken if you believe that the tremors have stopped and that there is no longer an earthquake.
Sometimes the second earthquake is bigger than the first. The first one is known as a foreshock, and the second tremor is called a mainshock. 
It is advisable to move out if you are inside a heavily damaged structure. If you get injured, there is a possibility that you might not feel the adrenaline rushing through your body.
How Can We Prevent Ourselves During an Earthquake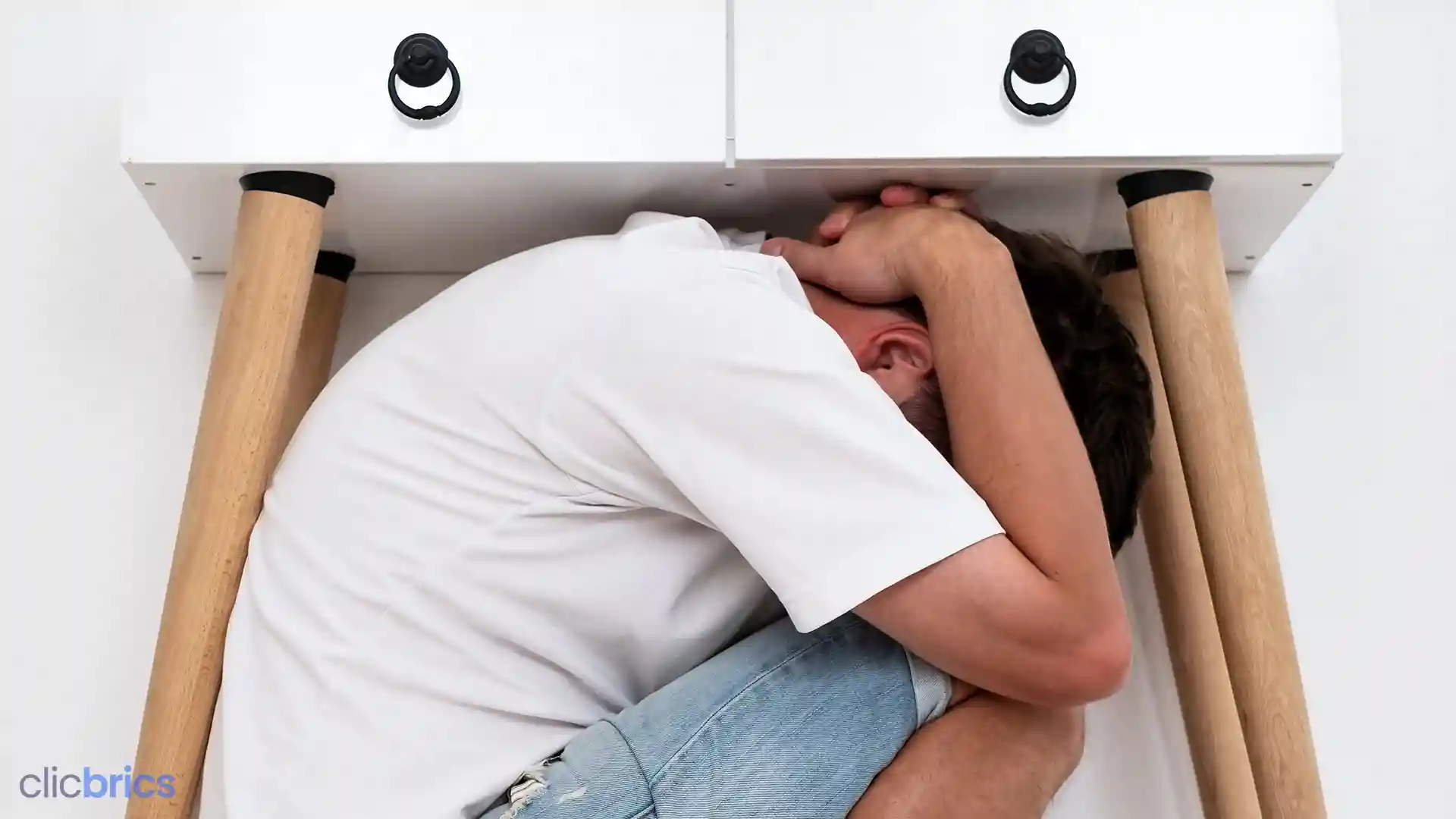 You should protect yourself as quickly as possible when you start to feel the tremors. The NDMD, i.e., the National Disaster Management Division of the Ministry of Home Affairs, has shared some guidelines known as the "triangle of life," which consist of three actions: drop, cover, and hold.
1. DROP
As soon as you experience tremors, get down on all fours (knees and hands). This is an ideal position to crawl to make it to a secure shelter.  
2. COVER
Once you have reached a secure position, place your hands over your head and neck to protect yourself from the debris. 
Now stay right there under the table till the tremors stop. 
If you can't find a solid table to seek shelter on, you can snuggle up to one of your home's interior walls, but you'd better stay away from tall objects and furniture that you believe can topple. 
According to the Earthquake Country Alliance, if your house is old, don't rely on the doorways for protection. 
3. HOLD
Calmly stay there until the tremors stop. 
If you are seeking help while sitting under the table, try to hold the table with one hand. 
Keep your neck and head covered if you are in an open space. 
If you are in a wheelchair, lock the wheels and lean over to protect yourself. 
If you are not at home when the earthquake strikes, seek shelter in a clear area away from trees, tall buildings, and powerlines. 
If you are driving, stop and set your parking brake as soon as the tremors start. 
If you live in a high-rise and are wondering how to save yourself from an earthquake, the answer is simple: don't run. If you live on the upper floor, do not leave the building immediately; instead, wait until the tremors stop, then grab your shoes and money and leave.
Also Read: Why Following The Building Code Is Important For Protecting Home Against Earthquake
Trapped inside the home during an earthquake?
If you get stuck inside a building, stay calm and quickly protect your eyes, mouth, and nose with the help of a cloth or your hands. 
If you are stuck, use the reflection of the sun, bang anything that is nearby to make noise, whistle, or use a loud voice to gain the attention of people. 
Stay alert and away from fallen electrical lines, ruptured gas pipes, or other precarious structures. 
Steps To Keep In Mind for Protection Against Earthquake
1. Do not run at the time of the earthquake 
Do not run when an earthquake happens, as it can make you fall. In addition, if you run, you might fall into falling objects that can cause serious injury. 
2. Do not stand in a doorway
Doorways are not a reliable place to seek shelter. In addition, standing in a doorway makes you more prone to getting struck by falling objects. Eventually, you might end up harming yourself or others. 
3. Listen to the authorities
Stay alert and see what updates on emergencies are coming. If you are stranded, try contacting us for assistance. 
Earthquakes can be terrifying, but you can do some simple things to stay safe. From the tips mentioned above, learn how to protect yourself from earthquake damage inside and outside your home. These tips will also teach you what to do if an earthquake hits while you are living in a high-rise building, or in your car, and how to make your home earthquake-proof. 
Stay tuned and stay updated with us for more important information!