Table of Content:
Are you interested in getting information about bhulekh Gujarat Surat? You can now check Bhu Naksha Map, 7/12, bhulekh Gujarat online! Yes, that's correct- no more waiting in queues! In the traditional method, if one wishes to receive a copy of the land records of Gujarat, they will have to go through many details and forms to apply for the process.
But now, checking Devbhoomi Gujarat's Bhulekh online is easier than ever, as all the documents are now available online. Anyone can download Bhulekh Gujarat online and receive a land map, Khasra Khatauni name-wise.
Bhulekh Gujarat Online Overview
The government of Gujarat has taken the initiative to provide an online facility to check land details by launching an online portal for assistance to the local citizens. By introducing the initiative, issues faced by people who used to wait in long queues outside the windows of government offices to get the details of their land have been resolved.
You can now check the Gujarat bhulekh, the Khatauni number, a copy of the Khatauni, and other details you wish to require. When you surf the website, you will find an online portal called 'Any ROR @ Anywhere.' The online services provided by this portal are specifically focused on providing online land record Gujarat details.
Steps to check Gujarat Bhulekh 2022 online
If you wish to secure yourself from any trouble while extracting the land record, follow the below-mentioned steps carefully-
Step 1: Through your mobile or computer, Visit Any RoR Gujarat or straightaway visit the official website of the Revenue Department Gujarat.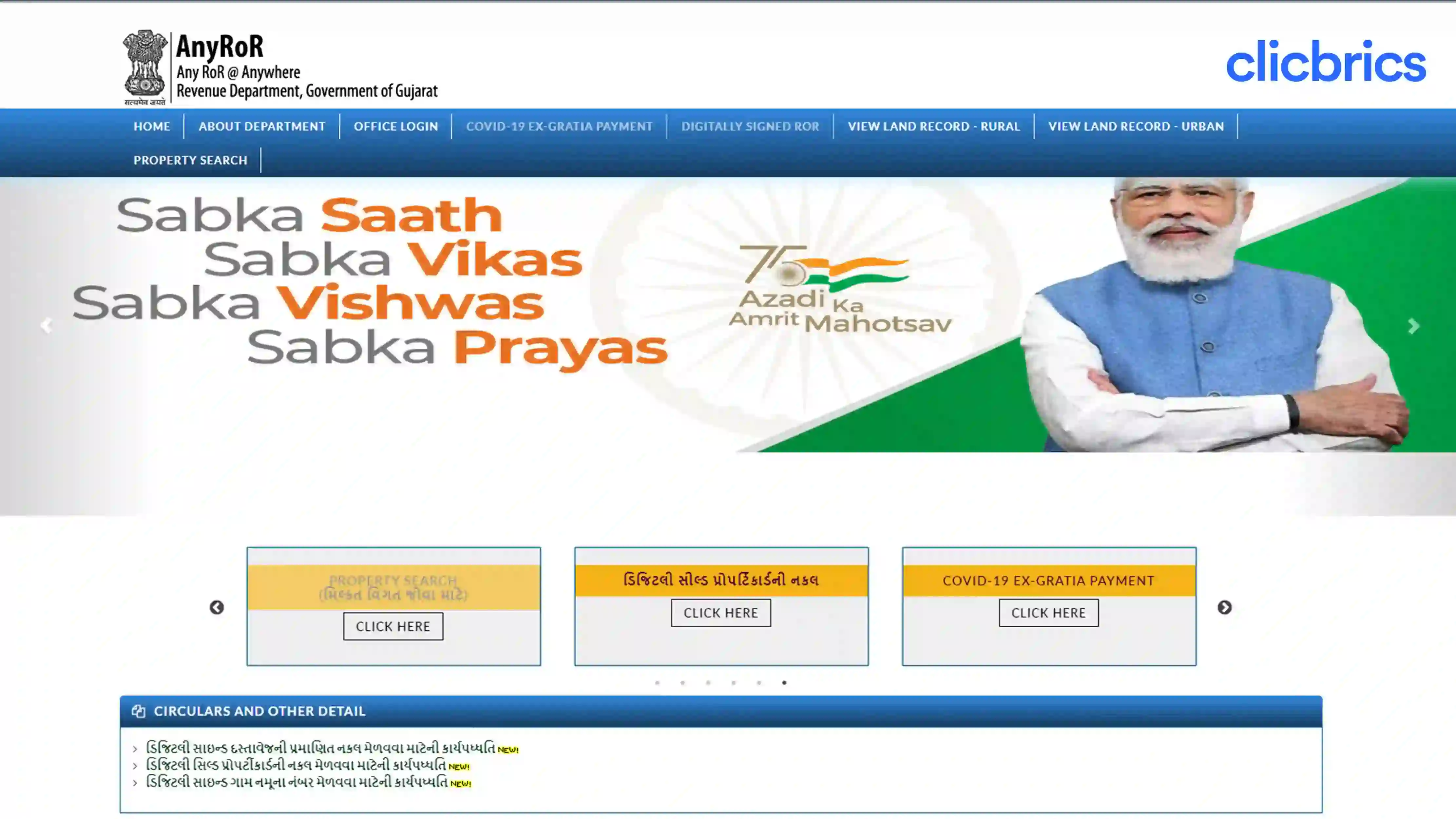 Step 2: Once you reach the official website of the Revenue Department of Gujarat, you will see an option of Land Records (7/12) on the top right side. Choose the option to check Gujarat bhulekh.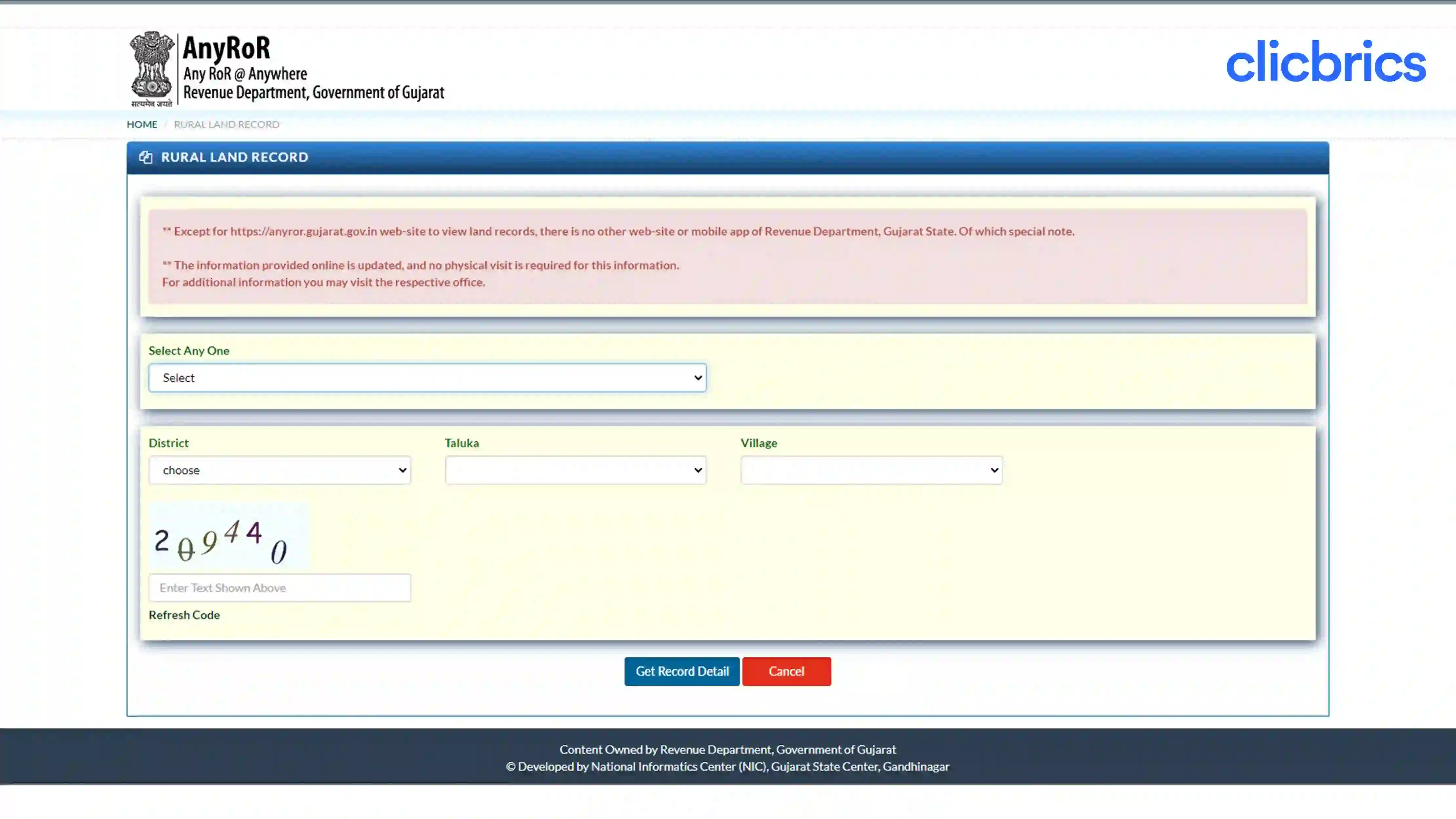 Step 3:  Following step 2, you will see two options for checking land records in Gujarat. You will have to choose between rural and urban areas.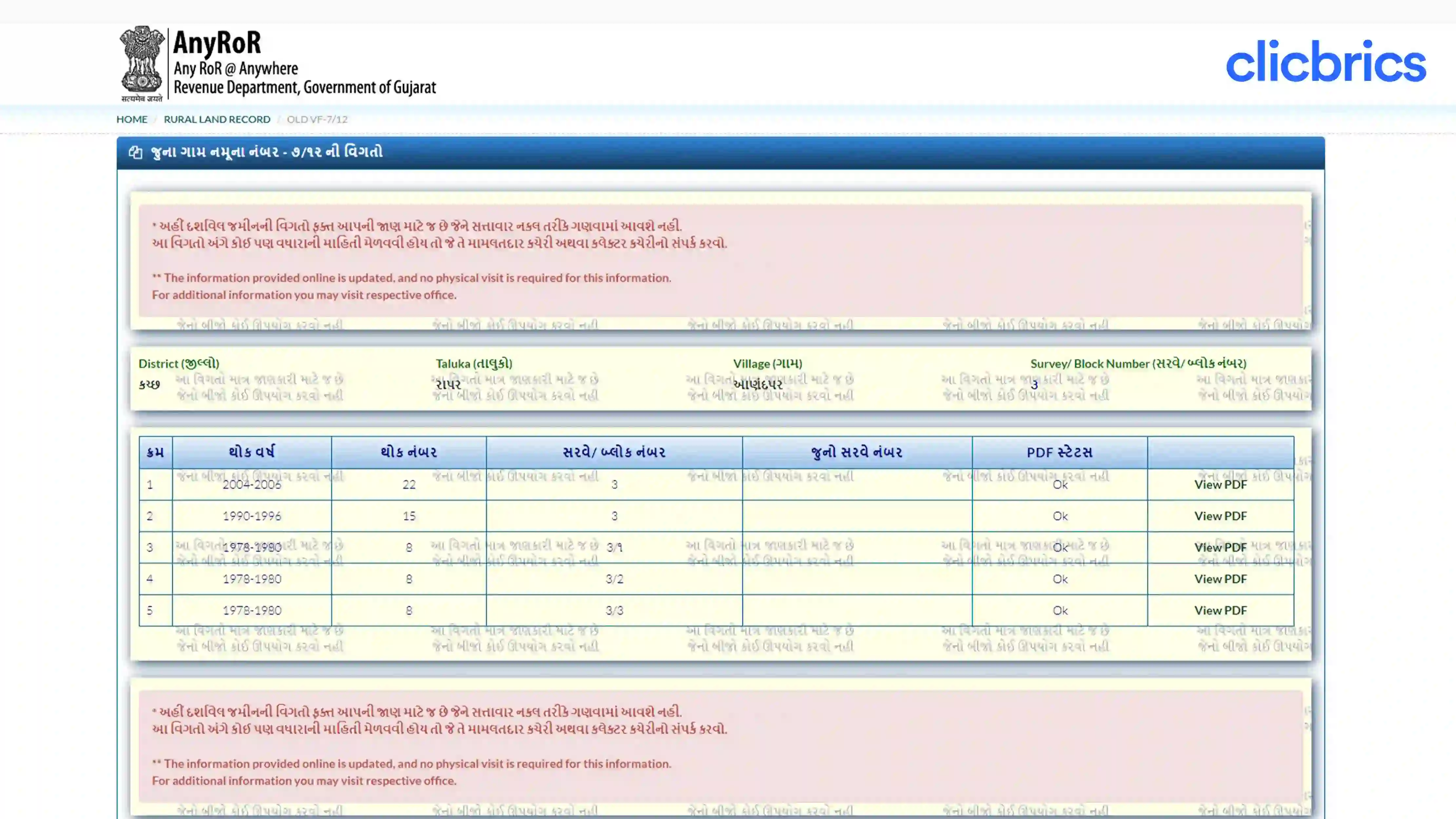 Step 4: Different types of land records will appear on the website. The options are listed below-
Old scanned VF6 Entry details 

VF7 Survey Number Details

VF 8A Account Details 

VF6 Login Details 

135d notice for submissions 

Entry list by month, year

Integrated Survey Number Details 

Revenue Case Details 

Know Account by Owner Name

Old Scanned VF-7/12 Details
Step 5: If you wish to know the 7/12 record, you have to select the Old Scanned VF-7/12 Details. Once you open it, you have to choose your district, taluka, village, and survey number. 
Fill in the code in the box below and select the Get Record Detail option. 
Step 6: After the complete submission of the details for checking land records, the bhulekh ahmedabad details of the survey/block number will appear on the screen. Press the VIEW PDF option in order to view land records.

Step 7: In the PDF option, you will have 7/12 records of land. You can now check the complete Bhulekh details of the farm, plot, or land you are interested in.
Step 8: You have the liberty to download 7/12 Saat-bara records of land to use for revenue-related purposes. (optional step)
How to search property by name on GJ Bhulekh Portal?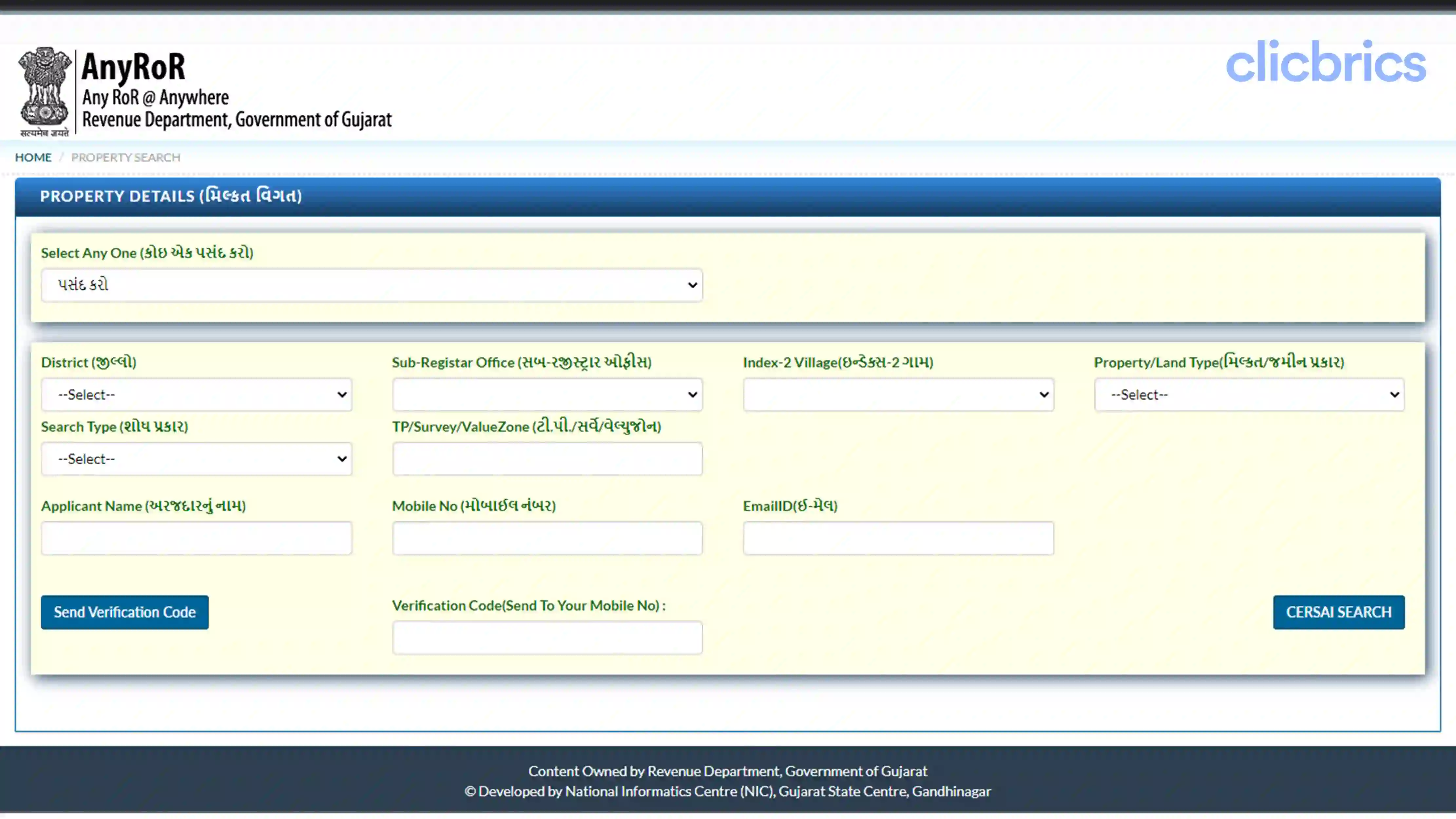 The revenue department of Gujarat has started an online property check facility for the public to access. Because of this, you can now check the property details by sharing the property details or by mentioning your name. 
Below are the steps-
Step 1: Visit the Gujarat bhulekh portal
Step 2: Based on your requirement, select from Property Wise, Name Wise, or Document no year-wise
Step 3: Let's assume you chose a name-wise option. Now, you will have to enter the property owner's details to access the information online. 
Step 4: Enter the valid email address and mobile number. Soon you will receive a verification Code. Fill it in the given box and submit it. 
How to download Gujarat Bhu Naksha Map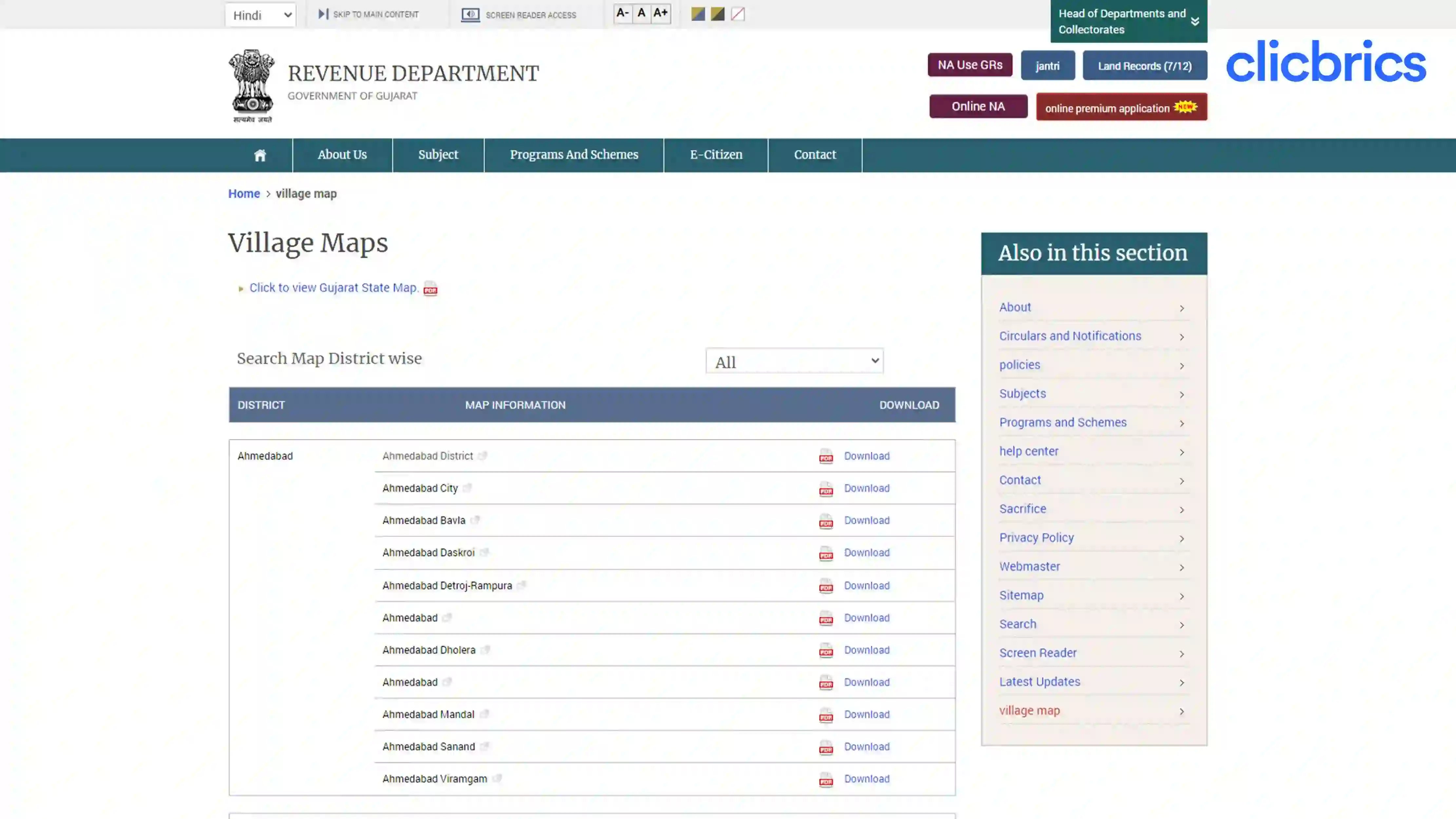 You can download the land map only of the districts listed below- 
Ahmedabad

Amreli

Aravalli

Banaskantha

Bharuch

Bhavnagar

Botad

Dohad 

Dang

Devbhoomi Dwarka

Chhota Udaipur 

Kheda

Kutch 

Mahisagar

Morbi

Narmada

Navsari

Panch Mahal

Patan

Porbandar 

Rajkot 

Sabar Kantha

Surat 

Gandhi Nagar 

Surendra Nagar 

Gir Somnath 

Tapi 

Jamnagar 

Vadodara 

Junagadh 

Valsad 
In just 2 simple steps, you will be able to download the Gujarat Bhu Naksha Map.
Step 1: Visit the official map checking page.
Step 2: Along with the district-wise list, you will see the area name. Click on the PDF option to download. 
We hope this informative article was of use, and now all our Gujarati brothers can get the information they require without any hassle! 
Also Read: Understand the 7/12 Extract and Its Legal Importance