As the age old proverb goes, home is where the heart is. Our homes are our most prized possessions. A home not only provides us shelter but is also a cocoon, within the warmth of which we nurture our families with love and affection. It is immensely important that our home stays safe and protected from all kinds of probable accidents.
There used to be a time when only the rich and famous could have access to security systems to keep their homes safe. However, technological advancements within the last few years have brought good news for both your home as well as your wallet, by making available dozens of affordable smart security devices to keep your home safe while you are away. These smart devices are aimed at keeping your home well connected, while also keeping you informed of all that is happening around your home even in your absence.
With so many options available in the market, it can be a daunting task to identify which of these electronic watchdogs are worth spending money on. To make your work easy, we have come up with a list of the most useful gadgets to keep your dream home safe and secure.
Security Cameras
Security cameras are one of the most basic devices for keeping your home safe. They help keep track of all movement in and out of the house. Security cameras come in many types and have seemingly endless feature options. However, they can be categorized into two main types - indoor cameras and outdoor cameras. Each of these groups has different styles of cameras within them and can be differentiated by their area of use and the features offered by them. The important features to keep in mind when planning to buy home security cameras are:
Field of view

- This refers to how wide an angle a camera can record and helps to identify the number of cameras required and their placement to secure your home.

Night Vision

– The ability of a camera to record images clearly in low or no light conditions greatly affects its effectiveness as a safety tool.

Resolution

– This defines the clarity with which your camera can capture images. Low resolution cameras fail to capture clear images of faces, making them not so useful in case of an incident.

Motion Detection

– Cameras which include motion detection can alert you to suspicious activity as soon as they observe any motion within their field of view. This enables real-time response to an incident.

Moving Camera

– Static cameras usually cover only a fixed area with their vision. A camera that can move or tilt can help capture a larger area.

Sound Recording Capability

– Cameras also have the capability to capture sound via a microphone and can be more useful than ones which do not provide sound support.

Wi-Fi Enabled

– Cameras with Wi-Fi capability do not have any wires attached, making them less prone to be disabled by intruders and can connect to the home network wirelessly. These cameras can be monitored online as well as on your smartphone by making use of the corresponding camera app.
With advancement in technology, security cameras have got smarter, sleeker and easier to install. They can be easily hidden away from view and can even provide two-way audio function. Some advanced cameras such as Netatmo Welcome are equipped with face recognition technology to issue alerts whenever an unfamiliar face shows up on the camera.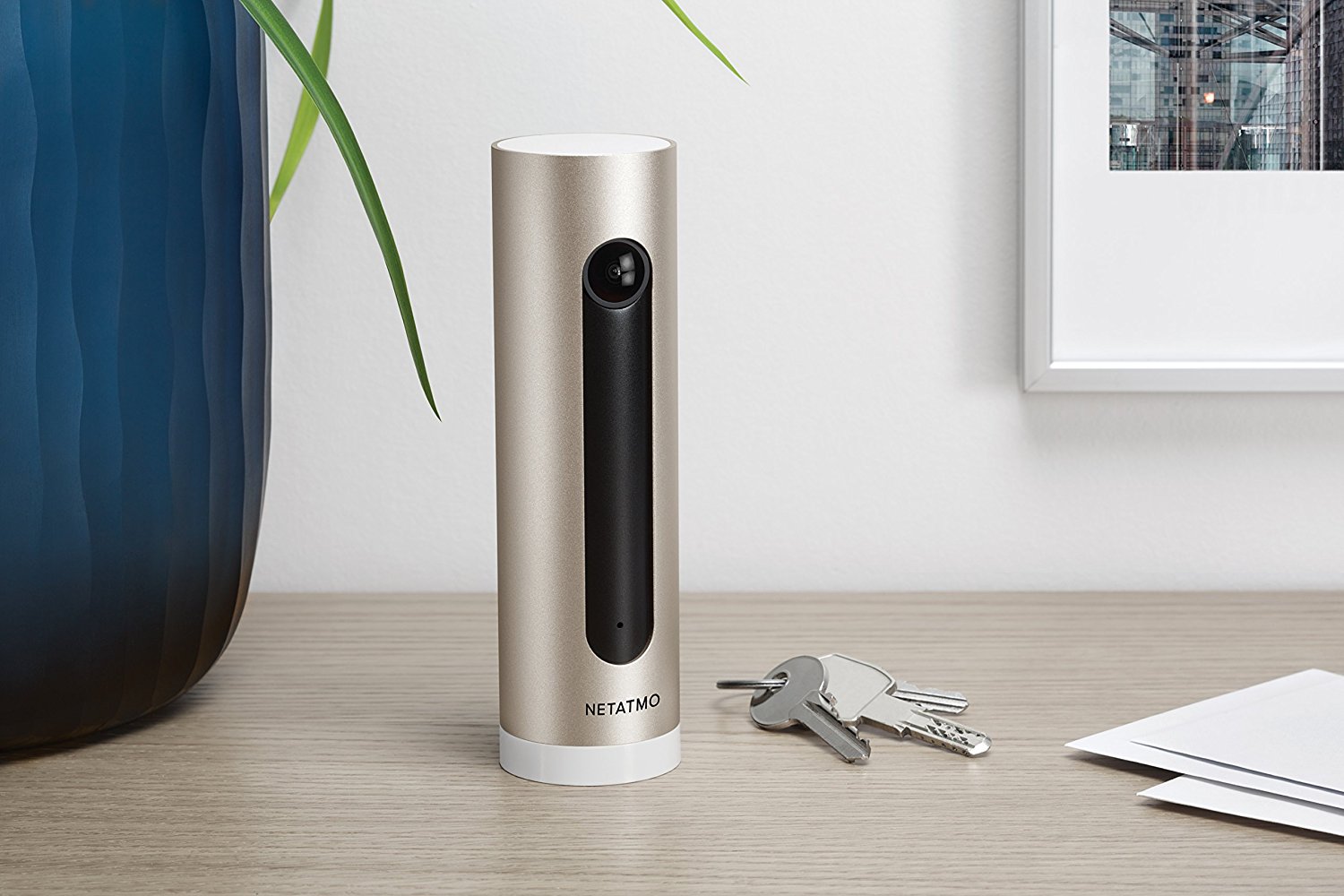 Burglar and Fire Alarm System
Burglar alarm systems work by recognizing motion and vibration. These systems create a virtual cover of infrared rays around your house using different types of sensors. Sensors are installed at the doors and windows to safeguard entry from these points. In case an intruder tries to break in through the protected door or window, the sensor sends a signal to the control unit, which immediately sounds an alarm to scare away the intruder while simultaneously sending out notifications to the family members on their phones. A great example is the D3D Security Alarm System, which supports up to 99 wireless sensors for motion detection, door/window entry, fire and gas leak, SOS, elderly care etc.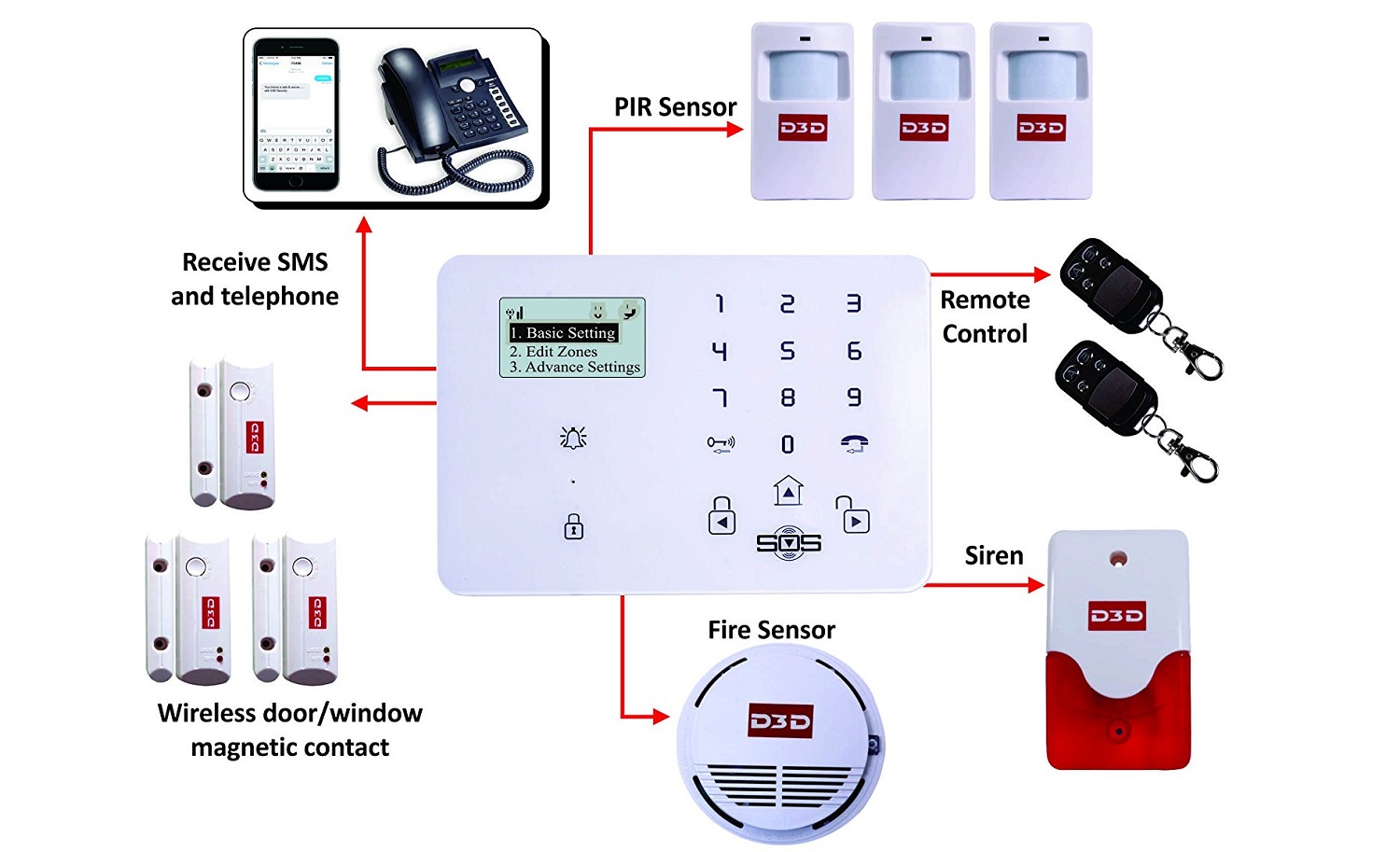 Doorbell with Digital Peephole Viewer
While not a full-fledged security camera, doorbells with digital peephole viewers protect your family from thieves and burglars in their own unique way. These systems capture the image of the visitor whenever the doorbell button is pressed and send an image alert on the corresponding mobile application. You can see the image of the visitor on your mobile phone before deciding whether to open the door or not. Some systems like D3D Smart WiFi Video Doorbell are Wi-Fi enabled, can store images and videos of all visitors on the cloud as part of visitor history and are equipped with night vision cameras, time display, and digital zoom.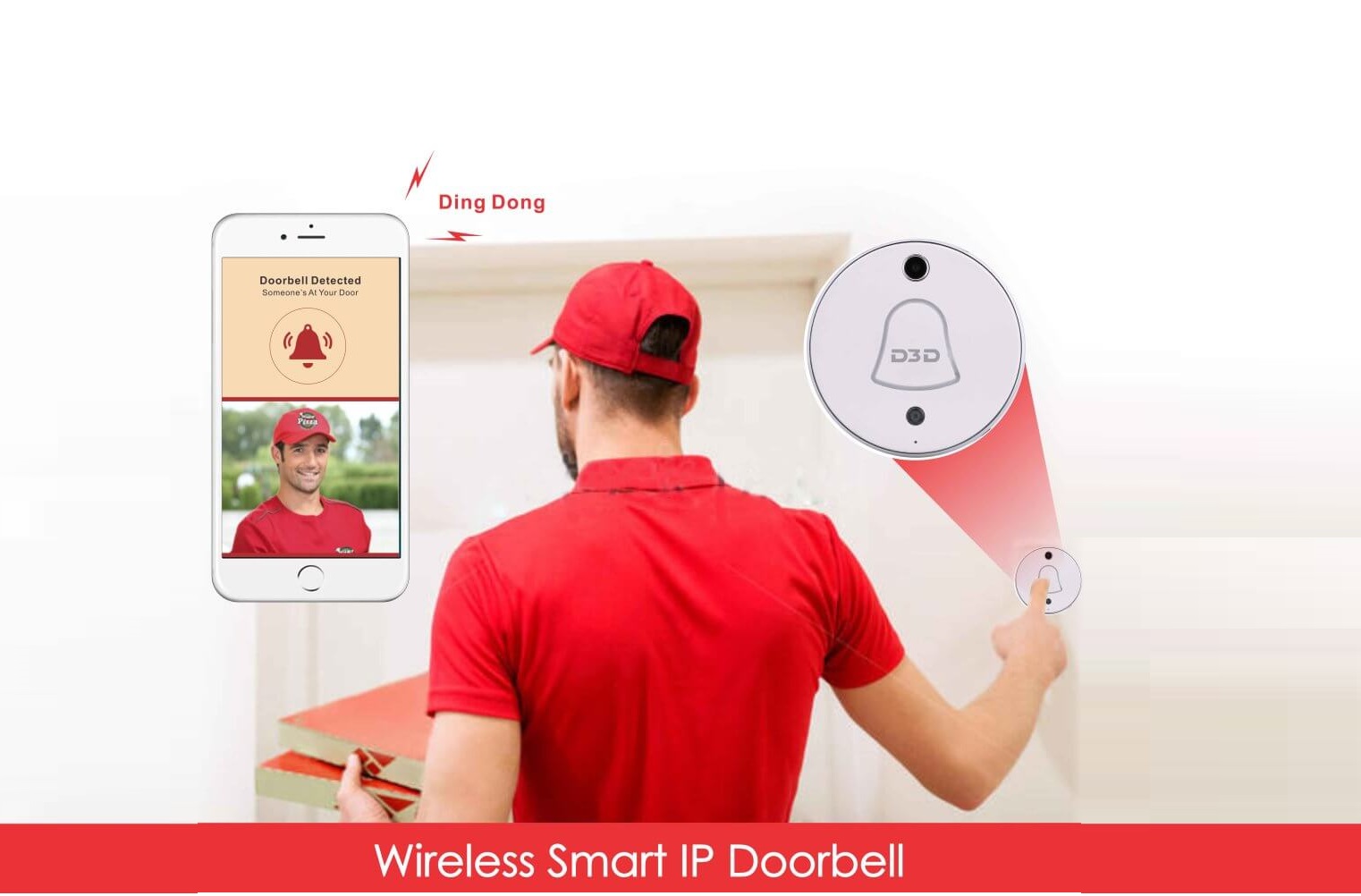 Smart Lock
If you are looking for total front door security, a smart doorbell is best complemented by a smart lock. Smart locks such as Yale Smart Door Lock provide a variety of features which give a clear edge over the traditional mechanical lock and key systems for managing your front door security. These smart locks allow you to choose between a quick and secure electronic key, a remote control or PIN keypad for a complete keyless solution. They also include one-touch easy fingerprint scan, code scramble facility, and mechanical key override feature. In case an intruder tries to break in or damage the lock, the built-in alarm goes off, scaring the intruder and drawing the attention of nearby people to a possible incident of the break-in.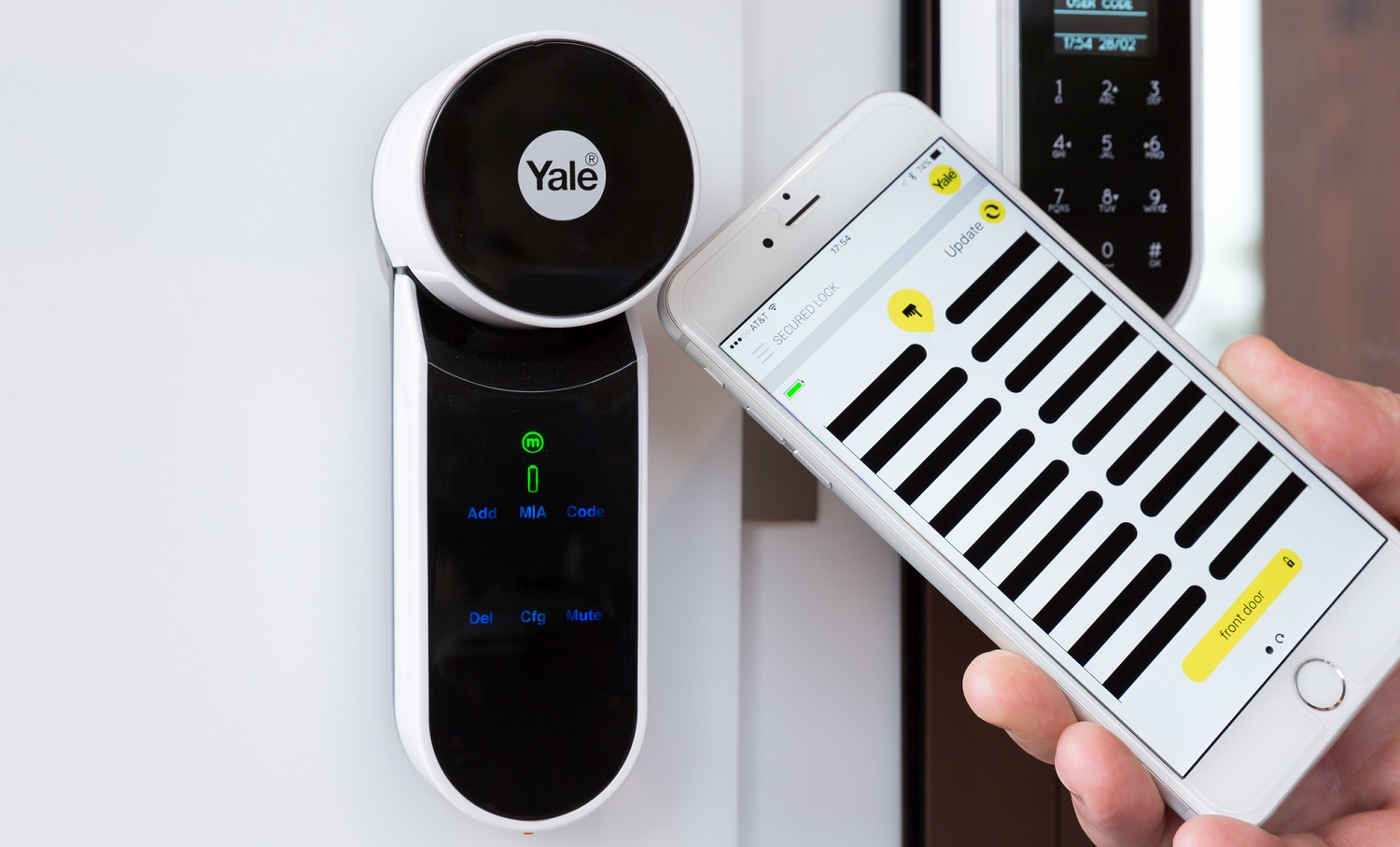 Motion sensor alarm and lights
If you are not comfortable living under the gaze of security cameras at all times, motions sensors are a great alternative for you. These devices usually have PIR (Passive Infrared) Sensor, which sends out an Infrared signal every couple of seconds. This signal is invisible to the human eye. However, if any person or object comes in the path of this sensor, a very loud alarm triggers off, alerting your neighbors and people all around. Some sensors such as the Samsung SmartThings Motion Sensor can also send notifications on your smartphone whenever some unexpected movement is seen in or around the house. Monitoring can be done with the SmartThings app for iPhone or Android. You can receive alerts from SmartThings if your Motion Sensor detects movement, or if the temperature changes.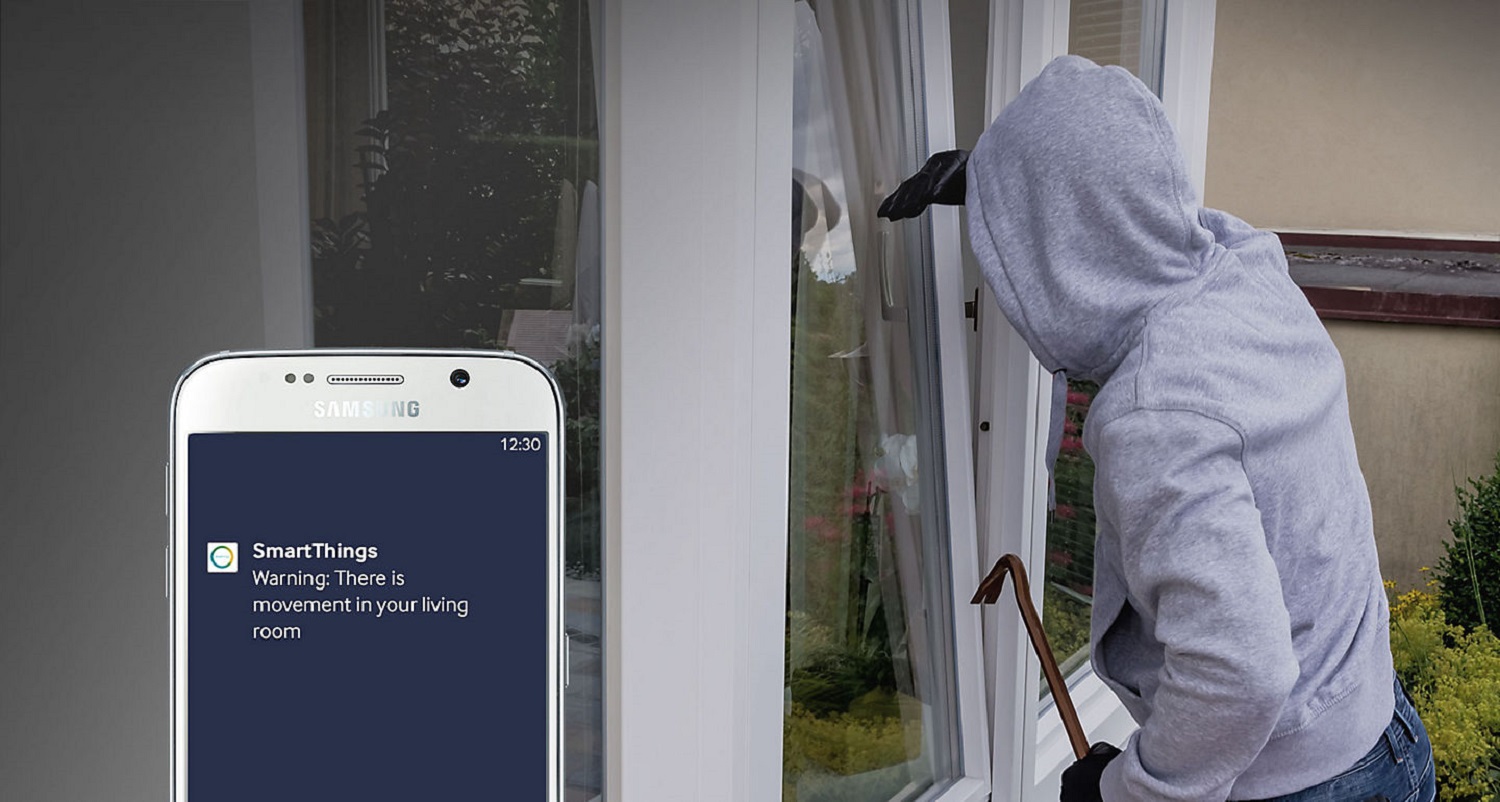 Finally, light up the house in your absence and scare off burglars with motion-sensor lights. Look for ones with adjustable sensitivity to avoid getting a false alarm from things like birds flying by. The Mpow Solar Powerd Wireless Security Motion Sensor Light comes with three intelligent modes - Strong Long Light Mode, Dim Light Sensor Mode and Strong Light Sensor Mode. It is solar powered and best suited to outdoor areas like balconies and lawns. Its strong motion sensor can detect people/objects within 26 feet.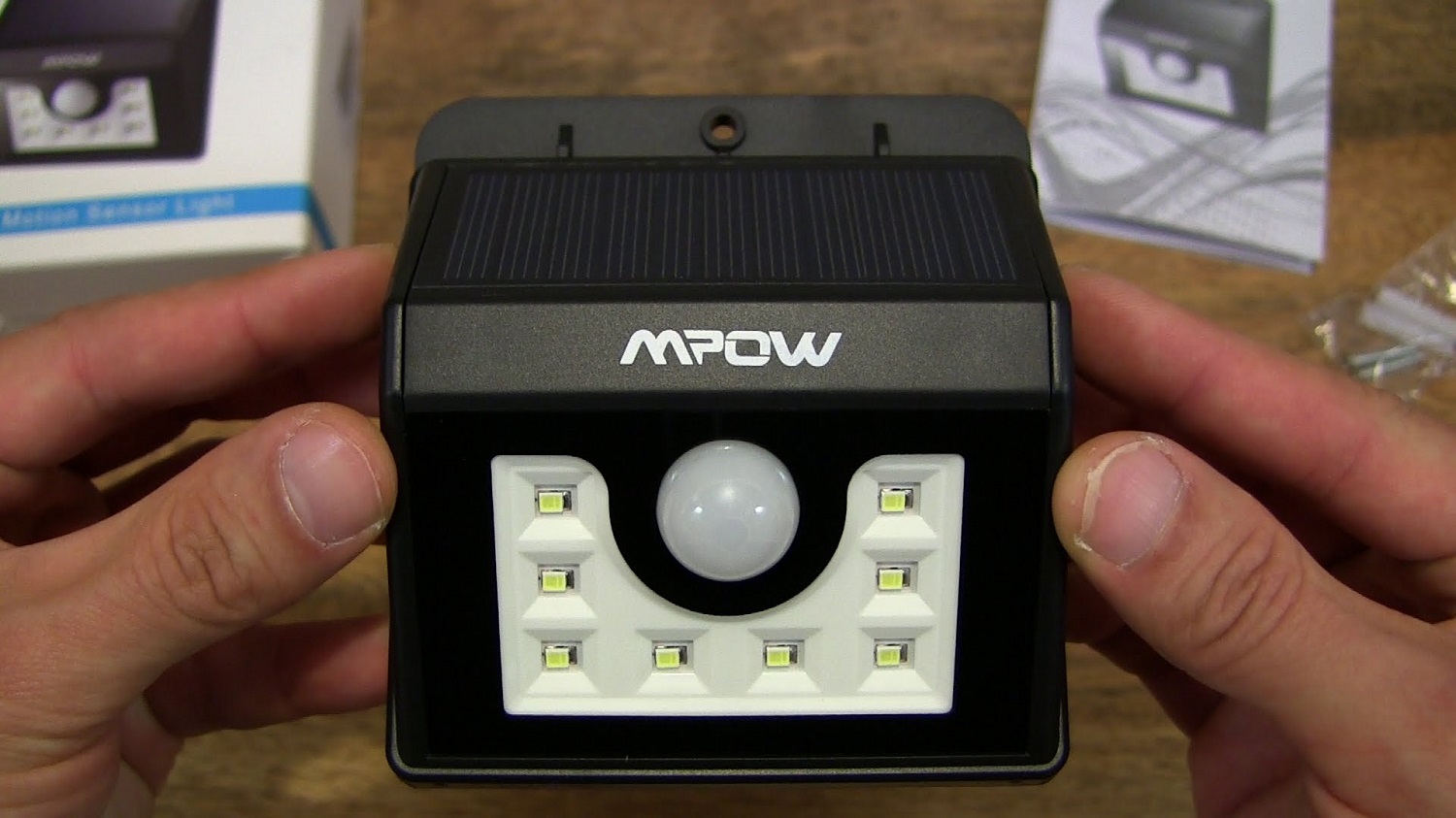 With these top home security devices available in the market, you can now freely enjoy your time away from home without having to worry about the safety of your house and belongings. So go ahead and enjoy that much-needed break with your family. And you can surely thank us later!