Table of Contents:
When you think of cricket, one name instantly comes to mind: "Sachin Tendulkar". The cricket legend, often referred to as the "Master Blaster," has not only made a mark on the cricket field but also left an indelible impression on the hearts of millions of fans worldwide. However, one aspect of Sachin Tendulkar's life that has piqued the interest of fans and admirers is his splendid abode in Mumbai. This article will take a virtual yet intriguing journey into "Sachin Tendulkar house". 
Sachin Tendulkar House: Address
The Sachin Tendulkar house, located in the posh locality of Bandra West, symbolizes his incredible journey from a budding cricketer to a cricket icon. The Sachin Tendulkar house address is 9-A, Perry Cross Road, Bandra (West), Mumbai, Maharashtra, 400050. 
Don't Skip Reading: Virat Kohli Houses in Gurugram & Mumbai
Sachin Tendulkar House: Price
The top-notch Sachin Tendulkar house overlooks the Arabian Sea. But it was once owned by the Wardens family, and later the God of Cricket decided to buy it. In 2007, Sachin Tendulkar bought the property. Sachin Tendulkar house price is INR 39 Crores. 
After its purchase, Sachin Tendulkar house in Mumbai underwent significant renovations and interior work. 
The renowned architect Prakash Sapre was enlisted to transform the property into a comfortable and stylish residence. It is now a lavish 6000 sq ft property with three floors, two basements, a vast terrace, outstanding outdoors, spacious parking for over 50 cars, and much more. But while we are all aware of the fact that he is a secret person, the below-mentioned details will give you a glimpse of the Sachin Tendulkar home in Mumbai. 
Don't Skip Reading: Sourav Ganguly House Kolkata: Address, Price, & A Sneak Peek Into Exterior & Interior
Sachin Tendulkar House: Indoor Ambiance
From what little we know, Sachin Tendulkar home blends modern elegance with a touch of traditional charm. It's not about flashy décor; it's about comfort and functionality.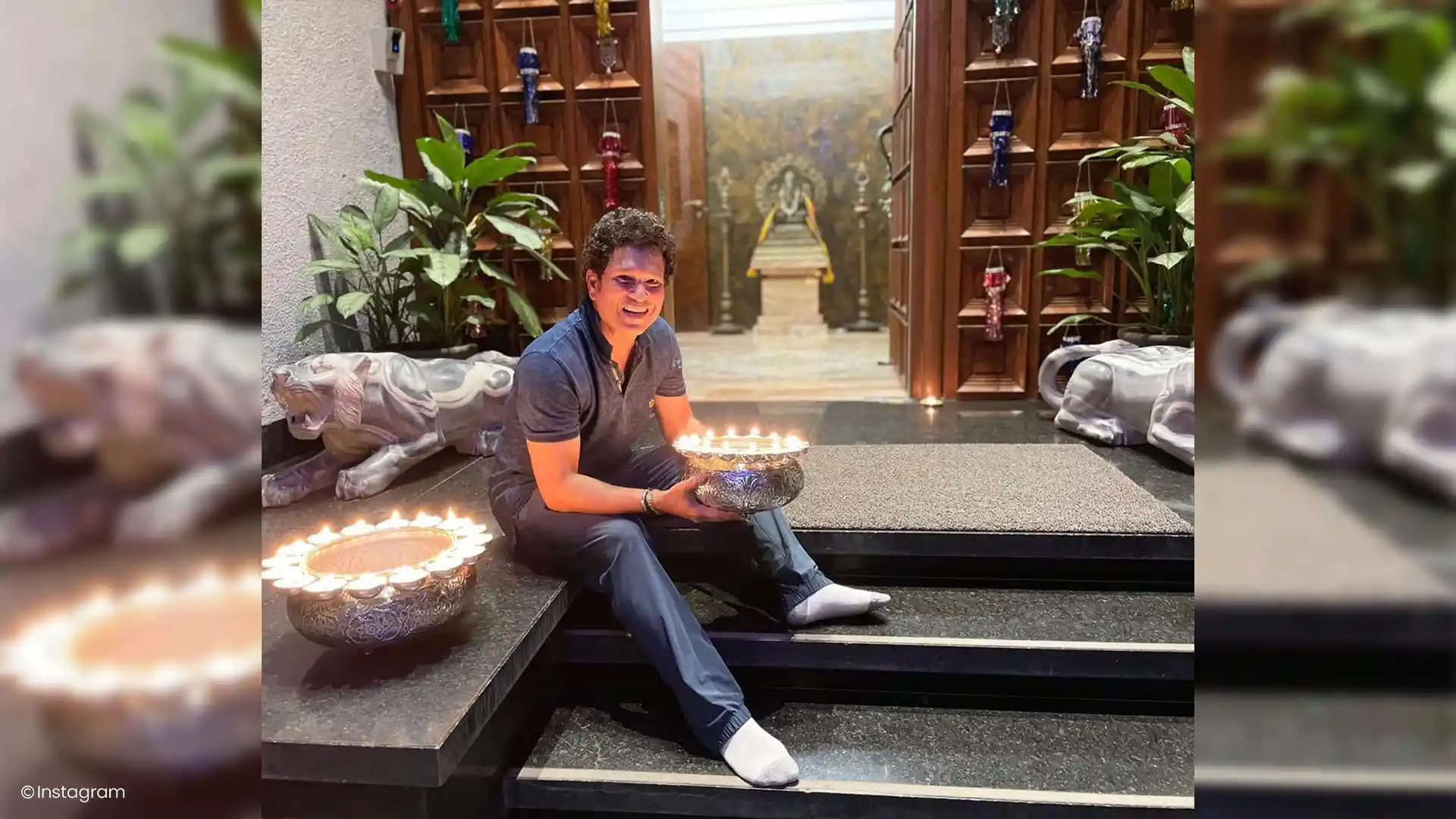 Source - Instagram     
The entrance to Sachin Tendulkar's house offers a captivating and inviting first impression. A grand wooden double door adorned with an intricate geometric design serves as the gateway to this remarkable residence.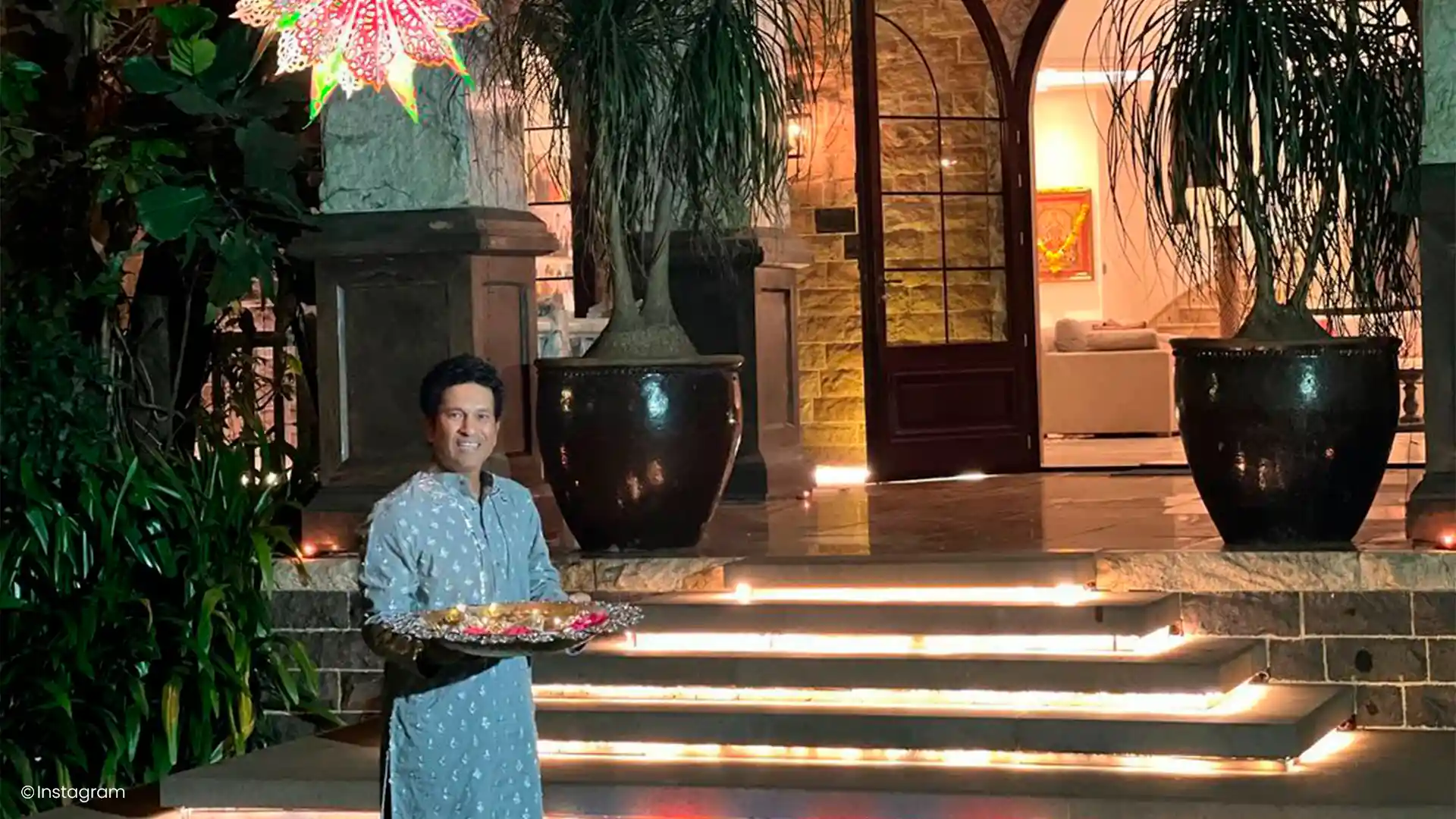 Source - Instagram     
Furthermore, the entrance of Sachin House in Mumbai has granite stairs, all are well-lit and vast potted plants are placed nearby. The image was taken on the occasion of Diwali, when Sachin is standing with a thali near a beautiful rangoli on the floor.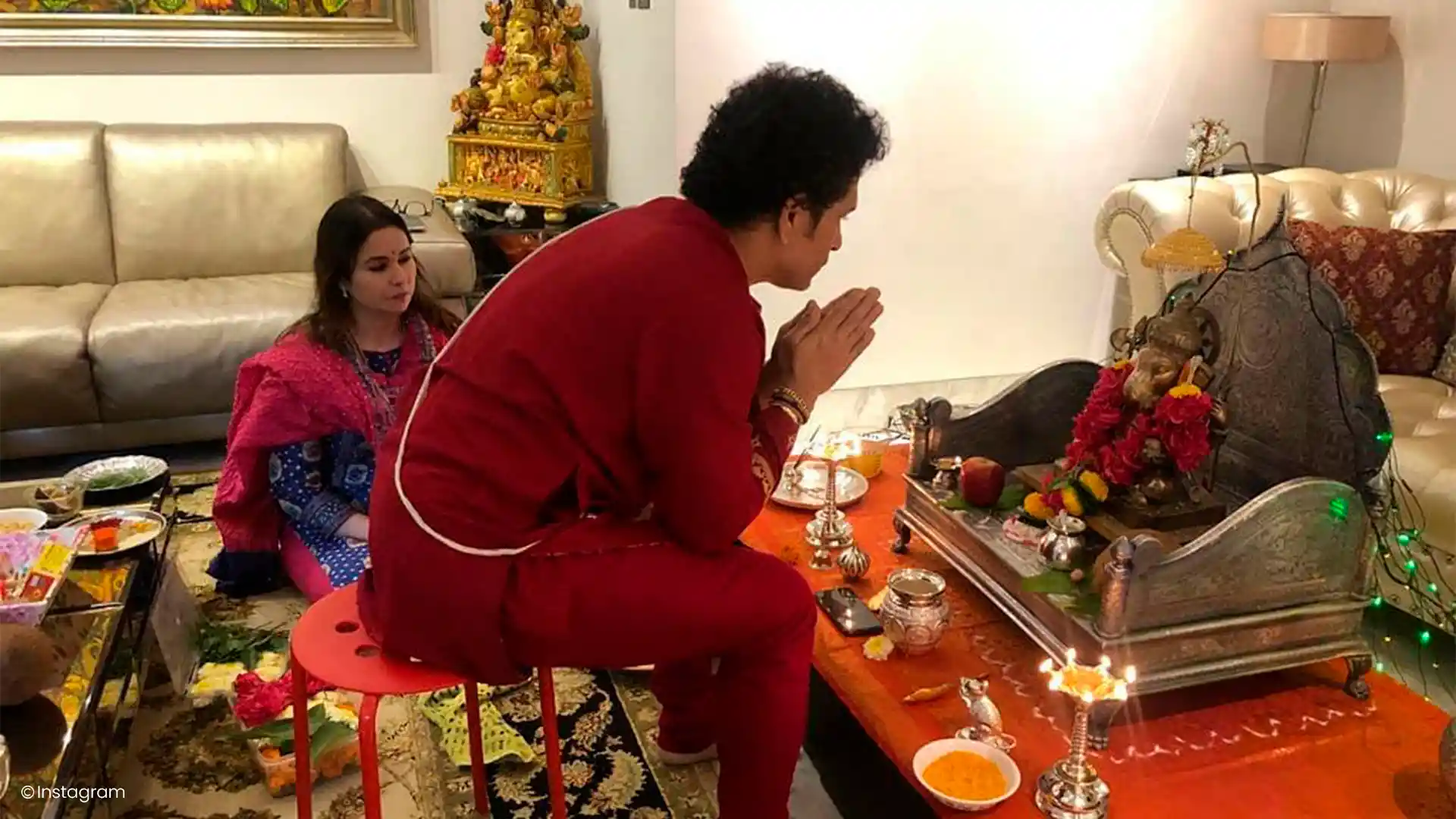 Source - Instagram     
The living area in Sachin Tendulkar's house is a testament to the perfect harmony between traditional and modern design elements. As you step inside, you will see a seamless blend of contrasting styles, creating a fabulous space. The living room walls have neutral tones, stunning paintings, and some artwork in green and yellow that add drama to the space. Furthermore, the living space has marble flooring, wooden lamps, and a stunning Turkish rug.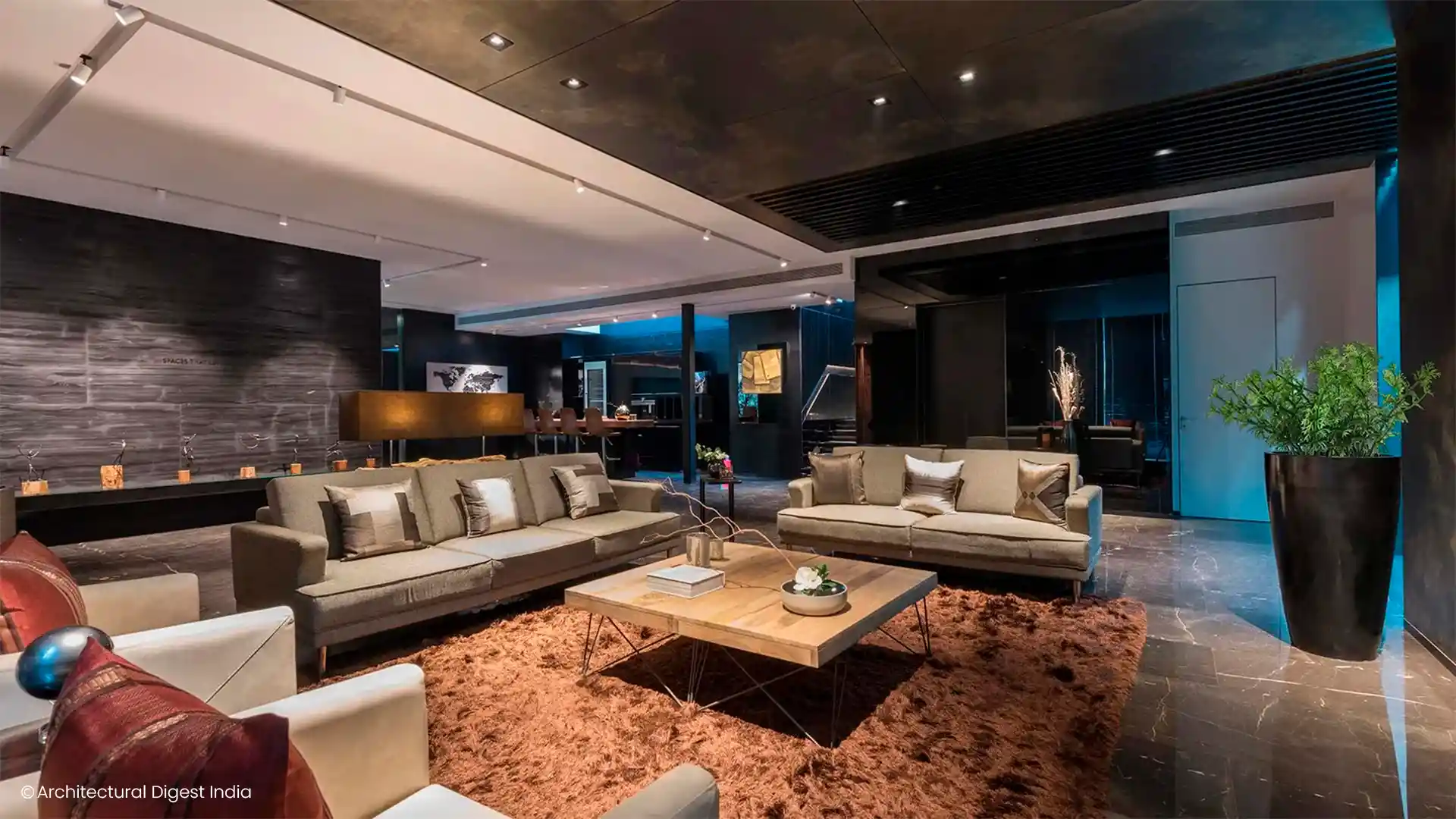 Source - Architectural Digest India     
The unique features of the living room of the Sachin Tendulkar house consist of MF Hussain paintings, which prove Sachin's love for true art.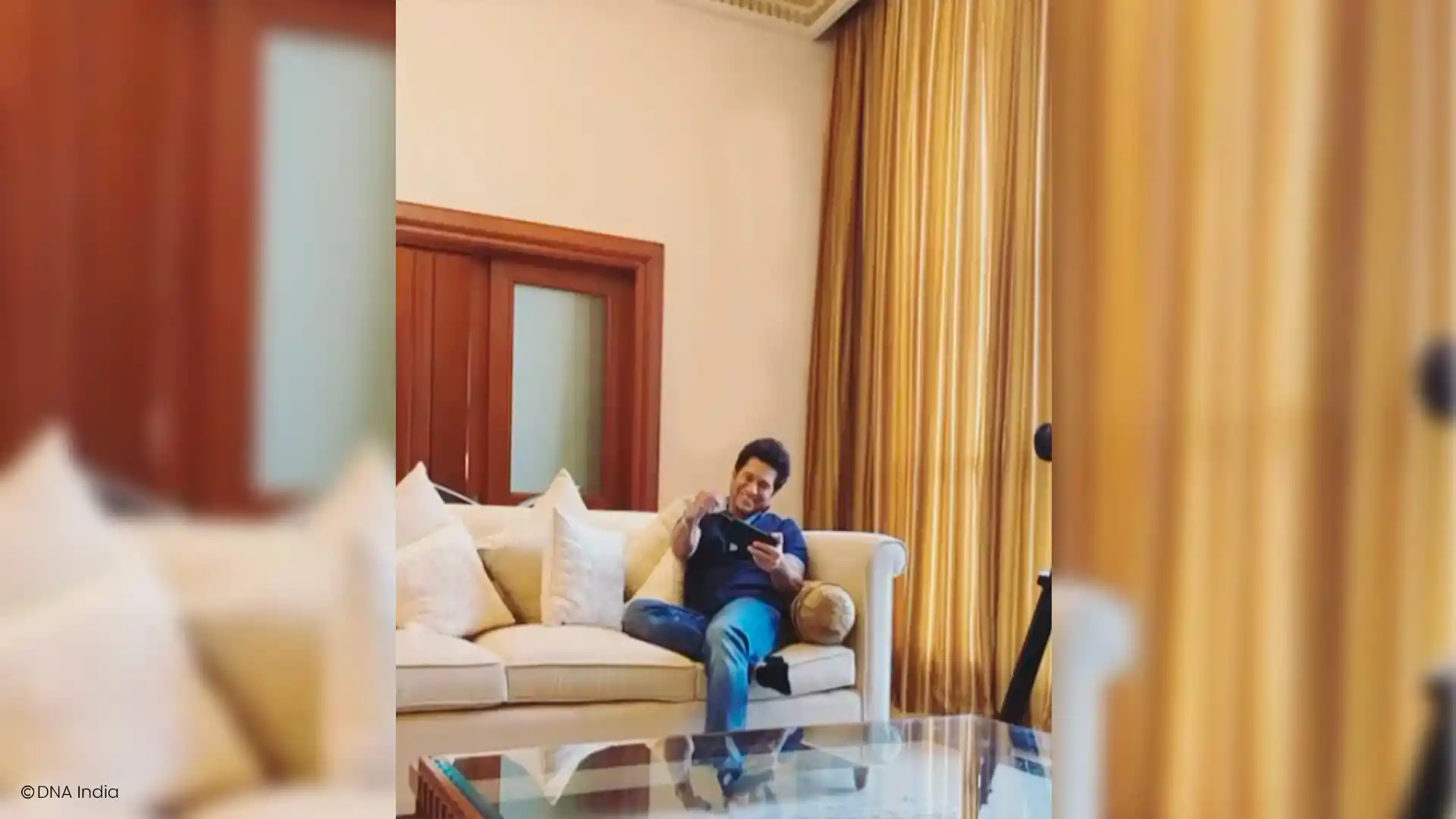 Source - DNA India     
Moreover, the living room of the Sachin Tendulkar house in Mumbai has plenty of ivory lamps, modern furnishing, mahogany brown leather chairs, and a wooden table.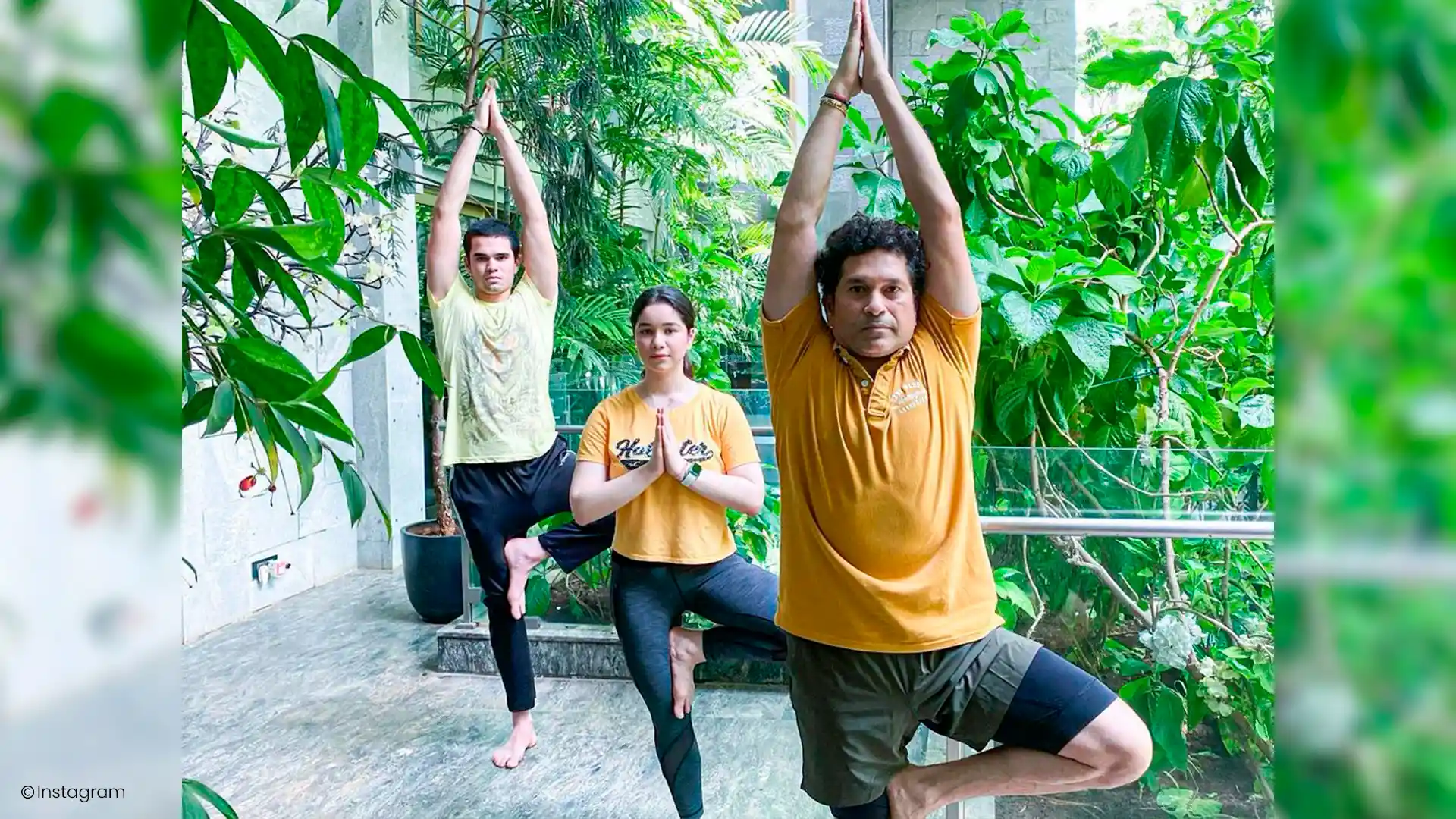 Source - Instagram     
The terrace boasts a panoramic view of the city's skyline, providing a serene and inspirational backdrop for Sachin's workouts. We can see Sachin and his kids doing yoga while celebrating International Yoga Day amidst the lush greenery of his terrace.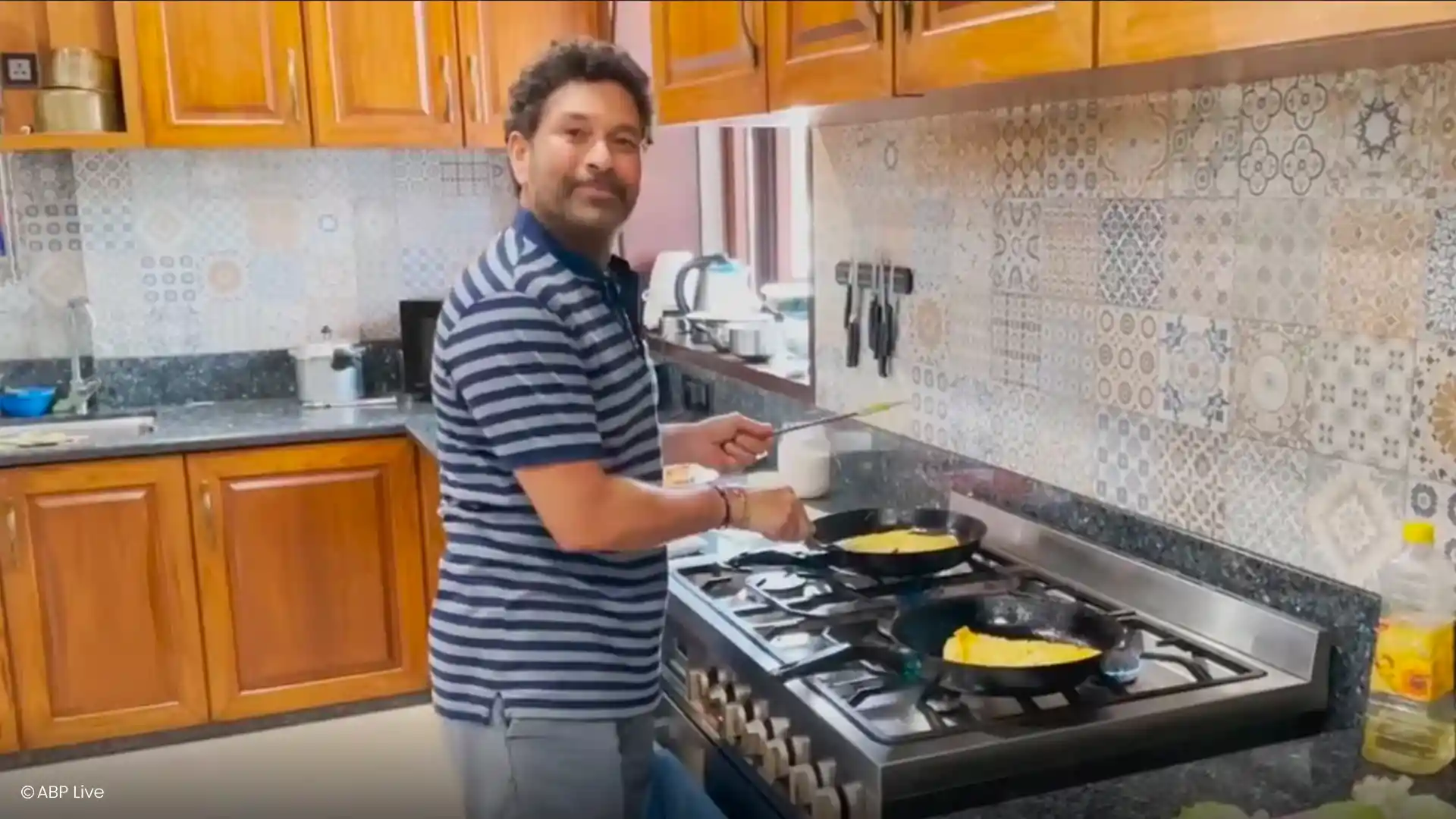 Source - ABP Live     
Sachin Tendulkar's kitchen is a true masterpiece, showcasing a blend of functionality and aesthetics. The culinary haven has spectacular tile work adorning the walls in intricate mosaic designs. Furthermore, the Sachin Tendulkar house kitchen has wooden cabinets and a grey granite top with modern appliances that bring a sense of artistry to the heart of the kitchen. 
Don't Skip Reading:Rohit Sharma House: Price, Address & Sneak Peek of Mumbai Residence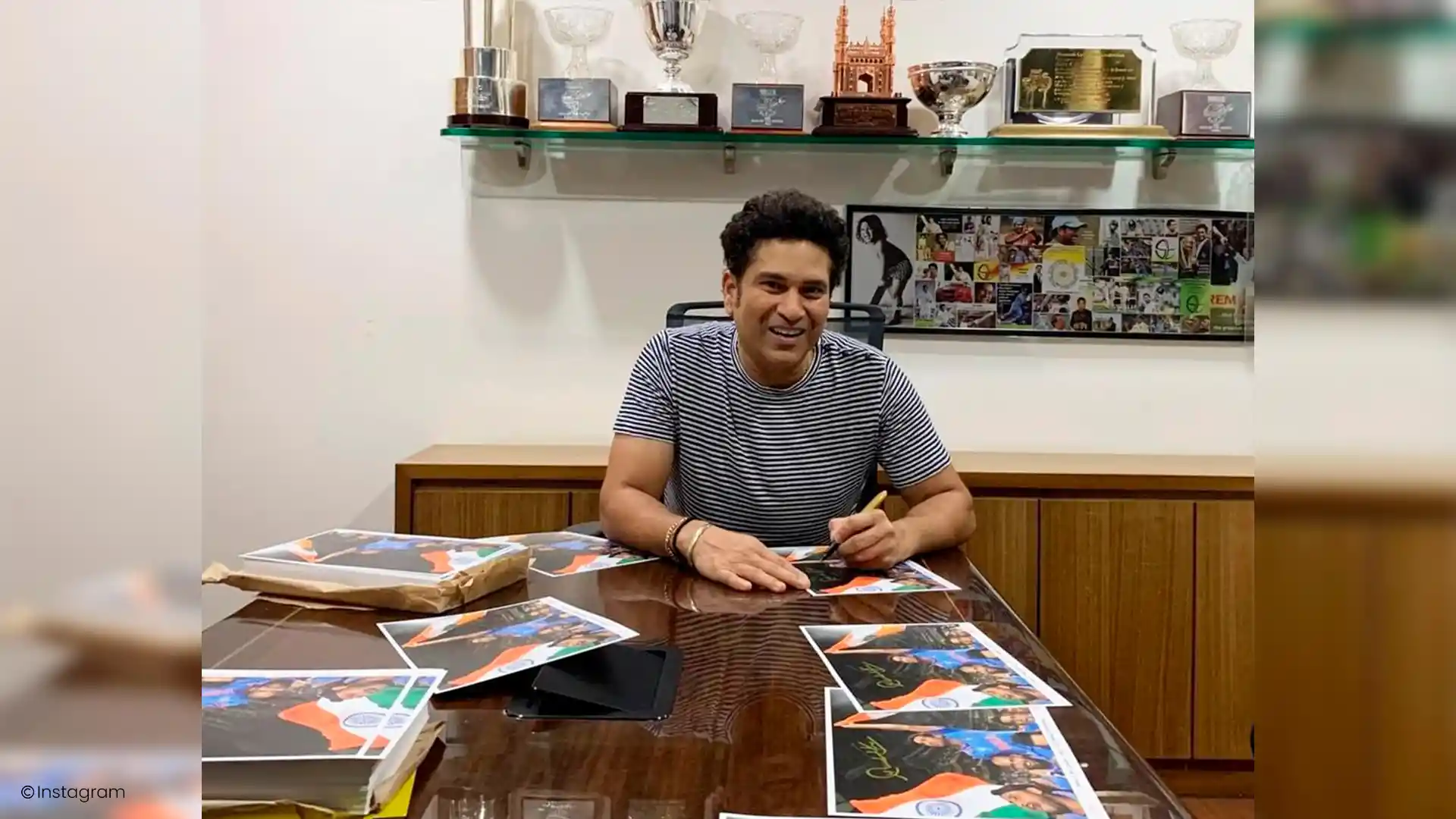 Source - Instagram     
The Sachin Tendulkar house consists of a home office that exudes an earthy and businesslike ambience designed to foster productivity and focus. There is a large wooden table with a sleek glass top, and the spacious table provides ample workspace, ensuring that Sachin has room to complete his professional tasks.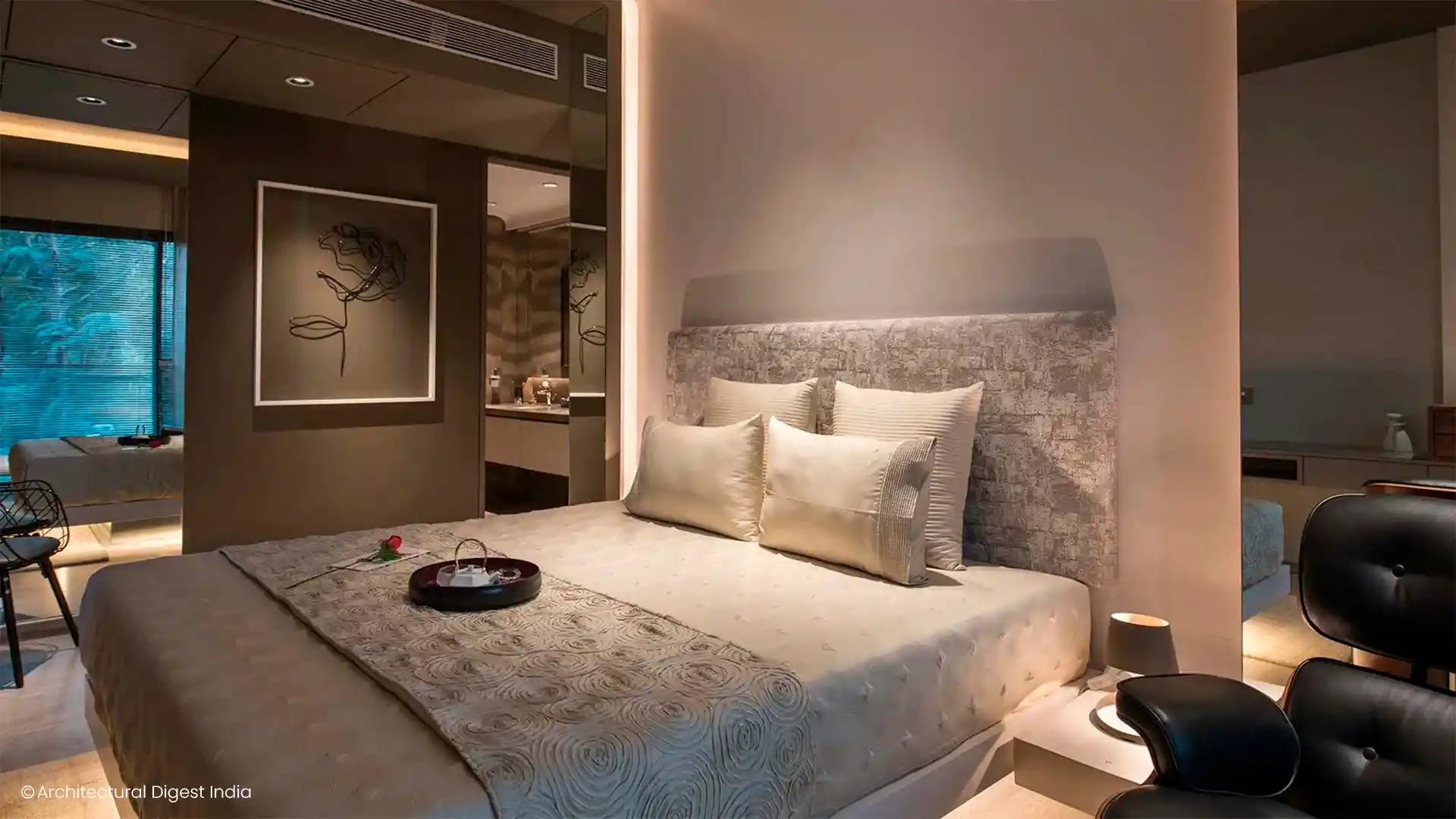 Source - Architectural Digest India    
The master bedroom of the Master Blaster typically serves as a private retreat within a home. With attention to detail regarding furnishings and aesthetics, the decor reflects Sachin's style, often characterized by simplicity and class.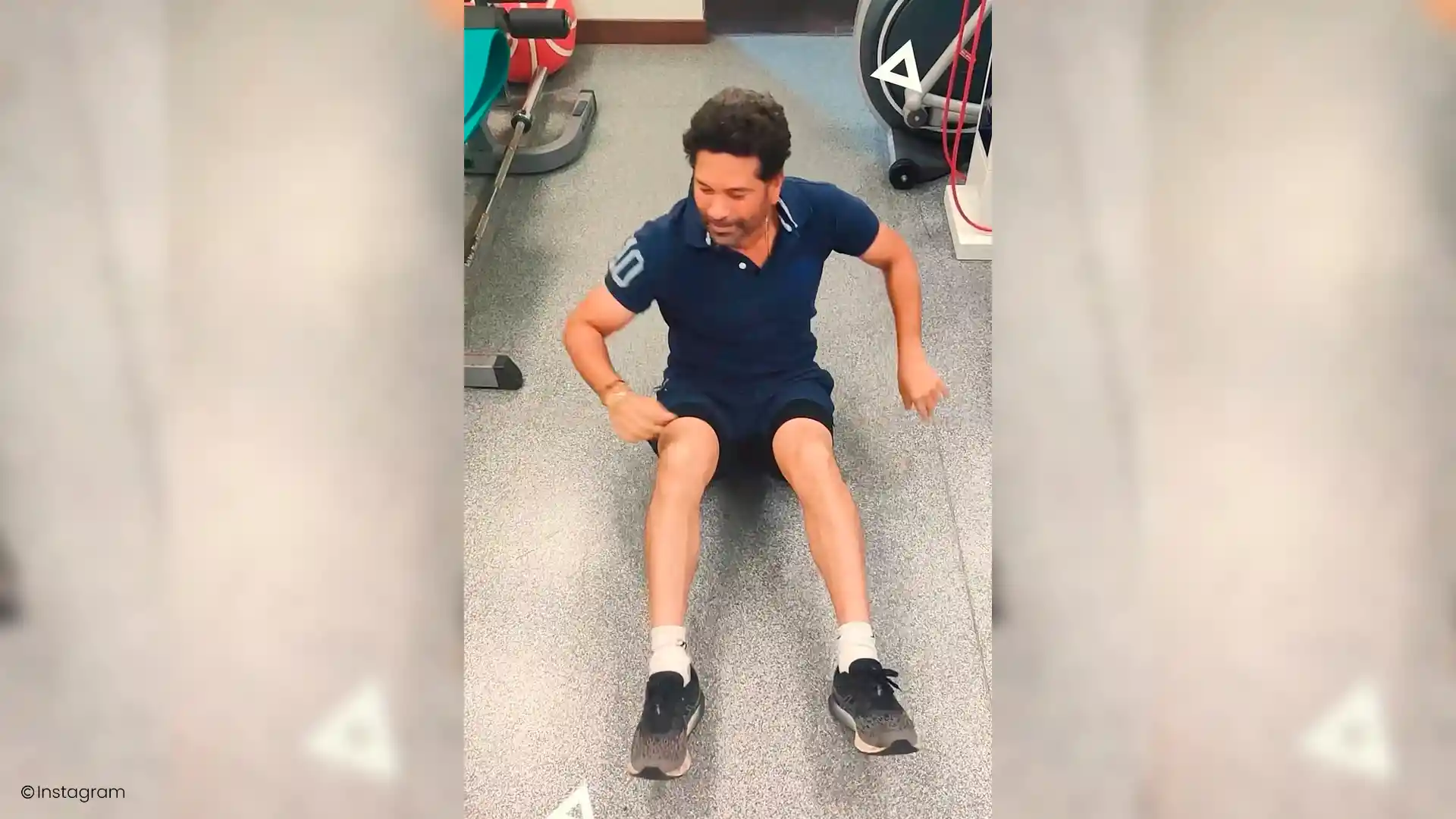 Source - Instagram    
The Sachin Tendulkar house has an in-house gym, which is a reflection of his commitment to maintaining peak physical fitness even after retiring from professional cricket.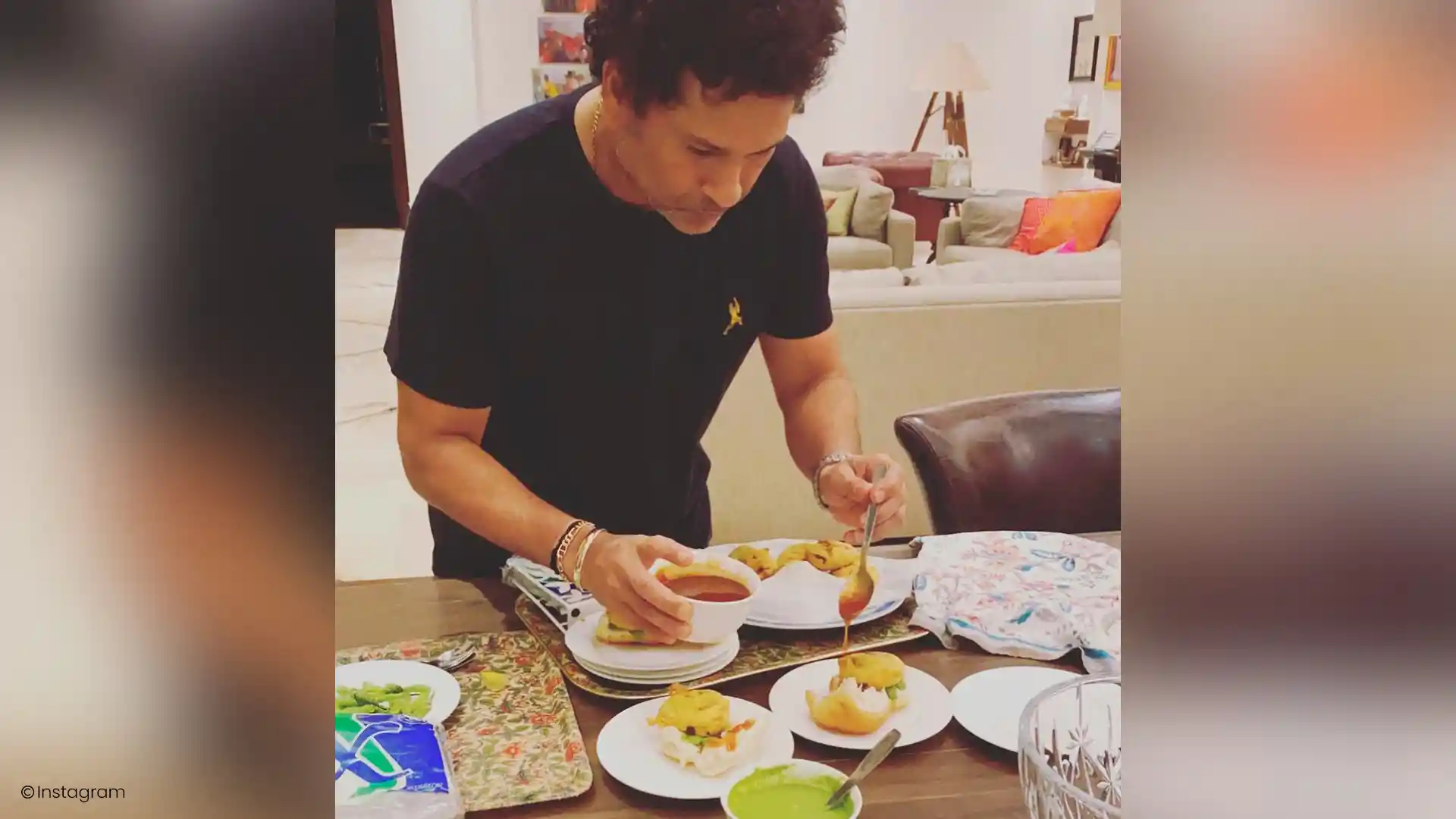 Source - Instagram    
The dining area of the Sachin Tendulkar house in Mumbai provides ample seating for family and guests, ensuring that everyone can enjoy meals together comfortably.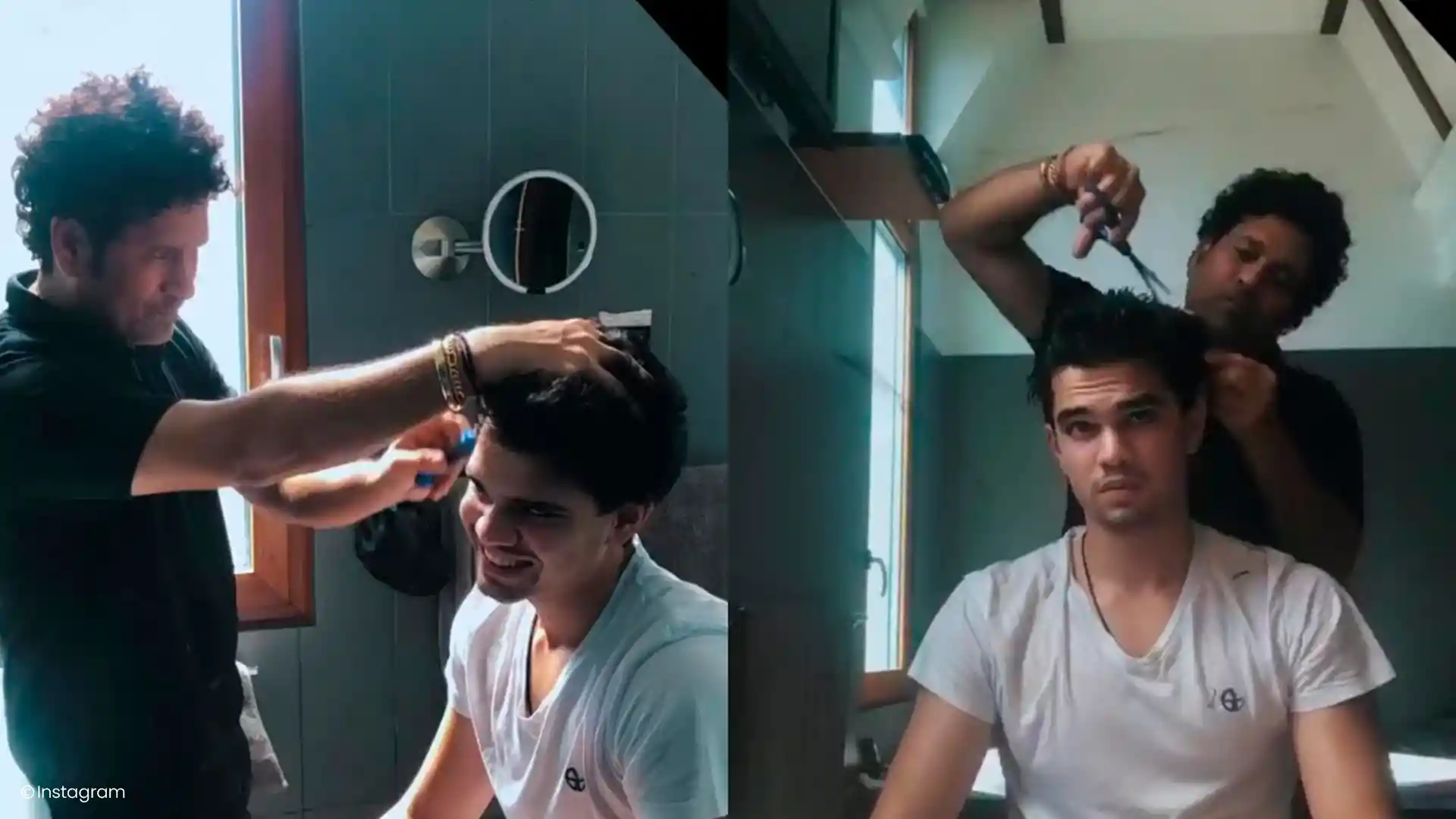 Source - Instagram    
The bathroom in Sachin Tendulkar's house has a central theme that revolves around ceramic tiles in a sophisticated metallic grey shade. The bathroom combines modern design and natural elements, creating a serene and stylish space for personal relaxation and comfort.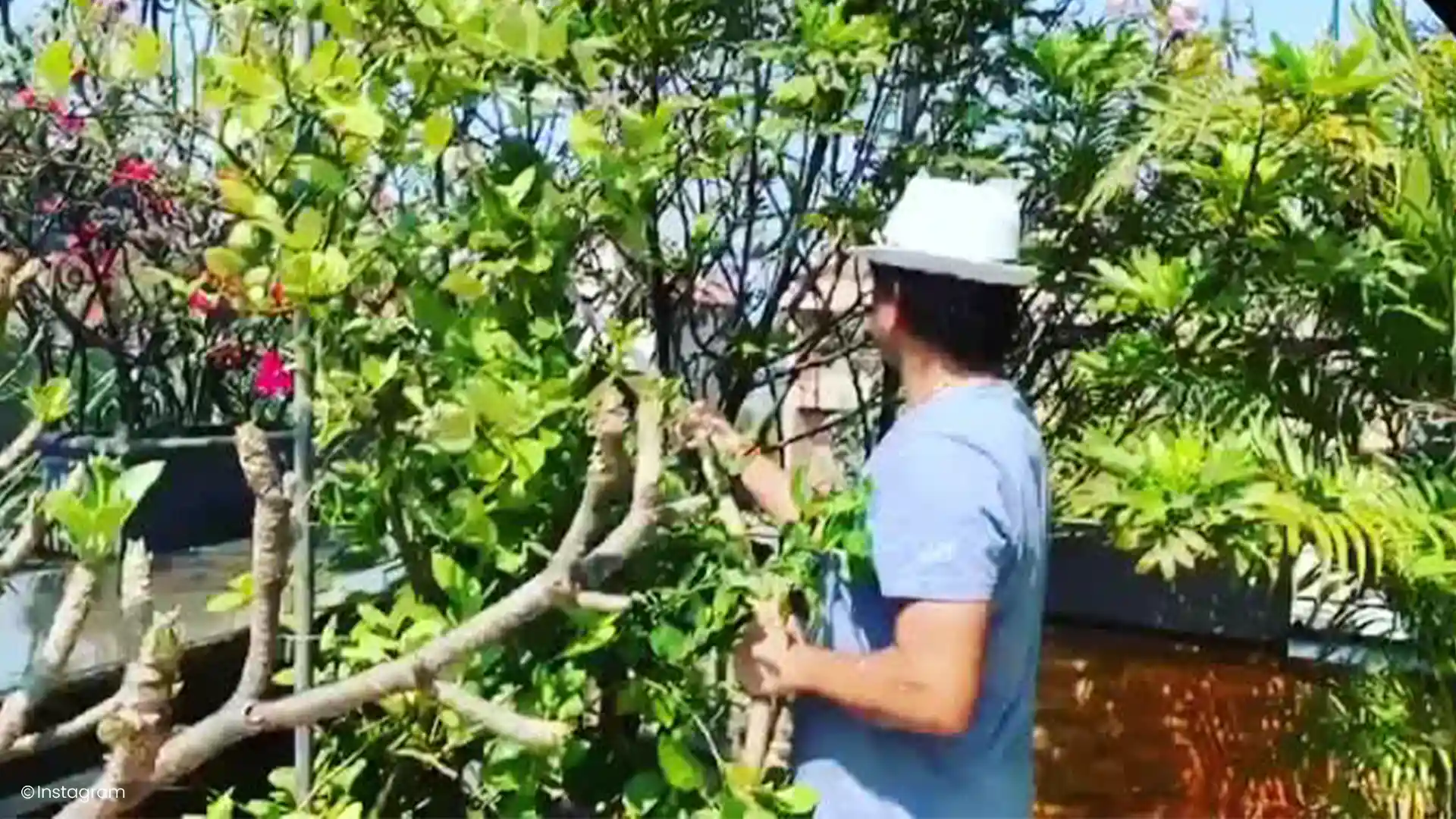 In the image of the "Master Blaster," Sachin Tendulkar,  we can see how graciously he is tending to his home garden. This gesture is a heartwarming and down-to-earth glimpse into his life beyond cricket. Sachin's love for gardening is well known, and he takes pride in nurturing the greenery around his Mumbai residence.
Don't Skip Reading: Dhoni Farmhouse: Explore The Private Paradise Like Never Before
Summing Up
With his iconic curly hair and boyish charm, Sachin Tendulkar showcased a talent beyond his years. It was in 1989, at the age of just 16, that he made his debut for the Indian cricket team against Pakistan. In that match, he faced the fiery pace of Wasim Akram and Waqar Younis with a confidence that belied his age. The boy quickly faced his meteoric rise in cricket. 
His 24-year-long, fantastic cricket journey ended on November 16, 2013, when he announced his retirement. Fans across the globe bid a tearful farewell to the curly-haired boy who had grown into a cricket legend. 
Nevertheless, even after retirement, "The God of Cricket" remains close to the hearts of millions of people worldwide. While a sanctuary of privacy, his house in Mumbai is a symbolic reminder of his journey. The Sachin Tendulkar house is a testament to the enduring connection between a sportsman and his passion. Furthermore, it is a reminder that even a cricketing legend like Sachin values the comfort of a cosy home amid all the fame and glory.