One of the biggest dilemmas that have persisted in the minds of people is whether to buy or rent a property in a city. Also, both have their advantages and down sides, some recent trends in the government policies for the real estate sector have made one more susceptible to other
There is not any one factor that can help house seekers decide whether to rent or buy a property, but many factors come into play while finalizing on anything. While buying property builds equity and is one of the fastest sources to build wealth, renting for some people is simply throwing away money to the wind.
The trends of renting real estate have excessively become popular due to the difference in home price to income levels and many people prefer renting an apartment until their home price to income levels come back to normal. 
This trend is being observed keenly in both India and other countries. On one hand renting the property can provide huge benefits such as financial relaxation and physical flexibility, owning a property incorporates a sense of security and stability in the minds and lives of the real estate buyer.

According to a market research by the Pew research center, "the homeownership among people that are aged 35 years and younger has decreased by 18 percent since 2006". In spite of this fact, many young people feel that owning a home makes more financial sense to them than renting a property. 
This is the voice of almost three-quarters of the young adult population of the country. But many also believe that owning a home relents self-torment on their lives with the burden of additional costs along with their day to day expenses. Sometimes buying may seem the right decision, it might not just be a financial one.  But owing to government's new guidelines and cut down of circle rates in many areas, purchase gets an upper hand.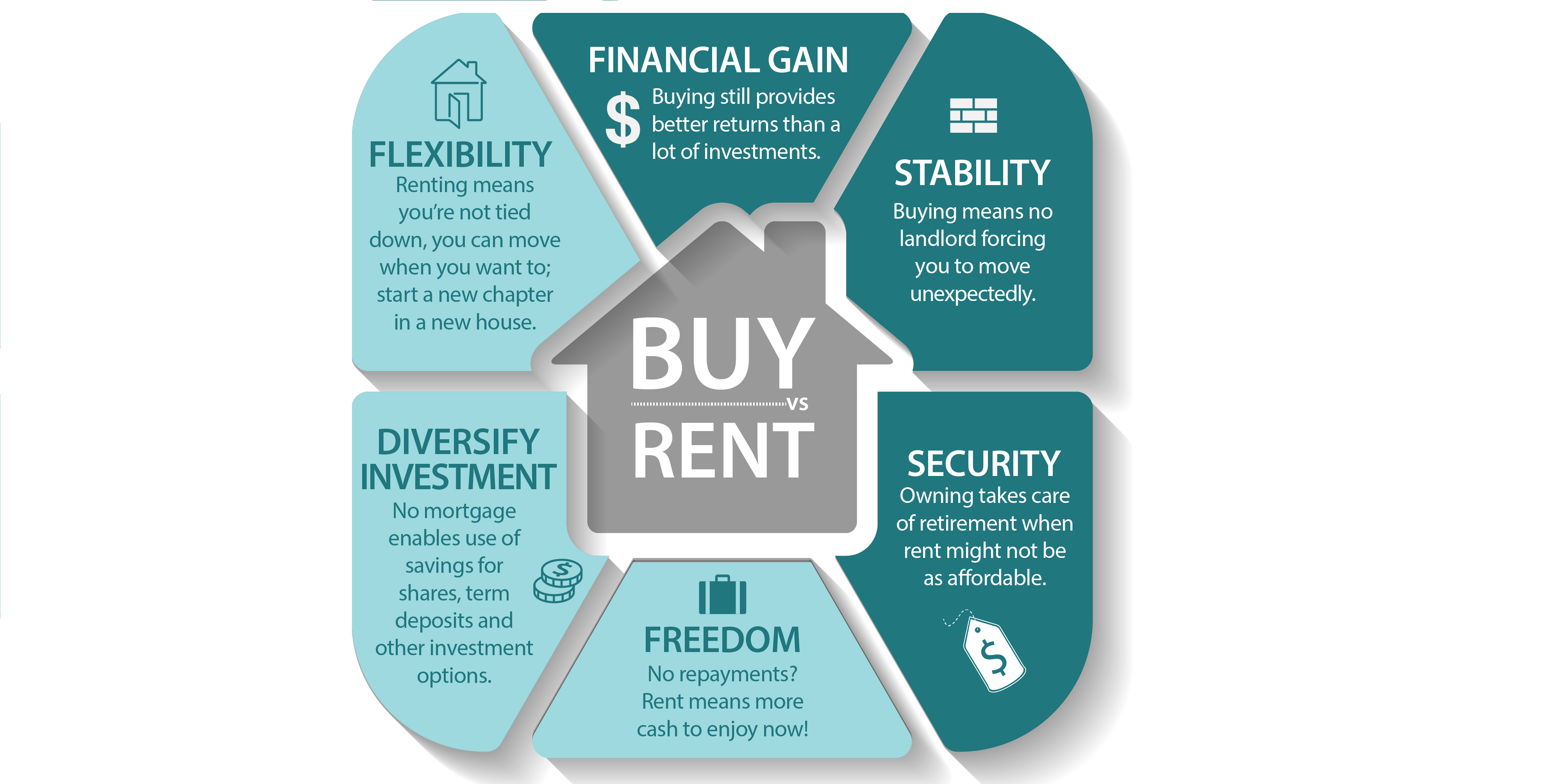 Buying a house may earn you a social reputation and sense of relaxation but is it really smarter to buy a house rather than renting one? What are the advantages and disadvantages of each of these critical decisions? Read more as we throw some light on each of them-

Renting A House/Property
Choosing a rented apartment over a buying home accounts for increased financial flexibility and mobility. If you are living in Delhi NCR and get a job opportunity in Hyderabad, moving to the new city will be much easier for you if you are in a rented house. 
Not owning a house makes it quite easier for you to move from one place to another as you are not being tied down by the burden of caretaking your own home. In ways, it is considered good for your career mobility. In other ways renting can be a good option as you can consider moving to a bigger house or shifting to a smaller house as per your needs at different stages of your life and as per your requirements.
Renting also provides you the flexibility to move to different localities if you have been living at the same place for a longer duration of time. Since buying a dream home in metro cities has become an expensive affair and even if you do buy, installments alone take up 50 percent of the salary. This leads people to live on extremely tight budgets and limited lifestyles.
Buying A House/ Property
One of the greatest benefits of buying a property is that you get an asset of your own. EMIs come to the rescue while buying a property as you can get it done according to your paying capacity. Moreover, the value of your capital asset appreciably increases over time, thus putting you in a situation of advantage in the future. 
Most of the house owners believe that owning a house saves them from the heat of the inflation and provides a sense of financial security. This is the reason why most people think of buying the property before they retire so that there is no worry of moving out once the lease ends.  

Owning your own house is also emotionally fulfilling and ultimately leads to stability in one's life along with social reputation. And with more affordable housing schemes and RERA act to protect the rights of the buyer, buying a house has become much easier than it was years ago.
According to a recent report by the Economic Times, here are a few major cities of the country where studies have been carried out to find out what is better for the real estate seeker. Buying or Renting?
Chennai: It is the third most expensive city to buy a house in. For those with an annual income of up to Rs 16 lakh, renting is recommended. 

Delhi-NCR: With affordable housing scheme spreading its wings in many parts and drop of circle rates in Gurugram, purchase seems a better option in the city.

Hyderabad: If you consider the EMI vs. rent ratio, it is the best destination for buying a house in Hyderabad.


Mumbai: The costliest city to buy or rent. But due to the extension of living spaces to Navi Mumbai, buying a home is no longer a dream in Mumbai. 

Kolkata: An affordable city to rent or buy in. Those with an annual income over Rs 15 lakh can buy a house. 

Pune: Prices are comparable to those of Bangalore. Households with an annual income of up to Rs 14 lakh should rent a house. 

Ahmedabad: An affordable property market. Those earning less than Rs 8 lakh a year should rent. 

Indore: The most affordable city to buy or rent a house in. Anyone earning more than Rs 8 lakh a year can afford to buy a house. 

Kochi: Costliest among the new entries. Households with income of up to Rs 8 lakh should choose to rent a house instead of buying. 

Lucknow: As rents are low, those earning less than Rs 8 lakh a year should take homes on rent. 

Jaipur: Another city with affordable real estate costs and rents. Many areas of Jaipur are welcoming new buyers with eye-catching schemes.  


Though buying a home can sound more persuasive as it can also act as a mortgage in a time of crisis in the future. However, with the government to back the rights of the buyer, the purchase has now become one of the favorable and safe options in real estate. The decision after all that you ultimately make is a reflection of your particular desire and should be thought upon quite well.