Table of Content:
Now that you have landed on this blog, it must be because you are wondering what the value of your property is. 
It's not that COVID-19 affected only the real estate market, but we all were affected by it. However, we are back to normalcy but continue to rely on technology for most of our answers. Doubt it? Well, think for yourself-If you wish to have midnight munchies, you Swiggy or Zomato; if you want to get vegetables in 15-20 mins, Blinkit delivers; if you wish to buy clothes, you use Amazon, Flipkart, etc. 
Then why should only real estate be left behind? Should technology not bless us with some property valuation calculator to get access to a fair price? Ding ding ding! We have a winner, and the days of depending on real estate agents to know the value of a property are far left behind. Technology has blessed us with a property valuation calculator tool that enables finding the property's actual value in just three clicks.
Clicworth is a home valuation tool by Clicbrics that provides you leverage over property prices with maximum accuracy. Let's explore Clicworth and how to use it to know the property's value.
Clicworth: A Property Valuation Calculator By Clicbrics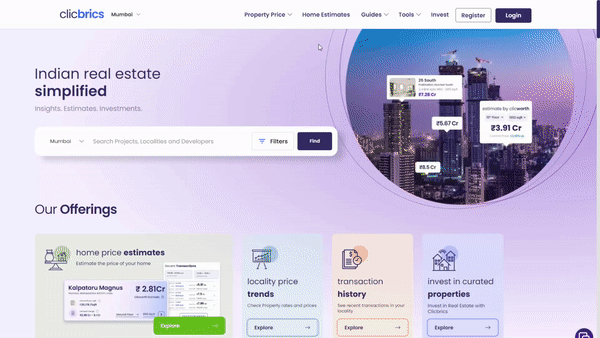 Clicbrics, India's online real estate platform, offers complete transparency to buyers and helps them to make sound investment decisions based on solid property price insights.
Clicworth is a property valuation calculator introduced by Clicbrics. Clicworth was launched with a mission to establish a new paradigm for India's online real estate marketplace that combines expertise in real estate and technology.
Clicworth is used to estimate the accurate residential property market value. Backed by massive data, it incorporates public, proprietary, and user-submitted data to estimate any property's price accurately. The tool offers home estimates in multiple cities in India.
To find out the price of the property you are interested in, all you require is the following information-
Details such as Project, Address or Locality


Floor number

Sq. footage of the apartment
Steps To Find The Value of Your Property
First, visit Clicbrics and click on Home Estimates at the top of the page. You'll be redirected to the Clicworth.

Step 1: Once you are on the page, enter the project, address, or locality.
Step 2: Select the floor and mention its sq footage area.
Step 3: You'll be able to check the estimated value of the property.


Just these three simple steps, and Clicworth will provide you with the estimated range of the property. The evaluated price will also be followed by an EMI Calculator detailing the basic down payment, home loan EMI, interest rate, and tenure. It also offers data around the sold properties in your neighborhood to let you compare the prices.

If you encounter any realtor stating that your dream home is out of your budget, log on to Clicworth, discover the price yourself and make a wise investment!