Table of Contents:
EPF stands for Employees Provident Fund, which is an investment fund made over a long term with the contributions made by the employee, employer, and, in some cases, the government. The Employees' Provident Fund Organisation administers the social security plan so that it can provide safety to employees at the time of their retirement.
An employee can withdraw EPF in the below-mentioned cases.
At the time of retirement

If employed for more than two months

Sudden death before the retirement age
If one wants some information regarding EPF, there is a Universal Account Number. Many people are unaware that PF money can also be used to buy a house or for the repayment of a home loan. 
Also Read: Cash versus financing in real estate
What Does UAN Mean
A Universal Account Number is a 12-digit unique number provided to employees covered under the EPF program. UAN Login allows easy access to the EPFO Passbook, contributed details, and total balance in an EPF account. UAN gets transferred in case the employee wishes to shift to a new job. Moreover, it is necessary for employees to link UAN with their AADHAR number. If an employee does not link for some reason, they will not be able to contribute anymore to the PF account.
Can You Use The EPF Amount To Buy A House
The motive of EPF money is to provide support after retirement, but there is a provision where an employee can use the money to purchase a new home. Moreover, the amount can also be used in the case of repayment of home loans. Nevertheless, you cannot withdraw the whole amount from the PF account for housing purposes only. Below are the conditions which you have to keep in mind:
Suppose you withdraw the accumulated PF amount to purchase a ready-to-move-in apartment. In that case, your PF withdrawal will be restricted to 36 months of the basic salary of the DA or the cost of the chosen property (whichever amount is lower will be chosen).

If you buy a land parcel, the PF withdrawal limit will be 24 months of the basic salary with DA or the cost of the plot. (whichever amount is lower will be chosen). 
Also Read: Key financing considerations before buying a home
Repayment of The Home Loan Using PF Money
If you are a salaried employee with a PF account, you are also eligible to withdraw the amount for house loan repayment purposes. But to use this, you should be a salaried employee and a PF contributor for at least ten years. When you use the PF withdrawal for the home loan repayment purpose, the withdrawal will be limited to 36 months of the basic salary and DA.
If you wish to get this money, you need to get your home loan from a registered banking institution or non-banking financial institution. In case you take a home loan privately, this facility cannot be availed in that scenario.
Using PF Money For Home Construction
You can utilise the EPF money for the construction of your new home. In order to be eligible for this facility, you need to be a member of a registered housing society with at least ten members. Moreover, the construction of the property must start within six months from the date of the withdrawal of the PF money. 
Points to keep in mind
You always have to remember that withdrawal of PF for any house-related activity is a once-in-a-lifetime scheme. 

A salaried employee who is making the PF contribution should have a UAN number. 
Also Read: Finance-Savvy Tips to Simplify Real Estate Investing
How To Find Your UAN Number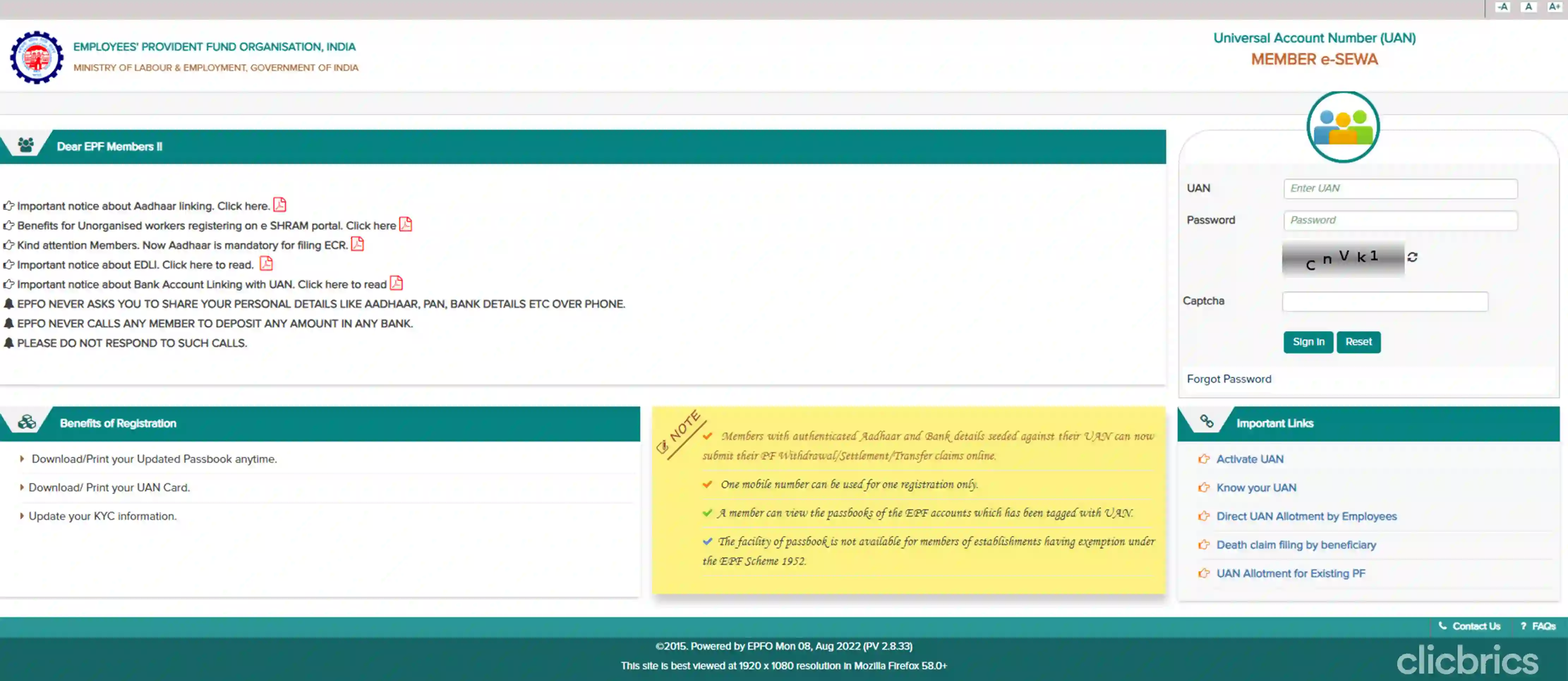 You can ask your employer to give you the UAN number. In most cases, a UAN number is written on the monthly salary slip. If you experience difficulty accessing the UAN number, you can check your UAN online.
Steps to find your UAN number

Step 1: Log in to the official website of EPFO Home.
Step 2: Click on the 'Know your UAN' tab, which you will see on the right-hand bar.
Step 3: After getting redirected to a page, you will be asked to fill in details like your mobile number and captcha code.
Step 4: After filling in the details, click on "Request for OTP".
Step 5: Enter the OTP and click on "Validate OTP'.
Step 6: Enter the required information such as name, DOB, AADHAR/Pan Card, and code.
Step 7: Choose 'Show My UAN', and your UAN will be visible on the screen.
Also Read: How Far Will Home Prices Rise in 2022? 
How To Activate Your UAN Number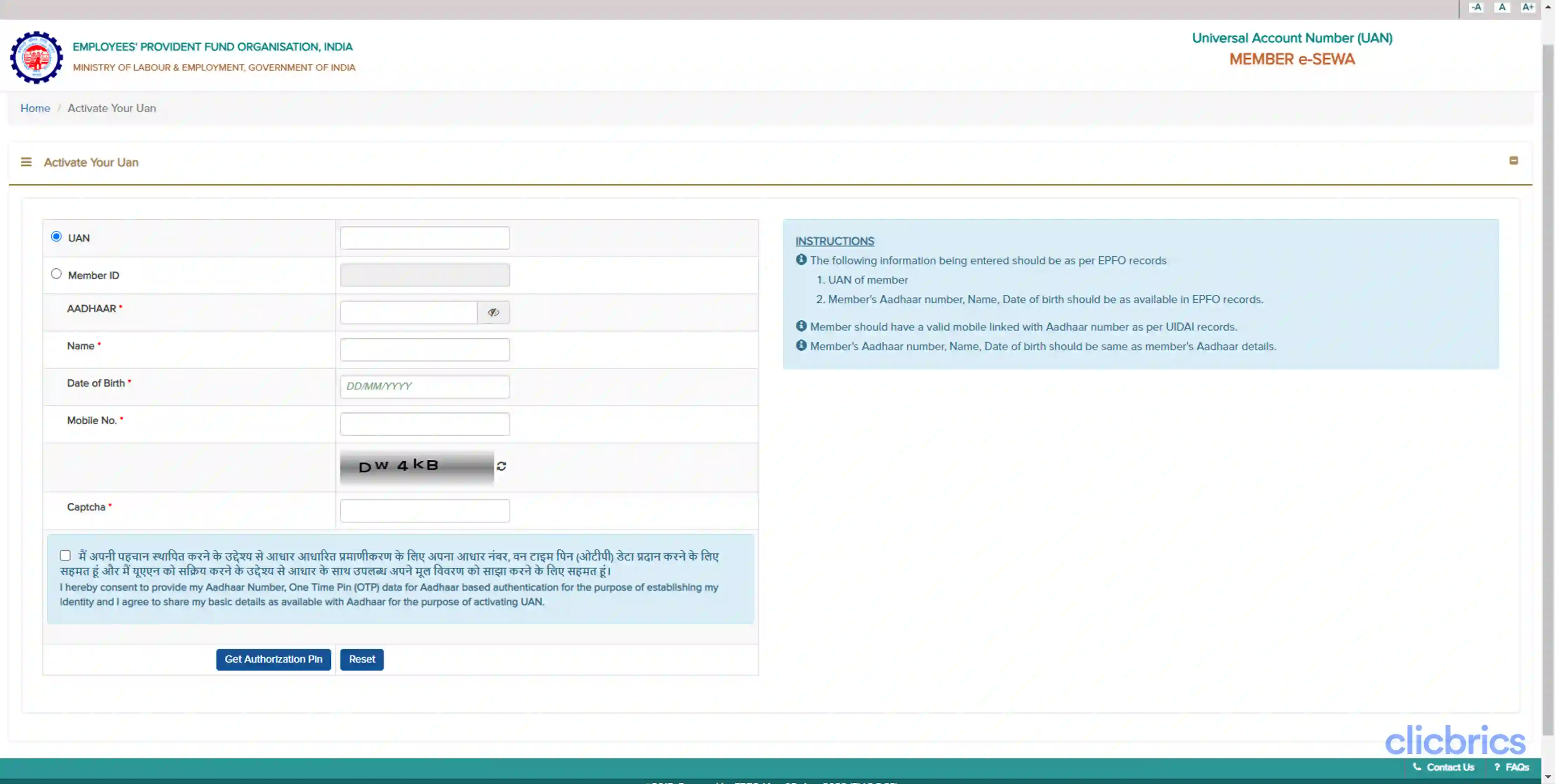 If you wish to avail yourself of the EPFO home portal services, activation of your UAN number is mandatory. Follow the below steps to activate your UAN number.
Step 1: Go to the EPFO website.
Step 2: Click on "Activate UAN".
Step 3: Enter the necessary information.
Step 4: Click on "Check the declaration." The declaration specifies that you authenticate the agency to use the Aadhar number, OTP, and basic details.
Step 5: Click on "Get Authorization Pin" and enter the PIN you received.
With these five steps, your UAN number will be activated and ready for EPFO login.
Also Read: Important 3 Factors to consider before prepaying a home loan