Millions of people wish to have a place they can address as 'home.' Many become successful in building it, and some struggle. If you got successful in buying your home, your job doesn't end there and then but actually starts! Confused? Well, who do you think will protect your home at the time of damage done by calamities, theft, fire, or anything for that matter? Being a homeowner is not easy but what's wise is to know how to secure your home so that it provides shelter to you for life. A home insurance plan is a policy that helps in covering the costs and damages that occurred to your house. A home insurance plan safeguards your property against unknown mishaps and potential risks. To know more about it, continue reading this article and understand the eligibility criteria for a home insurance plan. 
Why Do You Need a Home Insurance Plan?
Losses to man-made problems like riots, thefts, vandalism, property destruction, etc., or natural calamities like earthquakes, windstorms, hail, lightning, etc., can lead to huge financial losses. In order to protect your property from such unforeseen incidents, you need a home insurance plan. However, the policies may differ in what coverage they provide, so it's better to know what coverage is offered under the home insurance plan and what is excluded. 
1. Coverage is offered under Home Insurance Plan
Home insurance plans cover various damages; for example- the damage done by electric wire or structure damage, broken doors/floors/walls, water pipelines, etc. So, home insurance just doesn't take care of your house but also covers the loss done to the contents of the house. To clear out the confusion, it can be broadly divided into the following kinds of costs on the insured property as below-
Interior and exterior damage costs

Damage that is done to personal assets and other belongings from a house

Physical injuries when incurred while on the damaged property are also covered. 
Not to forget that the home insurance policies differ based on residence type (rented/owned). Other factors like place of residence, replacement cost, and location also affect the home insurance plan. So, it depends upon what kind of 'coverage cost' a person would opt for. You are also given an option about the amount of premium and deductible. (One is required to pay a deductible before claiming if the premium falls short, and when the deductible is high, the premium becomes less). 
2. Exclusions 
Although home insurance plans cover man-made and natural calamities, a few accidents are still not covered. For example-
You can't receive coverage for damages done intentionally, damages performed in negligence, at the time of war, or acts of God. 

Some provide damage done by earthquakes and floods, and some don't. So, basically, it depends on which service providers you are approaching and how they will customize policies for disasters. 

Damage occurred because of zero maintenance and negligence. 

Smoke arising from industrial or agricultural operations is not covered for fire. 

Damages done intentionally, like a collision of your vehicle with others, will not be taken care of under home insurance plans. 

Damages done under the Ordinance of Law, i.e., Court's order, will not be covered.

Damages due to war hazards also are not covered by home insurance plans. 
Benefits of Having a Home Insurance Policy 
There are certain things that are not in our hands. Surely spending money to recover a loss isn't a treat either. So, by now, you must know that apart from covering financial loss, certain other things are covered by home insurance plans, as discussed above. 
In a similar manner, to have a better clear perspective, it would be wise for us to know what benefits home insurance plans offer us. So following benefits you will get to enjoy once you take home your insurance policy-
You can get help for damage control due to unfortunate events. 

You can also get third-party insurance, where the damage done by the third party is covered in insurance without including you in any legal proceedings. 

Home insurance also covers extensions of your house, like a garage, shed, and compound. 

Depending on your policy, you can customize and add protection to your furniture, electronics, and home appliances. 

Home insurance also has your back at the time of the theft, offering coverage against theft. 

You will observe that many insurers are offering policies at competitive premium rates. It can be the best deal considering when you look at the coverage that you get in return. 
Among the benefits mentioned above, there is one more benefit! A home insurance plan will give you a certain amount of peace of mind, which, compared to other benefits, is priceless! 
We are pretty sure reading the benefits intrigued you, which is why you wish to know whether or not you can avail of the home insurance plan. Certain eligibility criteria exist to meet when opting for a home insurance plan.
Eligibility Criteria for Buying a Home Insurance Plan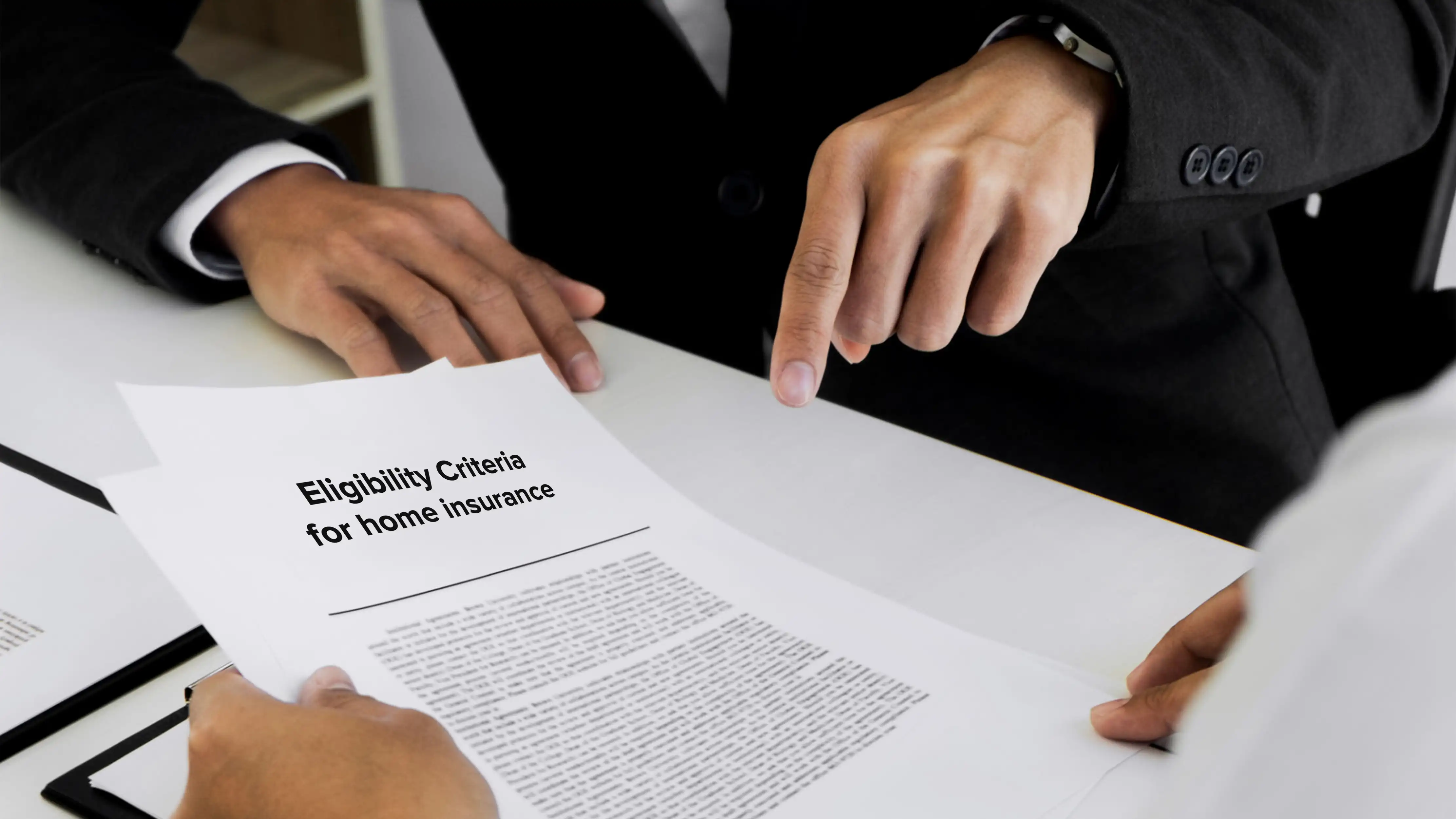 It is to keep in mind that the home insurance policy eligibility varies from company to company. Nevertheless, there are certain eligibility criteria we have mentioned below-
You can buy home insurance if you are a homeowner. 

You can have home insurance if you live on rent and wish to secure valuable possessions. 

If you live in a society, any authorized community member has the right to buy home insurance.

The minimum age to buy home insurance is 18 years, and the maximum is 60 years. 

A kutcha house, plot, land, or home under construction cannot be insured. 

You will stand a chance of getting disqualified if your credit history is poor. 

The insurance company will consider proximity to the forest or sea area. So the geographic location will also be considered when looking to qualify for a home insurance plan. 
As house owners, it's your responsibility to check insurance plans online and compare them before buying. The policy must suit your purpose before you get to purchase one. 
Also read: Home Loan Insurance- A Simple Way to Protect Your Home Loan