Table of Content:
Kerala is nestled on the southwestern coast of India and is surrounded by the Arabian Sea to the south and west. It is dotted with lush green landscapes, tranquil backwaters, and a vibrant cultural heritage. Being one of the prime destinations to travel to and explore, the networks of airports in Kerala welcome visitors with open arms, ensuring smooth, memorable, and convenient travel. 

Today's blog will take you through a virtual tour of airports in Kerala that will connect you to 'God's Own Country' and highlight their unique features. So, without further ado, let's start exploring. 
Operational Airports In Kerala
1. Cochin International Airport (COK)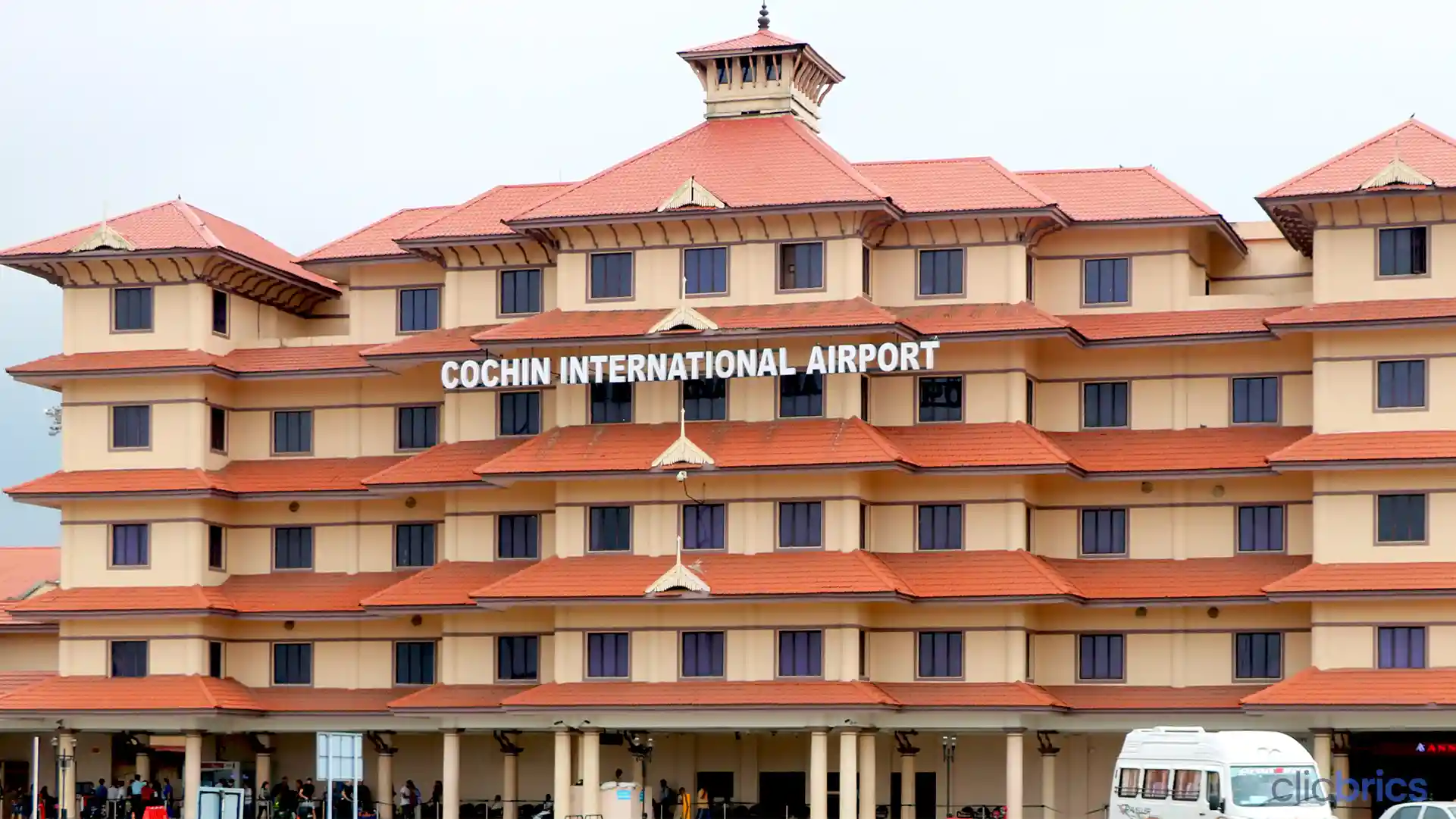 Located in Nedumbassery, Cochin International Airport is one of the best airports in Kerala. It is an international airport in Kochi, Kerala, India. Kochi Airport is one of the first airports to be developed under a public-private partnership. The airport is backed by solar power and has a dedicated solar plant. Below are some of the popular features of Kochi Airport:
It has three terminals and operates both international and domestic flights. 

The airport is spread across 1300 acres and at an elevation of 5 metres.

The Kochi Airport, also known as Nedumbassery International Airport, enables good connectivity to international destinations like Doha, Abu Dhabi, Jeddah, Dammam, Muscat, Singapore, Riyadh, Colombo, etc. Furthermore, some domestic destinations served by the Kochi airport include Pune, Hyderabad, Jaipur, and Visakhapatnam. 
Nearest Tourist Attractions:

Tourist attractions like Fort Kochi, Athirapally Falls, Cherai Beach, Willingdon Island, Alleppey, and Kumarakom are close to Kochi Airport. Some fabulous beaches include Puthuvype, Munambam, Cherai, Kuzhupilly, and Njarackal. Moreover, if you are looking for an airport near Munnar, you can also travel via Kochi International Airport at an approximate fare of around Rs 1300. 
Interesting Read: Kochi Metro: Route, Map, Timings, Fare & List of Stations  
2. Calicut International Airport (CCJ)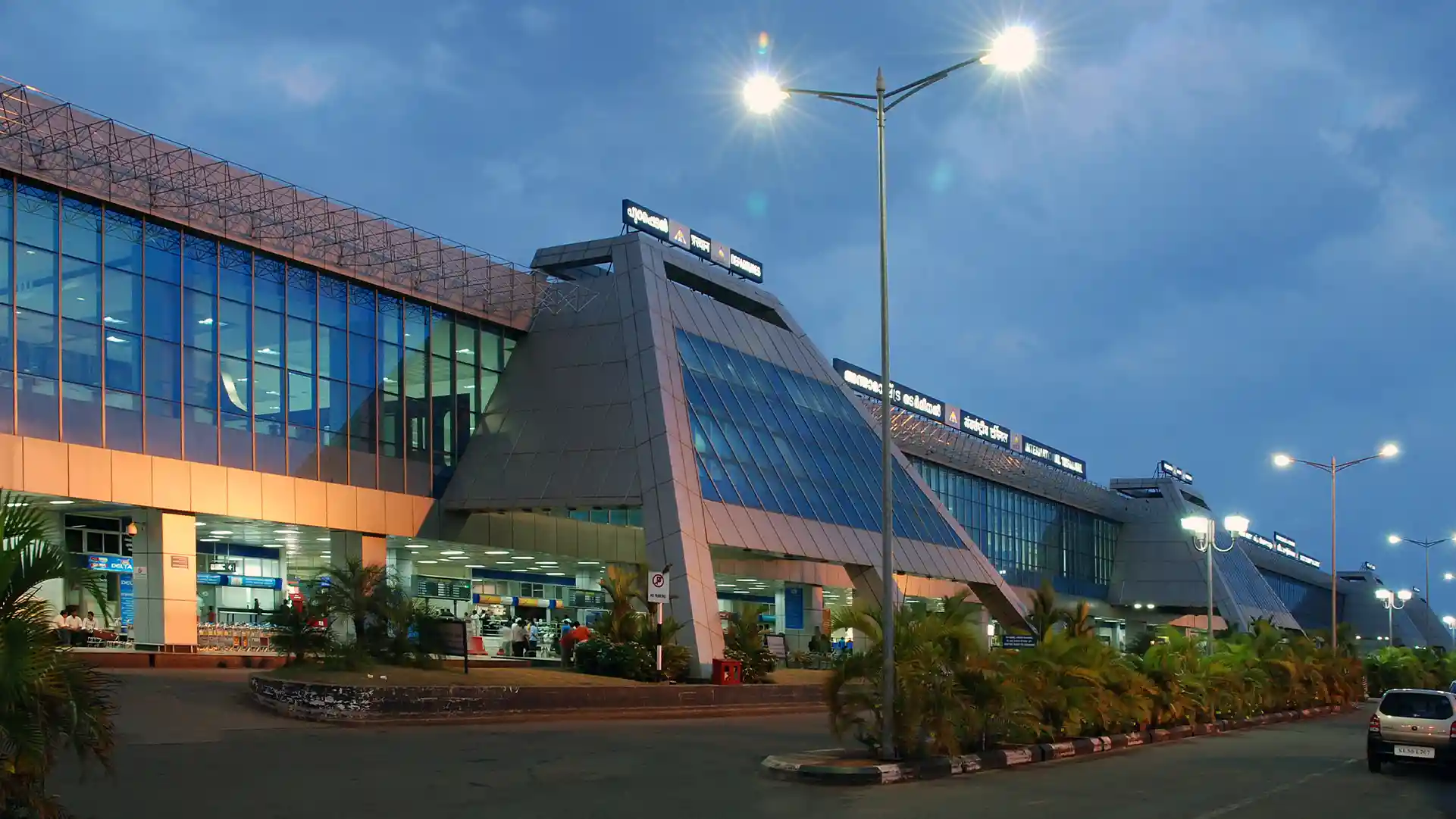 Source: Aera.Gov
The Calicut Airport is also known as Kozhikode Airport or Karipur Airport. It is famous for being one of the busiest airports in Kerala. The Calicut International Airport is situated 28 km away from Kozhikode city centre. The airport is spread across 1300 acres and has domestic and international terminals. Calicut Airport offers world-class facilities to its passengers, like:
Flemingo Duty-Free

Child care room 

Wheelchair facility

Currency exchange

ATM counters

Restaurants, cafes, and executive lounges

Parking facilities 

Meditation room. 
Despite the fact that the airport was inaugurated in 1988, it received international status on February 2, 2006. Karipur (Kerala airport name) is well-connected to international destinations like Doha, Bahrain, Dubai, etc. The Calicut International Airport is the first airport in Kerala to use a unique runway lead-in lighting system, in contrast to other airports in the state. It was done to improve visibility during severe weather conditions. 
Nearest Tourist Attractions:

Major tourist attractions near Calicut International Airport are Dream Valley, Kalarandi Waterfalls, Cobra Waterfalls, Mini Ooty, Cheruppadi Mala, and Super Bazar. 
3. Thiruvananthapuram International Airport (TRV)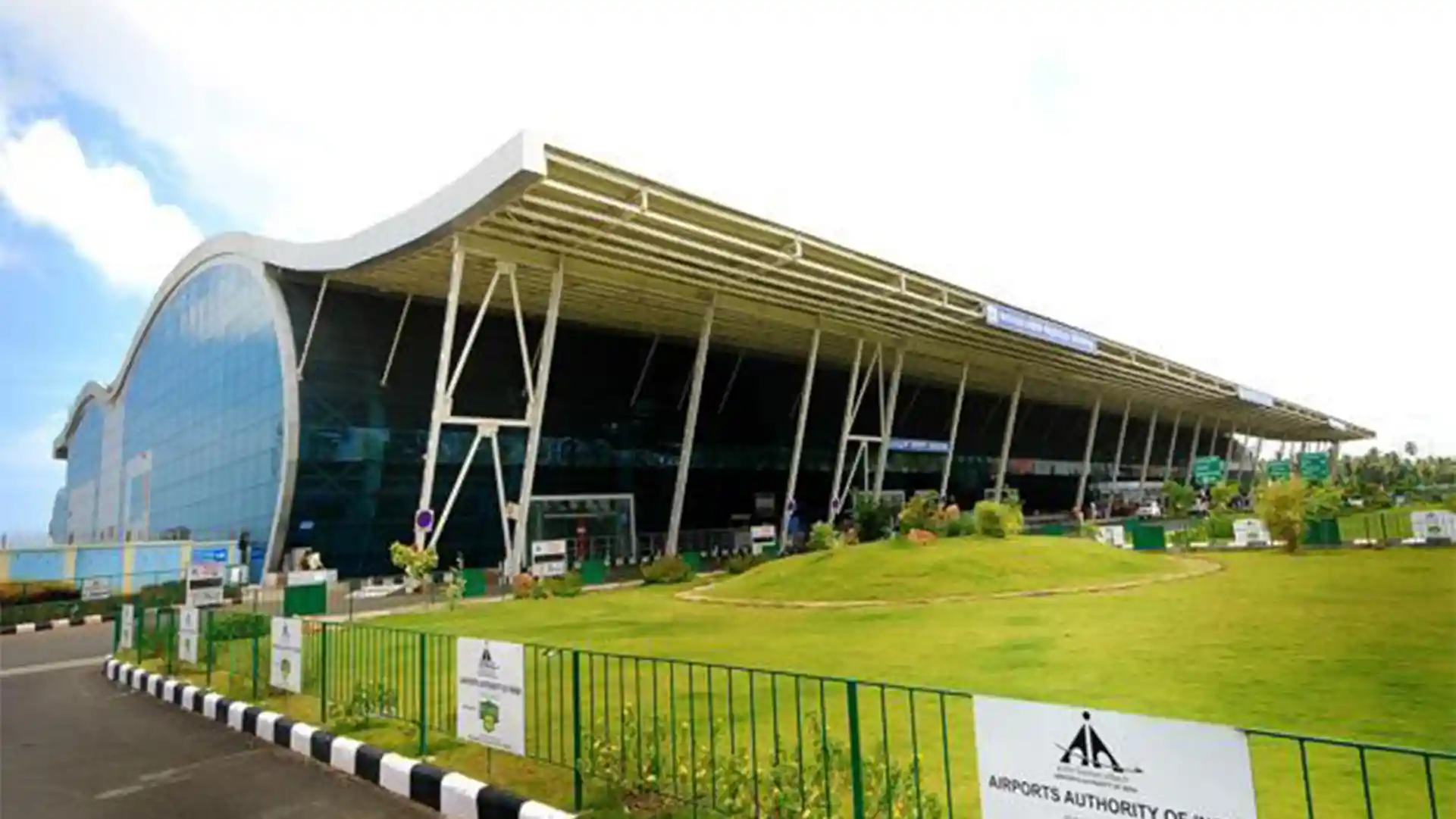 Source: Polomap
Another of the famous and important airports in Kerala is the Thiruvananthapuram International Airport. It is the first airport in Kerala, is located around 7 km from the city centre and is spread over approximately 700 acres. Thiruvananthapuram Airport attained international airport status in 1991 and is considered the second busiest airport in Kerala. There is one international and one domestic terminal, with a passenger handling capacity of 1.95 million annually. Below are some of the features of the Thiruvananthapuram International Airport:
The airport is well-equipped with modern technology and facilities. 

There is a Visa on Arrival Facility at Thiruvananthapuram International Airport for visitors from 11 countries. 

The warehouse within the premises has the capability to handle the import of 21000 MT and the export of 27000 MT per year. 
The airport is renowned for its exquisite architecture, which captures the region's rich cultural past. A comfortable and enjoyable journey is guaranteed for travellers because of amenities like lounges, restaurants, duty-free stores, and vehicle rental services.
Nearest Tourist Attractions:

Shanghumugham Beach, Kovalam Beach, Varkala Papanasam Beach, Veli Lake, Sree Padmanabha Temple, Kuthiramalika (Puthenmalika), Sree Chitra Art Gallery, Napier Museum, Zoo, Vizhinjam, and Ponmudi Hill Station are some of the famous tourist attractions near Thiruvananthapuram International Airport. 

Interesting Read: 10 Biggest Airports in India: Fueling India's Global Connectivity 
4. Kannur International Airport (CNN)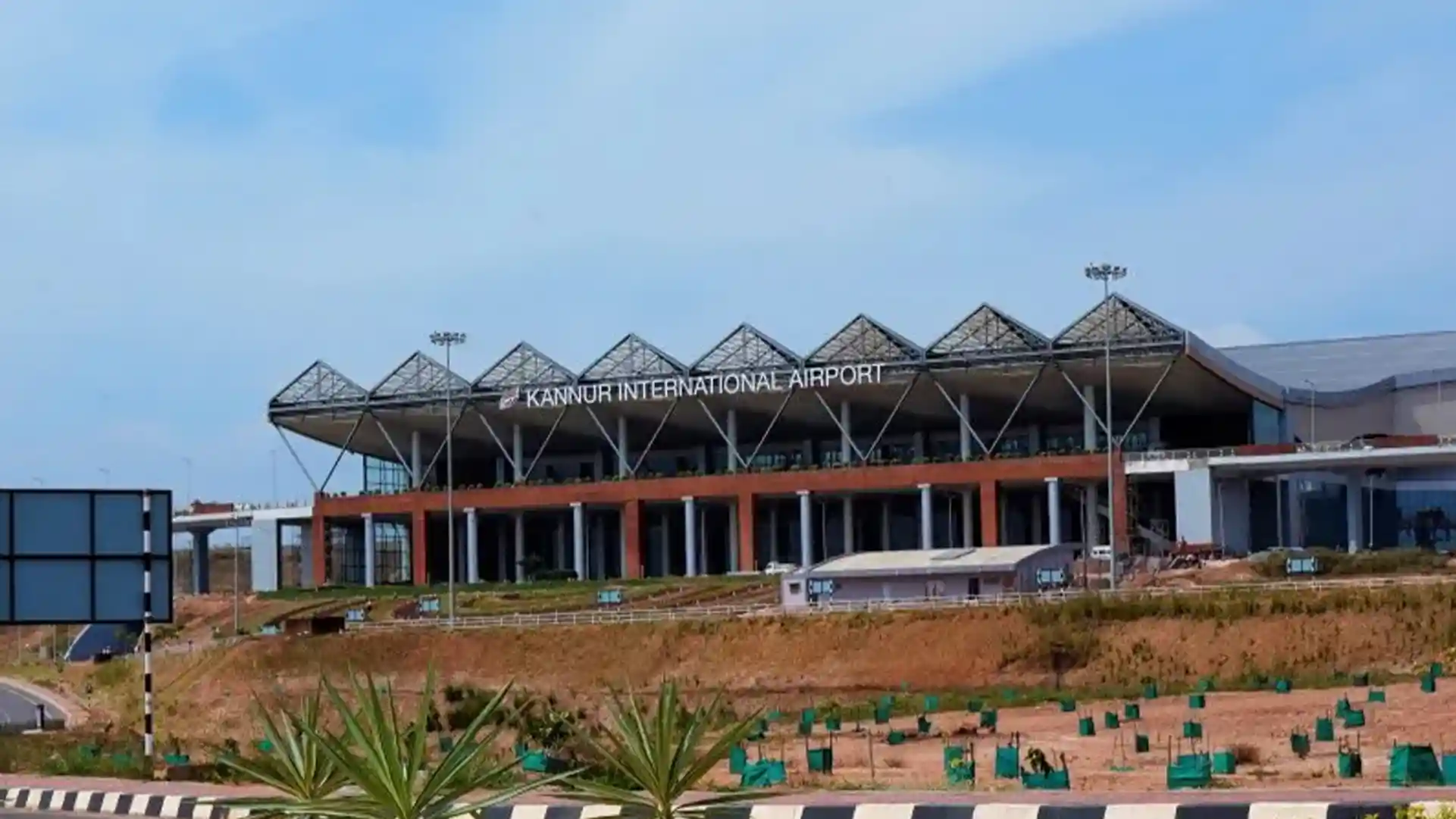 Source: Cntraveller
Another famous Kerala airport name that is recently added is "Kannur International Airport". It is situated 25 km east of Kannur, near Mattannur municipality. Kannur Airport became fully operational on December 9, 2018. After Kochi Airport, Kannur Airport is the second greenfield airport in Kerala. 
Unlike other airports in Kerala, the Kannur International Airport has been awarded a LEED Gold Certificate for Energy & Environment Conservation. 

The airport acts as a convenient entryway to the state's northern areas.

The airport's cutting-edge facilities, effective operations, and superior connections have helped it grow in popularity. 
A hassle-free journey is guaranteed with amenities like lounges, duty-free shops, restaurants, and pleasant waiting rooms.
Nearest Tourist Attractions:

St. Angelo Fort, Arakkal Museum, Parassinikadavu Snake Park, Ezhara Beach, Kannur Lighthouse, and Alakapuri waterfalls are some of the major tourist attractions near it. 
TakeAway Thoughts 
Airports in Kerala greatly facilitate travel to enthralling destinations of Kerala. These airports in Kerala provide travellers with a comfortable and hassle-free experience because of their modern infrastructure, effective operations, and various passenger amenities. The airports of Kerala welcome you with warmth, kindness, and rich culture. So get ready to embark on a memorable adventure to Kerala, where the grandeur of nature greets you at every turn. Pack your luggage, purchase your tickets, and get there.
Interesting Read: Kerala Registration Portal: Steps to Use Online Property Related Services in India